I held on, white-knuckled, as we drove 60mph over endless sand dunes, up vertical hills, steep drops down the other side, the back end of our car fishtailing wildly. I gritted my teeth. Welcome to a desert safari in Qatar.
I knew that during my brief stopover in Doha, heading out to the desert was high on my priority list. Yes, Doha itself has a lot to offer visitors, but it has something that many cities around the world don't: access to a desert.
Living in a city of over 12 million in China, I can experience luxury shopping and the mega malls at home (two hallmarks of many a Middle Eastern city), but I cannot drive a few minutes outside of Shenzhen and find myself surrounded by sand dunes. In Doha, you can.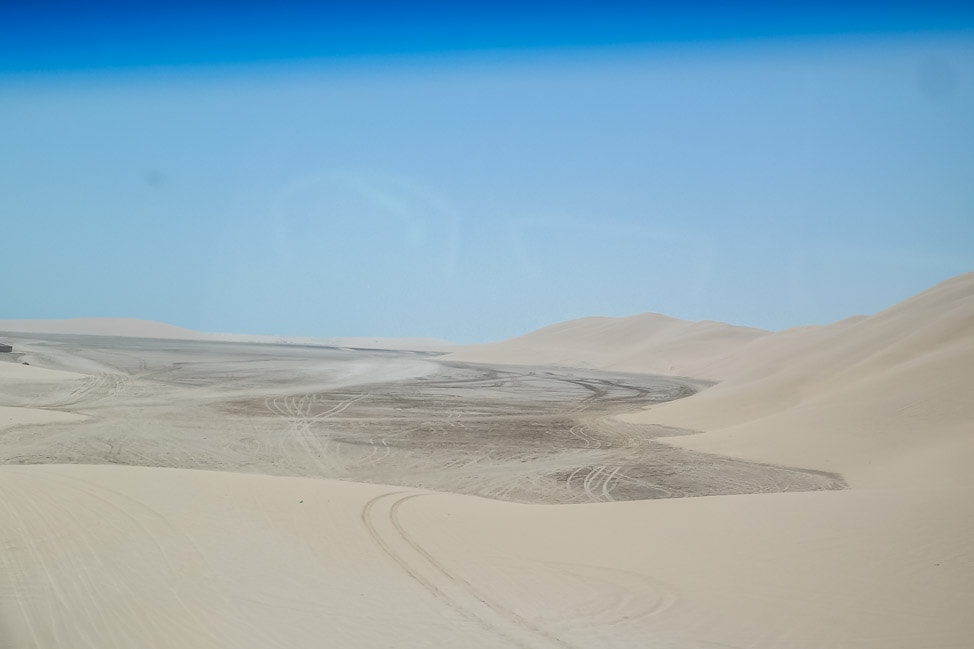 Desert Safari in Qatar
I arranged a half day safari tour with Qatar Inbound Tours, one of the highest rated tour companies in Qatar. They offer a wide range of tour options, including full-day and overnight itineraries, but for my short stay, and the desire to explore as much of Doha as possible, I booked in for a half-day tour.
Qatar Inbound Tours arranged to pick me up at 10am from my hotel, The Intercontinental Doha The City, to start the four hour tour. Amir, our trusty driver, was waiting for me in the lobby, right on time.
The vehicle used for this type of tour is a Toyota Landcruiser, which is well equipped for off-roading, not to mention comfortable for driving around the city. We picked up the final 3 guests at another hotel – the maximum is 4 guests per trip – and set off for the desert.
In a matter of 1o minutes, the futuristic skyscrapers of Doha were behind us and we were met with a horizon of flat land and a smattering of oil refineries.
A half hour out of town we reached our first stop, a desert camp of sorts set up on the edge of the dunes. The stop allowed for Amir to let air out of the tires for the dune bashing, while the 4 of us sat in a shaded tent, sipping on sweetened Arabic tea.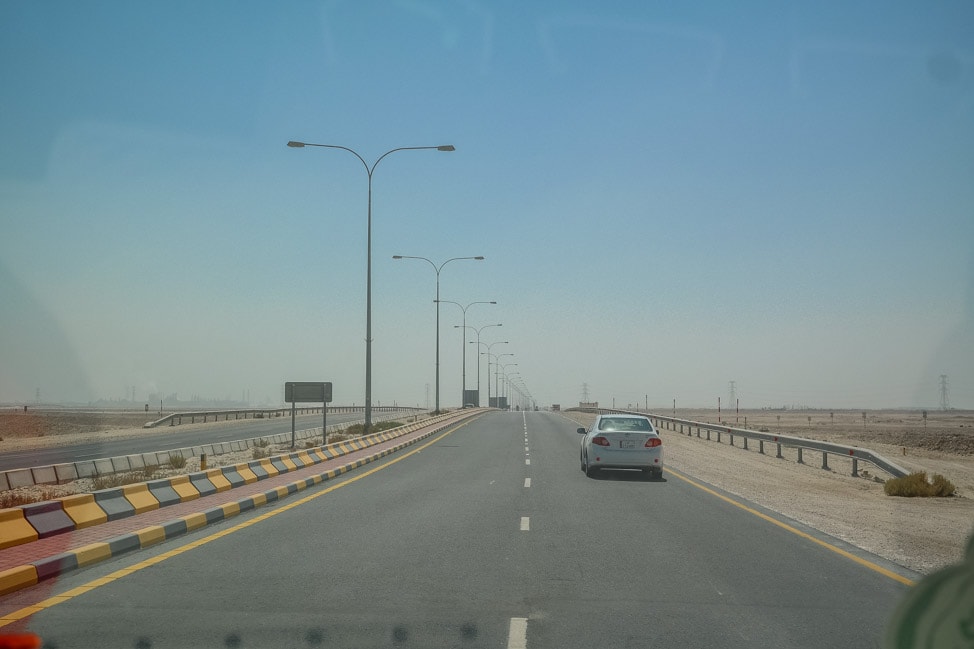 Never Thought I Would Ride a Camel
After our tea break, we were offered the chance to ride camels, an opportunity I simply couldn't pass up. The people who ran the tent helped us on. If you have never ridden a camel before, the sensation is rather strange. Camels stand up by straightening their gangly rear legs first, so it feels like you are about to fall forwards, over the camel's head, before its front legs kick up and you straighten out.
The camel ride was not something I've ever aspired to do, but fun nonetheless. I was happy to make it through in one piece. Getting off of a camel poses the same problems as getting on, with the reverse see-saw effect as it sits down. Fortunately for my ego, I managed to stay on and avoid any embarrassing spills.
Tires deflated, camel ride complete, Amir singled that it was time to head into the dunes. Let the adventure begin.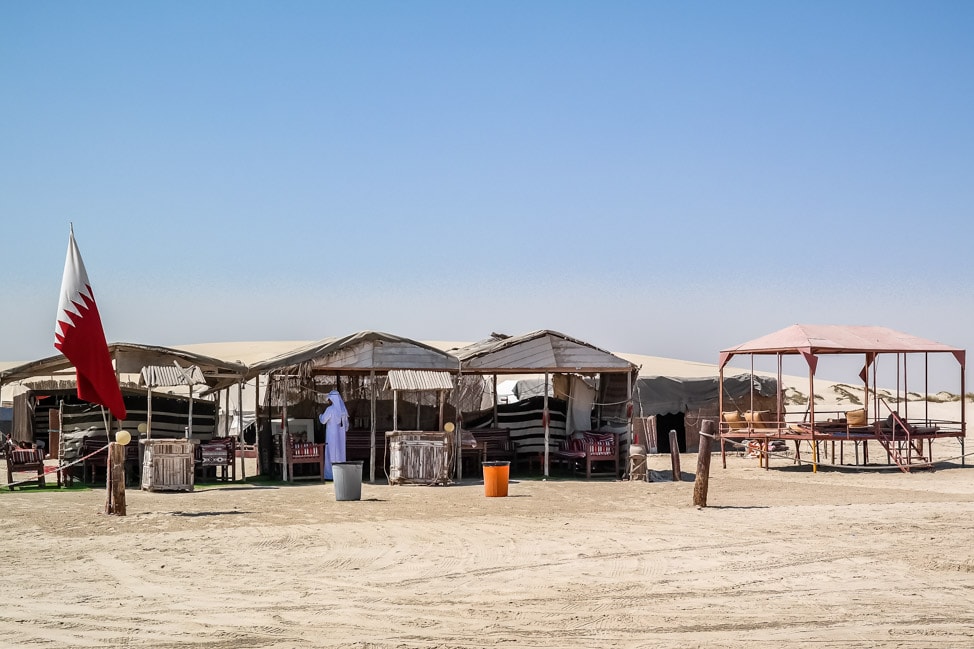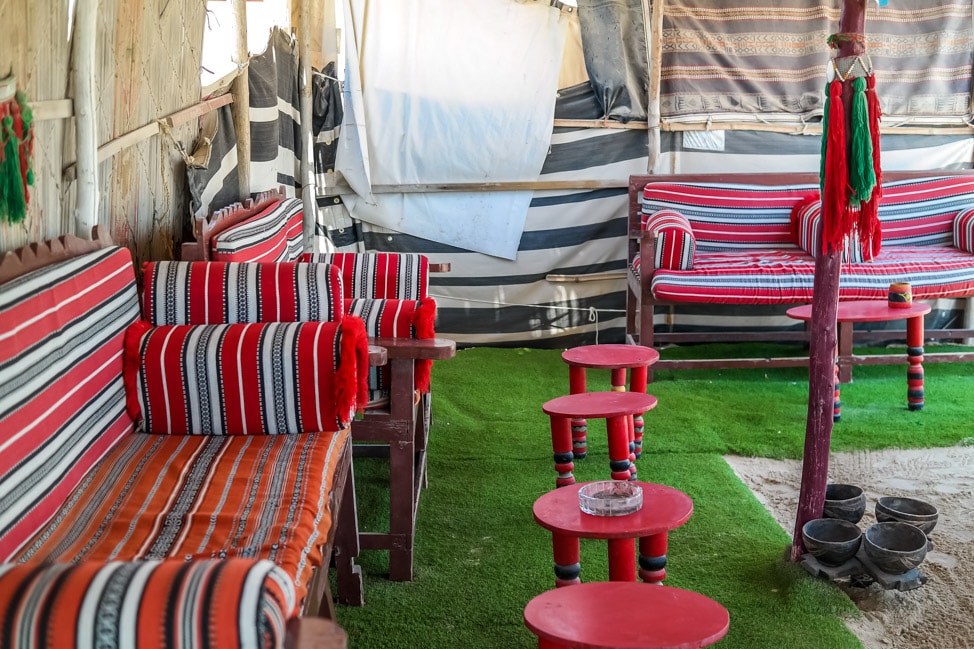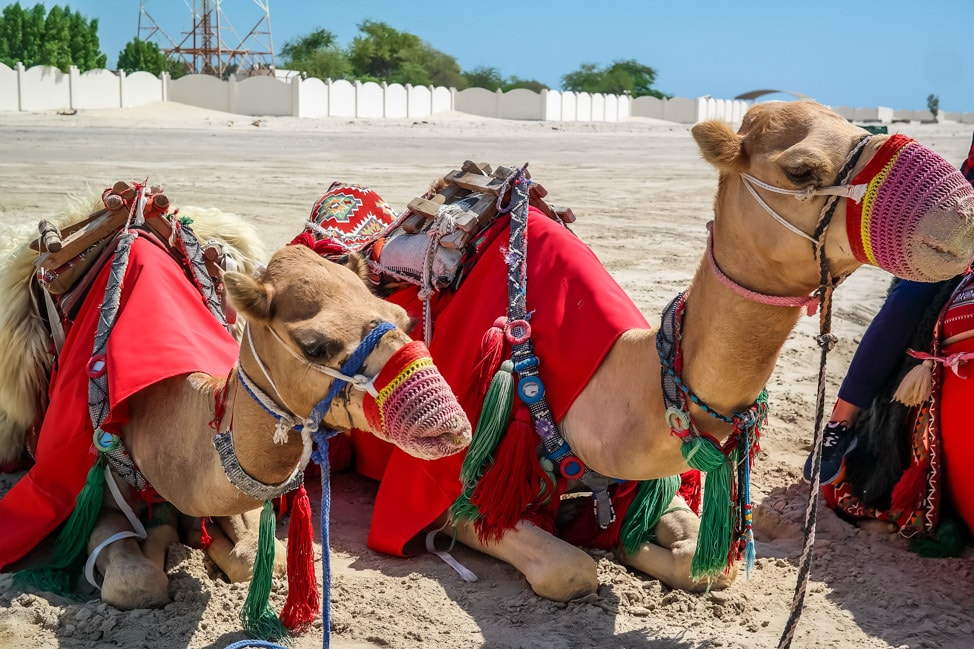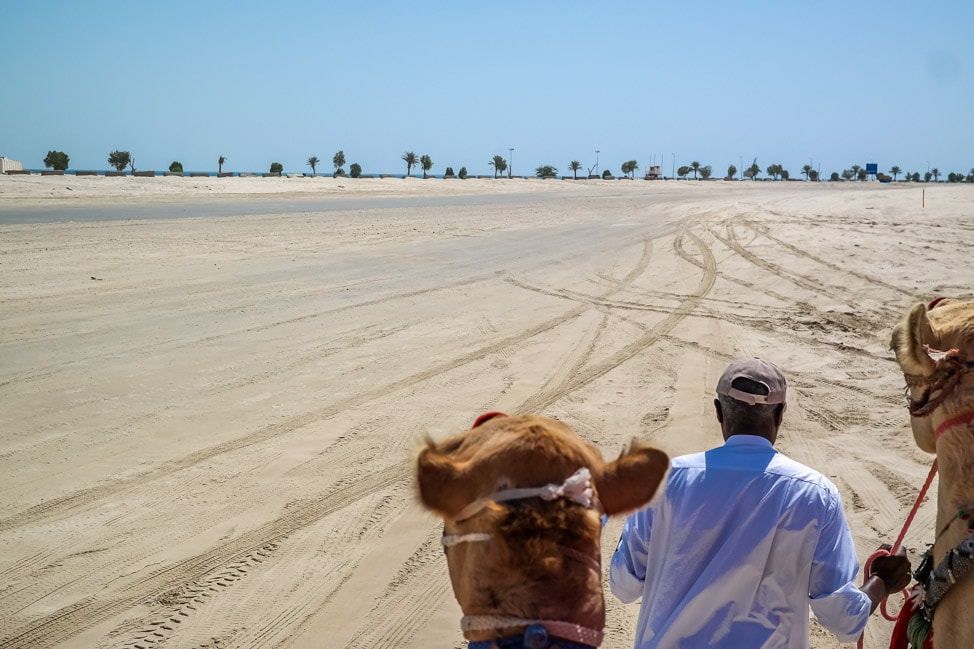 Dune Bashing in Qatar
Truth be told, I did not know exactly what to expect from a desert safari in Qatar. I figured it would include casual driving over the dunes, as we slowly made our way to the Qatari coastline, for a glimpse of the sea. I couldn't have been more wrong.
The moment we left the camp, Amir hit the gas pedal. We flew through the desert, driving 60mph through thick sand and salt flats. We fishtailed at speeds over 50mph, accelerated over the tops of dunes, and descended incredibly steep inclines. One particularly terrifying moment came when we skirted the side of a dune – kind of like being on a professional cycling course in the Olympics at a crazy angle – and it felt like the car was about to flip.
I asked Amir how long he had been doing this. He replied, "Today is my first day! Do you think I'm doing a good job?" as he shot me a wry smile. The group in the backseat had a minor moment of panic, before realizing that Amir was joking. He had 8 years experience slipping and sliding around the desert.
Well played, Amir.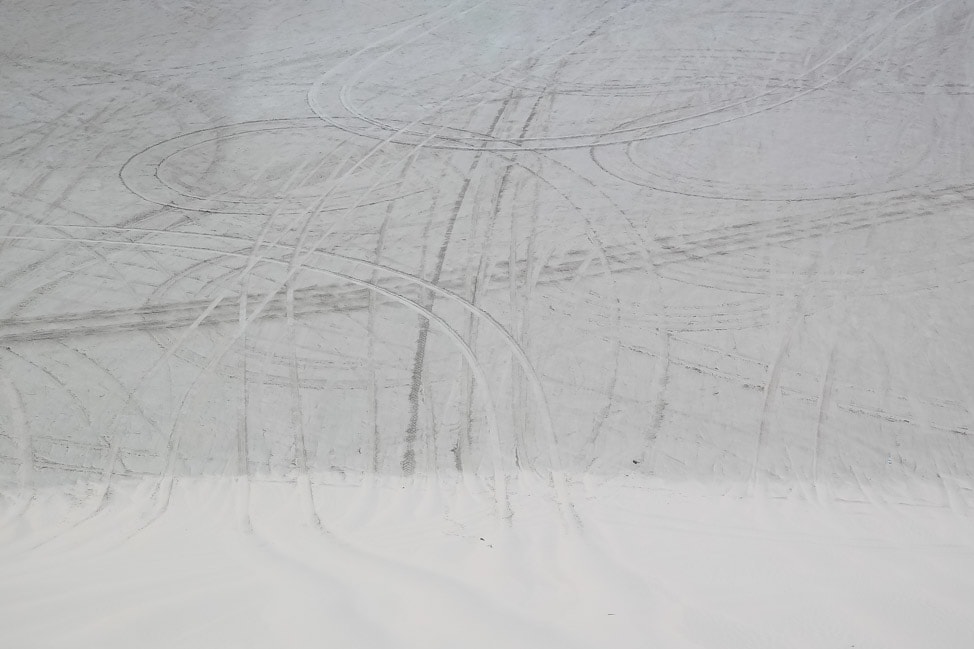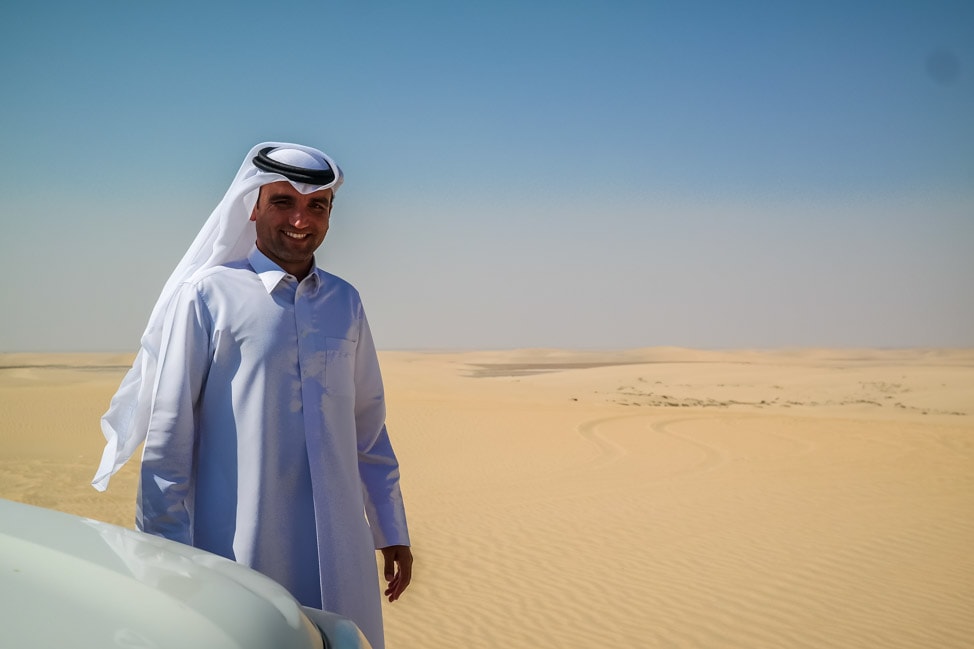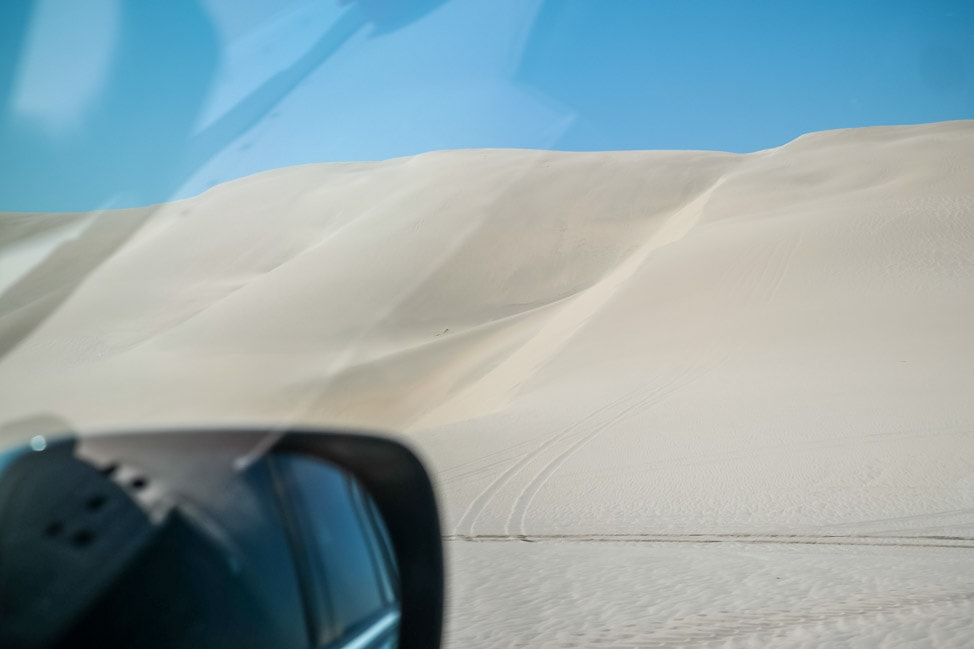 Stopping at the Inland Sea
We eventually reached our destination, the coastline of the Inland Sea. This stretch of water separates Qatar from Saudi Arabia, which you can see across the channel. The sand dunes behind us in Qatar were a stark contrast to the rocky, arid landscape of Saudi Arabia in front of us.
The water along this beach was perfectly clear, and I could see dozens of crabs walking along in the shallow water. Amir stopped the car by the water's edge, and I hopped out and walked along the beach. The water was the warmest I've ever felt. It made the Caribbean feel downright chilly. It was so warm in fact, that I check the average sea temperature in Doha when I got back to my hotel. Amazingly, even in October, the water was 88˚F. In the height of the summer, when air temperatures can hit 130˚F, the water can reach 95˚F. This, my friends, is why people skip swimming in the sea and head straight for a shaded, refreshing hotel pool.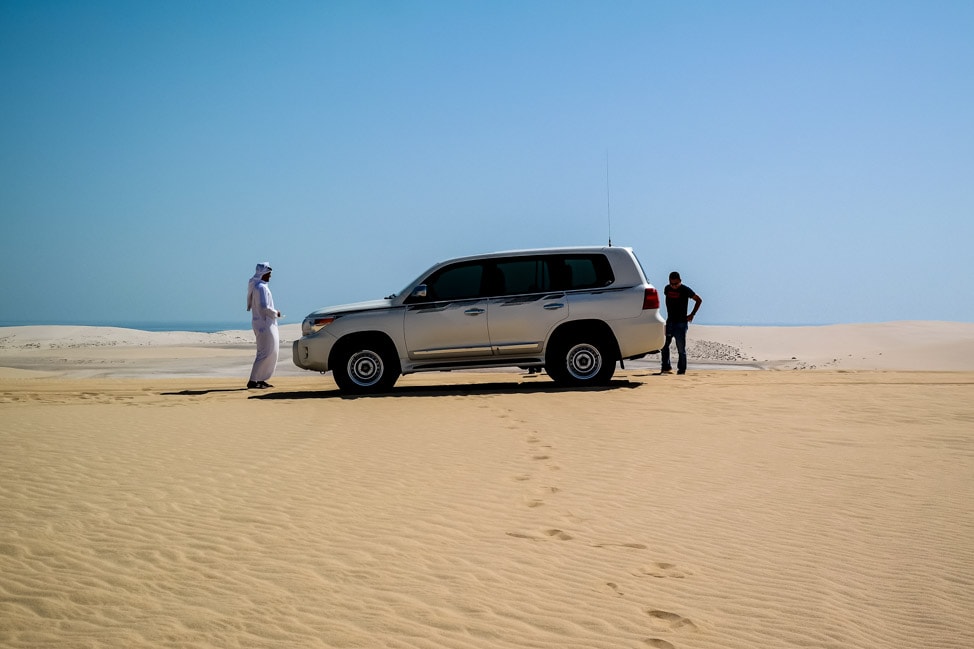 After a quick stop for some photos of the rolling dunes, we began our trip back to Doha. Amir stopped to re-inflate the tires, and we merged back onto the massive (and very empty) 8-lane highway back to the city.
All in, we spent about an hour bashing through the sand dunes on this desert safari in Qatar. It was significantly more exhilarating than I had anticipated, and if you have motion-sickness, this may not be for you. But if are looking to get out of the city, and see a whole different – and beautiful – side of Qatar, then you can't go wrong with a desert safari.
You certainly won't forget it.
A quick thank you to Qatar Inbound Tours for offering me this complimentary desert safari in Qatar. As always, all opinions are my own. The half-day desert safari is priced at $80US per person, with a minimum of two people.