What is expat life really like in Shenzhen, China?
It's a question we get a lot. People are curious about lots of aspects of our new life in China really, from weather to shopping to how things work. In fact, we get so many questions about what life is like here, we thought we'd make a day of it. On a recent Saturday, we brought our camera along and documented our day.
Come along, and see what living in Shenzhen really looks like.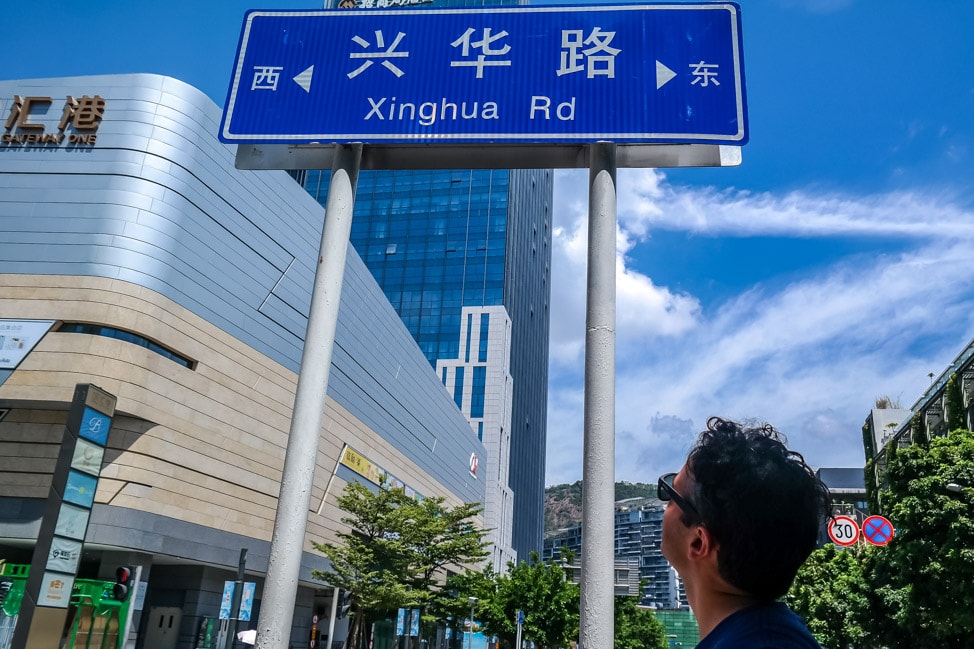 10:30am
After a slow start to the day, which included multiple cups of tea (a habit from the UK), two perfect omelettes for breakfast (if I say so myself), and a little website work, we decided to complete the one errand that needed to get done: food shopping.
We make this task a little more complicated (or at least I do) by going to two different stores for food shopping. The first store is called Ren Ren Le, a large Chinese supermarket that is always a bit chaotic but is very inexpensive. It is where we shop for vegetables, Chinese condiments, and household goods. It may be a simple 10 minute walkk down Xinghua Lu, but this particular Saturday morning boasted 93 degree heat (115 with humidity). Within a few minutes, we were both sweating.
Welcome to living in Shenzhen.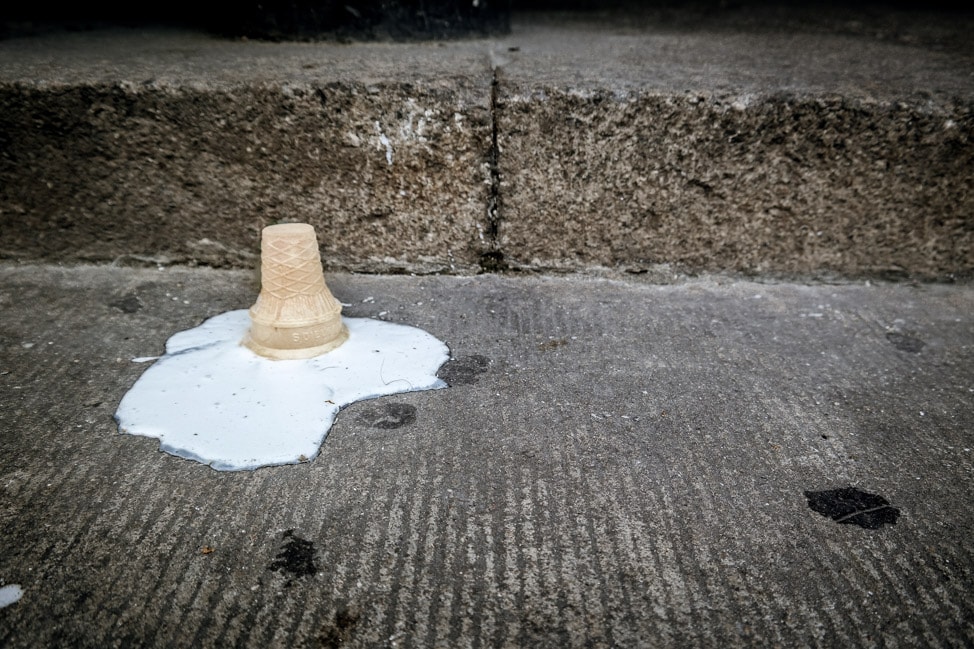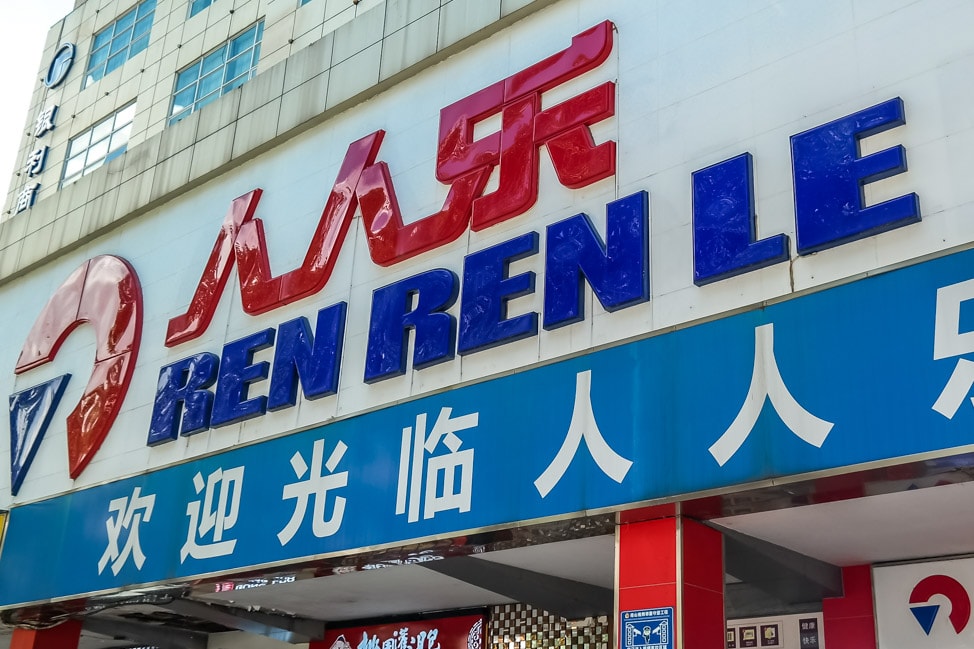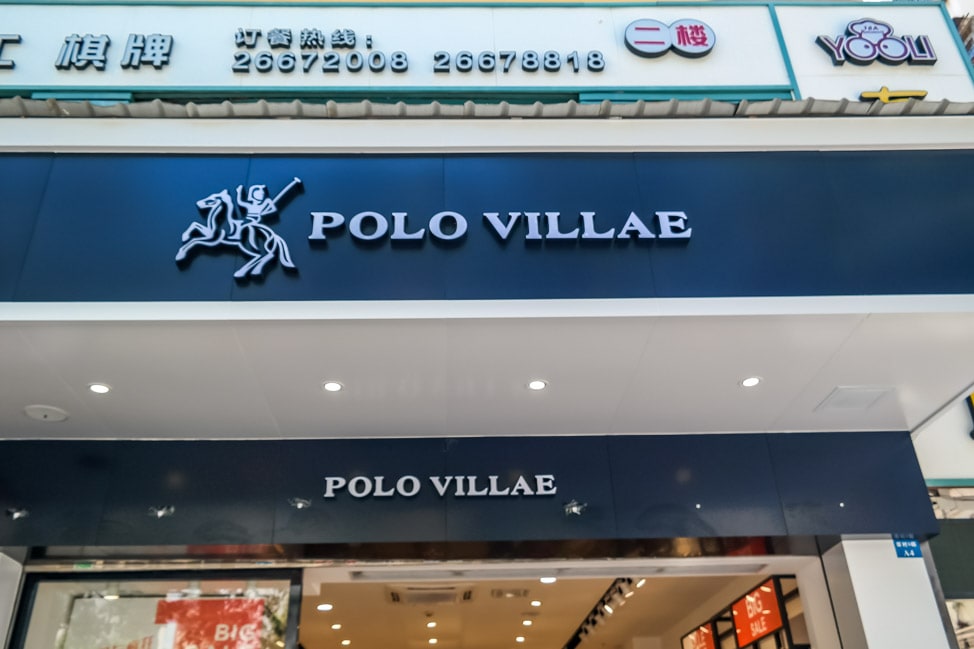 Ren Ren Le is a multi-story building, surrounded by electronic stores selling "authentic" iPhones for cheap and knock-off clothing stores. Our favorite is the classic "Polo Villae" store. Clearly someone didn't use spell check!
The grocery area of Ren Ren Le is where you see the biggest differences between Western and Chinese markets. For one, there is no international section. The only products available are Chinese, so you will not find salsa, ketchup, olives, or anything of the sort. It's purely Chinese here, with the exception of some junk food like Oreos and potato chips. You're welcome, China, for our contribution to your food selection.
Here are some of the quirks for a foreigner shopping in China:
Soy sauce and instant noodles take up one whole aisle.
The rice selection takes up a corner of the store and the smallest amount you can buy rice is 5lb. bags.
Fish is sold live or dried. There are at least twenty fish tanks – you pick one, they do the dirty work.
There is no pre-packaged meat. You have to go to the butcher, select your pork, beef, or chicken, and they butcher it for you. Meat is sold in smaller quantities typically, and don't expect to see thick sirloin steaks or pork chops. Pork belly, chicken feet, chicken wings, cow tongue, and organ meat are more prevalent.
The Chinese love to inspect their food before purchasing, hence the live fish and absence of pre-packaged meats. It also explains the lack of any canned vegetables. There are none.
Pricing on mushrooms is strange, yet wonderful. Beautiful King Oyster mushrooms or Oyster mushrooms are significantly cheaper than white button mushrooms. I can buy a handful of Oyster mushrooms for about $1.
We should mention that there is a distinct smell in the air at any Chinese market. That odor is durian, the Asian fruit known for its pungent aroma and neolithic appearance (see below) Apparently, it is delicious, but unfortunately, it smells like a combination of something rotting and smelly feet. We have been hesitant to try it fresh (we did try durian ice cream once, years ago, and it was gross) but I'm sure we will one of these days.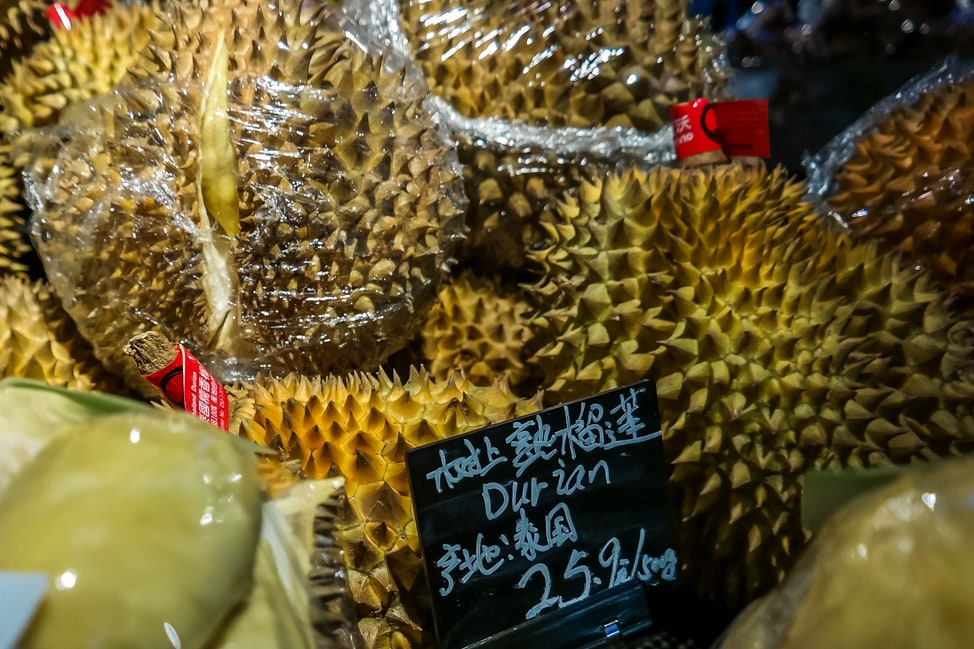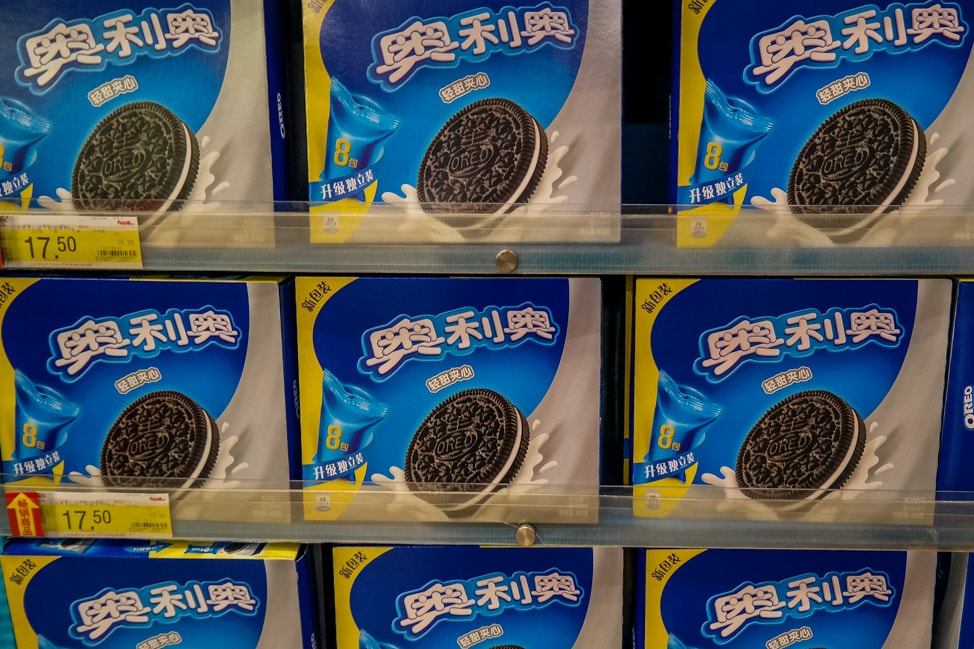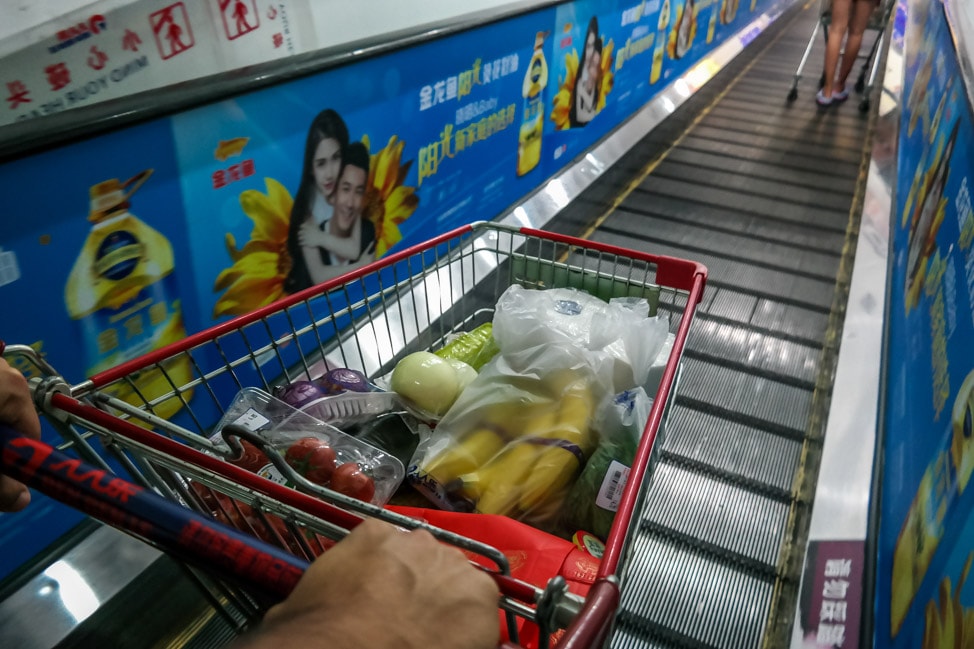 Our next grocery stop was to Ole, an upscale market in Shenzhen with a location in our neighborhood. It is basically a Chinese-version of Whole Foods. The store is clean, with wide aisles and a focus on presentation. There is a fancy bakery, chocolate truffle display, large wine selection, and a flower counter that can make custom bouquets. The downside, much like Whole Foods, is that many items are super expensive, since some Western staples like apples, cereal, condiments, and canned goods have to be shipped in from around the world.
We recently purchased Funfetti pancake mix while we were in the US (I can feel you judging us) and we assumed we would find the accompanying maple syrup at Ole. They do carry one brand, but it costs over $20 for a jar. Maple syrup will have to wait for another day.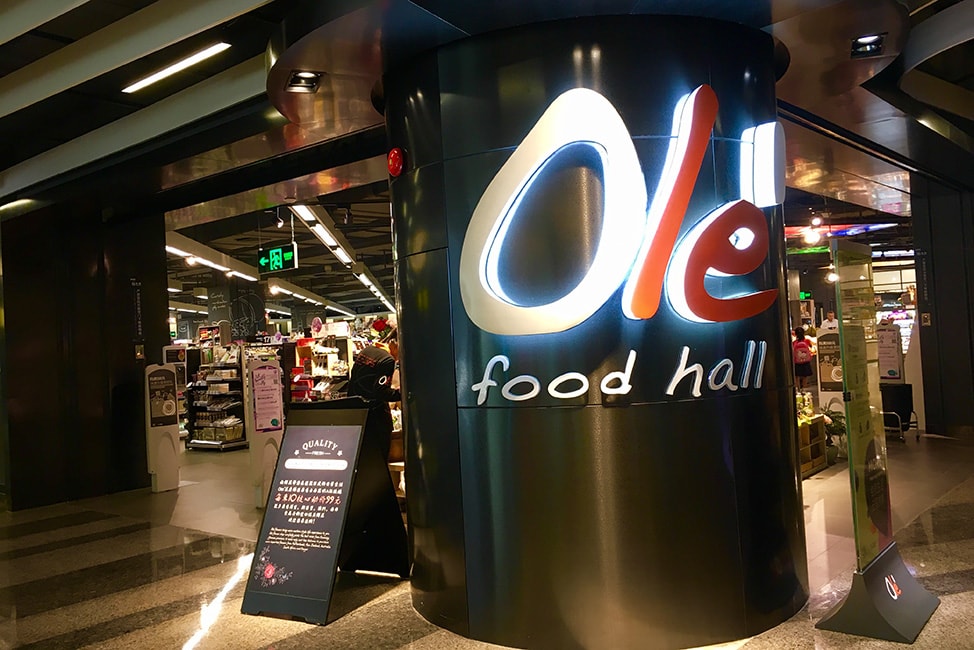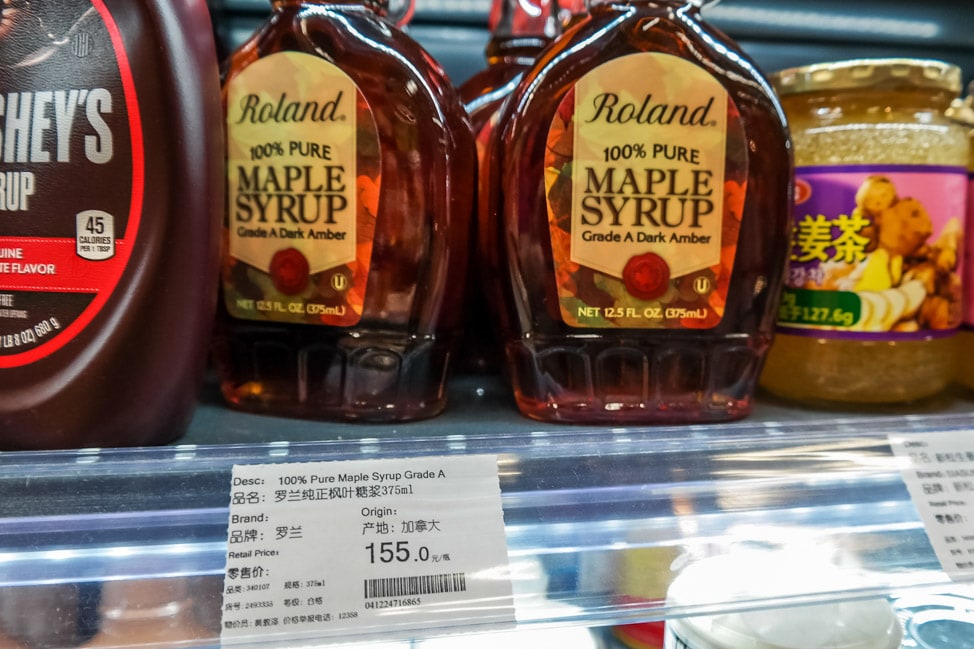 1:00pm
We returned from our epic food shopping excursion, still hot and sweating. We unloaded the bags and I cooked lunch. I made an authentic Chinese dish a huge plate of nachos with tortilla chips, salsa, and pepper jack cheese we bought at Ole. It was a delicious break from our typically Chinese diet.
After showering, cooling down, and watching Netflix thanks to our VPN (that's a whole other topic), we decided to go on a field trip.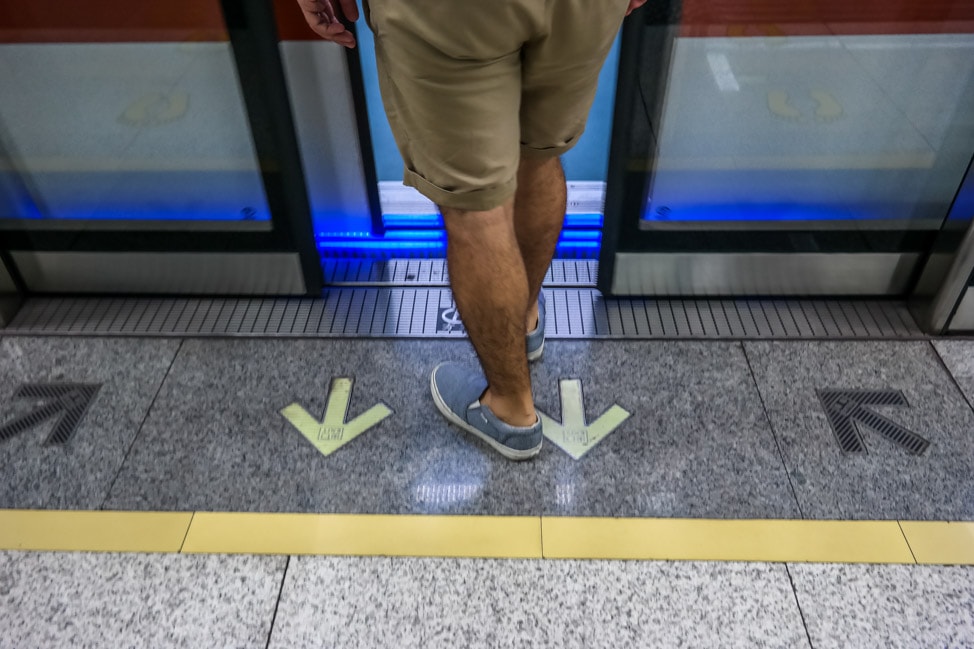 3:00pm
We hopped on the metro at Sea World station (not related to the theme park) to go to Shenzhen Bay, a new shopping and dining complex along the waterfront. The Shenzhen metro is brand new and incredibly nice. It's super clean, efficient, cheap (less than a $1 for most rides), and signage/announcements are in both English and Chinese, so getting around isn't an issue. It makes the NYC subway system look like a post-apocalyptic nightmare in comparison.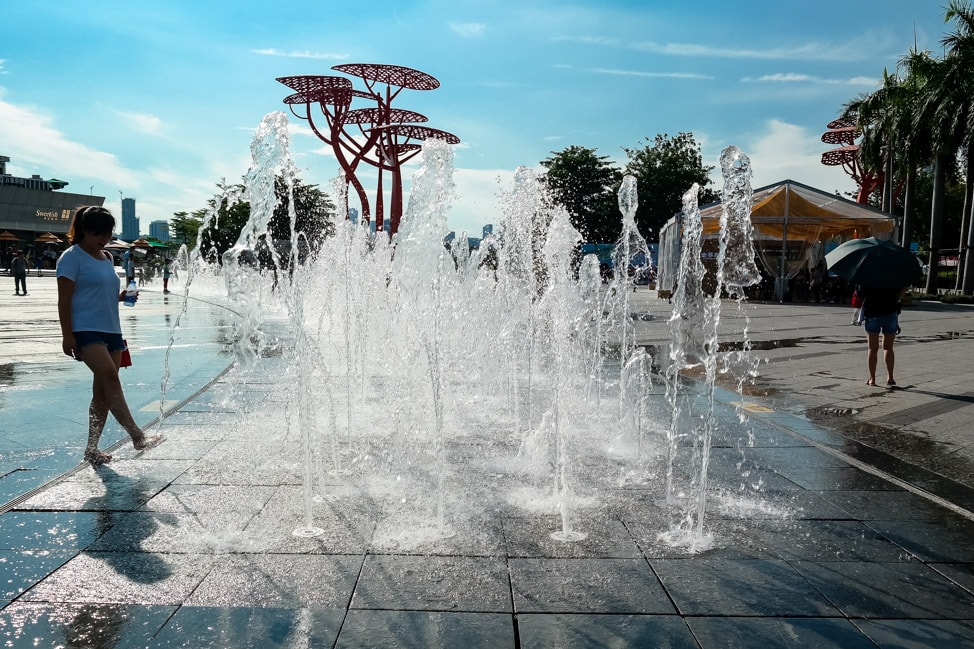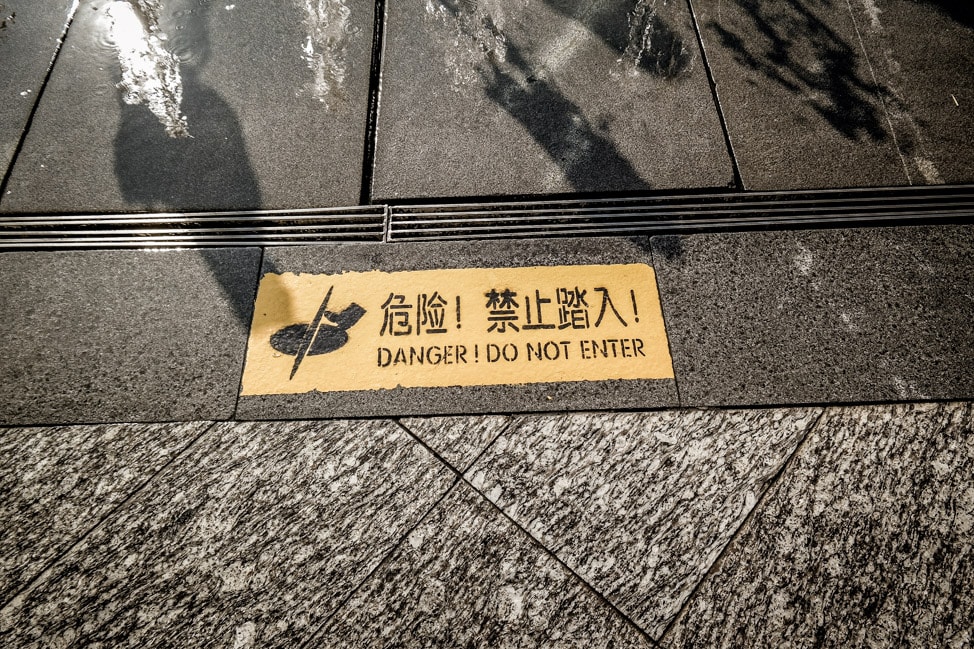 The Shenzhen Bay development is situated alongside the bay, with sailing lessons, a waterfront amphitheater, and boat rides. The massive complex is almost overwhelming, with tons of families walking around the dozens of restaurants and tea shops. This area also features some stunning modern architecture.
The 'officially off limits' water display in Shenzhen Bay has quickly become a favorite place for kids to strip down and cool off, and it was packed during this hot afternoon. We found refuge in the shade of trees, along a series of man-made canals and in the luxury mall nearby, complete with a Tesla car dealership. Air conditioning never felt so good.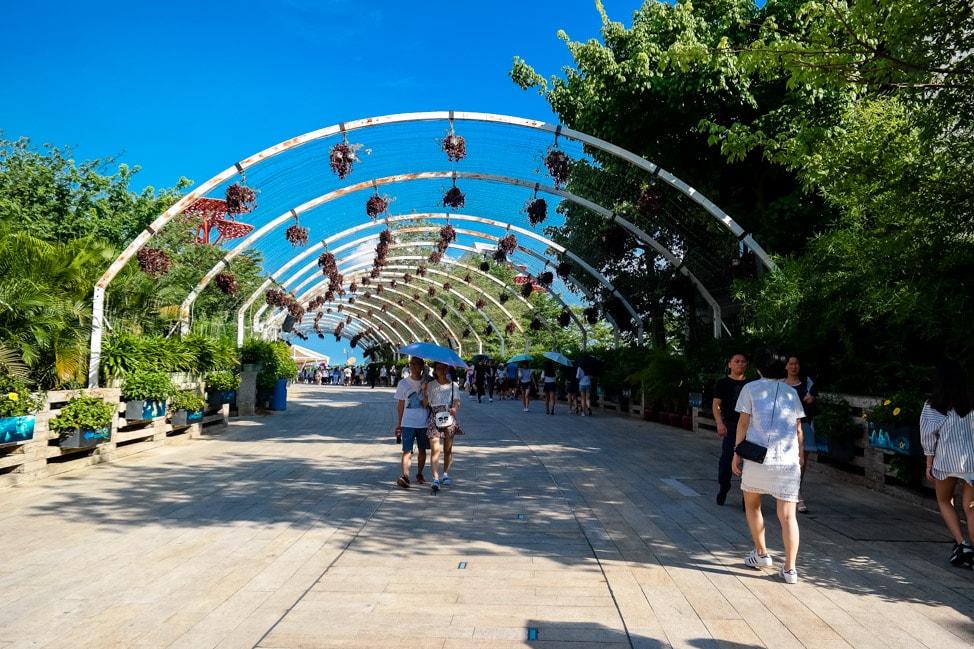 5:00pm
Our initial plan of walking to our next destination was nixed because of the heat, so we found our way back to the subway.
OCT Loft is a converted manufacturing center that is now home to a variety of art galleries, design shops, and restaurants in once-abandoned warehouses. Like Shenzhen Bay, the main area is pedestrian-only.
On this day, there was an outdoor market with vendors selling clothing, greeting cards, jewelry, and accessories. We wandered around and ducked into My Coffee for a fruit tea. Our server asked if we wanted our tea hot or cold, and I'm pretty sure we both stared at her for a second in disbelief.
Uh, we will take it cold.
Fruit tea is super popular in China, basically sweetened iced tea with fruit juice and big chunks of fresh fruit. With this type of weather, it is incredibly refreshing. The papaya and passionfruit tea hit the spot.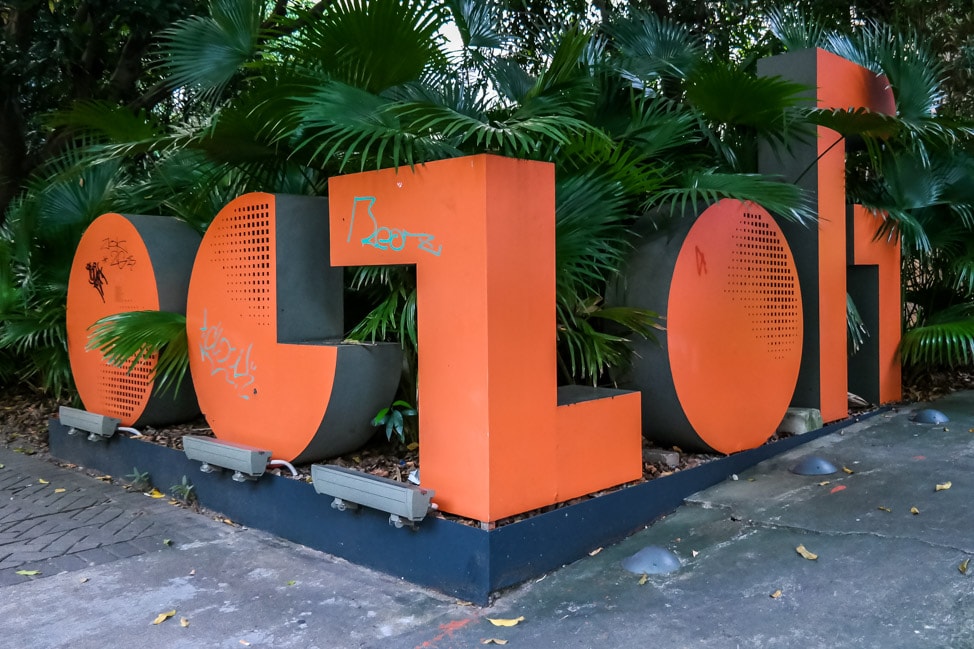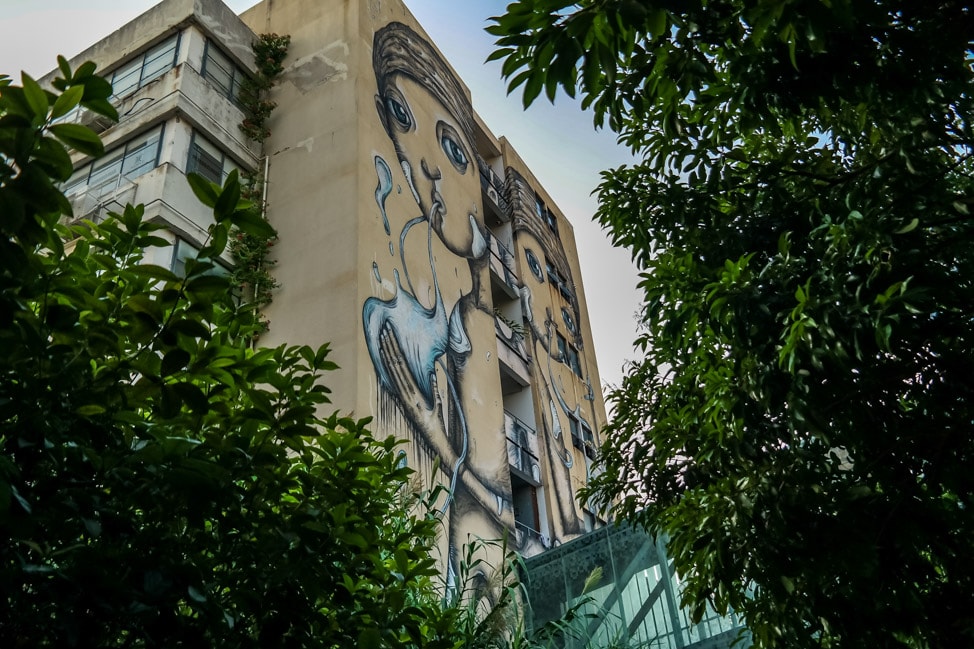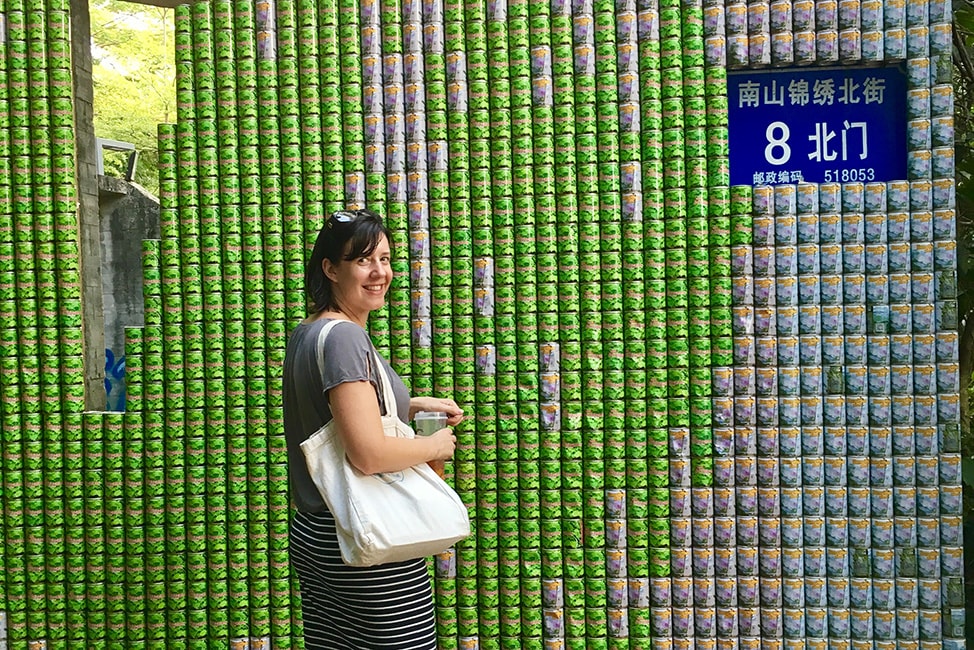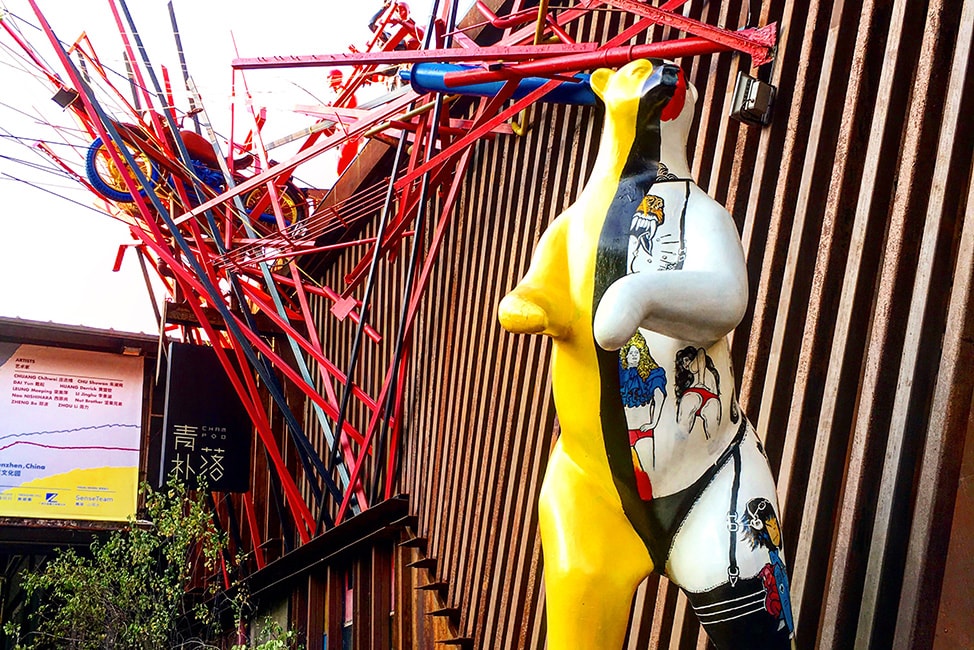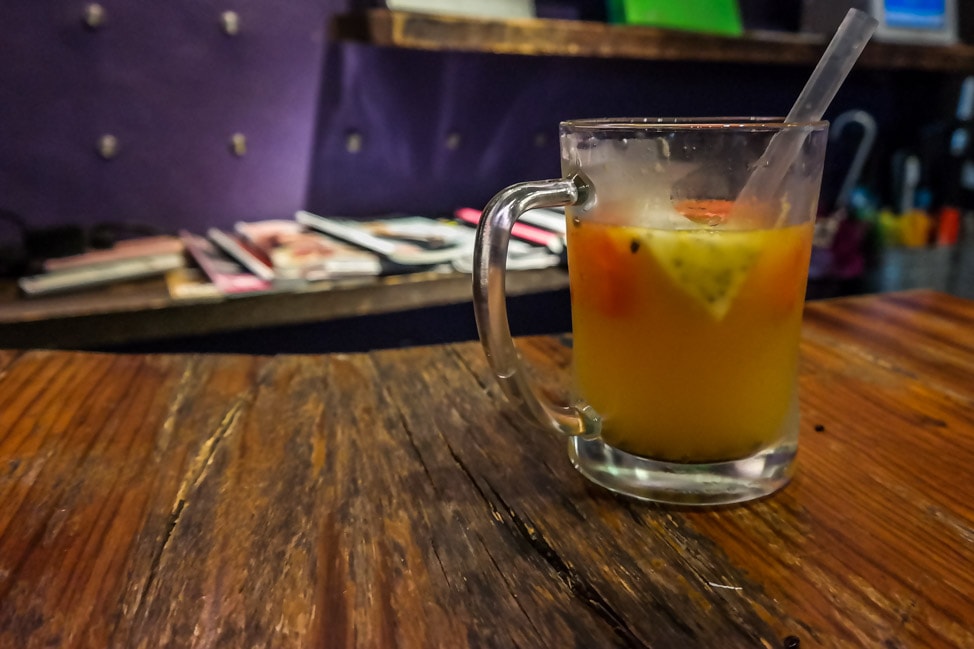 7:00pm
After a long afternoon of walking, we made one last stop on our way home, a new craft beer bar called Fury Brewing. The interior is not unlike something you would find in Brooklyn, a tall, industrial space with graffiti walls. The small team of brewers was enjoying a few pints, and had set up a makeshift barbecue by the entrance for their dinner. They quickly offered us chorizo sausages that just came off the grill. Now that is a way to welcome your customers.
We tried a few different half pints of beer, including a Belgian Strong Ale and a New England IPA that were cold and refreshing, enjoying the mixed crowd of expat brewers, teachers, and some locals working the taps.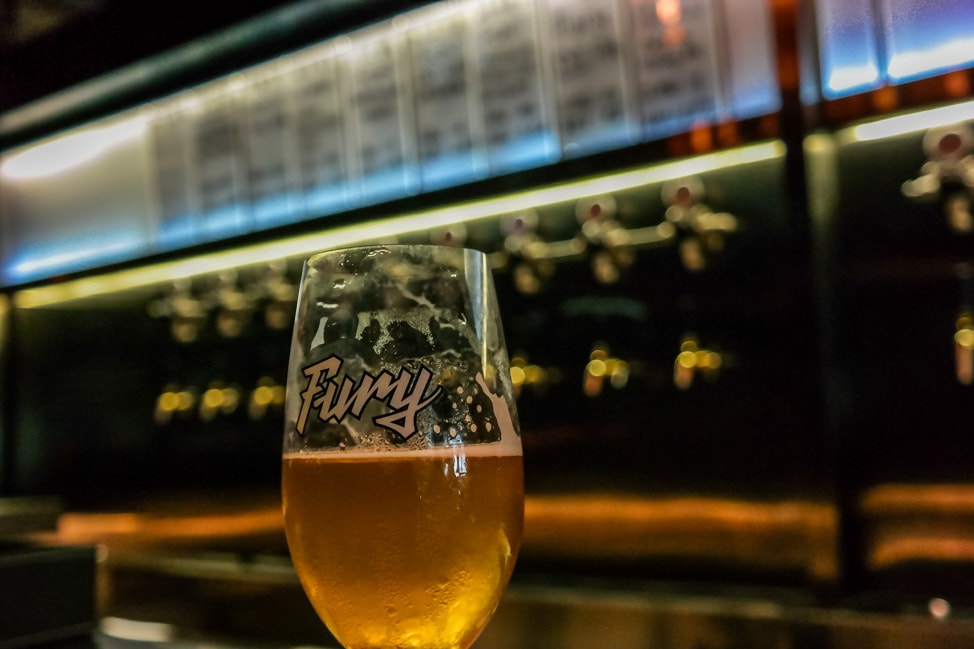 8:30pm
We ended our night by grabbing some food from the Gateway One Plaza, a new outdoor shopping complex across from our apartment building. There are almost a dozen restaurants in the plaza, and we walked around to find something simple and fast.
We settled on Huo Huo, a Beijing-style eatery with only a few tables. We ordered a scallion pancake bing, wrapped around a fried egg, and an order of pork dumplings. Each order came with a clear broth, pickled cabbage, and a (kind of sad looking but well seasoned) hard-boiled egg. A great finish to our day, and all for under $10.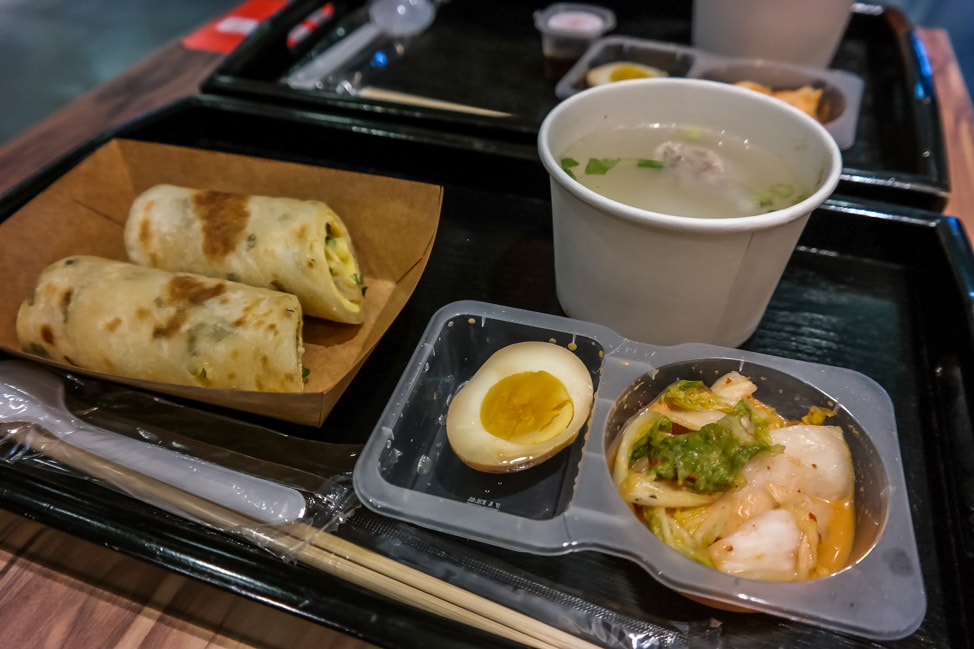 Our new expat home has been full of surprises. The image of a Chinese megacity that we had before arriving was of a generic concrete jungle with an endless crowd of people and persistent layer of smog. Yes, Shenzhen is busy and there are a lot of people (over 12 million to be precise). But there is a ton of green space, and funky neighborhoods filled with coffee shops and hipster restaurants alongside traditional Chinese medicine stores and old tea parlours. It's a sprawling, modern city that is only getting bigger and better. We're really enjoying getting to know the city and all of its delightful little surprises. This weekend was no different.
All in all, it was a nice little Saturday.
Have you been to Shenzhen before? Share your thoughts below!