My introduction to Doha left me questioning my entire plan.
After arriving off an overnight flight from London, I was looking forward to a short ride to the hotel, where a soft bed and blackout curtains surely awaited me. But thanks to insane rush hour traffic, the short 25 minute taxi ride from the airport took closer to 90 minutes. At one point, we were stuck at a single intersection for almost 30 minutes, as the light switched from red to green and back to red again.
Why did I add on this leg to an already long and complicated trip? Amateur move, I scolded myself.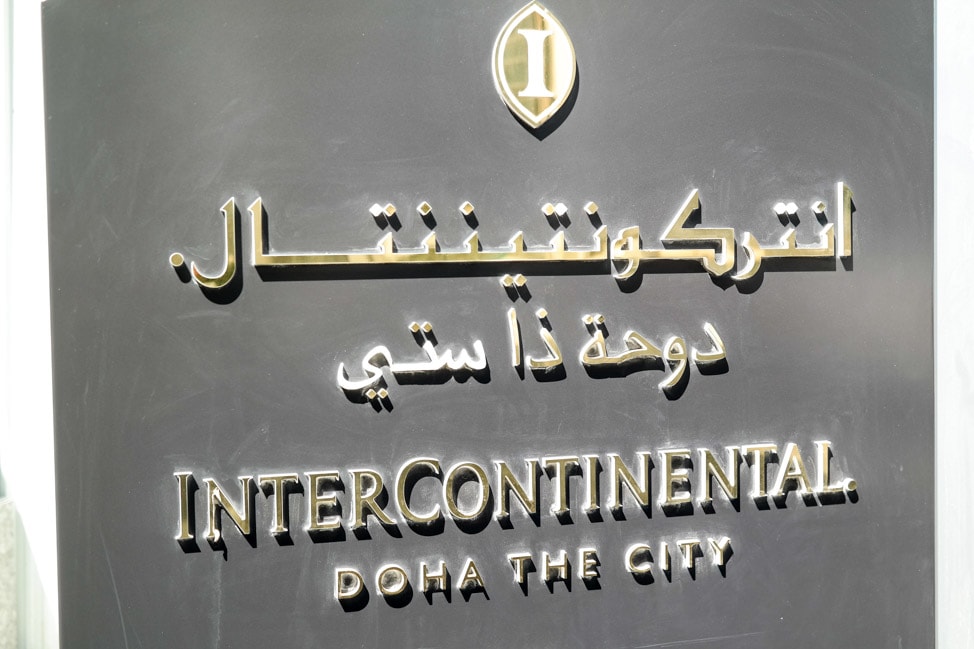 At The Intercontinental Doha The City, my bags were whisked away as I was escorted into the lobby. At check-in, they greeted me by name and apologized for the delay from the airport.
"We saw when your flight landed based on the arrival information you had provided. We figured your delayed arrival was due to the typical morning traffic here in Doha."
The woman then took me straight up to my room to complete check-in. No long lines, no delay with filling out paperwork and credit card authorization. Within minutes of pulling up to the entrance of The Intercontinental Doha The City, I was sitting in my room, thanking the front desk attendant for the smooth arrival process and the porter for dropping off my luggage.
One minute I was tired and frustrated; the next, I was calm, relaxed and ready to enjoy the sights of Doha.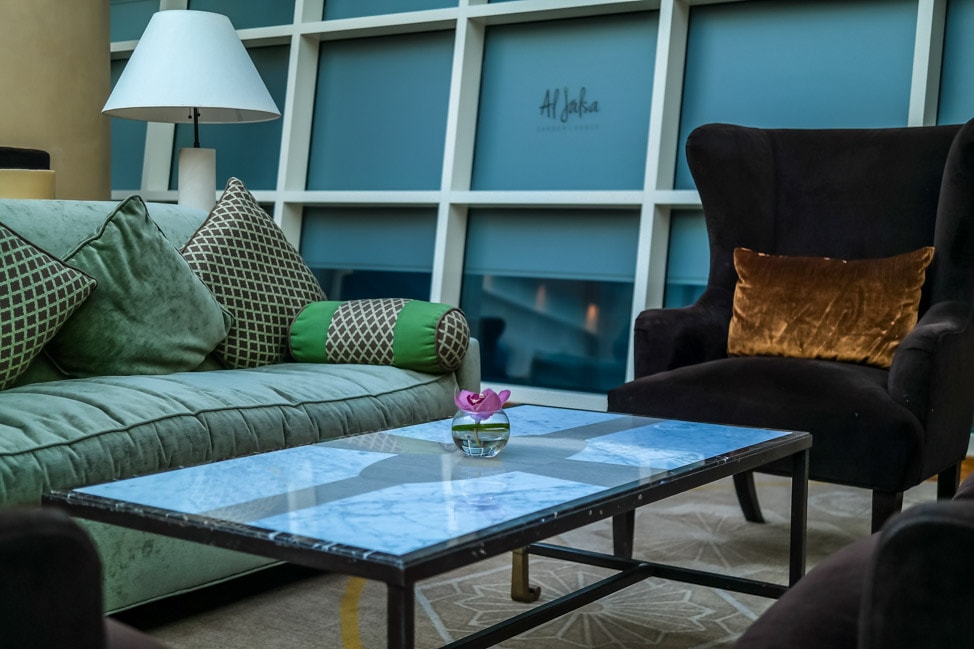 More Room Than Other Five Star Hotels in Doha
Given the size of my room, I assumed I had been upgraded to a suite, without my knowledge. Not like this happens to me often, but there is no way that this room was of average size. With a little internet sleuth work, I realized that I was in an 'Executive Room'. The suites, which range up to 3 bedrooms, are significantly larger than my room and have their own bank of dedicated elevators. Clearly I lucked out because The Intercontinental Doha The City has the largest rooms of any of the five star hotels in Doha.
My room on the 44th floor had a large living room, with a couch, chaise lounge, work station, entertainment center, and even a half bathroom. The living room led into the separate bedroom, fitted with a king sized bed, an additional sitting area, and large closets. The bedroom, much like the living room, was bathed in natural light.
All the photos below are of my room. My 'normal' room.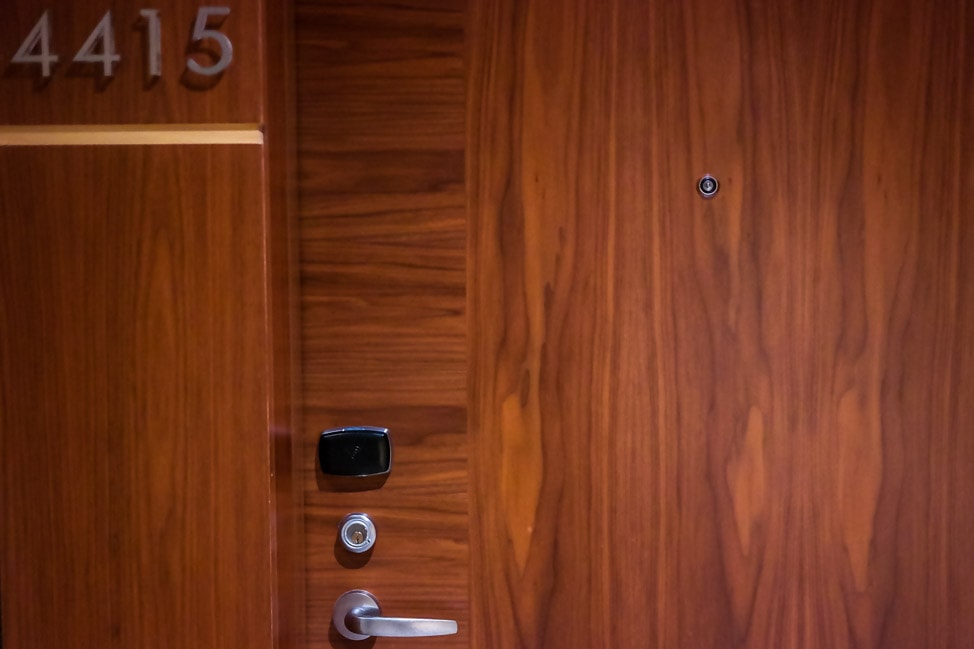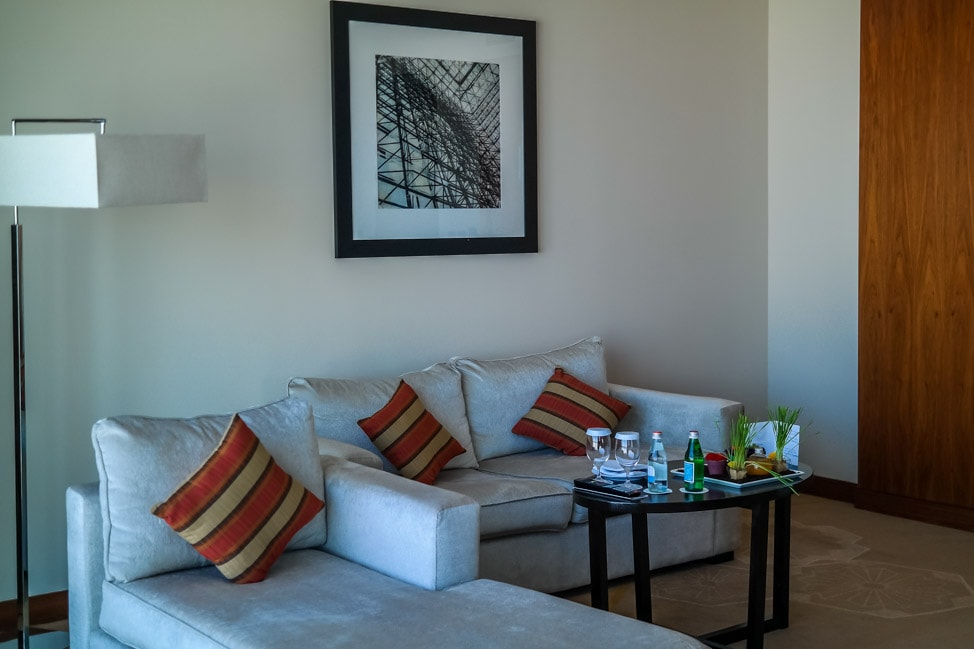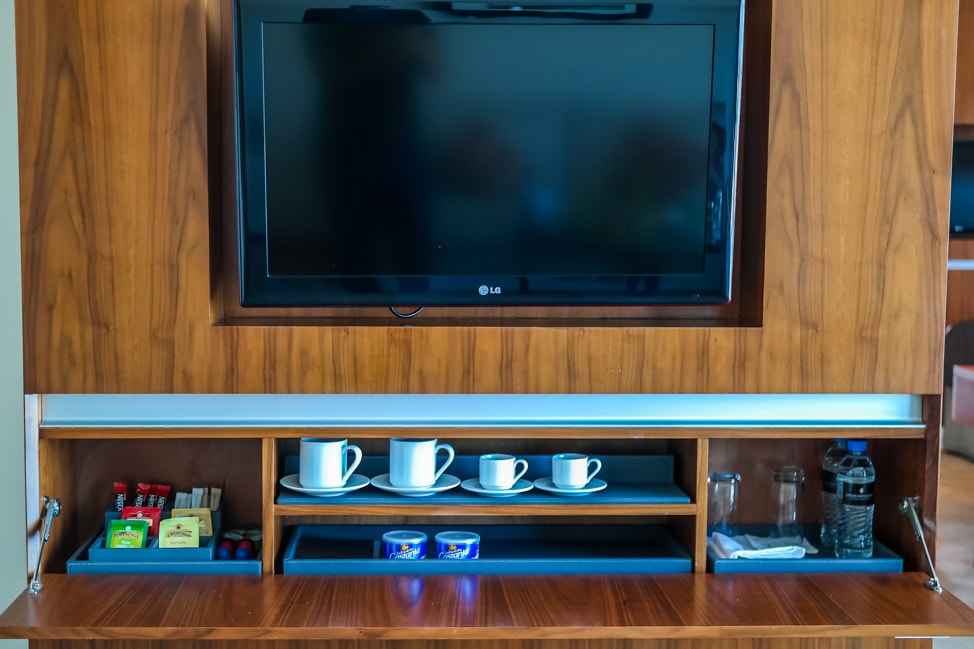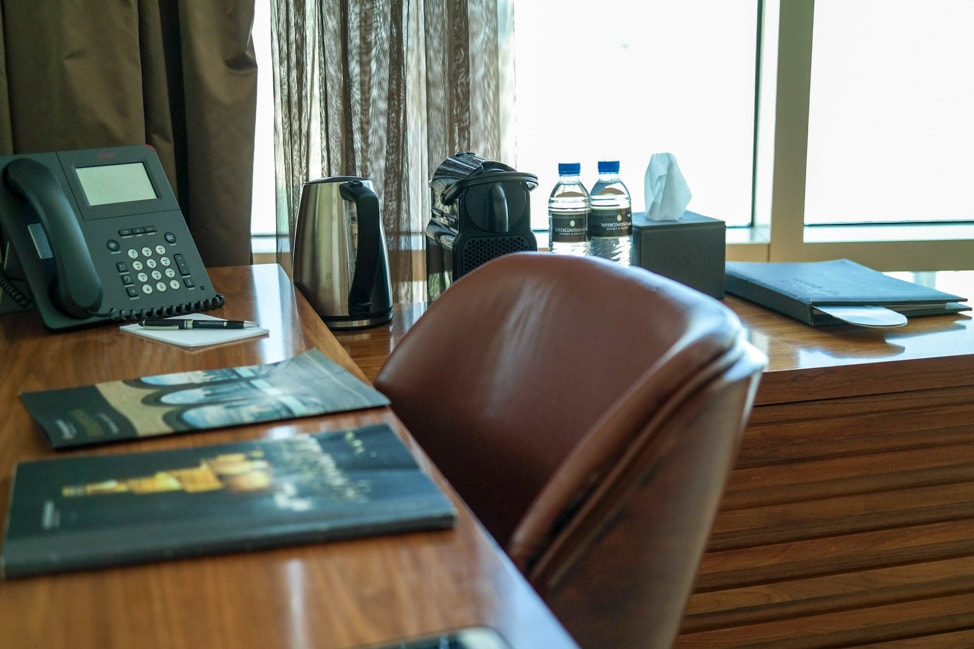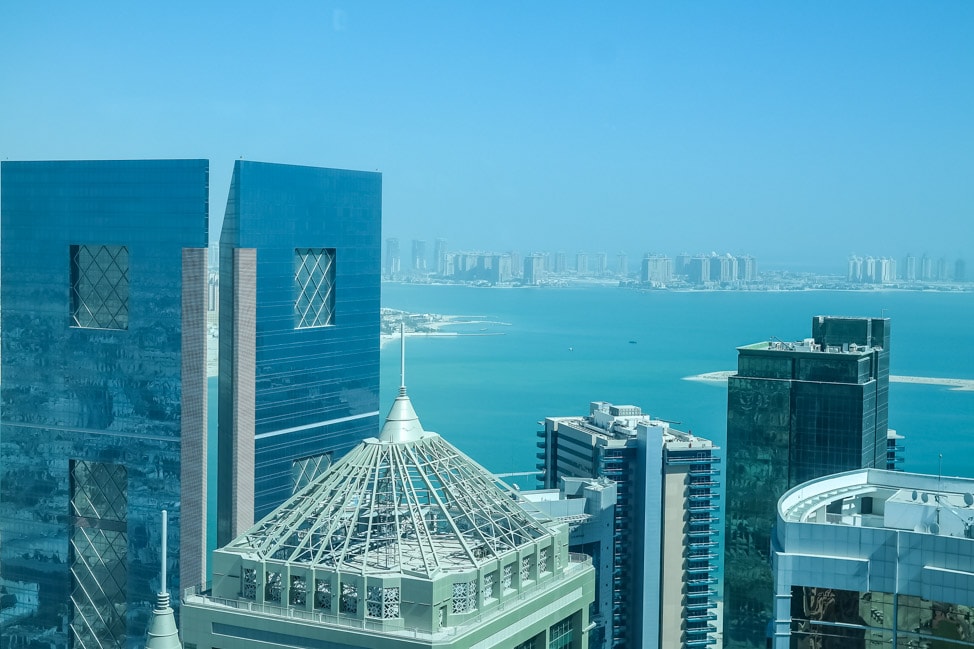 The entrance to the main bathroom was through a beautifully designed stone-covered door, leading to an airy, bright space. I personally love a shower with a view, so the large windows overlooking the city were a welcome sight. Plus, this high up, privacy isn't much of a concern.
And those pots of fresh flowers below? They were actually chocolate pots filled with a layered dessert, topped with fresh cut flowers delivered as a gift. Oh, and the "soil" was made of chocolate as well!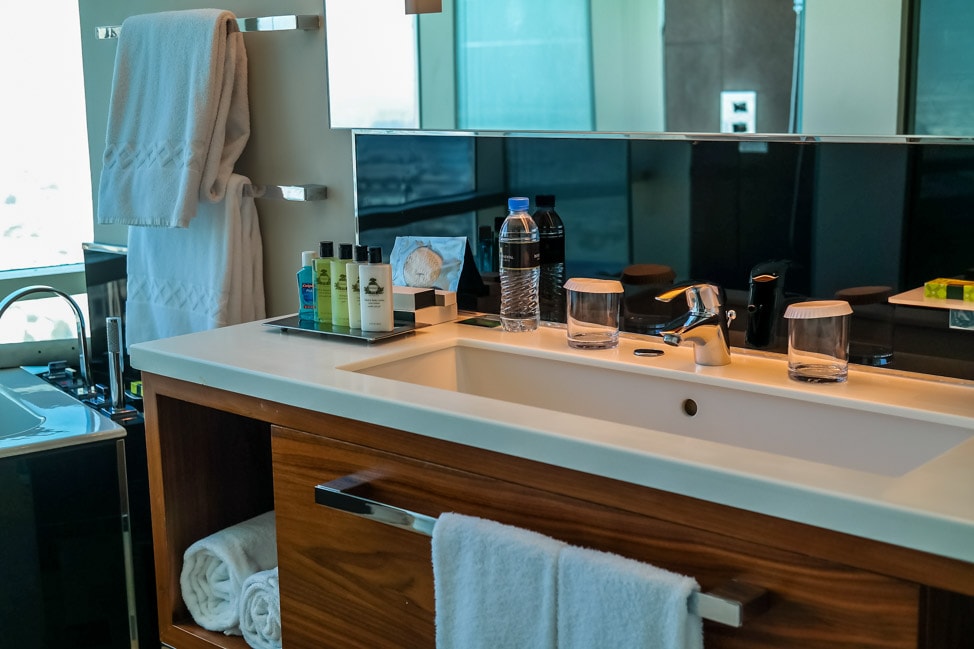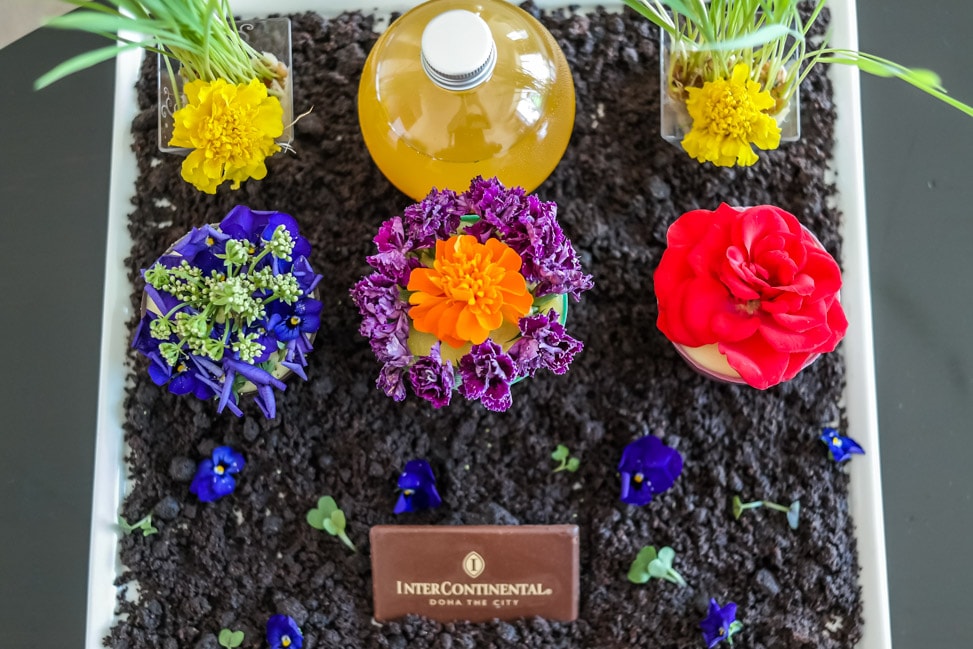 Why Leave?
My initial plan was to hit the ground running on my first day in Doha, but after spending almost two weeks in Japan, followed by time in Paris and London, I was tired and needed rest.
I decided to save the dune bashing in the desert and Souq Waif for the next day and spent the entirety of the day at The Intercontinental. I do have a tendency to spend as much time in hotels as possible when they are this nice.
After doing some work, I headed up to the Club Intercontinental, located on the 45th floor to check out the lounge. I did not have access to this space during my stay, but it was a well laid out room, with tons of seating areas and an outdoor patio with a killer view of Doha. They kindly let me snap a few photos as I snuck a peek at the space.
If you are lucky enough to be staying in a Club Room, you can use this space all day, and it serves breakfast daily and cocktails in the evening.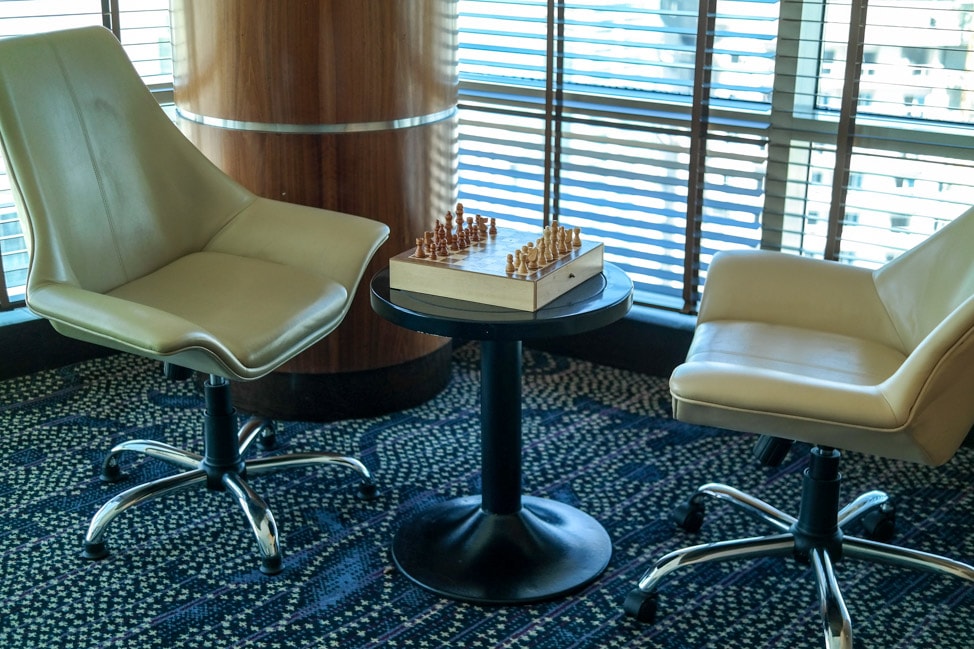 Thinking that I needed one last treat to compensate for my rough travel night and day, I arranged for a massage. The Intercontinental Doha The City does not have a dedicated spa but does have a spa room and a masseuse on staff in the gym, offering a range of massage therapy treatments, from classic Swedish to Hot Stone. The 60-minute massage was just what I needed.
I briefly considered a quick work out in the well-appointed gym but decided to bypass the treadmill for the rooftop pool, located just down the hall from the gym on the 46th floor. The infinity pool sits on the edge of the building, covered in a lattice-pattern canopy. It is one of the nicest top rooftop pools I've experienced, and thanks to its location on the 46th floor, it has some of the best views of the skyline in all of Doha.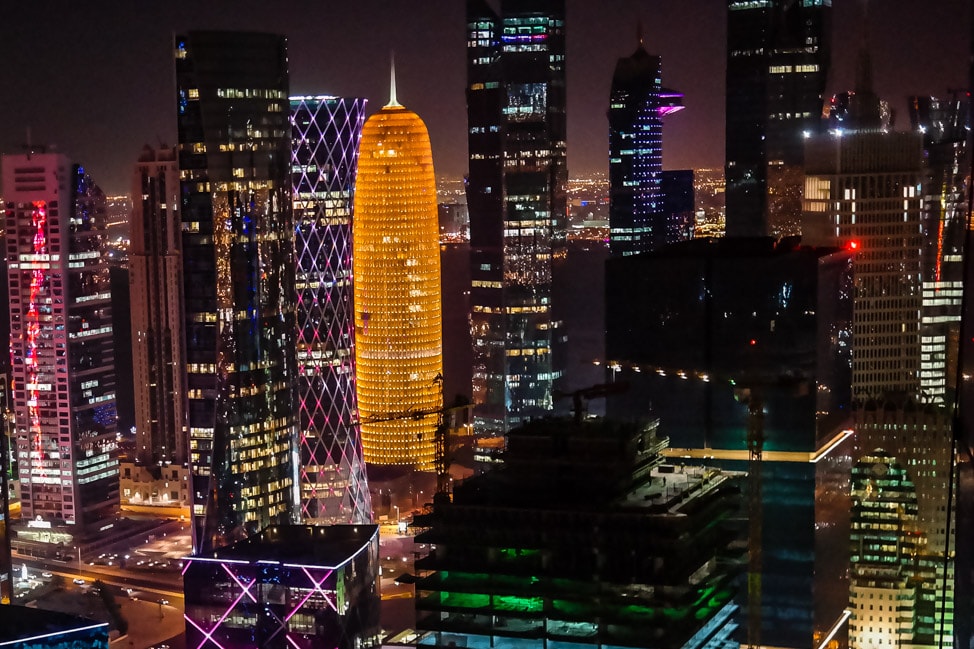 Eating Shawarma and Smoking Shisha
For dinner the first night, I knew I had to try Al Jalsa Garden Lounge, located just off the lobby. There, I went a little crazy, and sampled a wide range of the menu, including cold mezze like hummus and fattoush and a mixed grill platter with an order of chicken shawarma. The dining room was full of locals as well as hotel guests, and since almost every table seemed to be smoking shisha, I figured I should join in as well.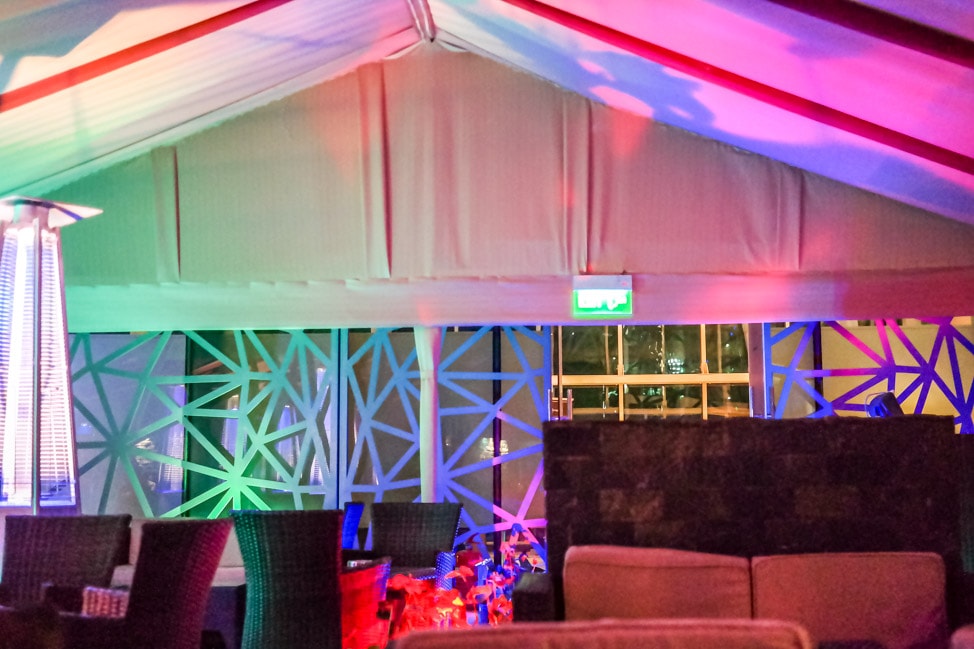 Shisha is incredibly popular in the region, and it consists of flavored tobacco smoked out of a hookah. You can choose your preferred type of tobacco, and someone delivers your hookah to your table and adds the white-hot coals on top to start burning the tobacco. I am not a smoker, but when in Doha, do as the Qatari do and try shisha. Plus, you don't inhale, so that makes it better, right?
The Al Jalsa offers a entire menu of hookahs, from traditional to table mounted, neon colored ones. I, of course, went with the crazy, neon-lit hookah, and the recommended 'Karkade Mist' tobacco, infused with dried hibiscus flowers. I was told it was healthy. I'm not sure I would totally agree with that assessment, but I wasn't about to complain.
The kitchen sent out a platter of Arabic sweets to sample at the end of the meal, despite the ridiculous quantity of food already consumed. Arabic desserts tend to be incredibly sweet, which I don't usually care for, but this array of honey-soaked pistachio treats wrapped in phyllo dough were quite tasty. I'm a sucker for anything pistachio. After only sampling a few bites, they insisted on boxing up the leftover sweets, assuring me that I would appreciate having them around.
By the next afternoon, I had eaten them all.
After a much-needed full night of sleep, I had breakfast at The Square, the all-day restaurant that offers the morning breakfast buffet. Like many buffets, it offered a mix of American, European, and in this case, Middle Eastern food. The pancake and egg stations were tempting, but after eating so much the night before, I stuck mostly to fruit and plenty of coffee.
I liked that they offered traditional Arabic bread, cooked on the traditional curved, cylindrical dome, a nice local touch.
On my second day in Doha, I did manage to leave the hotel and explore the city – more on that experience coming soon. Upon my return, I found my room had been serviced, and even included a hand-written note and a rose on my pillow.
Unfortunately, I did not have another full night at The Intercontinental, as my flight back to China left at the ungodly hour of 2:55am. I decided to just stay up and hopefully tire myself out for the flight so I could rest on the plane. I made my way up to the 55th floor and test out the Strata Lounge, the nightlife option at The Intercontinental. It was dimly lit, with pops of neon and a mixture of modern white chairs and sofas for lounging.
I'm a sucker for bars with a view but I resisted the urge to have a cocktail – I needed to stay awake – so I went with one of their mocktail creations. One of my favorite things about the Middle East, in general, is the fantastic non-alcoholic drink options available everywhere.
I ended my night back down in the Al Jalsa Garden Lounge, grabbing the last available table, and ordered more shisha (apple flavor, this time) and an espresso to keep me going. It was a fitting end to my adventure.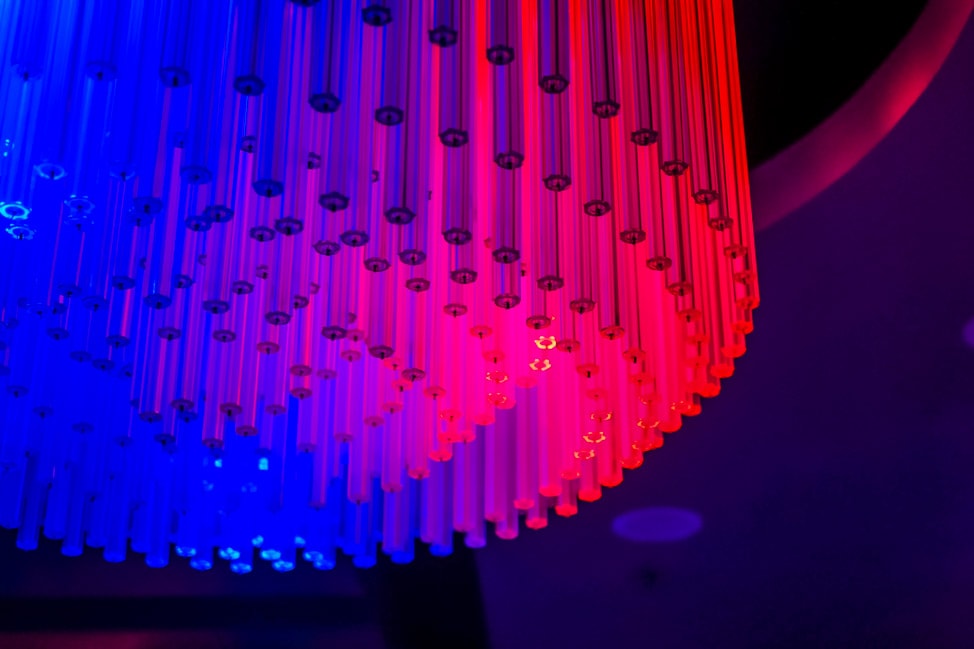 Time to Return to Reality
I had prearranged a taxi for my midnight departure from the hotel, which arrived on time. The check-out procedure was smooth, and within minutes I was in the taxi for my return trip to the airport. This journey took only 25 minutes, showing that it is possible to get around the city without traffic, you just have to do it in the middle of the night.
My few days in Doha were stellar, and my stay at The Intercontinental Doha The City was a major part of my experience. Its location in West Bay, in the heart of the city, means it is close to almost all of the must-see attractions, like the Souq Waqif and the Katara Cultural Village. The staff is warm and welcoming, the facilities are top notch, and if you like a good view, it is hard to beat this hotel.
With over 500 rooms, 5 restaurants, rooftop pool, and gym, there is plenty to do without leaving the property. Maybe for my second visit…!
Have you been to Doha? Where did you stay? Share your comments and thoughts below!
I was a guest of the Intercontinental Doha The City, but as always, all opinions are my own. The views from the hotel were truly amazing, though. You should check them out.