We have been lucky to stay at some stunning hotels in the short time that we have been expats in London. 
The grounds
at the Old Swan and Minster Mill,
the suite
at The Magdalen Chapter and the
crazy luxury
of the Rosewood Abu Dhabi were all sensational. For a single night or a weekend away, hotels make a lot of sense and we've enjoyed them immensely. But we really love alternative accommodations.  Prior to our move to London, our European vacations always included apartment rentals, through holiday rental sites. Over the years we stayed in fantastic apartments in central locations for less than a cost of a hotel where could have breakfast in the morning without getting out of our pajamas (Julie's default wardrobe choice).
When researching where to stay in the Seychelles (my favorite part of trip planning), I stumbled upon a property that was different.  It had nothing but positive reviews on
Trip Advisor
; in fact, it is the third rated property on Mahe island, impressive for a destination known for beautiful, high-end resorts.  It's the
Petit Amour Villa Seychelles
, a boutique villa that boasts only four rooms and is set on a stunning hillside overlooking the Indian Ocean.  The pictures were amazing, the reviews were fantastic and it was well priced (though not cheap, it's the Seychelles after all).  So we reverted back to our comfort zone – the alternative option.  No name brands, no cookie cutter resorts, no corporate anything.  We booked a four night stay at Petit Amour.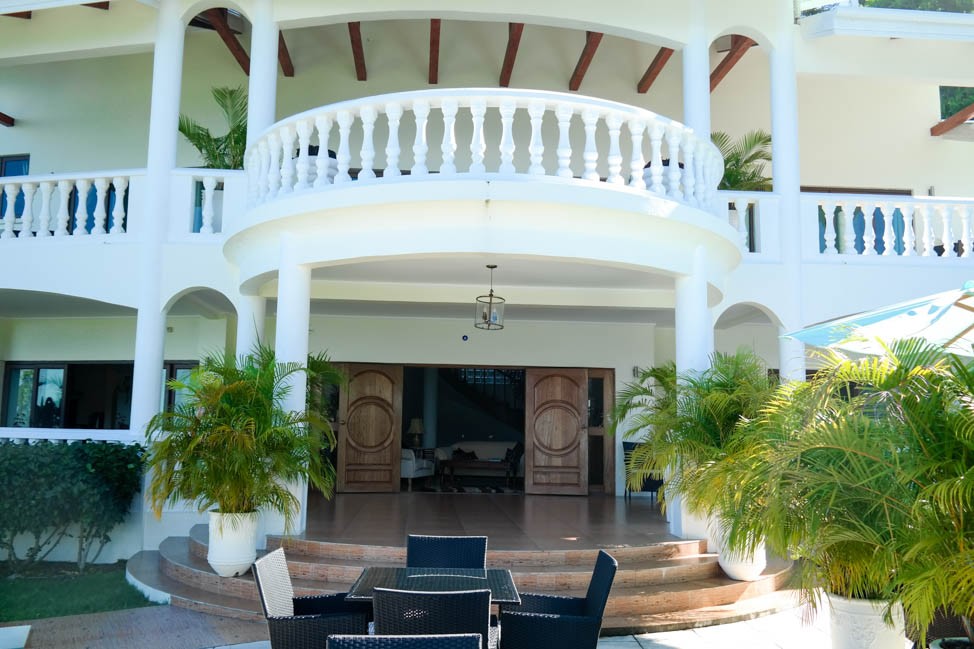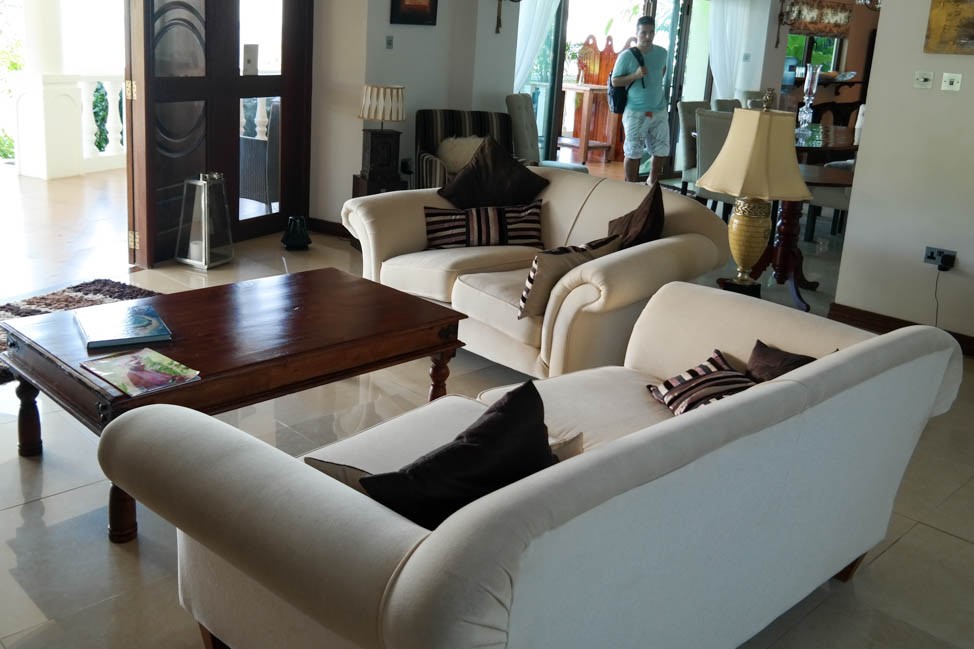 After touching down on the single runway of Mahe Island, we were whisked from the airport to Petit Amour in a pre-arranged taxi. Approaching the final turn up to the home, I knew why it has such stunning views: it is on the steepest hill I have ever seen.  Steep enough that I was not sure our taxi was going to make it up.  Steep enough that the driver had to shift his automatic car to the low gear.Luckily, we arrived safe and sound and were greeted by Jon (one of the owners) with a cold towel and some iced tea, a welcomed respite from the  30 degree heat (or 90 degrees for our US friends).  Jon brought us up to our room, a suite on the second floor.  I hesitated because I clearly remembered booking the least expensive room in the villa, which I believed was on the first floor.  Then, Jon gave us the news: "The only bad news is that no one else is staying here until your last night.  So we decided to give you an upgrade."
We were shocked.  We now had a 7,000 square foot home, in the Seychelles, with an infinity pool overlooking the Indian Ocean all to ourselves!? Dear dairy: Jackpot!
Our mornings were leisurely, spent relaxing on the balcony, checking up on
Facebook
(the wifi is solid), reading or just watching the fruit bats fly by.  Since the other upstairs suite was unoccupied, we had the balcony to ourselves, which ran the full length of the front of the villa.  Breakfast, a multi-course affair, was at a solo table set on the patio.  Coffee and tea.  Fresh tropical juices of our choice. A bread basket filled with toast, mini croissants and pain au chocolates.  A huge plate of fresh tropical fruit.  An omelet with choice of fillings.  Epic.
After spending the day exploring the island or relaxing on the beach, we got our daily exercise, the walk up the comically steep hill which left us sweating through our clothes, necessitating an immediate dunk in the pool. Jon and Michel (the other owner) have a very personal touch with their villa and like to be part of their guests' experience.  They had the great idea to bring guests together for a pre-dinner cocktail to share stories and chat about the day. So every night at seven, we gathered, and sipped an every-changing array of island drinks.
Our experience was unique, since we were the only guests for a few nights, so we just relaxed with Jon and Michel, talking about the Seychelles, about the villa, politics, travel.  One of their dogs was ill, so we requested daily updates on her condition and the details of their other pets' lives (they have multiple dogs, a bird named Scotty, Tom the cat, and even a few tortoises!).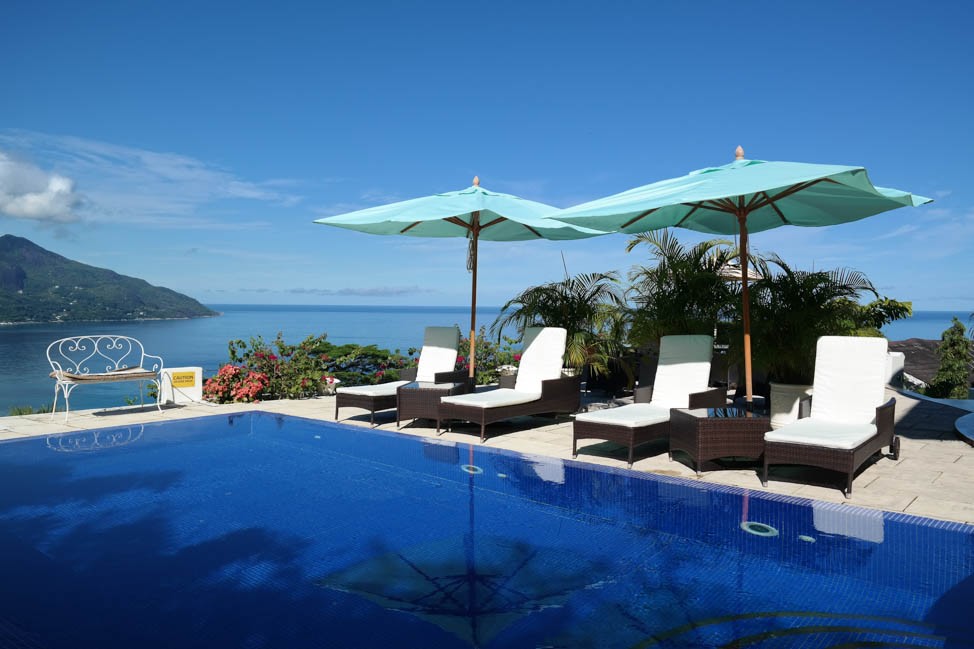 For dinner we moved back to the patio and feasted on three course menus that we chose earlier in the day. Smoked chicken and corn soup, smoked marlin salad, and local creole fish curry were highlights.  The food was delicious and a great way to end our day.  We inevitably ordered a bottle of wine to share. It is worth noting that our daily dose of wine with dinner was the only part not included.  Our room rate included breakfast and dinner, as well as non-alcoholic beverages and the nightly cocktail.  What a deal!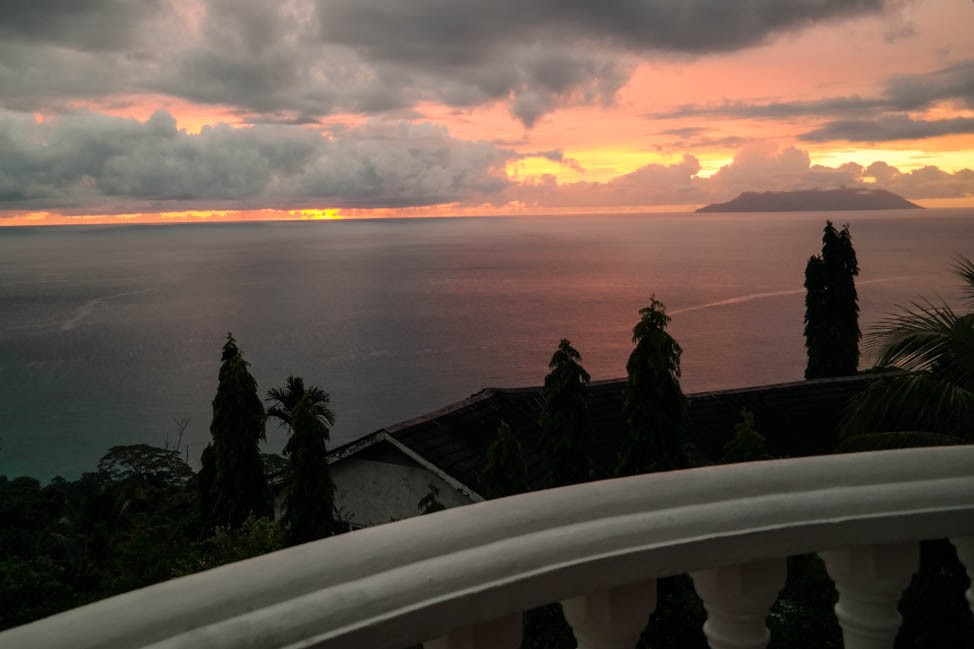 After dinner we would relax, try to do some writing or review our photos from the day, only to pass out without much getting accomplished.  A day of sun and night full of wine will do that to you.  We woke well rested and did the whole routine again. It was the perfect break from city life in London.
A property like Petit Amour offers a more personalized touch than most generic hotels or inns. We enjoyed the perks of a hotel, like having assistance in planning activities and a chef who prepared breakfast and dinner each day. But we got to know the owners and the staff.  We asked questions about life on the island, and learned about the Seychelles from people that
actually
live there.
We had a whole home to ourselves more or less.  We felt a connection to the location that we feel when we rent an apartment in a foreign city. Clearly from Julie's view, we are not a couple that finds sitting on a beach all day doing nothing very relaxing or rewarding.  We crave adventure, seeing new and different things and getting to know people and places beyond a superficial level.  And for us, Petit Amor was perfect.