For the next few weeks we will be highlighting some great dog-friendly hotels we've found near London. These are all locations that are within a comfortable driving distance of the city and could be visited with your dog of choice over a weekend.
We generally do not spend a majority of our time in a hotel when we venture out of London.  Typically, we are out for most of the day, exploring, walking, eating.  But every once in a while, it feels nice to unwind and frankly, do a whole lot of nothing.  Once in Kuala Lumpur, we spent over 24 hours in a hotel without stepping a foot outdoors. Last month, we stumbled upon The Magdalen Chapter in Exeter without knowing much about its extensive amenities.  And yet, we once again managed to spend the better part of a day (and our entire time in Exeter) just hanging out inside the Magdalen Chapter.  It was that nice.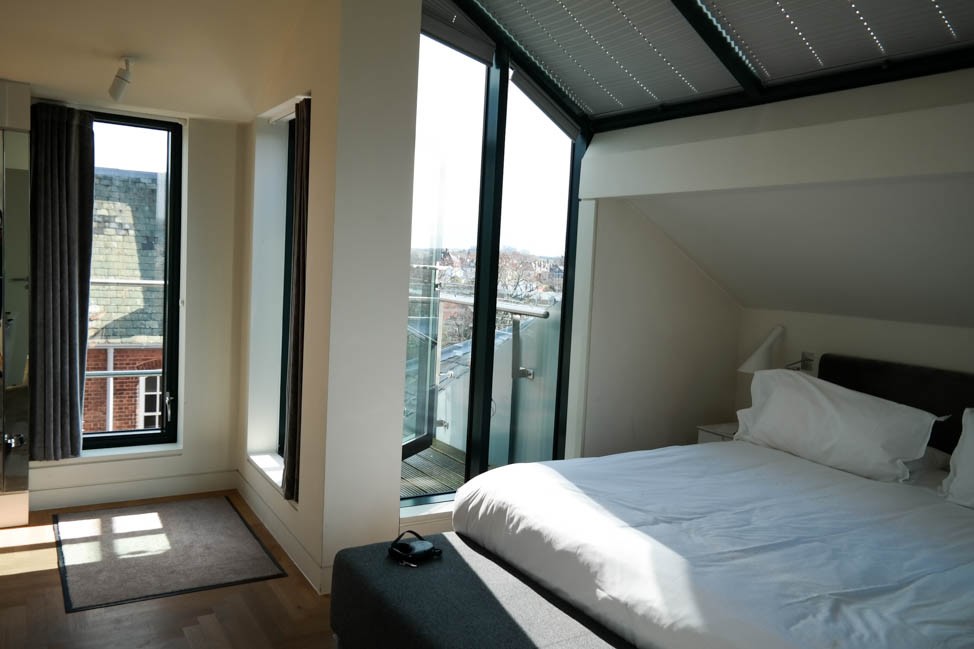 The property itself is a former hospital, turned into a hotel a few years back.  It is distinctly more stylish than we had anticipated, and we were provided with an iPad during our one night stay, allowing us to view details about the property and the surrounding area.  We even ordered room service directly from the iPad, which was delivered quickly, was delicious and eased our empty stomachs.  We booked into a Feature Room, which was quite stunning, full of windows, with two small balconies and a fantastic bathroom with a rain head shower (a big plus in my book).  Basil got his own bed as well, so he could relax from his very busy schedule of eating garbage off the street and bothering Julie.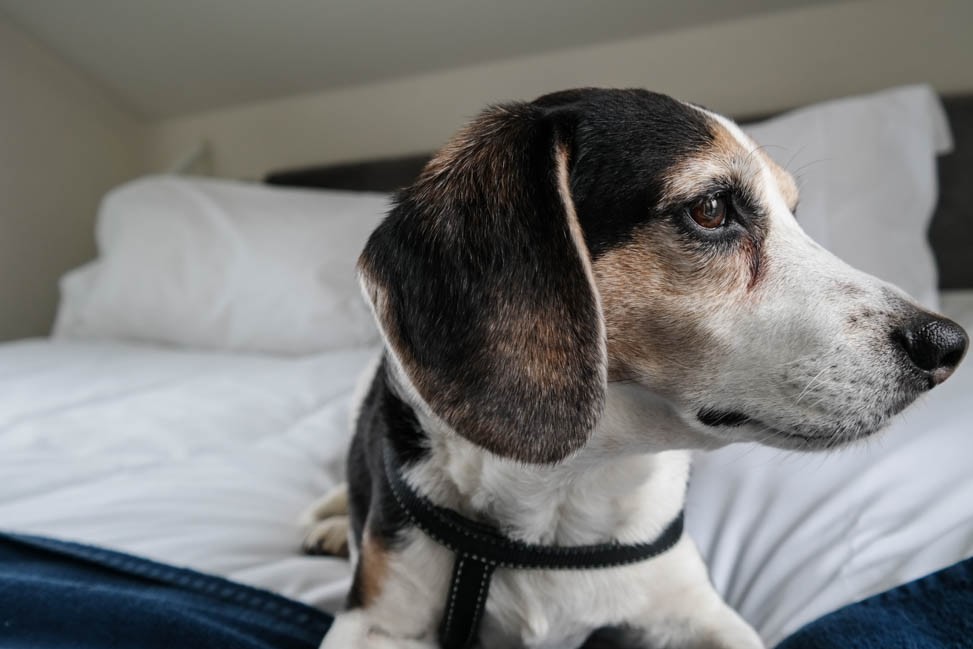 Julie had some work to attend to, so I had intended to explore Exeter with Basil, checking out Exeter Cathedral and taking an extended walk through the town.  Of course, Mother Nature had a different idea, and the clear skies quickly turned black and we were pelted with hail and gusty winds.  I think it was Basil's first hail storm and he was throughly confused about being pummeled with little ice balls.  Luckily, I was able to snap some shots of the Cathedral before the skies unleashed its fury.  The size of the Cathedral is shocking and quite beautiful, tucked into the heart of Exeter.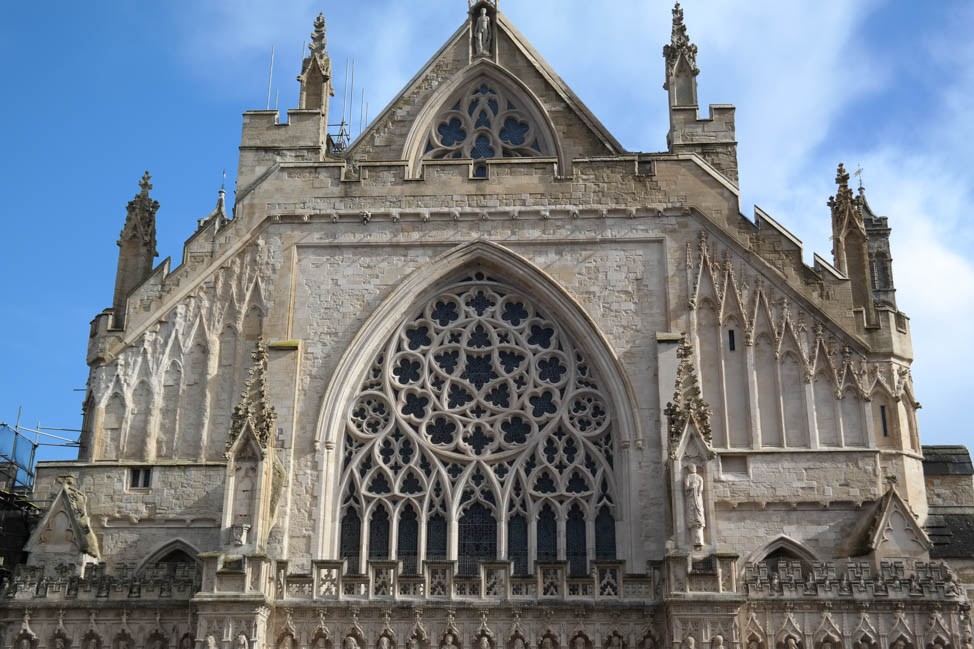 With the unstable weather and a general sense of laziness, we decided to skip venturing out and just enjoy The Magdalen Chapter.  We booked into the spa for two late afternoon back massages and decided to have a pre-dinner cocktail in the bar area afterwards, which allows dogs.  There were three sitting areas and we settled up next to a fireplace, with a roaring fire, with Basil consistently trying to eat the burned embers (he is not especially intelligent).  After knocking over a drink while trying to get him to keep still, we left Basil upstairs so that he could sleep more in his bed and so we could enjoy our cocktails in peace (2 for £10, great deal) and get a bite to eat at the restaurant.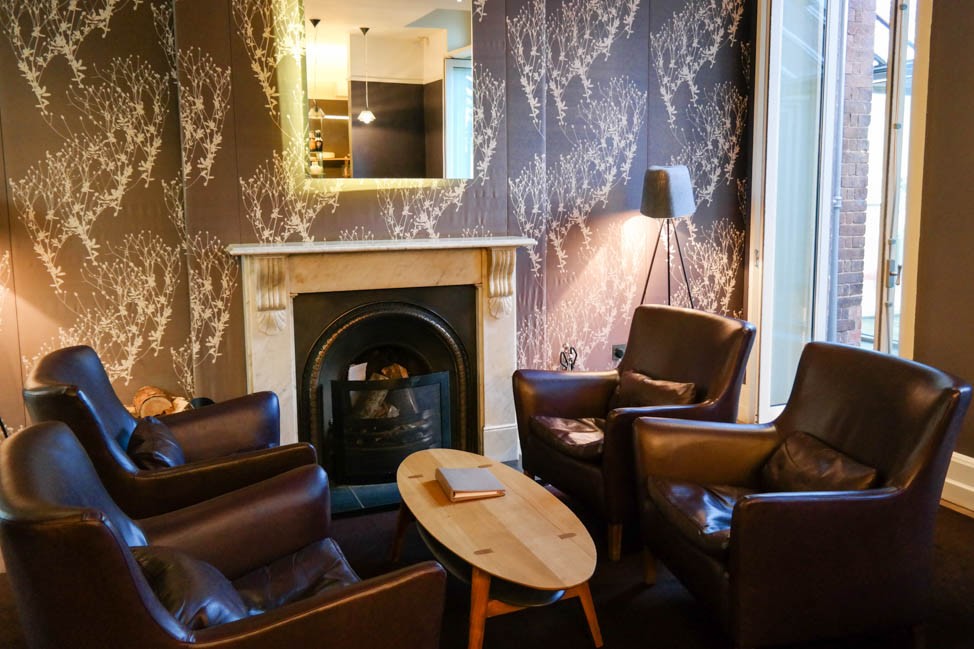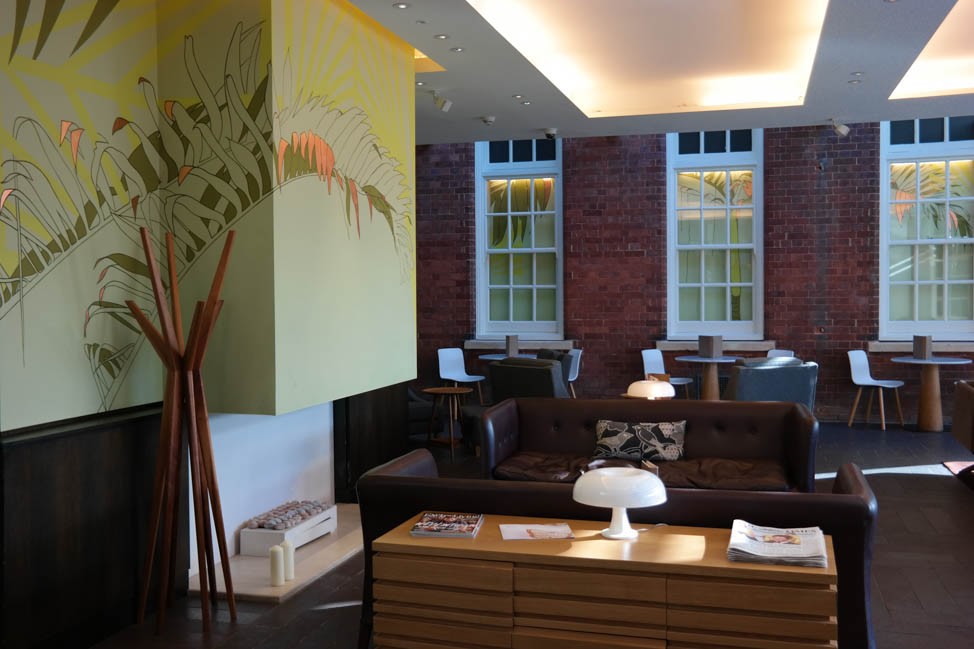 While many small hotels have rather dull food and beverage programs, I must give credit to The Magdalen Chapter for providing some great meals and drinks.  The room service was some of the best we have had in a while, with a solid pizza and some super crispy and non-oily onion rings (I have a passion for quality onion rings.  It is weird I know).  Our dinner was quite enjoyable, as Julie opted for a 3-course set meal, a deal for £17 and I went for a few a la carte options.
I had a starter of local Devon crab salad and a monkfish tail, served on the bone, with some purple sprouting broccoli as my main, which was amazing (note to self: I need to order monkfish more often).  Julie liked her dishes as well, which we thought were quite sizable, making the set meal even a better deal.  The breakfast options were nice too, with a perfect continental buffet available as well as some hot dishes.  I went for the North African shakshouka, a dish of baked eggs with roasted peppers and spices, while Julie hit up the buffet for some pastries and yogurt.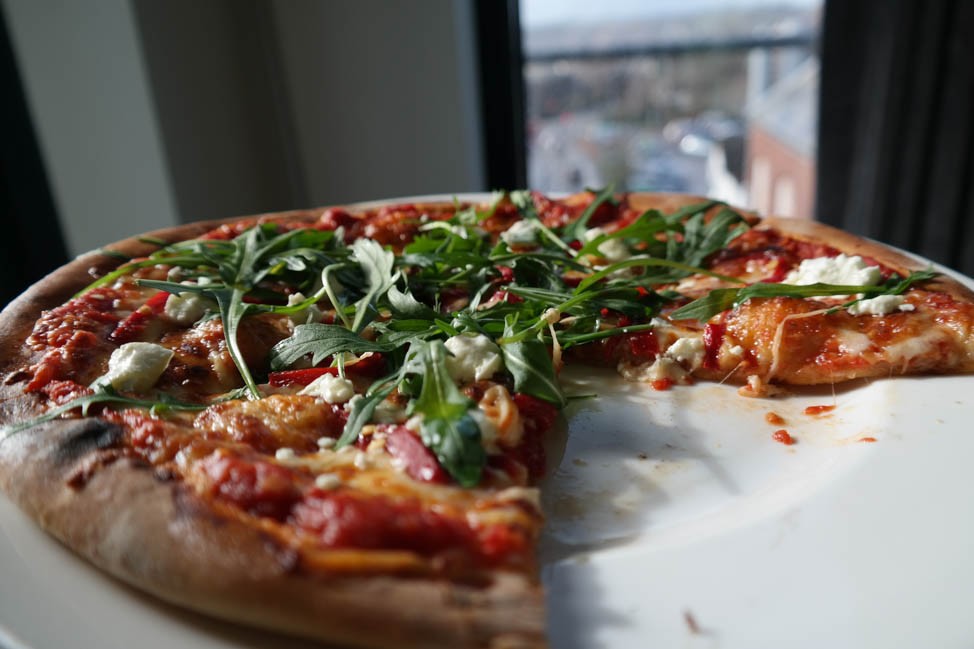 We checked out the next morning after our breakfast and set out onto the road again.  While we had every intention of discovering Exeter in our first visit to Devon, in the end, we did very little in terms of exploration.  With Julie's work, the inclement weather and a general need for relaxation, we opted instead to just enjoy the amenities that The Magdalen Chapter provided.  I am sure we missed some great sites and some quality walks with Basil, but we wouldn't change a thing about our night in Exeter.  From the room, to the spa and the bar/restaurant areas, we had more than enough to keep ourselves and our beagle occupied and quite happy in our stay at The Magdalen Chapter.
Interested in staying at The Magdalen Chapter now? Click here to check out the property!