Here's what no one told us about the Balkans: you cannot escape from the food.
The Balkan countries have a long history, and have been combined into one kingdom or territory at many points. To say they share a food culture would be an understatement. The reign of the Ottoman Empire for almost 500 years had a major impact on Balkan food, which can still be seen today.
That influence means that even when you cross from Croatia to Montenegro, or from Bosnia & Herzegovina to Serbia, the menus of local restaurants all look rather similar. Ćevapi, ajvar, dolma; they are all found throughout the Balkans. There are variations, and side dishes or condiments may change slightly, but the Balkan food basics remain the same.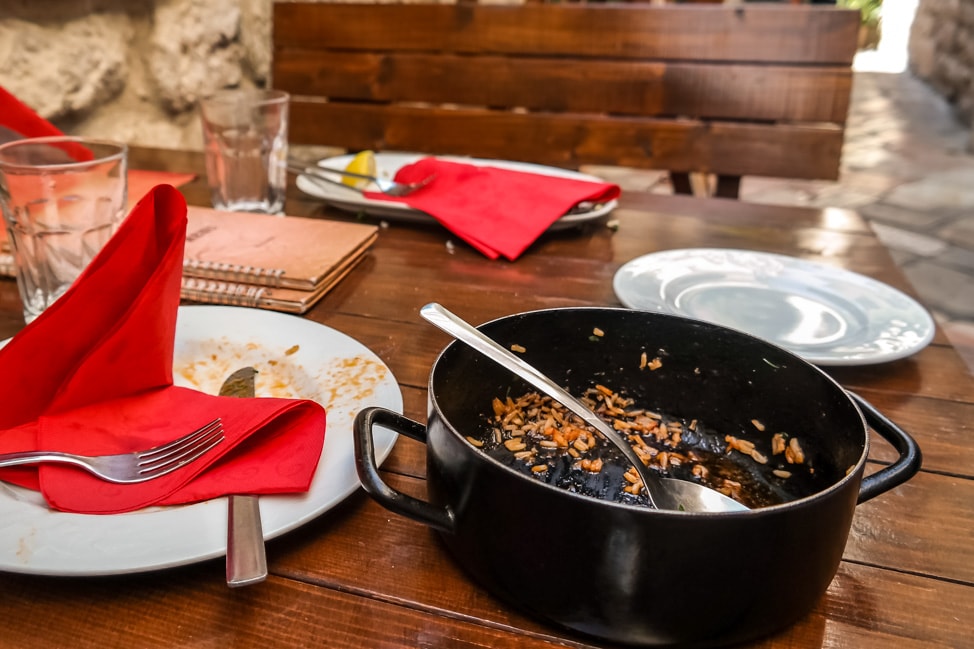 While we are by no means experts on the subject, with a month of eating grilled meat, stuffed vegetables and a seemingly endless number of red peppers, we have a few broad observations from our ongoing Balkans road trip that may be helpful for your next visit.
Oh, and just a quick note, Balkan food is not what we would consider to be very photogenic, in the typical sense. You've been warned.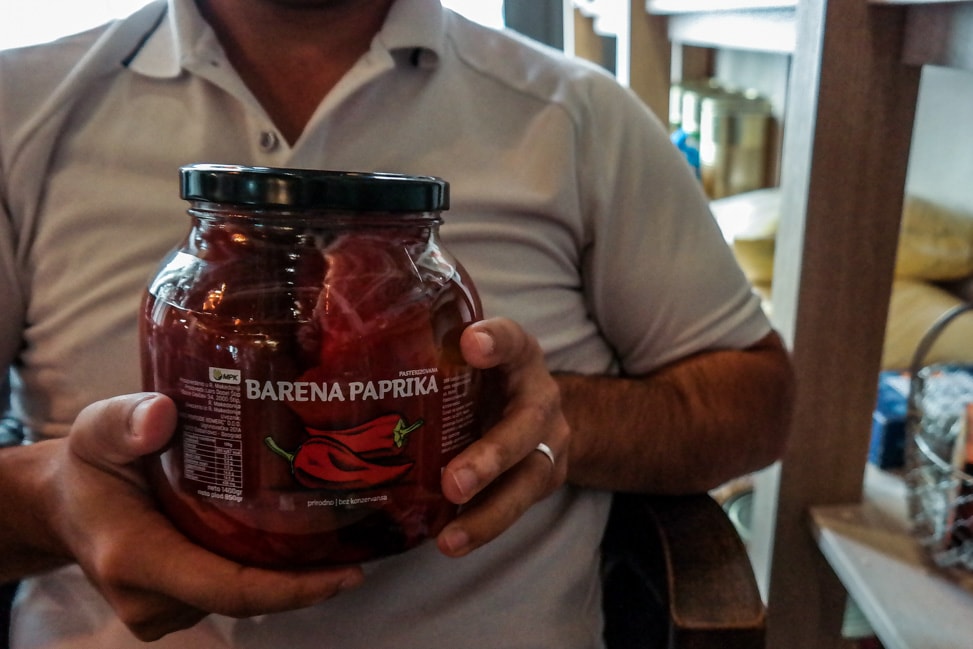 Guide to Balkan Food
Ćevapi
Any foray into Balkan food should start with ćevapi (also called ćevapčići) which is a staple throughout the region. Ćevapi are small, oblong patties made from a combination of ground beef, lamb, pork, or veal (mixture varies by region), chargrilled, and usually served in batches of 5 or 10 inside a flatbread (called lepinje or somun) with a side of raw chopped onions and the omnipresent ajvar (more on that later). It's cheap fast, and tasty. The key is the addition of baking soda to the meat mixture, which leaves them light and airy.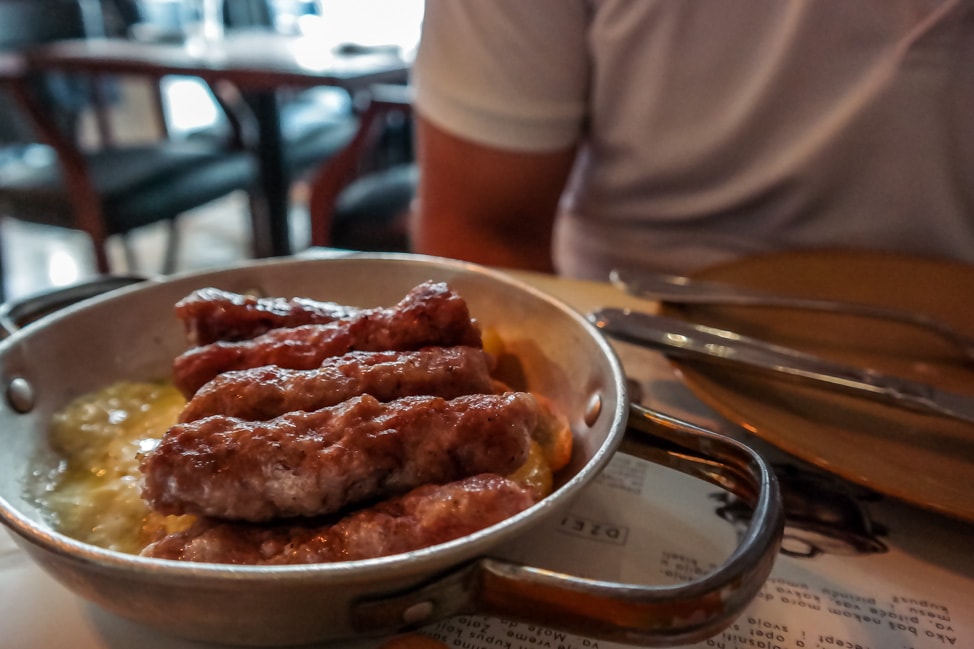 Bread
Bread is an important component of Balkan cuisine, not just as the vehicle into which ćevapi are stuffed. It is served with every meal, on the side or buried underneath a pile of other food. As you would expect, sweet breads are usually reserved for morning hours, and savory breads are available any time. It is typical to see an assortment of seeds and nuts sprinkled over top. In general, the breads we've had are usually pretty 'doughy' but with the right amount of squish to sop up juices.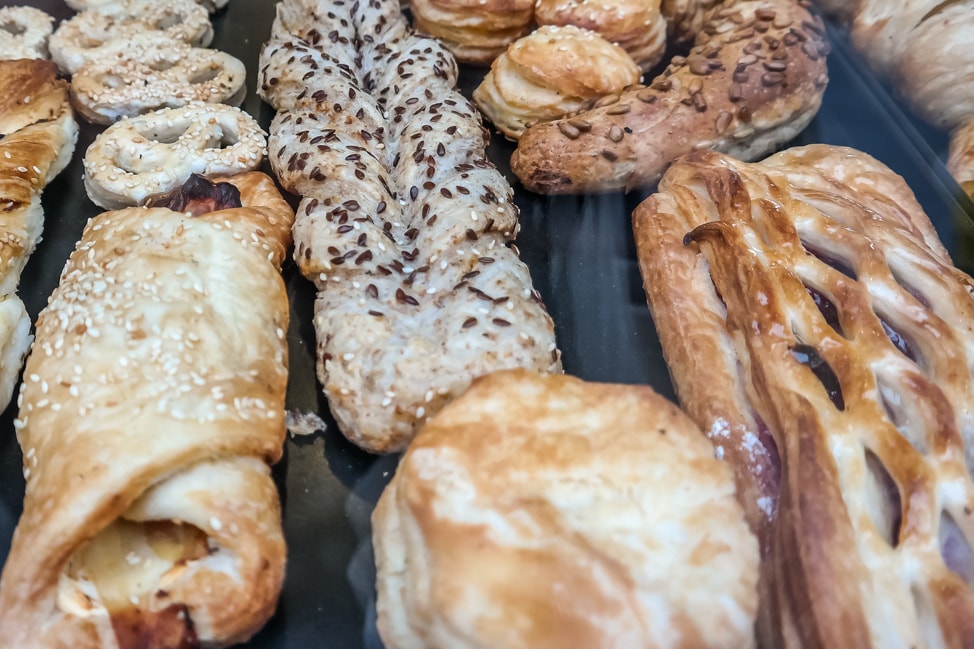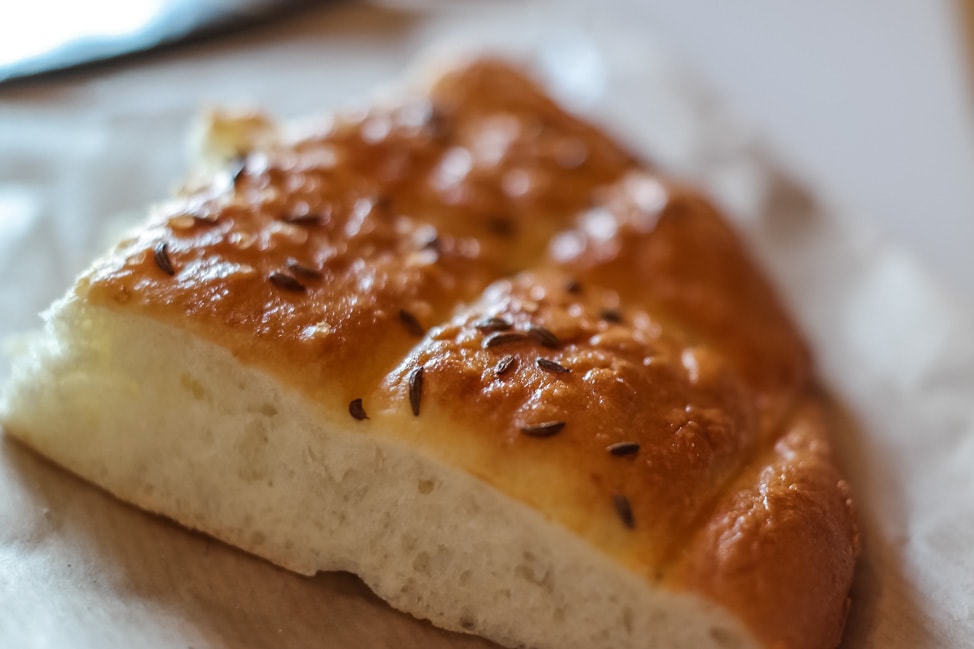 Burek
A food that can be found in any bakery and fast food restaurant, burek is eaten at any time throughout the day. It is a pastry made out of phyllo dough, that is stuffed with either meat, cheese, spinach, or potatoes, and baked. It is usually eaten with yogurt. The shape changes throughout the Balkans, from a round pie-shape that has layers of dough and filling, to long, rolled versions, that are coiled up into a circle.
Dolma/Sarma
These terms are interchangeable, but essentially just mean stuffed or rolled vegetables. Most people think of a dolma as just a Greek dish of vine leaves wrapped around rice, but the filling and wrapper can vary. There are stuffed tomatoes, onions, squash, and zucchini. Cabbage is used often as well (both fresh and pickled leaves) to wrap around ground meat and rice. All are usually baked or stewed with a stock or tomato sauce, and normally served with yogurt or kajmak.
Stuffed Peppers
Of all the dolma around, it's important to call out the king of them all: the humble stuffed pepper. They are usually stuffed with ground beef, rice, garlic, and paprika and slow cooked in a simple tomato sauce. Red peppers are the color of choice, but we've also seen pale yellow/white peppers used in this preparation.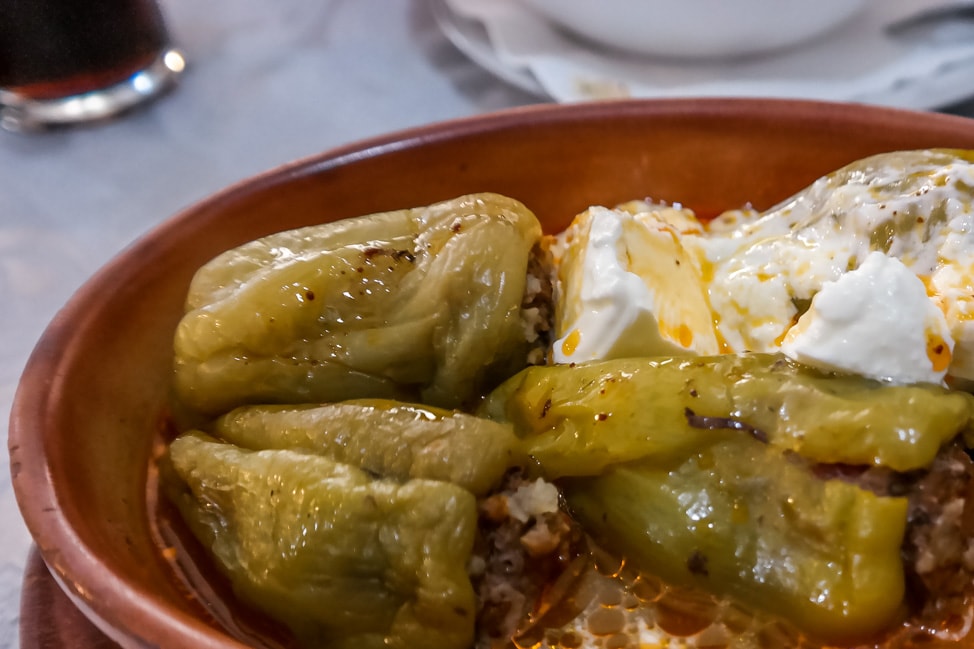 Pljeskavica
This is the Balkan equivalent of a hamburger patty. These flat, round discs are made from a mixture of beef, veal, lamb, or pork (again, depending on your location). They can be topped with kajmak and ajvar, served by itself, or put into bread to make a Balkan version of a hamburger.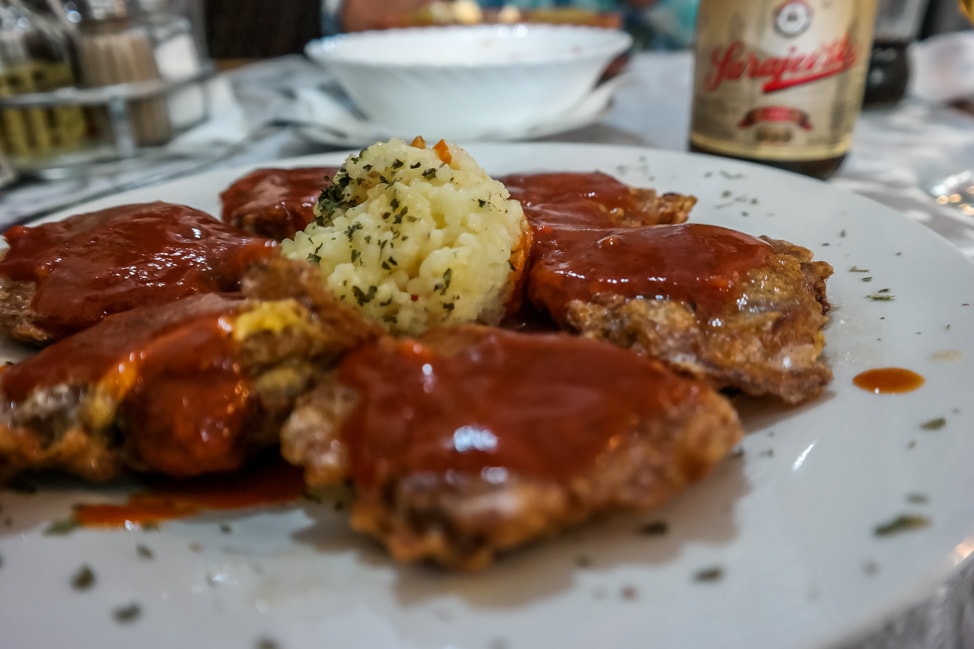 Simple Grilled Meat and Fish
The Balkans love grilled meat and fish, and there is usually always a simple roasted meat or fish dish on any menu, served with rice, or polenta, or potatoes. Slow cooked lamb is especially popular in many Balkan countries, while the coastal areas like Croatia and Montenegro specialize in sea bass or sea bream, usually served whole.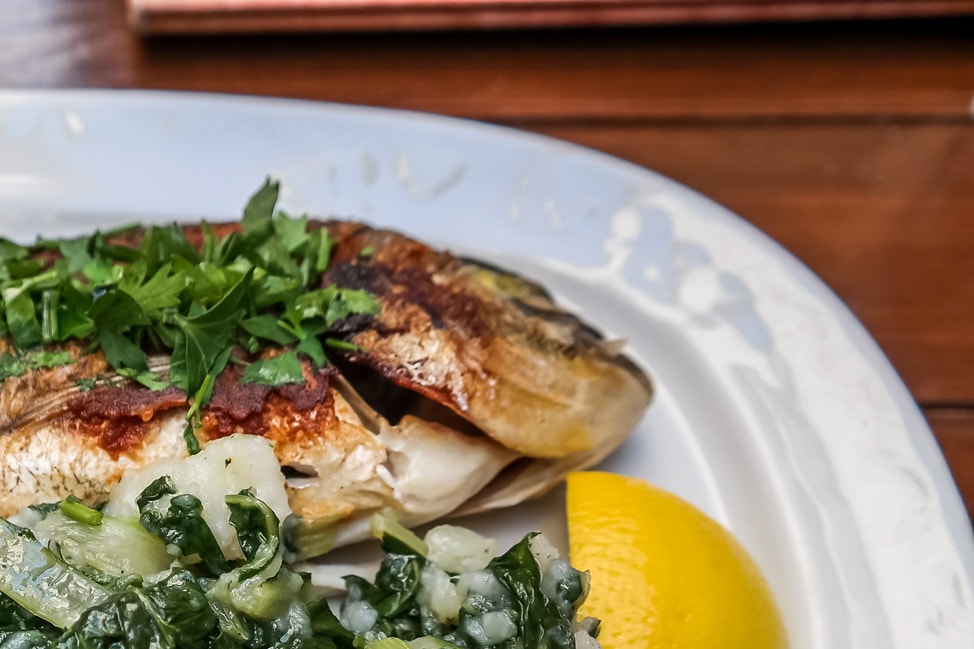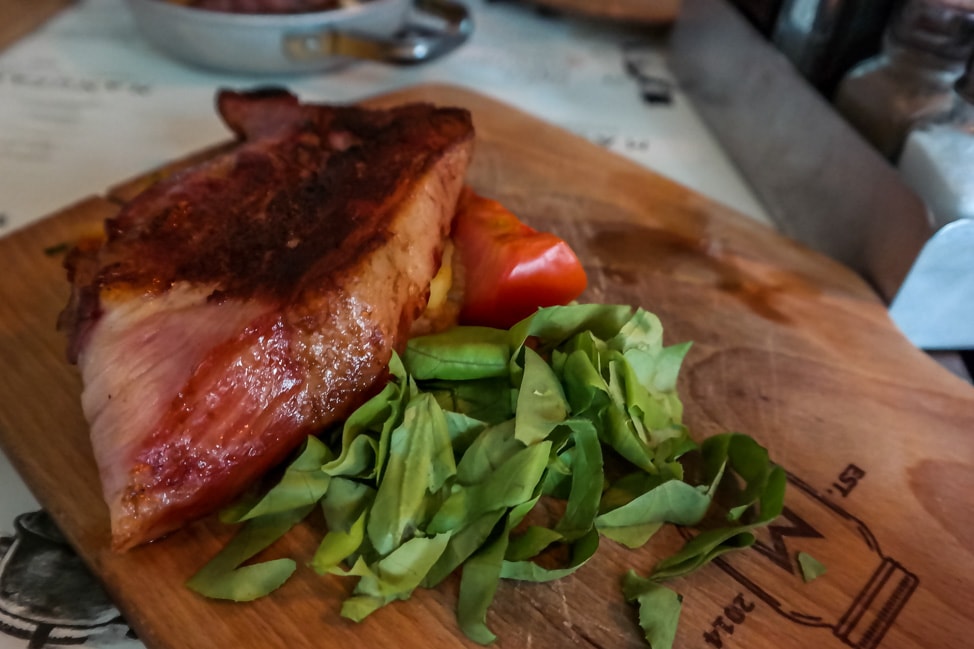 Shopska/Šopska Salad
We've eaten this salad more than any other food in the month we've been in the Balkans. It is a mixture of tomatoes, raw onions, peppers, and cucumbers topped with some version of a sirene cheese, which is similar to feta, but can be grated. All of the vegetables are diced (there is no lettuce in this salad, or in many "salads" in the Balkans, now that we think about it) and the salad is served with oil and vinegar on the side. Especially during the warmer months, this is a nice, refreshing break from all of the meat-heavy dishes.
By the way, our favorite versions of this Balkan food are like the one below – a small dice on all the veggies and a liberal grating of cheese. The more onion the better.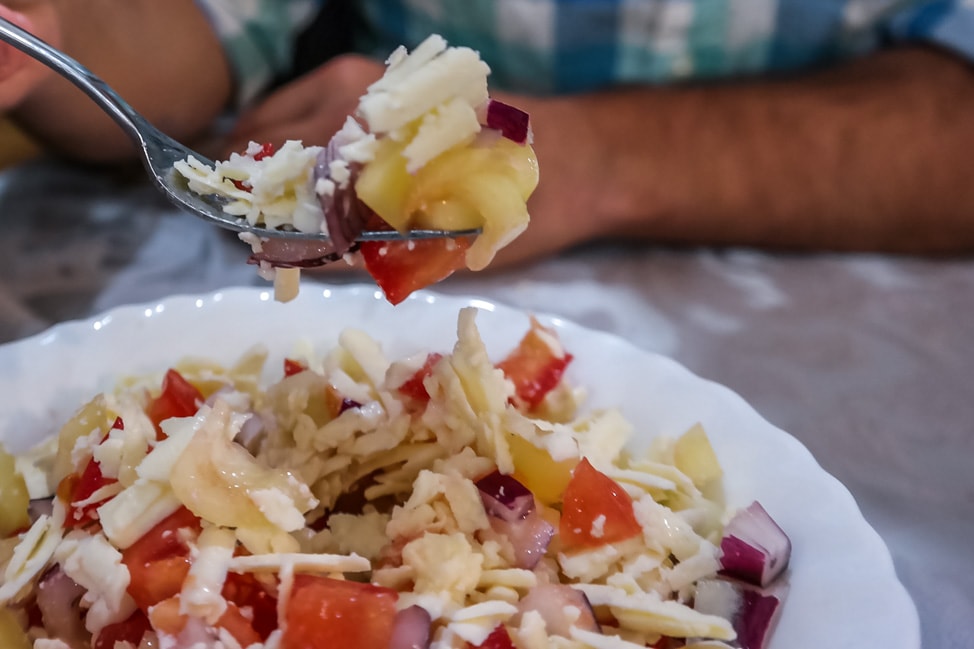 Ajvar
The real star of Balkans food is a humble condiment. Ajvar is similar to a pesto, but made with primarily roasted red peppers and garlic, though it can also contain eggplant, chili peppers, and tomatoes. It is served on the side of most meat and fish dishes, and if you ever visit a supermarket in the Balkans, you'll see an entire row of the stuff.
We've bought several jars and have been adding it on top of eggs, and even thinned out into a salad dressing. But those are our American/European additions to the ajvar encyclopedia.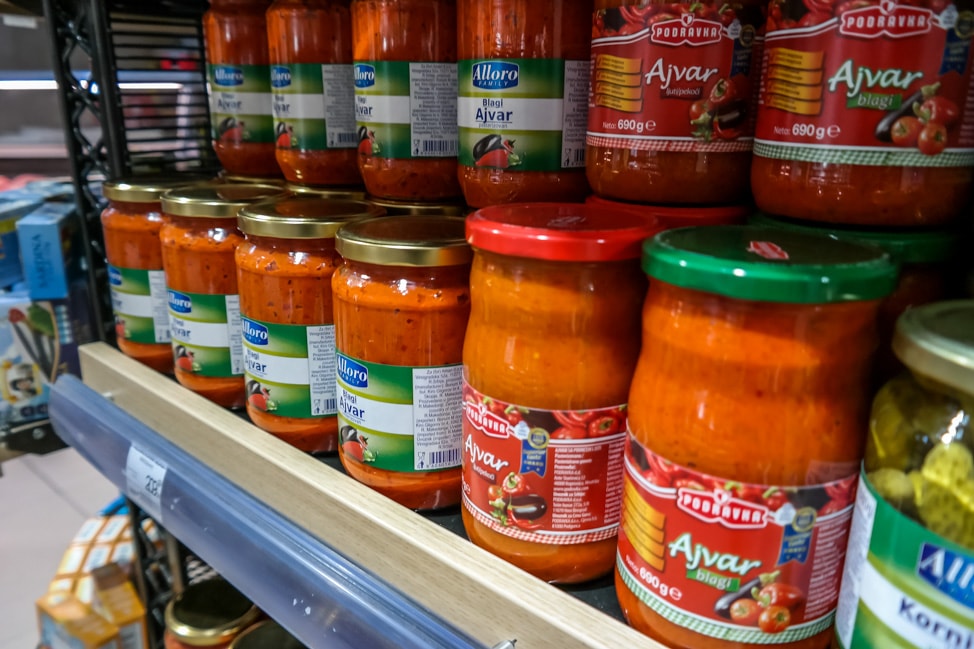 Kajmak
A cheese that is actually pretty similar to clotted cream, it is served simply as a starter with some bread, or melted onto a pljeskavica patty, or served on the side of an order of ćevapi. It is very mild in taste, but incredibly creamy and rich. So, kinda like the texture of sour cream, but without the tang.
Baklava
A dessert that we always considered a Greek speciality, baklava is quite popular throughout the Balkans. If you are unfamiliar with baklava, it is a pastry made with layers of phyllo dough alternating with chopped nuts (often walnuts or pistachios), cut into diamond or rectangle pieces, and baked. While still warm a syrup is poured over, usually rich with honey, and allowed to soak in and cool to room temperature. It is insanely sweet, but totally addictive.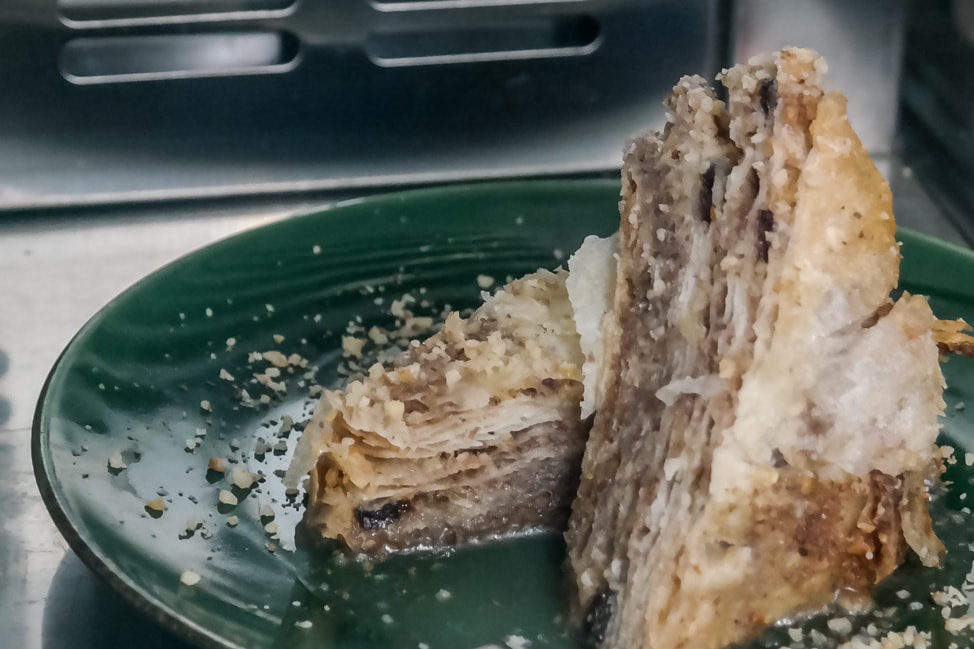 Turkish Delight
Another Turkish dessert that has made its way north, these square fruity jellies, typically seen coated in cornstarch or nuts, are frequently served with tea or coffee, or at the end of a meal. We've had many versions, but we both prefer those with nuts inside, not too chewy, and rolled in ground nuts or coconut. The best version we had recently was in Bosnia & Herzegovina, and it tasted exactly like an Almond Joy candy bar.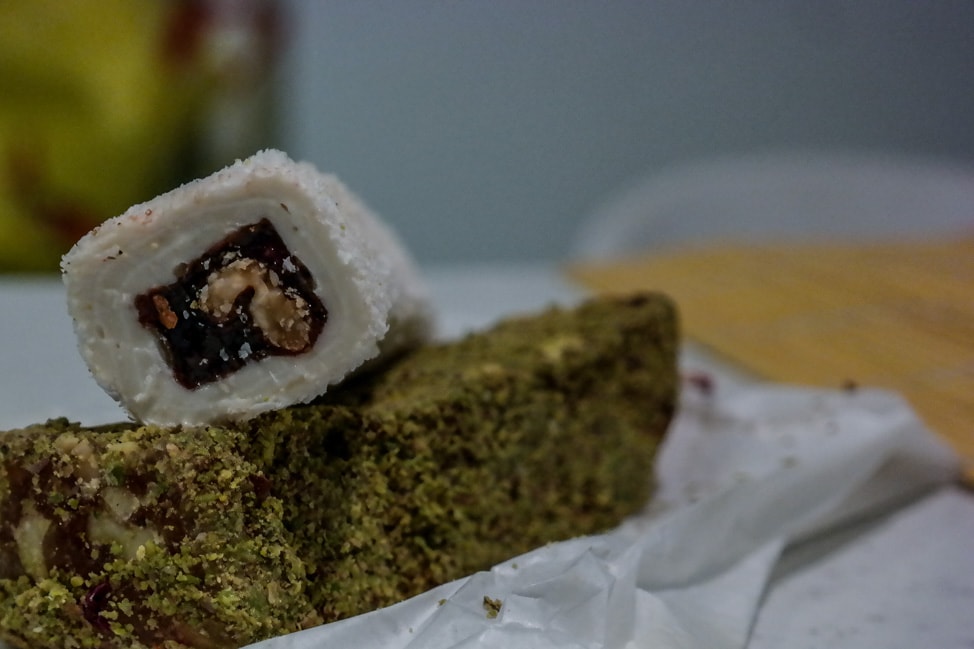 Coffee
Coffee is the drink of kings in many a European country. Turns out, the Balkans are right up there in their coffee consumption. In Belgrade, Serbia, we've been told there are 15,000 cafes (in a city of 2 million), which is one of the highest per capita around. In addition to coffee drinks that you'll see anywhere, strong Turkish-style coffee is also popular. They sometimes call it by their own name (i.e. Bosnian coffee) but it's all the same, served in fluted cups and packing a serious punch.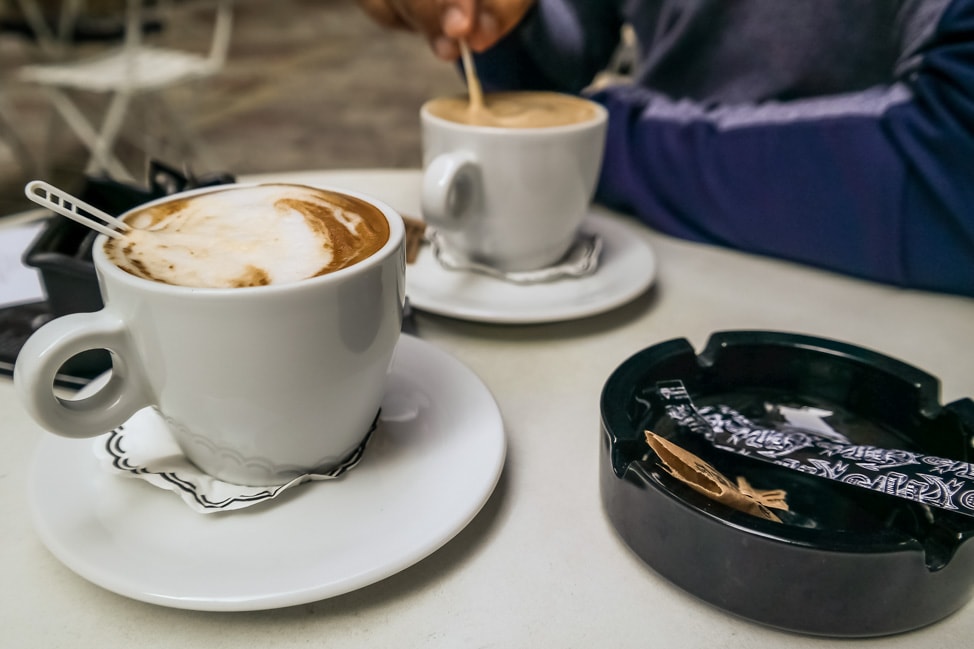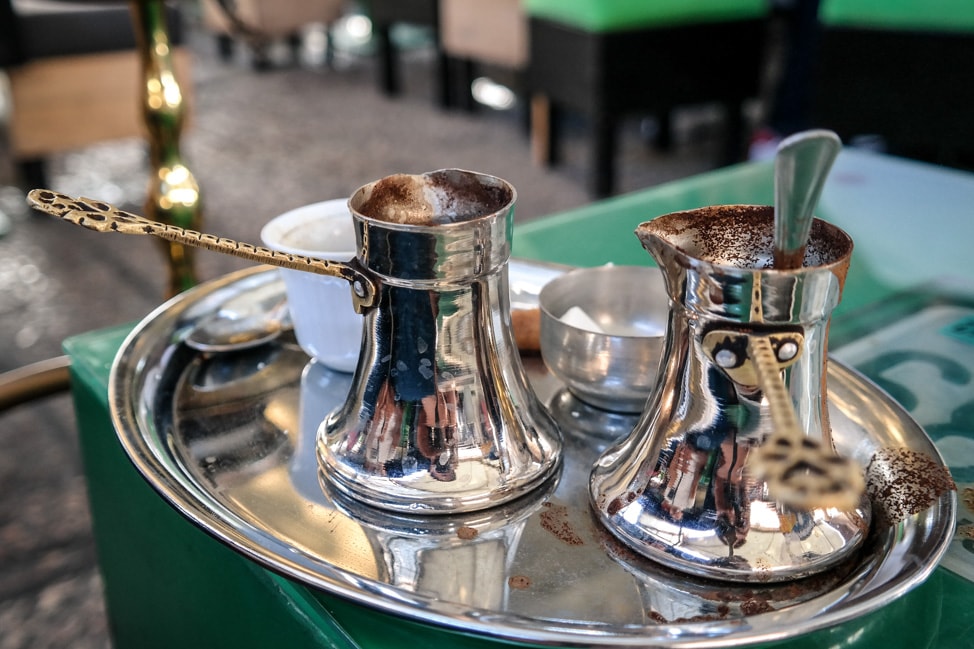 Wine
Many of the Balkan countries have a wine culture, producing commonly known varietals as well as a few local ones. From the crisp, Assyrtiko white wines of Greece, to the dry red of Montenegro and Serbia made from Vranac, most cafes and restaurants offer local wine, which is usually quite inexpensive, so it's easy to sample a wide variety.
Rakija/Rakja
Rakja is a spirit (similar to brandy) made most commonly from plums. The variations are almost endless though, as we've seen rakja made from cherries, walnuts, honey, and herbs. We've heard that old people drink rakja multiple times per day: in the morning to get their circulation going, before meals to prep the body for digestion, and an extra little shot if they suffer from high blood pressure. It's even rubbed on wounds and on skin to treat fever and infection. A true all-purpose drink!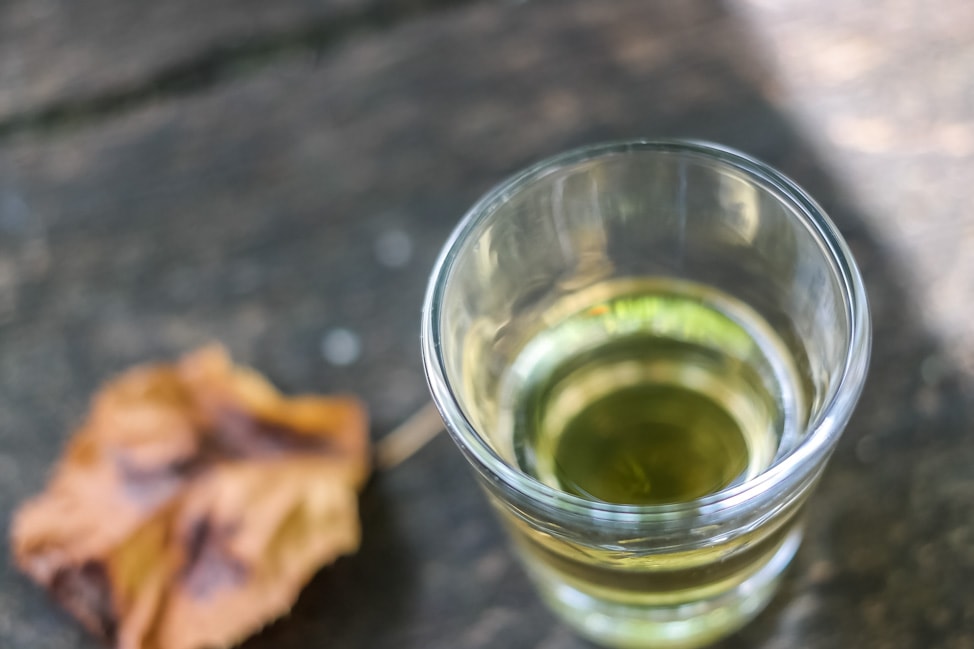 Balkan food is is as vast and complex as the region's history and we've just scratched the surface. There is an intense pride over the quality of the cuisine (and of each family's closely held rakja recipe), and we've enjoyed getting to know it as we travel around.
Now if only we knew where we could find ajvar in American grocery stores.
What is your favorite Balkan? We'd love to hear from you in the comments below!