Once upon a time there was a tiny village called Perast, home to families who made their lives from the sea.
Fishing, marine exploration, shipping – life revolved around the water. As is always the case in fairy tales like this, life was tough. One day, two seamen found an icon in the sea, one of the Madonna and Child. To mark their discovery, they promised to build an island where the icon was found. Upon each successful journey to sea, the sailors would throw one rock over the icon. Over time, an island grew out of the sea.
Today, Our Lady of the Rocks, a small islet in Perast, Montenegro, home to an even smaller church, remains steeped in legend.
The tale of the two sailors, some 500 years old, may or may not be true (they buried the icon at sea after all), but to this day, every July 22nd, the people of Perast throw rocks in the sea, and the island continues to expand.
As our guide from Adventure Montenegro explained, this small island has more than its fair share of stories, including my favorite about the woman and her hair.
A woman's husband was lost at sea, but no one knew if he was dead or alive. As she waited for him, for twenty-five years, she embroidered. She used her hair within the thread, and over time, as her hair changed from brown to white, the thread changed shades. No one knows if her husband returned, but her lovely piece of embroidery, and its lore, remains.
When we first saw the itinerary of our morning tour, Drew and I groaned. These long term travels have turned us into lazy morning people and the idea of a tour at 8:30am, before we're usually vertical, was cringe-inducing. But we decided to play along, telling ourselves that the early start would warrant a take away cappuccino, a treat on any day.
The timing was impeccable. Adventure Montenegro, professionals they are, knew exactly what was going to happen in Perast.
As we sped down the road to the boat launch for the island, other cruisers and tourists were just having breakfast. As we stood nearly alone in Our Lady of the Rocks Church, those travelers were bumper to bumper on the two-lane road. As we were speeding away from the island, bulging boats heavy with new visitors made their way over. And as we drove away, the Perast parking lots were mobbed with tour buses, tour groups and more brightly colored flags and loudspeakers than I care to mention.
Take this tip from the pros, and arrive in Perast before 10am if you want any chance at visiting this lovely town in relative peace and quiet.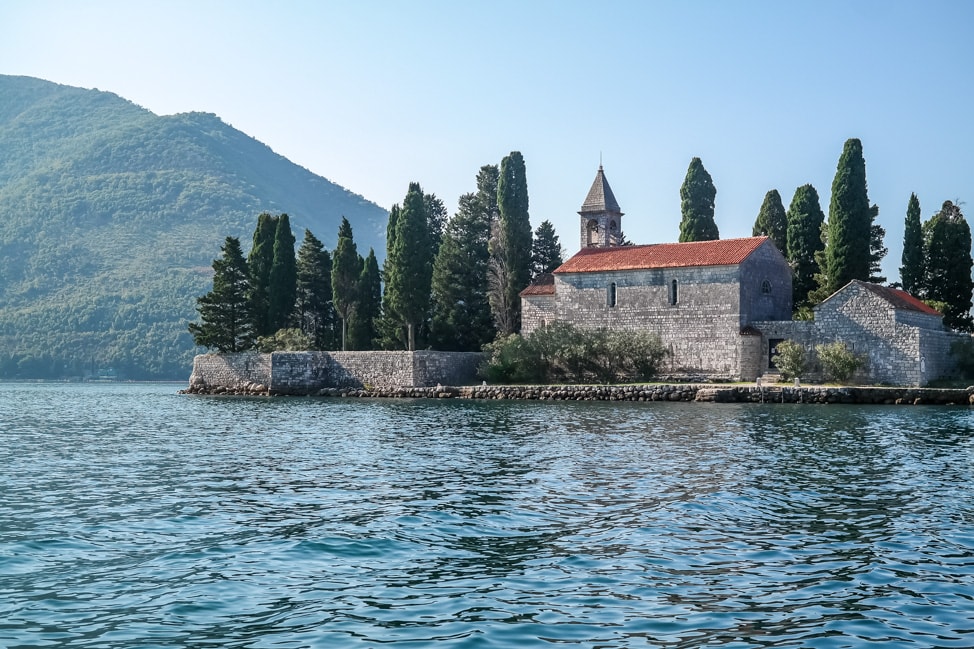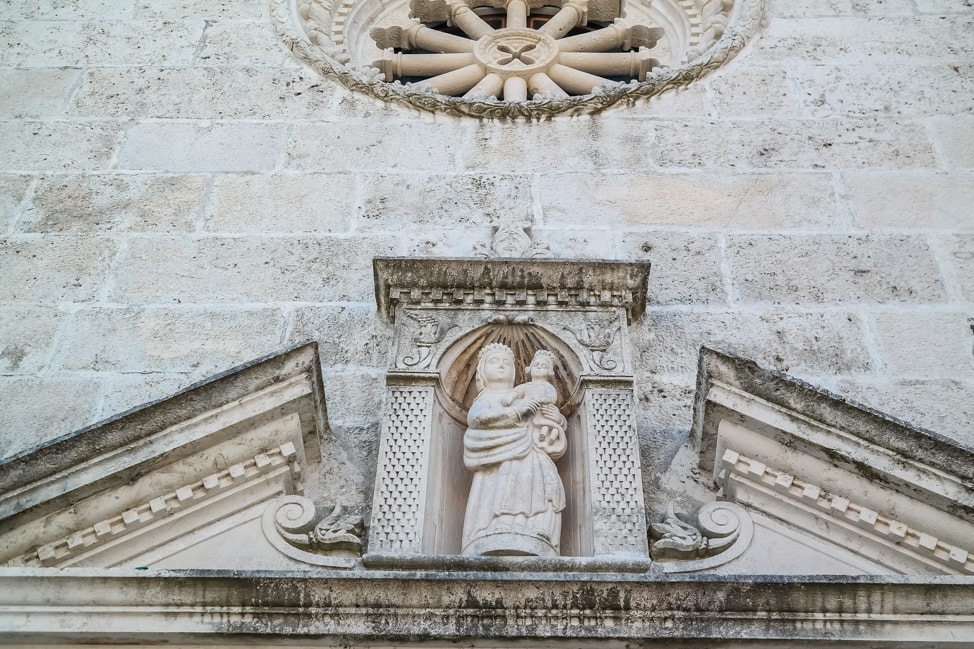 The best part of small group tours is the immediate intimacy. Our small group of six travelers, plus our local guide, spent three hours in total exploring the village of Perast, and the legendary island, which was plenty of time to trade life stories.
Our guide, Andrea, grew up nearby. As a kid, she and her friends would swim out to the island, and the monastery island next door. They weren't technically supposed to swim to the monastery but, of course, that made it all the more tempting. On the day we arrived, Perast was busy with day trippers, and no rowdy swimming kids were in sight.
That said, if I was growing up on the coast, with those islands within swimming distance, you better believe I'd be out there after the crowds left for the day.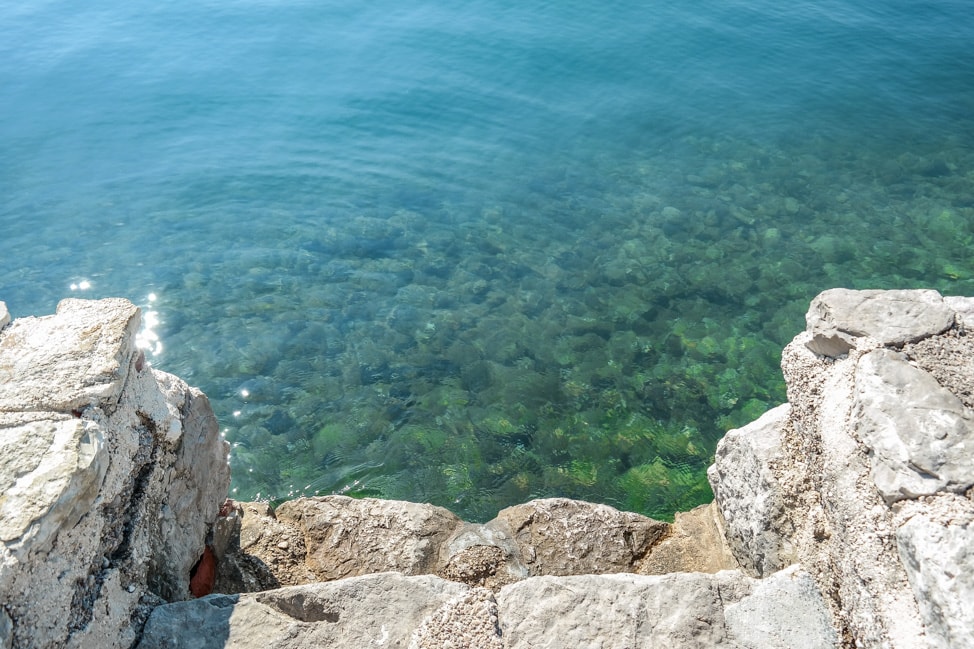 I'll close this tale of Perast and its island with one of my favorite traditions here.
It is common practice for sailors to give gifts to the church after successful voyages. In the past, they would give gifts of silver plates, with hammered art inlays. Others were more, um, creative with their donations. There are entire rooms in the church littered with pottery, lanterns, even a stray umbrella that a sailor saw fit to give. The most recent high value donation is a piece of art, from a frequently visiting cruise ship captain.
It just goes to show that some tales may be tall, but the sea is full of superstitions and traditions which continue to this day.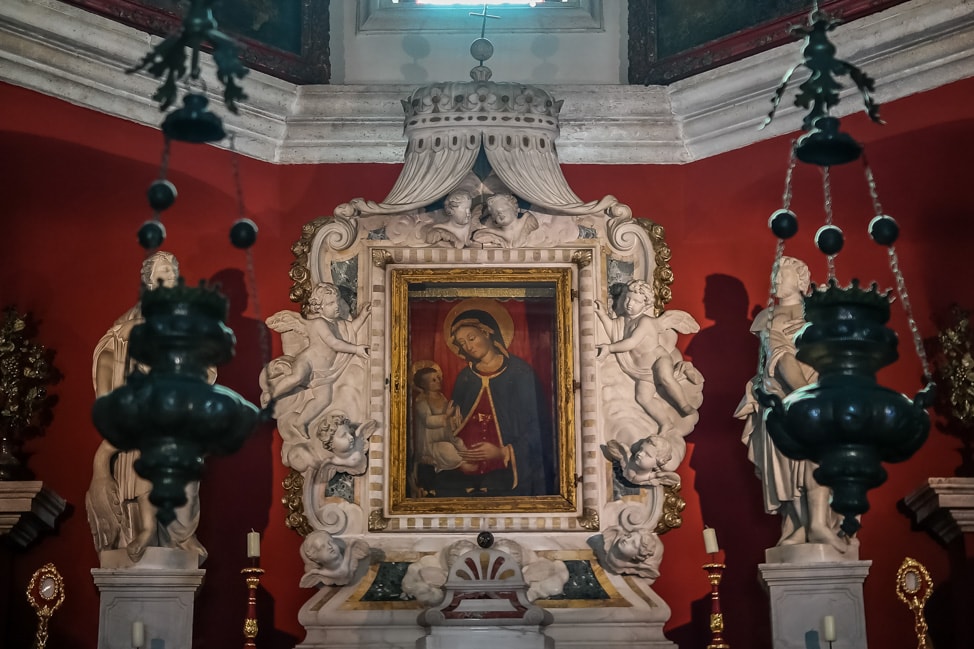 Our excursion with Adventure Montenegro was provided free of charge. This company has a ton of amazing shore excursions and day trips, for a variety of budgets and time commitments. As always, you'll get our honest opinions here, even if we have to wake up early for the experience!