We were in Sarajevo, Bosnia & Herzegovina when fall arrived.
It wasn't gradual. One day it was hot, all sunscreen and tank tops and flip flops. The next day, we were buried under throw blankets and digging into our packs for those long sleeves we packed so long ago. Where did we put our socks again? Did we each only bring one sweater?
The bundled up versions of us set out to explore Sarajevo, a city we knew from the news and from our history books, but which we wanted to touch and feel for ourselves.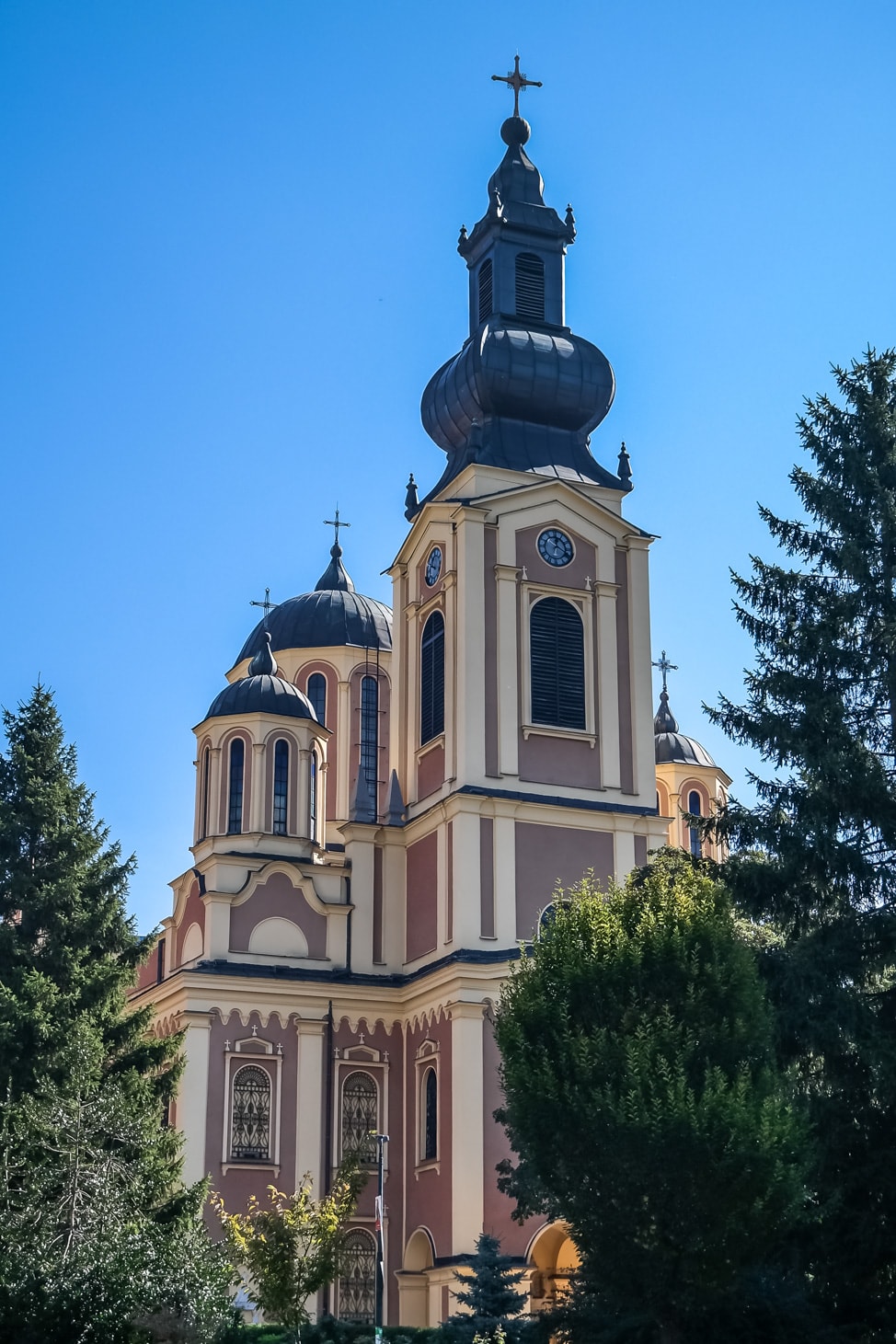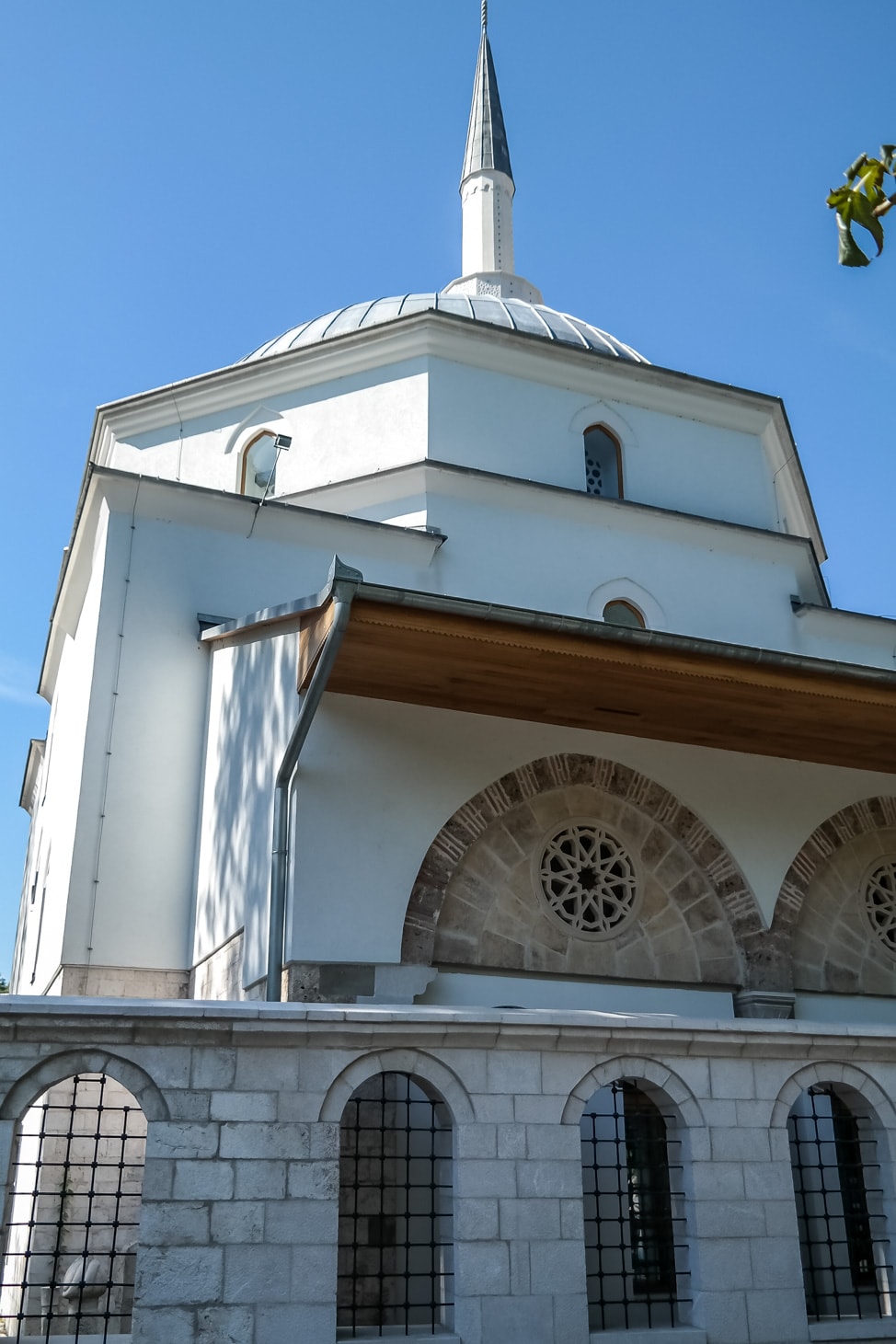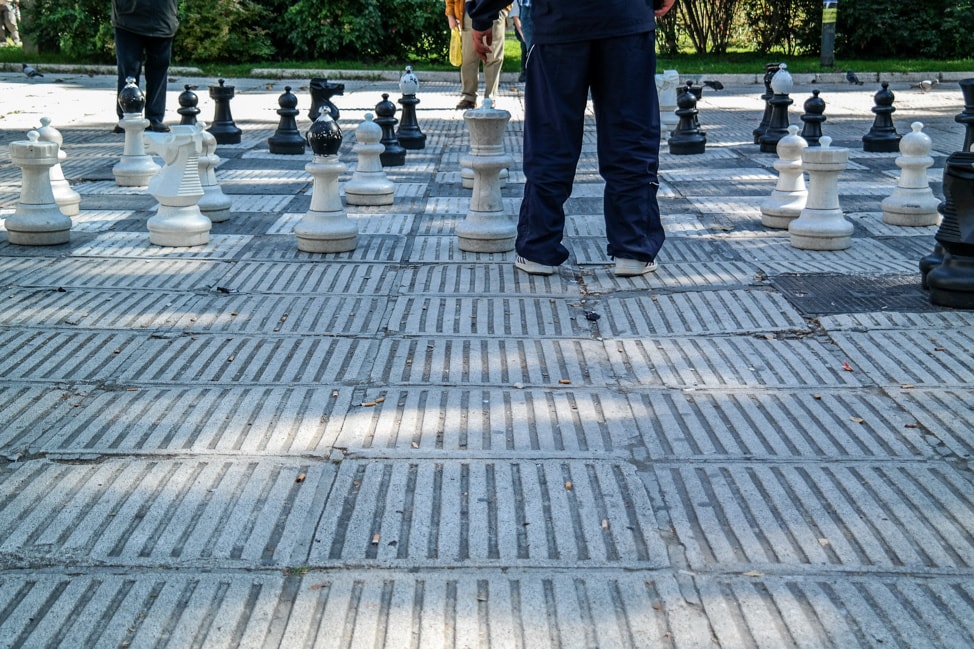 Sarajevo is known for three things, three very significant events, which felt important for us to commemorate during our time there.
First, Sarajevo is the place where World War 1 started. Or, more precisely, it's the place where the event that sparked the war took place. In June 1914, on a street corner in Sarajevo, Archduke Franz Ferdinand, the heir to the Austro-Hungarian empire, was assassinated by a Serbian rebel. A month later, Europe was at war.
While this is a tragic site, it's also pretty thrilling for a couple of history enthusiasts to see the place where such an important historic event took place. I could picture the corner coffee shop (now a museum) where Gavrilo Princip sat, looking out the window. I could imagine the motorcade heading down the street. I could see the turn that the car wasn't supposed to take, but did, causing it to slow down just enough for shots to be fired.
Talk about history coming to life.
The free walking tour we took one morning covered the event in detail. It's fascinating. If you want to read more about it, here's a very thorough article. Or if you are more audibly inclined, the five part series from the podcast Hardcore History that covers World War 1 will give you hours of listening pleasure.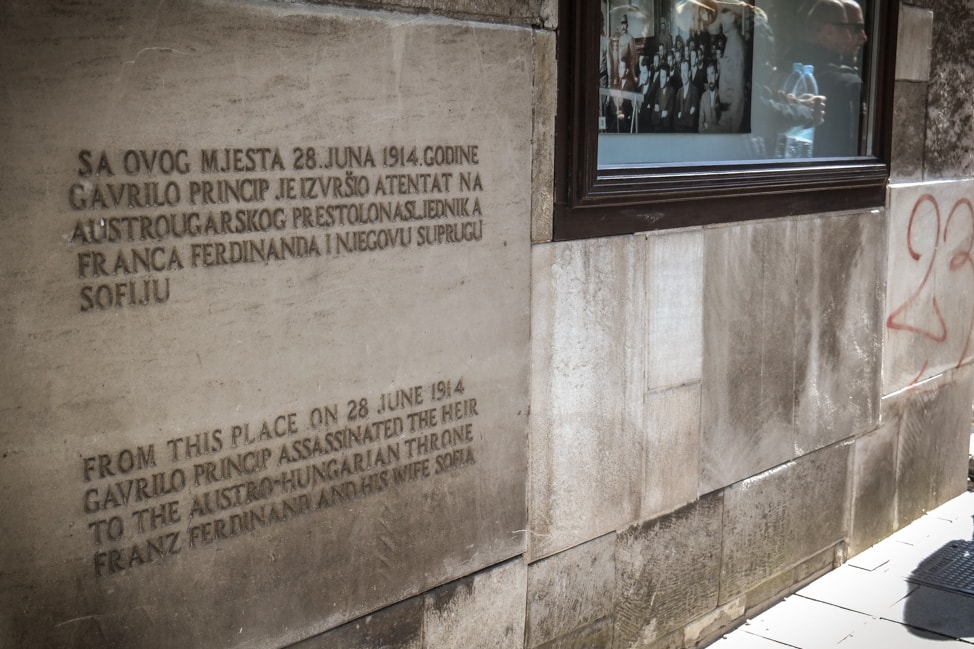 Another event that put Sarajevo on the map was the 1984 Winter Olympics. Being selected to host the event, was significant in a few ways. Yugoslavia was the first Communist country to host a Winter Olympics (Moscow hosted the Summer Olympics in 1980). It was also a relatively unknown location, beating out Japan and Sweden for the honor.
Finally, simmering under all of the national pride and celebration was also a feeling of relief. When Tito died (the ruler of Yugoslavia for some 30+ years), Yugoslavia had trouble rebounding from his death. Tito was a hero in every sense of the word, and the Olympics proved that the country could participate on the world stage without their leader, the guy who, to this day, had the biggest state funeral of any global leader of all time.
A highlight of our time in Sarajevo was driving up to the abandoned bobsled track. Deserted Olympic venues are so curiously fascinating, and this was the second we've explored (the sailing venue in Tallinn, Estonia was similarly eerie). The track is now home to lots of interesting graffiti, and you can walk on the overgrown concrete structure as much as you'd like.
Side note: for many years after the Olympics, this area was kept up as a public park and was even accessible from town center by cable car. Once the war broke out in the 1990s, the cable car was dismantled and efforts to maintain the Olympic sites were abandoned. Since then, during every city election, candidates promise to rebuild the cable car, but it has yet to happen.
Finally, the reason many people know Sarajevo, Bosnia & Herzegovina, is because of the Bosnian conflict starting in the early 1990s. As Bosnia tried to withdraw from Yugoslavia, ethnic and religious factions took sides. Sarajevo, given its capital distinction and its position in the valley circled by mountains, was held under siege for forty-four months, the longest siege of any city in modern warfare.
For citizens of Sarajevo, the siege defined the identity of a generation.
Red splotches, called Sarajevo roses, cover the streets of Sarajevo, commemorating the locations where citizens were killed. A permanent exhibition in town highlights the genocide that happened east of Sarajevo on July 11, 1995, the event that led to the eventual charges against Milošević, the Serbian leader who died while awaiting trial at the Hague. We spent a couple hours one day at the exhibit, and while it was difficult to witness, we both feel quite strongly that a visit to Sarajevo isn't complete without it.
It's also now possible to visit the tunnels that were built to supply goods coming in from the UN-controlled airport into the city during the siege. Located in a tiny village outside city center, many of the buildings haven't been repaired in the past 20 years, the effects of the conflict evident and well-documented. Only a small part of the tunnel is accessible, but the accompanying video exhibit provides a lot of context to what happened here.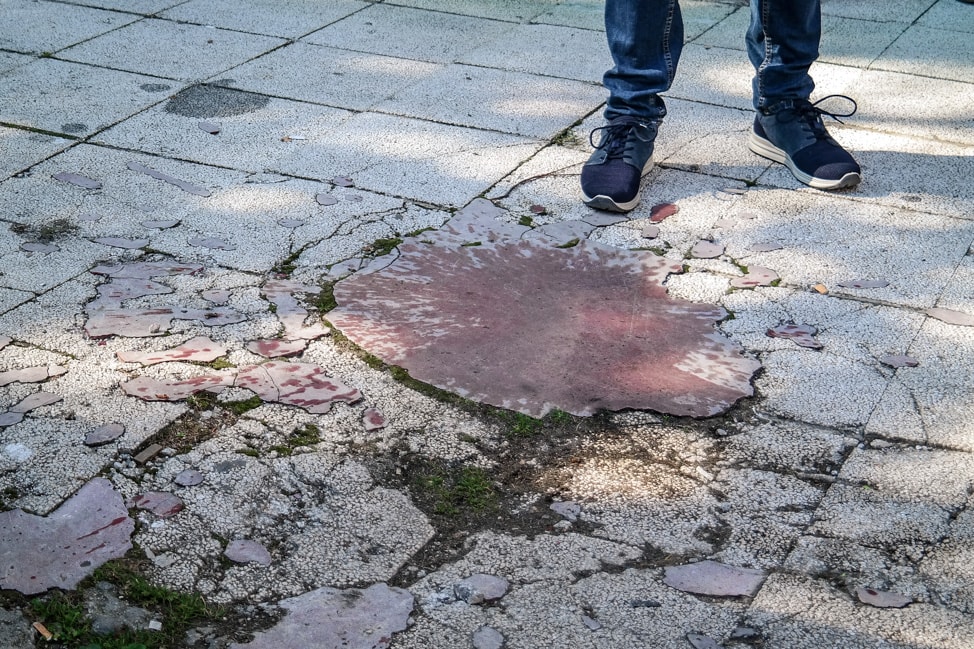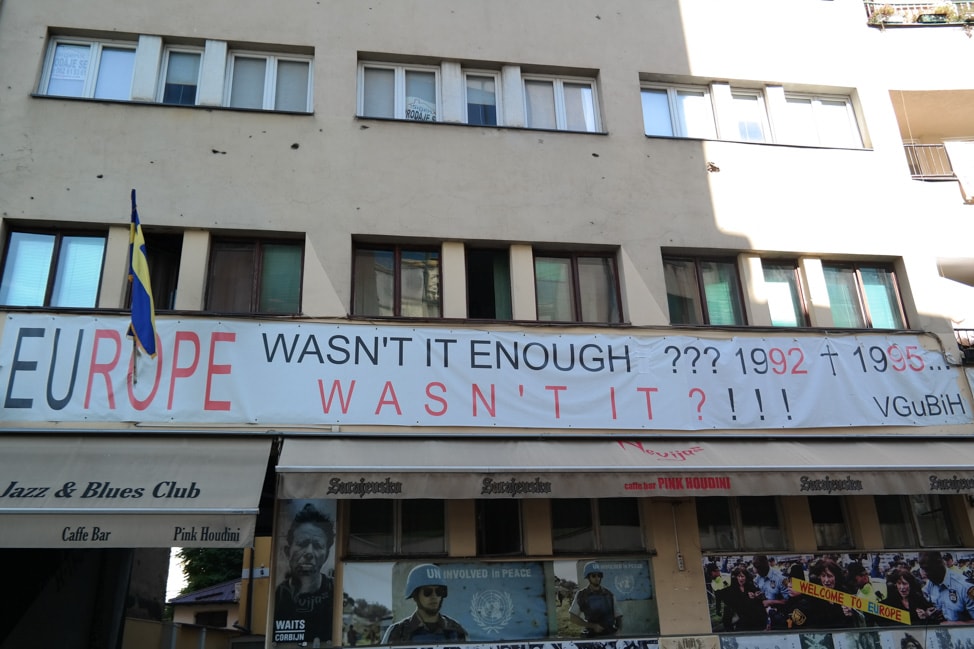 I don't want to leave the impression that Sarajevo is a city in mourning or one that is stuck in its past. Not at all.
I would describe the city as emerging, eager to shed the negative connotations associated with it and happy to welcome visitors to see what it has become. A few people mentioned to us that if they could just host another Olympics, Sarajevo would at least have 2 positive events to be known for, to counteract the two negatives.
Throughout our stay, we were impressed by the vibrancy of a rapidly-expanding city. It felt young, and busy, and the main thoroughfares were crowded with traffic, evidence of a growing population that has outpaced infrastructure. We even went to a movie one night, in a massive, modern shopping mall.
In many cities, the old town is a place that is mostly home to tourists, locals knowing to stay well away from the inflated prices and souvenir shops. Not in Sarajevo. Here, the old town is bustling with locals, and cafes and restaurants cater mostly to families, students and business people looking for a quick bite.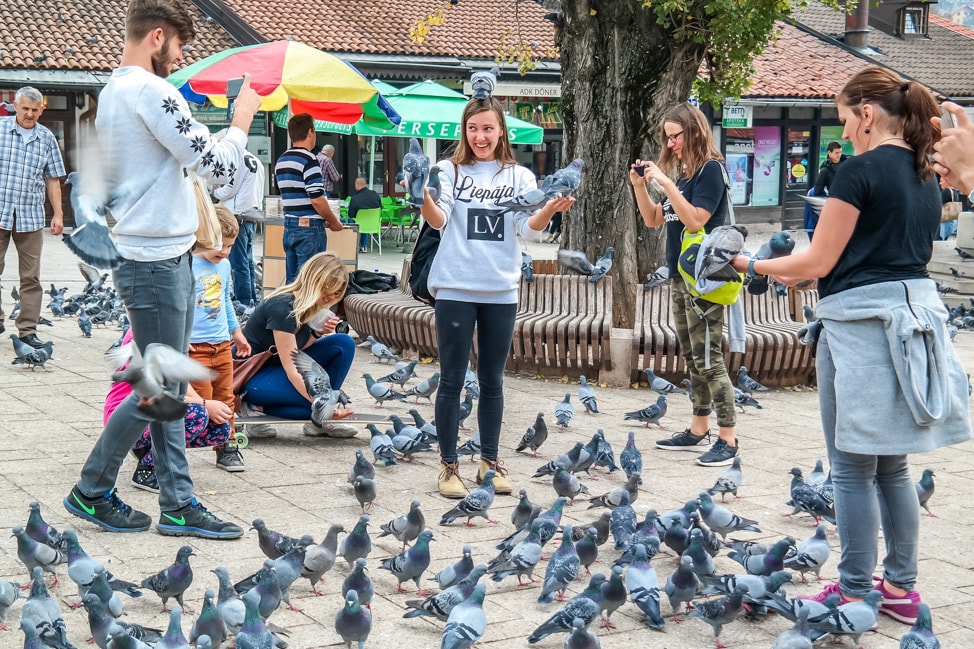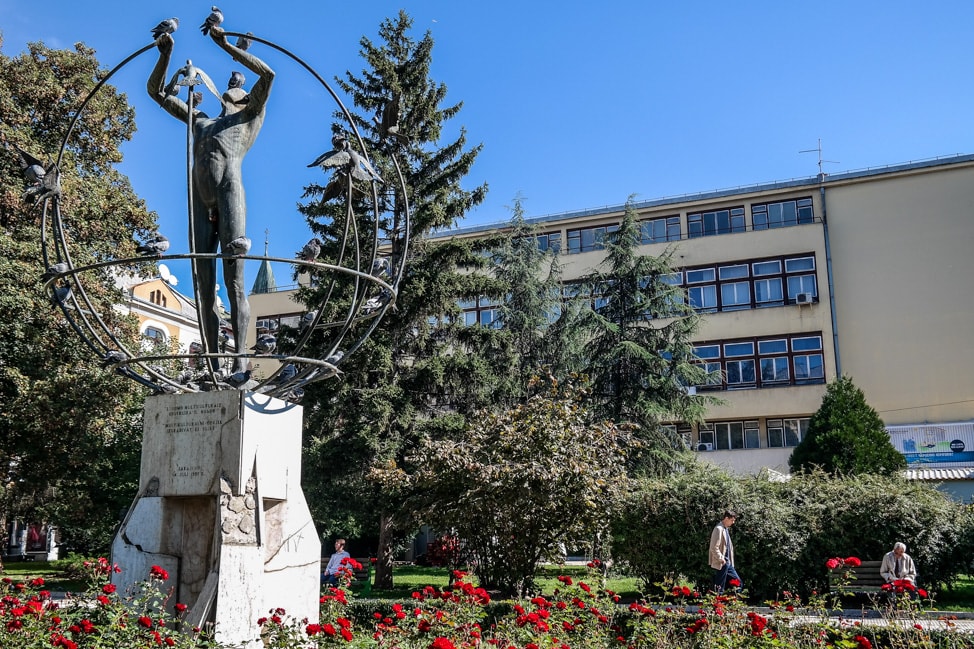 All of this movement, this progress, leads me to suspect that Sarajevo will be unrecognizable in another 20 years, as it continues to move further beyond its tortured past. You can almost feel the city pivoting, shaking off its skin.
For anyone interested in witnessing the Sarajevo of today, I think there is a sense of urgency to get here soon, before the cable car gets rebuilt, before damaged buildings are repaired, before the old town becomes a place where only tourists go. Someday, Sarajevo will be that city that once had some things happen there.
Today, you can touch and feel all of it. Now is the time. Before the evidence is gone.