This week, we have a fantastic guest post from Agness and Cez of eTramping. They love to travel the world and seek out unique adventures. Here, they share some destinations that are so remote, cars are useless.
Roads: we see them everywhere and – most of the time – we just assume they have always existed.
Of course, we know that they haven't, but living in a developed world means that we can't picture life without them. Sure, maybe you've headed out on a weekend hike, or the occasional walk in the wild, but usually your transport for getting there in the first place is a car or a bus or a tuk tuk.
Well, for those of you who really want to go into the wild – without the aid of a car – Agness and Cez are here to provide you with a few tips on how to cross some countries and continents without extensive road networks. To be clear, the places being covered might have some roads, but by in large they are places where you can't simple hop in an automobile, and travel from one side to the other on a couple of tanks of gas.
Greenland
In Greenland, there are no roads and there are no train tracks between towns. This means that getting from town A to town B really only happens one of two ways – either by plane or by boat. The Arctic climate you'll find this far north is not to be scoffed at. It can be, and sometimes is, dangerous. This means that whatever form of transport you're using here can be dependent on a number of factors not under your control, primarily, the weather.
Plane and helicopter transport are a favored and convenient means of getting about. If you're going to be heading a short distance, say from one town to another in the same area, then you're probably going to make the journey by helicopter. Alternatively, you might find yourself onboard a Dash 7 plane. These can carry up to 50 people at one time, and will usually take care of longer haul flights.
Boats, on the other hand, might be slower but more reliable. The only real problem with boats can be heading towards the northernmost areas of Greenland. Visitors to this country usually head north to see polar bears via a Greenland Cruise. Buildups of ice on the water can ruin an unlucky trip. Luckily, the boats are usually incredibly comfy. Just make sure to pick one which is approved for passengers so you stay safe.
Arctic
Speaking of the Arctic, getting around this region can be, well, difficult. The extreme weather and dangerous terrain means that safety comes first. For instance, it's unlikely you'll be heading long distances into an area on foot, or spending days on a snowmobile deep in the wild.
The most popular method of crossing the Arctic is by boat, plane, or a mix of the two. This is usually done starting at Spitsbergen, an island in the north of Norway (which is a great place to visit in its own right). There are roads in Spitsbergen but (especially during winter) they can be covered in heavy snow and ice. Hence, most nearby travel is still done via boat.
Heading into the Arctic itself, many Arctic tours tend to offer trips by boat, with some excursions inland via helicopter. These are convenient, but make sure to wrap up warm. The weather is unpredictable at best.
Western Mongolia
Whilst transport by car is possible in Western Mongolia, it might not be recommended due to the lack of roads. In Western Mongolia, it's incredibly easy to get lost if you decide to drive through the area yourself. Of course, buying a ticket as a van passenger is possible, yet the roadless system can make those who suffer from motion sickness, well… sick. So, here are a couple of alternatives.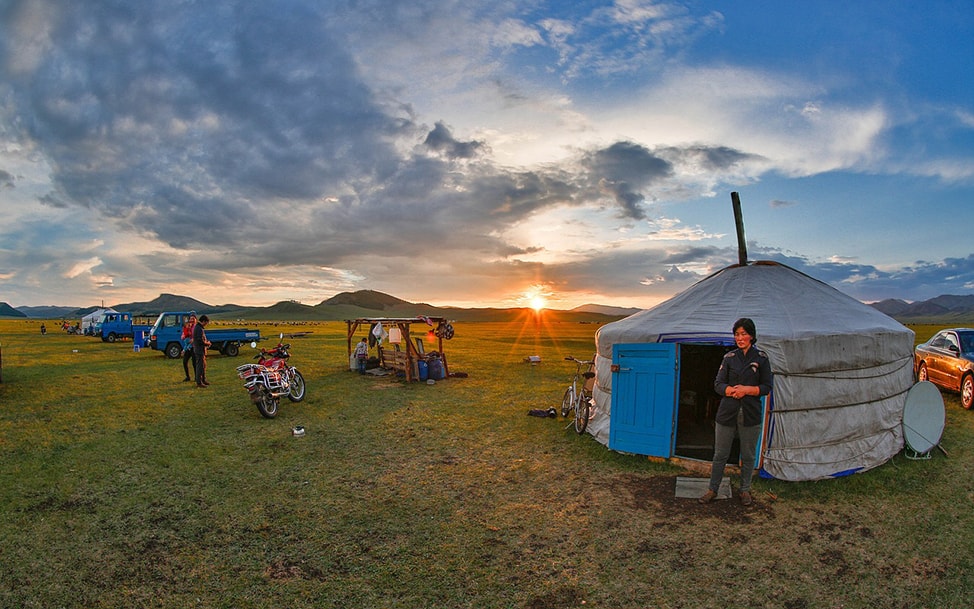 If you're thinking about staying in smaller areas in Western Mongolia, why not give horseback riding a go. It's an experience you won't forget. Trotting through Western Mongolia's beautiful green landscapes with rolling hills in the background? Perfect. There are a huge number of available tours available, and you can get the details online or in one of the towns of the region. Of particular note is one which starts in Ulgii and covers practically the whole area over the course of 11 days.
Alternatively, another great way to explore Mongolia is by train. Whilst the train is the safest and most stress free  option, travelers are confined by the path of the train tracks. The trains are also somewhat slow, so if you want to head somewhere quickly, a train is probably not your best bet.
Kyrgyzstan
Unfortunately for Kyrgyzstan, transport throughout the country is severely limited by its mountainous terrain. Roads tend to be subject to the laws of nature. When they're not winding their way up steep valleys and cliffs, they tend to be victim of mud slides and avalanches. Unpredictable at best. So, the best way to travel through the country quickly is via plane, or, if you're heading to more rural areas, a trusty horse.
Plane travel can be taken easily in smaller aircraft. There is a total of 21 paved runway airports in the country at the moment, with a further 29 unpaved (many of them are not used though). For international travel, there are only 4. Whilst planes may help for getting to more mainstream destinations, they won't help for those who want a more 'off the beaten path' experience.
For these travellers, a horse is going to be your best means of transport. Horseback trekking in Kyrgyzstan is incredibly popular and a great way to experience the local way of life. Out in the middle of nowhere, it can feel as though it's just your tour group and the wild. If you want to see real Kyrgyzstan, this is the way to do it.
So, what's your favorite means of transport?
Big thanks to Agness and Cez for this guest post! To find out more about these two travel bloggers and all of their travel adventures, check out their site eTramping, or follow them on Facebook, Twitter, and Instagram. If sticking to pavement is more your style, or if you just haven't had the chance yet to explore your wild side by horseback or helicopter, road trips are one of our favorite styles of travel, too!