I have been looking forward to visiting Lake Bled, Slovenia, for some time. I mean, look at that picture. Could a place be more photogenic? As an avid reader of other people's travel adventures, Lake Bled will resurface every so often as it comes in and out of trend and my computer screen fills with this dreamy array of photos, all blue skies and lake reflections and castles.
I live for places like this.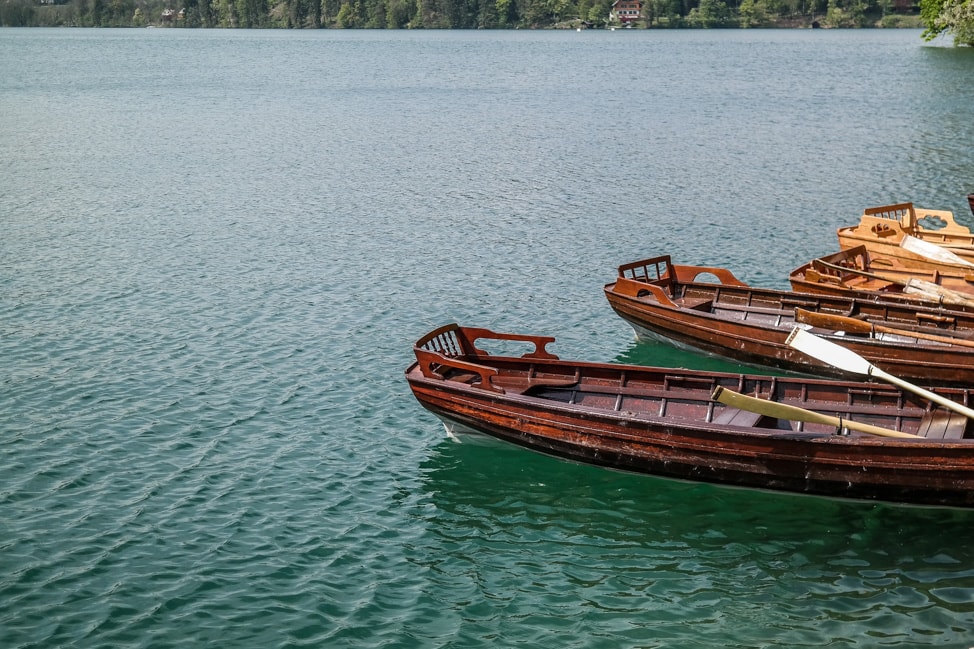 We decided to make Lake Bled the final stop on our recent adventure exploring Slovenia. We spent the previous night in the Soča Valley, visiting the soon to be famous restaurant Hiša Franko before a show about it debuts on Netflix this month and the place gets overrun. The evening was food-filled and wine fueled, course after course of delicious and decadent bites. We stayed in the onsite inn, and were spoiled again in the morning by a beautiful breakfast spread.
By the time we checked out and were back in the car to drive to Lake Bled, we were ready for a nice long drive. Driving in Slovenia is a real treat, so we buckled in and set off.
And then we started climbing.
The distance from the Soča Valley to Lake Bled is short, maybe 50 miles, but thanks to those pesky Alps in the way, the drive takes 2+ hours. We assumed that the long drive was so we could circle the base of the mountains, driving out of our way and thus, adding time. But, no. The estimated driving time is due entirely to the ridiculous winding passes, up and down, mountain after mountain, interminably until you feel like there can't possibly be another one and then up you go again.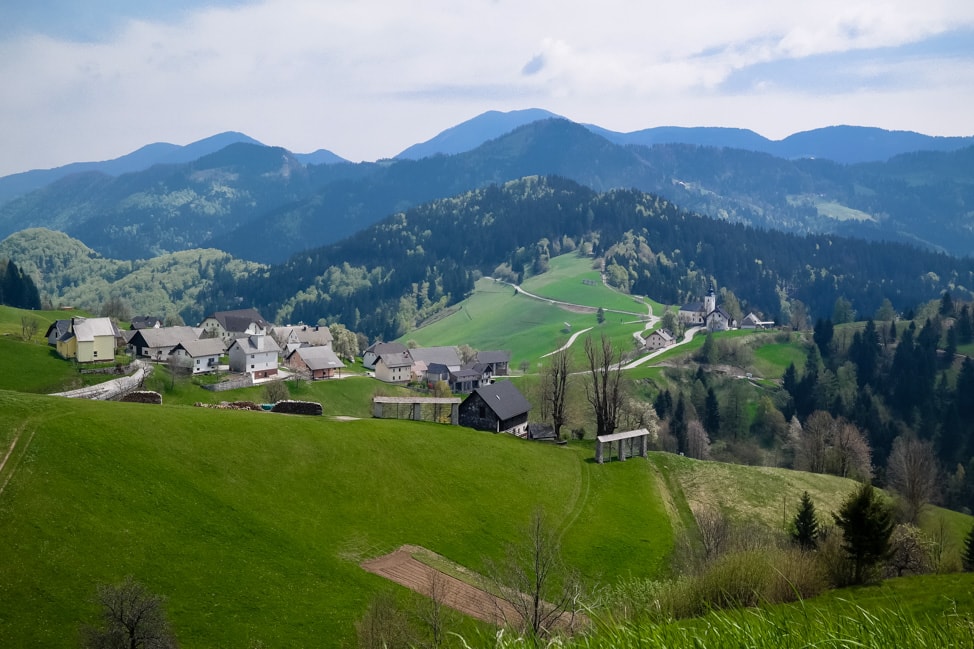 It's difficult to convey the beauty and the stress involved in traversing Slovenian mountain roads, but let me try to paint the picture. Drew, a typically confident and easy-going driver, spent the entire trip with his hands at 10 and 2, eyes on the road, no music. As we wound around yet another hairpin turn on roads barely two car widths wide, he would cautiously peer around the corner for approaching traffic, and seeing none, would attempt to increase to a more normal speed before the next hairpin approached. Me, not one to get carsick, felt downright woozy. Maybe this was due to obscene banana chip consumption, but I put my money on the winding road.
Near the top of a peak, as we emerged above the treeline, the vast expanse of countryside would open up and we would take a minute to gaze upon the vista that looks almost fake it's so beautiful. Before long, the road would turn downhill as we would be enveloped back in the trees, riding the brake until we hit the bottom of the next valley and we headed back uphill.
By the time we pulled up to our tent-like luxury hotel room at Garden Village Bled, we were ready to unwind. We made sure that our personal hot tub was cranked up for later in the evening, and we set about doing the first thing most people do in Bled – walk around the lake. The walk, 3.5 miles, takes just over an hour on paved paths, if you don't stop for a late lunch or to watch the national Slovenian crew team preparing for the Olympics. We did both.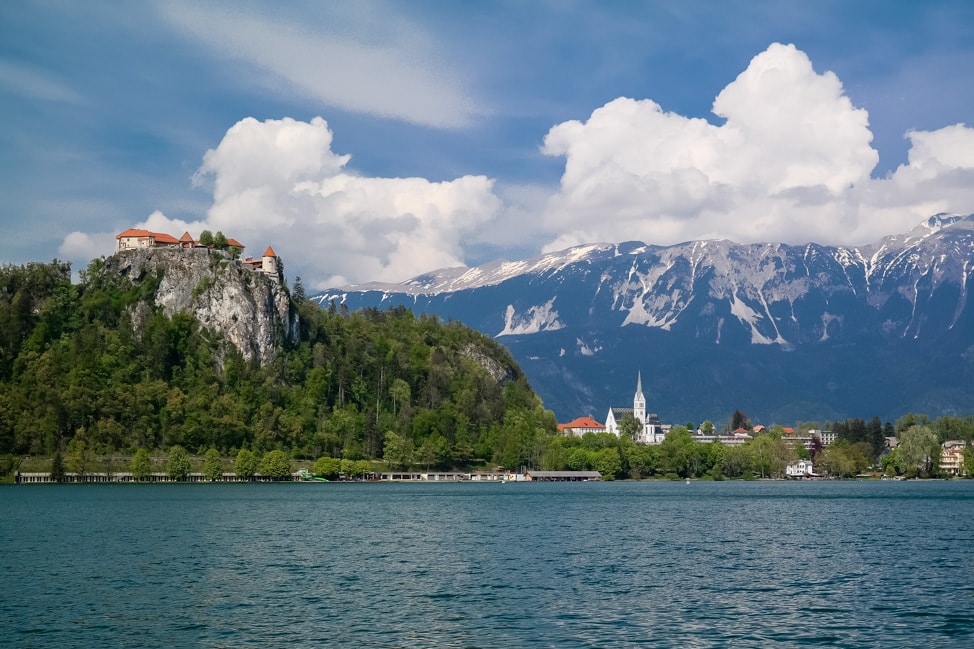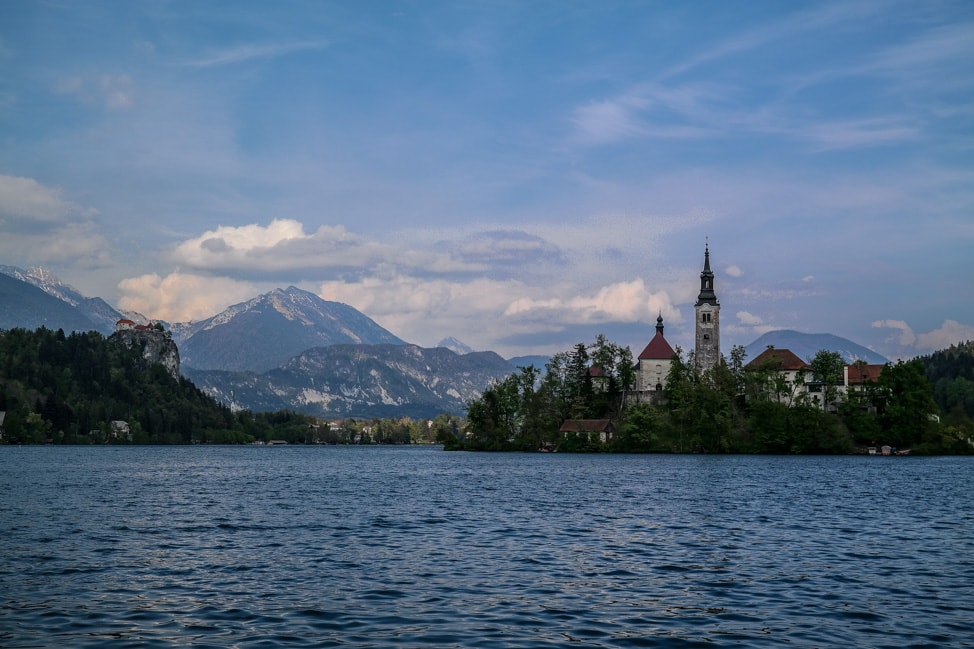 All week, as we looked forward to our time in Bled, we heard terrible weather forecasts that were likely going to coincide with our visit. Of our four days in town, we were meant to get downpours for two. Thus, the first two days in Bled were jam packed as we tried to cram everything in before the rains came and we were stuck in our tent-not-really-a-tent watching old movies.
In addition to our walk around the lake, we explored the small town of Bled, we hired a rowboat and rowed out to the island, we ate meals on terraces, and we watched a rowing competition. Oh, and Drew also splurged on a toboggan run – he took a ski lift up a hill, got in a little one-man car on a track and rode on down. He had just as much fun as the 8-year old who followed in the next car.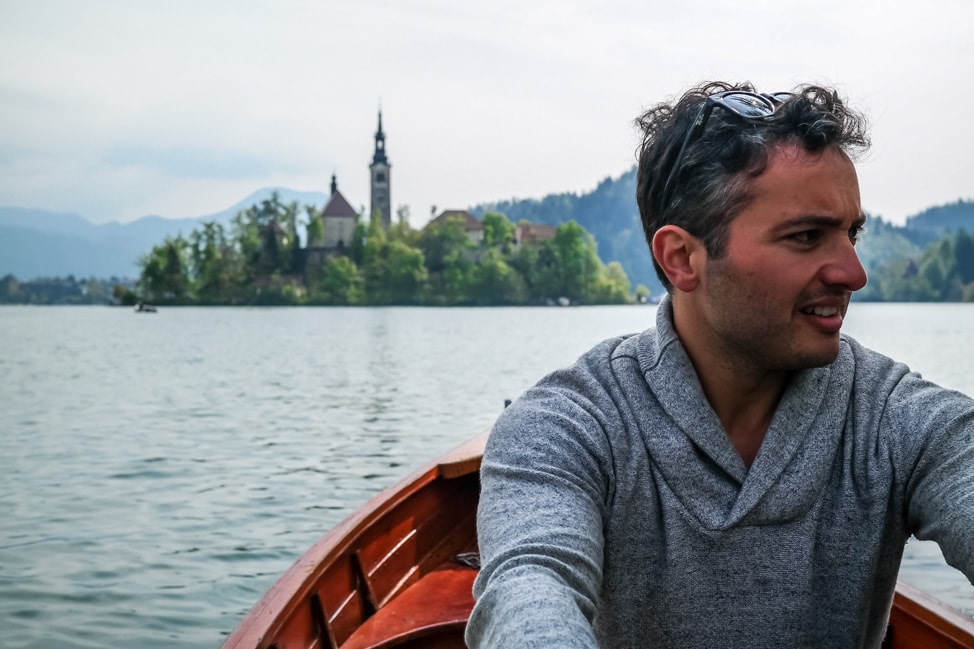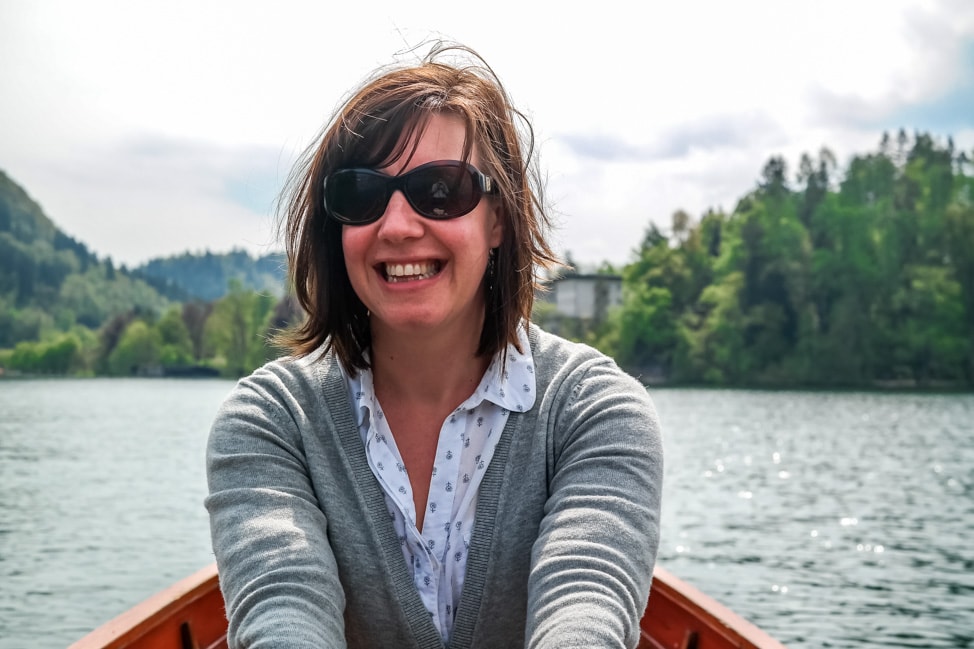 Saturday morning, we woke ready for the rain. We listened for the drops, peered out of the canvas, but all morning the rain held off. In the afternoon, feeling bold, we ventured out to the closest little stretch of lake and took a walk, and no rain. Later, we took out the car to get our hands on a slice of the local delicacy, a custard-y whipped cream cake that Bled is known for. No rain. We contemplated a trip up to the castle that overlooks Bled, but knew that with the rain – surely to be arriving any minute now – the walk up and back down would be miserable. So we didn't visit.
And it didn't rain.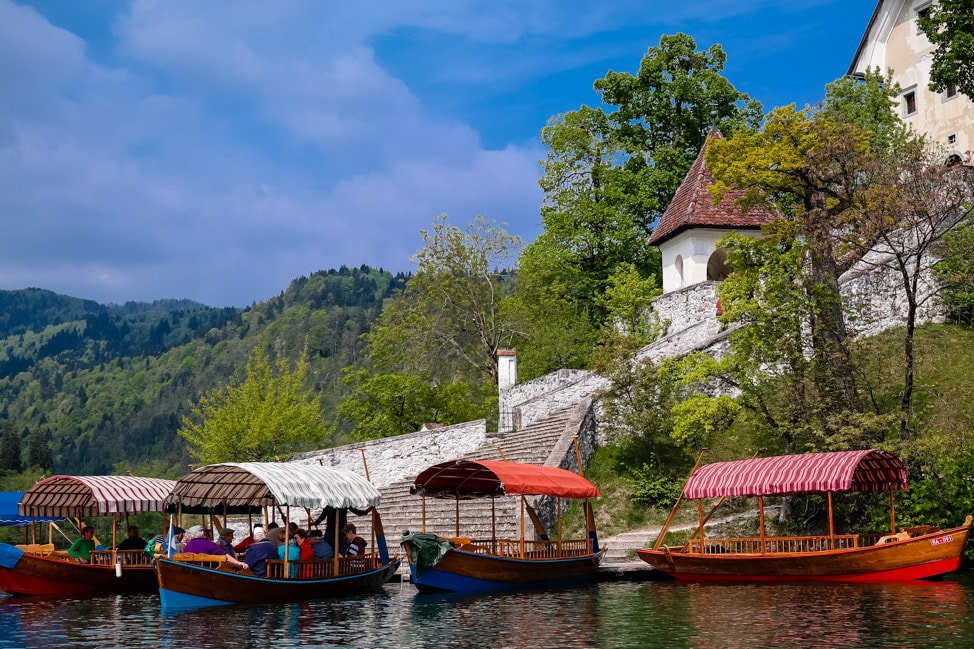 The part of the rainy weekend I was really looking forward to was the chance to hang out in our private little scorching hot tub while the cool rain fell. And, you guessed it, I never got the chance. It just never rained.
Bled was a fantastic place to spend a few days without much agenda and to recuperate after a busy week of travel. It's so damn beautiful that frankly, you can just sit on the side of the lake all day watching people and ducklings and let Mother Nature put on her show. The lesson I learned in all of this, once again – you'd think I'd have learned this one by now living in London of all places – don't count on the weather. For better or worse.
I'm still wondering if the rain held off because I carried an umbrella around for two straight days. I'm pretty sure it did.
---
Lake Bled Logistics:
Bled is located just over an hour drive from Ljubljana, the capital city. Many visitors make a day trip here, and it's totally possible to explore that way. We noticed several organized tour groups from Ljubljana and there are also plenty of parking lots around the lake where you can park a rental car for €6-10 for the day.
Rowboat hires are €10-€15 per hour. We thought an hour rental was perfectly satisfying and we were able to make it around the island a few times without killing ourselves.