Sometimes, a restaurant is worth a detour. Especially when you know that it is about to become even more popular.
Hiša Franko is a small restaurant and inn run by the Ana and Valter, the husband and wife team behind this outstanding property. Situated in the Soca Valley in Slovenia, the setting itself has to be seen to be believed. Rolling green pastures, full of freely roaming goats and cattle, with a backdrop of the Julian Alps, with their craggy, snow covered peaks. The house that contains the 13 rooms is even rumored to be the same building that Ernest Hemingway, recovering from an injury sustained in the war, wrote part of his book 'Farewell to Arms'. Not too shabby.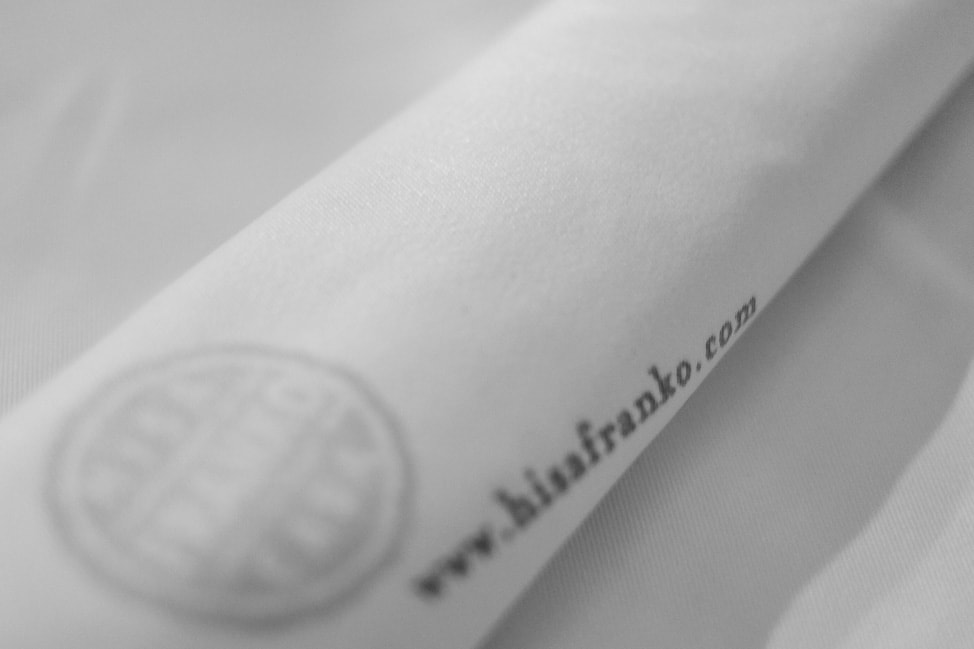 We stumbled upon Hiša Franko by accident, while researching hotels and restaurants around Slovenia for an upcoming trip. It looked like a special destination, so we decided it was worth the splurge. The kitchen is run by Ana, who sources meat, fish, and produce from the fertile Soca Valley and the garden on the grounds, and composes tasting menus for dinner each evening. Her husband Valter has assembled some of the best wines from Slovenian producers, as well as working with local cheese makers, rounding up the best of the best, aging the cheese in their own cheese cave. They are serious about promoting the best the Soca Valley has to offer.
A few weeks before we dined at Hiša Franko, I ran across the preview trailer for the upcoming season of the Netflix show, "Chef's Table" and was shocked to see a familiar name: Hiša Franko. The first season was wildly popular, and the new season is just as good, meaning that Ana and Valter's quaint restaurant on the outskirts of the village of Kobarid, is about to become an culinary trek for many hardcore foodies. Getting a table might be significantly harder now that the episode has been released, which is fantastic news for Ana and Valter, but bad news for diners. They have already opened up more tables to accommodate the initial influx of guests.
I'm glad we got the chance to visit Hiša Franko before it becomes overrun!
Hiša Franko Cost and Menu Options
There are two menus on offer each evening. A 5-course (€70) or 9-course (€90) tasting menu, which does not include the amuse bouche or petits fours. Having already had an indulgent week of eating around Slovenia and Croatia, we opted for the 5-course menu. It should be noted that the 9-course menu, in addition to being longer, was significantly more adventurous, with items like sweetbreads, goat brain, and deer heart. Sounded good to me, but Julie felt differently, needless to say.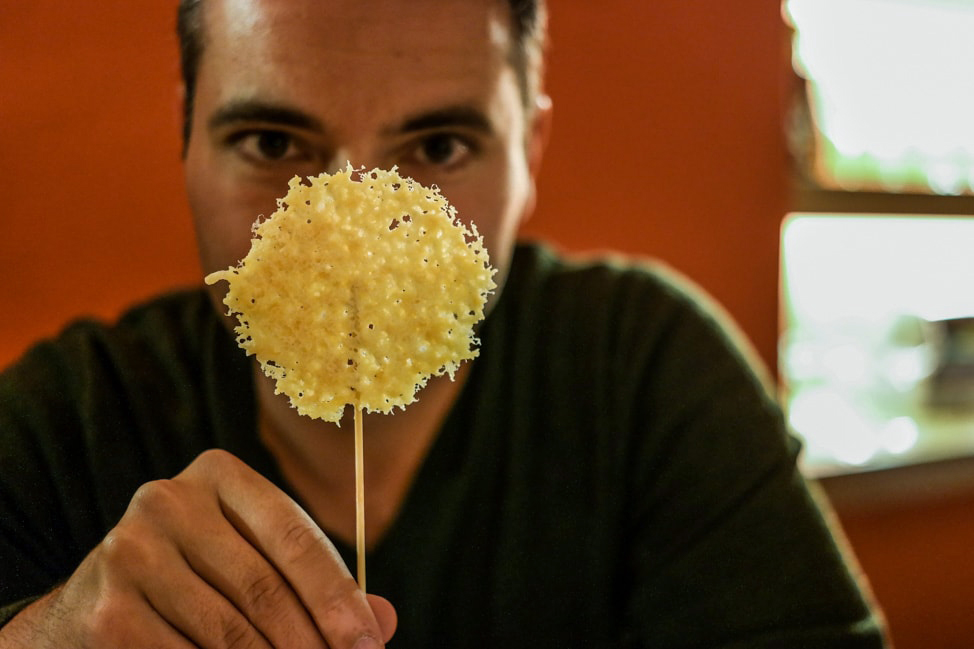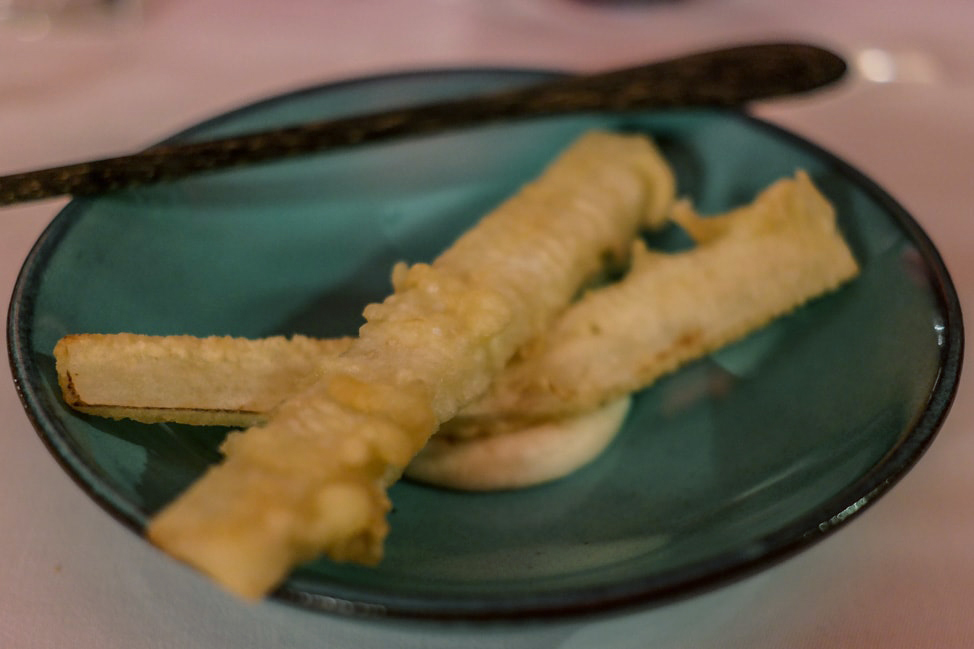 Food Breakdown
Amuses: Crispy fermented cheese and tempura fried white asparagus with celery cream
The meal began with two small bites before our first course. The first was a fermented cheese "lollipop", perfectly crunchy and with a slight funky twang from the fermented cheese. The second amuse was two expertly fried stalks of white asparagus. The batter was shatteringly crispy without being oily, and the celery cream was bright with the flavor of celery. A tasty start.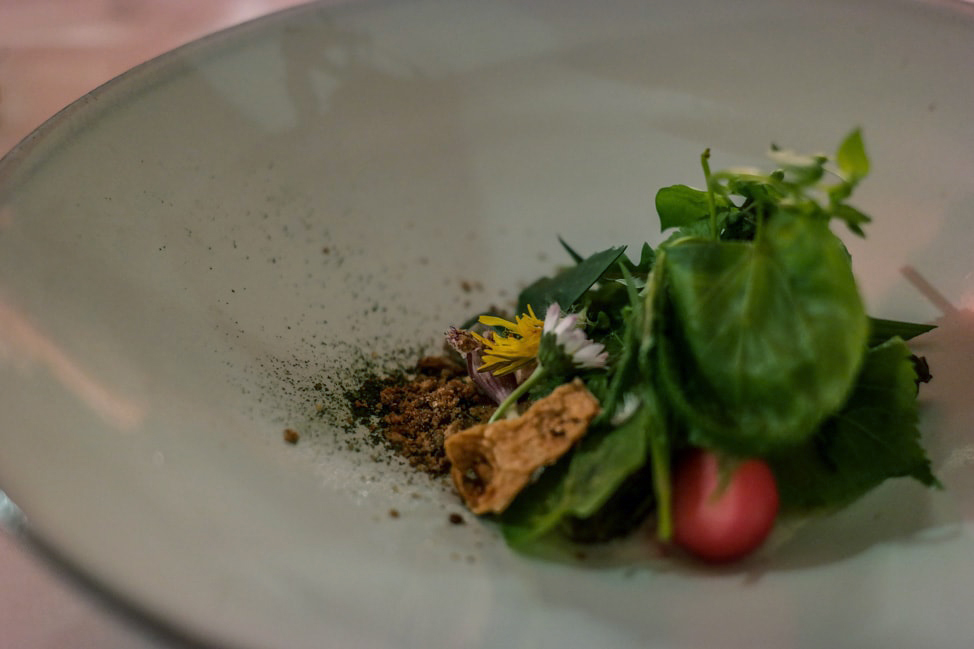 Spring garden/young beetroot, sunchokes, melting egg yolk, snails, small garden and meadow plants
The first course was a taste of spring, with a variety of foraged greens and herbs. The best part of the dish was the melting egg yolk, which, once you broke and swirled around, turned a vibrant red from a puree of red beetroot at the bottom of the bowl. It created the dressing for the dish, with added earthiness from sunchokes and the poached snails. The variety of herbs and greens were daunting, with each bite slightly different than the last.
Pasta filled with sheep cottage cheese, langoustines, green asparagus and bone marrow
These perfect pockets of pasta were filled with whipped cheese made from sheep's milk and langoustines. The delicate flavor of langoustines was not overshadowed by the tangy cheese, the flavor of the pricey shellfish shining through. The bone marrow added a level of unctuousness and the green asparagus provided a taste of spring to offset the heaviness.
Trout, pink grapefruit, foamed trout liver, white asparagus, salsify cream
Three small pieces of local trout were cooked perfectly, and sat on the foamed trout liver, which added some minerality. Salsify, a root vegetable that tastes strangely like oysters, was pureed and made into a silky smooth puree, which added more flavor of the sea to the mild river fish. The pink grapefruit bites provided some necessary acidity to cut through the butter and cream around the plate.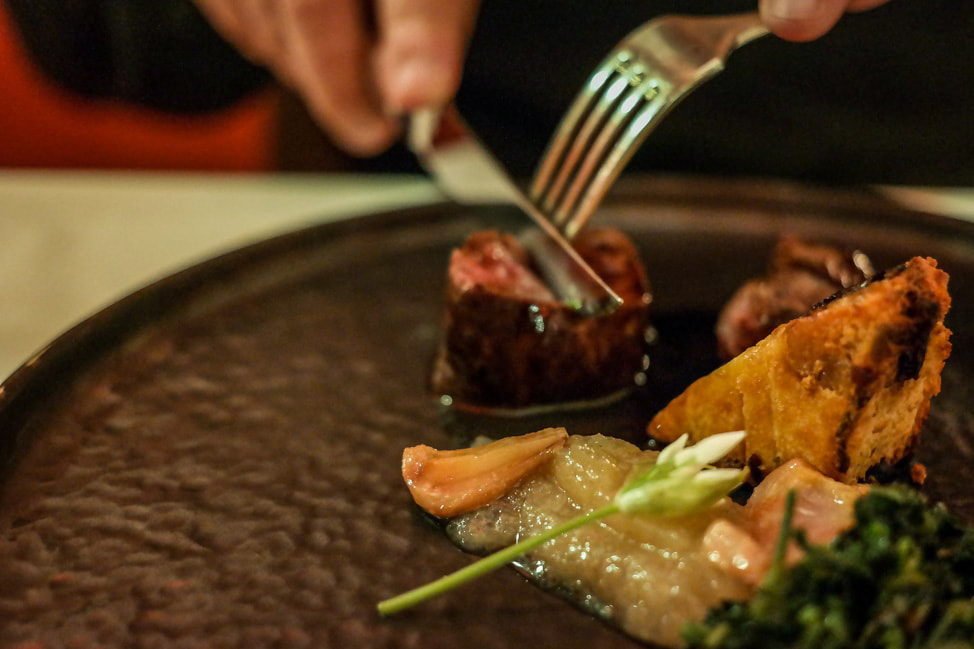 Roebuck, bread soufflé, wild bouquet, birch extract
Roebuck, a type of European deer, was cooked perfectly, with a deep red color with caramelized edges. The main course was garnished with a variety of herbs and greens from the garden, as well as bread soufflé, crispy on the outside, but with a rich and soft interior. The unsweetened puree of apples was a perfect accompaniment to the roebuck, which was not overly gamey as some wild deer can be. The birch extract added some sweetness and acidity, similar to a less sweet version of treacle or molasses.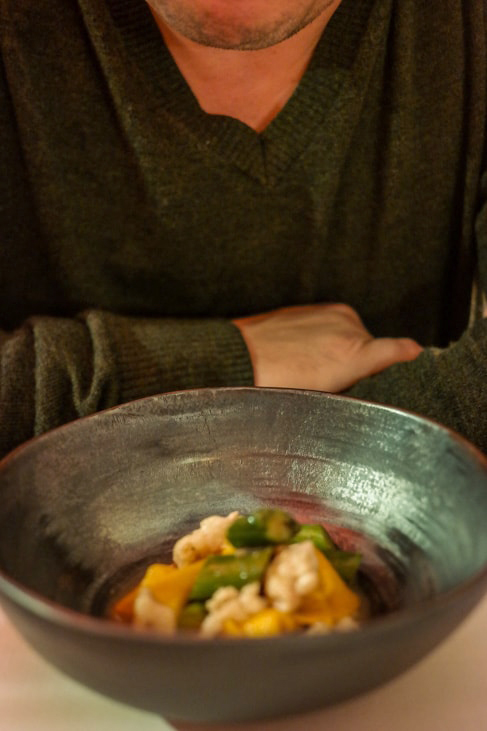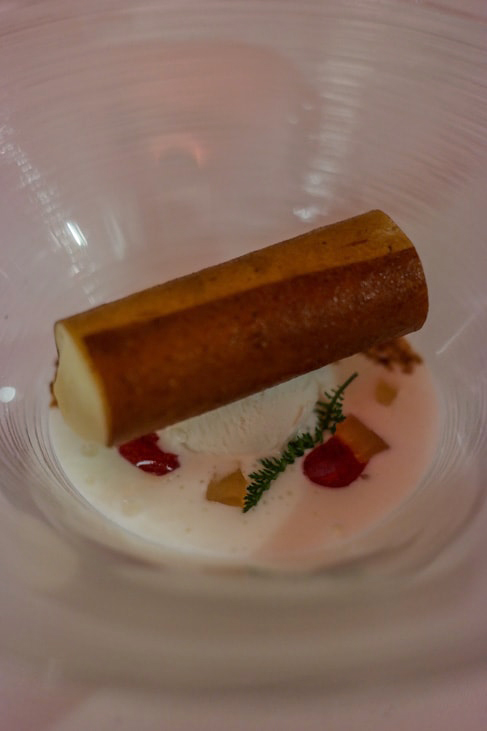 Smoked milk, tuile of apple core, cumin english cream, caramelized bread
The dessert was not very sweet, focusing on rich, local milk and cream to add natural sweetness. There were also dots of cranberry sauce, that did add some sugar and acidity, while the bread and tuile added some texture to the dish. I loved it, but Julie found it a little to savory for her liking.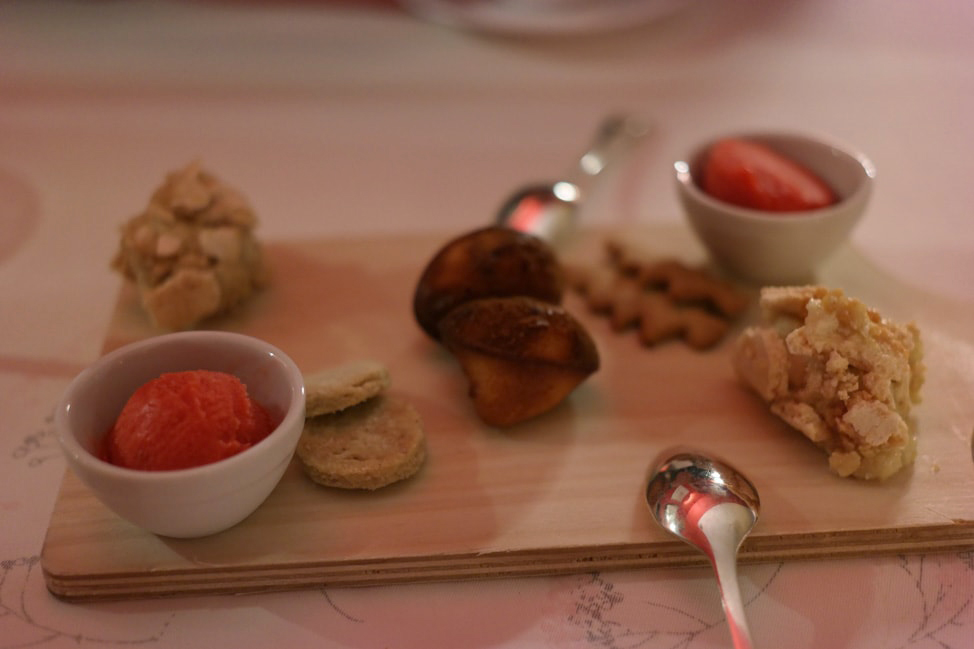 Petits Fours: watermelon sorbet, warm madeleines, apples mixed with crushed meringue, anise-flavored cookies and shortbread biscuits
A delightful way to conclude our meal. The sorbet was light and refreshing, and the meringue was crispy and beautiful.
Conclusion
Hiša Franko put on a display of expert seasonal cooking. No dish was overworked and too complicated. In the end, everything just tasted good. The raw ingredients were obviously of the highest level, and Ana and her team did a fabulous job making those products sing. The staff was incredibly pleasant and laid back too, creating a very casual atmosphere for such a fine meal. Personally, I prefer a relaxed environment for fine dining over a stiff, formal arrangement. I want my dinner to be fun and carefree, not feel like I'm eating in a library.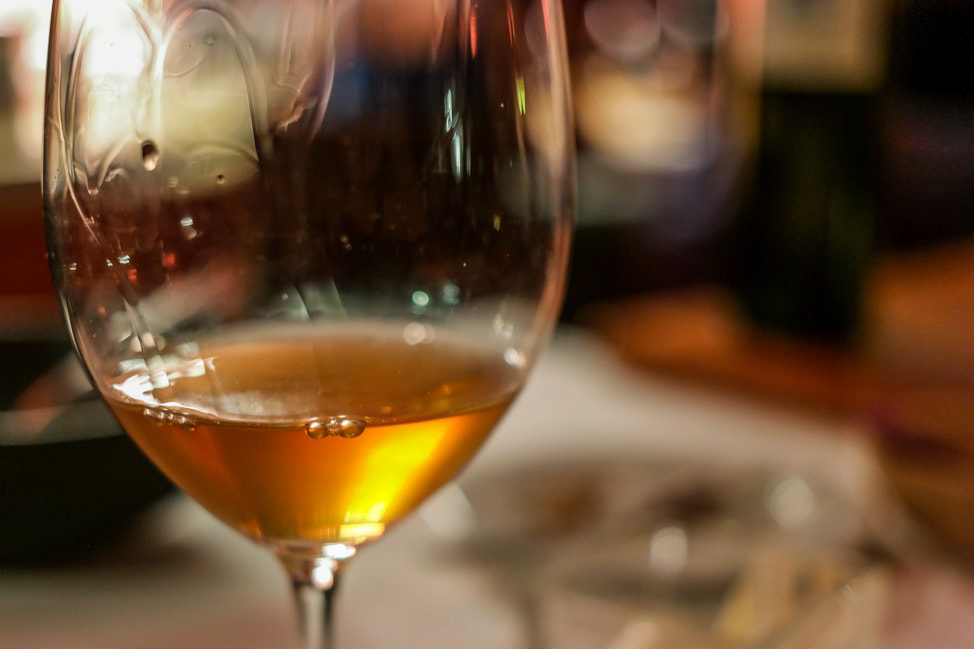 The wine pairing provided was fantastic, as they just paired courses with wine available by the glass. I wanted to see some more obscure Slovenian wines, so I got to sample a few orange wines, which are white wines that sit on the grape skins for a long period of time, resulting in a more orange color and more often, a funkier flavor profile. They are certainly not for everyone (Julie hates them), but I like that sort of thing. The pricing was very fair as well, with no glass costing over €4.50.
If you do stay at Hiša Franko (the rooms are very nice, with some modern touches), the breakfast should not be missed, as their morning spread is included in the room rate, and consists of an impressive array of cured meats, cheese, fruit, yogurt, homemade jams, pastries, and eggs cooked to order. A nice touch I enjoyed was that the breakfast menu was printed on paper decorated by Ana and Valter's young child, with "good morning" scribbled across the page in crayon. It was a personal touch that made Hiša Franko seem more like going to Ana and Valter's house for a meal, rather than a restaurant operating at the highest level.
If you find yourself anywhere near the Soca Valley in Slovenia, do not hesitate to make the trek to Hiša Franko. Just make sure to book in advance, as the crowds are coming.
Interesting in booking a stay at Hiša Franko? Book here!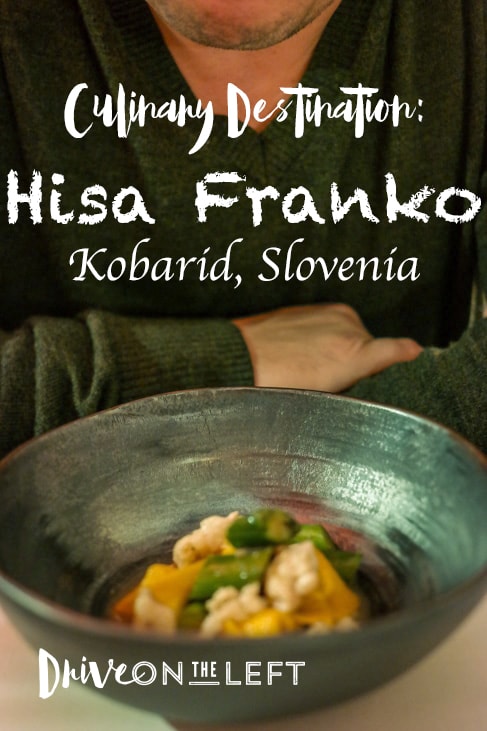 Dear reader, please note that some of these links are affiliates, which means we will make a small profit should you choose to use them. This in no way unfluences our recommendations though. We only share the things we have genuinely used and loved.