To be honest, I am not much of a camper.
The idea of a tent in the woods, with no bathroom or shower, is not my idea of paradise. I know, I know. I sound ridiculous and Julie would probably say the same thing. Part of ambivalence towards camping comes partly from my lack of experience. I never went camping as a kid, as my parents are certainly not outdoorsy, so I never really got exposed to the camping lifestyle. Never joined Cub Scouts or went away to summer camp. Funny enough, I love spending time outdoors, going on hikes and kayaking, exploring the countryside wherever we travel. But for some reason, when it comes to sleeping, I would rather head back to a hotel room.
Feel free to judge me. I don't blame you.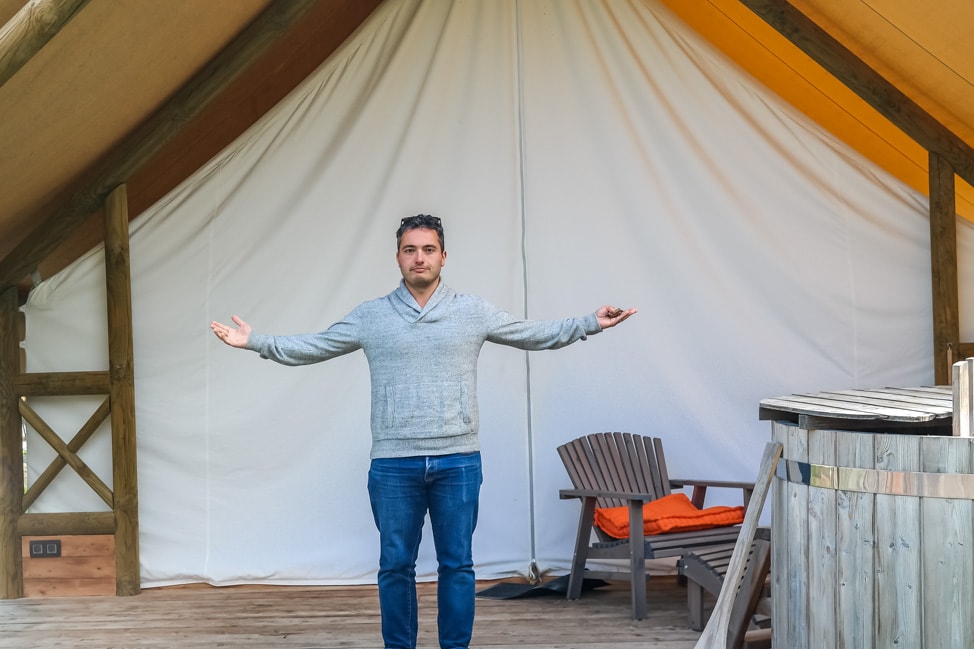 Last summer, on our epic US road trip, we stayed at Moab Under Canvas, a 'glamping' compound within the stunningly beautiful Arches National Park in Utah. It was our first glamping experience, and I loved it. Being comfortable at night in a large bed, with lights and carpet and also being able to unzip the tent in the morning and see the never-ending Utah landscape was spectacular.
When researching for our recent trip to Bled, Slovenia, I stumbled upon a glamping facility, Garden Village Bled. Glamping tents and tree houses? Sign me up!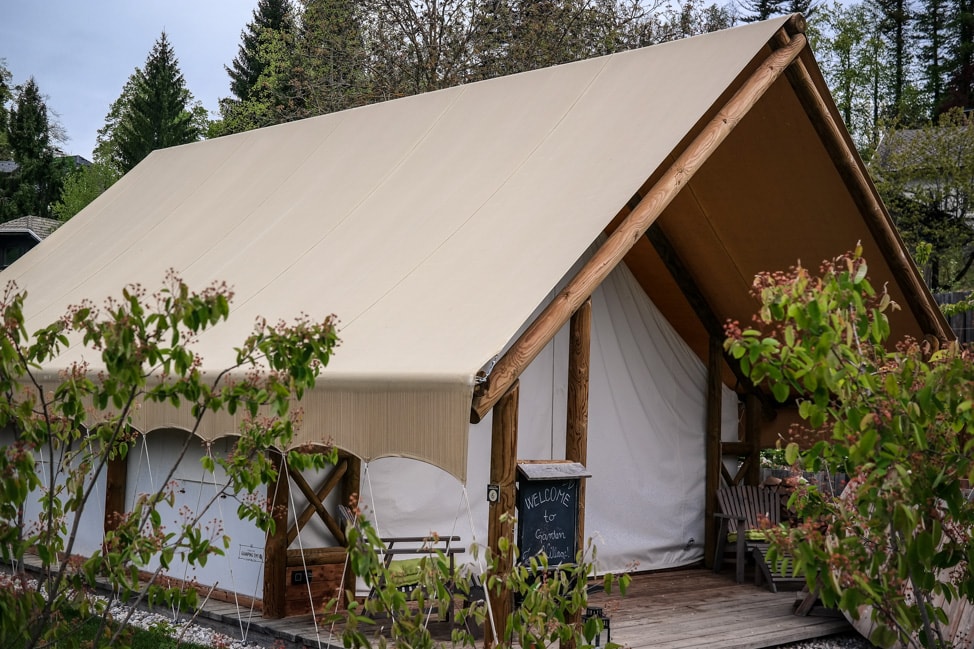 Garden Village Bled is situated down a small lane, just a few hundred meters from the shores of Lake Bled. We booked one of their Glamping Tents, which came with the works: air-conditioning, heating, full bathroom, hardwood floors, two sleeping areas, couch, work desk, garden, and even a hot tub!
We were not exactly "roughing" it!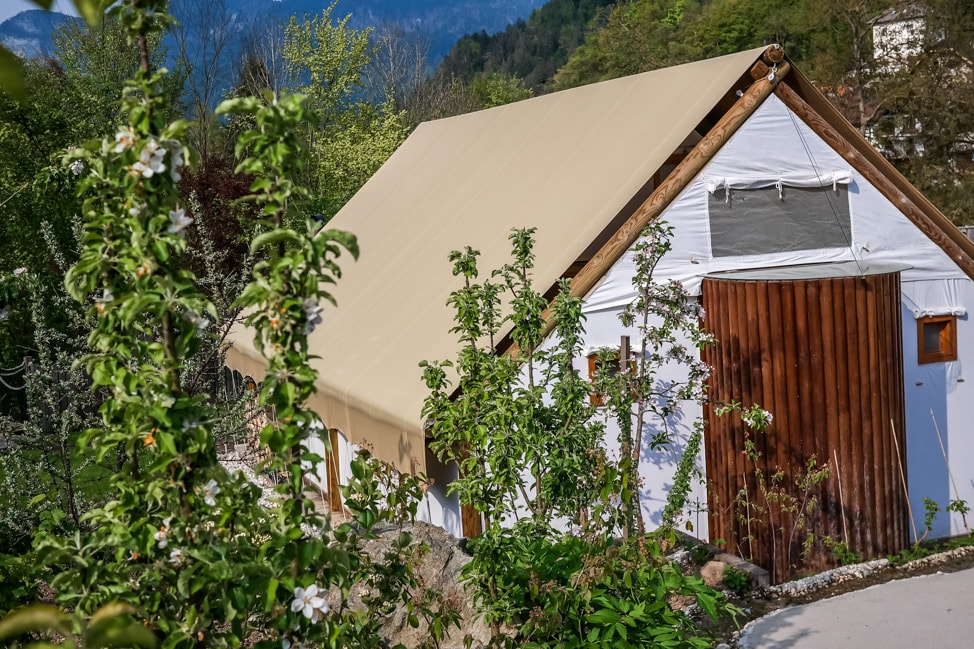 The resort was a short walk from Lake Bled, so we were able to leave our car at the resort and head off to explore Bled on foot (and save the €8/day parking lots!). After long days of walking or rowing around the lake, we would head back to our little oasis, and settle into our fabulous tent.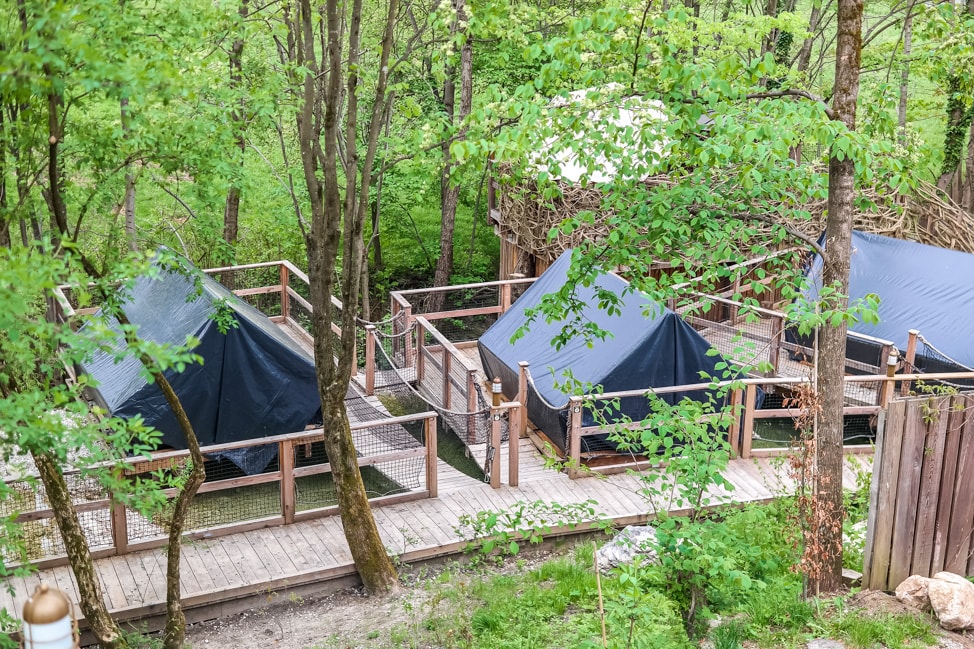 The resort itself does have more traditional tents, called Pier Tents, though these also include a lovely full-sized mattress and a small deck, with shared bathroom and shower facilities a few steps away. The advantage of the Pier Tents is that many are over the small brook that runs right through Garden Village Bled, so you can fall asleep at night to the gentle sounds of the babbling brook, or cool off by stepping off your patio and into the refreshing water below.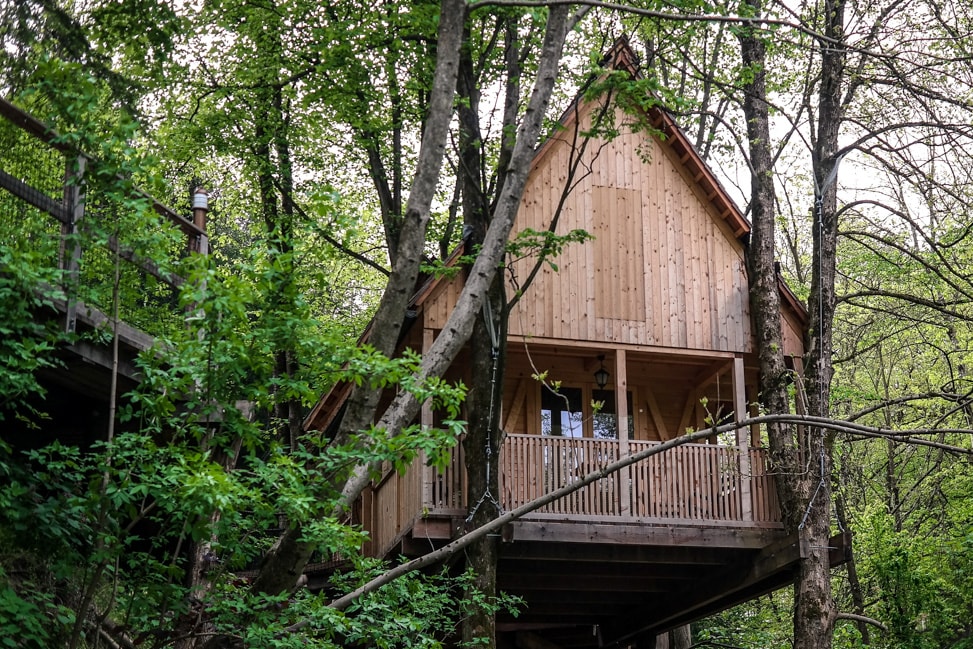 Of course, it is hard to overlook the Tree Houses, built into the large trees around the resort. Those, too, are extremely spacious, with lofts and large decks providing plenty of indoor and outdoor space.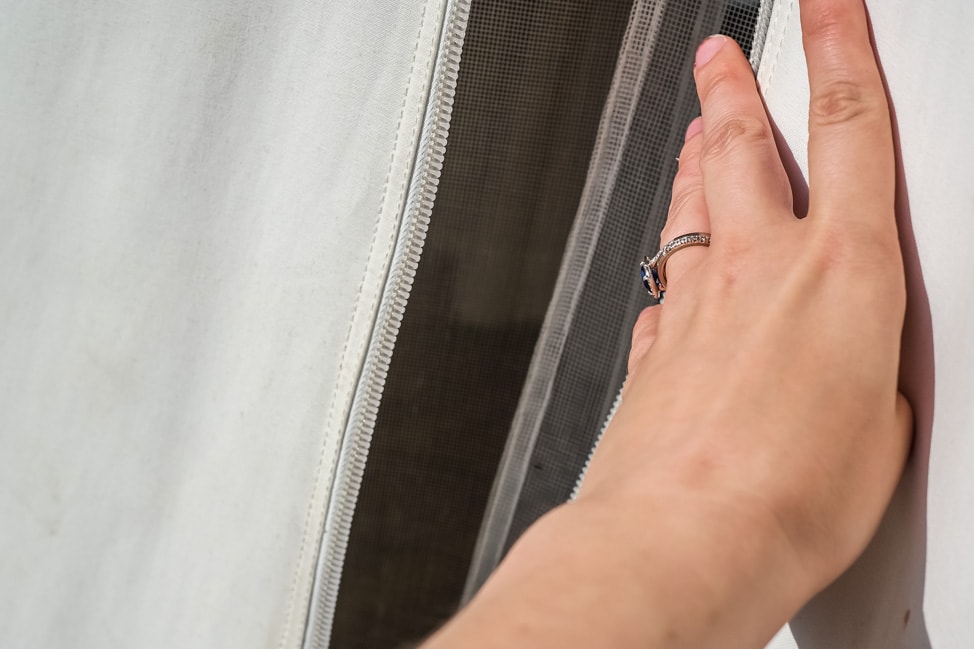 For me though, Garden Village Bled was all about the Glamping Tent. It had every amenity you could ever want, all in a truly unique setting. We had a private yard, with a small deck and chairs, overlooking the Pier Tents and Tree Houses below. There was a small stream that ran along the path down to the tents, so even though we were not next to the brook, we feel asleep each night with the sound of trickling water. It helps, too, when you fall asleep in your "tent" in a beautiful queen-sized bed with thick, soft comforters and fluffy pillows. Beats a sleeping bag any day.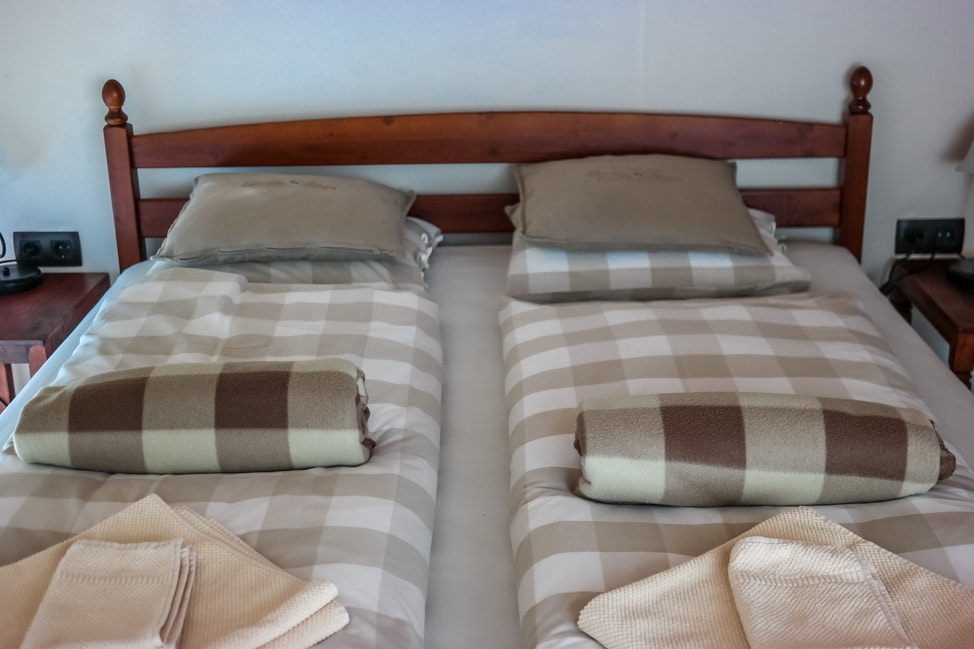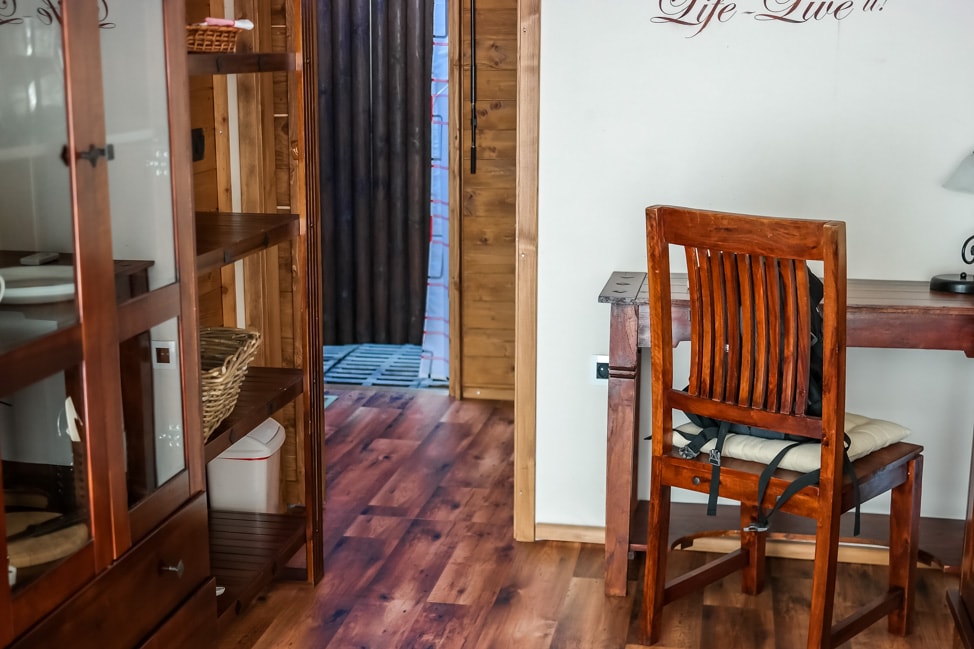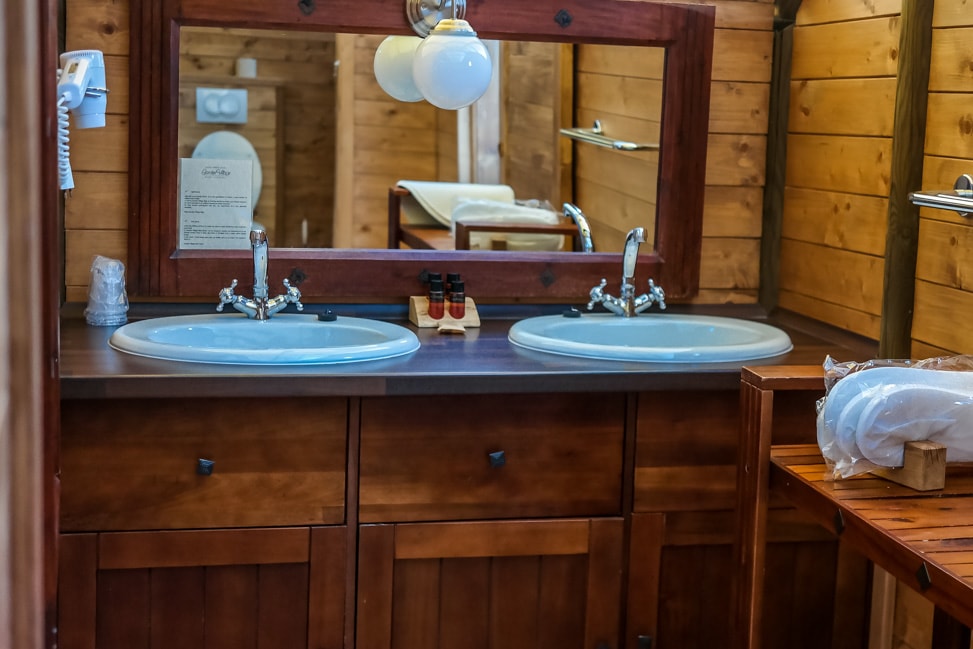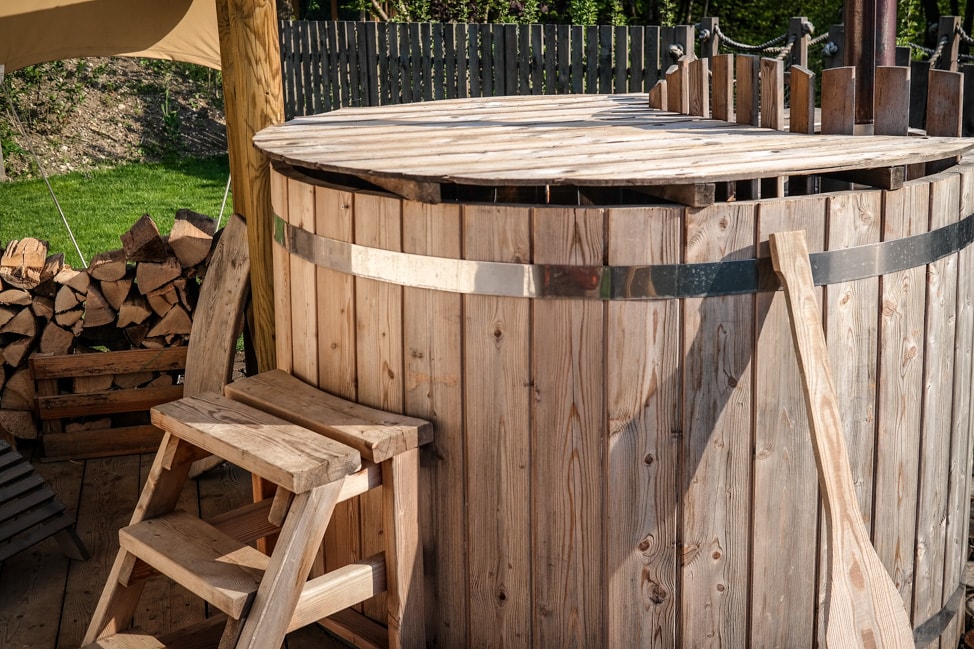 The bathroom was surprisingly large, and featured an outdoor shower with a glass roof, allowing you to enjoy a quick shower even in the rain. Our hot tub was a particular highlight, as we took advantage each night with a dip, along with a few glasses of wine. The tub was wood-heated, aided by the staff members who would build the fire during the day, allowing the water to gradually warm up, so that around sunset, the temperature was perfect.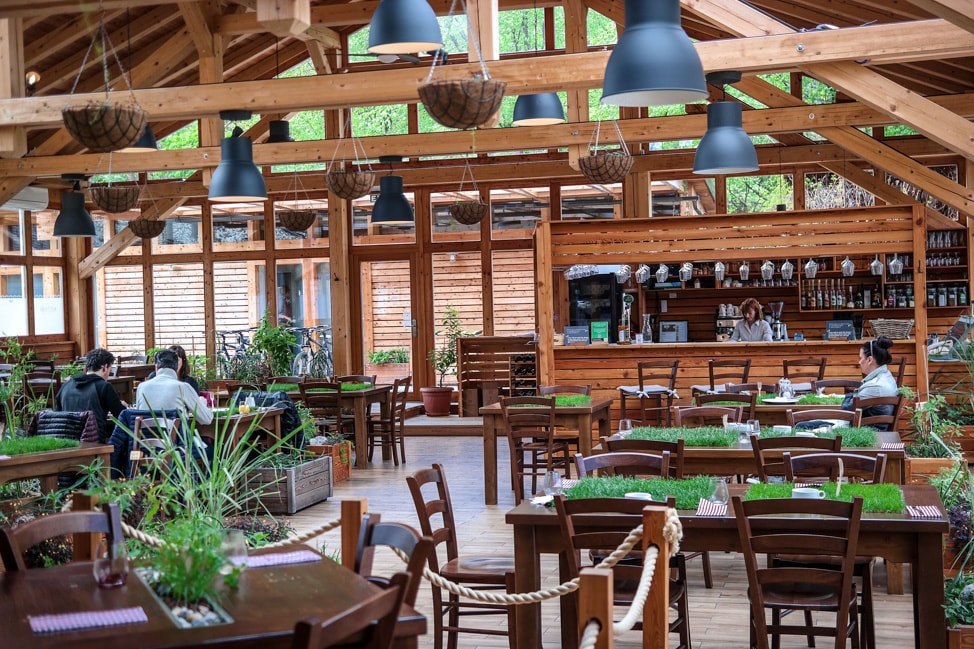 Garden Village Bled is a true eco-resort, utilizing the natural resources that surround it. The main building, which houses the on-site restaurant, is bathed in natural light, and even has a stream running through the dining room. The table tops themselves are topped with real, live grass, certainly a first for me. There is an herb and vegetable garden, as well as fruit trees at the resort, which the chefs utilize in concocting their menus. The daily breakfast buffet includes homemade jams and preserves, made from the local fruit.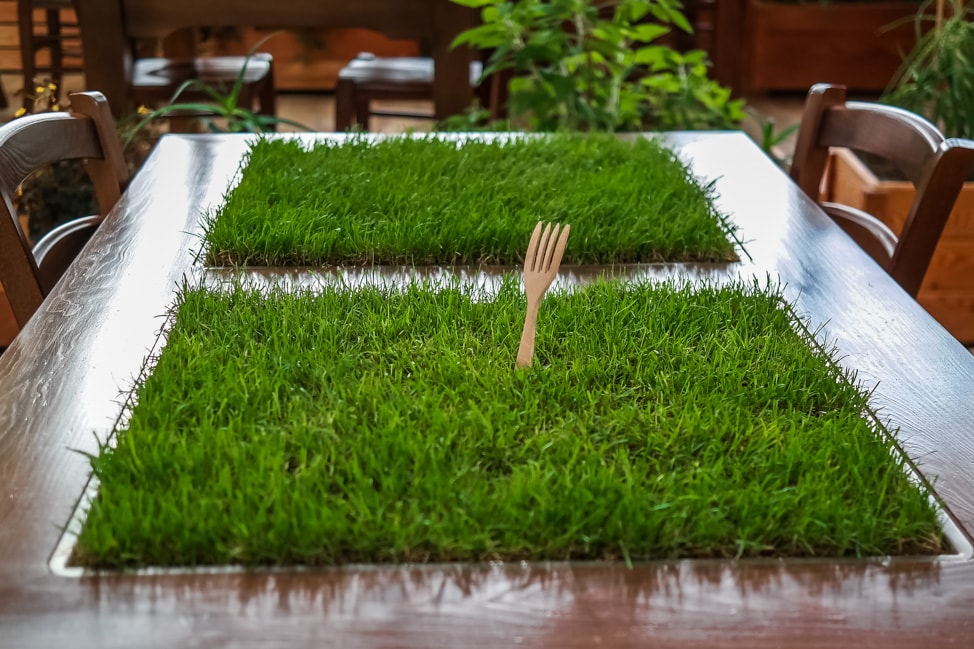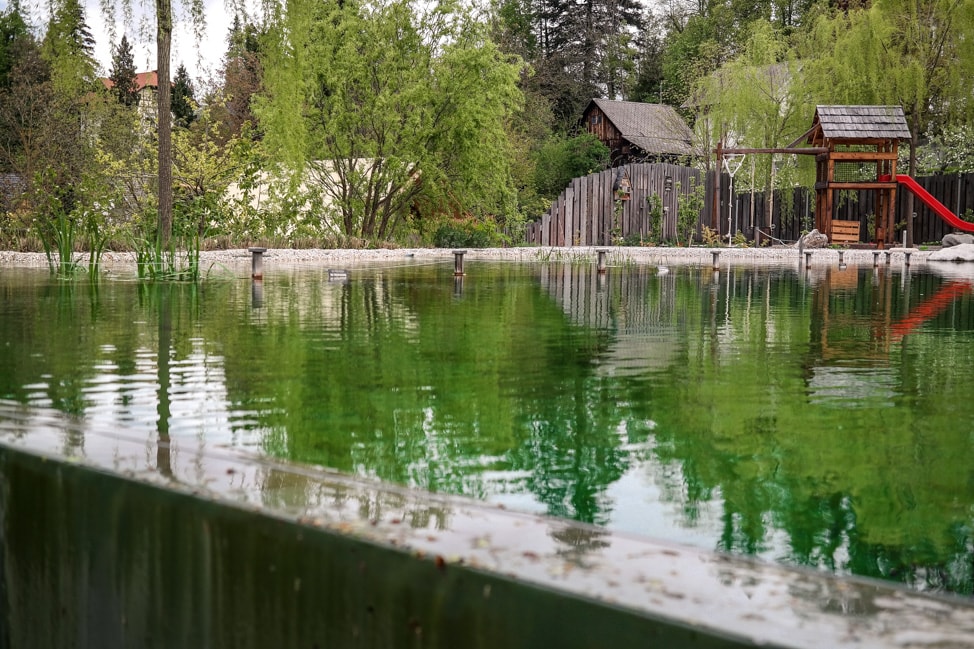 There is a pool and deck area attached to the main building, fed from the brook running through the resort, which also provides drinking water for Garden Village Bled. The pool contains no chemicals, but is surrounded by plants that help filter the water naturally. The resort does not skimp on the amenities and services, but always maintains a careful consideration for minimizing their environmental impact.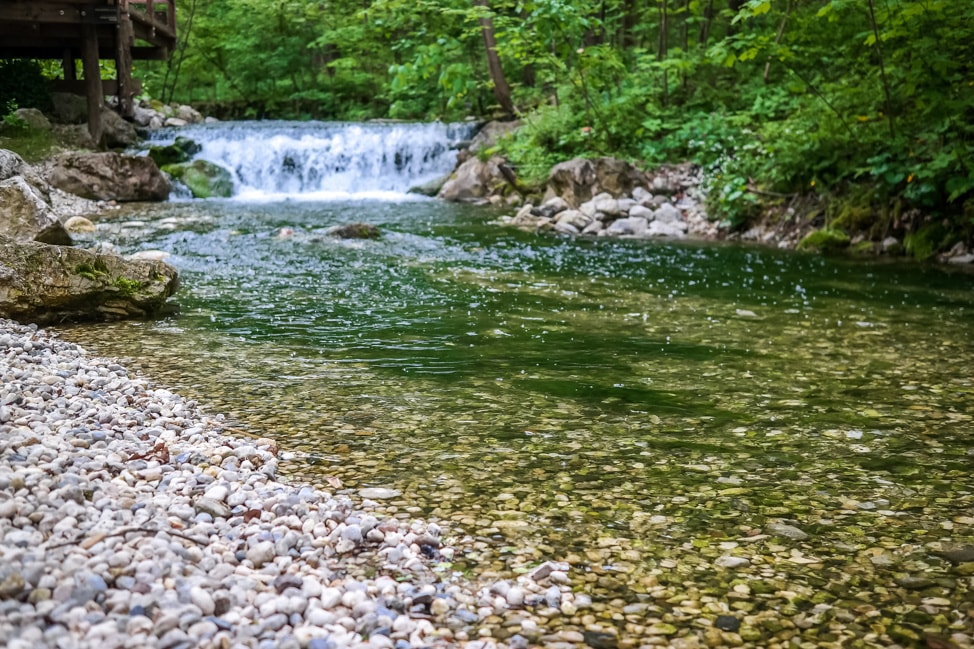 Places like Garden Village Bled are truly special. Yes, I know that glamping can seem kitschy and maybe a bit of an over indulgence. But, frankly, I find it fascinating and just plain fun. Coming home at night and unzipping our tent never got old, as we swung the canvas flaps open to reveal our beautiful room.
Most importantly though, Garden Village Bled offers luxury and pampering, but always with an eye of towards sustainability. What else could you want?