The first thing that strikes me about Malta is the color. The entire country is light brown. Dry and arid landscapes peppered with muted olive trees, stacks of vertical limestone apartment buildings, fortification walls meters thick. The only splashes of color come from the brightly painted doors and the ocean.
While I've never been to Morocco, this is how I imagine it looks.
Malta is a tiny nation, covering just 122 square miles (316 square kilometers), but it is the second most densely populated, next only to China. If you come expecting vast open spaces, think again. The population, 450,000, is crammed into an array of smallish cities and villages, most of the population living in close quarters. It feels cozy, not crowded, though from a distance the wall of tan windows is intimidating.
With just a weekend to explore Malta, we were in over our heads before we even begin. For a small country, there are enough interesting villages and natural wonders to fill a few weeks for the truly committed traveler.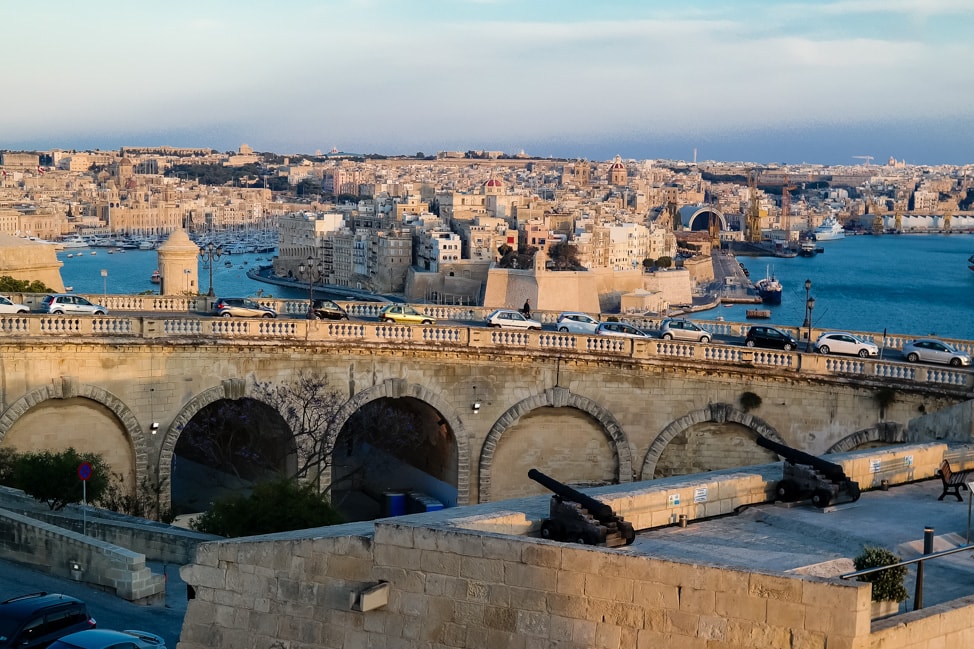 For us, we begin our usual whirlwind exploration by mapping out the food.
Thanks to some diligent research the day before we arrived, we identified a few can't miss meals. A late night dinner at Ta' Kris left us optimistic for the weekend of eating to come. Fortunately, we were spot on in our choices. Mint (a cafe in Sliema) became a quick favorite and we visited twice in 24 hours – almost unheard of for two self-proclaimed novelty seekers.
For lunch one afternoon, we sought out traditional Maltese pizza, called ftira, which is essentially a thick crust pie, heavy on the toppings, no sauce. The crust, rolled over the outer edge of the toppings and dusted with sesame seeds, is buttery and delicious. Always one for doughy pizza, this is right up my alley.
Dinner at La Mere on Friday night was booked in advance (via an online form), and as we enjoyed a leisurely meal, we were surprised at the number of diners wandering in for dinner who were turned away.
Dense population + crowded restaurants = book early
A final meal at Il-Merill, on the street of our apartment rental, rounded out the weekend and we chowed down on pasta and ribs before rolling ourselves back up the hill to our flat to sleep off the food coma. Side note: we never tried Malta's most famous ingredient, rabbit. We just kept saying, oh we'll eventually try some, and then our last meal came around and the restaurant was sold out for the night. Oops.
To explore Malta, it is relatively simple to figure out the public transportation system, a combination of ferries and buses. Together, they cover nearly the entire country, and one can certainly get to any frequently-visited place with a combination of the two.
We spent one day in Valletta, the walled capital city, a five-minute ferry ride from our location across the harbor. We enjoyed Valletta's gorgeous city center, with elaborately finished buildings, pedestrian streets and lots of outdoor cafes. But, we equally enjoyed the side streets of Valletta, noticeably more dingy with peeling paint and rusty Catholic emblems gracing nearly every doorway.
In Valletta, we stumbled upon an ongoing celebration for the Valletta Football Club, which recently won the local league. Apparently, this was the second weekend in a row for celebrations, and the previous weekend was much more insane, including a massive fireworks display. Unfortunately, it wasn't repeated during our stay, despite fireworks being one of Malta's principal exports.
On our single full day of exploration, we planned an aggressive journey to the south coast of the country to visit the Blue Grotto, with its famous limestone arch. From there, the plan was to head north via bus to Rabat and M'dina, where we would have dinner at Malta's annual food festival, held in M'dina over the weekend. A bus ride would bring us back to Sliema in the evening.
Oh, the best laid plans…
In real life, we woke to a day of rain. We underestimated the time it takes to get from place to place via public transportation, and one of us (ahem, Drew) forgot his sweater back at the apartment, spending the chilly day in a wet T-shirt. By the time we finally arrived in M'dina, after a crazy bus ride wherein our driver got stuck in a small town square and did a 50-point turn (a conservative estimate) to free us and then we wound our way around the country instead of taking the prescribed route, we were frazzled.
We did a few rainy laps within the historic walled town of M'dina and caught the next bus home. When we finally pulled up at our stop we immediately went to the nearest chain grocery store where we bought cheap wine and BBQ potato chips and spent a few hours in our apartment decompressing and binge watching YouTube. As you do.
Sometimes we leave a weekend destination feeling like we've really covered the place. We see everything we hope to see, eat everything we plan on eating and collapse in our uncomfortable airplane seats ready to get home and go to bed.
In Malta, we left so much undone.
I think that visiting Malta is probably best when savored. A day at the Blue Grotto, a day in M'dina, a day at an outdoor café in Valletta. The pace of life here is resolutely Mediterranean, and the slowness should really be embraced, not pushed against. By attempting to see it all in a day we went against Malta's DNA and probably paid the price, finding ourselves stressed out and racing against the clock.
So we learned a thing or two. Which is what travel is all about, after all. I'm sure we'll be recovered soon.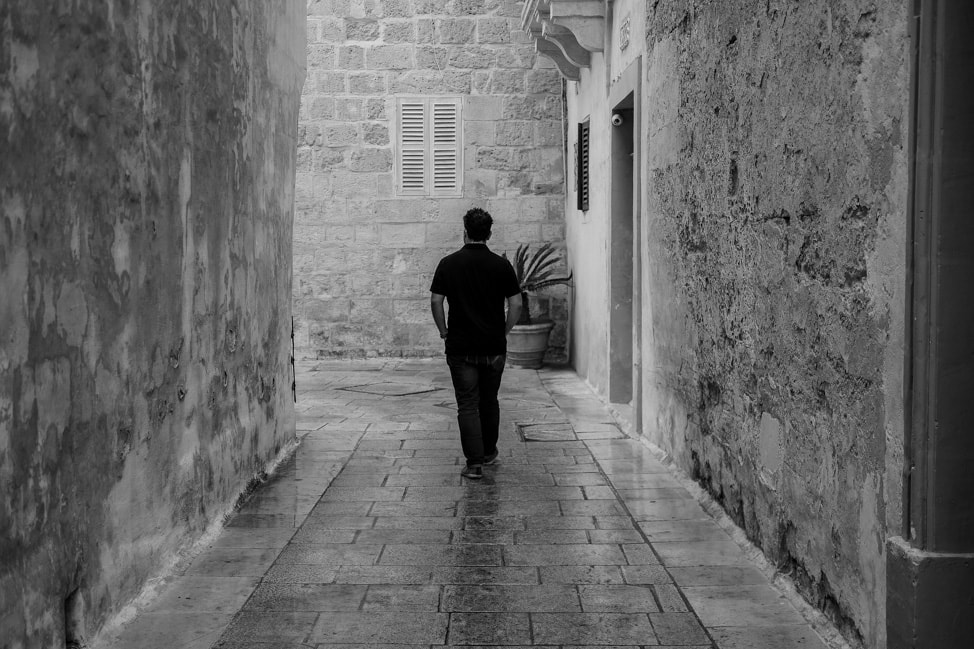 ---
Logistics for Visiting Malta:
We stayed at a lovely rental apartment that we would heartily recommend to anyone. The owners, Dave and Lisa, recently completed a multi-year renovation of the place. Also, the WiFi speed is AMAZING.
English is one of the primary languages in Malta, thanks to its relatively recent affiliation with the Brits. Maltese is the other language, totally complicated and difficult, but every sign and menu is in English so it's easy to navigate.
One big complaint: while the bus system covers much of the country, be warned that the frequency of buses is very, very sparse. Once an hour or so is normal in many areas. Therefore, when you're at the Blue Grotto waiting for a lift to M'dina, be prepared to spend some time waiting for a bus, and then a similarly long time on the bus covering a small distance (twisty roads, big vehicles, etc). In the more populated areas, infrequent buses leads to very crowded buses. Despite four different bus lines running in our direction one day, multiple buses passed, completely full, before one stopped and we were able to cram on. And then it was only because the driver probably sensed our desperation as we flagged him down.