M Threadneedle Street made a big splash in the London food scene when it opened in 2015. It was Martin Williams' (former MD of Gauchos, the Argentinian steakhouse group) first solo project, in the heart of the City, and he certainly did not hold back.
The massive, modern, and rather sleek space incorporates multiple concepts, including M Grill, M Bar, M Wine, M Den, and various private dining options (there was a seafood-heavy restaurant, called M Raw, but that was shuttered and turned into a private dining room in 2016). It caters to the posh City crowd, full of bankers in suits, enjoying power lunches and splashy, meat-heavy dinners.
The meat is certainly the star of the show, as M Grill sources the best beef from all around the world, including Wagyu from Australia, Kobe from Japan, USDA Prime from the US, and even a ribeye from Botswana.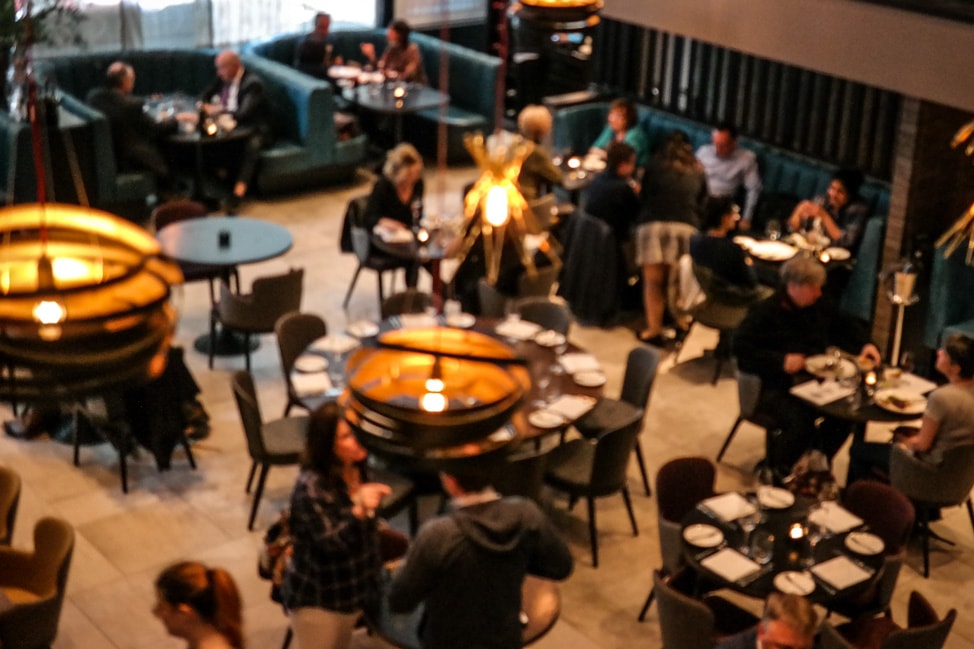 Of course, the fancy digs, polished Riedel stemware, and expensive imported beef comes at a cost for the diner. Steaks start at around £20 and go as high as £75 for a 200g Australian Wagyu, with no sides. Of course, M Grill at M Threadneedle Street is not meant to be a budget destination, and the perpetually packed dining room confirms that the clientele is more than willing to spend well.
Scoring a deal at an upmarket restaurant is exactly what makes Feast on London so exciting.
The month long event hosted by Bookatable features special multi-course menus at various restaurants throughout the city, from casual to Michelin-starred. We decided to sample an indulgent lunch at M Grill, whose Feast on London menu included 4 courses plus a glass of "pink fizz" for £29.50. If you haven't guessed, this is a fantastic value when you consider that the Feast on London menu is not that far above the most reasonably priced steak on the regular menu, and includes a glass of bubbles!
Julie and I tried to sample as much of the menu as possible, ordering different starters and desserts, though we both ordered the same main course.
Hey, we were at a steakhouse, why would either one of us order the fish?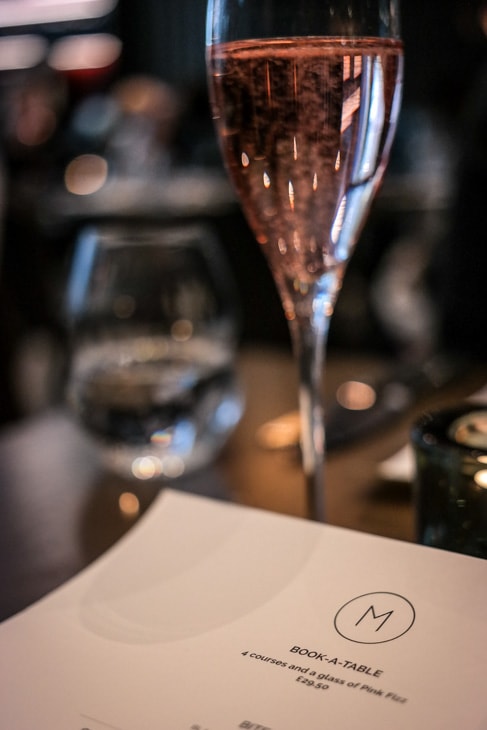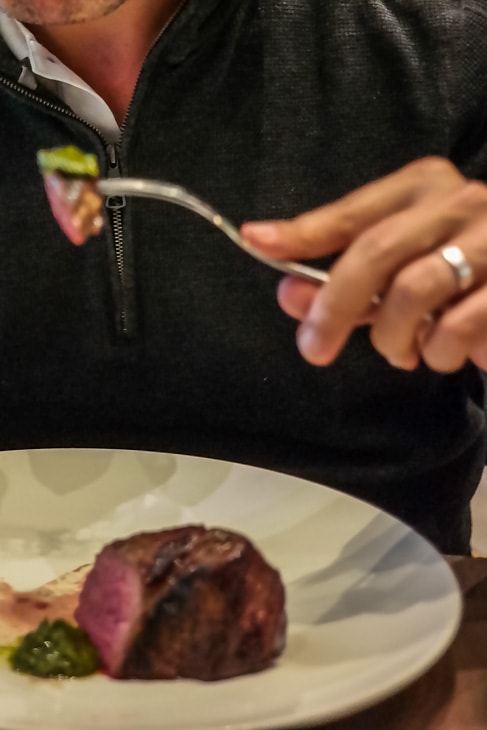 M Grill at M Threadneedle Street
Black Taramasalata
The first bite of the day was a shared taramasalata spread with bread and rice crackers. This classic Greek dip is made with cured and salted cod roe, whipped with olive oil and thickened with anything from bread to almonds. At M Grill, they used smoked olive oil  and incorporated olives, which added both smokiness and brininess.
Randomly, two days prior we had taramasalata at a Greek restaurant in Marylebone, and frankly, the Greek restaurant did it better. The shared snack at M Grill was aggressively salt and smokey, and we found it to be a ho-hum to begin the meal. The rustic country bread and the bright yellow butter served alongside was a better start.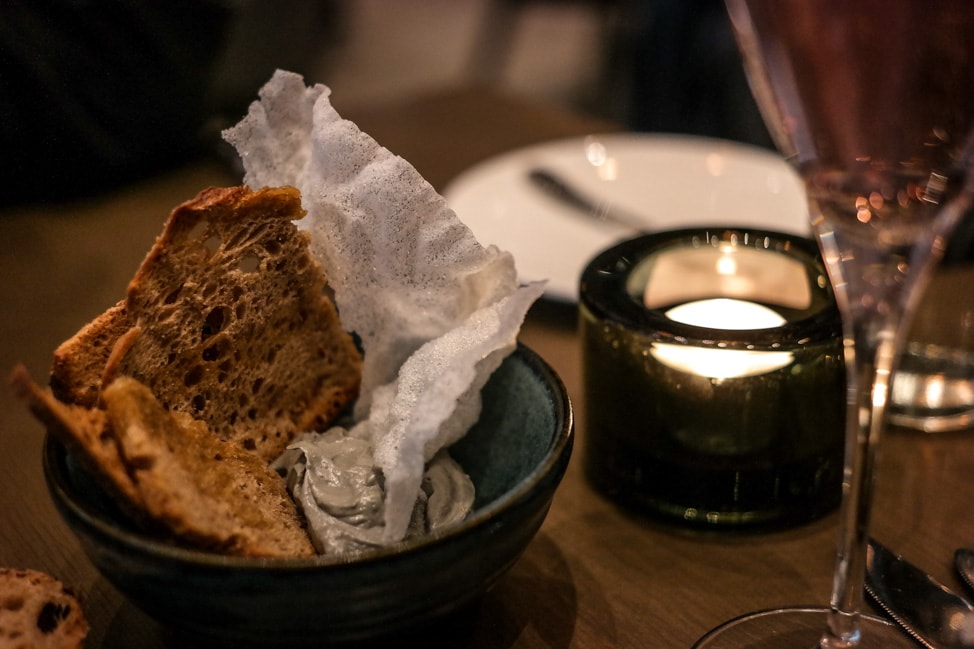 Organic Salmon Sashimi
The first starter for Julie was a better showing from the kitchen, with four slices of extremely fresh and fatty organic salmon, accompanied by sliced jalapeño, pickled ginger, and wasabi. Nice and light, but totally appropriate for an otherwise decadent meal.
Carrots Rösti, Fermented, and Raw
This was a particularly pretty dish, and one that was rather delicate for a restaurant that focuses on meat. The carrots were artfully arranged, with the smaller pieces served raw for crunch, the fermented pieces adding acidity and tang, and the rösti showcasing the sweetness of the carrot.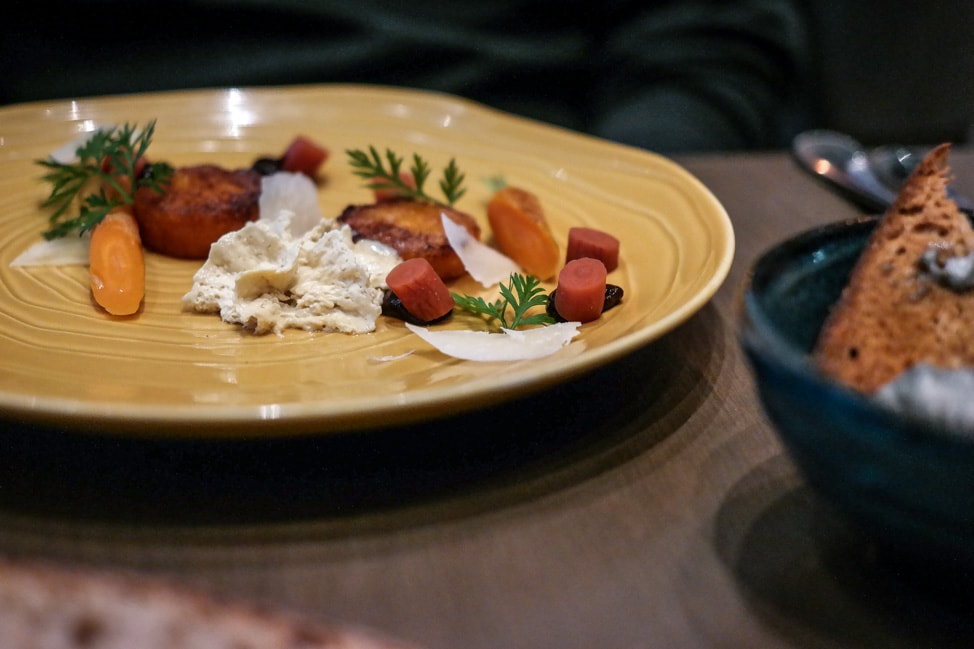 200g Rump Steak
The rump steak, a cut I find to be chewy when not done right, was cooked as requested and incredibly tender. It was grass-fed beef, with a pronounced beefiness to it and minimal amount of fat. With our meat, we got two sides, perfect crispy chips and a large Caesar-type salad. The 200g portion was ideal for lunch, and with a total of 4 courses, was all we needed.
We added on the chimichurri sauce (£3), our favorite condiment for steak. The version at M Grill did not disappoint, and was one of the better chimichurris we've tried in a  while.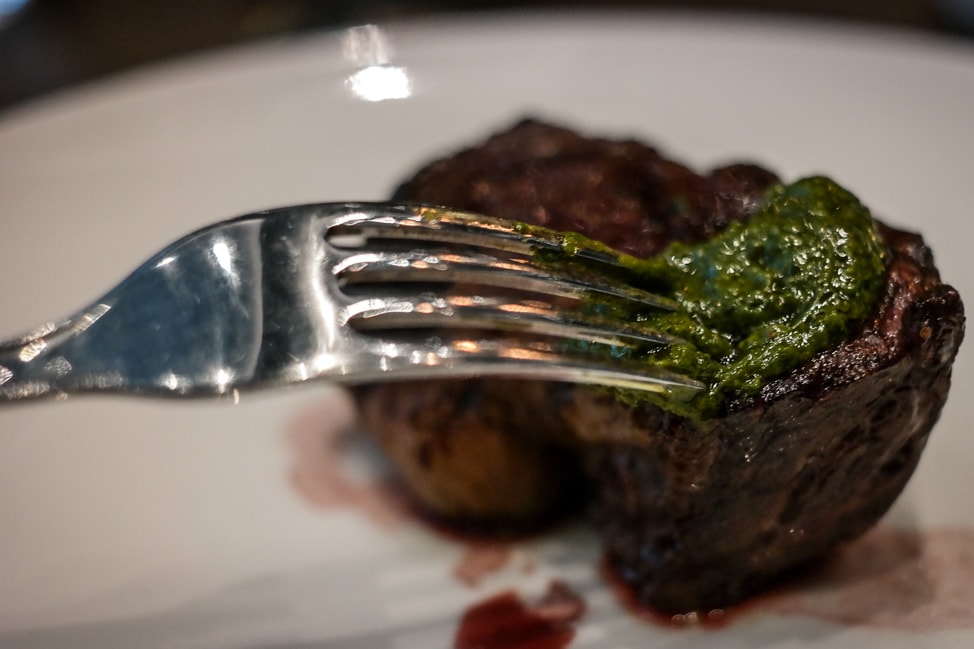 Dulce de Leche Flan
The flan was a rich coffee color, and packed with caramel-like dulce de leche flavor. Underneath sat a swipe of Italian meringue that was briefly torched. The flan was a perfect consistency, with the ever so slight wobble.
White Chocolate & Coconut
The final dessert was one of the highlights of the day, with smooth domes of white chocolate mousse and coconut mousse around the plate. Lychee gel added a floral flavor and the yuzu gel added nice acidity to the richness of the mousse. The only complaint I had is that the gels were overly set, so they were stiffer than they should be.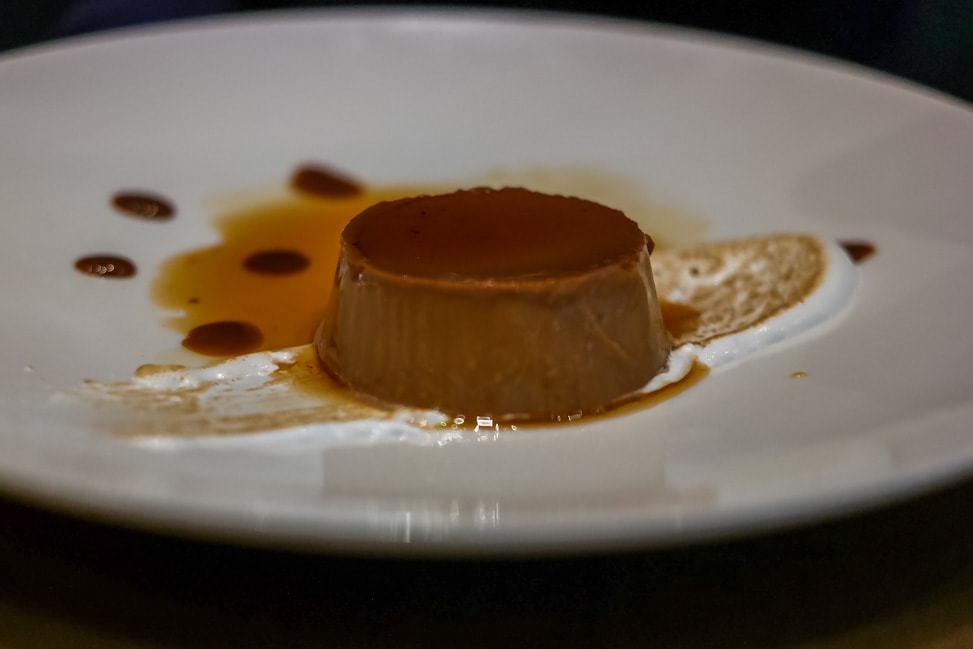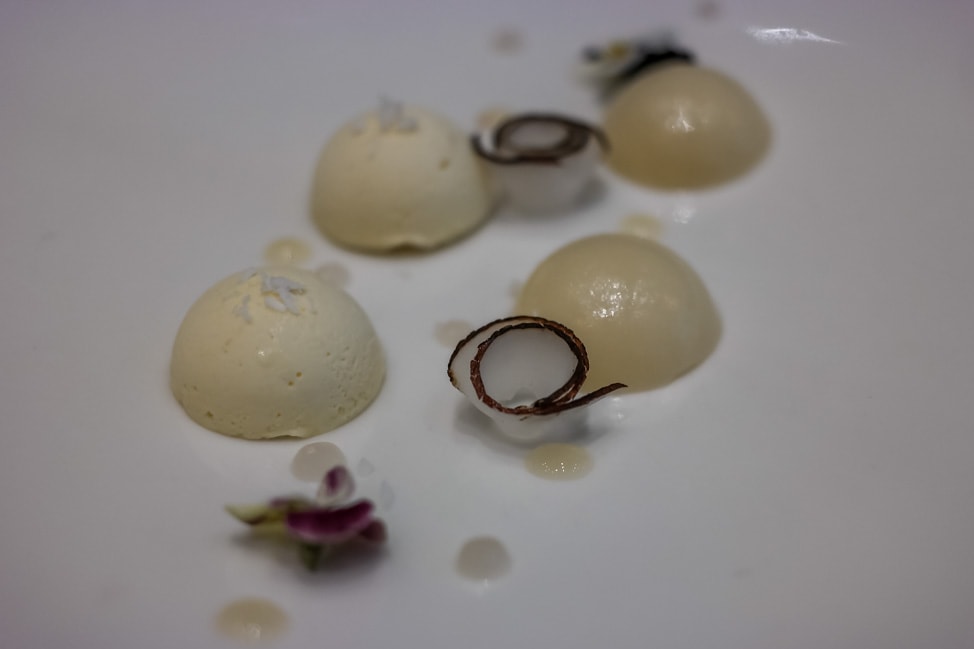 Conclusion
M Grill at M Threadneedle was a nice treat for a midweek lunch, and a tremendous value with the Feast on London set menu. It's not an exaggeration to say that our meal was a mere fraction of the price of every other diner in the place.
It's good to be in the know about Feast on Lodnon. And now, you're in the know, too.
The service at M Grill was efficient but not rushed, with a large number of staff members roaming the floor at all times. We worried ahead of time that the hostess would be confused about the booking we made and that we were there specifically for Feast of London. We needn't have worried. Our booking through Bookatable was noted and we were provided only with the special Feast on London menu, no awkward conversation or questions required.
While the meal itself had its highs and lows, there is no question that this is why Feast of London exists. We wouldn't have thought to head to the heart of the City in the middle of a weekday for an extravagant lunch without the lure of a bespoke menu and there we were, sampling a new concept and drinking bubbly at 1pm.
All in all, not a bad way to spend an afternoon.
Interested in finding a deal during Bookatable's Feast on London event? Check out all of the great deals at some of London's best restaurants right here!