This article is part of a short series about our journey to obtain our Chinese residency and work visas. We haven't found great personal resources about what to expect when applying for such visas and went through the process completely clueless. This is Part One in the series.
Let's get one thing out of the way: we didn't expect it to be easy.
But when that fateful email rolled into my inbox, with the list of documents for us to gather for our Chinese residency and work visa applications, it was a bad start to the day. I remember exactly where I was when the email pinged in, kinda like how you remember where you were when you heard about an approaching natural disaster.
The long list of documents was littered with unfamiliar words and was obviously translated, layering on an additional level of  complexity. I had to go hide in a coffee shop alone for a few hours with my angry thoughts.
We've applied for foreign work permits and residency before. This is not new territory. We're those people who have digital copies of every important paper, all filed away for just this purpose. Need our marriage license? Social security cards? Birth certificates? We have it all, scanned and ready to go.
We just didn't realize that the China visa application process would be quite so complicated.
Over the past month of gathering documents, we've learned a thing or two about the various pitfalls that can arise during the Chinese visa application process. We've likely taken every conceivable misstep that exists. These are our experiences and we hope that if you find yourself in a similar situation, our experience will help you find comfort that you're not alone in your haze of confusion.
It's probably important to note that we are undertaking Chinese residency with the support of my company, who has hired a third party to actually do the applications for us. As I refer to 'the visa company' throughout, that's who I'm talking about. Two nice guys in China are the receptacles for all of these documents and lead an email train with 73 emails (as of today) asking and giving clarification, updates and the like.
Here is the ever-so-briefest-summary of the document gathering process for Chinese residency and work visas.
(By the way, all of this information is accurate as of April 2017, and our application is for Shenzhen. As we've found, rules can change quickly and without notice. Even the city of residency can affect what is required.)
The Easy Stuff:
A detailed timeline of job titles, job descriptions and corresponding dates for the past 10 years
Images of our front passport pages
A letter from my company (on company letterhead) confirming the tenure of my employment
Time to Complete: Including back and forth with the HR team at work for the proper employment letter, roughly 1 week.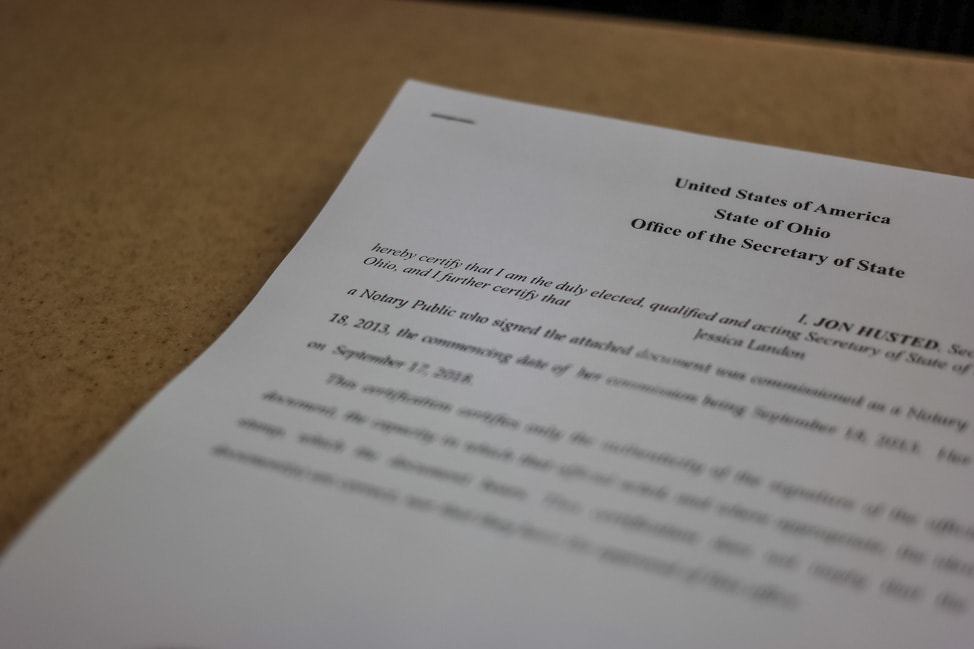 Medium Hard Stuff:
Photos: The photos which will be used on our visas are NOT normal passport sized photos. Those, if you recall, are square. Chinese visa photos are vertical, with very specific measurements. We sent multiple passport photos to the visa company, for them to reject our images each time. Was the white background not white enough? Were we smiling too much? We were so confused. When we finally went to a large CVS (one with a big photo department), they knew exactly what we needed and we were in and out with new regulation sized photos in 10 minutes.
Health Check: The health check is complicated because it's an area of the process which may change soon. Today, a health check is required in the US and then again within 30 days of arriving in China for our visa type. The Chinese government is thinking of changing this so that there is only a health check in China, not one locally. We thought the rule would be updated on the 1st of April, so we waited until that date, but then we heard the rule won't be changed until May, if at all. So, we did the health check.
Time to Complete: 1 week back and forth on the stupid photos and then 10 minutes at CVS. The health check was over 2 days, and I got the results back the next week.
Really Hard Stuff:
Some documents are more difficult to verify. Academically, this makes sense to me. Who's to say, for example, that my college diploma is an actual legitimate document and not a mock-up or fake? The process of certifying such documents goes like this:
A scan of the document needs to be notarized in the state where it was issued, acknowledging that it is a real document.
The notarized document is sent to the Secretary of State of that state, for an additional authentication that the document is legitimate to that state. A piece of paper with the official state seal and signature of the Secretary of State is stapled to the document.
Finally, the document pile, growing by the minute, is brought in person to the regional Chinese consulate (there are 5 or 6 regions in the US) for them to approve once and for all. There is a special sticker that formally authenticates the document and that sticker is precious indeed.
We had to go through this process for three documents – my college diploma, our marriage license, and a criminal background check.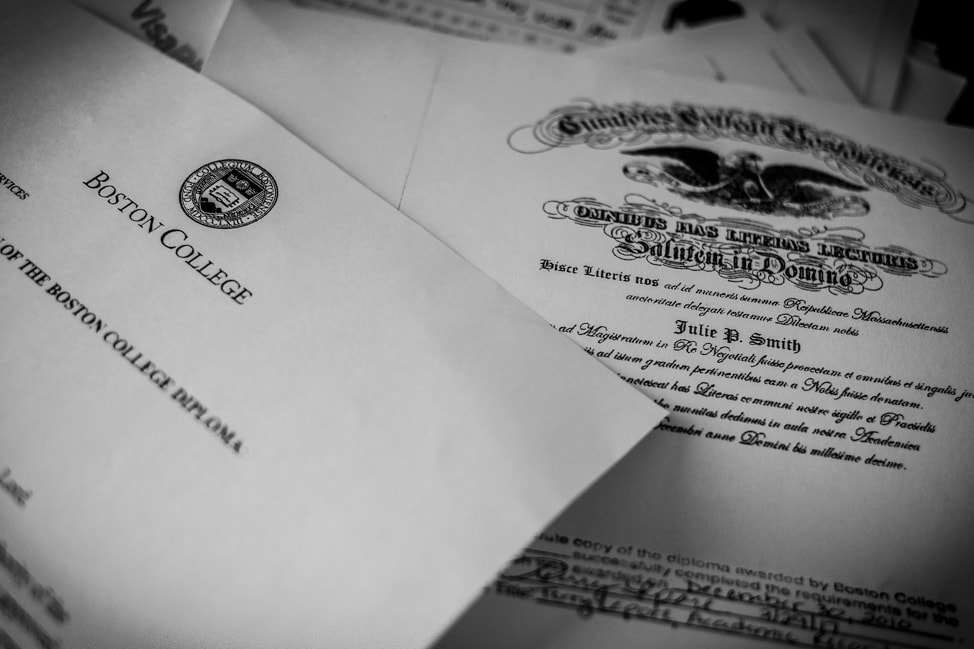 In our case (and this is where our adventurous lives really bite us in the ass), each of those documents was issued in a different state with a different regional Chinese consulate. For a brief time, we priced out a complicated trip around the country, to each state where our documents were issued and then to the regional seat (6 stops, yikes). Personally collecting each and every stamp and staple could save us countless days of waiting for mail.
As you can imagine, this was cost prohibitive, so we hired a third party to do Step 3 for us. We sent them the state-certified documents and they batch processed the authentication stickers with each consulate. This service cost us $159 per document, and takes 6 business days, not including shipping.
Side Note: The process for authenticating diplomas changed during the time when we were working on ours. Rather than accepting scans of the original document, the New York City consulate started requiring English translations to be certified (our diplomas are all in Latin), so our initial submission was denied. We worked with the third party visa company to sort out the problem and resubmitted the forms. Luckily, they didn't charge the process fee again, but we were on the hook for expedited postage. This rule change added ten days to our total document collection, all in.
Time to Complete: from the first day we sent out the first document until the day we received the last one back with the special authentication sticker – one month exactly.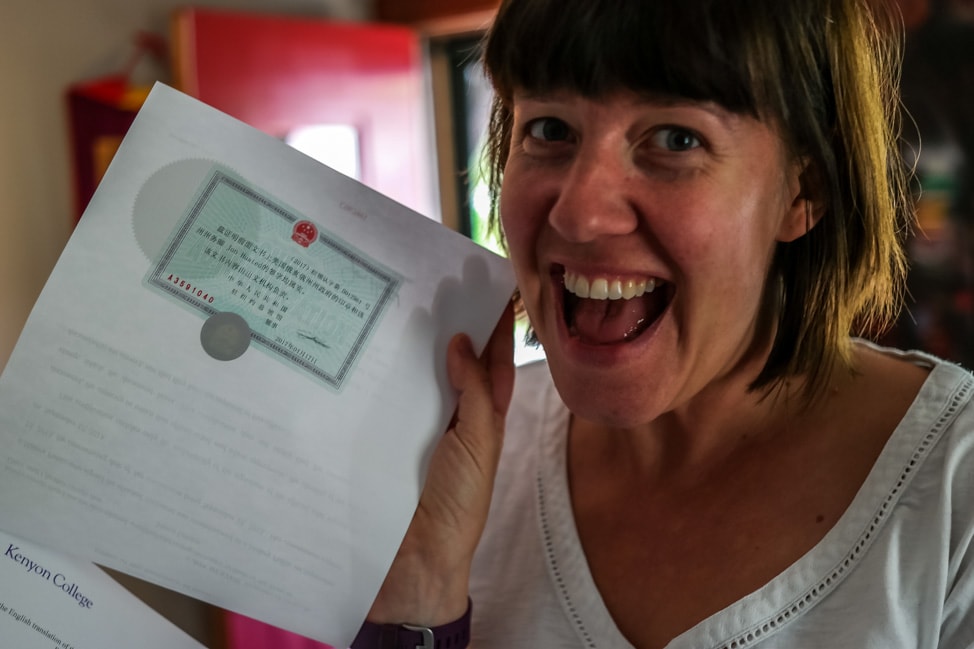 Cost in postage: probably $50. Cost for third-party authentication: $477. Cost to our health and well-being during this month of authentication? We're probably on the cusp of needing blood pressure meds.
This Chinese visa application process has been a strange mix of frantic activity and many days of waiting for mail. We actually physically went to Ohio twice (below, the dorm where I lived for two years, sorry I couldn't stay longer dear friend), to work on the diploma debacle, clocking 20 hours in the car for that step alone. The health checks, which aren't nearly as invasive as those for US visa applicants, still required a doctor's visit (basic physical with a blood test), a hospital visit (EKG and chest x-ray), and then retrieving all of the result documents to send to the visa company.
In my assessment, this document gathering process cannot be completed in less than 2 weeks. If you happen to live in the same place you always have, and all of your important documents are from the same state, you could easily cut out a week or two of hassle. But what if you got married abroad? Or had a child in a different country?
I can only imagine the next level kung fu paperwork that would be required to manage that situation.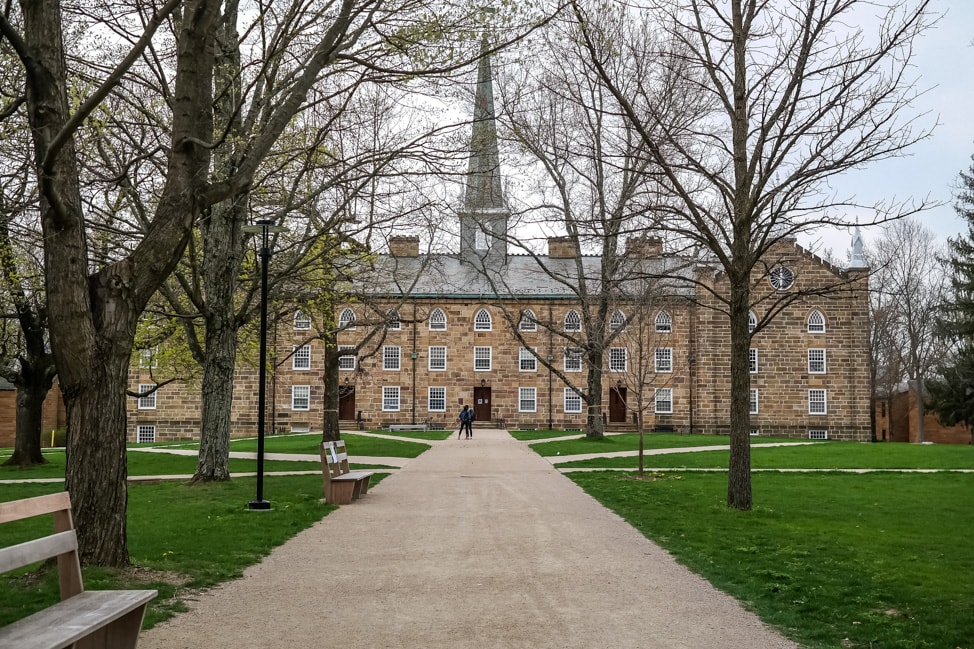 I am finishing up this article as our very last document has been scanned and emailed off to the two guys in China who now have the responsibility of processing the paperwork. Our document collection process is officially complete.
If all goes well – and let's just say we're 'cautiously optimistic' at this point – we have several more weeks of waiting before our first round of visas are complete to allow us entry into China.
Once there, we will undertake additional steps to finalize my work permit and some other permits that I don't yet understand but let's just cross that bridge when we come to it, amIright or amiright?