So, you may remember that we took a sudden, last minute trip to Sri Lanka a few months back. We chalked it up to needing a little tropical weather in the midst of the cold, dreary London winter. We wrote about touring a batik studio and our stay at the oceanfront Suriya Resort. All of that did happen, and the beach weather was a nice reprieve from London, but frankly, that is not why we went to Sri Lanka.
It was all a cover story for our real reason for jetting off across the globe for a 6 day holiday: we were cast to be part of the Durex Do Not Disturb global ad campaign. Weird, but true.
Now, for a little background about how the hell this happened.
At the tail end of January, we were contacted by a production company out of the blue, asking if we were free in February and willing to travel to Sri Lanka to film an advert. They got our contact info from a friend of a friend, and were looking specifically for locally-based foreign couples. We had to create a short video of ourselves answering some questions they provided.
After making the first cut, we headed into the Chelsea film production studio for a casting interview. We learned during that meeting that the advert was for Durex Do Not Disturb, and they were looking for couples for their upcoming campaign. They were looking for real people, so we didn't have to act (thank god), they simply asked us a few more questions about us, our relationship, and a few random questions about our use of technology (phones, computers, cameras, etc) while on vacation. Simple enough.
About a week later, we got the notice that we had made the final cut, and that we were heading to Sri Lanka in less than two weeks, along with 5 other couples. Details were scarce, but they did mention that we would have a few filming engagements per day, but they made sure to add in some free time for us to relax.
So, after a 12 hour flight from London, we landed in Colombo, met the part of the local film crew, and began our first foray into film production.
The shooting began on the second day, as we were transported from a nearby hotel to the Suriya Resort, where we would stay for the duration of the shoot. We arrived, had microphones strapped to us, and then quickly backtracked out of the property to film our arrival. We circled the parking lot and pulled up again, this time with a full crew waiting for us.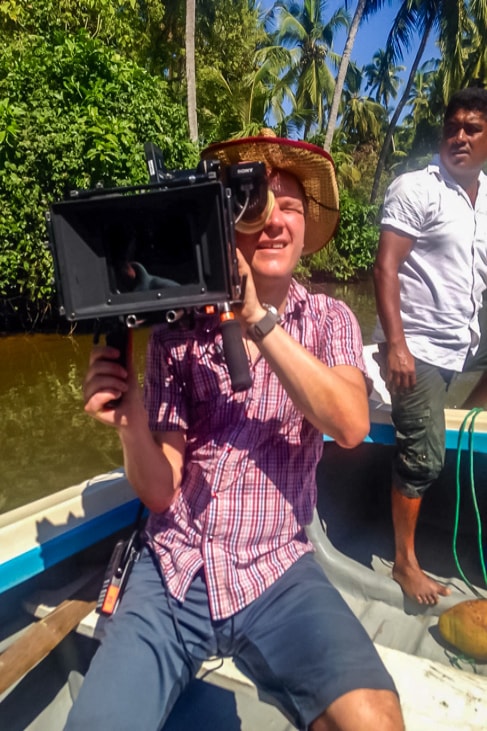 As you noticed in the YouTube clip, the premise of the ad is how technology can affect a relationship. You also may have seen the stunned looks on faces when people were told that their technology was being confiscated. Their reactions were 100% genuine, as the production company had kept that little twist secret from us until that very moment, all conveniently captured on film. The trick was that 3 of the couples got to keep their tech, and 3 couples lost it.
We got to keep all of our electronic goodies, which was slightly painful as we had to watch the staff take the other couples' computers, cameras, and phones right there on the spot, not to be returned until the end of the week. TVs disappeared from rooms, and one couple even had their digital clock on the bed stand taken. Without watches, they had to call the front desk whenever they needed to know the time. Fortunately, they were able to borrow our watches to make things a little easier for them.
The days were very loosely structured, with a few specific call times for each couple per day, either for shooting a particular scene or for a more personal interview. We went on excursions as well, including the batik studio, which was a blast, despite being surrounded by a crew of about 10 people, following our every move.
Our downtime was spent by the pool, though cameramen roamed the grounds all day, so you were bound to be caught on film most of the time. Outside of our call times, we were typically always on microphone, so any conversations we had, whether we were sunbathing in a cabana or enjoying a meal, could be overheard by the crew.
The crew certainly got more than few funny interactions from us and the other couples as we all quickly forgot that we were on mic.
Overall, it was definitely one of the more bizarre weeks of our lives. It was a blast, yet totally foreign at the same time. We were shocked about the logistics involved in shooting something as seemingly simple as an advert. With a huge crew of 30, 6 days filming 6 couples for almost 18 hours per day, the final cut is just a few minutes long.
We had a fantastic time with our cast mates, aided by the nightly consumption of tropical, fruity drinks at the outdoor bar. We learned recently that our ad will be part of a global marketing push, and that commercials will be appearing on TV in dozens of countries around the world.
So next time you turn on the TV, and the Durex Do Not Disturb ad comes up, keep an eye out for us!