When we travel, the first thing we do is research the food.
In our opinion (collectively, I know Drew agrees), there is no single worst thing than showing up in a place for a short amount of time and having a terrible meal. In those low moments we feel like we've wasted our time and money. We've found, after lots and lots of practice, that a little research on the food front can go a long, long way to ensuring we don't leave a new city feeling guilty for missing the food gems are inevitably right under our noses.
In the spirit of spreading the word of good food to all who travel, we asked some of our travel blogging friends about their recommendations for the favorite restaurants in Europe, the well-known and the hidden.  We are so excited to incorporate these ideas into our upcoming travels. Trust us, the best tips come from people who are uncompromising in their love for food, and who better to hear about it than from a bunch of professionals!
Bon appétit!
---
It was early in the morning on a cold January day, and the chalkboard sign outside Kaffeine welcomed me in a way that spoke to my core, "Congratulations, you made it out of bed!" Why yes, yes I did. 
Inside, rows of pastries filled the glass display, tempting me with their dapples of powdered sugar and cinnamon sprinkles. The warm brick walls and weathered tables begged for me to stay while their work horse, the Synnesso Cyncra espresso machine, sang its siren song, steaming, foaming, frothing…
My cappuccino was perfection – a rare occurrence in London – and the almond cake I ordered was light and perfectly flaky. Espresso enthusiasts, bakery buffs, and coffee shop connoisseurs, get yourself to Kaffeine – if you can make it out of bed.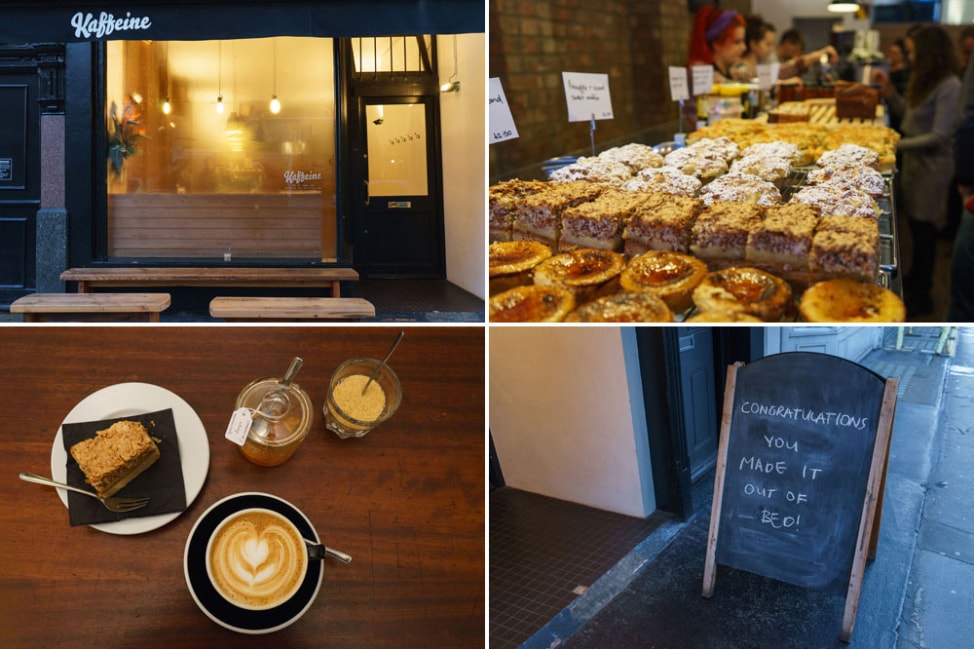 Hungary is a foodie's dream: langos, goulash, soups, and sausage all washed down with delicious red wine from the Eger region. However, Hungary isn't just about the savoury (albeit they do love bread and the heavy stuff in life!) their dessert options often feed the eyes before the belly!
Auguszt cukrászda in Budapest is a family run cake shop which has not only survived two wars, and the communist era but has also served royalty and you certainly do feel luxurious in the Auguszt coffee shops. My favourite cake is the Dobos torte . It is a sponge cake that can stand the test of time (and travel) as it is coated in caramel, which is left to go hard, creating a protective casing which keeps in the inside moist.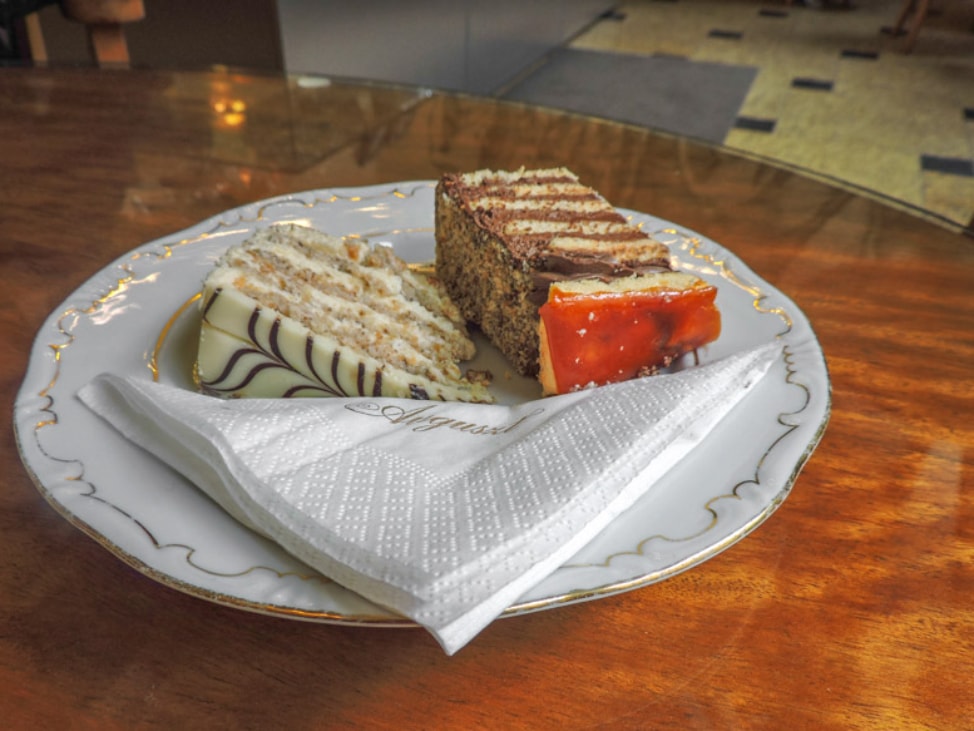 Leopoldauer Alm is located out in the suburbs of Vienna but it is easily reached from Aderklaaer Strabe U station. This restaurant builds its reputation on the size of its meals and the name says everything! We ordered a shared meal designed to feed 4 adults which was 14 euros a person and it was called "the fork of horror". For me it was less "the fork of horror" and more like "WOW…are we going to be able to eat all of this?"
The meal comes out on a huge skewer that looks like a pitchfork and is really well presented. The "fork of horror" contains schnitzel, sausage, ribs, steak and also comes with plenty of sides including chips, wedges, salad, dips and sauces. Our group of four adults and two kids could not eat it all. The size was just truly amazing and it was fantastic value for money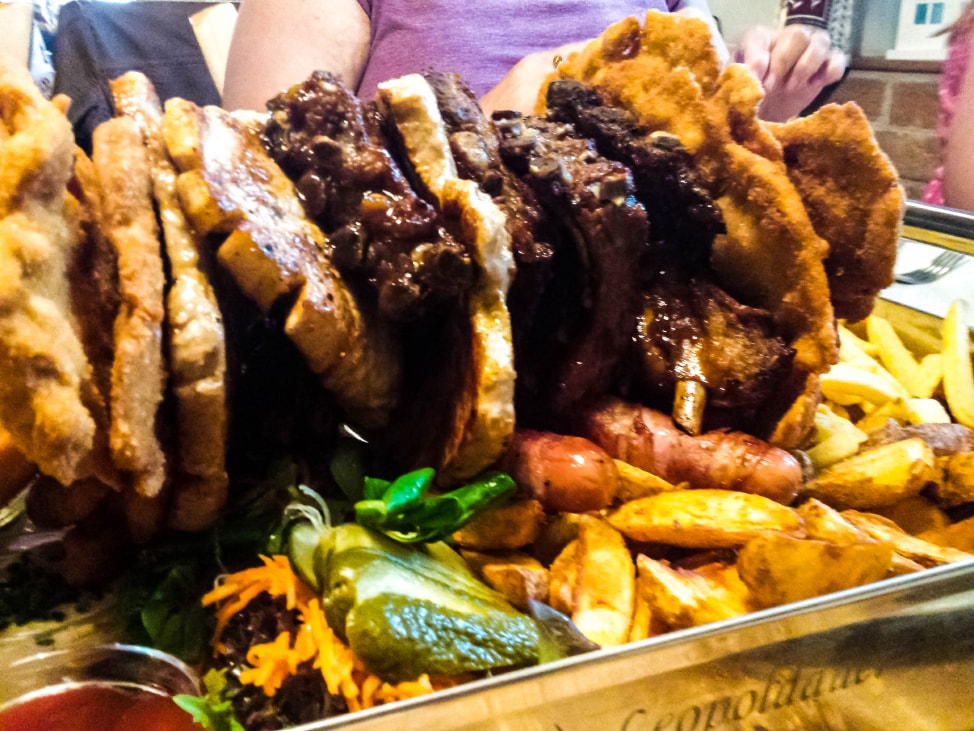 The best omelette I've ever had is not in my family's kitchen or in a high-end restaurant. It's in a down-to-earth establishment in Amsterdam where most meals average around 10 euros. The reason the omelette from
Omelegg
deserves to be called the best is because of the meat, vegetable, and cheese proportions to egg. There is just the right amount of everything. Also, the eggs are never overcooked. They are always fluffy and folded over delicately.
Combined with the bread and simple salad they serve, this meal is a winner for anytime of the day. To make it even better, you get 10% off your total bill if you check in on Yelp.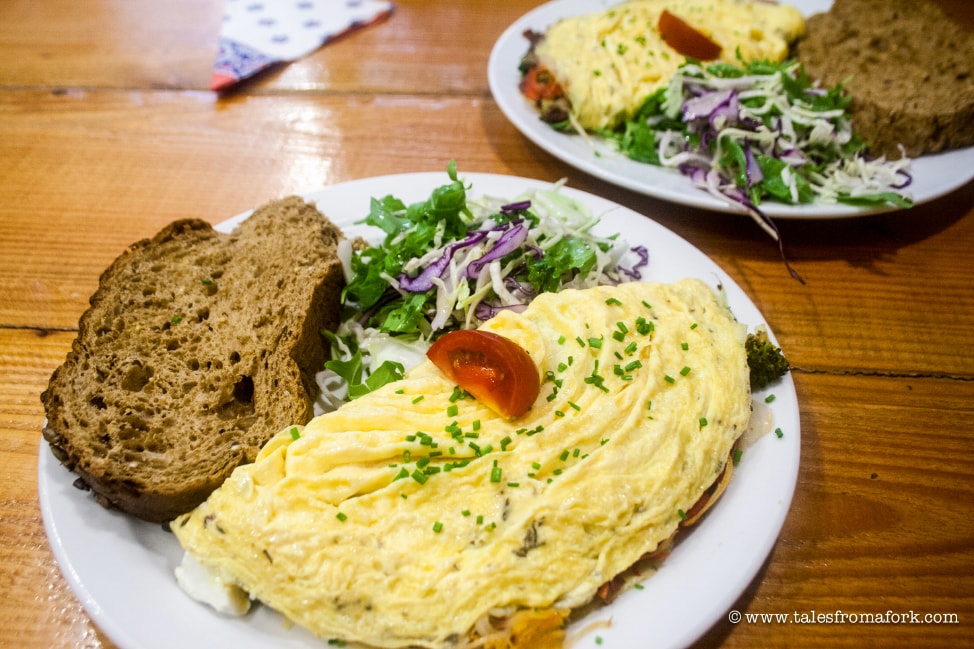 My new favorite restaurant in London is
TING restaurant
in the new Shangri-La Hotel at the Shard (the tallest building in London). Not only it does it offer some great food but also amazing views of Tower Bridge and London.
Considering this is a fine dining restaurant the prices are reasonable and has not only the standard tester menu but also Halal food options. The steak was delicious. If you are in London definitely pay a visit and treat yourself. My advice: go early (
6pm
) so you have higher chances of being seated next to the window and have London on your feet.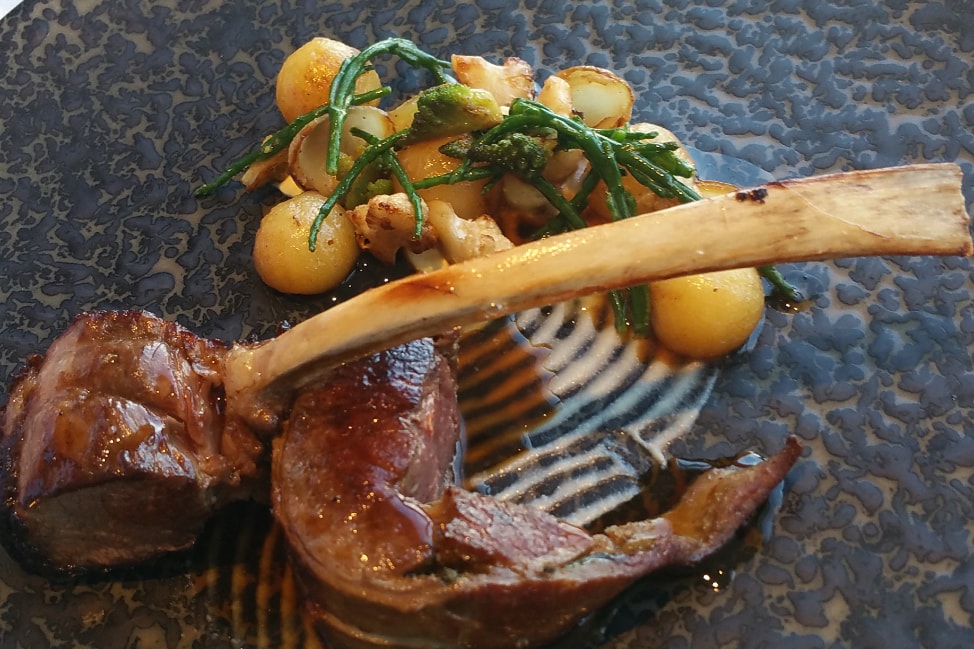 Restaurante DOP
's interior is clean and simple. It doesn't say "highly praised food" or "world renowned cook". Then again, it doesn't need to. Chef Rui Paula's food speaks for itself. The menu we had was perfectly balanced, leaving us satisfied without being overly full which can sometimes happen after a restaurant visit.
The courses – an appetizer, a starter, a fish course, a meat course and a dessert – were all wonderful, but the highlight for me was the unexpected extra: the exploding fruit ball. A little pink ball that a waiter brought in between courses and that we had to put into our mouths whole, only to have it explode straight away into a heavy berry flavor and exploding sugar. Pure delight. Pure joy.
Maison Kammerzell is a legendary and historic restaurant that is iconic to Strasbourg in the Alsace region of France. This is where anyone who is anyone goes to dine. The stairwells and walls are lined with some of the past important guests. We are not important, so I doubt you will see our photos next to the likes of Ronald Reagan, famous film stars, popes, and musicians.
We dined there at lunchtime and tried this chef's signature dishes including a Kammerzell Duck Foie Gras with Gewurztraminer jelly and brioche, and three fish with choucroute and the halibut. It was the desserts that stole the show including ice cream Kougelhopf with Marc d'Alsace on a rose hip sauce and the chocolate cake, within vanilla apricot and apricot sauce.
Maison Kammerzell is an iconic restaurant. You cannot miss it.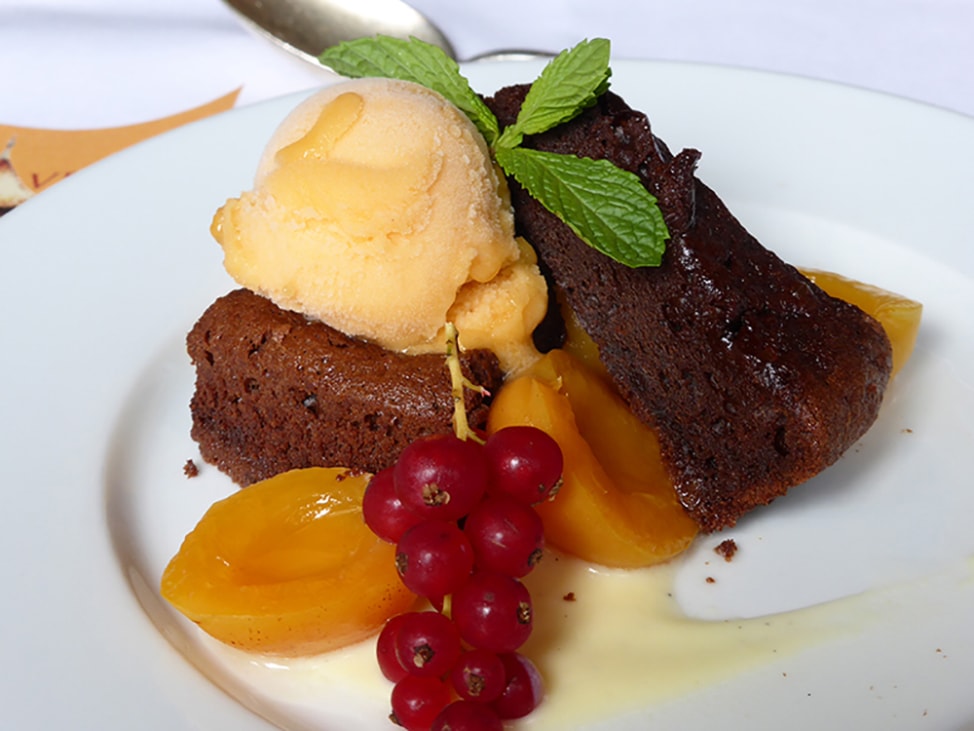 When visiting Paris we often try some of the newer restaurants. The new wave of chefs are very exciting, and the lack of smug faces and formality is refreshing. True as this may be, we can't help but feel most at home at one of the oldest restaurants in the city. It's famous and may even be considered a tourist trap.
However, when that black vested waiter, with knuckles of a heavyweight boxer, hands us our plate of andouillette and pours us our red wine in those small Bordeaux glasses, we are transported to a time of the Lost Generation.
To us, amongst the great cathedrals and museums, Brasserie Lipp stands as the one true place that always makes us feel that we had finally arrived in Paris.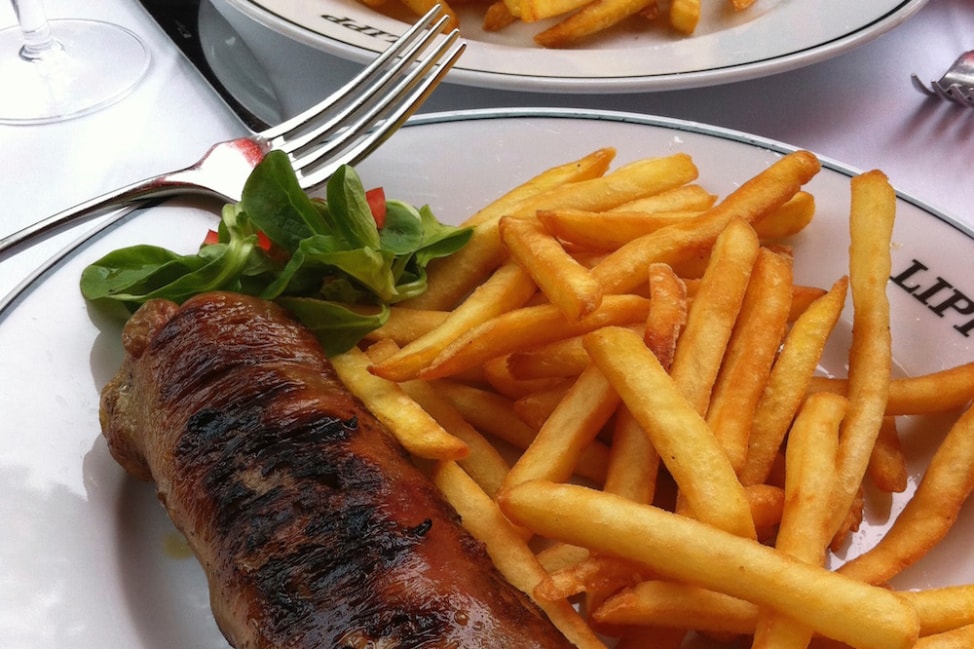 It's hard not to be in awe while sitting at what The Guinness Book of World Records declared as the world's oldest restaurant. Sobrino de Botin in Madrid, Spain was founded in the early 1700s. It is one of the most visited places in Madrid.
We loved the ambience, its history, the traditional décor and old world charm. Their most popular dishes are the roasted suckling pig and roasted lamb. But, they also had a varied menu that will satisfy even the pickiest eaters like my kids who actually liked the food. Diners can also watch them roasting the pig near the entrance, which was quite interesting.
We were lucky enough to sit on the lowest floor. There was a wine cellar here to explore that stored hundreds of vintage wines. The food was pricey but delicious. We highly recommend dining here for the experience and a memorable meal.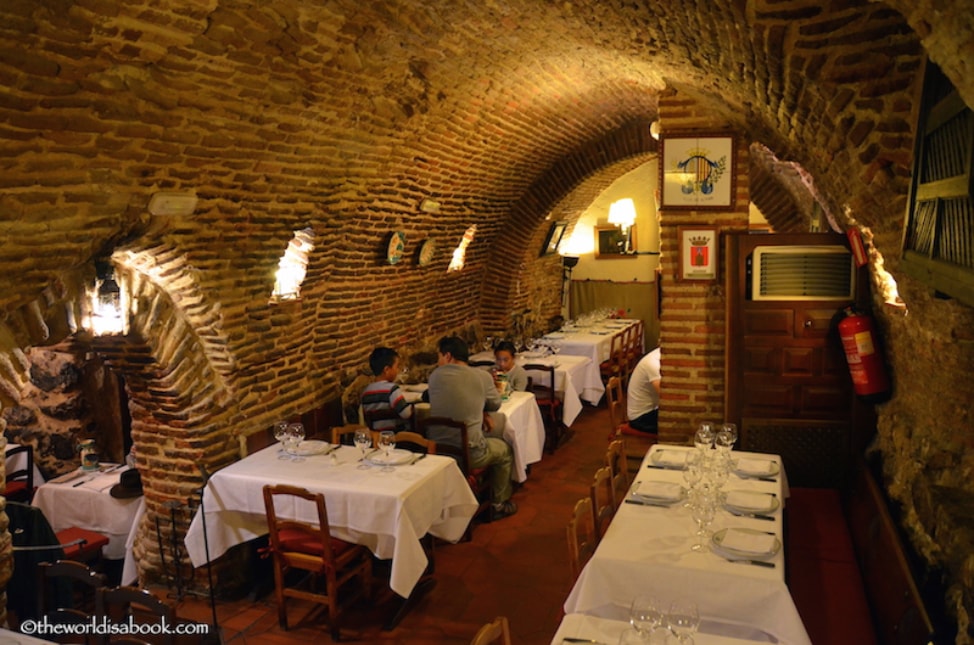 Roka is my absolute favourite restaurant in London. The four different branches are ideal for different occasions: I'd choose Mayfair for a date night, Charlotte Street for a night out with friends, and Aldwych or Canary Wharf for a business lunch.
With an incredible menu of Japanese food, everything is good so try one of the tasting menus, make to get some delicious tempura prawns and the mind-blowing tuna tataki. I would also highly recommend trying their Sunday brunch, kicking off with a cocktail and unlimited starters, it's fantastic value for money.
Jet-Settera: Les Bougainvillées, Sicily
Les Bougainvillées is a beautiful restaurant of luxury hotel, San Domenico Palace in Taormina, Sicily.
The place has an excellent selection of Sicilian dishes and wine and the balcony provides the best views of Taormina. The terrace of the historical monastery hotel overlooks the sea. Visitors can enjoy the beautiful view and listen to wonderful classical music played by a pianist. The setting is absolutely romantic. It is perfect for any special occasions, like an anniversary dinner or a date night.
The menu has a large selection of items including some of the most delicious Sicilian specialities. Flambé dishes are the speciality of the restaurant. These dishes are prepared on a small movable stove next to the guest's table by the waiter. The best selection of Sicilian dishes can be tasted in the five-course tasting menu.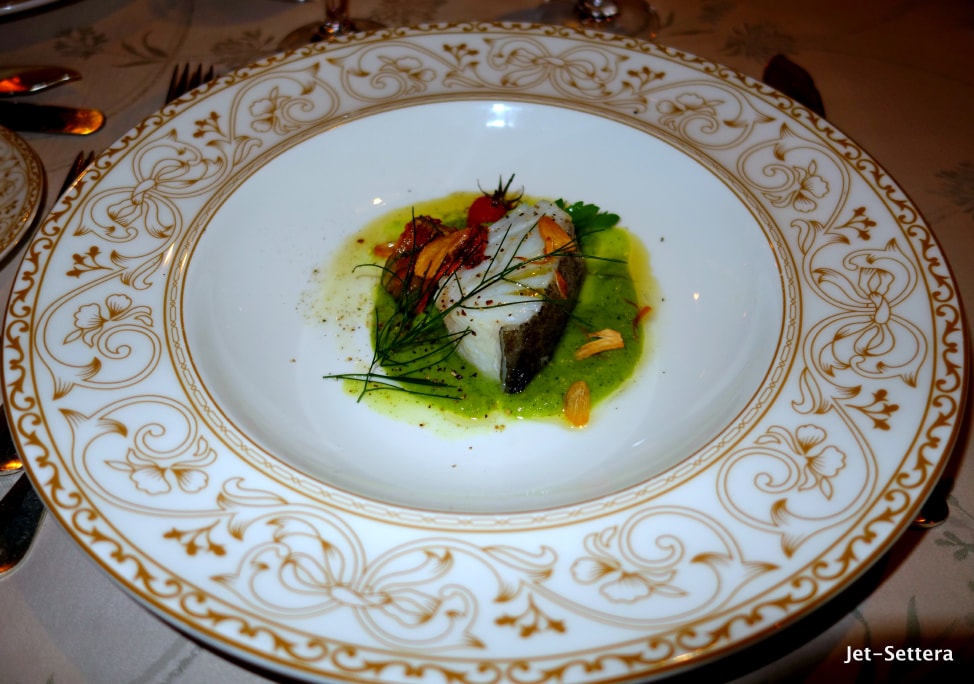 2foodtrippers: Maison Bras, Lagiole, France
We recently ate an amazing meal at Maison Bras in Lagiole France. This three-star restaurant is so fantastic that a popular French documentary (Entre Les Bras) profiled the restaurant, focusing on the relationship between the father and son chefs. We dreamt of dining at Maison Bras since we saw the film in 2012, so it was very special for us to get a reservation for dinner during our recent visit to France.
Our meal at Maison Bras started with a stunning view of the sun setting over the rolling hills outside the restaurant and ended with several courses of phenomenal food. Chef Sébastien Bras and his team prepared each dish with the finest available local ingredients, resulting in a meal where each course was better than the prior. One highlight was the gargouilou, a colorful, seasonal gastronomic collage that melds the best culinary gifts from the Aubracregion.
Maison Bras offers fine dining at the highest level – an ultra-sensory experience where the diner, the food and the region become one.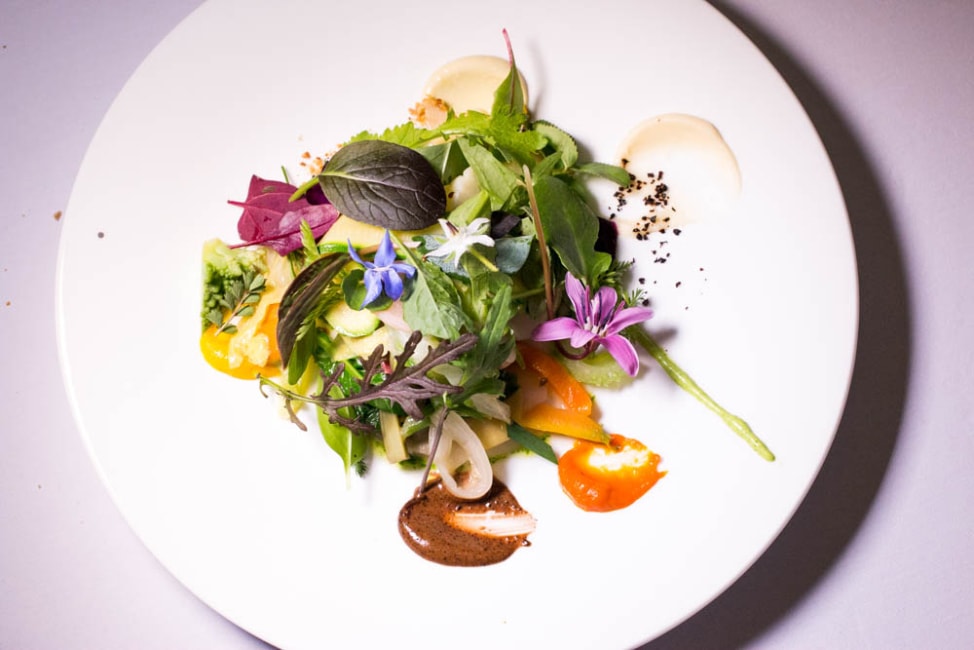 Wow – what a delicious and exciting round-up of some of Europe's best. What are your favorite restaurants in Europe? What else should we add to our ever-growing list?