I went to a progressive elementary school, a place where we called our teachers by their first names and 'our bodies and feelings were safe.' Creative and interesting parents and community members came in and taught short-term courses on their areas of expertise. A few months of Japanese calligraphy followed a try at gymnastics and an attempt to get into an immensely popular international cooking class held in the school kitchen.
And then there was the batik class.
Around age 8, some brave parent decided to teach a small group of kids one of the oldest and most interesting textile crafts in the world. Hot wax and boiling water be damned. We kids happily spent several classes 'painting' our white T-shirts with melted wax, protecting the fabric from the subsequent dye job. Once a design was set and the fabric dyed, our teacher took our shirts home to complete the process of dunking the shirts in boiling water, removing the wax and leaving behind our amateur designs.
I keenly remember my pink and yellow T-shirt covered with hearts, stars and flowers, the only things I could draw.
At the time I had no actual appreciation for the craft of batik. While batik originated centuries ago in what is now Indonesia and Malaysia, it has spread widely and is now a well-established trade in Sri Lanka. It's certainly the most visible of the island's crafts, with many galleries and studios open to the public. The wares, ranging from home decor to clothing, are sold all over, and to be frank, mostly to foreign visitors.
We spent a lovely morning touring the studio of Eric Suriyasena, one of the craftsmen of the area. His studio makes the saris for Ms. Sri Lanka and his designers regularly work on commissions from local businesses in addition to constantly replenishing their popular and large shop.
Our tour was led by Eric himself, though his daughter-in-law was nearby assisting another group. We were able to watch and then help with most steps of the batik process. Drew proved himself a steady-handed wax painter, while I stuck to pouring dye freestyle down an abstract piece.
The roughly ten designers and workers who were in the middle of their normal workday during our visit were gracious and friendly, happily letting us take a stab at their craft. I wondered aloud, more than once, if they only work on the pieces that can be less than perfect during times when tours are coming around.
There was a wedding sari strung on a rack nearby. No one worked on that piece while we amateurs were nearby, and I don't blame them. Apparently, if you make a mistake painting the initial wax, the entire piece must be melted down and started from scratch.
My favorite part was crinkling the final waxy product, which gives some batik pieces that veiny style that makes every item as unique as a fingerprint. It is a step that I couldn't possibly mess up, so I happily crinkled a large square cloth, that was destined to become a child's shirt, with no hesitation.
The final step – the boiling plunge that frees the cloth from the wax – was impressive but completed in what appeared to be a makeshift witches' cauldron.
We just watched that part.
After our morning spent in the high brow art studio, we opted to experience the other end of the cultural spectrum by taking a tuk-tuk to the nearby fish market. On reflection, we couldn't have picked a more opposite activity to round out our day.
The fish market, bustling with daily shoppers, yelling vendors and a few bemused tourists, had that unavoidable smell when freshly caught fish meets tropical heat. Not for the overly sensitive. But the offerings were impressive. The vendors' tables were littered with small tuna, a wide variety of trout, shrimp and crayfish, and buckets of smaller mackerel and sardines. A few needlefish were on display, alongside a table of crab.
What was most impressive was the beach next door, literally covered with dried fish and squid. A friendly and enterprising worker gave us an impromptu tour and described the multi-day process of drying fish, which are destined for the popular condiment sambol and many curries. We tipped our tour guide generously when the smells and heat edged toward overwhelming.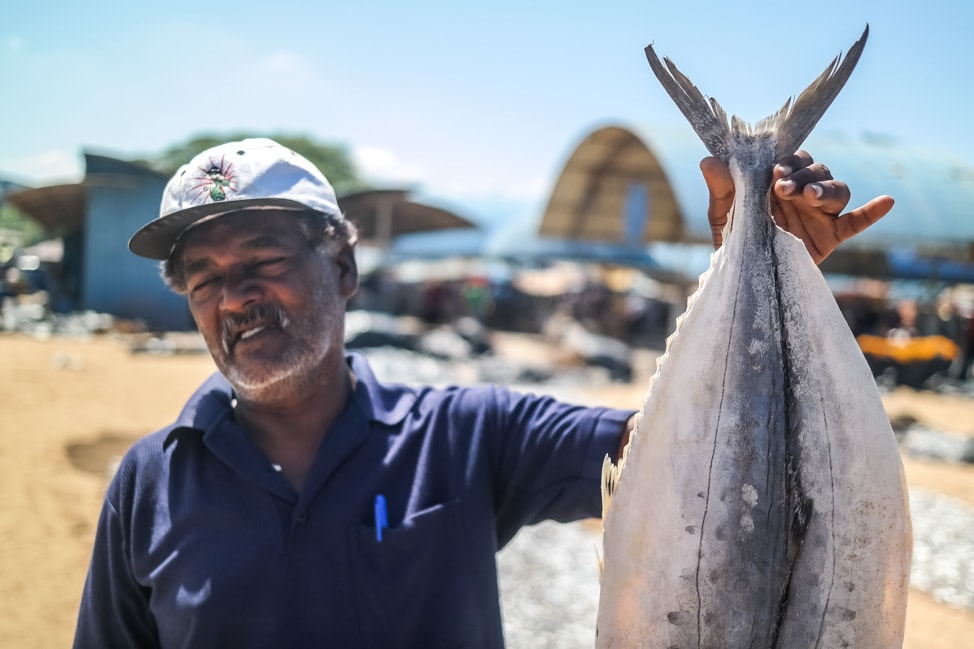 Our brief introduction into two of Sri Lanka's most important trades was a fantastic way to spend an afternoon and also a nice overview for two curious tourists into the culture of a new place. After a handful of days, sequestered in our swanky resort, consuming tropical rum cocktails in a pool-side cabana, we needed some hint of reality, some cultural connection to the 'real' Sri Lanka. We like our relaxation time, especially in a tropical paradise, but we had a culture itch that needed to be scratched.
We could only take so much relaxation, blissfully ignorant of what our destination was really like outside the gates of the resort. Sometimes, you just need to hop in a tuk-tuk and go find the real people that make a destination truly magical.
Have you ever tried batik, or any other textile handicraft? Are textiles something you seek out on your travels? We'd love to hear from you in the comments below!
Pin it!