After a week in Sri Lanka, eating curry for breakfast, lunch, and dinner, you think I would be tired of punchy, spicy curries. No, actually. I needed more.
Sri Lankan cuisine is a little off-the-radar, the island nation overshadowed by it's food juggernaught neighbor, India. Yet, Sri Lanka has a distinct food culture, featuring things like hoppers, string hoppers, rice cakes, pol sambol, and pickled vegetables. Boring, it is not. It packs heat, with plenty of chiles, along with an abundance of dried fish and native spices, like cinnamon, of which Sri Lanka is the largest producer and exporter in the world.
In fact, the name Ceylon Cinnamon, considered the "true cinnamon" variety, comes from the original name of the island, Ceylon.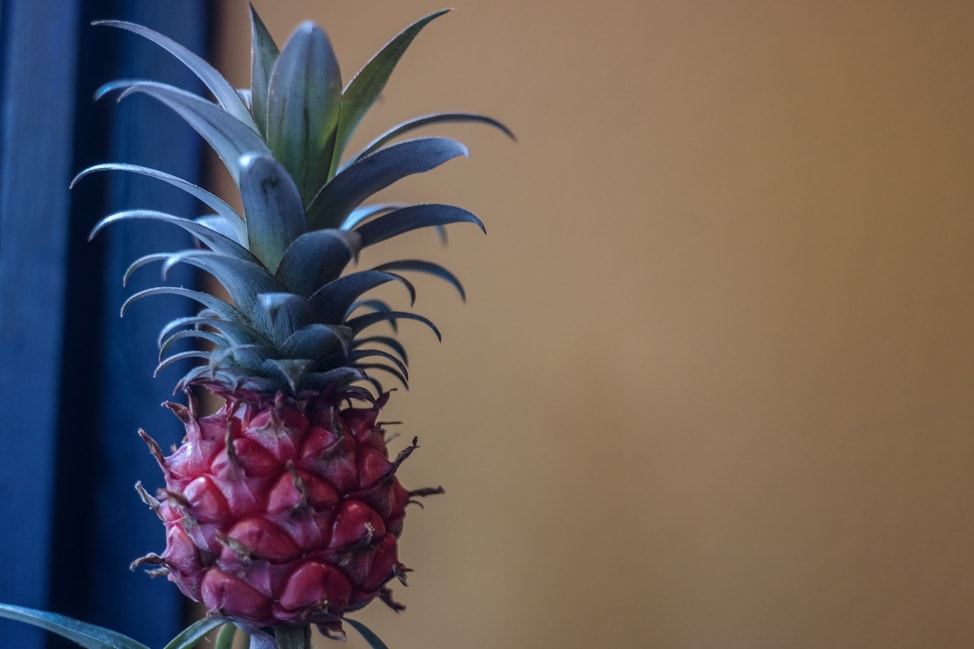 Returning from the tropical heat of Sri Lanka to the dreary, grey skies of London, still tinged with a brisk winter breeze, I needed some warmth from a good Sri Lankan curry, or kari, which is the Tamil word for curry. Luckily, Hoppers opened recently in heart of SoHo on Frith Street, slinging authentic, traditional, Sri Lankan food. The team behind this hotspot are also the people behind stellar Indian restaurants Trishna and Gymkhana, as well as Bao, the small Taiwanese shop with a perpetual queue. I felt we were in good hands when we entered this tiny, no-booking restaurant.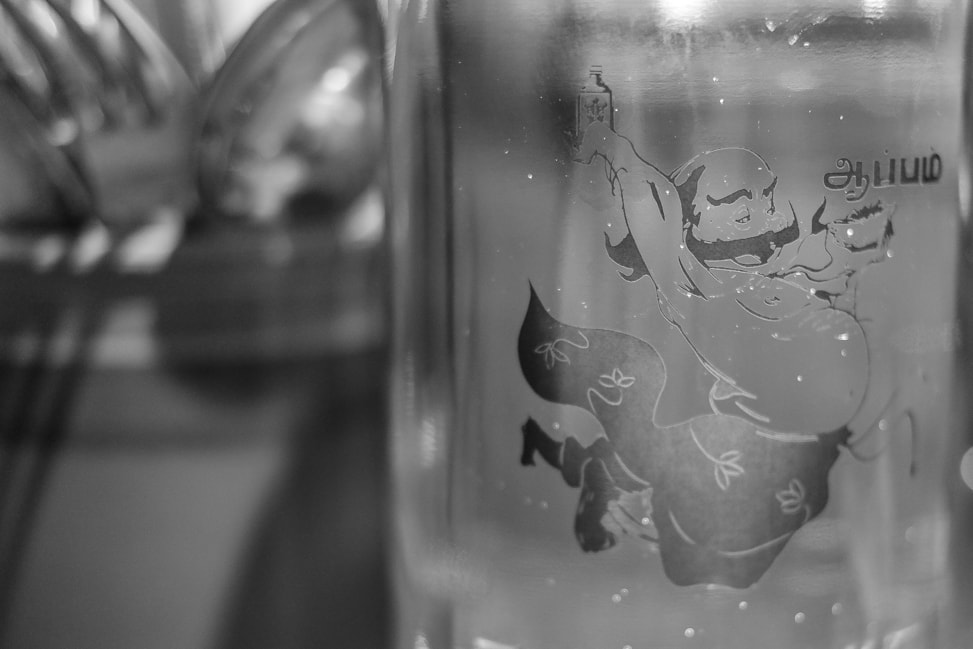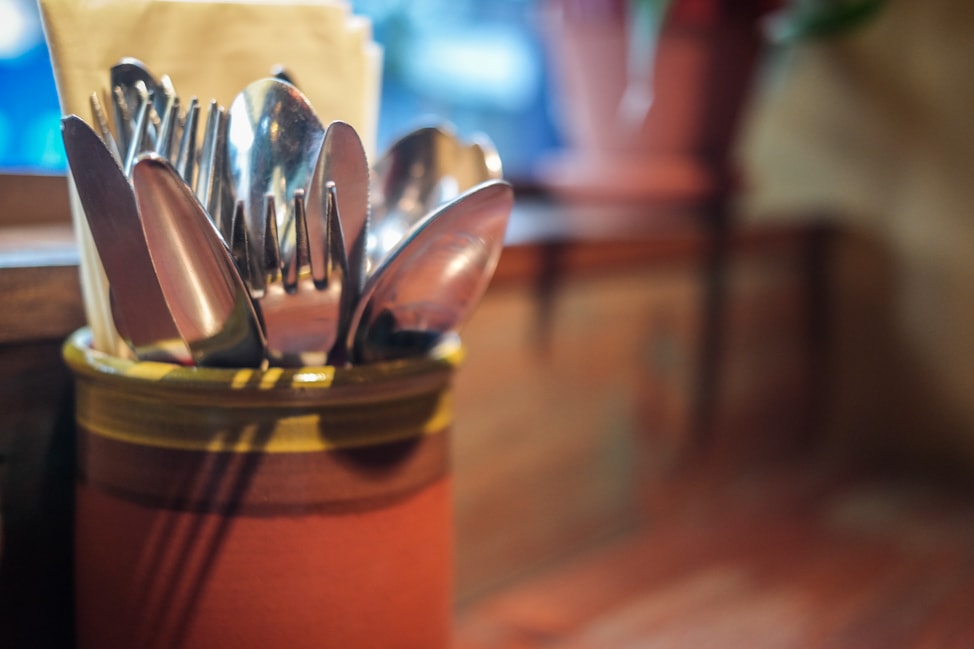 The interior space is small, with wood paneled walls, movie posters, and small tropical plants adorning the window sills. There are a handful of tables, seats at the bar counter and a few stools lining the front windows, a perfect place to view the line that quickly forms each day around noon when Hoppers opens it doors. Like Bao, expect to wait for a seat during prime dining hours. The best bet? Arrive five minutes before opening, ensuring you get a spot in the first wave of eager diners. If you must dine during the busy periods, then just give them your name and number, and they will text you when a table is available.
Thankfully, Bar Italia is right across the street, the perfect place for a quick espresso or shot of Fernet Branca, if you are so inclined.
Food Breakdown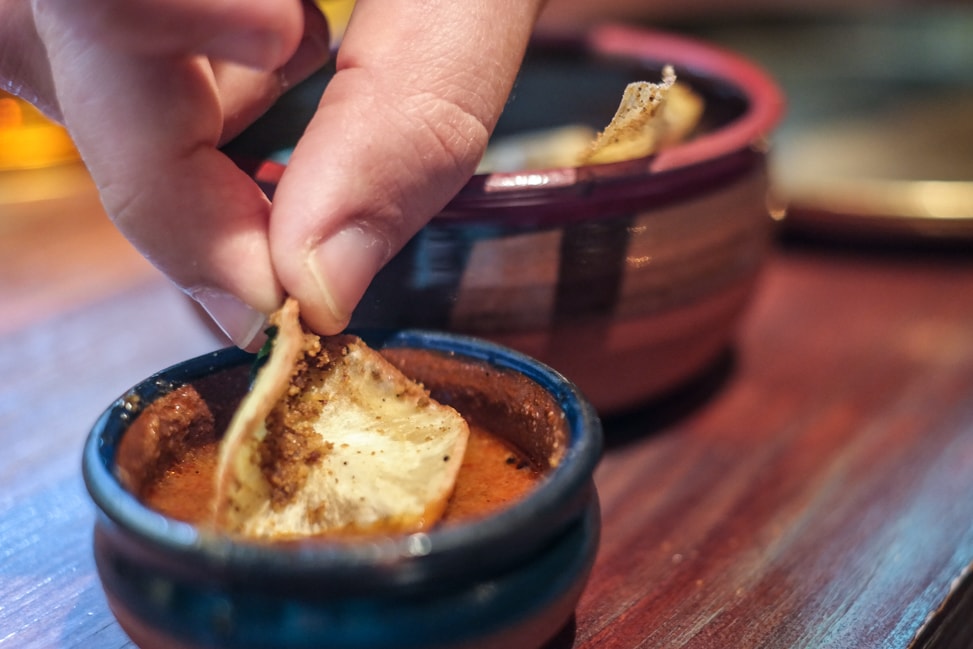 Cashew, Cassava & Ash Plantain Fry £3.5
A perfect small bowl of nibbles to snack on while waiting for your food. Think of these as a Sri Lankan version of nuts and crisps at a pub. The difference being these bites are coated in spices and served with a sweet and spicy tamarind dipping sauce. An ideal way to begin your meal.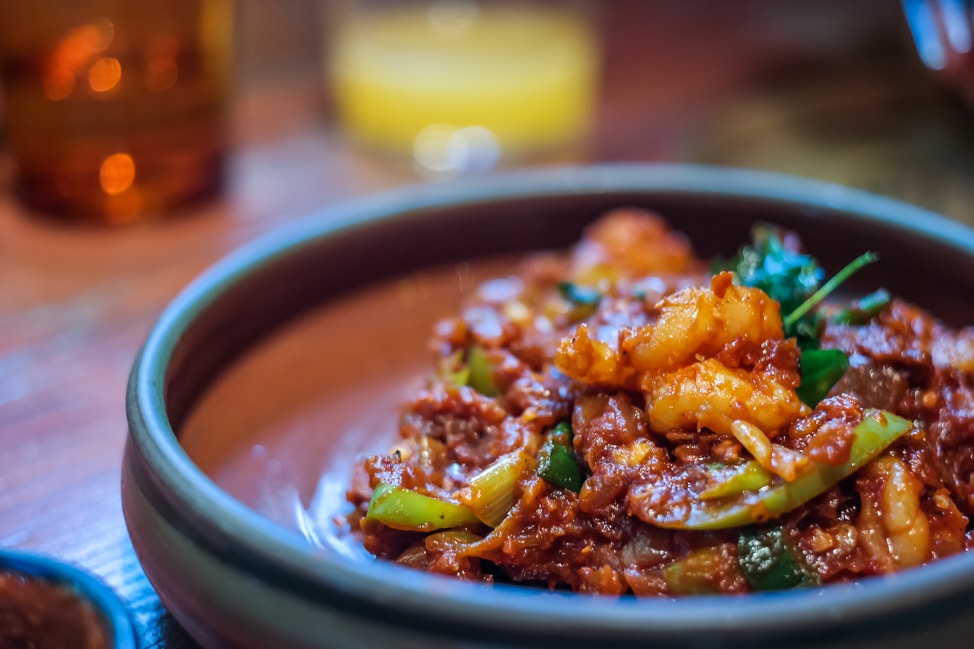 Hot Butter Deviled Shrimps £6.5
These little bowls pack some serious eat, enough to make me start sweating and reaching for another glass of water. The shrimp are sautéed in butter, with a tomato and chile-paste base. finished with a flurry of chili powder and slices of banana peppers. The restaurant doesn't tone down spice levels for wimpy locals, which I respect. We love this starter so much that we always order two, so we don't have to share.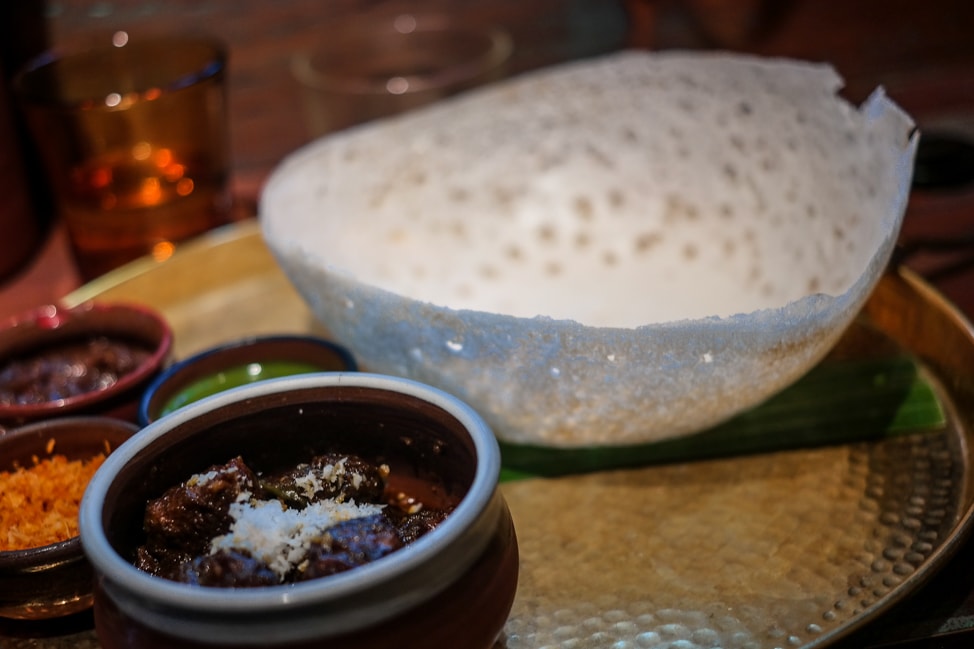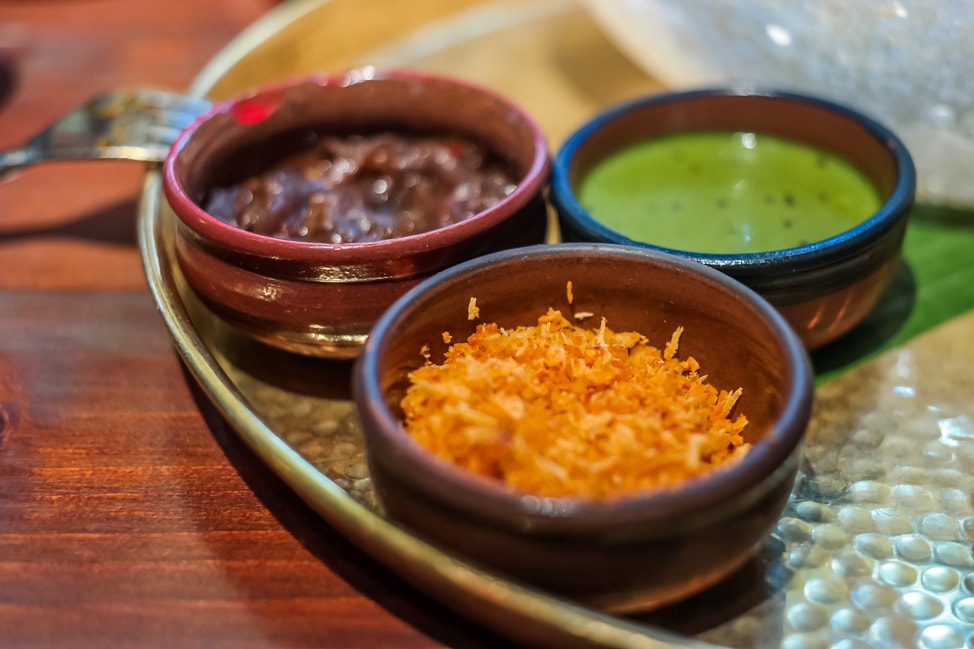 Hopper with Black Pork Kari £8.5
The namesake dish of the restaurant and a staple of classic Sri Lankan cooking. They are essentially bowl shaped crepes, made from a fermented rice flour and coconut milk batter. Rip off a piece of the hopper and scoop up some of the kari (or curry). The black pork kari is a dark and rich, flavored with an abundance of black pepper, along with aromatics like ginger and garlic. The spice level is a little mellower than one may expect, but certainly not dull. Add on the sambol and chutney (£1.5), three little ramekins of intense flavors: pol sambol (a relish of coconut, dried fish, chiles, and onions), seeni sambol (caramelized onion relish), and coriander chutney.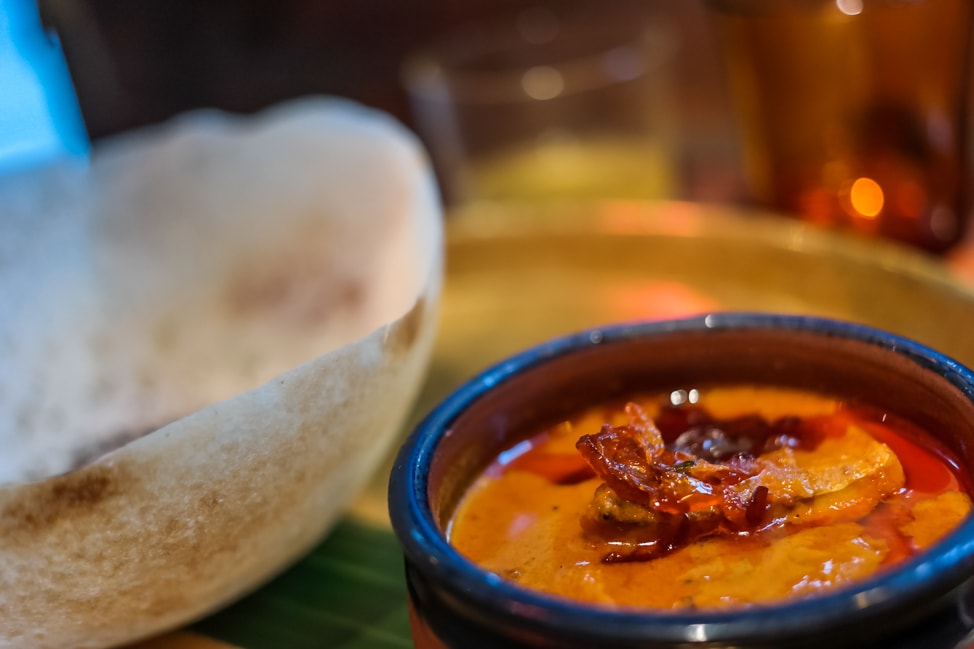 Egg Hopper with Fish Kari £9.5
The same as the classic hopper, but with a fried egg and a still-runny yolk in the center. The fish kari is a saucier, coconut-milk based curry, but still packed with spices and a warming heat level. The egg hopper is a little messier to eat, especially when the yolk runs all over your plate. Of course, that just provides you something else to dip your hopper and curry into.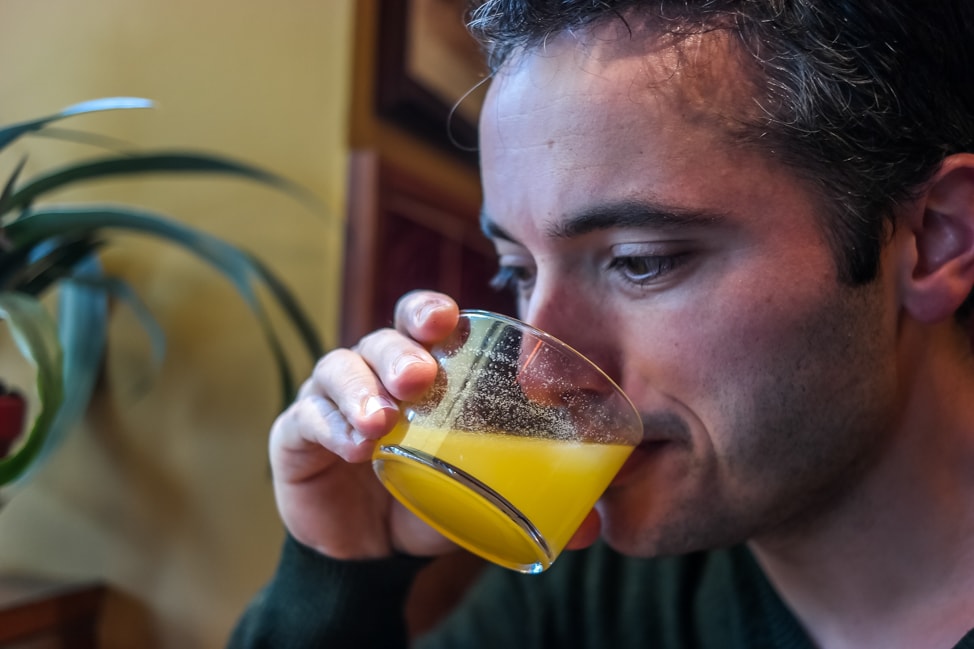 Hoppers is now in our official restaurant rotation, an elite place to be if there ever was one, given that we regularly visit maybe four restaurants in this entire city (we prefer to try new places, and repeats are not part of our normal repertoire).
It is an affordable option (for London), with a meal for two costing under £50. The menu is also naturally gluten-free friendly, so that makes things easier for me, and the staff is very well trained on handling allergy restrictions, which I appreciate. They do have some fun cocktails too, but we also save a little money by sampling their seasonal juice, a rotating concoction consisting of a range of tropical fruits. Something about eating a curry and drinking some fresh tropical juice that puts you in the right mind set to be eating Sri Lankan food.
If only I was on a beach and not in the heart of rainy London…
PS: Want to see more of our restaurant reviews in London? Check out our most recent meals at Fera and Bao. Guaranteed to make you hungry.