Our two year anniversary of living in London arrives this week. As with last year, we're feeling all of the feelings – amazement, delight, gratitude. When we signed that paperwork two summers ago, dutifully packed up our apartment, put Basil on a plane and headed east, we had literally no clue what was in store for us.
I love how sometimes reality can exceed even the most wild imaginations.
Now we find ourselves fully at home in London. We love this city and we extol its virtues to anyone who will listen. The changes to our lives as individuals and as a couple have been radical – a new balance of work and life, a website that brings us joy and a calendar full of travel, to name a few of the highlights.
As we mark this milestone date, we are having fun looking back over two years of expat living – my how we were naive then. We were so surprised by 'how the UK works' and now those quirks are familiar and comforting. In honor of our 24 months overseas, we have rounded up our top 24 lessons from life in London. We are sharing the first 12 today and the rest will come on Friday (this post is literally thousands of words long if we don't cut it down).
1. Victoria sponge – This lovely British dessert deserves its spot at the top of the list. It's a simple but elegant thing – light, flat vanilla sponge cake, a generous smear of cream and a helping of jam, sandwich style. Why this lovely invention hasn't made its way into the dessert lexicon of the United States is beyond us. It's delightful. Bonus, the gluten free versions we've tried are equally delicious.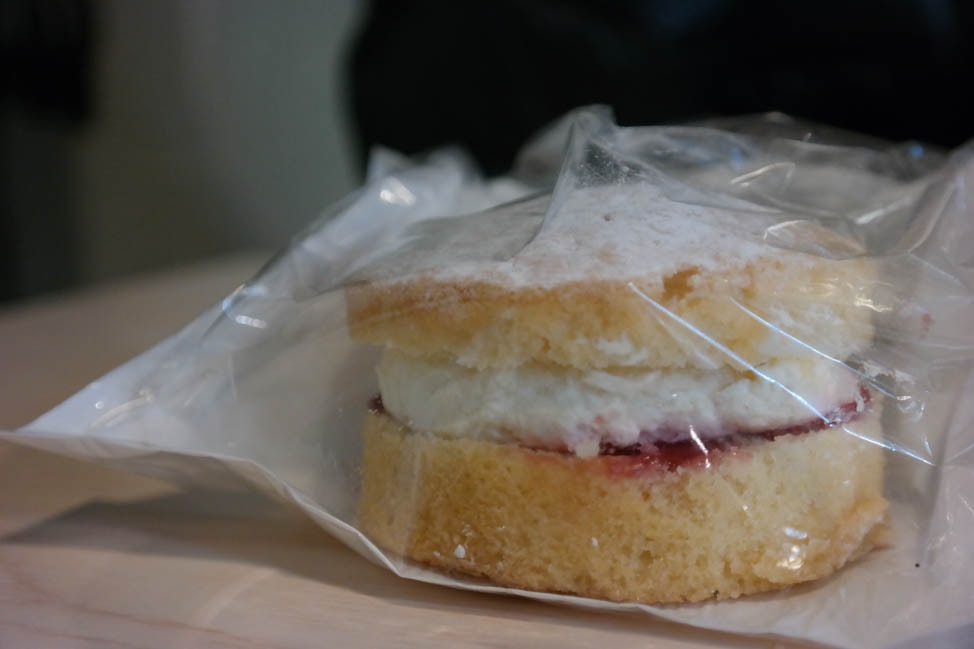 2. Tipping – It took us a few awkward pub visits in London to realize the nuances of tipping here. When you order a drink at a bar, no tip. If you leave a tip on the bar, awkwardly pushing it to the bartender and trying to make eye contact to indicate it's for him, he will not take it. Instead, he will think you left it there my mistake, or maybe will know exactly what you meant to do and will chuckle to himself and ignore it all the same. In a sit-down restaurant, a service charge will usually be added to your bill, or if it's not, normal tipping range is 10-15%. Now you know.
3. Bureaucracy – Holy hell. The Brits have bureaucracy down to a science. Or art. Let's leave the drama out of what could be 500 words on this topic and just say that it took Drew about 8 months to go through all the hoops and steps to get a UK drivers' license. It took 6 weeks to figure out our utilities. Customer service phone numbers always charge the caller (no toll-free service calls here!). I like to call it 'bureau-crazy' and every new UK resident quickly learns why.
4. Argos – Argos is a department store. One that has tiny storefronts that contain a room full of massive catalogs. A shopper goes in, finds what they want to order in the catalog, places their order at the counter, and if the product is in stock (in a usually sprawling basement) the order is fulfilled. Otherwise, you come back when the item is shipped to the store, and pick it up then. Now the stores offer both iPads and catalogs for ordering, but what a crazy system. It reminds me of Service Merchandise from the 1980s.
5. Airport central – I love living in a city with five local airports. My disdain of connecting flights has found its heaven, and we haven't had a connecting flight in Europe since we moved here. Our preference for the different airports, in order, is: City, Gatwick, Heathrow, Stanstead and Luton. We always avoid Luton if we can.
6. Street markets – We have never seen the abundance of neighborhood street markets like we have in London. We regularly visit ten or so, on a loose rotation. We love Broadway Market for the Vietnamese iced coffee stall, Maltby Market for the German sausage, Dalston Street Feast for Smokestak and massive watermelon cocktails, Brixton Market for the tiny Brazililan brunch place whose name is escaping me. Et cetera, ad infinitum.
7. Cider – Now that we have a gluten free person among us, we have never been more thankful for the popularity of cider in this country. Every single pub has at least one cider on tap, and many more by the bottle. It is as common to be a cider drinker as a beer drinker, and Drew has never had to experience a scarcity of options thanks to his allergy. We wrote extensively about some of the widely available options here.
8. English roses – The climate in the UK is temperate. It rarely freezes in London, we have yet to see more than a dusting of snow, and the summers are pleasantly mild. No wonder then that we find ourselves in an ever changing flower explosion. Crocuses start to bloom in January, the wisteria is in full force by May, roses bloom all the time, but particularly in early summer. And of course, thanks to all the rain, the backdrop to all the flowers is green, green and more green.
9. Food TV, UK style – We've always been Food Network junkies, and we've happily discovered a whole new group of celebrity chefs on this side of the pond. There are the more well-known TV personalities (like Jamie Oliver and Nigella Lawson) that we were aware of prior to living in the UK. But now I'm a dedicated superfan of Nigel Slater, who talks about food in a way no one can match. We can't get enough of Tom Kerridge, and his decadent cooking and belly laughs. I set my clock to Wednesday nights in August, September and October when The Great British Bake Off finally has its annual season. It's an addiction. The best addiction ever.
10. Elections – This year we were in the UK for the big election cycle. You may not have heard about it on the worldwide news for months on end, because in the UK, that's not allowed. The official election season is 5 weeks, culminating in the national elections. At the 5-week-to-go mark, the parties release their manifestos, debates begin and the news coverage is hot and heavy. Then the elections happen, the Prime Minister is confirmed, new members of parliament are seated and everyone goes home. This year, David Cameron's easy victory was a surprise to many, but his post-win meeting with the Queen was short and sweet. Maybe the US could learn a thing or two from Europe on this front.
11. Baking by weight – Back to sugar, my favorite topic. Outside of the US, most baking is done by grams and litres. There are no cups or tablespoons, or quarts (what is that again, anyway?). If you didn't already know, not all cup-size cups are the exact same size, and the pros always use grams to get more consistent results. Now we have two scales in the kitchen and our cookies never looked so good. The fact that I can't follow a recipe to save my life has not been improved much by the weighing…I still just eyeball it.
12. Ordering coffee – Our very first morning in the UK, Drew went out to get us some coffee. He went to a shop around the corner, and upon ordering 'two coffees' the barista looked at him blankly. She asked what kind of coffee he wanted. He said, 'normal' as we Americans are trained to say. She directed him to the extensive coffee menu behind her, full of lattes, cappuccinos and Americanos and we've never made the same mistake again. 'Regular' coffee is NOT a thing here. Now we drink tea day-to-day and order fun lattes on the weekends.
Phew. Let's the nostalgia flow, people. I need a cup of tea and a Victoria sponge. We'll be sharing the rest of the top 24 London learnings on Friday. Cheers!