As city dwellers we know that there is nothing worse than unreliable public transportation. Late buses or trains that fail to arrive are the worst. Confusing subway maps that look a child scribbled lines all over a piece of paper and require a graduate degree to understand should be burned. Transits from airports to city center that take longer than the actual flight itself are one of life's great frustrations.
Luckily, some places have invested in updating and modernizing the way people move around a city. Our recent Norway visit showed us that Oslo is a shining example of public transit done right.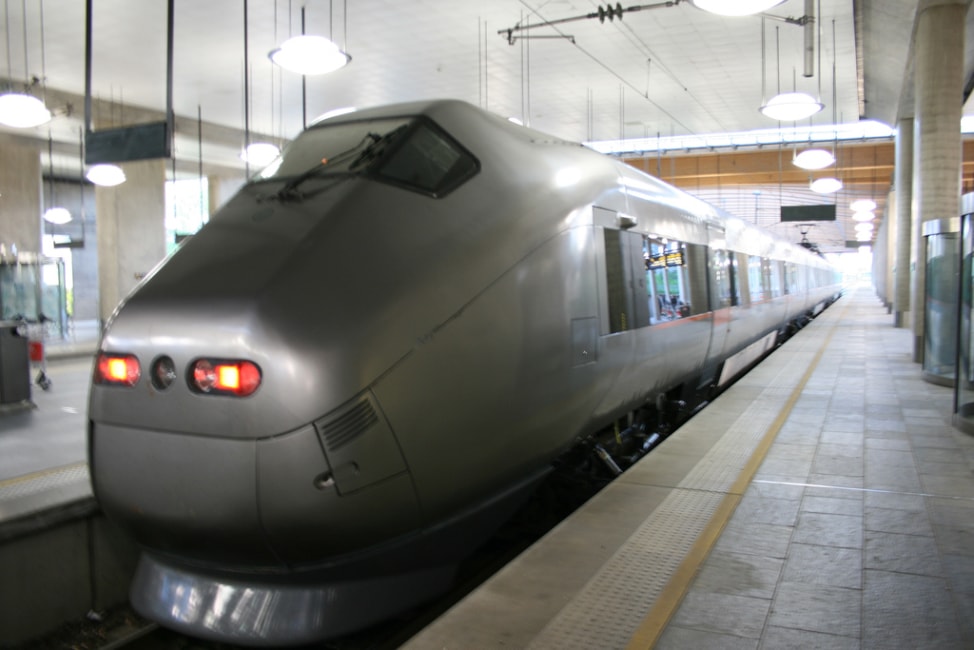 As frequent travelers, we spend a lot of time researching our next adventure. The first in our long list of research tasks is determining the best way to get from the airport to our hotel. While it seems like a straight forward city planning project, many destinations leave much to be desired.
Our former home, New York City, has appalling airport transit. If you fly into JFK, the major international airport in NYC, there are infrequent buses that go to Grand Central and there is near certainty that the bus will get stuck in traffic. Another option, the JFK Air Train, drops you off at one of two subway stops that can connect you to Manhattan, but the subway journey takes at least an hour, after the Air Train ride. Taxis are the default mode of transit, but be prepared to pay the flat fee of $52 plus tolls. Not good NYC. Not good.
Oslo on the other hand, gets it right. The Flytoget Train runs directly from the airport to Oslo City Center in a matter of 20 minutes. The train is fast, modern and comfortable, with LCD screens tracking your progress as the Norway countryside speeds by the window. It stops at the main train station, conveniently located in the heart of Oslo, connecting visitors to the metro, tram or bus if necessary. Easy.
Once in Oslo, getting around is simple. The T-bane metro system is straightforward and easy to understand. There are six lines that go from the city center to the outskirts of the city. There aren't added complications like express trains or local trains or lines that split or diverge. The system is basic and efficient. The carriages are also spacious, clean and clearly indicate the upcoming stop.
For harder to reach destinations or areas not well covered by the T-bane, there is an extensive network of trams and buses throughout the city. The stops are clearly marked, indicate where the tram or bus stops and the final destination with approximate minutes between stops. The tram stops also provide a clock with the time until the next tram. These would seem like obvious amenities of public transit, but so many major cities have poor or outdated infrastructure and lack features that makes it easy for travelers to navigate a city.
Try taking public transit in a city like Los Angeles. The bus system is not intuitive and the metro is surprisingly limited in its range. You are forced to take taxis or hire a rental car to navigate the overcrowded highways, nearly guaranteeing that you will sit in traffic multiple times a day.
Not without its own flaw, the biggest issue with the system in Oslo is the cost ($3.66 per ride, or £2.36 per ride). Scandinavia is not known as a budget destination and the prices can be shocking, even for us coming from London. Luckily, like a lot of other cities, Oslo has developed a way for tourists to take advantage of their efficient public transit and tourist sites: the Oslo Pass.
The Oslo Pass is available for 24, 48 or 72 hours. It is not cheap, costing from £25 to £46 depending on the duration, but it is money well spent. You can see all of the major sites in Oslo using public transit, and the Oslo Pass works on the ferries too, allowing you to take a trip to one of the islands or just go sightseeing on the water. Even better, the pass covers the admission charge at many of the major museums and attractions. When single rides on a bus cost almost £2.50 and museums charge up to £10 for admission, it is easy to see why the Oslo Pass makes sense, especially the 72 hour version, which provides the most bang for your buck, or pound.
Of course, if you get tired of the the city during your visit and want to enjoy some nature, you can utilize your Oslo Pass to head out to Sognsvann Lake, which is located a few minutes walk from a T-bane stop and feels like you are in the middle of the wilderness!
I understand why many tourists are afraid of public transit. They fear getting on the wrong train or boarding the wrong bus, getting whisked away in the opposite direction of their intended destination. There are confusing maps and rules about tickets – it's easier to just pay more and hire a taxi. I get it.
Cities like Oslo, though, make it simple for tourists to experience public transit. Modern trains, easy to understand maps and updated infrastructure make exploring Oslo a cinch. The difference in cost between a 72 hour Oslo Pass and taking a dozen or so taxis over the course of the weekend is huge, not to mention the added benefit of free admission to many attractions. Plus, the Oslo public transportation is often more efficient in addition to being cheaper than a taxi. It's a win, win.
So next time, don't be afraid to board that next bus or train. Oslo has got you covered.