Early this spring, we set a goal to spend £40 or less on all restaurant meals in London. This quest sprung to life when Julie complained of having one too many mediocre £100 meals. London's burgeoning food scene + our passion for a great meal = sky high expectations that are rarely met and a big dent in our wallet.
Our new goal is simple, but not easy. £40 is not a small amount of money (nearly $60USD these days) but in London it does not go far. A takeaway meal from Five Guys (the US-based burger chain) can set you back over £25 and we've been routinely spending £60 or more at pubs for a couple beers and roast lunches.
Over a month into our project and so far, so good! I can say it's definitely been a wild success, as our restaurant budget has fallen by over half. We have learned one key trick and it's not surprisingly related to alcohol consumption. Alcohol can quickly kill the budget, when a pint of beer is £4-5 and a glass of wine runs £5-7. A few of those and the £40 ceiling is shattered. While we didn't want to eliminate drinking altogether, we have made the compromise of only ordering one drink each at most. You have to compromise a little for a high quality budget meals in London.
Here is a recap of a few of the places we have dined at successfully for under £40, including drinks and service charge.
We are both suckers for dumplings, so this fantastic dim sum hotspot in Chinatown fit the bill. We went for a weekend lunch and ate like kings. We sampled a multitude of dishes, ticked off by pencil on the lengthy menu. We had prawn and chive dumplings, crispy pork dumplings, steamed barbecue pork buns, steamed Sichuan buns, pork and black truffle soup dumplings, cheung-fun rolls with spring onions and spicy Sichuan noodles with pork. Looking at this list, we might have gone overboard on the pork, but that's alright. It was delicious.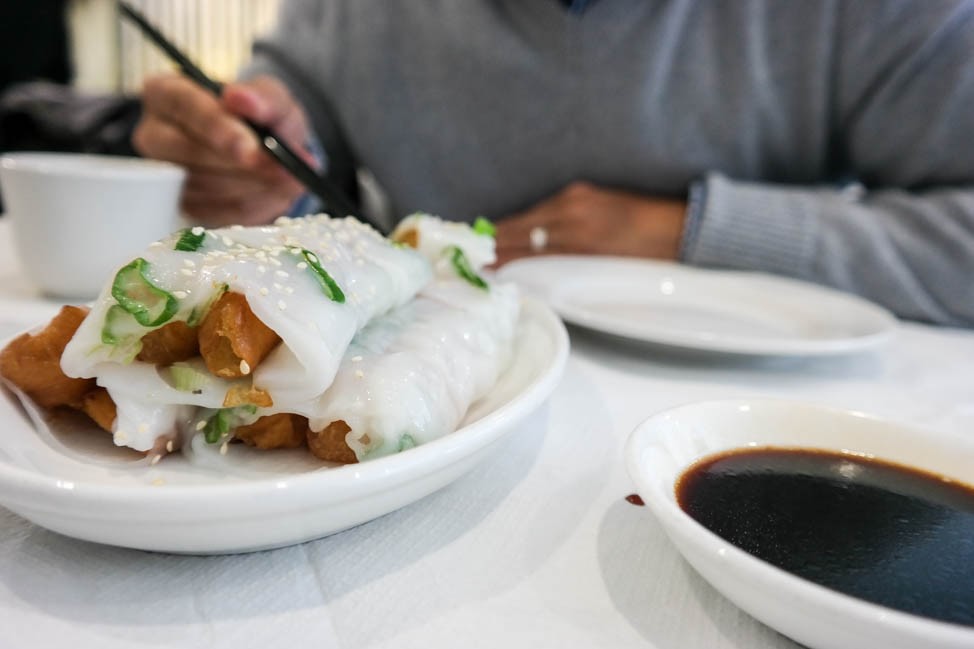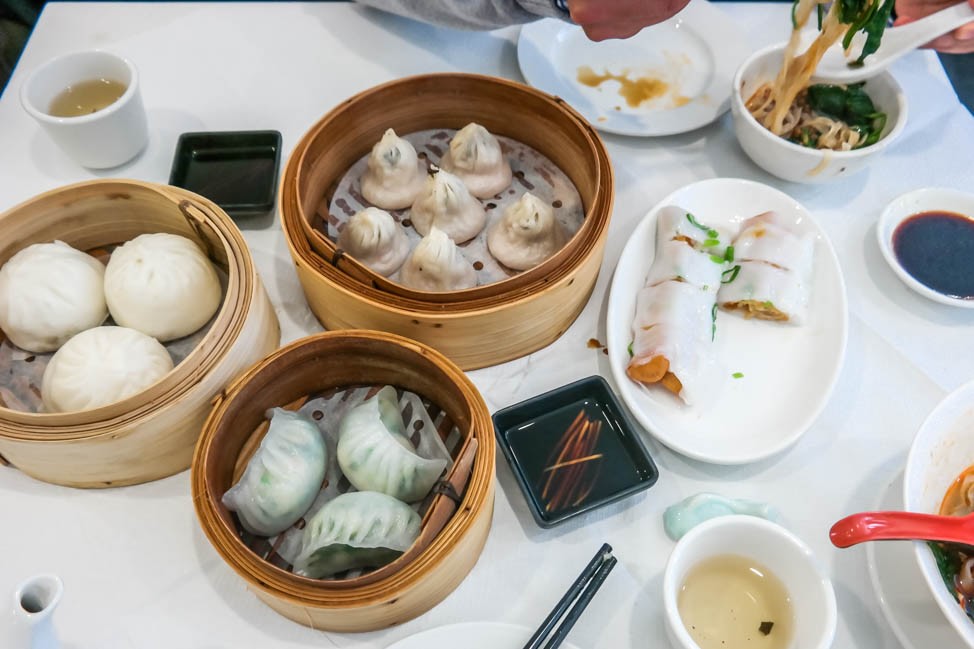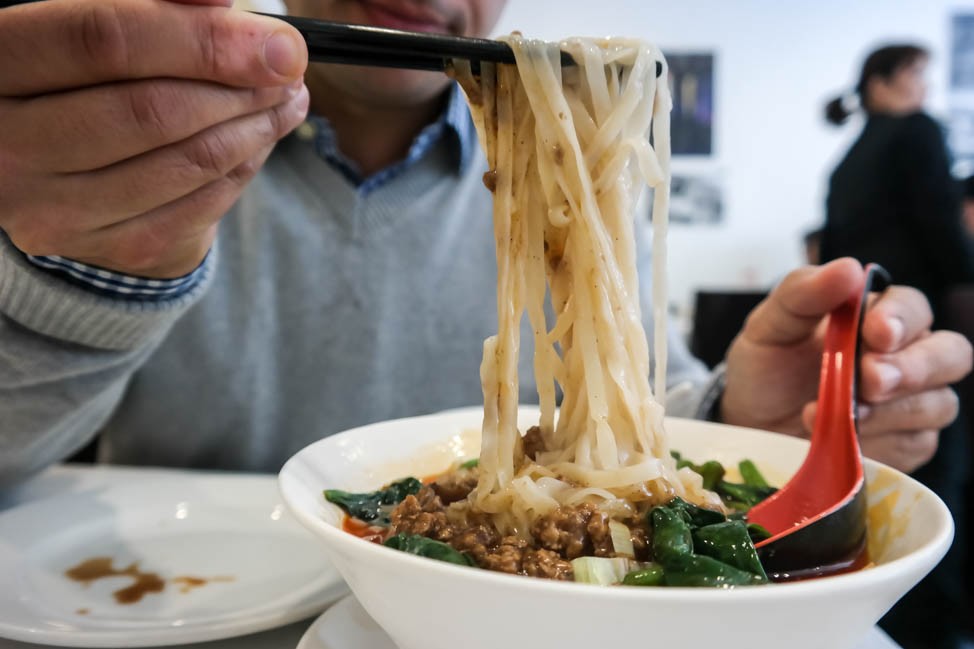 The dumplings were particularly good, especially the pork and black truffle soup dumplings and the light prawn and chive dumplings. The surprise standout was the cheung-fun rolls, glutinous rice noodle rolls. Julie typically hates the wiggly, chewy texture, but these were wrapped around crispy spring onion cakes, so there was a nice textural contrast to the soft noodles. Fantastic food, fantastic deal.
Roti King has received quite a bit of press attention recently, despite its strange location and confusing exterior. It's located behind Euston Station in a mostly residential block and still has the Euston Chinese sign above its door from the previous tenant. With the GPS on our phones pointing the way, we found the tiny basement eatery already packed at 5:30pm on a Tuesday.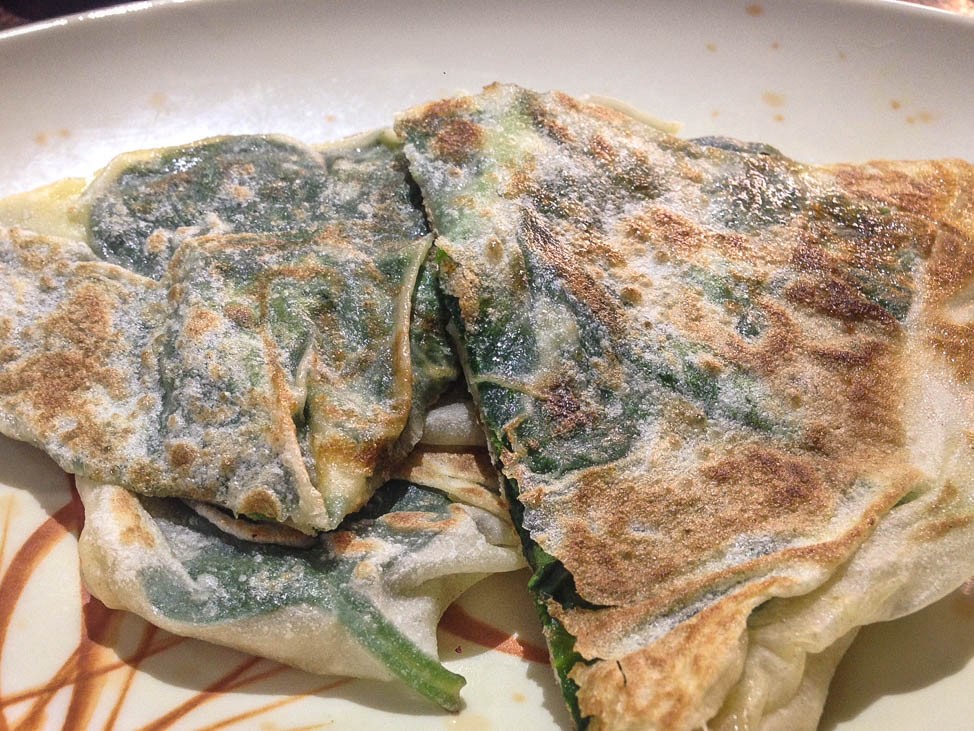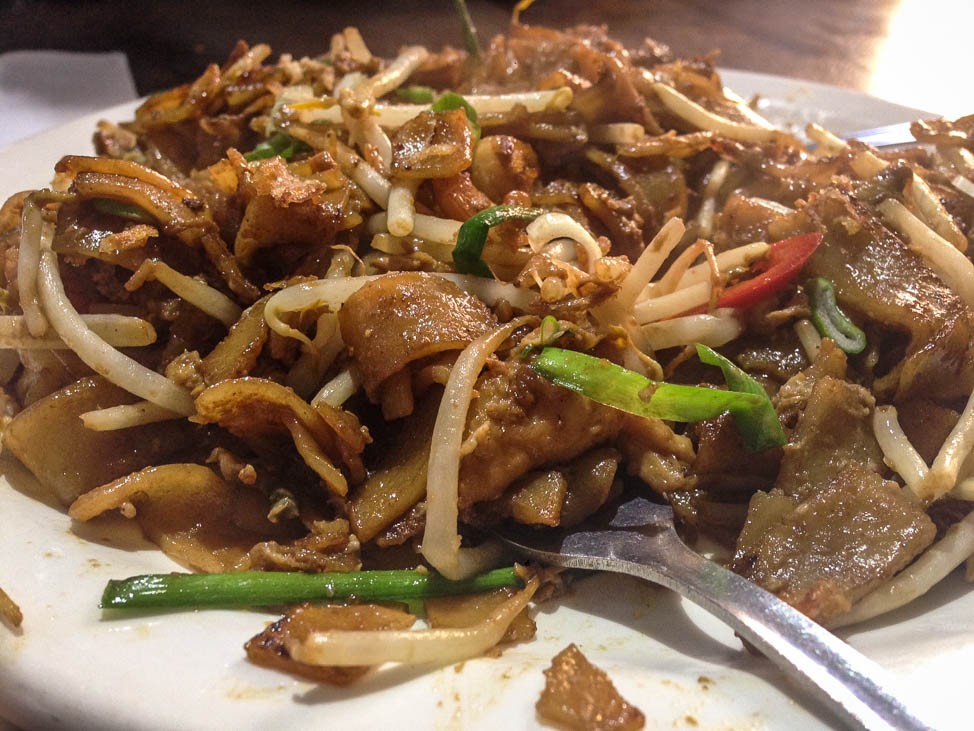 A quick lesson: Roti is basically a flatbread or tortilla, made with a lot of clarified butter, flipped and tossed in the air until paper thin, then fried in oil on a flat top grill. It is fluffy and crispy at the same time. At Roti King, we sampled the roti in the traditional way, with a side of curry, using the roti to scoop up the spicy mixture. We also ordered a roti stuffed with cheese and spinach and Char Kuey Teow, a spicy Malaysian rice noodle stir fry. The food was outstanding and authentic. We totally understand the crowds, all walks of life looking for a satisfying meal. We'll definitely be back.
Vietnamese is our ethnic cuisine of choice and Julie gets cravings for pho frequently. One weekday after work, we headed over to the funky Vietnamese joint, Bang Bang, with a website that looks more like a graphic novel than a restaurant. They have all the classic Vietnamese offerings, plus a few twists, like a take on a Taiwanese bun (small sandwich).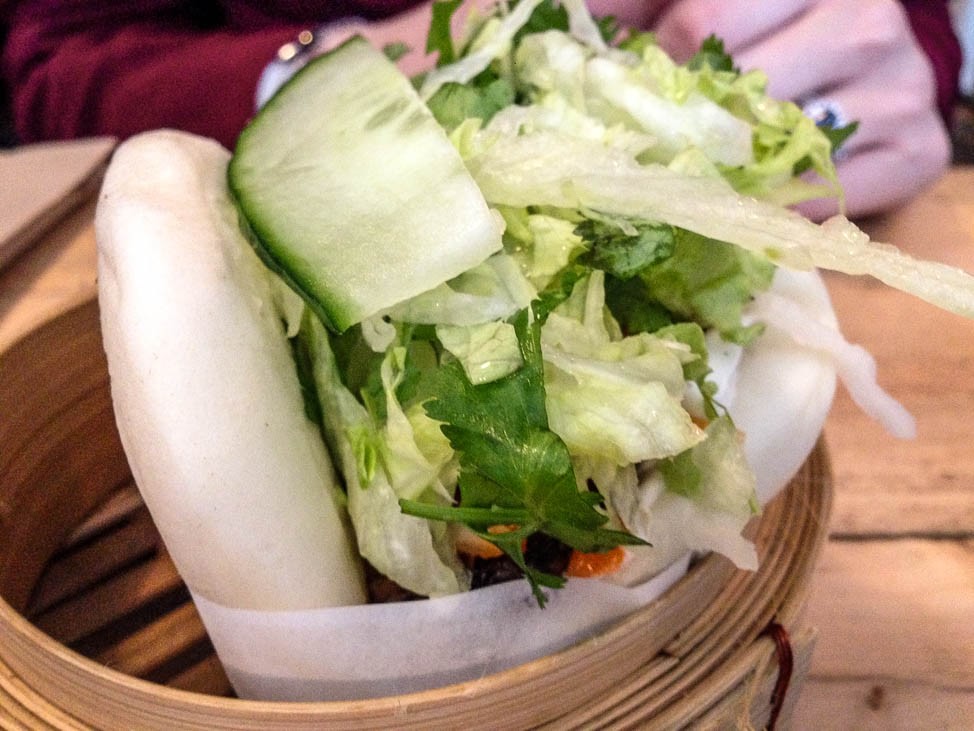 We happily ordered crispy calamari with salted chiles, a lemongrass pork bao, a bowl of Pho and a bowl of the spicy Bun Bo Hue. The calamari and bao were both outstanding. The Pho was solid, but as this is a notoriously tricky dish to make with its labour intensive broth, we've definitely had better around town. My Bun Bo Hue, a spicy soup made with beef and spicy shrimp paste lacked a big spice punch I was looking for and the broth was a little tame, but it still satisfied my soup craving.
The last restaurant in this roundup was the most challenging. Caravan is an outstanding restaurant, with two nearby locations. They serve mostly small plates, so while the menu looks like a good value at first glance, it can be deceiving. Small plates typically result in us ordering far too much, breaking any notion of a 'budget.' This time around we each ordered a craft beer (beer is always cheaper than wine) and took a look at our options. For the first time, we had to do the mental math to make sure we did not overspend. With a few strategic choices, we made it just under the wire.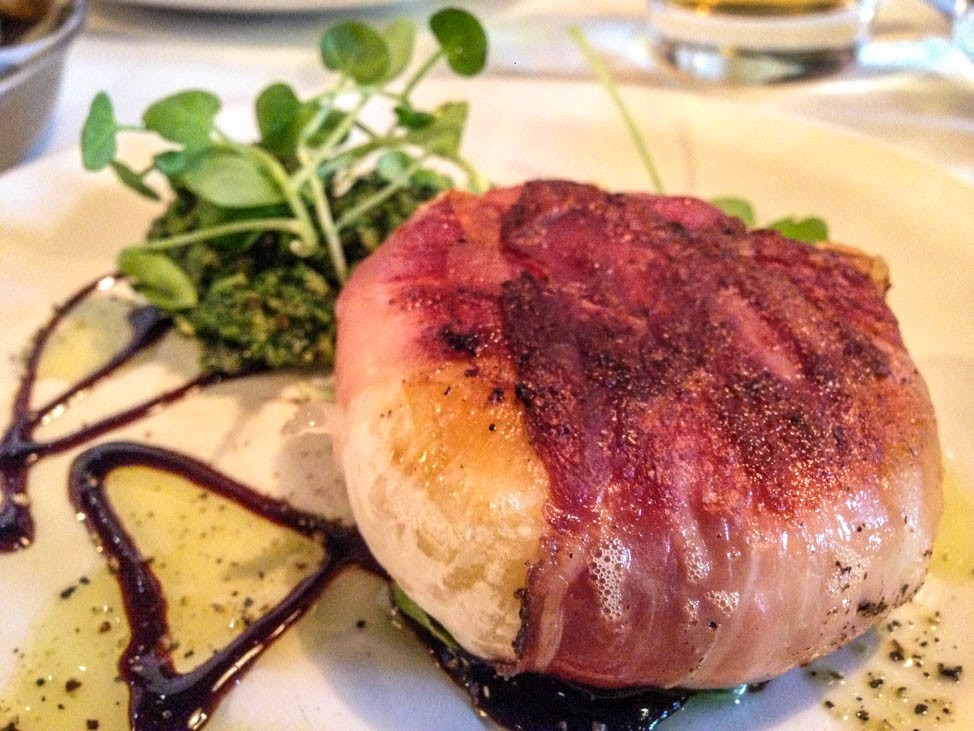 We shared a courgette pizza, a delicious warm wheel of Tomino cheese wrapped in ham, grilled polenta chips and a mixed green salad. For once we didn't stuff ourselves and the amount of food was just right. It was delicious and Caravan deserves its popularity – the massive restaurant was packed (even at 6pm). Plus, we came in under budget on a Friday night out with drinks! Go us!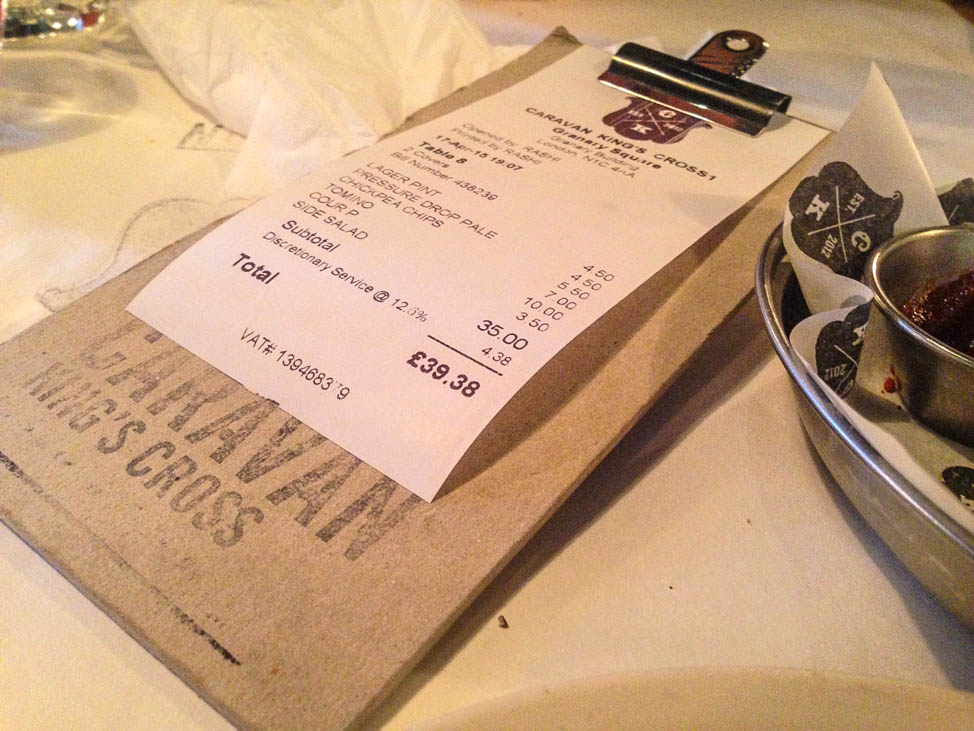 I was skeptical about this experiment back in March. I love restaurants and indulging in great wine and multiple courses. But I must say, so far this has been an amazing adventure. We are picking restaurants more carefully and we will often check out a menu online to make sure we feel comfortable within the budget. Fortunately, in a city as massive as ours, there are plenty of great values, once you look for them.
Do you have a favorite cheap eats in London? How do you manage your restaurant budget? Let us know your thoughts.