In Shenzhen, a massive metropolis of over 12 million people, getting around the city efficiently is vital.
Luckily, the city has extensive public transportation options. The whole transportation infrastructure, in fact, is almost entirely new or recently rebuilt, and it is expanding like crazy. (To that end, please note that this information is accurate as of 2017.)
From trains, to subways, to ferries, there are a variety of ways to get around Shenzhen, and connect to the nearby destinations of Guangzhou, Macau, and Hong Kong. So if you are planning a trip, whether for business or leisure, let us show you how to navigate this sprawling city.
Shenzhen Transportation Guide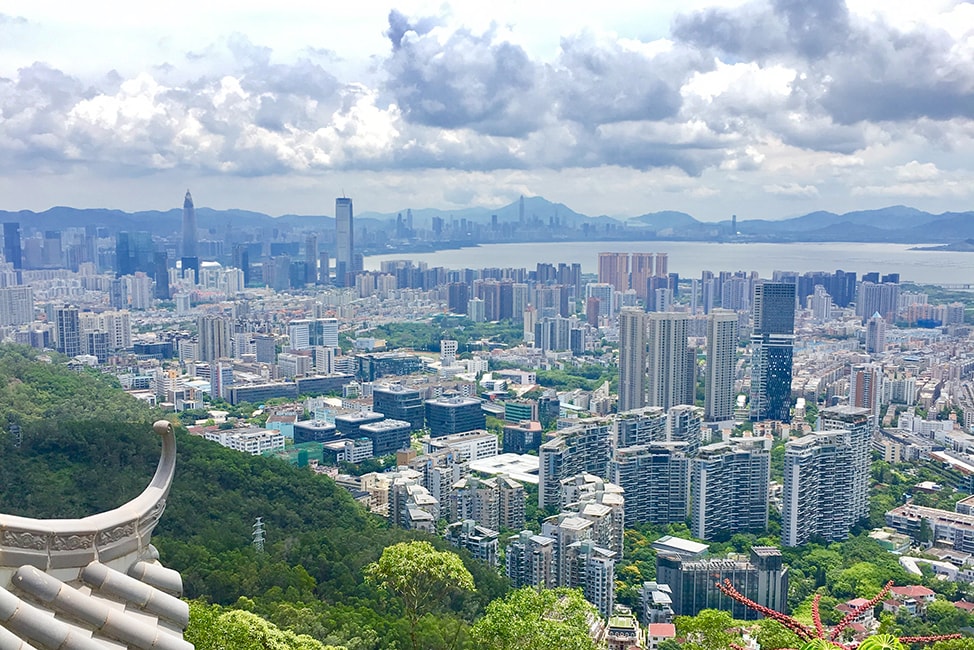 Getting Around on the Shenzhen Metro
The Shenzhen metro, with impeccably clean stations and modern cars, is the best way to efficiently traverse the city and a key to our Shenzhen transportation guide. While it just opened in 2004, there are now eight lines that criss-cross the city, and work is starting on four new lines this year (check out the full metro map here). Like anything in China, the pace of progress is almost dizzying.
Let's review the ticketing options on the Shenzhen Metro. Single ride tokens come in the form of a green plastic coin that you feed into the coin slot at the entrance/exit gates to the subway system. Rides are based on distance, so you pick your final destination on the ticketing machine and it will charge you accordingly for the single ride.
There are single day passes available for ¥20 ($3.02), which be can used for 24 hours from the time the card is first swiped into the system. If you expect to ride the metro a lot, you can get a Shenzhen Tong Pass, which gives you a 5% discount on metro fares. The catch is that you need to fund the card with a minimum of ¥50 (less than $8.00) to begin with, and swipe in and out.
A display at the exit gates will show you how much the fare cost and the remaining balance on the card.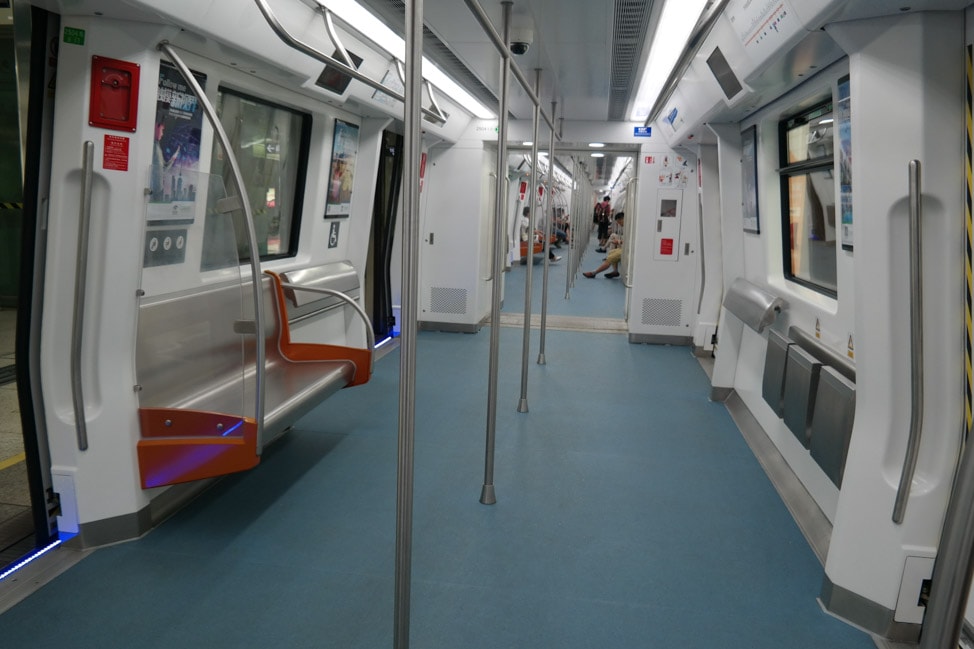 The ticketing machines can be switched into English, so no need to be concerned about not understanding the prompts on the screen. Also keep in mind that many of the single pass machines will only accept small bills (¥5 and ¥10 notes), while the machines that issue Tong Passes only accept larger bills (¥50 and ¥100 notes).
The Shenzhen metro is cheap. Rides start at ¥2 ($.30) for the first 2.5 miles, and adds ¥1 each additional 2.5 miles. After 7.5 miles, the rate decreases to ¥1 per 4 miles. Day to day, our rides are typically ¥3-¥6. The trains come with regular frequency, but be warned that during peak commuting times in the morning and early evening, trains and platforms can be packed.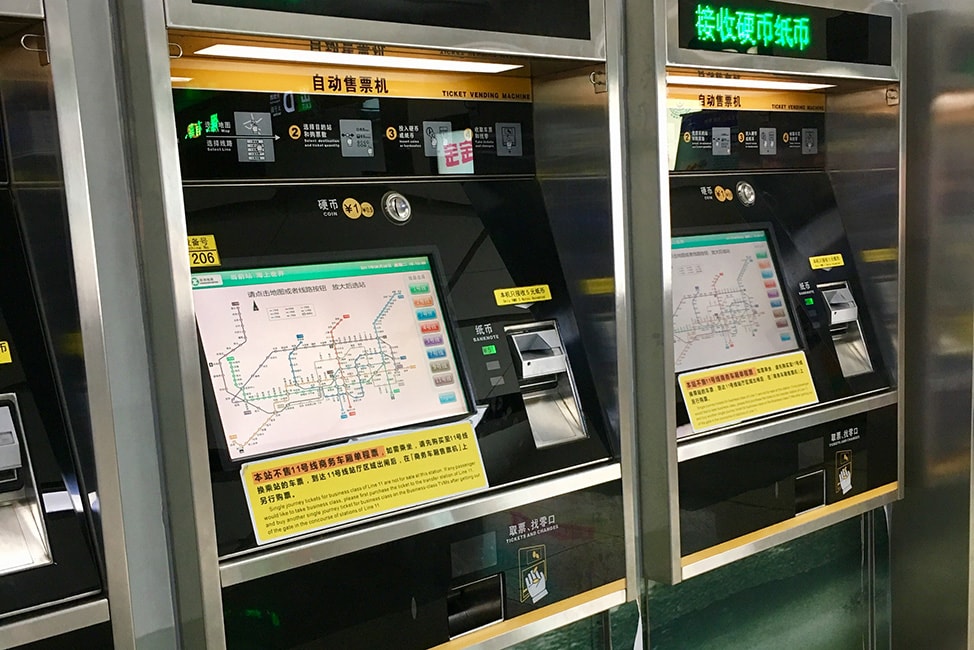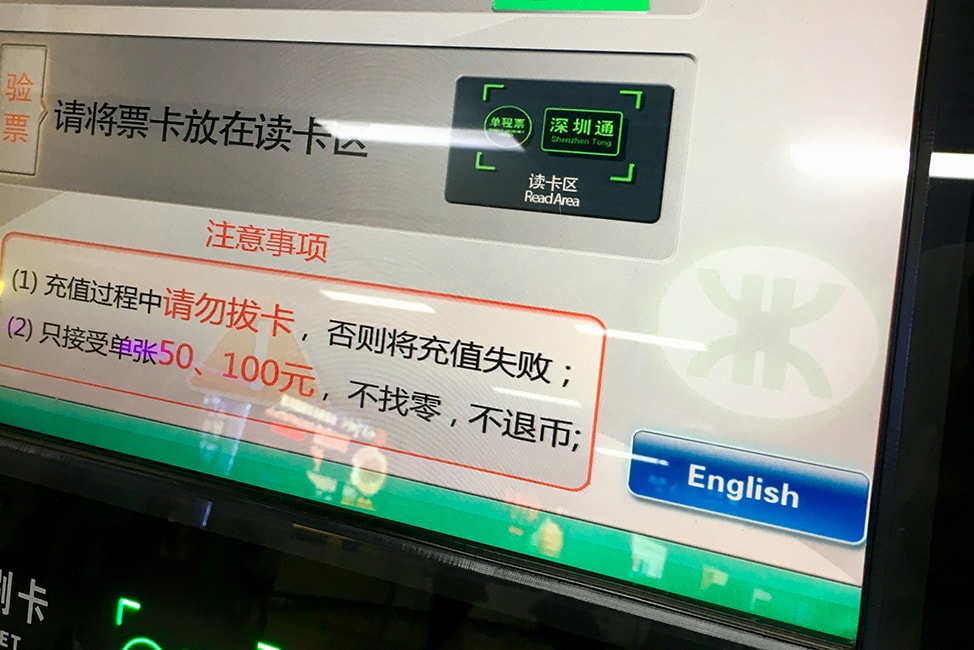 The metro system is very organized, with clear signage on the platform displaying what direction the trains are going and all of their stops. There are also full metro maps on every platform. Announcements are made in both Mandarin and English, and all signage on the platform and train is in both languages. When you are on the train, there is also a map above each door displaying all of the upcoming stops and what station is next.
If you want to head into Hong Kong by metro, you can take Line 1 to Luohu or Line 4 to Futian Checkpoint. From there, exit the station, go through immigration (30-45 minutes depending on time of day and day of the week; weekends are the busiest), then enter the Hong Kong MTR system on the other side. It is about an hour Hong Kong MTR ride to get to central Hong Kong.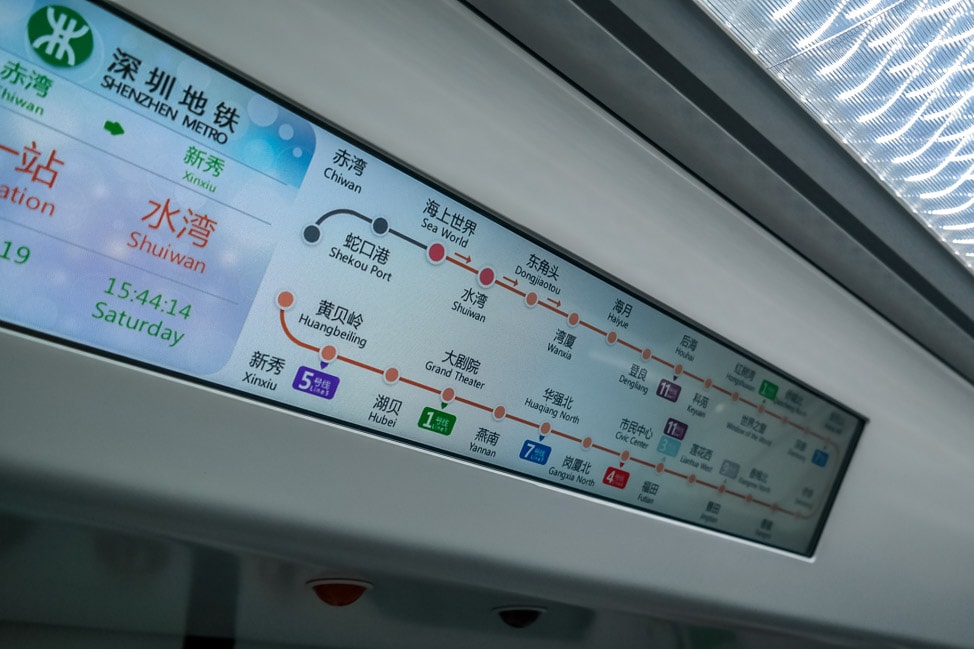 Using a Taxis in Shenzhen
Taxis are cheap and reliable around Shenzhen. Some people we know take taxis exclusively, and it's not uncommon for people to take a taxi to and from work each and every day. You can hail taxis 'the old-fashioned way' or use an app, Didi (available for download outside China) that is similar to Uber or Lyft, to call a taxi remotely.
When you hail a taxi on the street, it's important to know that very, very few drivers speak any English, so you will need to show them on a map exactly where you are going or provide them with the address in Chinese characters, something that any hotel can do for you.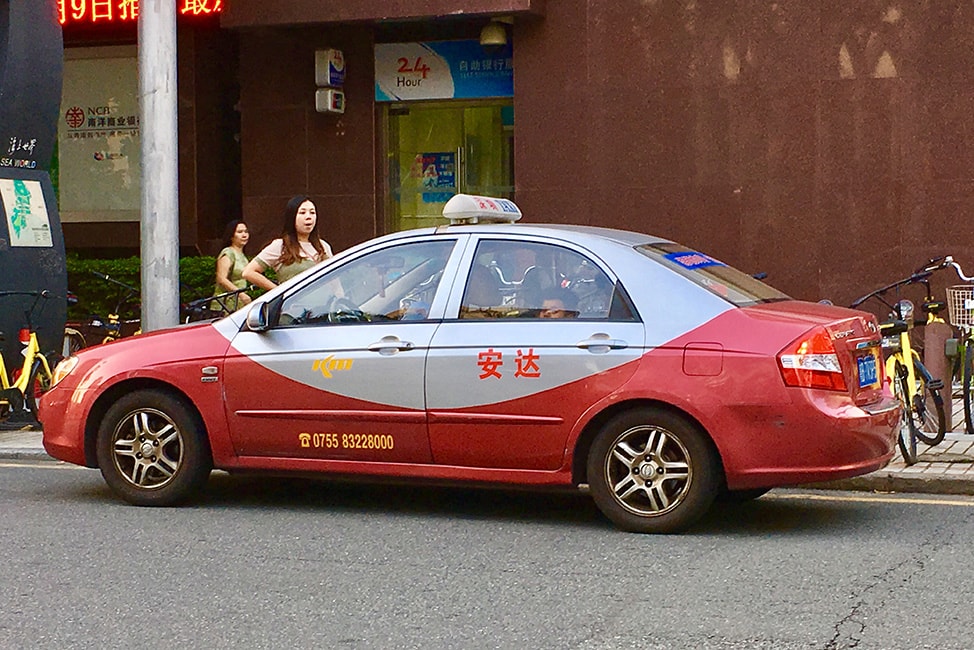 If you use an app to call a taxi, it's easy to type in your destination using English words. BUT, the taxi driver who picks up the fare will usually call you to confirm where you are standing exactly. This isn't unlike how Uber and Lyft work in the West. But if you don't speak Chinese, or if your language is limited to pleasantries, it can be difficult to answer the phone and try and describe that, in fact, I am standing in front of the KFC.
For these reasons (we're just at the beginning of our Chinese language journey) we don't take taxis very frequently on a normal day in Shenzhen. We save our rides for when the Shenzhen metro is closed, which is from 11pm-6:30am. or when we're going to IKEA or the airport. For a perspective on cost, we live about a 45 minute drive from the airport on mostly surface roads, and the fare averages about ¥90-¥100 ($13-$15).
Getting to/from the Airport
The Bao'an International Airport is located in the far west side of Shenzhen, along the Pearl River, about 20 miles from the Central Business District. Not surprising in the least, the terminal is new, and the design is hyper-modern and truly stunning from the inside.
There are a handful of flights to/from more long-haul destinations (Seattle and Sydney among the few), but this is more of a regional Asian airport, with links to dozens of Chinese cities and destinations across Southeast Asia. Signs are in Mandarin and English, and while many airport officials don't speak perfect English, the gesture for 'pass me your passport' and 'any luggage?' are the same around the world. Like most modern airports, there are plenty of food options, both sit-down and fast food, throughout the terminal, but only one, perpetually busy, Starbucks location.
Getting to/from the airport is easy on the Shenzhen Metro, since Line 11 has a station within the airport terminal. There is also a stop on Line 1 called Airport East, but that does require a transfer to a shuttle bus from the metro station to get to the main airport terminal (which we've never done). A metro ride from the airport to downtown (an area called Futian) will require one transfer and will take a little over an hour. Expect a taxi ride to Futian to take roughly 60-90 minutes and cost up to ¥150 ($18).
High Speed Trains
Shenzhen is on the high-speed train line installed throughout China. Currently, Shenzhen is connected by high speed train to a variety of destinations, including Guangzhou, Wuhan, Beijing, Guilin, and Hangzhou, through Shenzhen North Railway Station.
Thanks to the high speed trains (hitting speeds of almost 200 mph), you can go from Shenzhen to Guangzhou in only thirty minutes. The old, slow commuter trains take eighty minutes.
For those arriving or departing from Shenzhen North, it is connected to downtown Shenzhen by Line 4 of the Shenzhen Metro, and by a forty minute taxi ride from downtown. The terminal is quite large, so it is advised to arrive about an hour before your departure time, or even a bit more than that if you have not purchased your tickets in advance. The station boards display the schedule in Mandarin and English, and the waiting hall is massive, with dozens of restaurants and retail shops to help pass the time.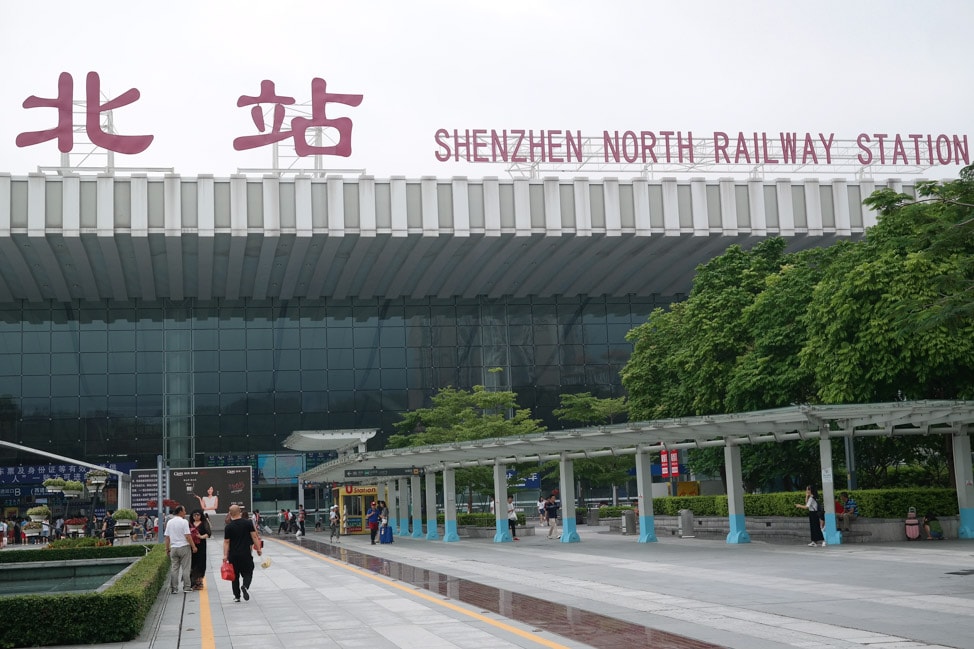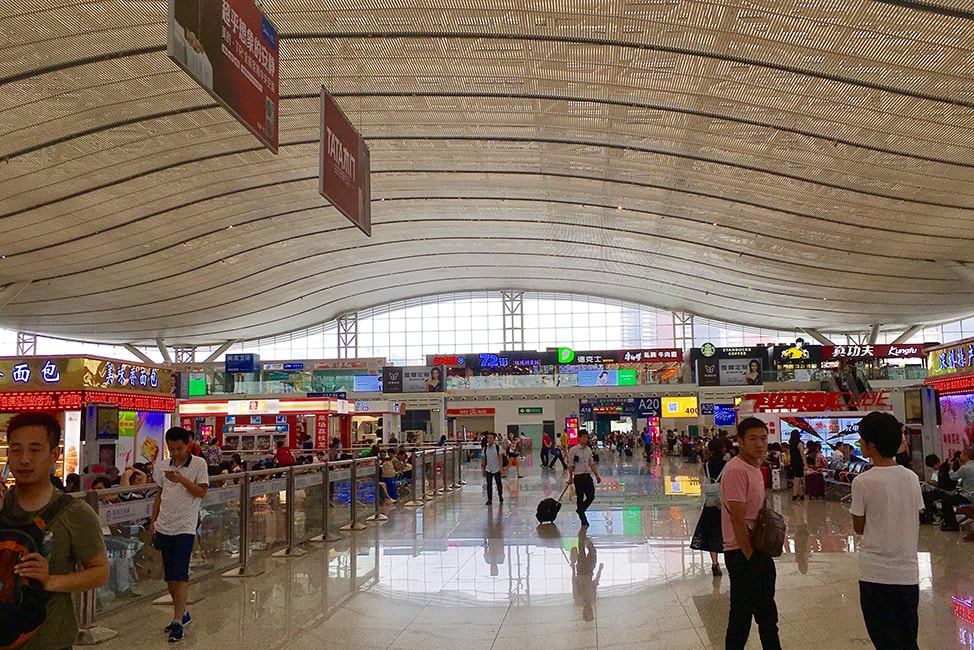 There are three other train stations in Shenzhen: Shenzhen Station in Luoho, Shenzhen West, and Futian Station, near the Central Business District. Futian Station is the most important, as it will be the station used for the upcoming high-speed line connecting Hong Kong and Guangzhou. For office workers who transit between Shenzhen and Hong Kong frequently, it is expected to cut travel time down from 45 minute to 15 minutes when it is completed in the next two years.
Fun fact: Futian Station is the largest underground station in Asia, and second largest in the world, beaten only by NYC's Grand Central Station.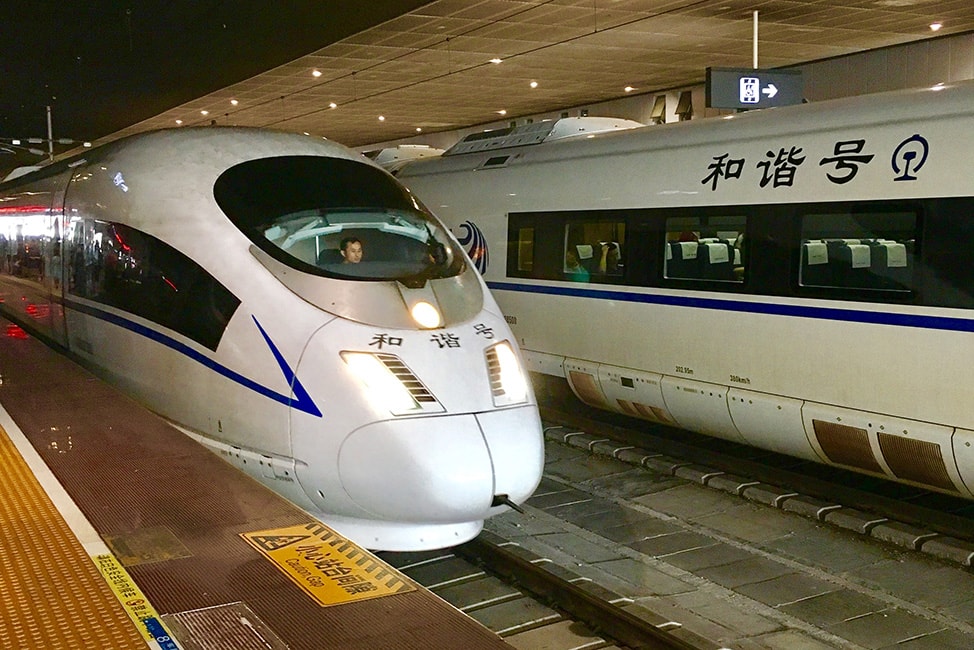 Riding the Ferry
The main ferry terminal in Shenzhen is located in the west of the city, in an area called Shekou (which happens to be our neighborhood). The Shekou Ferry Terminal is…wait for it…brand new!
The large, multi-colored wavy beehive structure is connected to Line 2 of the Shenzhen Metro. Due to the heavy construction still going on around the terminal, right now there is a free shuttle service between the metro and the terminal door (it's easy to use, as there is only one bus leaving right out front and everyone else will be going the same place). You can also take a taxi, which from downtown would take about an hour.
The terminal has thirty ferry berths, and operates multiple daily departures to Macau, Zhuhai, Hong Kong, and Hong Kong Airport (see the ferry schedule here). To purchase a ticket, you can head to one of the ticketing counters in the main hall, but they only accept cash, no credit cards. We prefer the automated machines located both on the main floor and on the second floor. They are easy to use and the menus can be switched into English. For non-residents thought, the ticketing machines only accept UnionPay cards, WeChat, or AliPay, making your Visa or MasterCard useless. In that case, make sure to bring plenty of yuan to the ferry terminal and purchase tickets at the counters.
If you are going to Macau or Hong Kong during the week, you can arrive thirty minutes or so prior to departure to purchase tickets. You do have to go through immigration, though arriving early will not help, since they only process people according to the boat schedule. You cannot enter the immigration area until 15 minutes prior to your departure, so arriving significantly earlier won't help you at all. However, if you want to head to Macau for a weekend like we did, don't wait until the last minute. We snagged the last two tickets on the morning ferry, or else we would have waited until late afternoon before there was a ferry with available tickets.
Sometimes, it does pay to plan ahead.
Living as we do in Shekou, it's actually most convenient for us to take a ferry to Hong Kong International (a 30 minute ride) when we fly back to the US. For airport transfers, you do need to arrive at the ferry terminal three hours before your departing flight. At the ferry terminal, you will check-in to your flight and your luggage will be tagged (just like at the airport). Once you arrive at Hong Kong International, you pick up your luggage and recheck it in before passing through security and entering the departure terminal.
Tickets for the ferries are more expensive than the metro or train, and round trip journeys cost ¥140 ($21) to Hong Kong, ¥360 ($54) to Hong Kong Airport, and ¥320 ($48) to Macau.
Many years ago, when we were living in Maine, we promised ourselves that we would never again live in a place without amazing transportation options. We've been – admittedly – spoiled the last few years, living in London with its five airports and direct flights to everywhere.
We're happy to report that Shenzhen feels just as well connected as London, and this is coming from two people to take this kind of thing very seriously. We love having multiple airports on our doorstep, and we're obsessed with the clean and efficient (and cheap!) metro.
Shenzhen beats out even the 'big boys' of Shanghai and Beijing in these departments, and the sheer diversity of transport options means that competition is high and we will get the best prices and best schedules every single time.
Hope you enjoyed our Shenzhen transportation guide. But don't take our word for it. Come and see it for yourself. It's getting easier by the day.