The ringing of slot machines. The yells of joy from winning hands. The noise of thousands of people milling about on the casino floor, hoping to emerge a winner.
Macau is not a place where one necessarily goes to get away from it all. In fact, it is usually the opposite. But frantic casino energy is noticeably absent at the Mandarin Oriental Macau, a hotel right in the middle of the action, in the 'Vegas of the Far East.' And for these city weary tourists on a weekend away, it is good to know that pockets of luxurious tranquility do exist.
We found ours at the Mandarin Oriental Macau.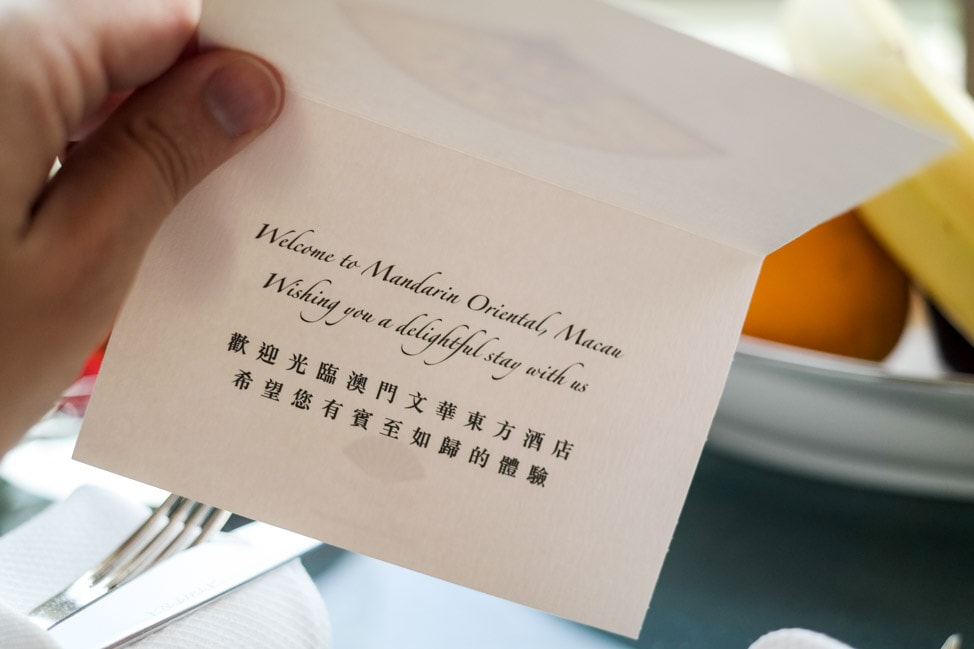 Mandarin Oriental Macau Review
Our journey began at the Macau Ferry Terminal, after our 60 minute ferry ride from Shenzhen. We were met just past customs by a representative from the Mandarin Oriental. He radioed to the waiting car and a concierge emerged through the crowd in the ferry terminal.
"Good morning Mr. Seaman and Mrs. Smith, welcome to Macau. Let us take your bags. Your car is waiting."
"How did they know our names?" Julie asked. We barely had time to appreciate the simple gesture of being greeted by name, before we were whisked into a luxury van for the short 5 minute drive to the hotel, a service that is complimentary for all guests.
We pulled up at the entrance of the waterfront property, and as the door of the van opened, another Mandarin staff member stepped forward to greet us. "Welcome Drew and Julie. Your room is ready now, so we will escort you upstairs and complete the check-in process there. How was your journey?"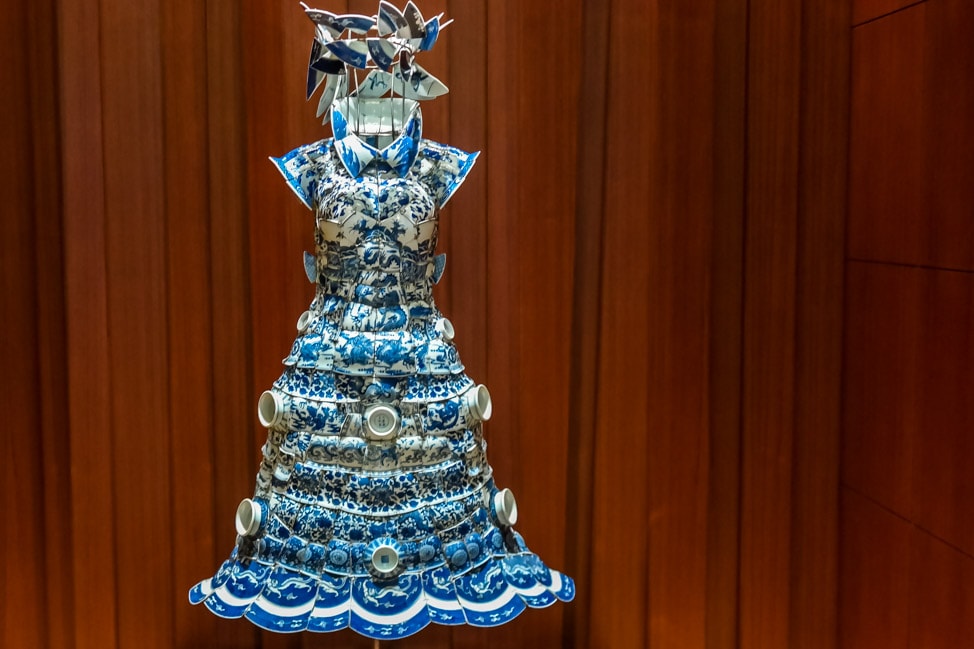 It was a whirlwind of a greeting, and within ten minutes of stepping off the ferry from Shenzhen, we were in our room on the 22nd floor, completing our paperwork. The staff members thanked us again, and as they left, we realized that the check-in process was so fluid, that we didn't even catch a glimpse of the reception area.
We surveyed our home for the next few days, a Deluxe Lake View Room, overlooking Nam Van Lake with the Macau Tower in the distance. The room was incredibly spacious and well appointed, with a large bathroom, complete with a steam shower and a soaking tub with a view.
They even left us a few welcome gifts, including a basket of fresh fruit and a beautiful red, wooden box on the desk, filled with macaroons and treats made by the in-house bakery team.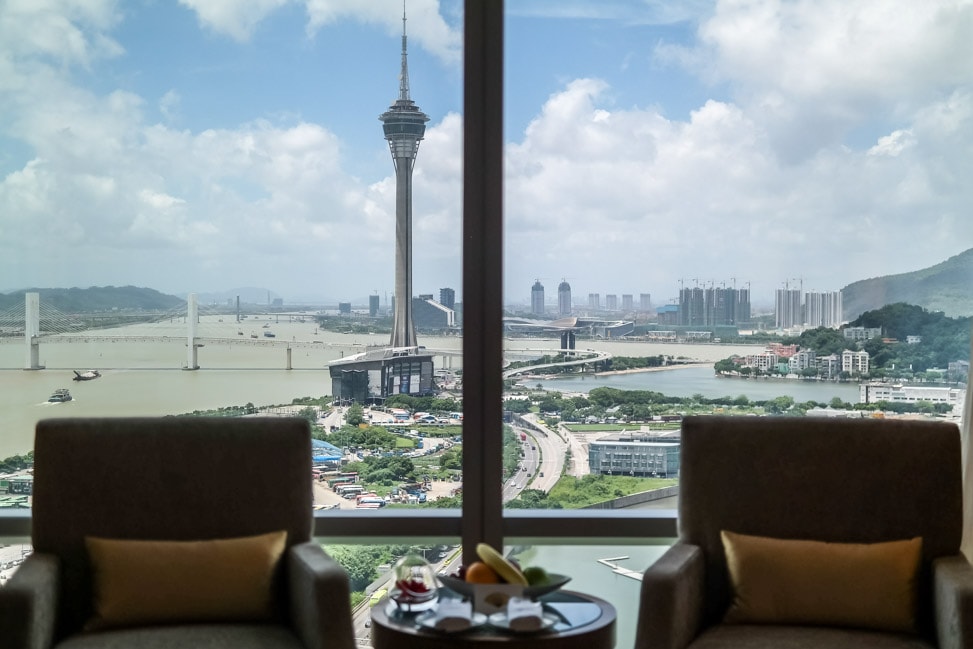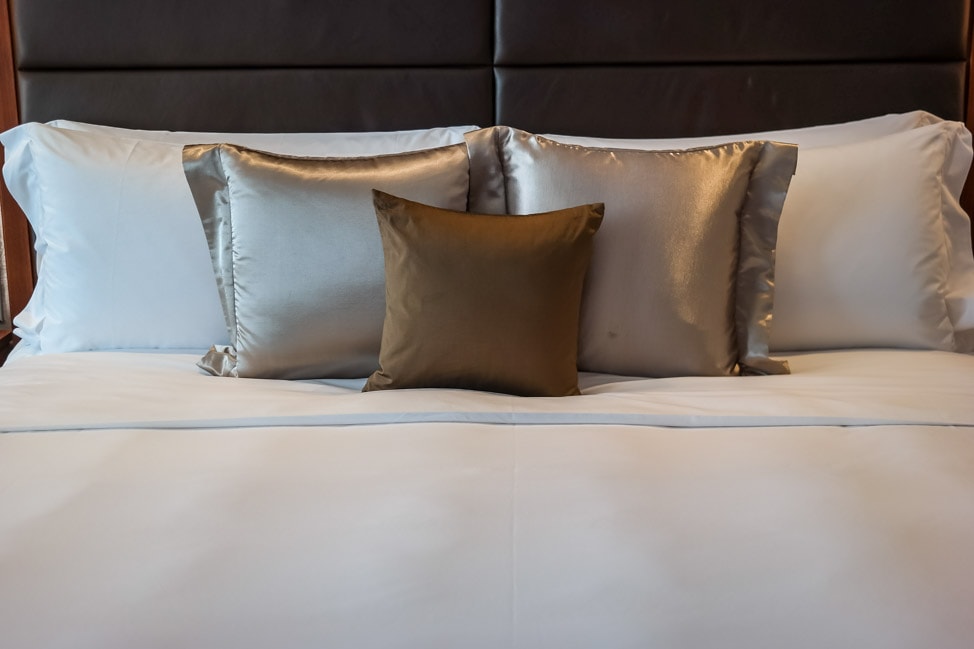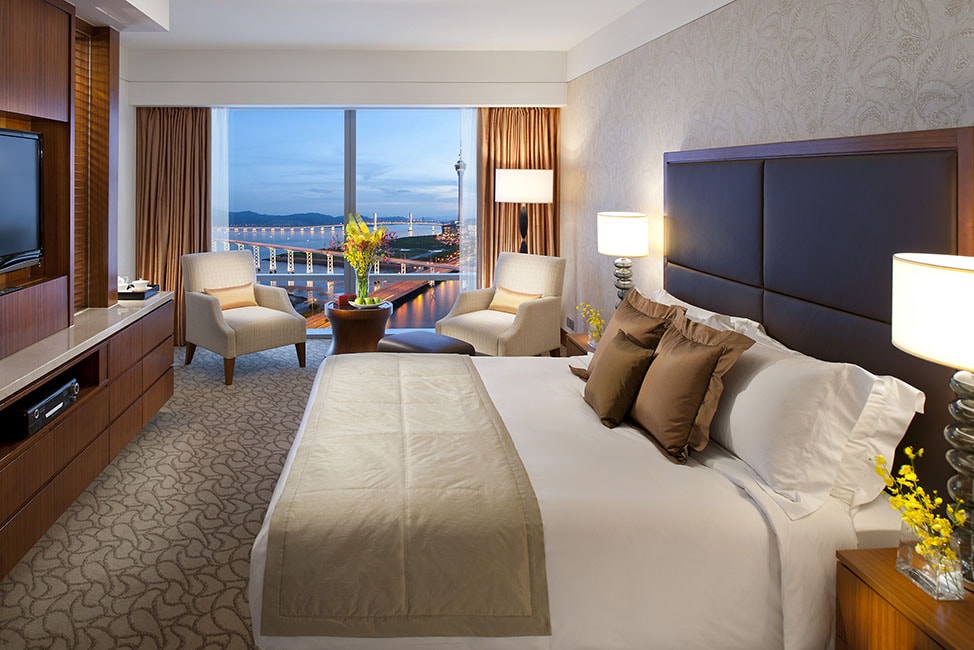 Dim Sum Lunch at the Mandarin Oriental Macau
Shortly after our arrival, we headed to Vida Rica Restaurant and Bar for lunch. Since we were on vacation, we skipped the a la carte menu and jumped right into the dim sum lunch tasting menu. It was 12 courses of both traditional and more modern twists on the classics.
We sat back with our warm pot of Jasmine tea and prepared ourselves for the forthcoming onslaught of dim sum delights.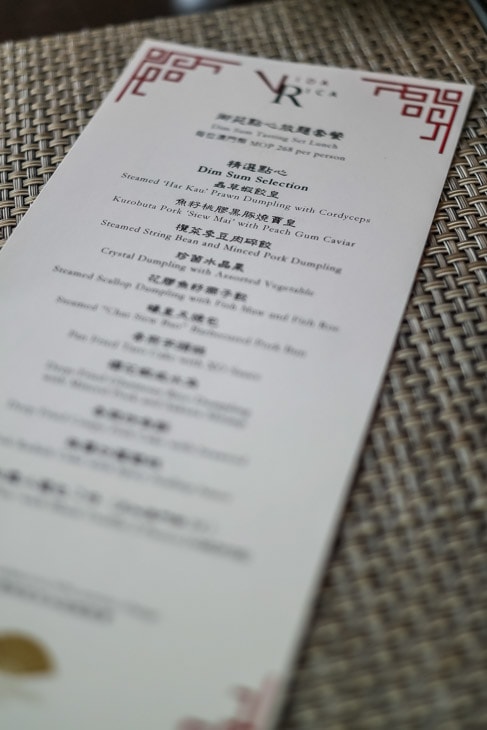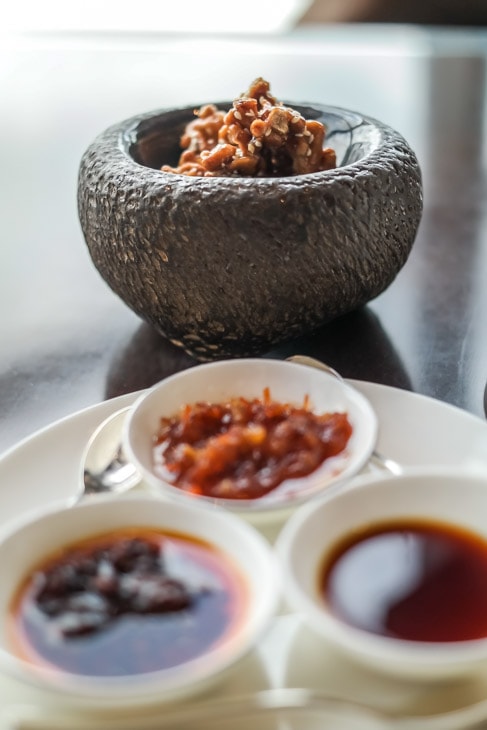 The table was set with a trio of sauces for dipping, including the incredibly savory and delicious XO sauce, a condiment common in the Guangdong region made from chiles, garlic, pork, dried shrimp, scallops, and oil. For a snack, a large stone bowl was set down, filled with sweet and sticky roasted walnuts.
Each course came with two of everything, presented in their own bamboo baskets. There were classic dumplings and more inventive combinations (check out our Guide to Chinese Dumplings for more information) and even a few non-dumpling offerings. While everything was delicious, the string bean and pork dumpling and steamed barbecue pork buns were our favorites.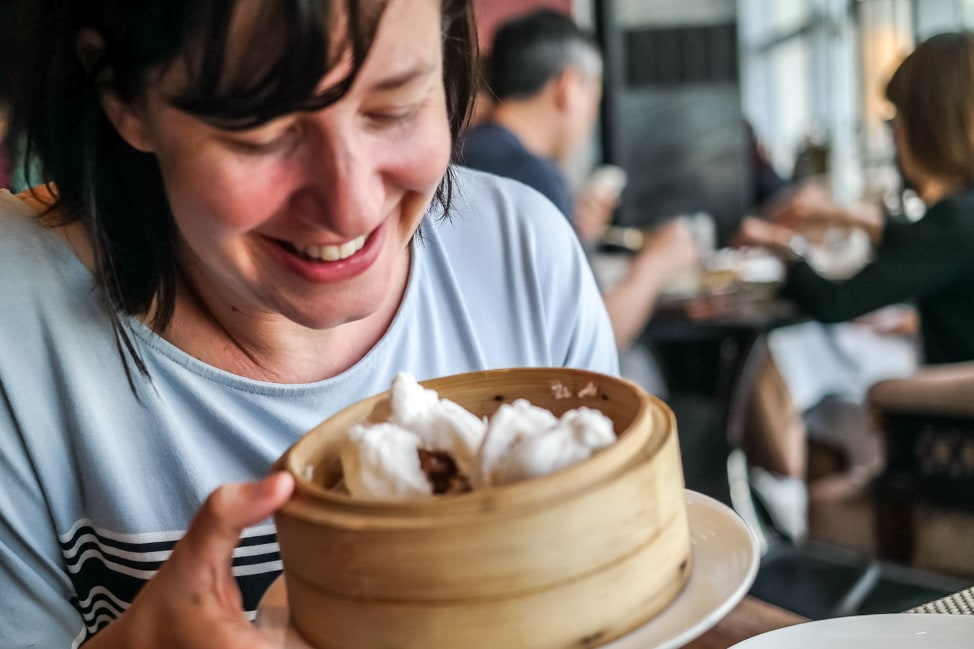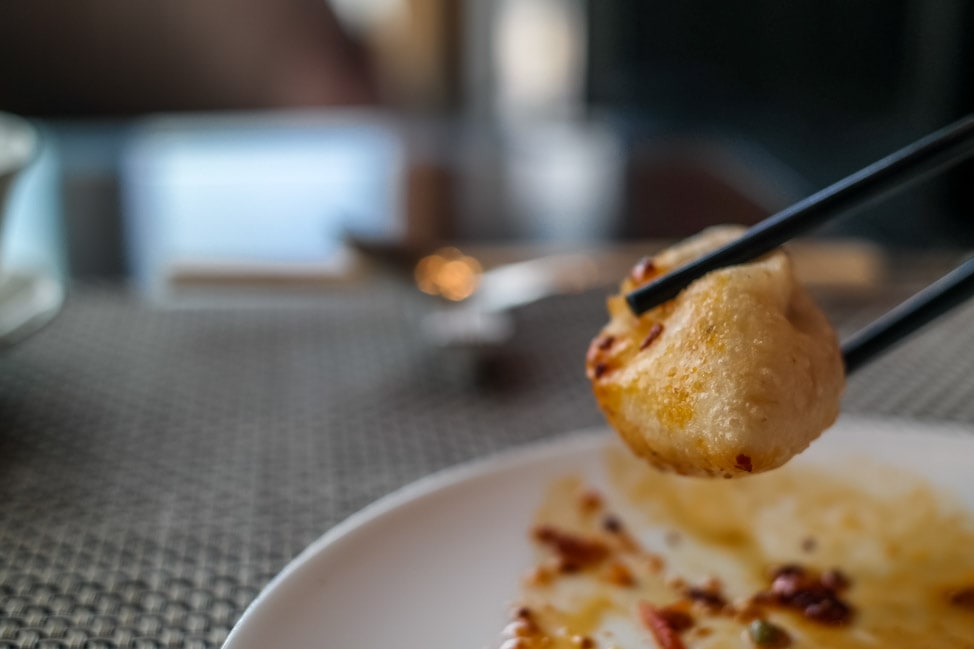 Because more is more, we loaded up on several additional courses. We tried two kinds of soup, wok-fried Shanghai noodles, and sautéed greens. We wrapped up the meal with the manager's recommendation of not one, but three desserts, though they were all thankfully quite bite-sized. The cream of mango with lime sorbet, essentially a cold fruit soup, studded with pieces of mango and tiny segments of grapefruit, was slightly tart and incredibly refreshing.
Our simple dim sum lunch lingered into a two hour affair, and with way more food than we anticipated. A nap was needed.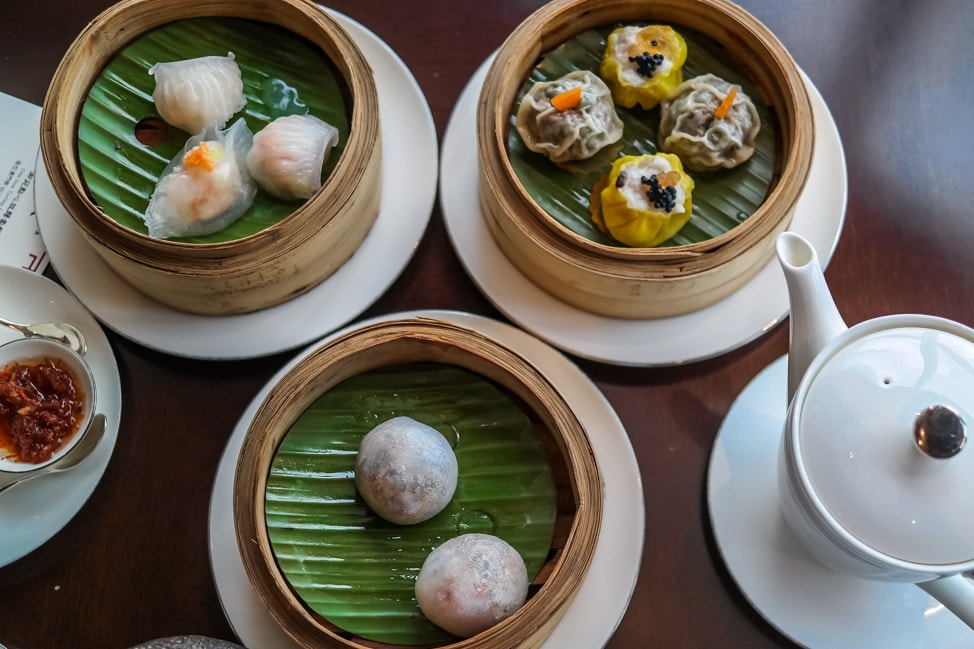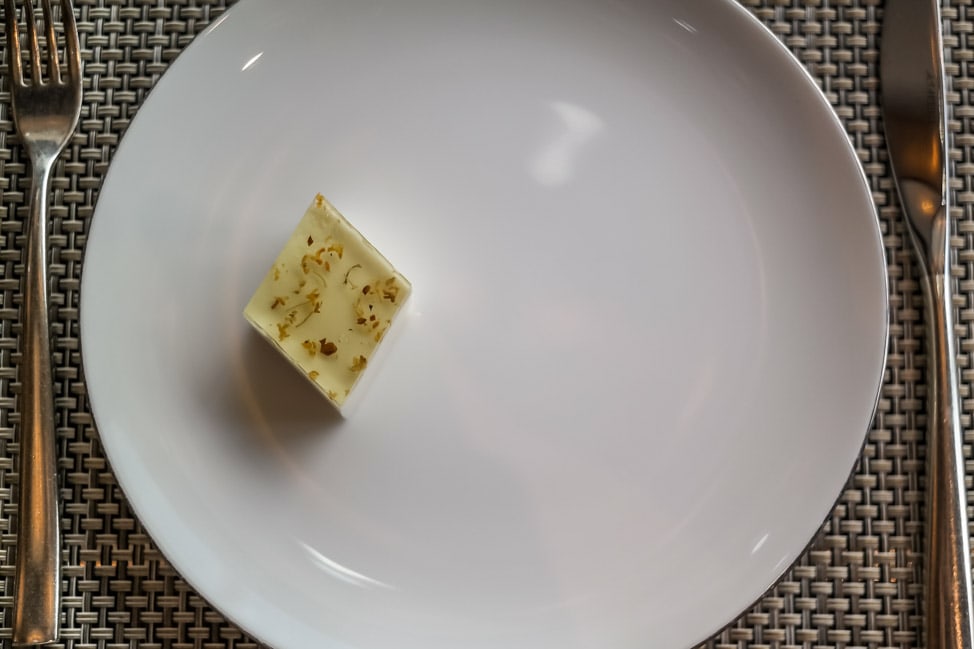 The initial plan was to head out and explore the best of Macau, maybe hitting the Cotai Strip as the sun went down and the neon lights turned on. But after our epic lunch, we decided to relax in the peace and quiet of our lake view room, comforted by the large soft bed and high quality pillows (a feature that Julie is notoriously picky about).
Late in the afternoon, we set out on foot towards the colonial downtown section of Macau, about a 20 minute walk from the Mandarin Oriental. Of course, it is August in China, when the combination of heat and humidity is almost crippling, so a long leisurely walk was out of the question. We relied on the labyrinth of indoor walkways and shopping malls, through the MGM and the Wynn, before finally emerging into the heat at the foot of the Grand Lisboa.
Though our venture through the old town was rather brief, we were comforted by winding European-style streets, lined with churches and shops. Soon enough, we were back in the air-conditioning of the Mandarin Oriental and found the room had received the nightly turndown service, complete with two pastéis de natas, the famous Portuguese egg custard tart.
A rejuvenating steam shower and bubble bath with a view of Nam Van Lake was in order.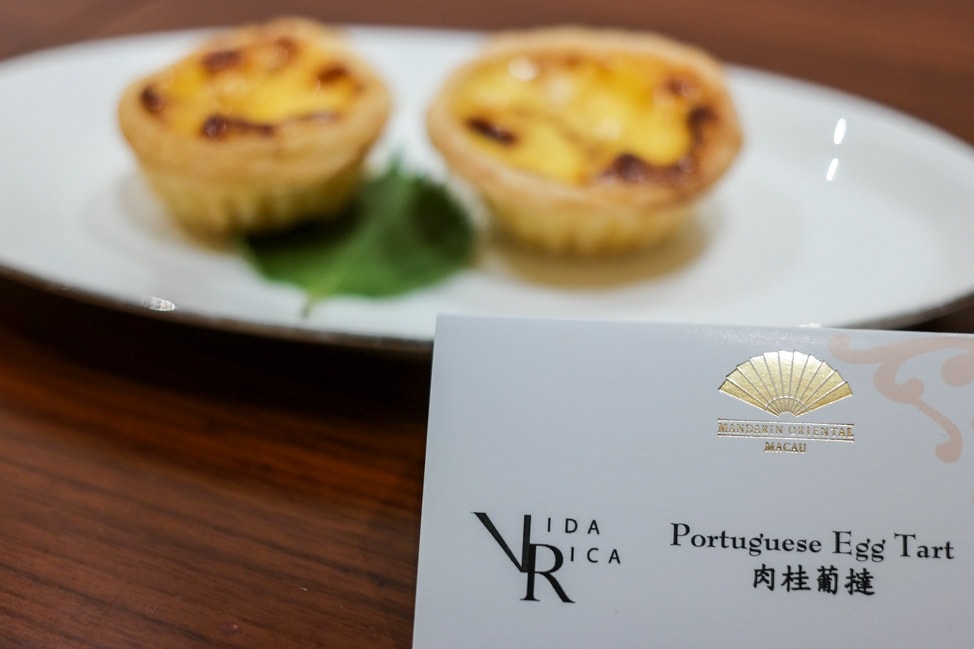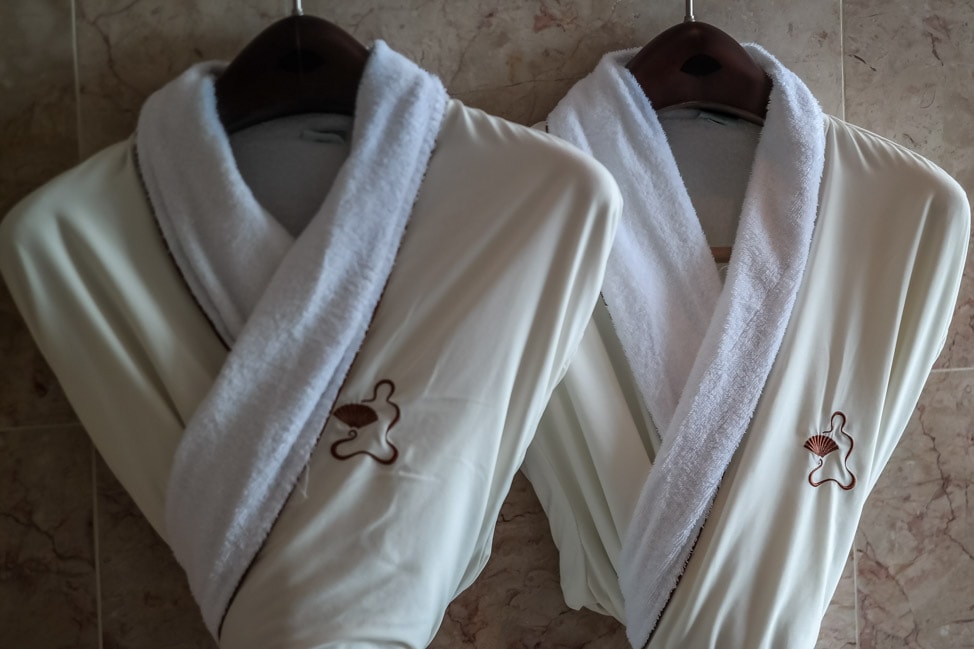 Gambling at the Mandarin Oriental Macau
Neither one of us are big gamblers, but we were hesitant about booking a stay at a hotel in Macau with no casino. FOMO and YOLO and all that. In the end, it was the best decision we made.
As anyone who has visited a big gambling destination knows, hotel/casino complexes are busy almost 24/7. The hallways, restaurants, and public spaces near the casino floors are crammed.
The Mandarin Oriental is different. It is attached to the One Central Mall, a high-end luxury shopping mecca where we expect many casino earnings go to die. Through the mall is the entrance to the MGM and its casino floor. So if you are staying at the Mandarin Oriental and want to gamble, like we did, it is a short, fully air-conditioned walk though a luxury mall to the casino floor. Easy.
Plus, you get to wander through the atrium of the MGM Macau, which worth a visit.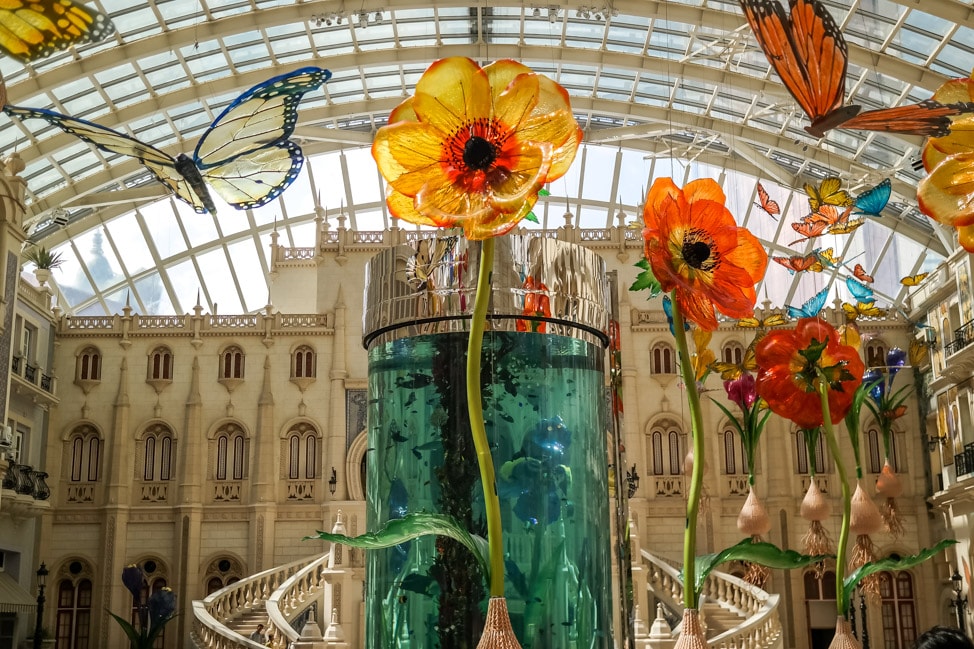 Due to the fact that the Mandarin Oriental does not have a casino, non-hotel guests don't tend to crowd the hotel's facilities. (To give a sense of scale, there are 261 rooms, compared to nearly 3,000 in other properties.) The hectic energy of the other hotels we walked through, especially the Grand Lisboa, is the complete opposite of the peace of the Mandarin Oriental.
Amen to that.
A Relaxing Morning at the Mandarin Oriental Macau
There's something about an abundant breakfast spread that makes such a difference in a hotel stay and our hopes for Vida Rica's morning meal were high.
We were blown away by the huge selection of fresh juices, including the detox juice (with beet, cucumber, and apple). To satisfy western palates, steaming platters offered the makings of a Full English. But there were also plenty of Chinese offerings, including small Wagyu beef spring rolls, a whole dim sum display with large bamboo steamers full of dumplings, taro cakes, and barbecue pork buns.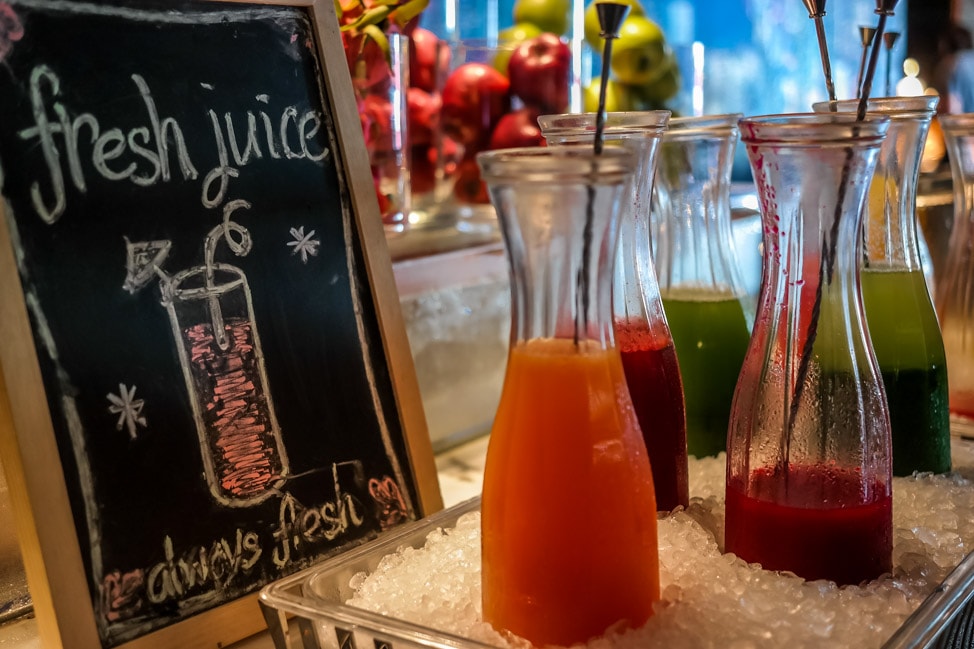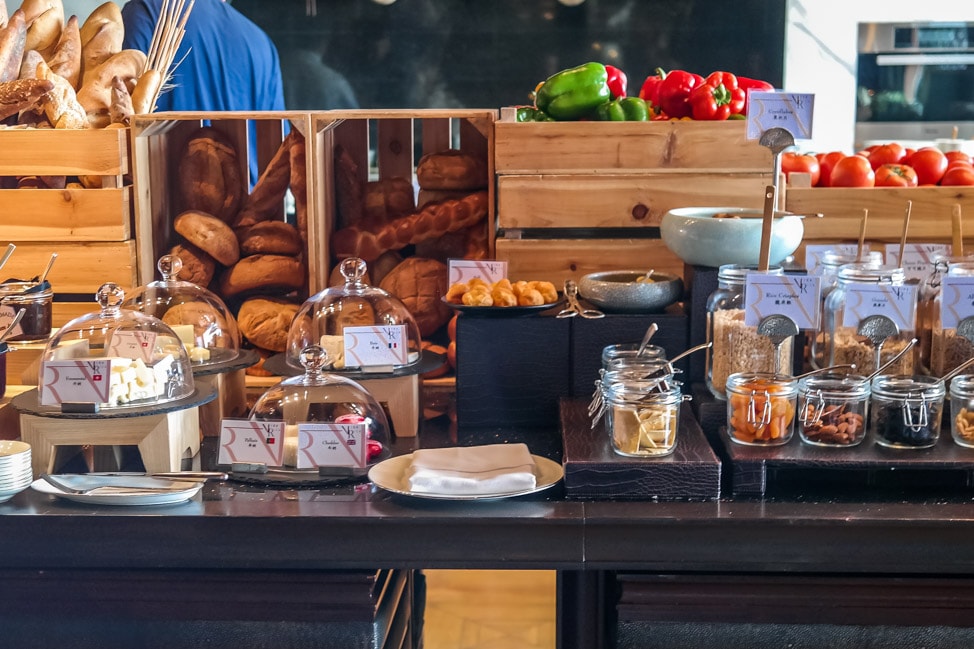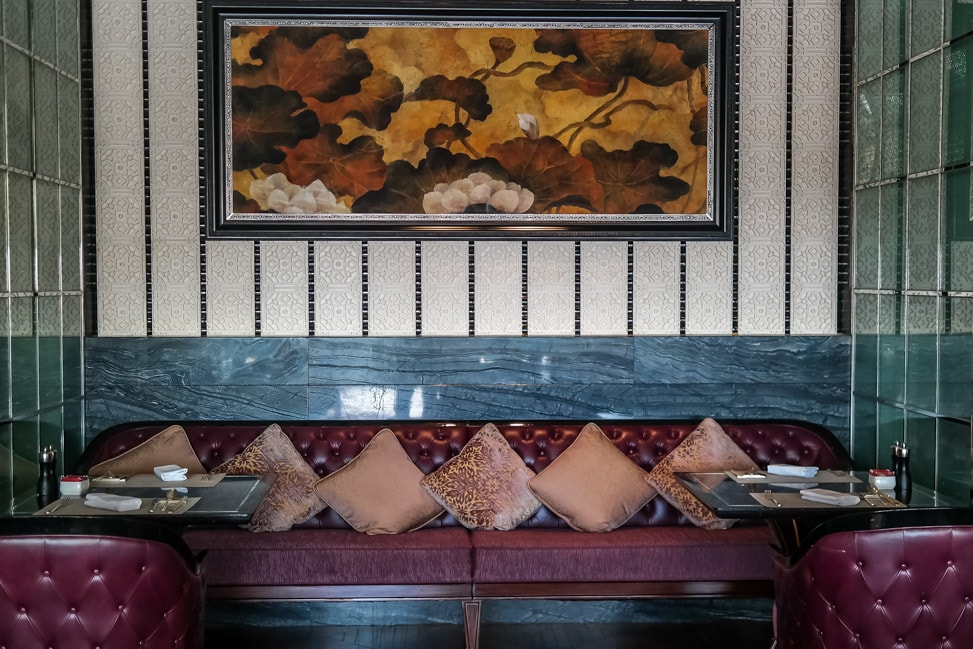 Beyond that was a full pasty selection, with over a dozen house-made treats, like strawberry and pistachio muffins and whole wheat croissants.
Eggs were missing from the buffet, but at the back were three hot stations manned by the kitchen team. Here, they only cooked eggs to order, rather than those typically sad, overcooked, room temperature eggs on most hotel breakfast buffets. A noodle station had bowls of rice noodles with a variety of toppings, and there was a pancake, waffle, and french toast station as well. Julie couldn't resist a homemade waffle with fresh strawberries slivered almonds, and maple syrup (and peanut butter for protein, just like when we were kids).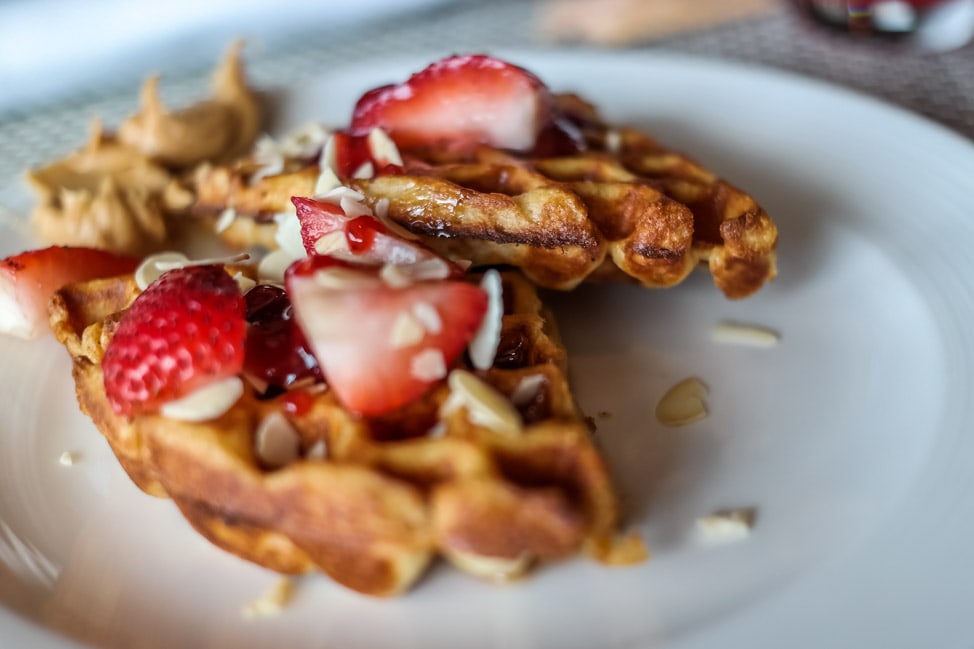 The Mandarin Oriental Macau Spa and Pool 
We decided to take a look through The Spa at Mandarin Oriental with the assistance of the manager, who showed us all of the facilities. This is one of the finest spas in Asia, having won numerous awards, and it is easy to see why. There are four individual treatments rooms, three treatment suites, and one Oriental Spa Suite, featuring dedicated changing rooms, hydrotherapy pool, and Thai massage beds. In addition to the treatment facilities, there is a tea room, lounge, and even a digital detox zone, all meant to calm and relax guests before and after a massage.
Of course, thanks to our last minute decision to visit Macau, they were no open appointments. Clearly, the Mandarin Oriental spa is a popular place.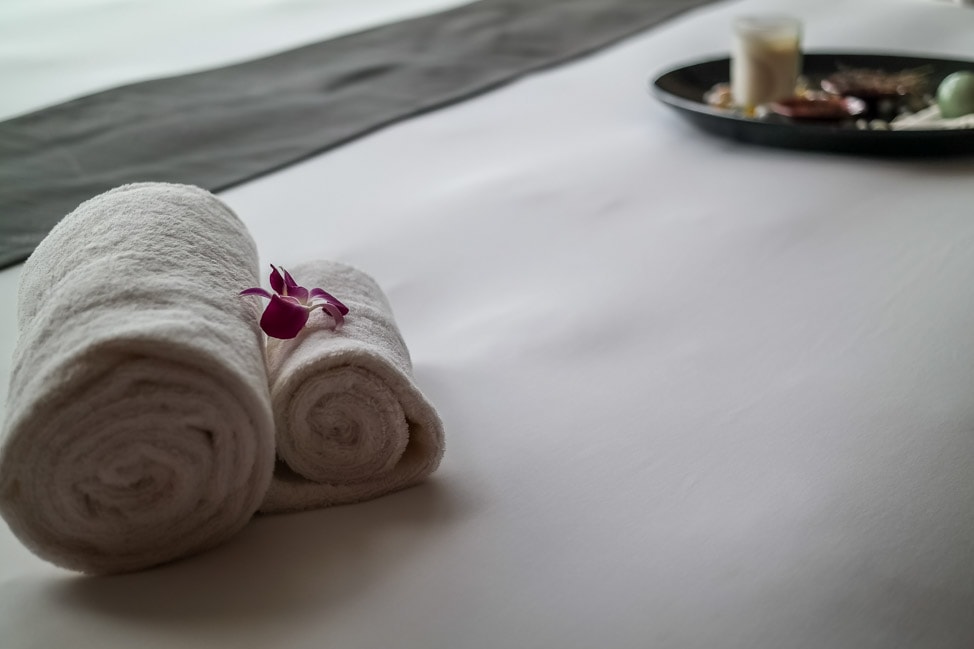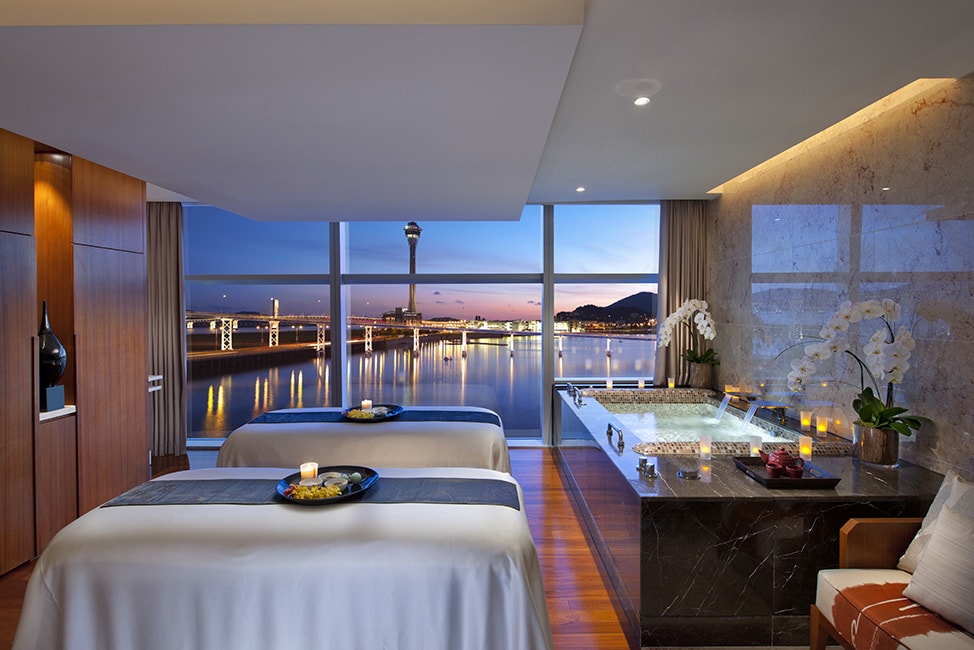 Since the spa was not an option, we spent the morning at the pool area, with a modestly sized infinity pool, hot tub, and plenty of comfortable lounge chairs. We were shown to two chairs and provided with towels and ice cold water. We alternated time under the shade of the umbrella, and dips in the pool. The pool was uncrowded enough for us to even have our own little swimming race. As we do.
The pool was refreshing, and against all odds, even the hot tub still felt pleasant.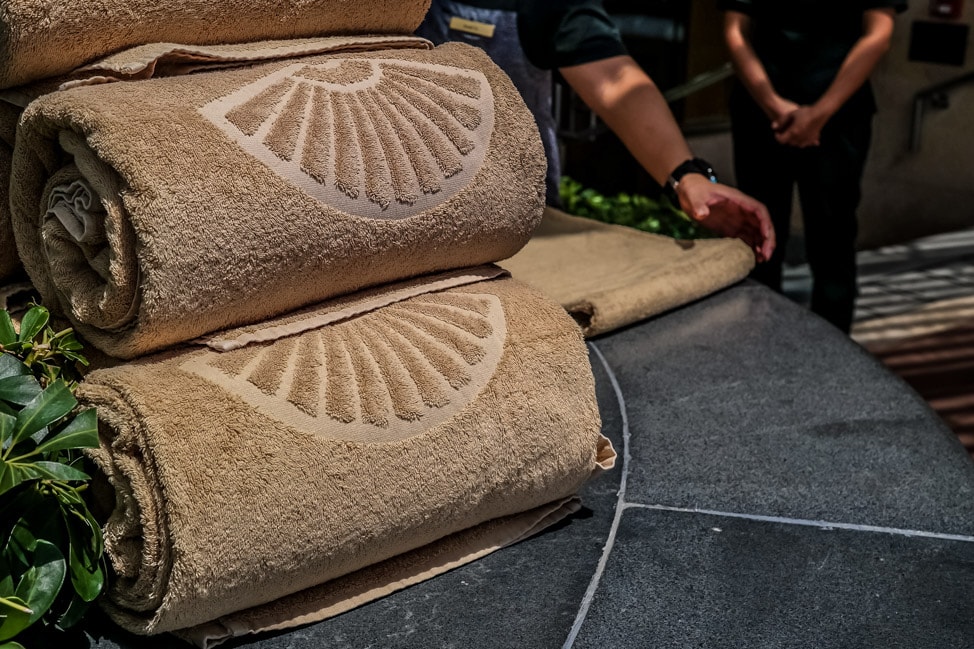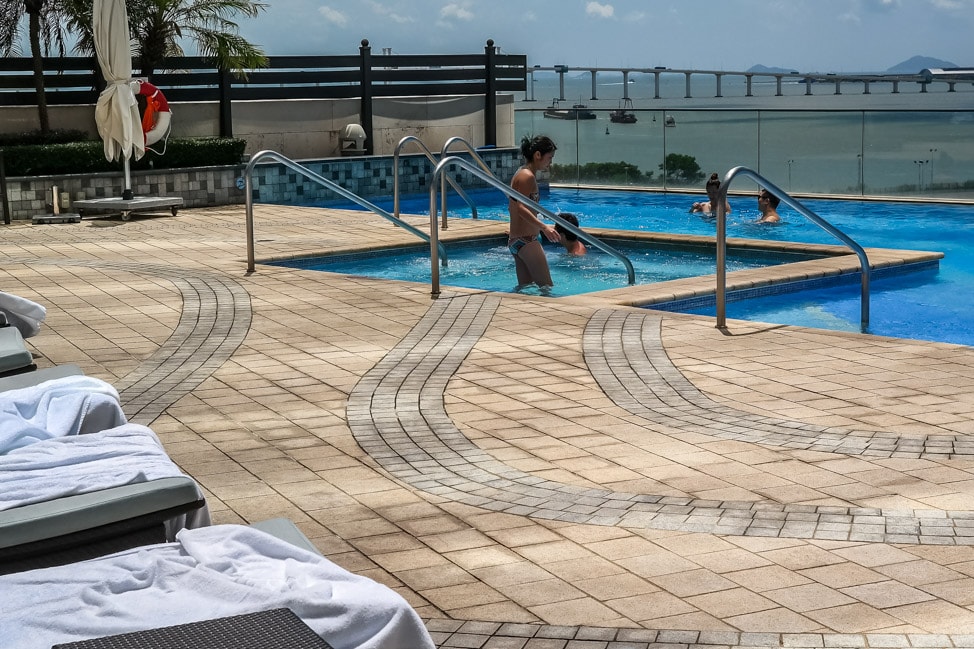 We wrapped up our time in Macau with a glass of wine at the Vida Rica Bar, waiting for our ferry departure time. As we packed up our things and loaded up the van to take us back to the Macau Ferry Terminal, we were on the Mandarin Oriental's website, looking at return dates.
Because when you've found the good life, you just don't want to leave.
We paid for our room at a special last minute rate, which included breakfast and free wifi. Standard rates at the Mandarin Oriental Macau start at around $200US for a deluxe room and $350US for suites. Thanks to the Mandarin Oriental for providing us with the dim sum lunch and tour of the spa facilities.
What did you think of our Mandarin Oriental Macau review? Share your thoughts below!