A secret lies within the beauty and tranquility of the Lake District.
In the tiny village of Cartmel, with its frighteningly narrow lanes and old stone buildings, lies L'Enclume, a culinary gem in a former blacksmith's workshop. When we decided to venture north from London for a long weekend in the Lake District (about 4.5 hours by train from London Euston Station), a meal at L'Enclume was a must-do. We had previously eaten at Chef Simon Rogan's London outlet, Fera at Claridge's, for New Year's Day lunch, and were simply blown away by the unique, modern cuisine. Quite frankly, it might have been the best meal we've had in London to date. Having an opportunity to dine at his first restaurant in Cartmel was simply too good to pass up.
We stumbled upon the restaurant while searching for that elusive parking spot on a busy Easter Sunday morning. After circling the small village center, we drove right past the front door, easily visible from the car as we slowly rolled past thanks to the location directly on top of the narrow road, the entrance almost within reach of the passenger-side window. After we secured parking (finally!), we retraced our steps back through the quaint village to the entrance of L'Enclume.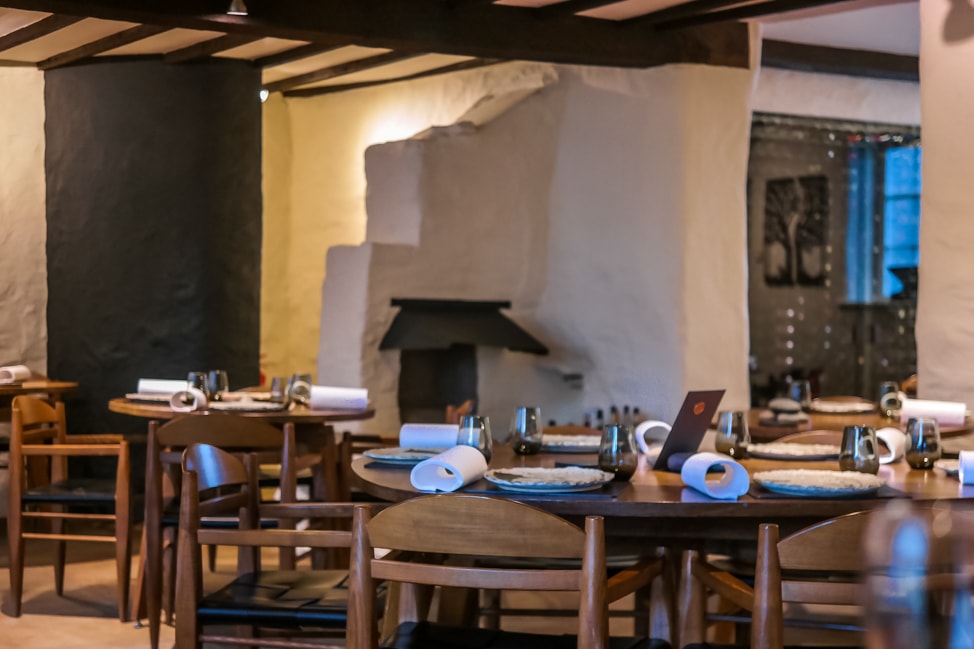 The interior is a transformed blacksmith's workshop, and our table was positioned right next to a hearth with an iron anvil on full display (enclume means "anvil" in French). The room still feels old and historic, with its whitewashed walls and its short, wooden-beamed ceiling. Thankfully, they added a glass-enclosed atrium in the back of the building, bringing a wash of natural light into the entire dining room.
The options for our lunch were a 6 course lunch menu (£49), or the full 17 course tasting menu (£130). It was kind of like deciding between going out for a quick pint in the afternoon and partying at some massive club until 8am. Both fun, but radically different experiences. We chose the more abbreviated menu, since it was 1pm and the idea of eating plate after plate all afternoon seemed too monumental a task. Plus, we were in the Lake District, so we had planned for a late afternoon walk to work off our indulgent lunch.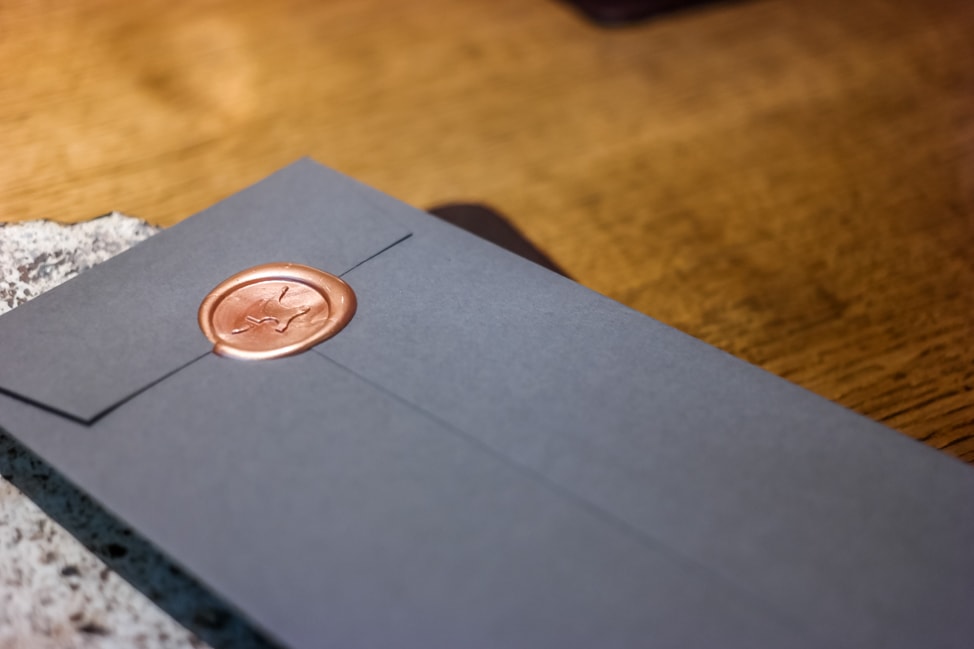 The captain delivered our menu to us, printed on a piece of paper, folded, put into an envelope that was then sealed with hot wax, embossed with the anvil logo. It was like receiving an urgent letter from the king in medieval England, as we anxiously broke the wax seal to discover what food was about to descend upon us.
Food Breakdown

Cod "yolk" with pea shoot, salt and vinegar
Since "yolk" is in quotes, we knew to expect that the egg yolk in the center of the bowl was not in fact an egg yolk. It was a perfect sphere of brandade, a smooth puree of cod and potato, served with a garlic emulsion and salt and vinegar powder. The flavors were intense, and we could have easily finished a bowl of the rich, creamy garlic emulsion by itself. The vinegar powder was a nice touch too, adding some acidity to cut through the heavy sauce and cod brandade.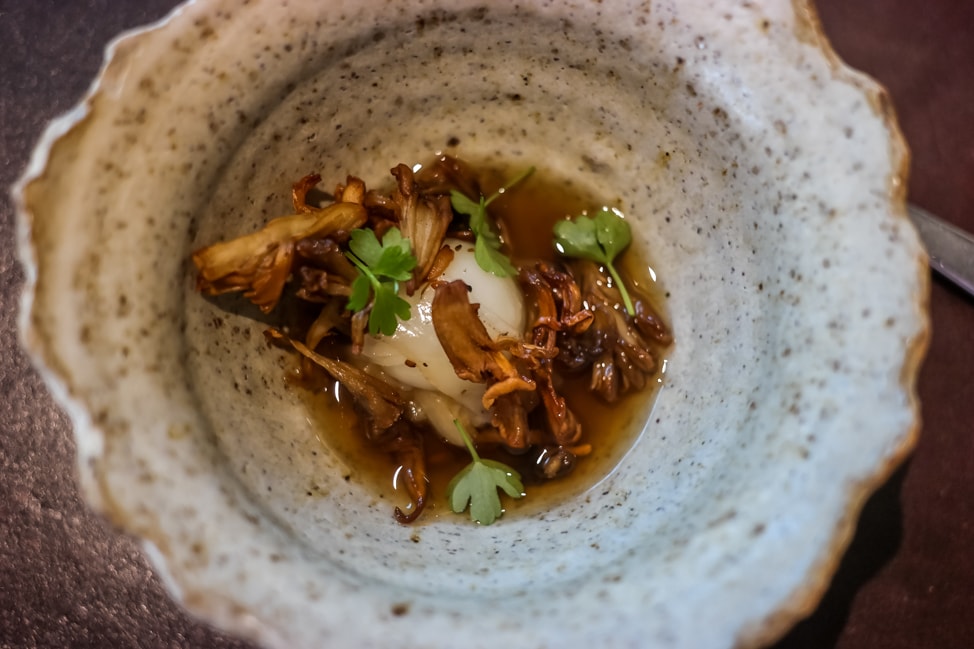 Broth of artichoke, Westcombe cheddar, pork fat and hen of the woods
Possibly our favorite dish of the day. The broth, poured table side, was rich and aromatic, with a tiny, light dumpling made from Westcombe cheddar hidden beneath the pile of roasted and pickled hen of the woods mushrooms. It was earthy and incredibly savory.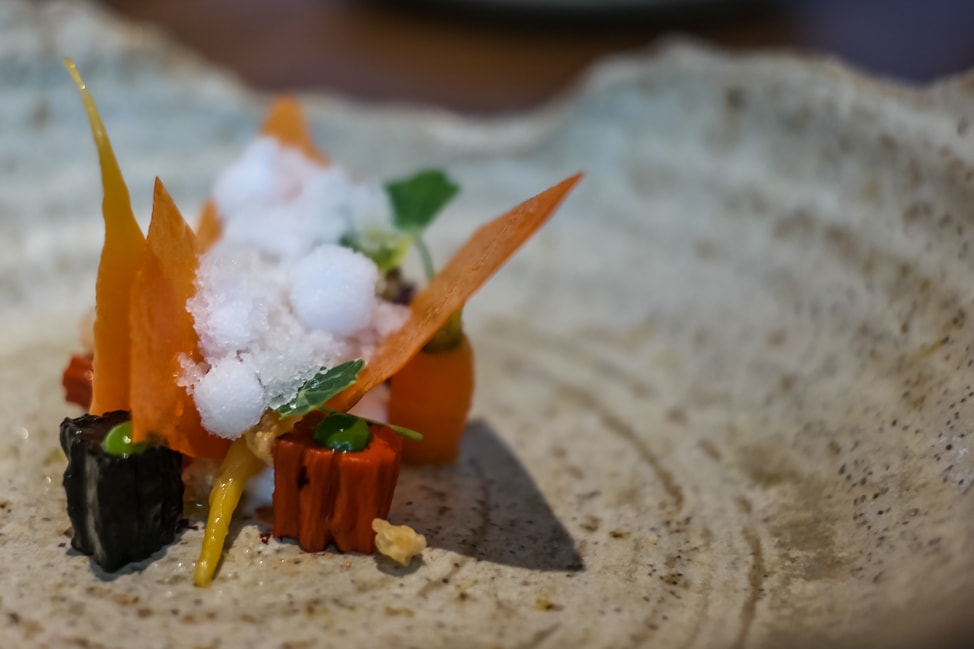 Carrots with ham fat and nasturtium
This was the only dish we were lukewarm about. The carrots were presented in a variety of textures, with roasted carrots, carrot chips, and reconstiuted dried carrots that had an bizarre, chewy texture. The nasturtium  added more herby freshness, but after such a flavor bomb of the previous course, this one was almost too restrained.

Guinea fowl, beatroot and wood blewits
Our main course was beautiful, as the guinea hen, a bird we are generally blasé about, was perfectly cooked, incredibly tender, with a shatteringly crisp skin. The beatroot and wood blewits (a type of mushroom), added some earthiness, and a puree of the liver and kidney of the guinea fowl, added a real depth of flavor. Certainly not your typical boring guinea fowl dish.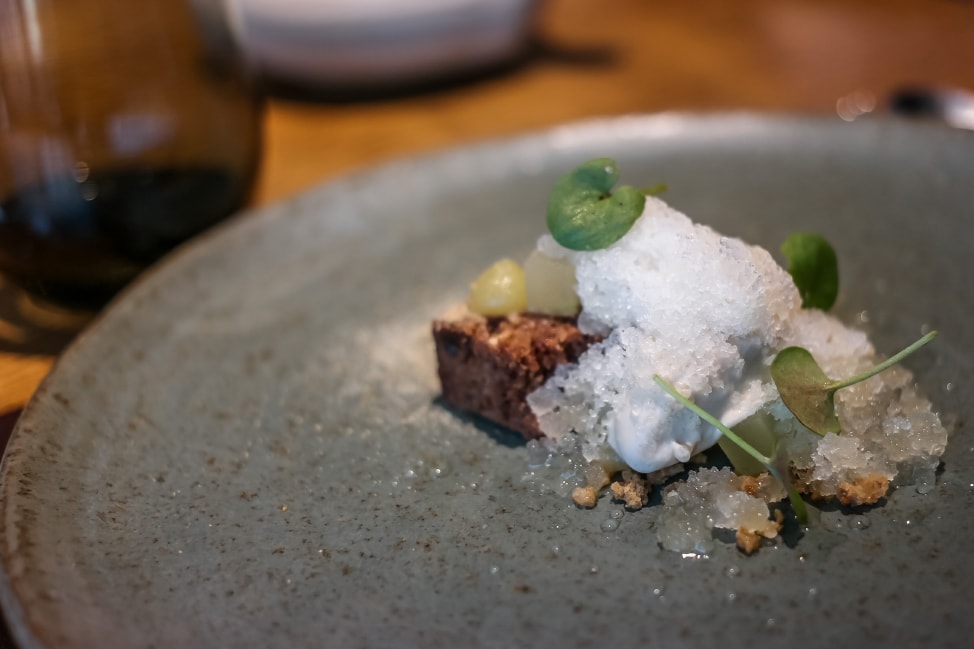 Spiced apple, lemon thyme
A light, spiced gingerbread essentially, presented with some crumble, lemon thyme ice, and a lactose ice cream. The gingerbread was outstanding, the spices and ginger working perfectly with the dollops of concentrated apple puree. The lactose ice cream tasted of rich cream and the lemon thyme ice added a textural and temperature contrast. A nice way to begin the sweet section of the lunch menu.

Sheep's milk, rhubarb, sorrel and yogurt
Our final course was a perfectly executed contrast of textures and flavors. The rhubarb, with its trademark tartness was ideal for the sheep's milk, and the yogurt was dried and turned into a crisp, a process that confounds my mind. The sorrel was a master stroke as well, added more freshness and savoriness to the final sweet bite.
Conclusion
L'Enclume was a major highlight of our weekend in the Lake District. The dining room was charming without feeling stodgy. The entire staff was extremely professional but completely approachable. They obviously had the ability to read the guests, offering more light-hearted attention to certain tables, while being more demur with others. The staff also handled my gluten allergy with restraint, just confirming it once at the beginning of the meal. They provided some of the best gluten-free bread I've consumed, along with separate ramekins of butter and ham fat (yes, they give you whipped ham fat for your bread. It's ridiculous!), a touch even the most attentive restaurants overlook.
For wine lovers, the wine list is extensive and varied, offering a wide range of price points. We did not do the wine pairings (£40 at lunch, £70 at dinner), opting to select from their wine by the glass selection. The sommeliers on the floor were fantastic, and were eager to help the guests find just what they wanted to drink.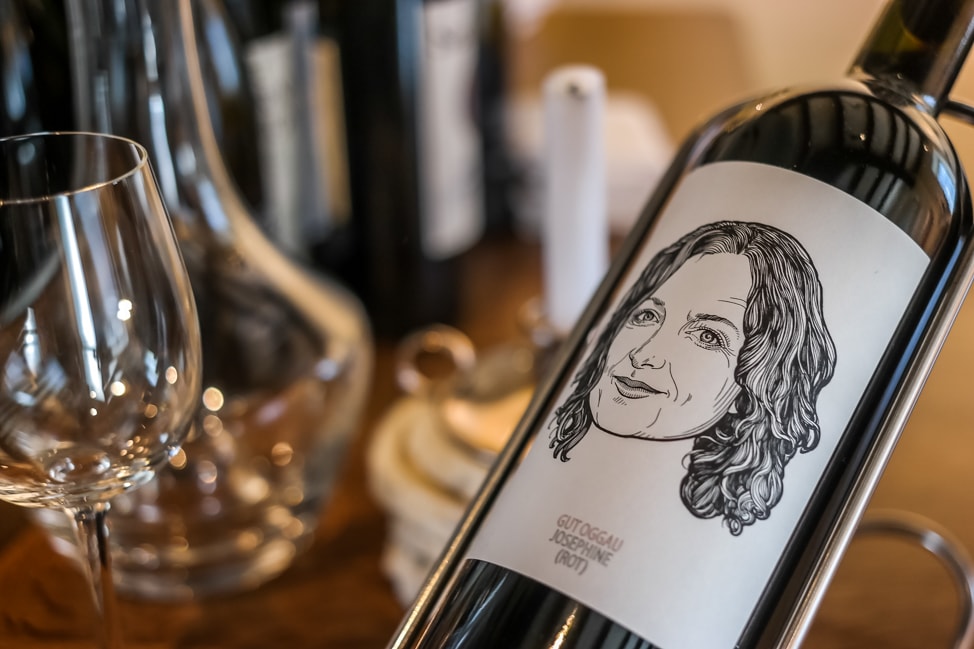 Needless to say after this meal, and a short stroll around Cartmel, we headed back toward our hotel quite full and very satisfied. Our planned late afternoon hike through the serene Lake District countryside was quickly replaced by a nap in our room.
While we missed out on seeing more of the outdoors on our Easter Sunday, we certainly did not regret our trek to L'Enclume, as this meal will not soon be forgotten.