2016 began with a bang!
With a mild hangover from New Year's Eve festivities, we ventured into the dining room at Fera at Claridge's, a one Michelin star restaurant from Chef Simon Rogan, for New Year's Day lunch. We had heard great things from several  friends and we decided to ring in 2016 with style and class, especially since we ended 2015 binge-eating cheesy spinach dip late into the night.
The restaurant is situated just off of the grand lobby of the famous Claridge's hotel, still elegantly decorated in full holiday spirit. It is the type of lobby that you need to dress up to walk through, even if you are heading to the hotel breakfast, meaning my normal attire of sweatpants and flip flops would raise a few eyebrows. It has a sense of formality that bestows its standing as one of the hotel darlings of London since the mid-19th century.
The entrance to Fera is understated and a little hidden, but once through the black curtain, a masterpiece of Art Deco design emerges. Given Simon Rogan's modernist take on food, I had anticipated a more sleek, modern dining space, but the room is formal without being stuffy.
Fera offers a set lunch of three courses for £39, as well as a la carte and a tasting menu. Julie decided to go with the three course set lunch, while I selected a starter and a main from the a la carte menu. The tasting menu (£110) was tempting, but seemed too big of an endeavor to start our New Year's Day.
Food Breakdown


Snacks 
The meal began with a succession of snacks from the kitchen. We had a light-as-air wafer topped with shallot confit and burnt onion ash, which was fantastic. We were then served stewed rabbit, formed into a ball, rolled in tapioca starch and fried, placed over a puree of lovage, an herb that has a strong celery flavor. For a lack of a better description, it was the best chicken nugget you could ever eat. The snacks concluded with a "soup" of potato and Tunworth cheese with confit duck heart. The soup was a puree of potato and Tunworth aerated in a canister, so it was more similar in texture to a dense foam than a soup. However, it was incredibly light in texture, despite the heavy and intense flavors.
Pork Jowl with Carrots, Mushrooms, Stout Bread, Nasturtium Leaf 
The pork jowl, the braised cheek of a pig, similar to pork belly in texture, was rich and unctuous. There were also fatty, crunchy pieces of pork, adding more textural surprises. The freshness of the nasturtium leaf and carrot puree around the plate were essential, or else the dish would have been on the heavy side.
Cornish Lobster with Black Garlic, Chicken Skin 
I would not normally think of lobster and chicken skin as a pairing, but in this case, it worked incredibly well, as the fattiness from the skin was a perfect partner with the delicious lobster. The smoky black garlic puree, as well as chicken sauce that accompanied the dish, were decadent. I think I could have eaten a whole bag of the fried chicken skins.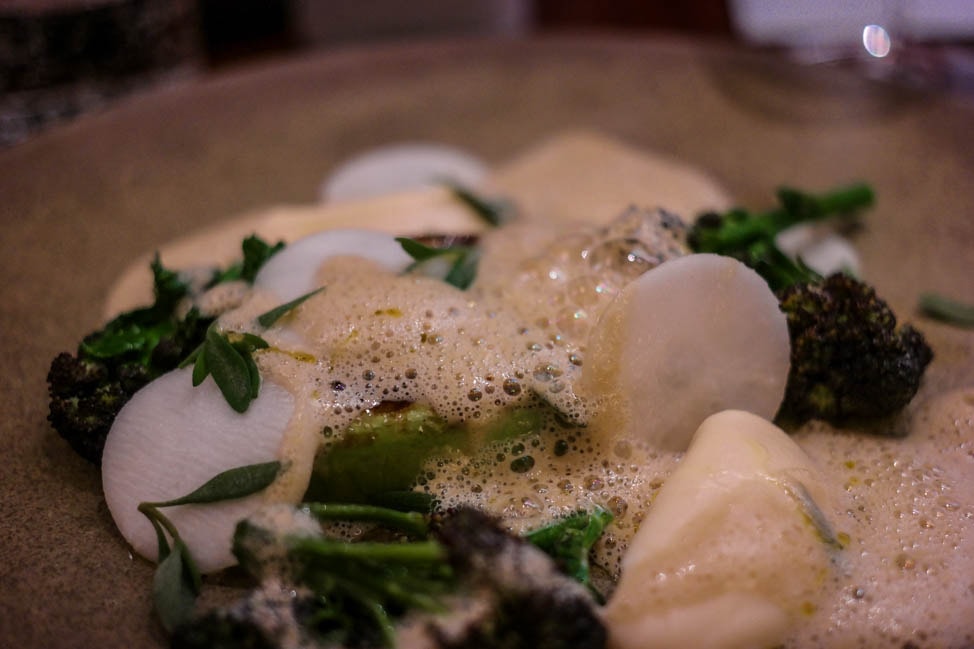 Hake in Hispi Cabbage, Purple Sprouting Broccoli, Parsley Root, Mussel Sauce
The delicate white fish was served wrapped in the cabbage leaf, topped with the mussel sauce. The sauce was superb, as it was it adding the powerful flavor and aroma of the sea to the dish. The parsley root, served as a puree, seemed to be made with at least fifty percent butter. It was velvety smooth and better than the best mashed potatoes.

Roe Deer, Smoked Beetroot, Chicory, Cauliflower
Roe deer, a smal European variety of deer, was served perfectly medium rare, with the smoked beetroot and beetroot sauce. The dish itself was beautiful, and the deer was ridiculously tender, with just a hint of game flavor without being overwhelming. The crispy cauliflower and chicory added nice contrast to the dish. 

Salted Chocolate Cream, Bergamot Nitro
We concluded the meal with a simple dessert of salted chocolate cream, which had the ideal level of saltiness and was essentially a chocolate mousse. The bergamot nitro was flash-frozen using liquid nitrogen, creating a textural element for the the smooth salted chocolate cream, as well as a strong citrus aroma and flavor. We were also given chocolate truffle and a bite-sized jelly flavored with candied fennel to end the meal.
Conclusion
Our meal at Fera at Claridge's is without a doubt one of the best meals we've had in London. From the dining room, to the stellar cocktail and wine program, to the beautifully plated food and unusual ingredients, Fera pulls it all off and makes it look effortless. The service team deserves a special nod, as they were excellent throughout the meal. I personally enjoyed the way they handled my gluten allergy, simply confirming it with me at the beginning of the meal not mentioning it again. I hate having to constantly remind staff or be constantly reminded that I have a gluten allergy. I ordered what I wanted, and they made it work, including provided me with my own bread and separate butter ramekin (a nice touch overlooked by most restaurants).
While Fera at Claride's is pricey and not the kind of place most people visit on a frequent basis, it is without a doubt a restaurant we will be revisiting again soon, this time to enjoy the full tasting menu experience. While there are dozens of fantastic high-end restaurants in London producing quality food, it is hard to argue that any particular restaurant could be more worthy of your hard earned money than Fera at Claridge's. A splurge that is truly worth it.
Status: Highly Recommended
Fera at Claridge's
49 Brook Street
London W1K 4HR
Have you been to Fera at Claridge's? What are your thoughts? Let us know in the comment section below!