The tour bus crept along in front of us. Lurching forward and screeching to an abrupt halt, it navigated the narrow walled streets. Streets that clearly weren't built with tour buses in mind.
We cursed silently, willing our long drive to finally end, willing the bus to turn off the damn road already, willing ourselves to see the Roman-era walled cities as artifacts of beauty not bumpers in a sadistic race course.
Without an end to the traffic torture in sight, our plans of exploring Lake Como by car for the next few days, village-hopping up and down the coast, were squashed.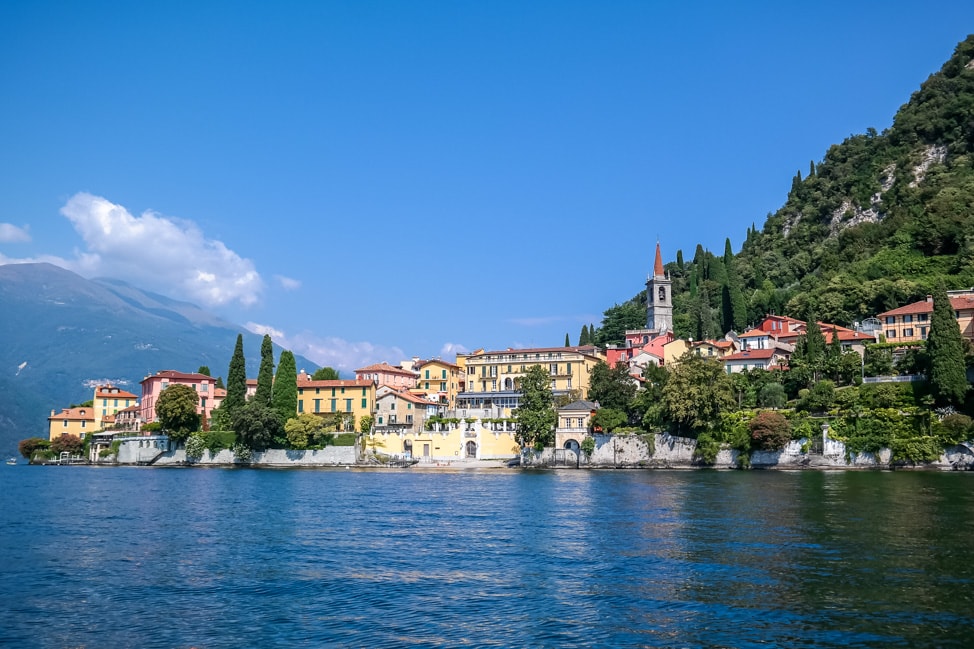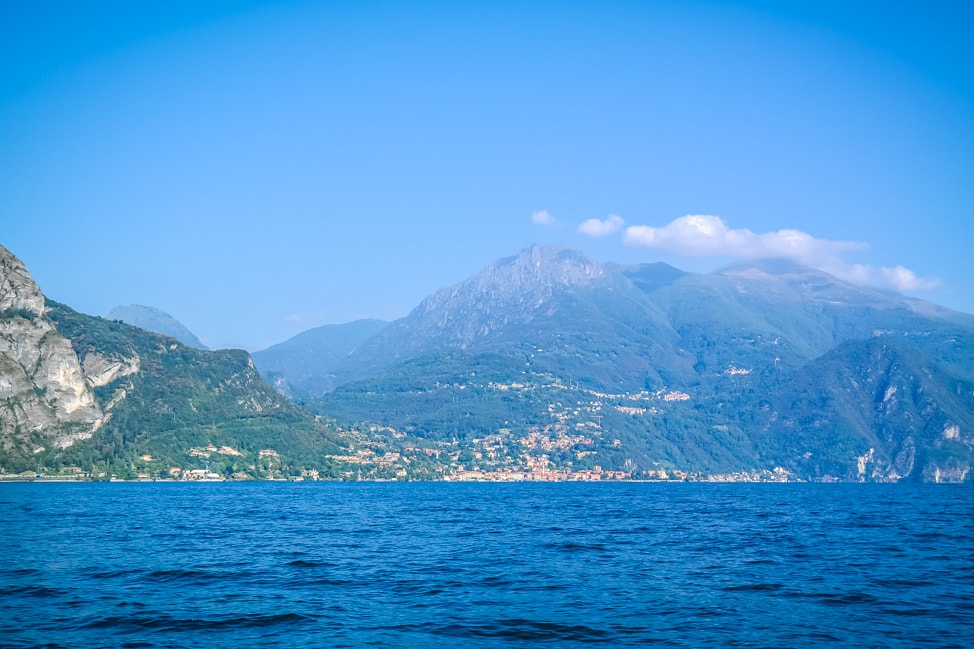 Lake Como is massive. In my imagination, Lake Como was petite, easily circumnavigated, a few small villages, a handful of villas and regular interactions with George Clooney, the lake's most famous resident. In reality, the lake is seriously huge, nearly 30 miles long. The drive from the southernmost point to our village in the central region of the lake took over an hour.
No thanks to that tour bus.
After we gave the car exploration idea the ole' heave ho, we realized that we were probably better off. I mean, we were at a lake for goodness sake. Seeing it from the comfort of the air con and streaming Spotify playlists is a little lazy, even for us. A little research gave us a few ideas about how to get our fill of Lake Como down at sea level.*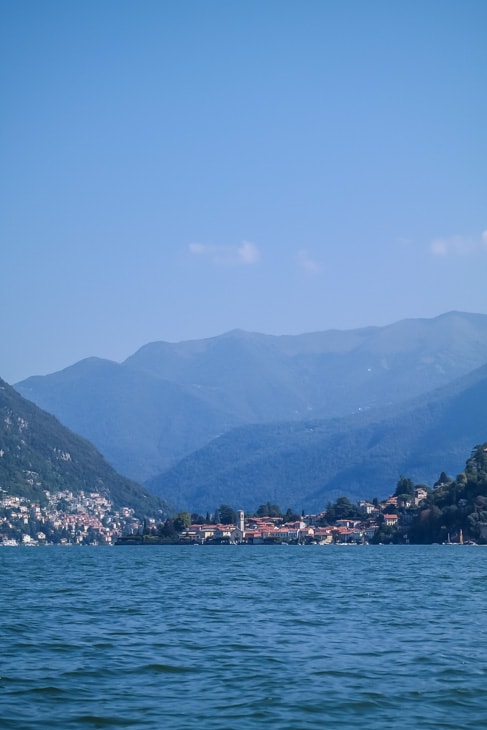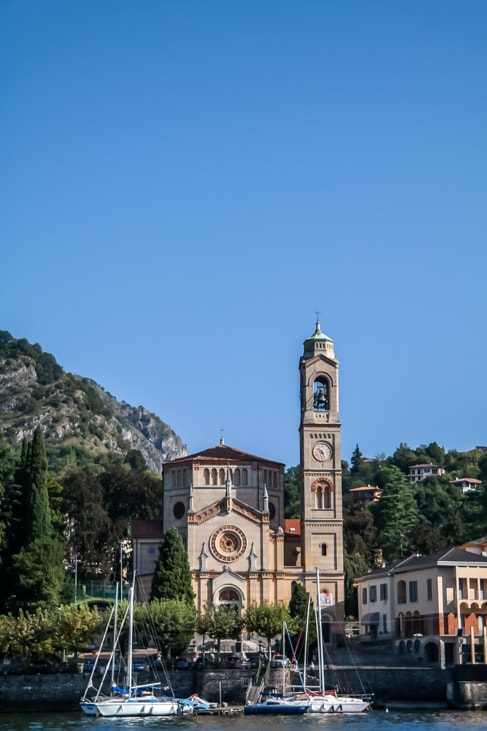 The lake is home to a reliable ferry system, shuttling people to from village to village. Water taxis are also always available, though the logistics of how to flag one down remained elusive to us. On the manual powered side of things, kayak and canoe rental agencies set-up shop along the water for hourly rentals.
But the best option of all, the one that had us itching to get to the water, is a selection of several private companies who offer eager customers a private Lake Como boat rental by the hour. Without the need for a boat license.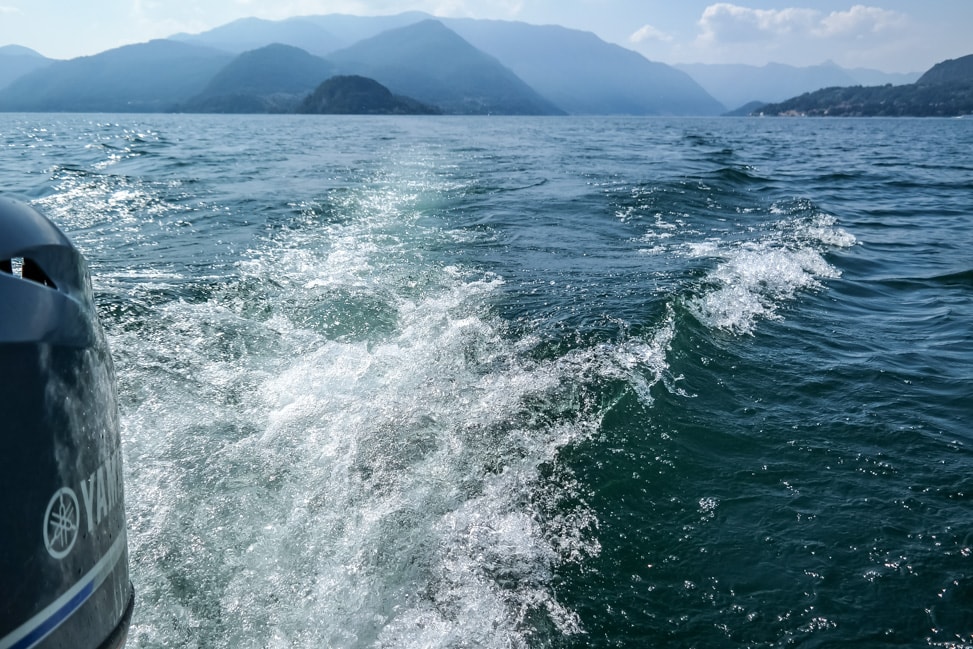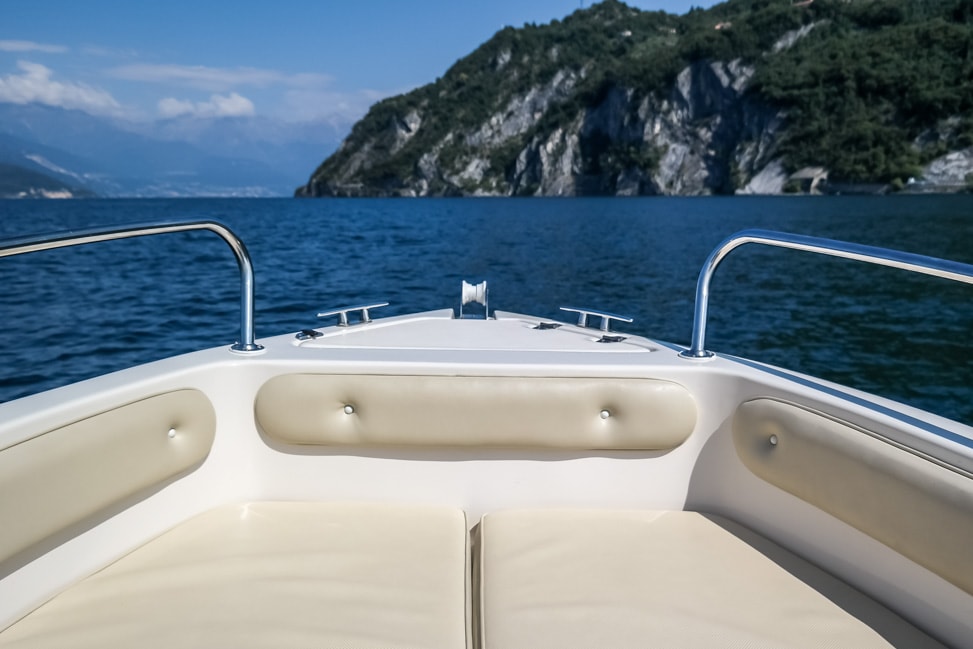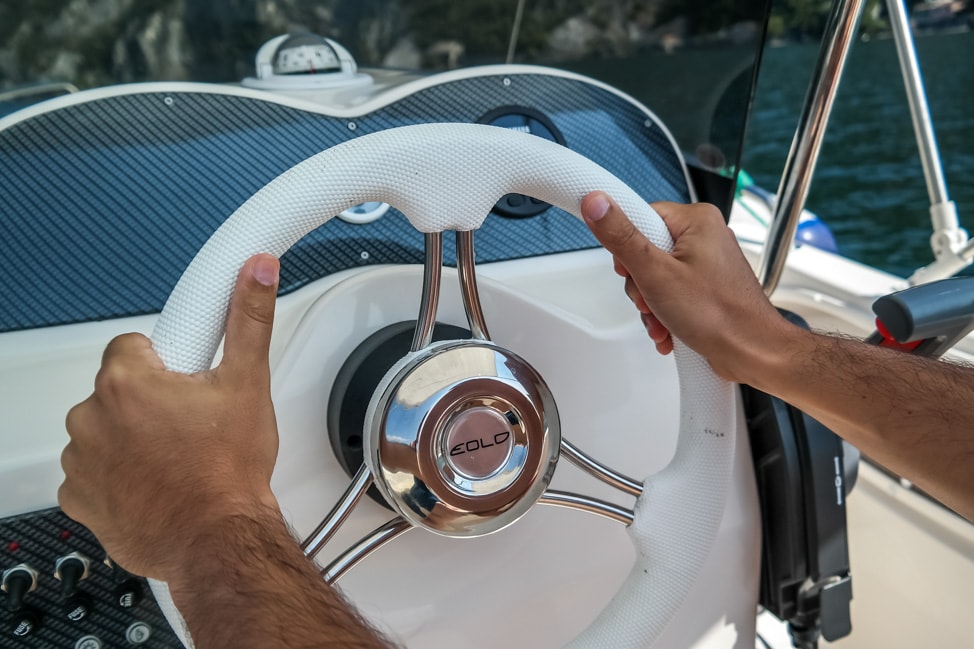 Handing over a small watercraft to two inexperienced seamen for a few hours? That seems downright dangerous. And fun.
Our rental came from AC Boat Rentals, located in our village of Menaggio. We arrived at the dock promptly at 10am, ready for extensive lessons about marine right of way, buoy colors, and how to dock the boat upon our return without inflicting an major damage.
Instead, we were taken straight to our boat. One of the dockhands came on board with us, showed us how to turn on and off the boat, how to go forward and backward, and where to stow our shoes. The rest, he promised, was in the manual. And then he gave us a little push and we were off.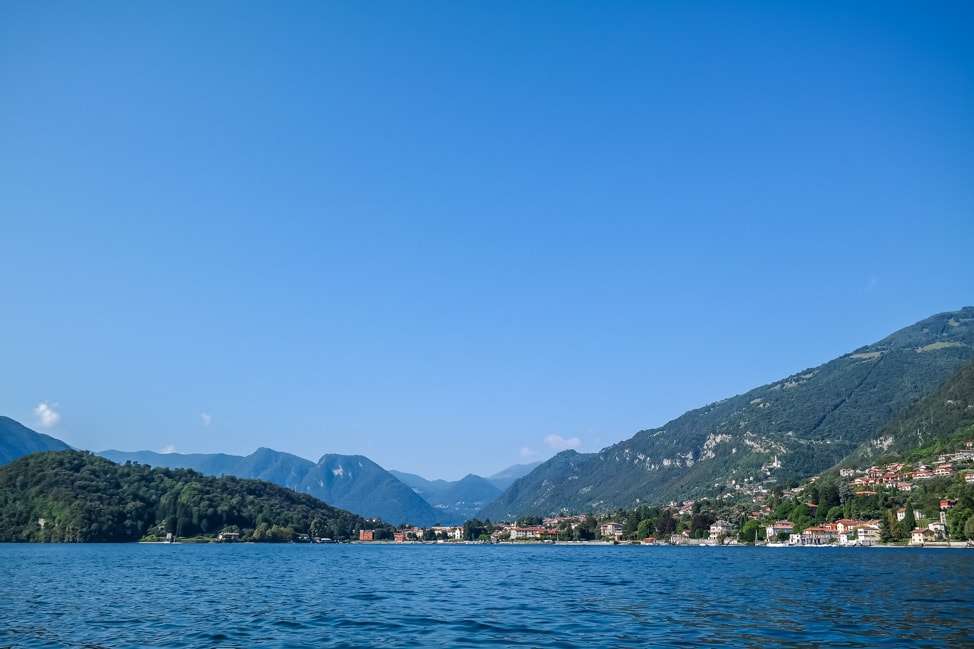 The manual, it turns out, did have an emergency phone number, but more important, the location of famous villas up and down the lake.
Within five minutes, we decided that a Lake Como boat rental was one of the best things we've ever done. The next three hours reaffirmed our thoughts. From the peacefulness of the empty lake, no tour buses in sight, we were able to completely relax, and to see the lake like it is really meant to be experienced, from the water.
Small village after small village sat snuggly along the shore, the terra-cotta roofs and multi-colored facades easing by in a steady stream of picture perfection. High in the hills, single homes peeked out, their views unobstructed by pesky things like buildings or roads. At the village edge usually lay a sprawling villa or two, gardens extending well beyond a normal sized property.
The villa below, for example, was featured in Star Wars (Episode 2: Attack of the Clones) and also one of the Bond movies (Casino Royale). The house below that was in Ocean's Twelve.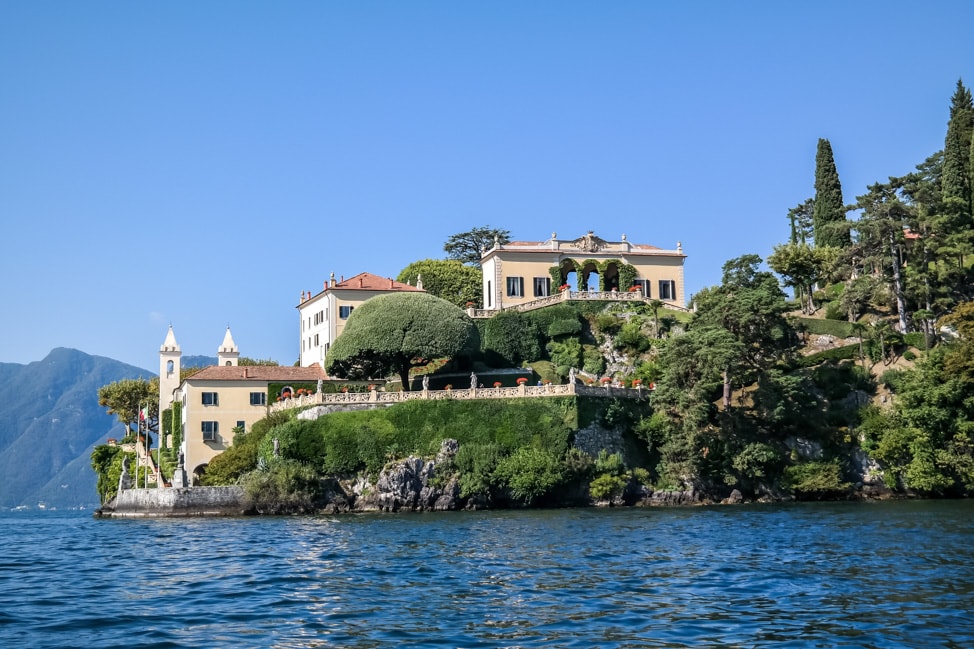 We needn't have worried about safety or how two novices would handle a real live boat. Our boat (see how swiftly it became ours?) was about 20 feet long, and was easy to handle. While we both know the basics of waterway rules, like the bigger boat always gets right of way, there were few boats on the water at all, leaving most of our knowledge untapped.
We took turns driving and consulting our manual to point out the famous villas as we passed. While I desperately tried to take photos with a straight horizon, Drew did his best to avoid windy areas or the wake of stray boats. We even pulled over for a bit, in a secluded little glen, to sunbathe on the padded bow.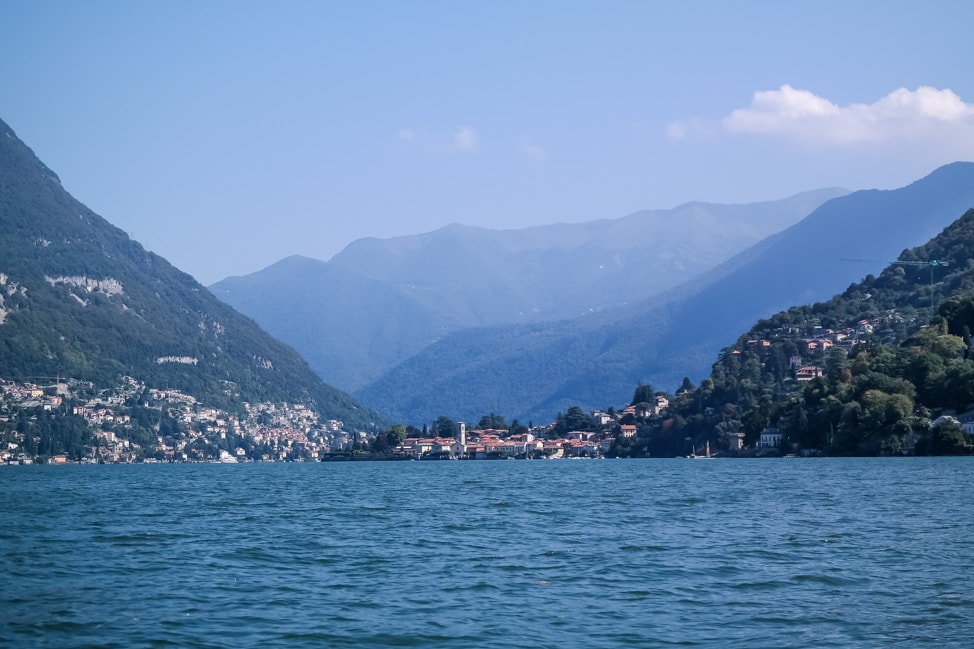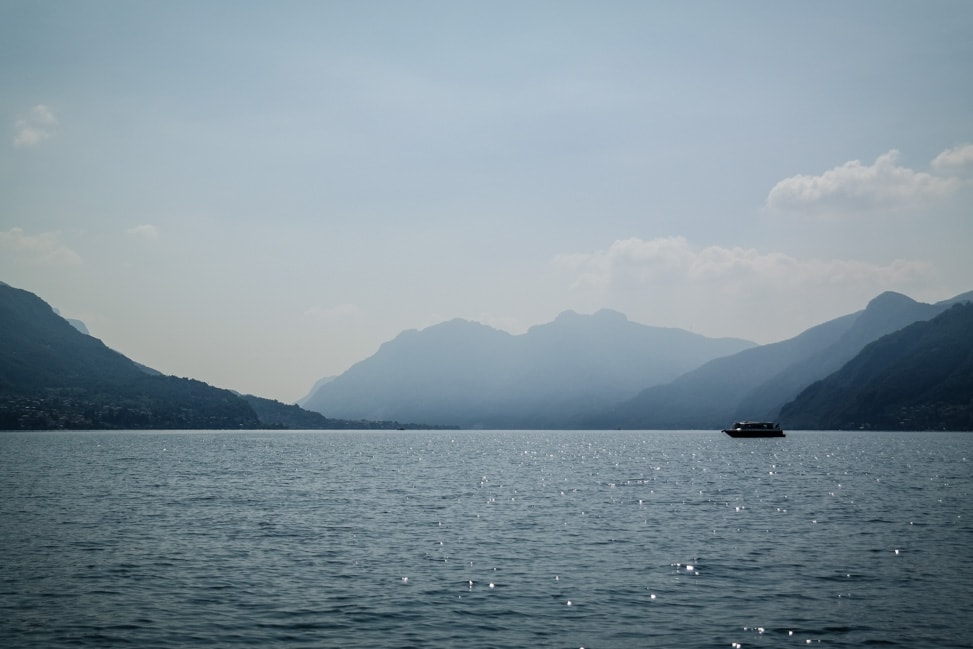 Our three hours were up before we knew it. We crept up to the dock, engine idling long before it was actually necessary, as a young dockhand waited patiently for his precious cargo. The parking went off without a hitch, and we eased back onto dry land, high on adrenaline and life. Blissed out from the perfect morning, we actually decided that the rest of the day should be spent doing absolutely nothing, lest we start comparing any inferior activity to our morning on the boat.
We made a short video of our time on the lake, which I keep watching over and over. It's a good reminder for me that some places are best explored from the water. Just like nature intended.
*Technically, the bottom of Lake Como lies below sea level. It's one of the deepest lakes in Europe, nearly 1,300 feet (400 meters), and at the bottom, it is 660 feet (200 meters) below sea level.
Many thanks to AC Boat Rentals for providing a boat to us free of charge. It's not very frequent that a top-activity-ever-experienced-in-life gets handed to us, and we are grateful for the opportunity.