Before you roll your eyes and think, not ANOTHER article waxing poetic about Italian wine, bear with me. I promise this isn't about wine. We'll talk about wine some other time. Today is the post I wish I had read before visiting Barolo, an enthusiastic but novice Italy lover, whose sense of direction and distance is, shall we say, spotty.
(By the way, before I publish this, I am asking Drew, the wine expert and geography nerd, to read it over to make sure I'm not leading others completely astray. As soon as it has passed his test, I'll publish.)
As a person who has been around wine a lot, having married into a wine loving family, I am familiar with Barolo, Dolcetto, Moscato. Those words vaguely mean something to me. I know, for example, that Barolo is expensive. Moscato is sweet. Dolcetto is not sweet, despite the sweet-sounding name.
That's basically it for me on the wine knowledge front.
All of those wines are made from grapes grown in an region called Piedmont (Piemonte, in Italian). It is a pretty large region, in Northwest Italy (close to the French border) and it is broken down further into smaller regions.
The wine region of Barolo is one of them. Simple enough.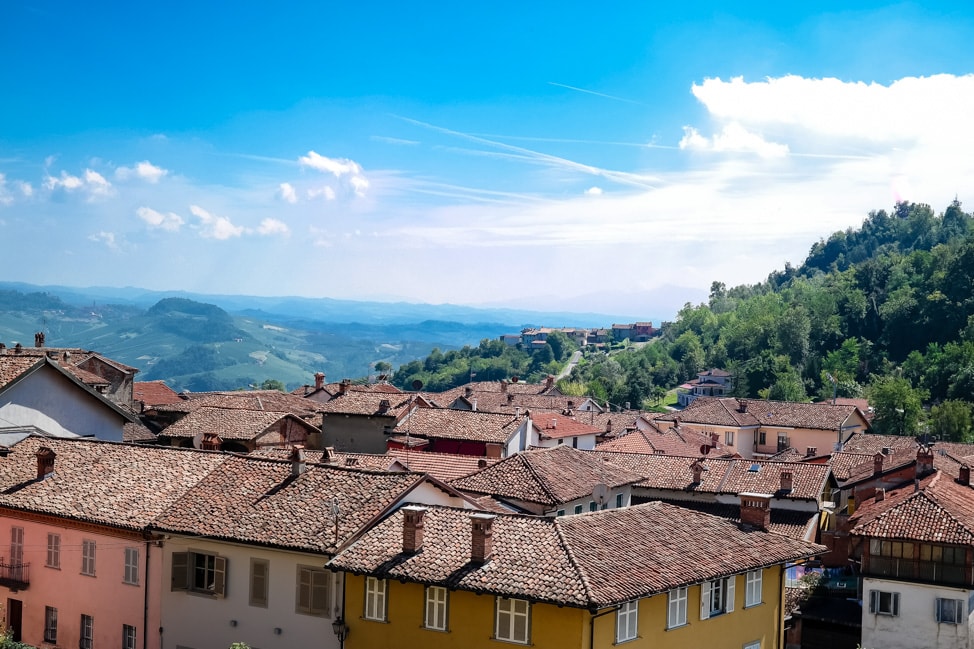 When we spent four days recently in Piedmont, we didn't really leave the Barolo region. There is plenty to do and see in this small area to satisfy many days of exploration. It is littered with quaint villages, each boasting enotecas selling local wines, osterias to get your fill of pasta and more gelaterias than you can possibly sample. There are hikes to be hiked, drives to be driven, hills to climb.
From north to south, east to west, the Barolo region takes roughly half hour to cross by car. Each village is, on average, ten minutes drive from the next. Most villages are at the tops of undulating hills, though a few are in the valley. The sides of every hill are reserved for the precious vineyards.
Also, most villages are quite small. We explored the area by driving from village to village, parking the car, and wandering around. There are plenty of cobblestones and uphill walks, but for a person of average fitness, walking is the easiest way to get a feel for the place. Given the pace that we travel, we visited roughly three villages per day, which allowed for sufficient downtime, leisurely lunches and lots of stops for photos and rest breaks.
Now that we've got the basics out of the way, here are the observations we made of the character of each village.
There is something for everyone as long as you like a) Italy b) wine and c) gelato.
Alba
Alba is the hub city of Barolo. It's definitely the biggest of the bunch. On the scale of city-town-village, it is definitely a town, or even a small city with lots of high end shopping and multiple piazzas. Alba is most famous for its annual white truffle festival, held in October. Don't worry though – given that Alba is synonymous with truffles, there are plenty of shops and vendors who deal in truffles year round.
We went to Alba specifically because it's home to the Barolo region Tourist Information Center, where we picked up a hiking map. And unlike the other villages, you could easily spend an entire day in Alba. If you're really a baller, there's also a three-star Michelin restaurant here, which we've heard is fantastic. Our vote for best gelato around also hails from Alba, at the Gelataria La Romana.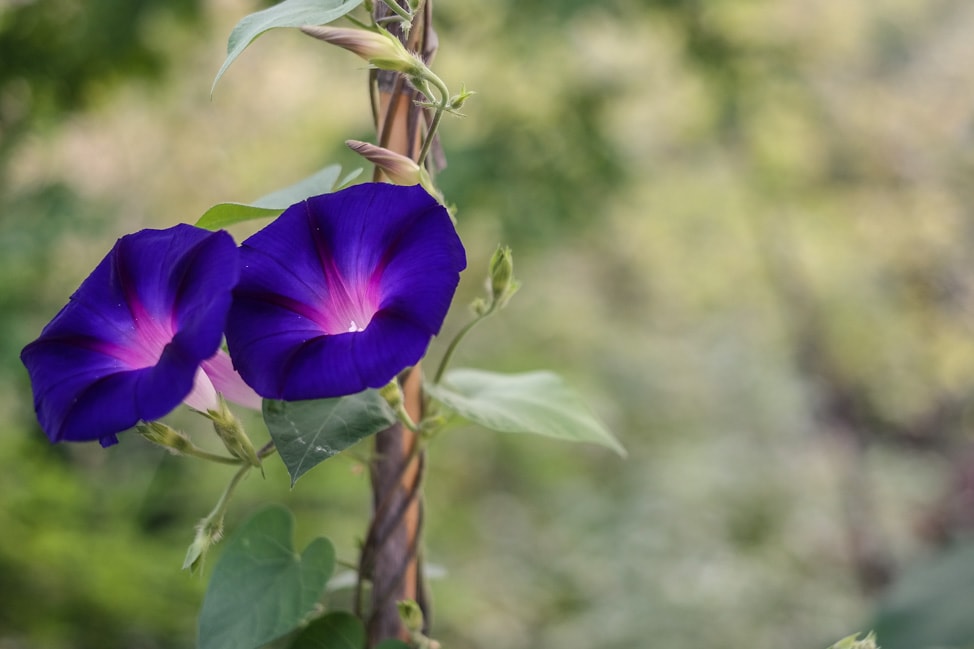 Roddi
On the other side of the size spectrum, Roddi is barely a blip on the Barolo region map. But Roddi was our home base during our stay in Piedmont, so we grew to love it. Notably, Roddi is home to the Truffle Dog University, where they teach pups to hunt for truffles. Nothing sounds better to me than watching a bunch of puppies hunt for truffles, but alas, we didn't see any. We did see a commemorative exhibit on the university, and its front door, but no dogs, no truffles. Sad face.
Verduno
Just along the ridge from Roddi is another unassuming village, Verduno. We did a hike between the two, which was a great way to spend a few hours. Verduno has a large town green, with amazing views of the valley, so if the kids need to run around or if you're in the mood to picnic, this is the place.
This tiny village is also home to a rare wine variety grown on a small swath of nearby land (Verduno Pelaverga), and there is an enoteca where you can taste it. We came on a day of a local festival (which we found out about at the Alba Visitor Center), and sampled several local wines and snacks before hiking home.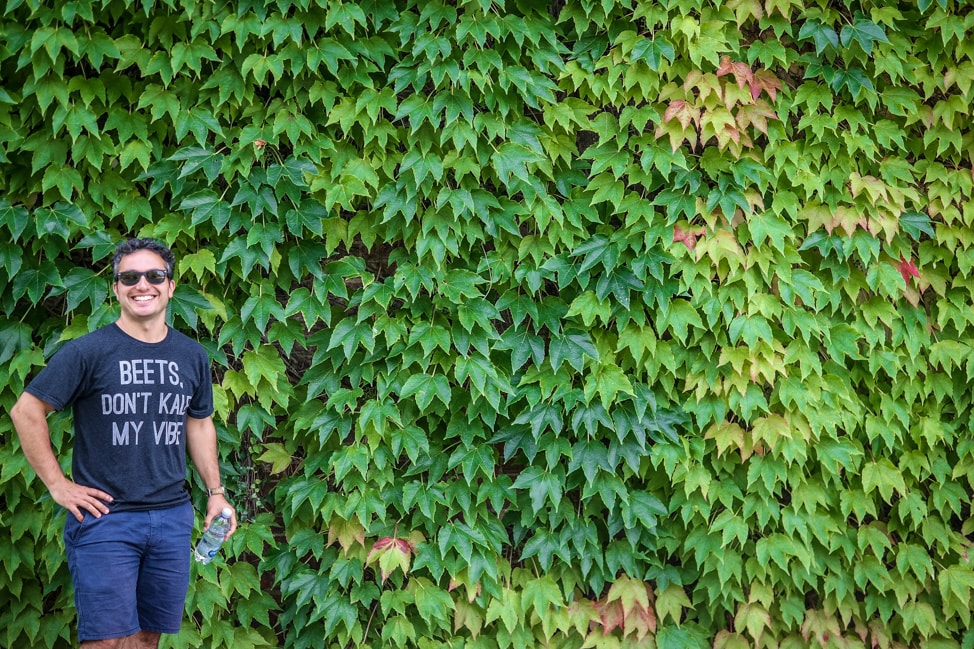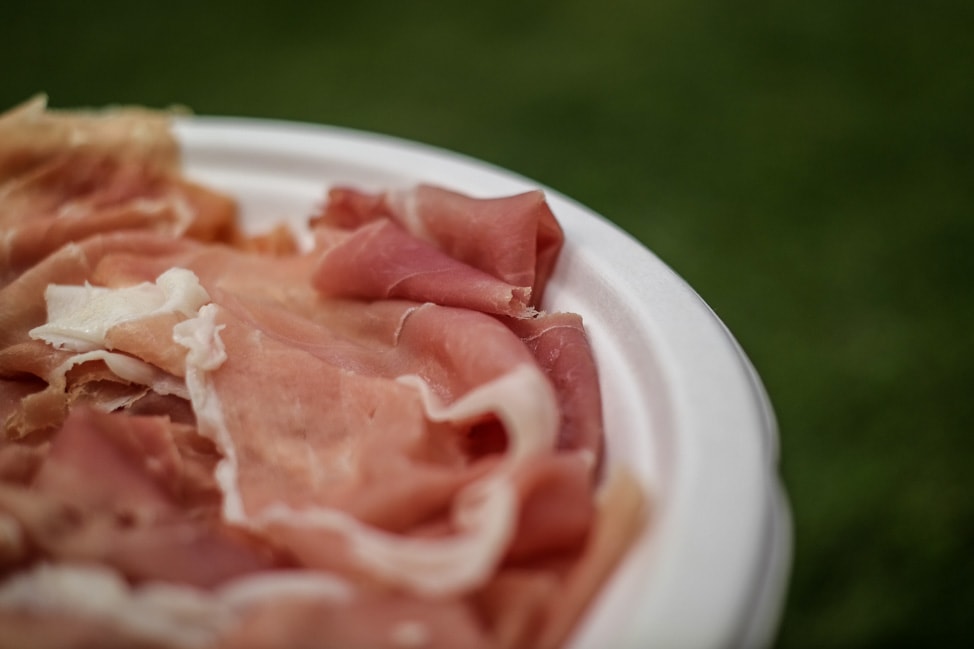 La Morra
La Morra is the highest village in the valley, and is also one of the largest. Rather than sitting precariously on the apex of the hill, the village creeps down the hillside, resulting in a terraced effect. The town center is roughly four blocks long and five blocks tall, to give a sense of proportion. La Morra has a great variety of restaurants, and is a good place to plan for a lunch break. We actually came back to La Morra two days in a row, first for lunch and second to taste some wine at their community wine shop.
The pasta dish below is a speciality of Piedmont. It's called tajarin and while it looks like normal pasta, there is definitely more than meets the eye. While normal pasta dough might be 4 eggs to 1 pound of flour, this dough is 15-20 egg yolks to 1 pound of flour! It's the most decadent, melt-in-your-mouth pasta you've ever tried. Multiplied times a thousand.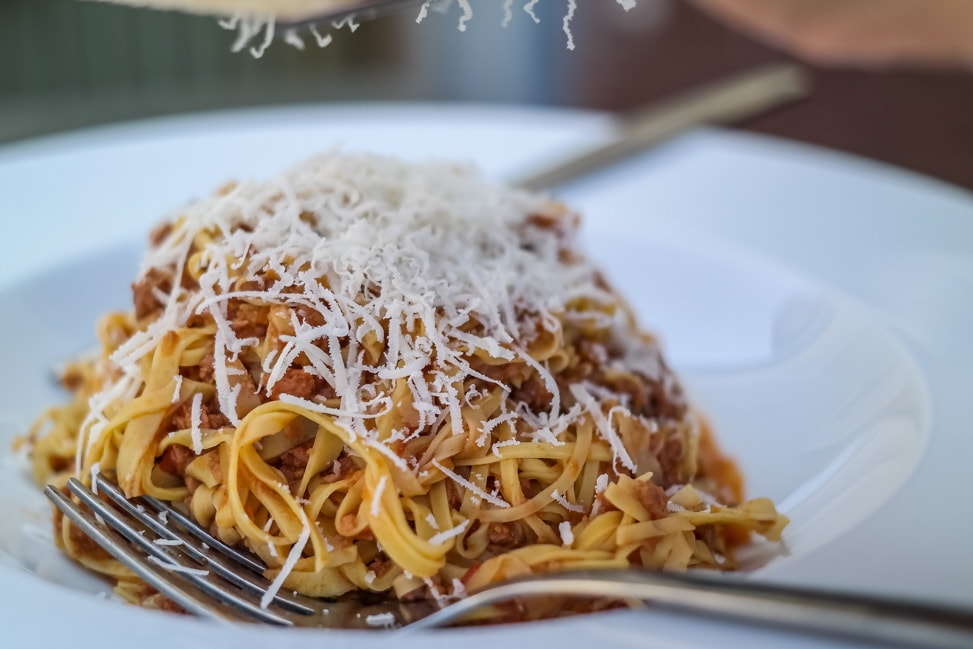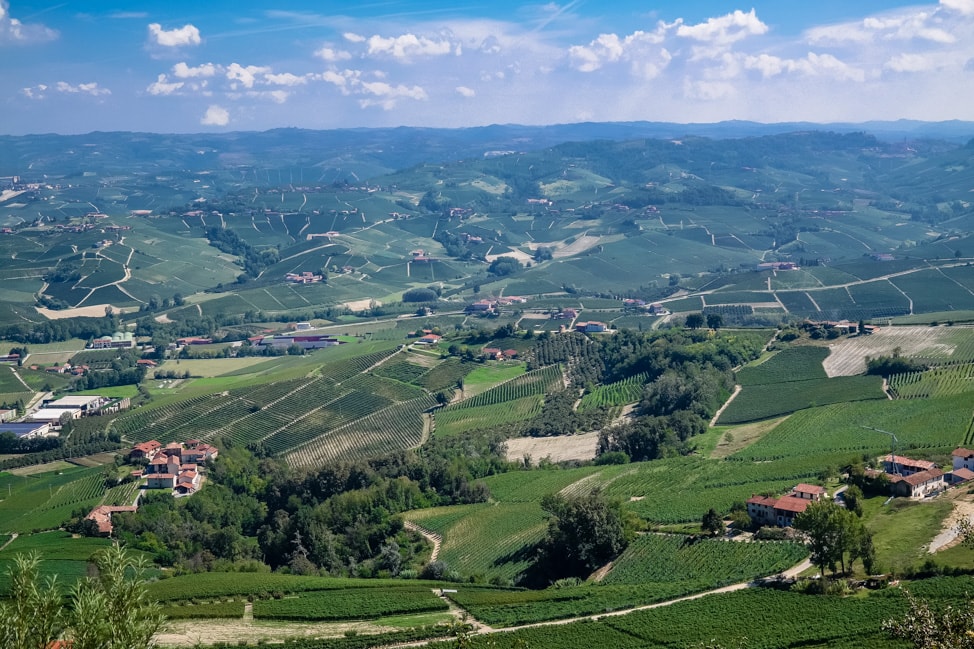 Barolo
The eponymous village in the region is not on a hill, but down in the valley, and it is tiny. For some reason I was expecting famous Barolo to dominate the landscape, its fancy wine and vineyards showing off for all to see. Instead, it's pretty modest, a diminutive town center without the infrastructure I was expecting for the most touristy village of them all. There are plenty of wine shops and wine bars, a small museum dedicated to the corkscrew, the Barolo Wine Museum, and another community tasting room. But that's it. No sprawling estates, no five star hotels.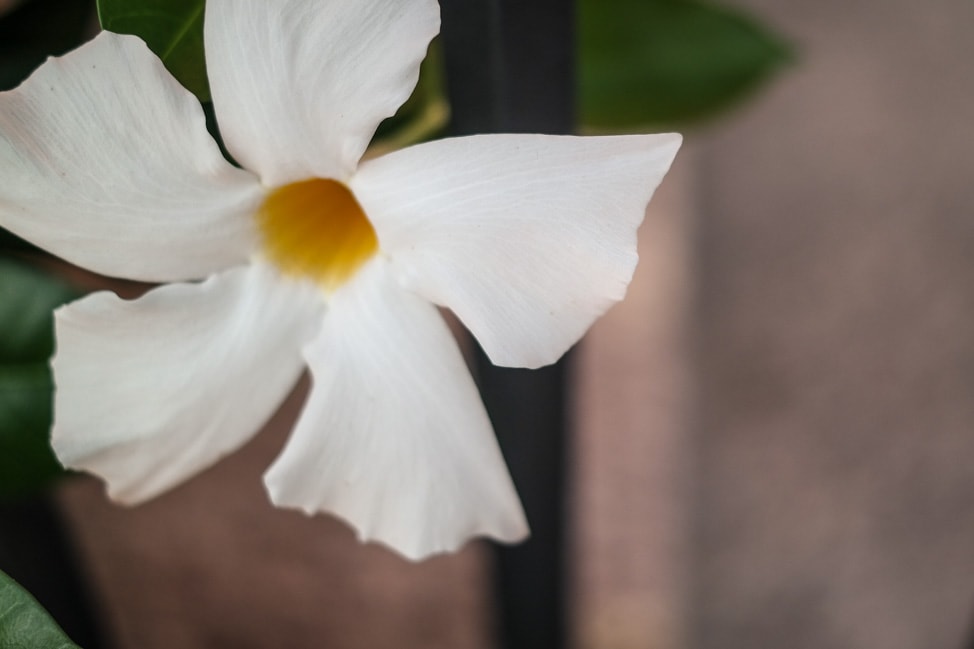 Gallo D'Alba
Admittedly one of the less beautiful villages, I am mentioning Gallo d'Alba because it has the best grocery store we went to (and we went to three in four days…I know, it's crazy). The Mercato Superstore, on the main road, has a great selection of just about everything. For visitors renting a home, go straight there to stock up on supplies.
Serralunga
Many of the hill villages in Barolo have small castles at the top. They are usually open to the public, for a fee of course, but more than that, they provide panoramic views of the valley. The view from the castle in Serralunga was our favorite of them all. We were also impressed by how many of the village's houses were newly repainted in a variety of interesting colors. In an area where everything old is revered, it's unusual to see so much sprucing up, but it looked great.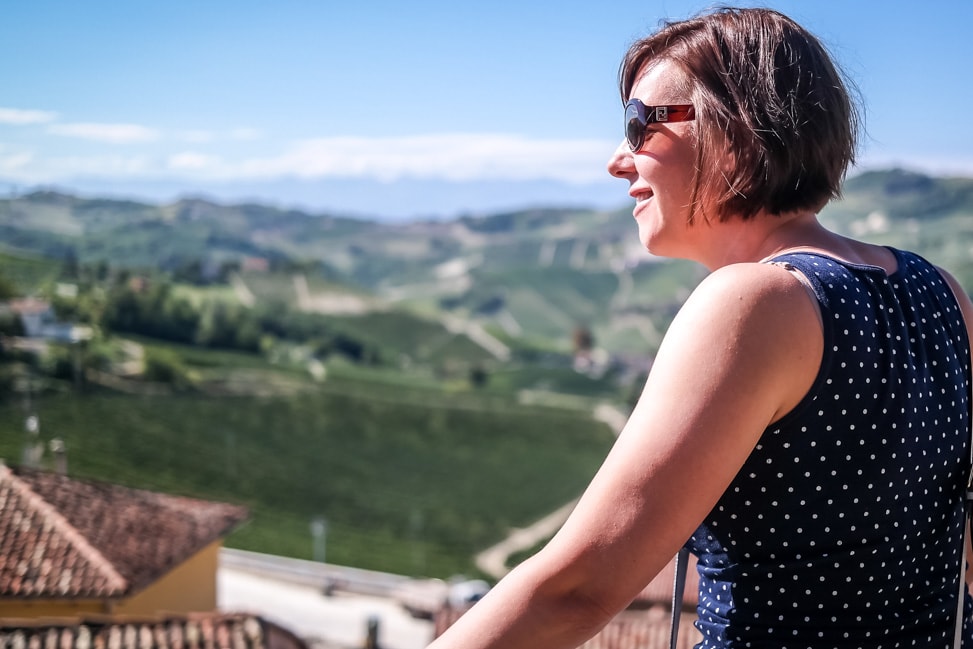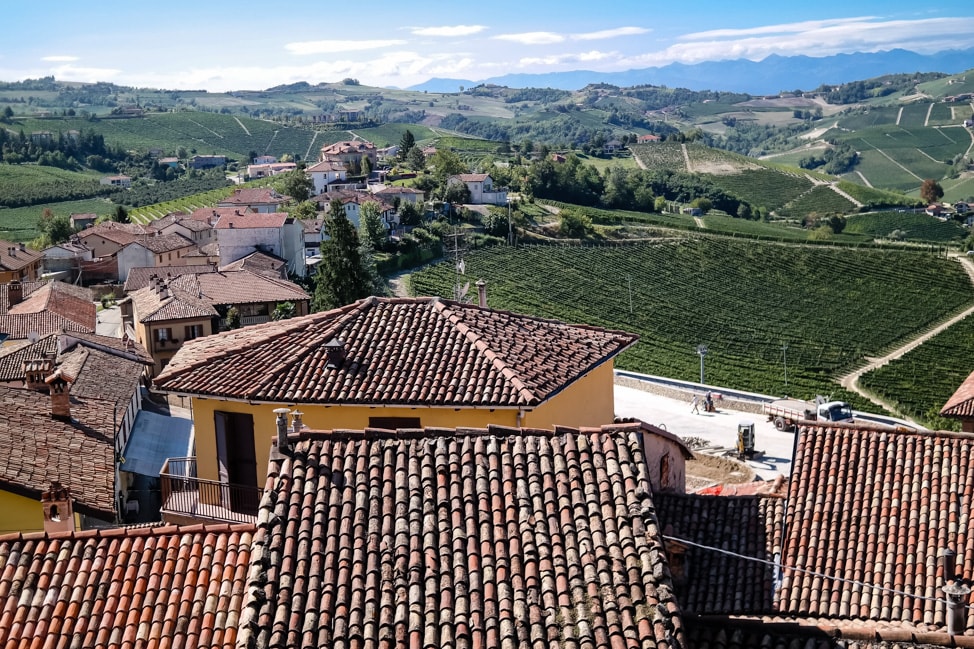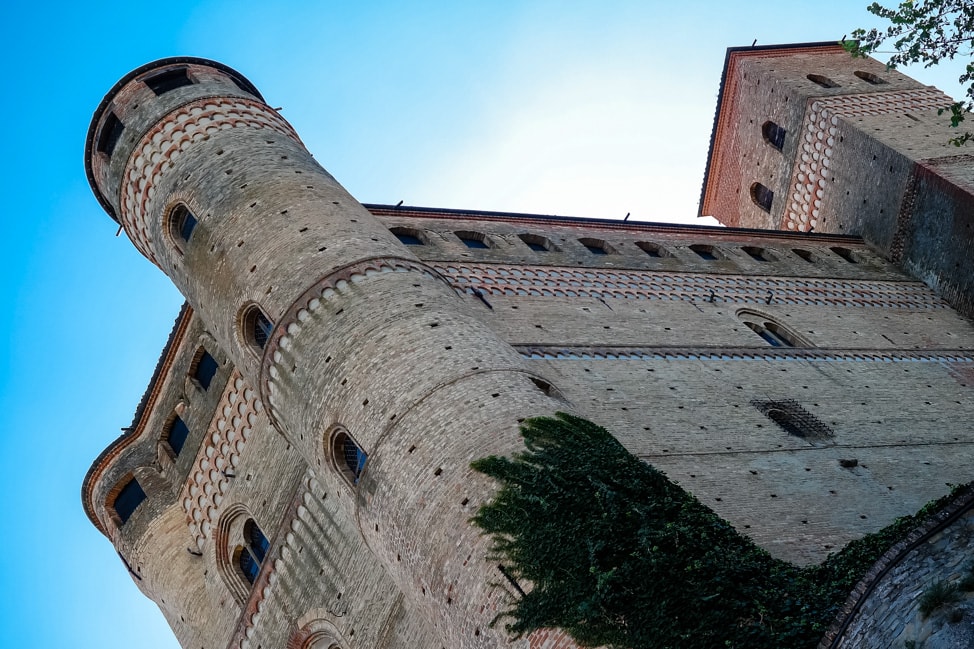 Monforte
Monforte was another surprise for me. It's on the southernmost edge of the Barolo region, but is one of the bigger villages, with a few town squares, and a sizable selection of hotels and restaurants. If we were to come back to Piedmont and go for a hotel instead of an apartment rental, we would definitely stay in Monforte. You just can't beat the variety. I suspect it would also be a great lunch break village, and we saw several tempting menus in our walk around town.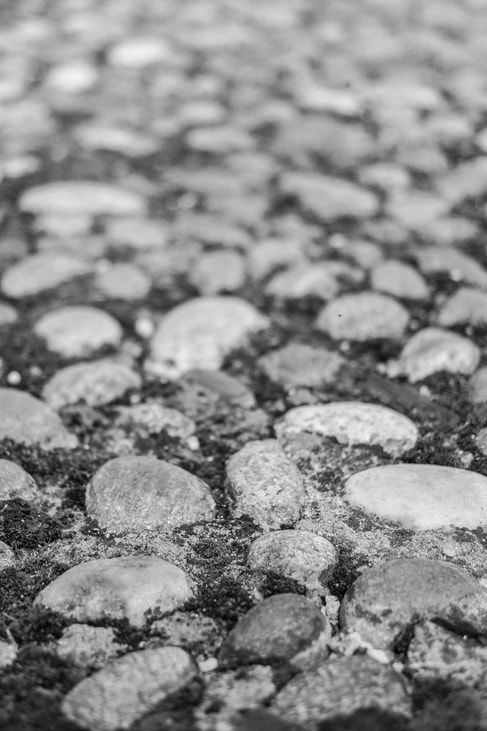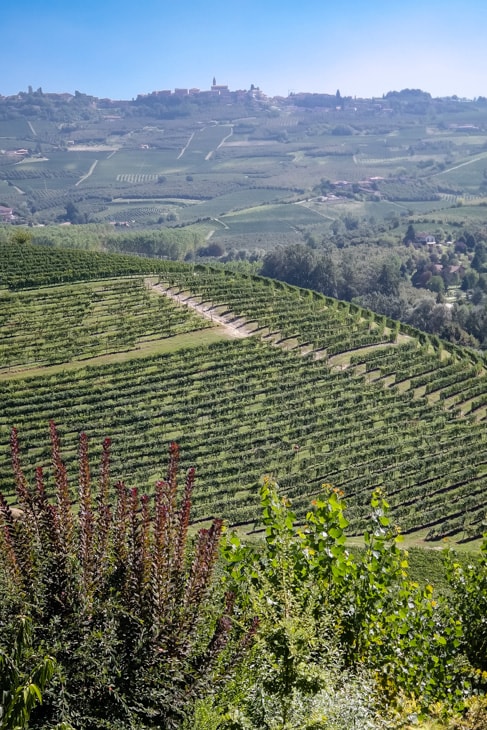 Grizane Cavour
This castle-focused village "out castles" the other villages easily. Grizane Cavour is a small place, and the hilltop castle dominates the horizon. In recent times it's been converted to a museum, shop, and (small) conference center. But we went for the wine tasting. In the back of the museum shop, there is a tasting table, where you can pay to taste a single or multiple wines. The pours are generous, and as we drank, we wandered around picking out our favorite labels (mine were all the labels with great design, Drew went for wine quality, to each their own).
Phew.
Looking over this list I'm struck that we actually had a busy few days in Piedmont. But I feel like we got a great taste for the region and all it has to offer, even though we didn't have time to go to every single village or try every single wine.
On the hiking front, we used our hiking map extensively, and would definitely recommend walking as a way to explore. It was fun to weave around the vineyards, and we could drink as much as we wanted without worrying about driving home on the steep narrow roads. We are notoriously underprepared hikers, and had no trouble with the trails given our regular athletic shoes and plenty of water.
We hope you enjoy your next trip into the Barolo region, or wherever your wine travels make take you!
Do you have any other tips to add about Barolo, Piedmont, or anything else Italy? It's one of our favorite places for a reason!
Pin It!