If the idea of slurping noodles, eating dumplings, and enjoying a cup of milk tea with a pineapple bun sounds like your cup of tea, then you need to check out this Hong Kong street food tour.
On my last visit to Hong Kong, I knew I wanted to go on a food tour, but didn't know what I was looking for. Hong Kong is a food destination, one that attracts many of the top names in the food world. Jason Atherton, Gordon Ramsay, and Nobu all have restaurants in the city, not to mention smaller outposts, like Carbone and Motorino from NYC.
While those are all fine restaurants (the pizza from Motorino scratched an itch I didn't realize I had), I wanted to get a taste of real Hong Kong.
That is how I found Hong Kong Foodie Tasting Tours. The Shui Sham Po tour jumped out at me immediately. It is an area far off the tourist track that still maintains its working class roots. It is where the old Hong Kong lives, you know, the one without the abundance of Starbucks.
Hong Kong Street Food Tour of Shui Sham Po
The three hour food tour started at the Shui Sham Po MTR station. These tours never exceed eight people, and on the day I attended, there were just two attendees. Our trusted guide Carrie took us to our first destination, a traditional Hong Kong cafe.
The Hong Kong cafe culture is strikingly similar to what Americans would expect from a diner. They are open for long hours, sometimes even 24 hours, and they have a wide range of food, from eggs to steaks. The dining room is full of linoleum tables, which when it gets crowded, you may have to share with strangers (hey, it's Hong Kong; space is at a premium). We began with the classic milk tea, strong black tea mixed with condensed milk. Carrie ordered us the traditional accompaniment: the pineapple bun, and one of the biggest I've ever seen.
Pineapple buns actually contain no pineapple. They are simply soft, fluffy rolls baked with a sweet, crunchy topping of sugar, eggs, flour, and lard. The name comes from the pattern of the topping after it bakes, which resembles the exterior of a pineapple. Amazingly, this cafe bakes them onsite, a rarity in Hong Kong, out of their broom closet sized bakery.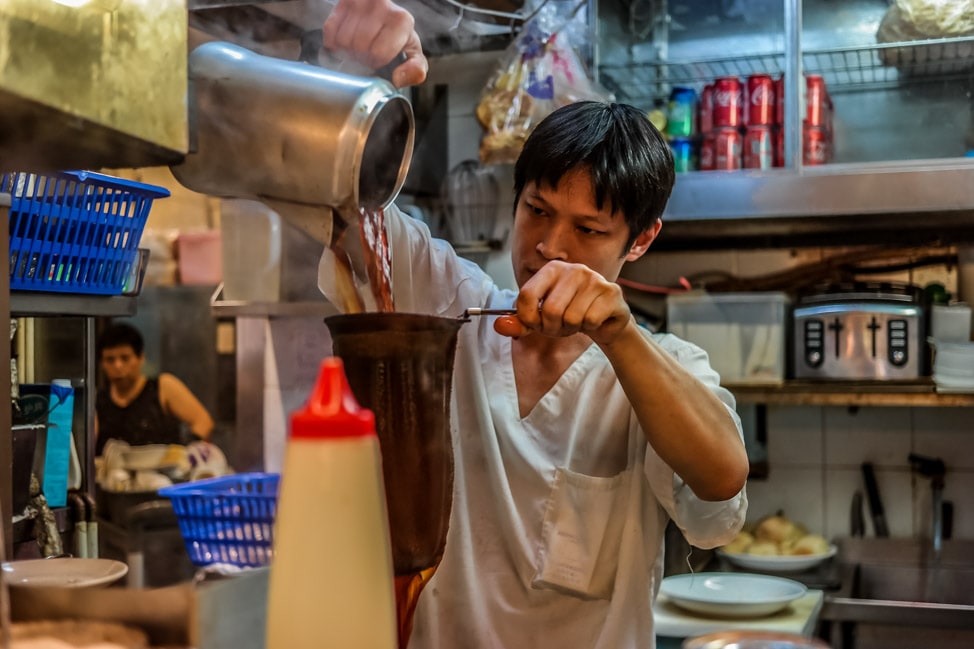 When we emerged from the cafe, the streets were coming to life. Local vendors had opened up for the day, and butchers, fishmongers, and fruit and vegetable stalls were all doing brisk business. Old women and men were carefully picking through the products, hunting for the best piece of pork belly, filet of sea bass, or piece of fruit.
Haggling over prices ensued. Of course.
Our next stop was for rice rolls. Rice rolls are essentially rice noodles, made into big sheets, and then carefully rolled up. The long strands are then steamed again to order and cut into manageable pieces with scissors onto a pool of sesame sauce. This dish can be eaten for breakfast or lunch, or as an afternoon snack.
It is left to the customers to tailor their rice rolls to their liking, with bottles of soy sauce, hoisin, chile sauce, and sesame seeds on the table. Carrie quickly concocted her perfect ratio of sauces and we dug in. The rice rolls themselves are quite slippery, so this dish is not eaten with chopsticks, but rather, long toothpicks so the diner can stab the rolls.
Significantly more efficient.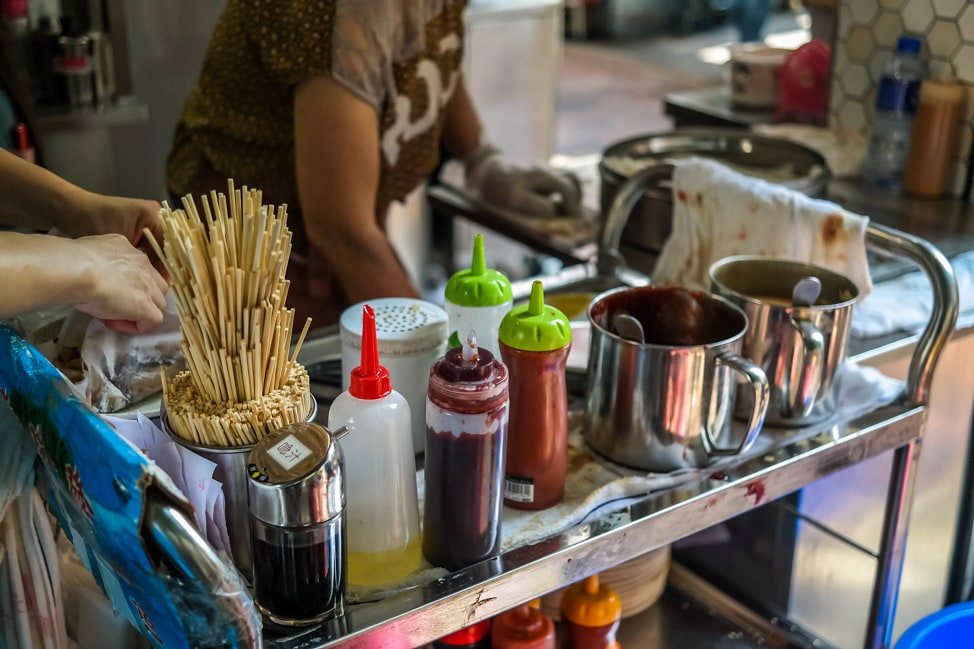 From there we took a little break from eating, as we sauntered through Sham Shui Po. It has gone through many transitions through the years, from an active port (Sham Shui Po means "deep water port" in Cantonese) to a manufacturing center and home to many of the factory workers. As those industries moved out, new ones moved in.
It is now known for its electronic market, with stalls spilling out into the streets selling everything from cell phone cases to computers. As we toured the busy streets, we made quick pit stop at a family-owned kitchen store, where they sell the large cleavers and butcher knives. We went in the back of the store to meet the owner, who still sharpeners the cleavers himself by hand, despite his age (my guess? 80s).
He said he used to do 100 per day, but he is slower now, so he only does 50.
Back on the trail for more food, we made our way over to a storefront selling fresh tofu desserts. While the idea of tofu desserts doesn't exactly sound tempting, I must say, I was flat wrong. They make the tofu with organic soy milk, and the desserts are made with silken tofu that is still warm, which has the consistency of a really soft panna cotta. On top goes ginger syrup cane sugar. It was amazing.
Next up was a family run shop dumpling shop, complete with old women rapidly filling and shaping dumplings for lunch service. We tried a few different varieties, and being a dumpling fanatic, these were exceptional. They were filled with fresh minced pork and vegetables like leek, watercress, and bok choy. The greens still had some texture to them and after a morning of mostly starch, the greens were much appreciated.
On our way to our final food destination, we stopped by a bakery selling mooncakes, a traditional pastry served for Mid-Autumn Festival or Moon Festival. Mooncakes are a big, big deal in Hong Kong, with almost 10 million sold leading up to the holiday. These dense pastries are filled with a variety of flavors, from sweet to savory. They are sliced into bite-sized pieces and normally served with tea. We tried one stuffed with lotus seed paste and a salted duck egg yolk, and one packed with a variety of nuts and Chinese ham.
These days, with Mid-Autumn Festival looming next week, there are all kinds of jokes going around online about how terrible mooncakes are for the waistline. Kinda like the egg nog jokes around Christmas. Let's just agree that they are a perfect annual indulgence.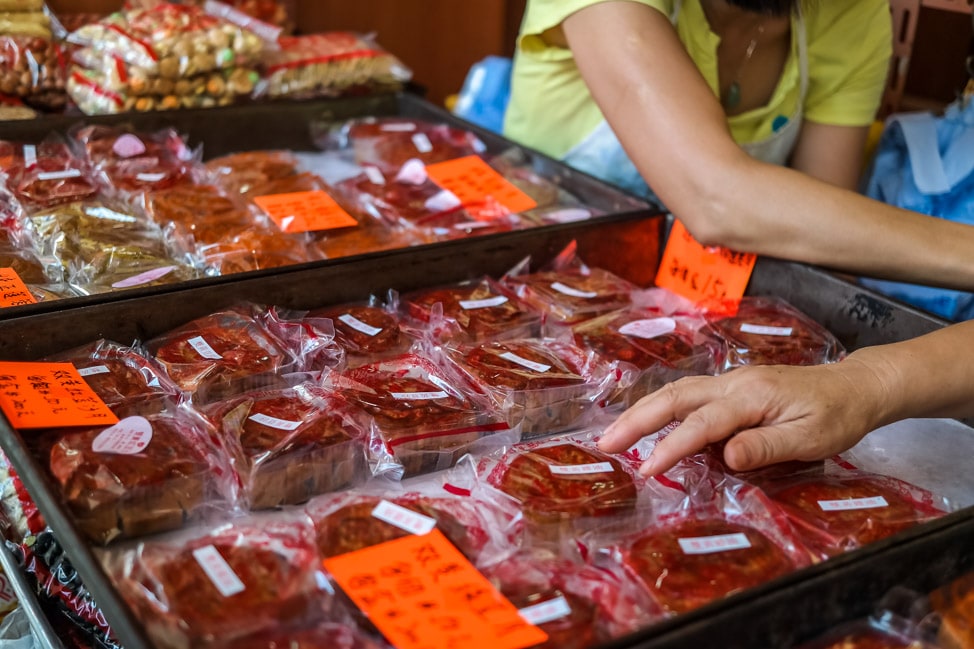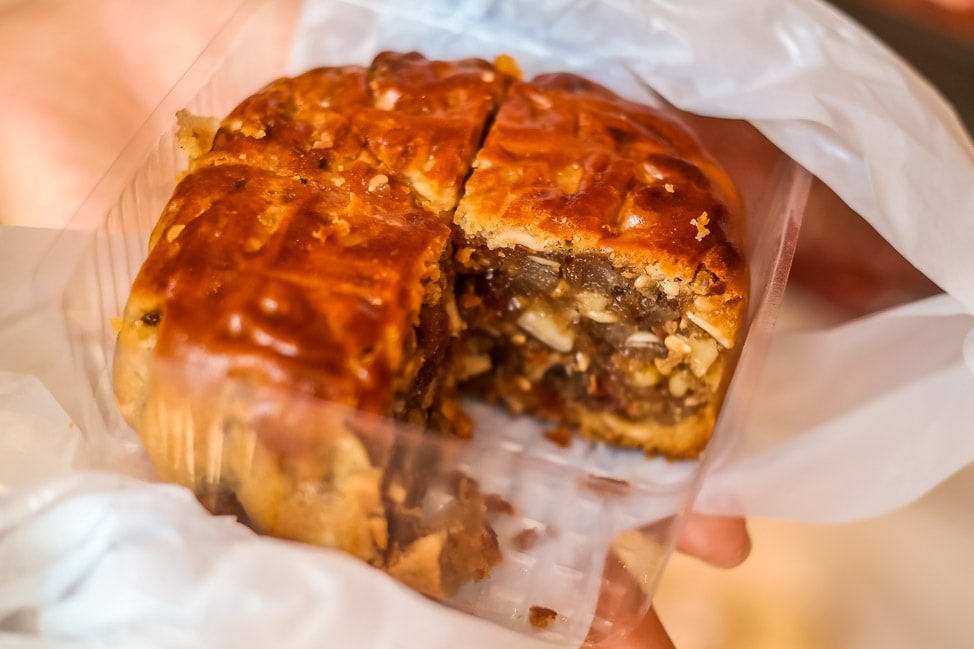 Our final stop was a bamboo noodle shop. It is one of the last noodles shops in all of Hong Kong still serving this style of noodle. The dough is kneaded by someone sitting on the end of a large bamboo pole attached to the wall next to the mixing table. They bounce up and down (using one leg for leverage), gently pressing the dough with the bamboo pole, which gives the noodles their texture.
The noodles arrived with a garnish of bok choy and shrimp roe powder. A bowl of fish broth is served on the side, meant for sipping. The shrimp roe powder has an intense fish flavor, not unlike that of anchovies, but it wasn't overpowering. The texture of the noodles though were amazing, with a slight bite and chewiness, like perfectly al dente pasta in an Italian restaurant.
Three hours of Hong Kong eating flew by, thanks to our excellent guide Carrie. I sampled a wide variety Hong Kong street food and left very, very full. You may wonder why I've tempted you with all of these dishes with no directions or addresses or restaurant names? Hong Kong Foodie Tasting Tours maintains close relationships with their restaurant partners, and in order to not flood their doors with wayward visitors, the only way to find out the details is to take a tour yourself.
The Sham Shui Po Tour from Hong Kong Foodie Tasting Tours was complimentary. As always, all opinions are my own.