We have collaborated with the friendly people at Expedia.com to bring you this post about exploring London (more on that here) and its gluten free eats.
Being gluten-free, I frequently have to fight the urge to snack on a freshly baked loaf of bread, or dig into a bowl of beautiful pasta. The struggle is real. Sometimes my options become more confusing when I'm traveling in a new place, struggling with a language and wondering what the gesture is for 'sorry, I can't eat gluten.'
Luckily, here in London, there has been a surge in gluten-free offerings, from street food stalls to high-end dining. My favorite offerings are to be found, coincidentally, in some of the funkier London neighborhoods, which helpfully makes living a gluten-free lifestyle downright easy.
Presented in no particular order, here are my favorite gluten-free finds from my favorite London neighborhoods, ensuring a tasty and amazing visit each and every time!
SoHo
SoHo is the original nightlife hub of London, home to beatnik culture in the 1950s and the punk rock movement of the 1970s and 80s. For visitors these days, SoHo still maintains its active nightlife. The streets are packed with bars, restaurants, and clubs. It also neighbors Chinatown and the West End, London's version of Broadway.If you are visiting London, it's likely that you will end up in SoHo at some point.
So whether you are going to the theater, or looking to take in some live music, here are your best bets for a bite to eat beforehand, all of which make gluten-free dining easy and enjoyable.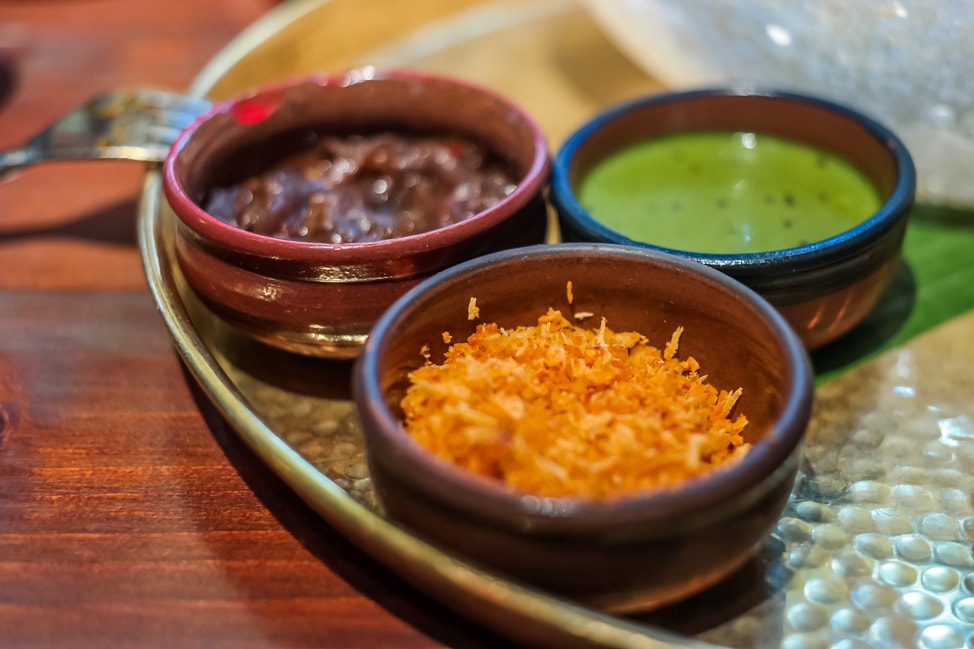 Hoppers
This new, red-hot restaurant on Frith Street is easy to find: just look for the queue. Keeping with the current trend in London, Hoppers does not take reservations, so if you want to dine during prime time, expect to wait. Your patience will be rewarded though, as Hoppers' Sri Lankan food will blow you away. The main event is the hopper, a Sri Lankan version of a crepe, made from naturally gluten-free rice flour, and shaped into a shallow bowl. Select a curry to go along with it, and then dig in, ripping off some of the hopper to scoop up curry. The menu is almost entirely gluten-free, and the staff is well-trained, so don't be afraid to ask about a specific menu item if you're not sure. Don't skip the deviled shrimp starter either, packed with spice and heat.
Herman ze German
Sausages are typically off limits for the gluten free, but Herman ze German does not add flour or breadcrumbs to any of their sausages. I come here to indulge in a bratwurst or spicy chilliwurst, with sides of sauerkraut, pommes frites, potato salad, or coleslaw, all blissfully gluten-free. Their SoHo location is open until midnight on Friday and Saturday, so it's a perfect spot to grab some late night eats.
Flat Iron
This restaurant (now with multiple locations) makes eating a steak an affordable venture, especially compared to many of the nearby swanky steakhouses. They offer one steak, a flat iron cut, with a side salad, for a surprisingly low price of £10. A majority of the sides are gluten-free, like beef-dripping chips (yes, they are indulgent as they sound). They even offer complimentary popcorn while you wait. Reservations are not taken, so there will probably be a wait. Luckily, they mix fabulous cocktails in the dark subterranean bar in their Beak Street branch. Waiting never tasted so good.
Shoreditch
With its buildings covered in every-changing street art, and new, trendy restaurants popping up every week, Shoreditch is a vibrant and exciting area to explore in London. Once a complete ghost town, Shoreditch is now one of the best areas in London for eating and drinking. It's extremely well connected too, a short walk from Liverpool Street Station on the Central Line or Old Street Station on the Northern Line of the London Underground.
Shoreditch is worth a visit, if only to wander around looking at the street art on side streets and alleys. But while there, you might as well stick around for dinner.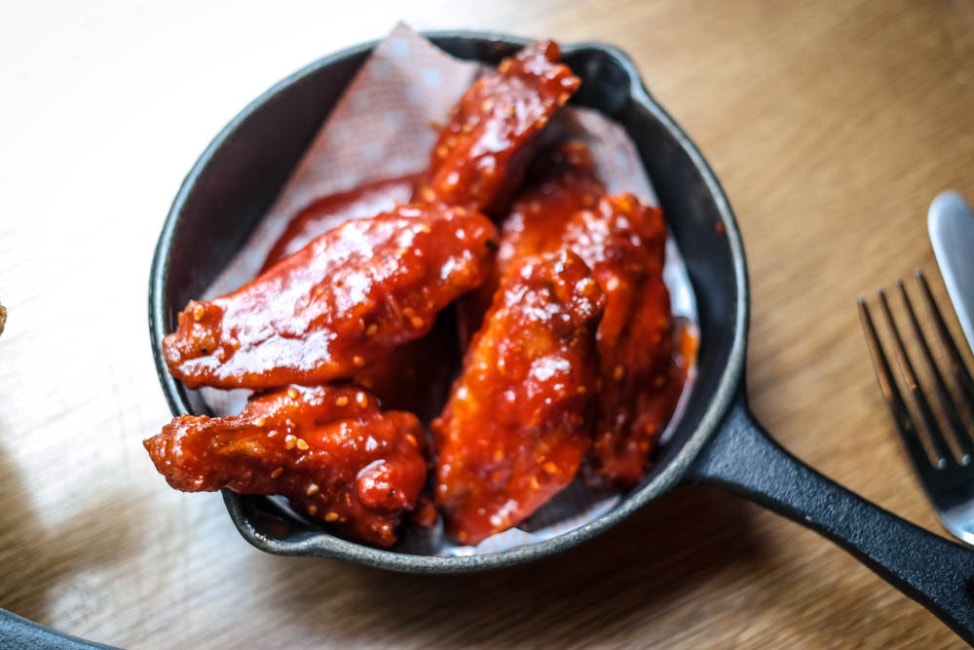 Bird
Who doesn't love fried chicken? Well, for gluten-free diners, fried chicken is not usually an option, thanks to the flour coating. Fried chicken masters at Bird have concocted a rice flour and cornstarch batter, making the crispy, delicious fried chicken naturally gluten-free. Many of their side dishes are gluten-free too, providing almost too many tempting options. Their Korean gochujang glaze is a must-try, as well as the Nashville extra hot, if you like things spicy.
Andina
Peruvian food is having its moment in London right now, with a huge number of Peruvian-influenced restaurants popping up in the past year. Andina is one of the best, sure to be packed with ceviche enthusiasts. Peruvian is an ideal cuisine for gluten-free diners, as it relies heavily on corn flour, rather than wheat flour. Almost all of Andina's menu is naturally gluten-free, and just to be clear, gluten-free items are marked on the menu. Definitely do not skip the ceviche, especially the ceviche andina, citrus-marinated sea bass with goldenberry, avocado, and sweet potato. The downstairs bar has makes a mean pisco sour, the perfect way to start a Peruvian meal!
Dishoom
This massively popular Indian restaurant has been expanding, opening new locations at a rapid rate. I love their Boundary Street location in Shoreditch, right in the heart of the action in this neighborhood. Dishoom dishes out some of the best, most interesting Indian food in London at a very reasonable price. It is inspired by the old Irani cafes in Bombay that catered to a wide range of customers, and today, Dishoom is perpetually packed with innovative food not found in many of London's traditional curry houses. The house black daal, spicy lamb boti kebab and gunpowder potatoes will not disappoint.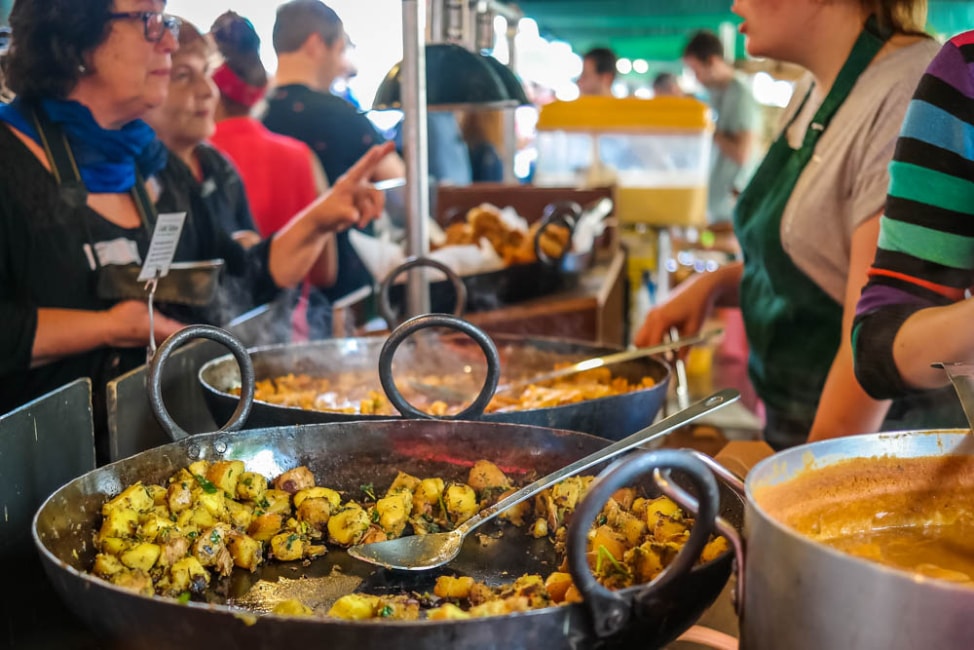 London Fields
A relatively unknown neighborhood for most visitors to London, this East London area has surged in popularity, bringing with it loads of young families and professionals. Everything is centered around London Fields, a large, inviting park, perfect for picnics. A new London Overground Station just opened here as well, making it a quick ride from Liverpool Street Station for easy access. The main drag, Broadway Market, is lined with fantastic restaurants, bars, book shops, and boutiques.
My favorite thing about London Fields is when the street is closed on Saturdays, making way for pedestrians and dozens of vendors who open up shop on Broadway Market. Great food and great shopping abound.
Floris Foods
Gluten-free baking experts, Floris Foods offers up decadent treats like cinnamon rolls and brownies, as well as savory options like vegetable tarts and focaccia bread. Their stall at the Saturday-only Broadway Market is always busy, so make sure to find some time to grab a bite. If the crowds are too much for you, buy one of their tarts and grab a seat on a bench in the calm and serene London Fields park.
Gujarati Rasoi
This Broadway Market stall packs a flavor punch with its vegetarian Indian dishes, simmering away in massive pans. Most of the options are naturally gluten-free, served over steamed basmati rice with onions, cilantro, tamarind sauce, and yogurt. It is cheap, fast, and so good you won't miss the meat.
Hill and Szrok
This establishment leads a double life. During the day, it is one of the best butcher shops in London, hawking dry-aged steaks and massive pork chops. At night though, the central marble butcher block is wiped down and becomes a communal dining table, making it one of the best steak restaurants in the capital, with a casual, relaxed vibe. The steaks are sure to impress, and the seasonal vegetable sides dishes are simple perfection. Since it is meat heavy, Hill and Szrok is a great place for the gluten free.
---
London's diverse and interesting neighborhoods are reason enough to come for a visit. The city's ability to react and adjust to customer preferences means that eating in London is no longer a challenge for gluten-free diners. In fact, it's a pleasure, exploring some of the hidden corners of the restaurant world and discovering amazing offerings for every kind of eater.
PS: Want more information about dining gluten-free in London? Check out our eBook, The Gluten-Free Guide to London. All you will ever need to eat well in London!