This article is part of a short series about our journey to obtain our Chinese residency and work visas. We haven't found great personal resources about what to expect when applying for such visas and went through the process completely clueless. This is Part Two in the series on our China visa process. Part One is here.
I'm writing this from China so, spoiler alert, we made it here.
When we last left off, Drew and I had spent exactly one month gathering the necessary documents to obtain my Z visa. The Z visa is specifically for those who intend to work in China. Once you enter the country, you have 30 days to apply for residency.
Drew's process to China was by way of an L visa – this is the typical tourist visa and doesn't require quite the level of complexity to obtain. Once we arrived in China, the plan was that he would also apply for residency, but he was able to enter the country as a tourist.
While what we're doing may sound convoluted, I assure you it's perfectly normal. You cannot apply directly for a residency visa from outside of China. You need to get the right visa to get you into the country, then it's time to file more paperwork for the residency.
But let's back up a bit.
China Visa Process, Part II
At the end of April, all of our document gathering was complete. Our large stack of paperwork, with copies of our passports, photos, seemingly endless formal invitation and work letters, and our precious "authenticated" documents, were sealed up and sent off. The visa company that was hired by my employer took all of those documents and applied for an employment permit for me. This is a single-page document, with a snappy red stamp, that says I am permitted to work in Guangdong province for a total of 12 months.
Well, technically, it says that 'upon approval' by another government organization, I can work in Guangdong province for 12 months, but that final approval is done in China. This document was the final hurdle to my Z visa to enter China.
From the date we sent off the documents to the date this permit landed in my inbox was, wait for it, 22 days.
Drew and I were off on our final US road trip of the year when the permit arrived via email. In fact, we were enjoying a lovely visit with friends in Portland, Maine, when my mailbox pinged. It was an exciting moment, because it indicated that we were finally eligible to get our visas, book our tickets and finally fly to China to begin our new adventure.
Since we have learned the hard way in this process to be prepared for every contingency, we had brought our huge envelope of documents with us, all of those authentications, our passports, the works. If anyone was in the market for stealing identities, this envelope would make very easy work of it.
Pro Tip: Get at least a dozen photos taken for your China visa. They are also a different size than the standard US passport photo, so make sure you get the right size. We ended up using almost all of our photos in this long, crazy process.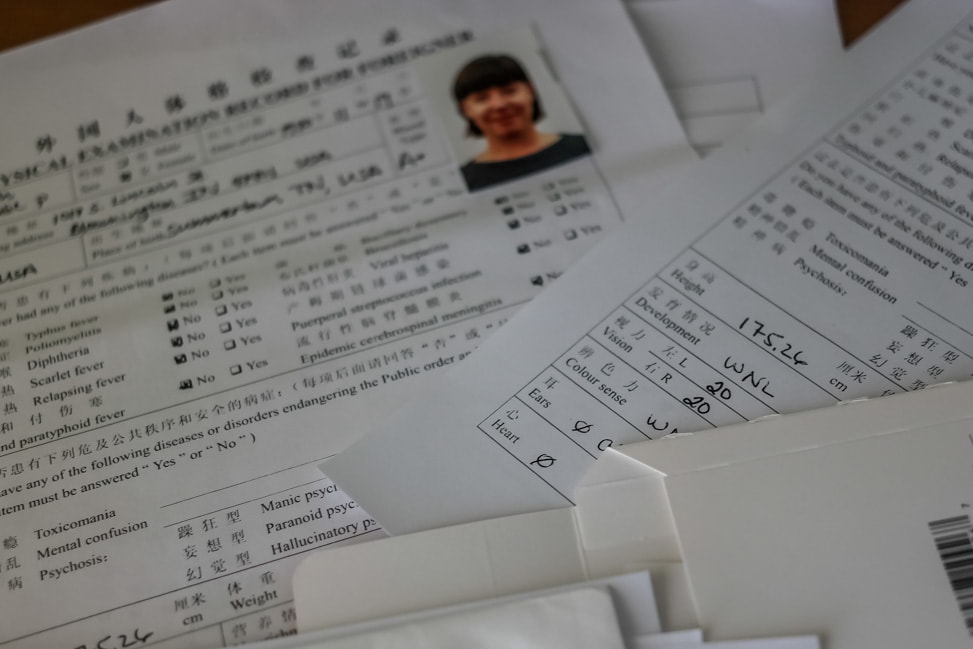 With the work permit now in hand, Drew and I buckled and organized all of our visa application paperwork so we could overnight it to a third party processing company, VisaRite, a Chinese visa service based in New Jersey. This company basically removes the need to travel in-person to a consulate, double checks the paperwork the paperwork for completeness and accuracy, and ships it to the corresponding Chinese consulate, managing the process for a fee.
You send them everything, along with your passport, and a few days later, boom! Visas are in the mail.
Our small stack of documents on its way to the Chicago consulate (by way of VisaRite in New Jersey) included two simple applications, copies of the first pages of our passports, my employment permit letter, Drew's invitation letter (a standard and easy document to obtain for all tourists), cashier's checks, and our passports.
I called the third party company with a few questions before we overnighted them our most important package ever, knowing that any delay would just push our anticipated departure back unnecessarily.
Then, they dropped the bomb.
The Chicago consulate, the one that oversees the Midwest (where my parents live and whose address we've been using), has a new rule. Now, all Z visa applicants (that's me!) must go themselves in-person to the consulate because the visa requires fingerprints.
Get that? Hiring a third party company to do this last piece of document processing was no longer feasible, starting now. And, of course, because we have had to clear every hurdle known to man, this applies ONLY to the Chicago regional consulate. No other regions, no other issues. Just me.
Why only one consulate takes fingerprints, and what they do with them since no other consulate requires them, is beyond me.
I tried my best to circumvent this issue. I asked about using a different home address (maybe my sister in Boston?) meaning that the paperwork could go through the consulate in New York City, which would not require fingerprinting. Or maybe the Chicago consulate would accept a digital reproduction of my fingerprints?
No and no. You must go to Chicago.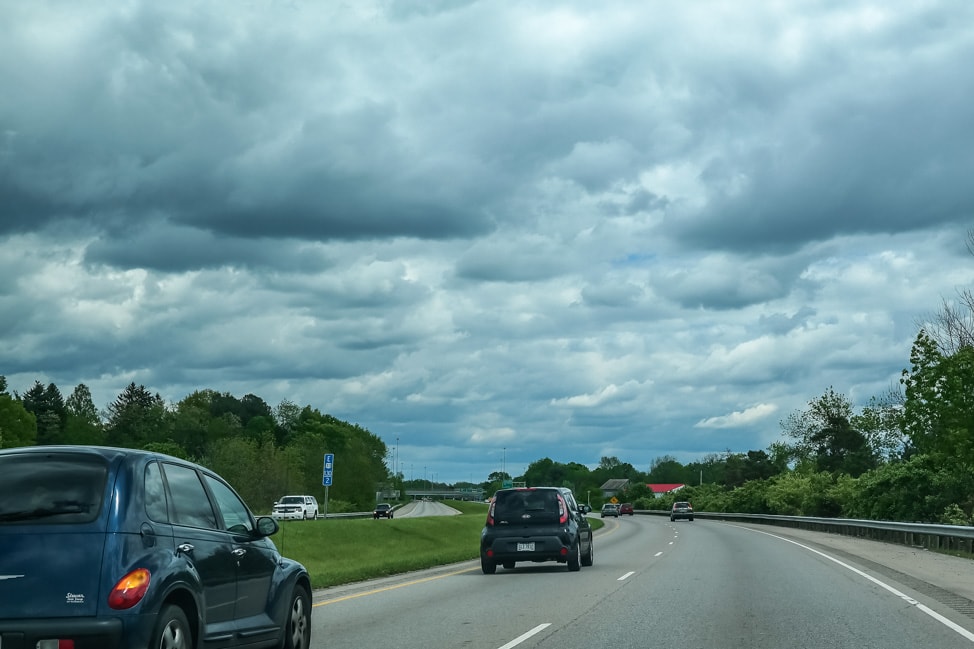 Drew's visa, the tourist kind, was no problem. We mailed off his short stack of papers with the promise of having his visa in hand within a week. By that point, we'd be back in Indiana, so we had his passport shipped there.
But just like that, our leisurely road trip around the US was abruptly altered. At 9pm on a Wednesday evening, we decided to begin the drive to Chicago by 8am the next morning. We put in a quick call to our good friends in Chicago – was their guest room free for a couple of visitors? Can we stay with you tomorrow? Friends in Maine that we were scheduled to see for the next few days of our visit? Plans cancelled.
You really can't get much further away from Chicago than Maine, so stellar planning on our part as usual. You really can't make this shit up.
A mere 12 hours after finding out that this trip to Chicago was really and truly necessary, we were on the road. Seventeen hours of driving later, with a short overnight stop at a roadside hotel outside of Toledo, we arrived in Chicago.
On a Friday morning, we pulled up to the Chicago consulate in our rental car. I ran inside with that small stack of documents that I was now tasked with delivering in-person. The office was similar to a DMV, with separate queues for American and Chinese citizens. I saw many Chinese babies applying for their first passports and American families getting their tourist visas for summer travels.
Pro Tip: Get to the consulate when it opens. The lines will be shorter and more manageable. Also, keep in mind that China consulates keep very short hours, and observe Chinese holidays, so don't be surprised to find them closed at seemingly random times.
My wait was short. Within a few minutes at the window, my paperwork got a cursory once-over, I registered my fingerprints on a digital reader, and left my passport at the office for processing. For an extra $20, I paid for expedited service, shortening the wait from four business days to two.
Of course, this being a Friday and all, I couldn't pick up my passport until Tuesday so our very generous friends hosted their unexpected guests all weekend long.
Fortunately, we love Chicago and were able to make the most of it. Drew's brother was in town and we saw him a bunch. We went to a farmer's market. We tried our best to get our friends' kids to love us – we were only partially successful, but Drew made a friend for life when he taught three-year-old Finn to put sprinkles on his pancakes. Finn's parents were less excited about their child discovering sprinkles as a potential breakfast option.
The weekend came and went and bright and early on Tuesday morning, I was back at the consulate, this time in the 'Document Pick-Up' queue. Again, no news is always good news and within minutes I had my passport with a Z visa back in my eager hands.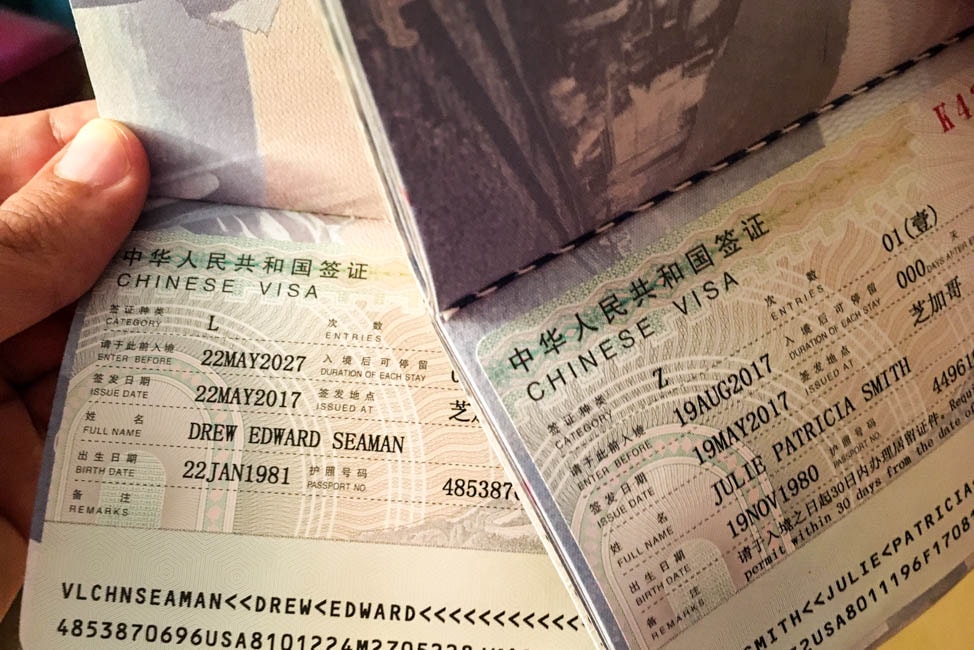 We made the five hour drive back to Indiana, my hometown, just in time to receive Drew's visa in the mail and celebrate Memorial Day weekend with my whole family who flew home for the holiday. Sitting in my backyard, with the ribs on the grill, eating corn on the cob, and having a few ice cold beers in the warm Indiana sun, it was hard to believe that we had really and truly done it.
We had our passports in our possession, both with Chinese visas, ready to be officially stamped into China. And a few days later, there we were, at immigration in Shenzhen, China.
What happened next? How did our residency applications go? Stay tuned for the final chapter in the paperwork drama of a lifetime.