This series of articles highlights some of our favorite culinary offerings around the world. For us, the joy of travel is inextricably linked to eating well, and we like to recreate our favorites at home. Join us as we share some of our best travel stories and then take our turn cooking the iconic dishes that make our travels so special. Check out some previous installments here, here, and here.
There is something special about Rome. The history, the culture, the people, the energy, and most of all, the food.
My birthday weekend this year was spent in Rome, which is arguably one of the best places in the world to find yourself on your birthday, especially if you are a pasta lover. I knew I couldn't leave Rome without some real, traditional Roman pasta, even if my celiac disease meant I would suffer the consequences afterwards.
The city is home to a handful of classic pasta dishes, all simple combinations of the same ingredients. With just six ingredients, you can make the four different, classic Roman pasta dishes: alla Gricia, Carbonara, Cacio e Pepe, and Amatriciana.
Each dish is simple, easy to execute, and loaded with flavor. Even the pedestrian sounding Cacio e Pepe (meaning cheese and pepper), is just a plate of pasta tossed with Pecorino Romano, a generous portion of crushed black pepper, and a little ladle of the pasta water.
Yet, with the strange voodoo that Italians have with generating major flavor from minimal effort, the effect is profound.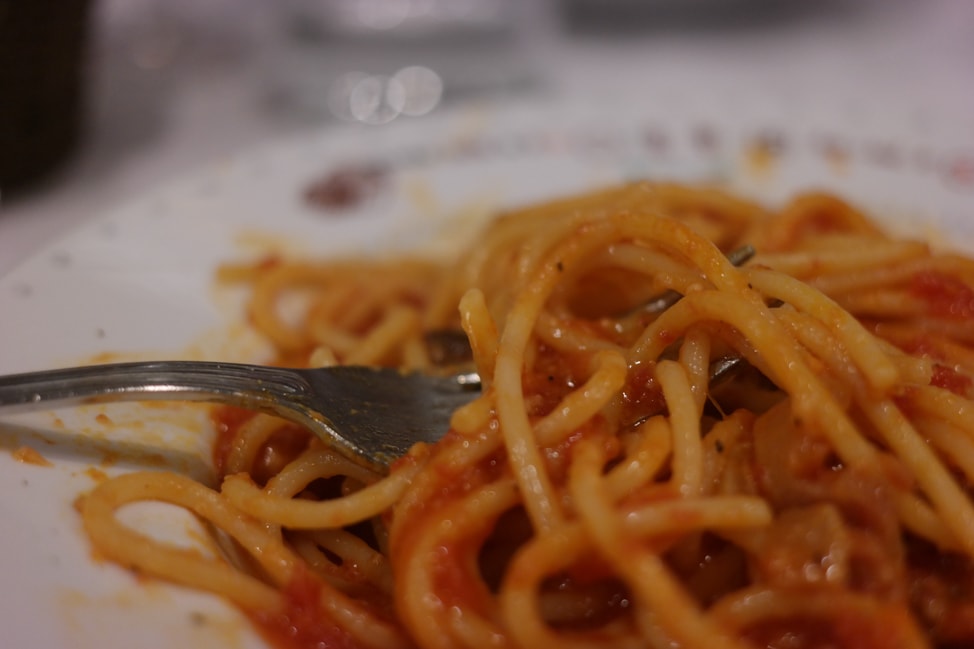 Everyone has their preference among these four classic dishes. Julie is an outspoken fan of Carbonara (guanicale, black pepper, Pecorino Romano, and fresh egg yolks), with the alla Gricia (guanicale, Pecorino Romano, black pepper) coming in a close second.
My favorite? Amatriciana sauce, an ideal blend of tomatoes, guanicale, black pepper, and Pecorino Romano. It is not a heavy, thick, sweet, Italian-American red sauce, that has to simmer for hours on end. It is light and fresh, and takes no more time to cook than it does to boil water for pasta.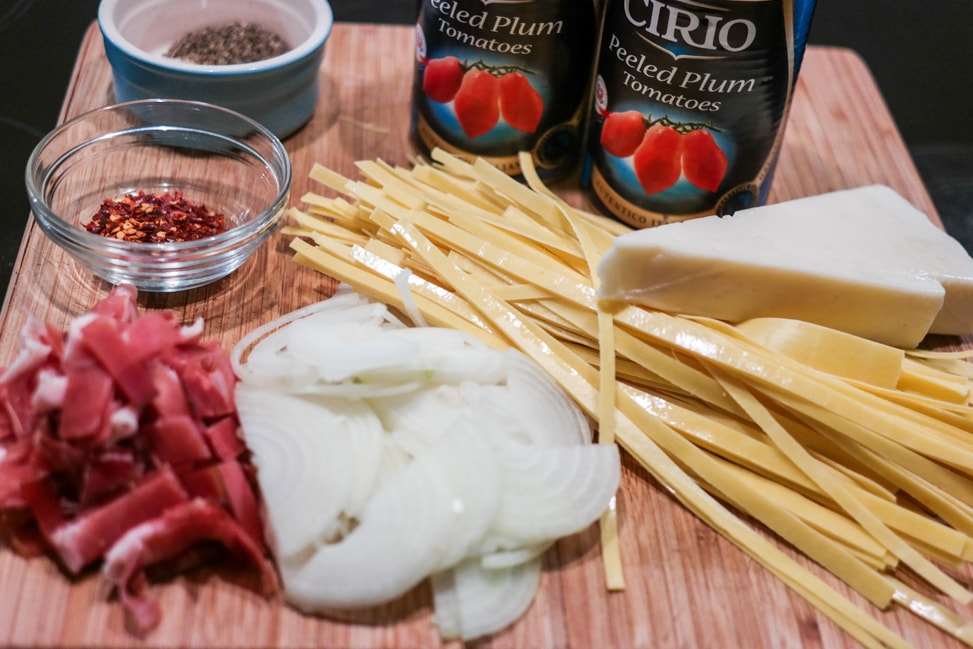 Pasta with Amatriciana Sauce
250g (1/2 pound) fresh pasta
2 400g (14oz) tins of whole tomatoes
1 large onion, thinly sliced into half moons
2 garlic cloves, finely minced
80g (3oz) guanicale, sliced thinly (can substitute pancetta or speck if necessary)
3 tablespoons olive oil
1/2 cup Pecorino Romano cheese, grated finely
1/2 teaspoon crushed red pepper flakes
1/2 teaspoon crushed black pepper
To begin, crush the tomatoes by hand in a bowl and set aside.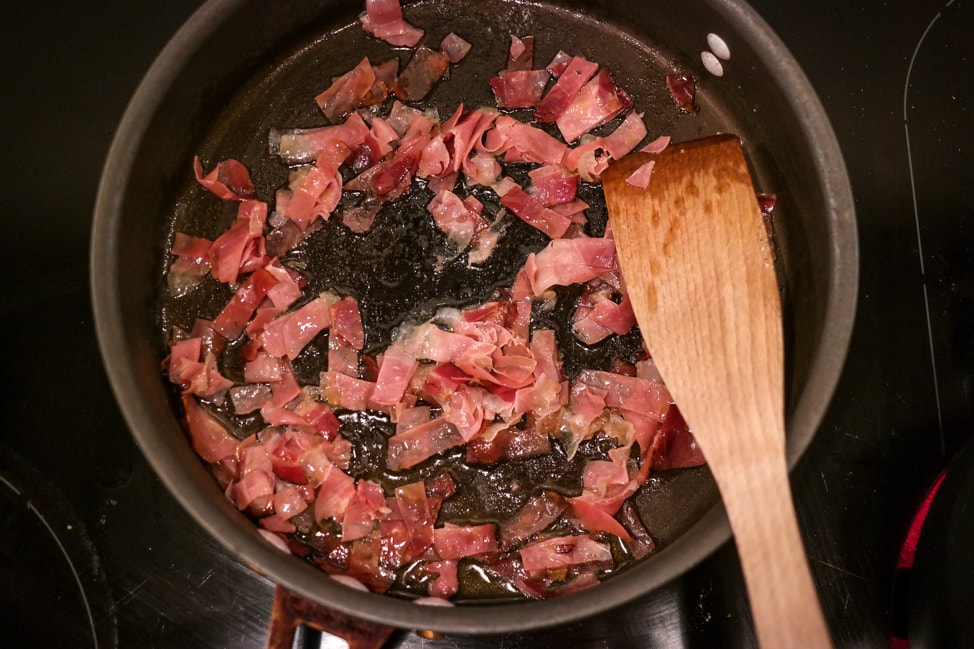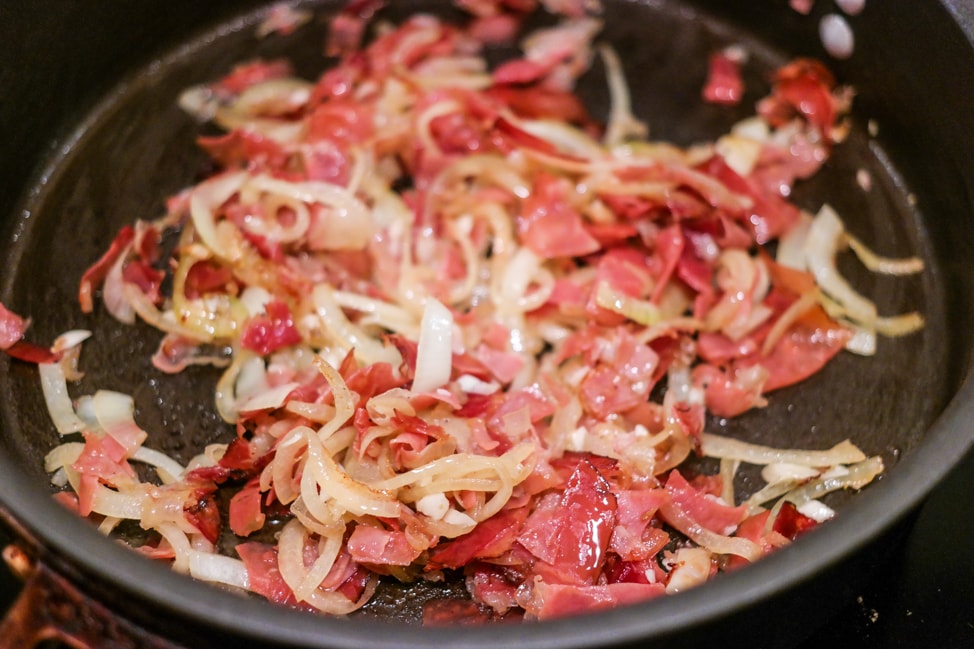 In a large saute pan, heat the olive oil over moderate heat, and add the guanicale. Let the guanicale cook slowly for about 10 minutes. You want to avoid any deep browning, as you are looking to mostly render the fat from the meat. Add the onion and garlic to the pan and continue cooking for 5-8 minutes, until the onion begins to soften. Raise the heat to high and toss in the crushed red pepper and black pepper, allowing them to cook for just 10-15 seconds.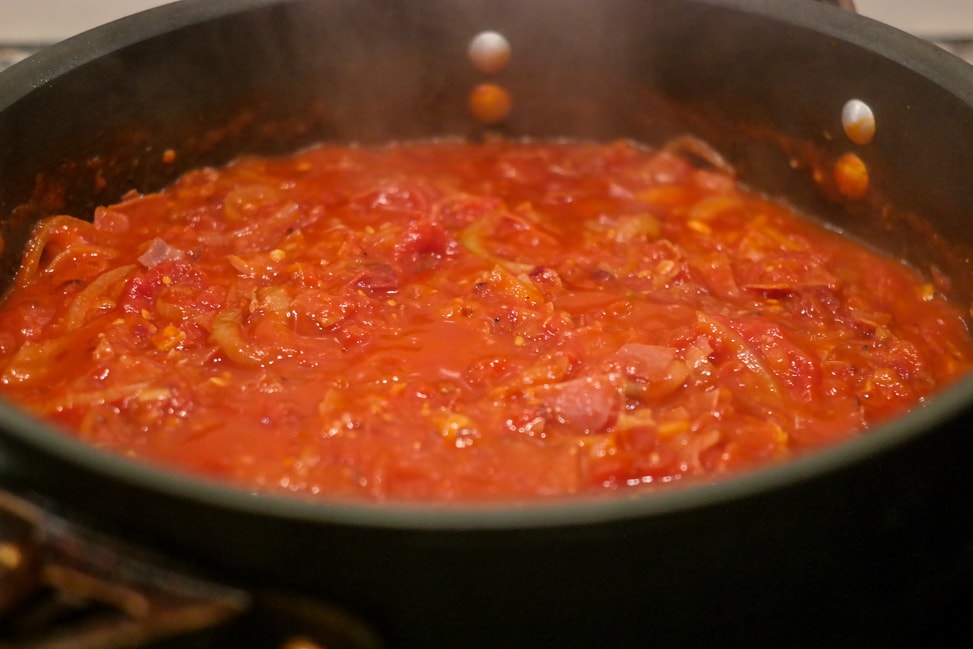 At the crushed tomatoes with a pinch of salt (add the contents of both cans if you like pasta with more sauce. I prefer lightly sauced like the Italians, so 1 to 1 1/2 cans works fine), let it come to a boil, then reduce the heat and let the the sauce simmer for 10 minutes.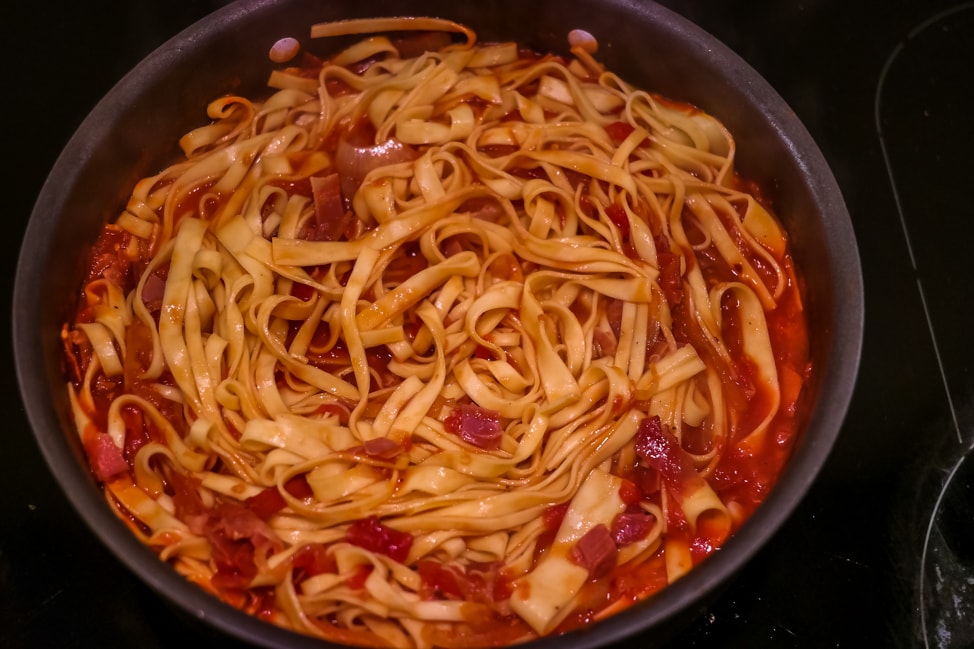 In a large pot, add water and bring to a boil. Add a generous pinch of salt to the water and add the fresh pasta. It will only take about 3 minutes for the fresh pasta to cook (if using dried, follow the instructions on the pack). Ladle 1/2 cup of the pasta water into your tomato sauce, then drain the pasta and add directly to the pan. Toss the pasta with the Amatriciana sauce until full incorporated. Add the Pecorino Romano and toss vigorously.
Plate the pasta in a bowl, and shower with more Pecorino Romano and crushed red pepper flakes.