This series of articles will highlight some of our favorite culinary offerings around the world. For us, the joy of travel is inextricably linked to eating well, and we like to recreate our favorites at home. Join us as we share some of our best travel stories and then take our turn cooking the iconic dishes that make our travels so special. Check out our previous installment here.

Transylvania has a bad rap. It is almost exclusively known as the home of the fictional character Dracula, which brings an air of mystery and darkness to the region. Images of dense forests, permanently covered in mist and fog immediately come to mind.
Of course in reality, Transylvania is completely different. There is no Dracula. Or vampires for that matter. In fact, it is just beautiful.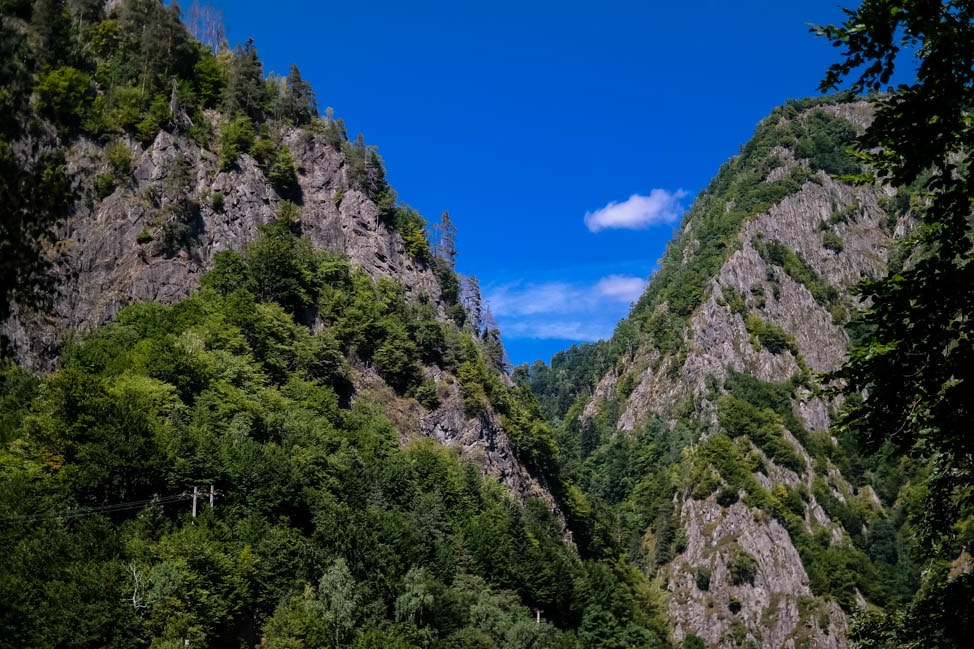 We visited Romania last summer for about a week, and spent most of our time in Transylvania. The first thing that struck us was the sheer natural beauty. The Carpathian Mountains, the backbone of Transylvania, are stunning, with raw, rocky cliffs giving way to vibrant green valleys below. The mountains also provide fantastic hiking opportunities, which we took full advantage of, spending hours exploring the countryside. It even has one of the best driving roads on Earth, the Transfagarasan Highway, which winds precariously through the mountains and around crystal clear lakes.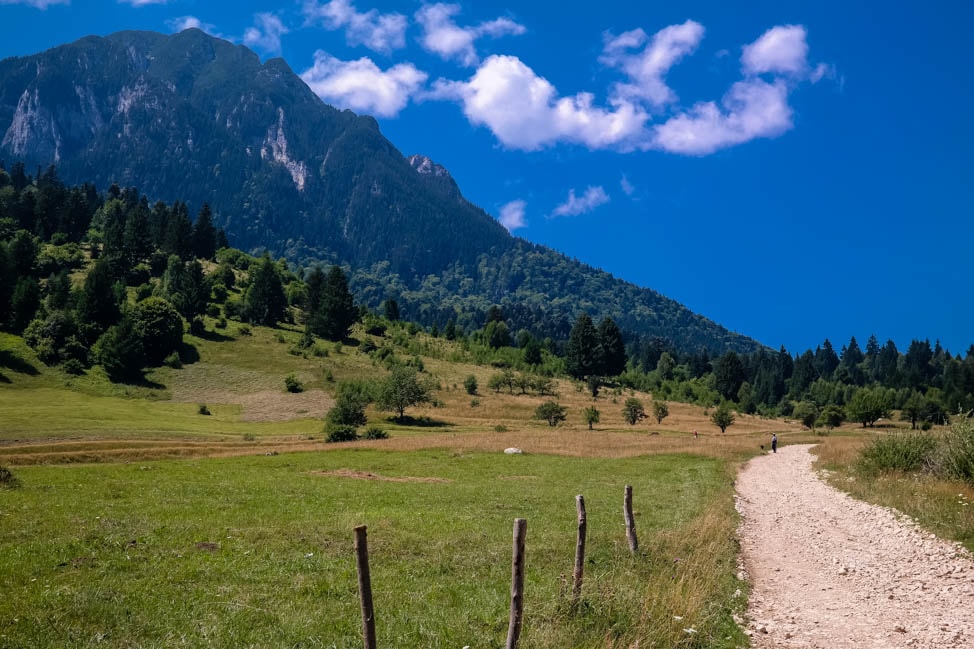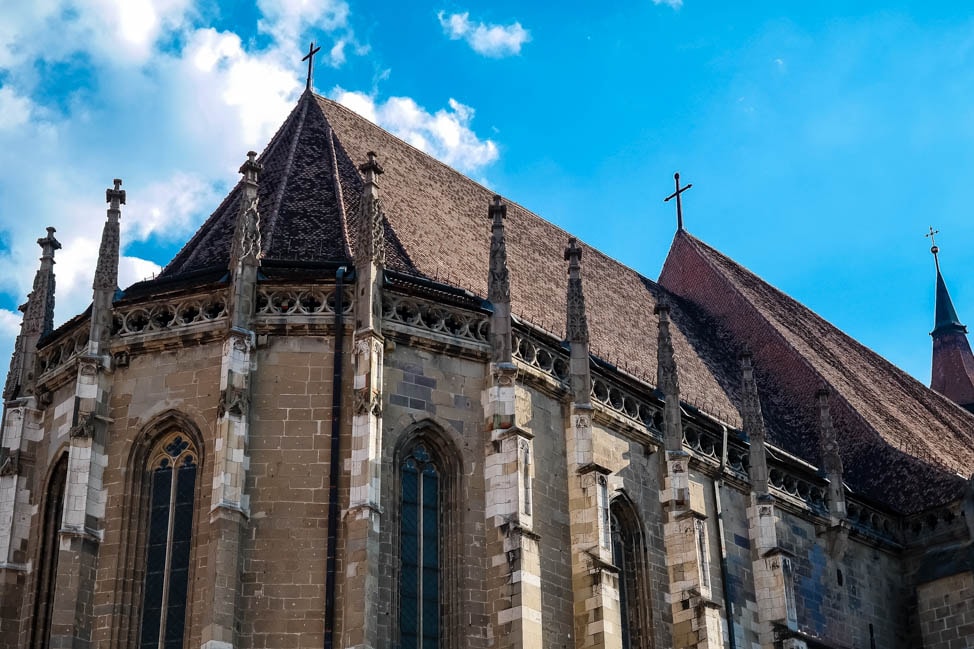 Our home base of Brasov was a stunner too, with a quintessential Old Town, containing a smattering of Renaissance, Art-Nouveau, and Romanesque architecture. The Black Church, the largest Gothic cathedral between Vienna and Istanbul, dominated the skyline.
Certainly, this region is not known for its cuisine. Heavy and rustic would be the best way to describe the food. They do execute small salads of tomatoes with local soft cheese quite well, but do not expect anything close to spa cuisine in this region. The portions are large and not short on calories. Many of the dishes, even items like pork stew, come with polenta as a side dish.
In Italy, polenta is the main dish. In Transylvania, it is merely an accompaniment to your much larger main meal.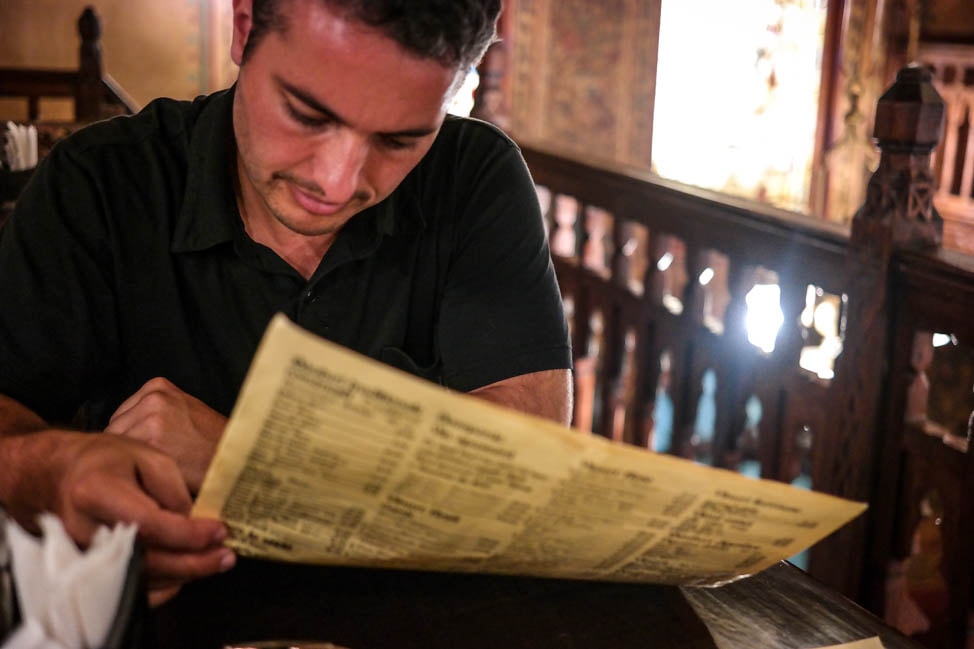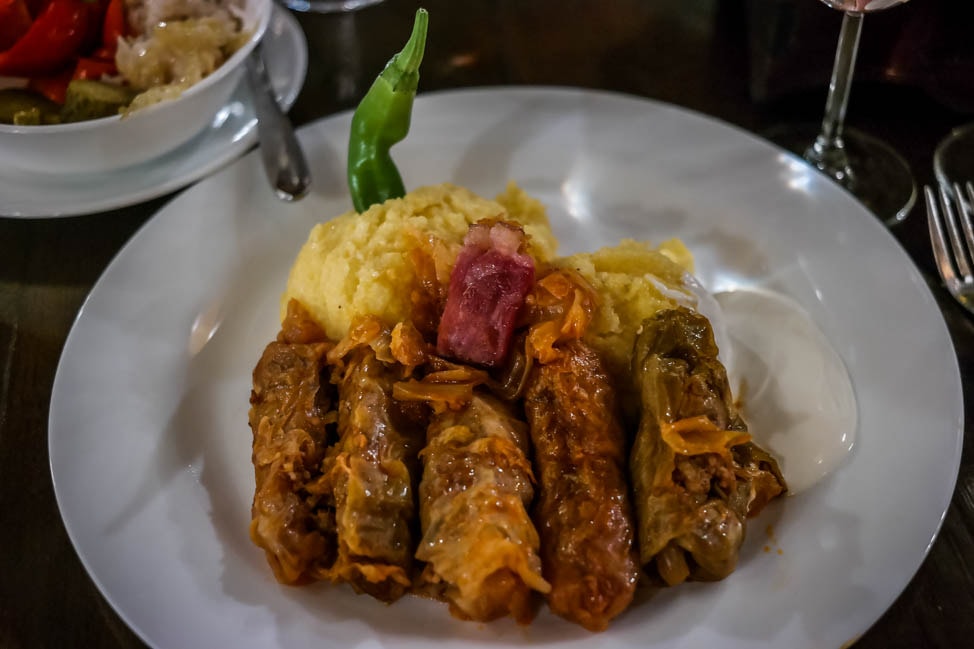 One of our favorite meals in Brasov was a classic dish of rolled cabbage stuffed with pork and rice. Classic, but delicious. Or maybe the correct phrase is, 'Classic AND delicious.' The cabbage was slightly pickled, so it was pungent and tart, a perfect compliment to the fatty pork, bacon and rice mixture within the rolls. It is not overly complicated, but exactly what we came to expect from the regional cuisine: rustic and delicious.
We decided to recreate a similar version of the dish we tried, called Cabbage a la Cluj, with originates from a town in the Northwest of Romania. Instead of rolled cabbage, the cabbage, meat and sauce is layered, not unlike a lasagna, and baked slowly. It is home cooking at its best.
Not the prettiest dish, that's for sure, but one that will have you going back for seconds.
_________________________________________________________________________________
Cabbage a la Cluj
2 cups sauerkraut, with 3 tablespoons of the juice reserved
500 grams ground pork
1/2 cup of uncooked rice
1 large onion, chopped
6 pieces of thick sliced bacon, sliced into large chunks
4 tablespoons tomato paste
6 tablespoons of olive oil
Note: We used sauerkraut in this dish, but traditionally, you would pickle your own white cabbage. This is a bit of short cut, but still packs great flavor.
Begin by cooking the rice, adding it to a pot with 1 cup of boiling water. Let the water come back to a boil, cover, reduce the heat to low, and cook until done, about 10 minutes. Once cooked, set aside to cool.
Preheat oven to 150°C (300°F).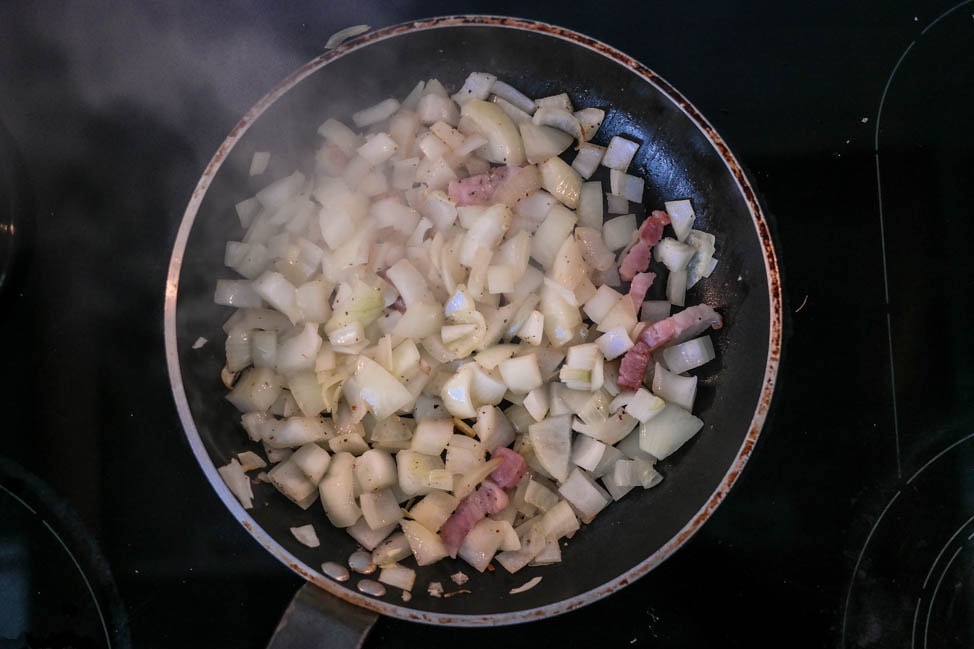 In a large sauté pan over medium-high heat, add 2 tablespoons of olive and half of the bacon. Let the bacon render some of its fat and color slightly, then add the onion. Let it cook for about 5 minutes, until the onions are soft. Add the ground pork, seasoning with salt and pepper. Leave the meat for a few minutes, letting it caramelize slightly. Once browned, mix the pork mixture with the cooked and cooled rice, tossing until the rice is even distributed. Continue cooking for 3-5 minutes, until the pork is cooked through and the rice warm. Remove the pan from the heat.
Add 2 tablespoons of olive oil to the tomato paste in a small bowl, thinning it until it is almost a pourable consistency. Add more oil 1/2 tablespoon at at time if necessary.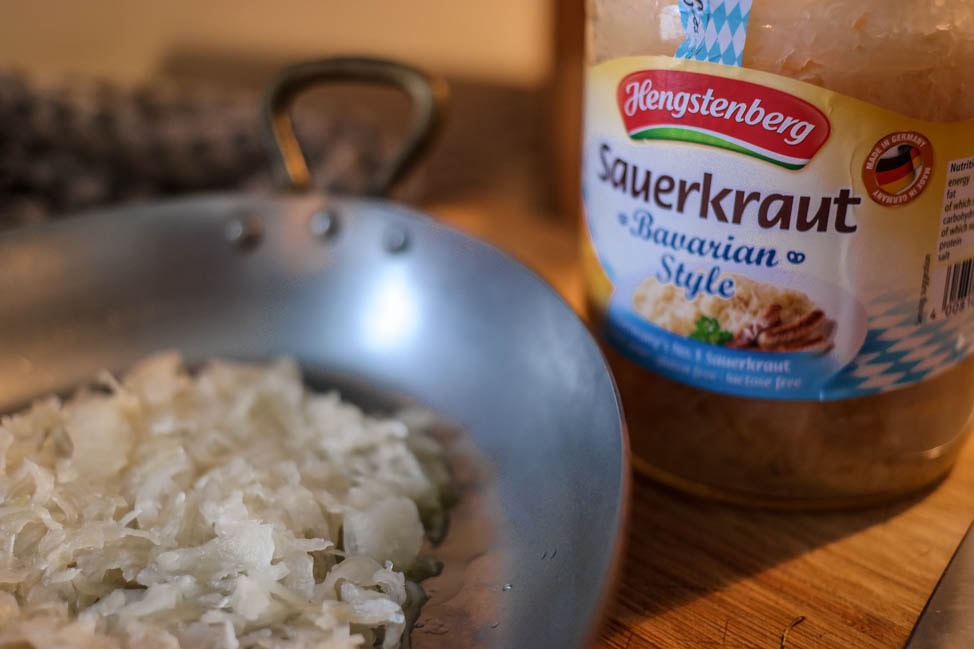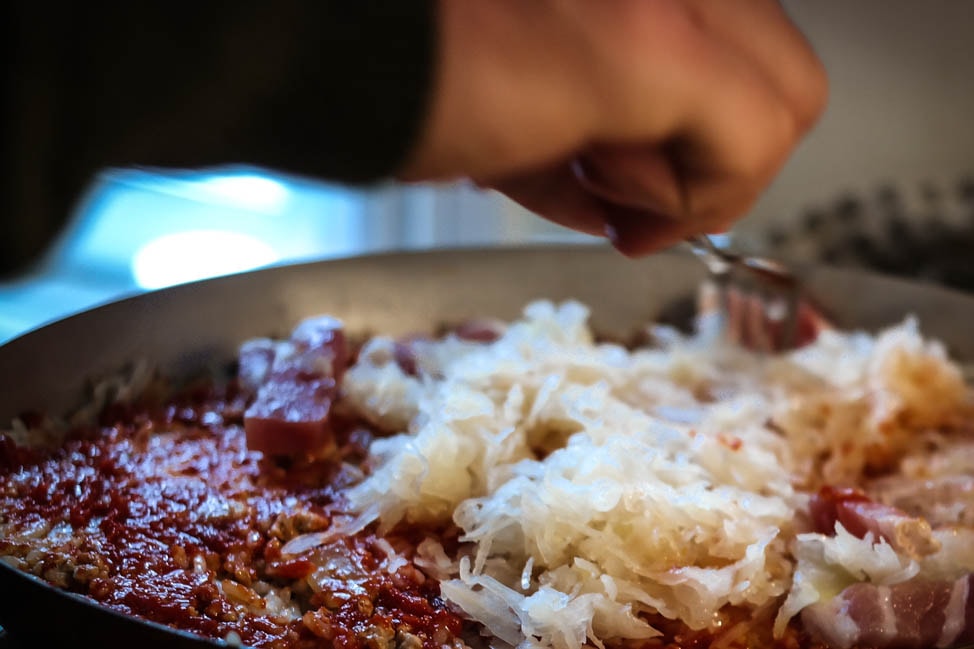 To layer, add the remaining 2 tablespoons of oil to the bottom of a baking or casserole dish, coating the bottom well (ours was equivalent to an American 9×13 roughly). Add 1/3 of the sauerkraut, creating an even layer. Next, add 1/2 of the pork and rice mix, spreading evenly. Top the pork and rice with 1/2 of the thinned tomato paste. Repeat the process one more time, then finish with a final layer of the remaining 1/3 of the sauerkraut. Add the leftover bacon, season with well with salt and pepper, then pour the 3 tablespoons of liquid from the sauerkraut jar on top. Cover with aluminum foil and bake for 2 hours at 150°C (300°F). For extra color on top, you can uncover and place under the broiler or grill for 2-3 minutes at the end of the cooking.
Serve with a dollop of sour cream, and if you are really hungry, a side of polenta. Enjoy!