This post has been sitting heavy over the past weeks as we got up the courage to click 'Publish.' On November 21st, we lost our beagle, Basil, to the forces of old age. He was 10 1/2 years old. We are devastated because he was our furkid and companion for over ten years. But we are also comforted that his end was swift, painless and that we were able to manage his high quality of life until the very end – including a last meal of scones and jam, like a true Brit.
Rather than rehash the past ten years of memories, we've been relishing in our favorite ones, those that always make us smile or cringe or laugh. To pay tribute to our B-man, here are a few of our favorite stories as well as photos going way, way back.
Puppy Pillow Drama: We were new parents. That's the closest comparison I have to the insanity that was bringing a puppy into our home. He was a baby, for all intents and purposes, with all of the hard work that comes with one of those. Outside every few hours, up all night, crying and eating and pooping everywhere. We were totally out of our depth.The best/worst night of them all was during that first summer. Drew was working long hours at the restaurant and I was home most evenings with the puppy. In order to keep tabs on his movements, I was in the habit of letting him sleep next to my face, so I would wake up quickly if he was awake and causing trouble. One such evening I woke up to Drew arriving home from work. As he walked in the room, Drew said, 'Don't move. Something is on your pillow.'
Sure enough, the 5-pound monster had peed literally on my pillow while I was asleep. I was so furious and frustrated. I stormed off into the guest bedroom, and heard Basil crying as he realized he wasn't welcome in the room with me.
The next morning, feeling resigned to my life being over as I knew it, I remember saying, 'I'm not sure I can make it a year with this thing.'
The Chicken Incident: Beagles are notorious scavengers. Their noses are beacons, allowing them to scout out every semi-edible piece of whatever disgusting thing happens to be in their tracks. It's foul. Basil was no different, and we can name hundreds of situations in which he ate something questionable off the street (hello, NYC, I'm talking to you!), dug up something in the yard, or helped himself to stray French fries on the street.When Basil was four or five, Drew came home one day to our Maine house to find the trash can knocked over. This was not normal behavior for Basil, but he did go shopping in the trash if he smelled something particularly tasty in it. This day, it took us a while to figure out what could have possibly tempted the pup to take such drastic measures. And then we remembered.
An entire chicken carcass, leftover from the previous evening, was missing.
We were immediately terrified. Chicken bones are not good for dogs, as they can splinter, causing serious damage. With an entire missing chicken, well, the potential complications were significant. We hauled ass to the emergency vet for x-rays, which came back mostly fine. They could see a few bone shards hanging out in Basil's system but nothing that looked too scary. We breathed a sigh of relief and added yet another rule to our ever-growing list: take out the trash immediately if there are any (ANY!) bones in there.
The next day, we realized why Basil wasn't ill – he had actually buried most of the carcass in the cushions of our couch. The still intact rib cage was stuffed behind a throw pillow.
His thwarted plan for a late night snack saved his life and ruined our couches. Perfect.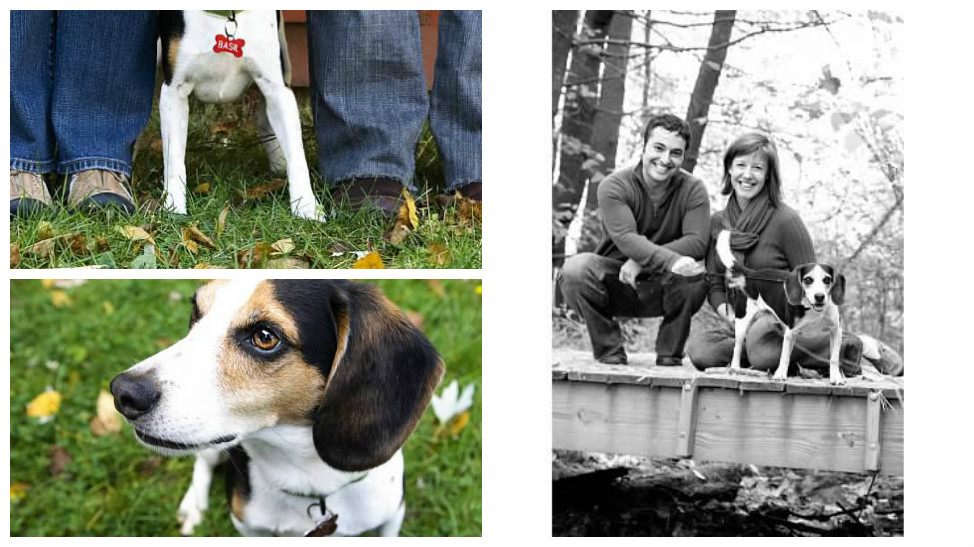 The Motherland: Basil's last two years were arguably his best. When we relocated to the UK, we joked that he was coming to his motherland – beagles are a British breed and it randomly happened that our dog named after an herb was also a pretty common name for humans over here. He even got used to the new pronunciation by neighbors – Bah-sil instead of Bay-sil.
We like to explore the UK, and on our frequent travels, we would always bring Basil along with us.
Side note: for Basil's entire life, he never EVER went anywhere in the car that he didn't like. And yet, until the very end, long car rides would make him nervous, and he would shiver silently, panting hard at the passing scenery, until we arrived at whatever brilliant destination we had planned, at which point, he would bound of the car, in doggy heaven.
One of the most memorable UK moments was in July 2014. We had taken a drive to the region of East Anglia, and during one hike we came upon a massive beach surrounded by sand dunes. We had no idea there were dunes in England, and with the tide out, the gorgeous beach extended for miles in all directions. Basil went bonkers running toward the water and then away from it, and rolling in the beached seaweed. At one point, two women galloping on horses rode past us, and Basil, seeing his opportunity, took off. Chasing horses. Down the beach.
It took us a while to catch up with him after that adventure, and he shivered in the car all the way home.
Skunked: No dog's life is truly complete without a serious skunk spray. Ours happened in our backyard, while living in Portland, Maine. Basil went out in the evening, when it was already quite dark. In that house, we could let him in and out without surpervision.
When he made his signature yelp to come back in, we let him in along with the most ferocious burning rubber smell I have ever smelled in my entire life. My eyes teared up from the fumes and we ushered Basil back outside to clean him up.Suffice it to say, it took the better part of the week for the scent to diffuse. Skunk smell actually doesn't even bother me too much, but in those quantities – whoa.
And with that little adventure, we added yet another rule to the list: always take a look around the yard before letting Basil out!
It's difficult to distill down ten years to a few stories, but hopefully you now understand some of the trials and tribulations we've had with our pup. Basil was a loyal friend, walking companion and we love him very much. If you can't get enough Basil in your life, here is the post we wrote in May when Basil turned ten and we fed him a cupcake which he immediately threw up. Nice one.
We'll miss you old friend. We are better people because of you.