London has never tasted so good!
The days of drab and dreary British food are truly in the past, as the London restaurant scene has become more exciting and interesting with each passing day. You can still get fish and chips from the local "chippy" and meat pies smothered in "liquor" from old school pie and mash shops, but these days you are hard pressed to find a high street that doesn't also feature a new no-reservation hot spot that is packed night after night with adventurous eaters.
London has gone food crazy.
There are unbelievable markets to be explored, from the legendary Borough Market, to the increasingly popular Broadway Market in hipster East London, selling a dizzying array of goods.
There are cheese shops, butchers, and fishmongers slinging high quality, local, sustainable products, not to mention an exploding street food scene, thanks in part to innovators like KERB and Street Feast that have set up street food markets around the city.
In essence, it's hard to not eat well in London these days. And while seemingly a dozen new dining destinations have opened in the the past 6 months, we went out and tried to find our picks for the best of the best.
Here are our selections for 3 new and unique London restaurants to check out next time you're in town!

Temper
If you don't like smoked, roasted, or grilled meat, then Temper is probably not for you.
This new SoHo restaurant from Chef Neil Rankin (who used to helm the kitchen at Smokehouse, a favorite spot of ours for Sunday roast) is meat-centric, with the basement dining room built around the open kitchen. Almost everything is made over an open flame, with large hunks of meat cooking in a variety of ways at all times, from leg of lamb, to goat shoulders, to whole pork loins.
The menu is divided into tacos, sides/vegetables, and chopped/smoked/grilled meat. They also have a snack or two listed daily, like nachos with braised pork, Red Leicester cheese, chiles and chipotle aioli, which is not a bad way to start a meal here.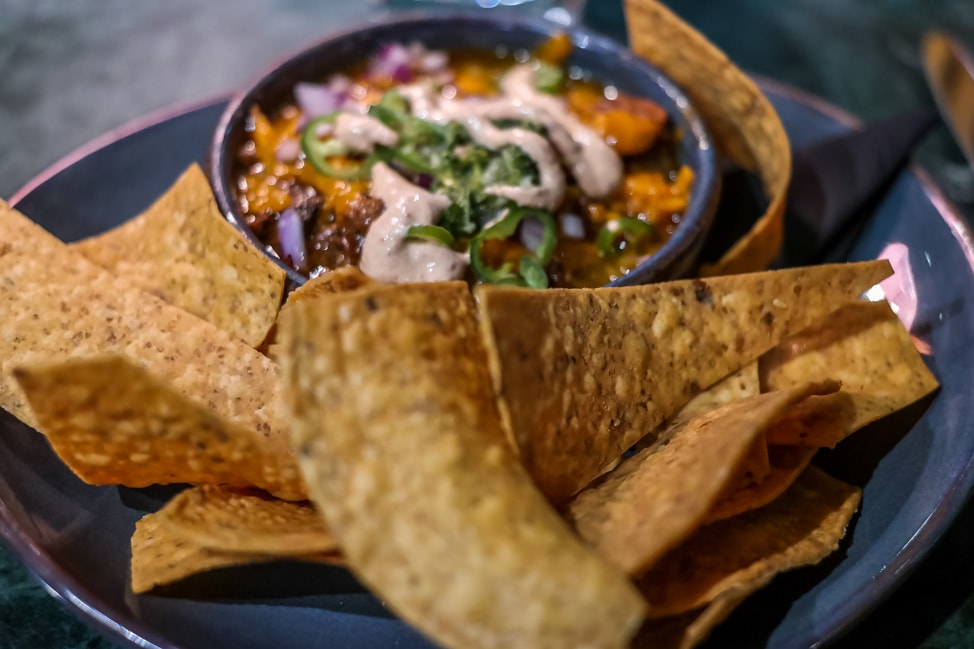 The tacos are outstanding, designed as an appetizer, and they highlight both the quality of the meat (ranging from goat to mackerel) and the corn tortillas, which are milled, mixed, and made in house. The aged cheeseburger taco features incredibly high quality dry-aged beef that tastes much better, and more meaty, than you average burger patty.
The star of the menu though is the meat section, showcasing the wide array of items that the kitchen team has been smoking and grilling all day. It is priced in 100g portions, with 200-300g recommended per person (which is about 7-10oz for those not familiar with the metric system), and served over grilled flatbread.
You can add on sauces (up to 7 to choose from) and "sprinkles" (essentially toppings like crispy onions or dried shrimp with peanuts and lime zest) for an additional price.
And while the meat is certainly the star, the sides and vegetables should not be overlooked. The basic baby gem salad is given an upgrade by grilling the lettuce and serving it in a pool of yogurt-based dressing, with pops of heat from thinly sliced chiles.
The kitchen team repurposes the rendered fat from the roasted meats, cooking potatoes in beef fat before smothering them in gooey, melted raclette cheese. Even the grilled corn gets a coating of lamb fat butter.
For anyone with a hankering for a fire and grilled meat, Temper is the place to go!
Kiln
Not too far from Temper in SoHo is Kiln, which opened just last autumn, and focuses on regional Thai food. The restaurant is tiny and narrow, with mostly counter seating around the bar area and the open kitchen.
They do take reservations for 4 or more for the few tables that have, but this is mostly a no-reservation spot, so expect a bit of wait for a seat during peak dining hours (we had to wait 45 minutes for 2 chairs at lunch in the middle of the week!).
The menu is mostly small plates, with a few additional snacks and side dishes. If you don't like spice, make sure to speak up, as many of the dishes come liberally sprinkled with chiles (they can tone it down if desired).
The dishes are reasonably priced for the quality and variety, with no dish over £10. That said, the server recommended we get up to 8 dishes for 2 diners, which would have still been quite an expensive lunch out. We ordered five, which was plenty.
Onto the menu! The chilled langoustines, which come split in half, are topped with chiles, kaffir lime, and mint, highlighting the sweetness of the shellfish. The dark, rich Tamworth pork curry is intense and deeply flavorful, while the Lao-style steamed pollock is topped with lemongrass and a fistful of fiery chiles that will make you feel the burn.
Glass noodles, topped with pork belly and brown crab meat, is cooked in a clay pot, over an open fire of course. The flavors are bright, rich, and simply delicious.
If you like Thai, but are sick of pad thai, a meal at Kiln will open your eyes at how great authentic Thai food can be.

Bar Shawarma
This is the recently opened restaurant from the team behind Berber & Q, one of our favorite meals of 2016. It is located in the middle of the perpetually busy, and perennial favorite, Exmouth Market.
Bar Shawarma takes inspiration from the street food of Tel Aviv and adds a unique spin, slow roasting meat over charcoal and wood. There are pita sandwiches, hummus, and a variety of mezzo as you would expect. But there are also dishes like cauliflower shawarma and roasted butternut squash with mograbieh and curd cheese where the kitchen really shines.
The rice bowls, made with mejadrah as a base (a mix of rice, lentils, and fried onions), can be topped with lamb shawarma, or merguez kofte, Joojeh chicken, or cauliflower shawarma. Each comes  specially dressed too, with accompaniments like blackened green chile sauce, harissa creme fraiche, or flaked almonds with roses. The same goes for the pitas, stuffed with tahina, herb salad, and pickles, along with a choice of charcoal-grilled meat.
Bar Shawarma also has stellar natural wine selections, some fun cocktails, and even some tasty non-alcoholic choices as well. With a central location, affordable pricing, and a unique spin on Middle Eastern, it's a can't miss addition to the London restaurant scene.
This is a couple of steps up from the traditional late night kebab in London, that's for sure.
Like what you seen or have some tips of your own to share? Check out the comments section below!