The street food and market scene around London has exploded in the past few years. New vendors and markets arise every week it seems, setting up shop all around the city. While most people get enamored with the new kids on the block, let's take a look at the true mothership of the London market scene: Borough Market.
The market is packed Thursday through Saturday, teeming with masses looking for lunch at a London landmark while taking a multitude of photos of the tables of pure food porn. There are dozens of vendors selling ready-to-eat dishes, perfect for standing and snacking, so decided on what to eat at Borough Market can be daunting. Of course, not all stalls are worth the crowds and the lack of comfortable seating.
So here is my guide on what to eat at Borough Market. You won't leave hungry or disappointed!
What to Eat at Borough Market
Gujarati Rasoi
These purveyors of flavorful vegetarian Indian food dish out samosas, bhajis, and a variety of veggie dishes. They happen to have another stall at our other favorite London market, Broadway Market. The best bet is to go for their vegetarian thali (£6.50), a mixture of basmati rice, yogurt, and tamarind sauce with their featured dishes of the day. The curried cauliflower is my personal favorite.

Kappacasein
Simply put, the greatest grilled cheese sandwich (or cheese toastie as the Brits' say) on the planet. The mixture of Montgomery Cheddar and super gooey Ogleshield makes for an ideal cheese blend, sandwiched on local sourdough from Bermondsey, all for £6. Kappacasein also offers racellete, with half-wheels of Ogleshield positioned under gas heaters, creating bubbly, melty cheese that is poured over steamed potatoes with gherkins. Sounds amazing, but it is not what to eat at Borough Market. Take a photo of the racelette, order the cheese toastie. You're welcome.
Comptoir Gourmand
There is an abundance of bakeries, hawking tempting cookies and cakes, all around the market. Stay strong though, and hold off for Comptoir Gourmand. They make a wide range of sweets, from tarts to cakes, though the macaroons and chocolate chip cookies are especially good. They are large and relatively flat, which I mistaken thought would translate to a dry and crunchy cookie, but surprisingly, they are soft and gooey in the middle. Perfect.
Don't be swayed by the long queues. It's worth it.

Brindisa
While the Brindisa restaurant, located on the corner of the market, is an excellent choice for a drink and some tapas, their retail store is worth a gander, as it is stocked with the highest quality Spanish ingredients, like whole legs of Iberico ham. Even better, they maintain a sandwich stall just outside the retail shop, selling a legendary chorizo roll (about £5) which is worth the hype. A grilled chorizo sausage, on a roll, with arugula and piquillo peppers. Simple, but delicious.
You have the choice of one link of sausage or two, but why choose only one when you can have two delicious pieces of chorizo?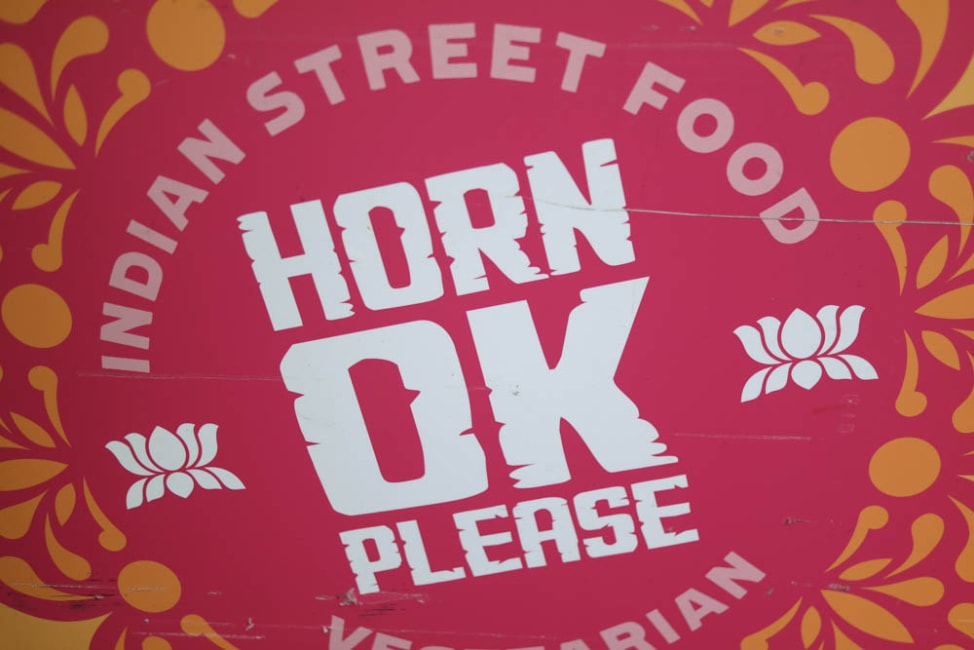 Horn OK Please
Strange name, fabulous food. The best dish is the moong dal dosa (£5), an Indian street food that is similar to a crepe, but made from rice and lentil flour (their entire menu is gluten-free). Horn OK Please wraps the dosa around masala potato, and serve it with a side of chutneys with chickpeas and pomegranate. You will forget that this is actually healthy!
Roast Hog
Now, if you want to indulge, this is the place to do it. Roast Hog spit-roast a whole pig each day and make mouth-watering pork sandwiches (about £7). The uber-tender pork is crammed into a ciabatta roll, with a homemade apple sauce and arugula, topped with a little bit of the crispy pork crackling.
Bread Ahead
Just like the sweets department, Borough Market provides a large number of options for bread. While there are many excellent options, Bread Ahead is the best of the best. The focaccia is to die for, but don't overlook the doughnuts (one of our picks for 50 best dishes in London). At £2.50 each, and offered in flavors like salted honeycomb and creme caramel, these are a perfect way to end a day at the market, along with some sourdough or baguette to take home. Plus, their full-scale bakery is located just around the corner, and offers fun baking classes for the public, for beginners and seasoned bakers.
Food Shops and Restaurants Around the Market
There is a lot to eat and drink around the market, from coffee shops to proper restaurants. If you want to brave the queue at Monmouth Coffee, you will be rewarded with some of the best coffee in the city. Just around the corner, on Park Street, Neal's Yard Dairy, the legendary cheesemonger, has its main retail outlet, jam packed with the finest UK cheeses.
If the weather is nice and the market is a little too crazy, the smart move is to grab a baguette from Bread Ahead and some soft cheese (I love Baron Bigod and Tunworth) from Neal's Yard, and head to a bench along the River Thames a few blocks away. I would even suggest grabbing a half bottle of bubbly (or a full bottle if you are feeling fiesty) from market fave Borough Wines to sip while digging into the rich cheese.
And don't worry, you can drink openly in public in the UK.
If you want to snag a bite at a sit-down restaurant, try Wright Brothers for the best oysters and shellfish in the city, along with some wine or classic English ale. For an even more traditional British experience, head upstairs for a bird's eye view of the market floor from Roast, which serves an indulgent Full English Breakfast that may require a post-breakfast nap.
The hottest newcomer to the area is Padella, run by the excellent team behind the fancier Italian restaurant Trullo up in North London. Padella is all about fresh, house made pasta, with about eight choices each day, all for around a very reasonable £7, making it one of the best cheap eats in the area. It's small and very busy, so unless you get there right when they open, expect to queue.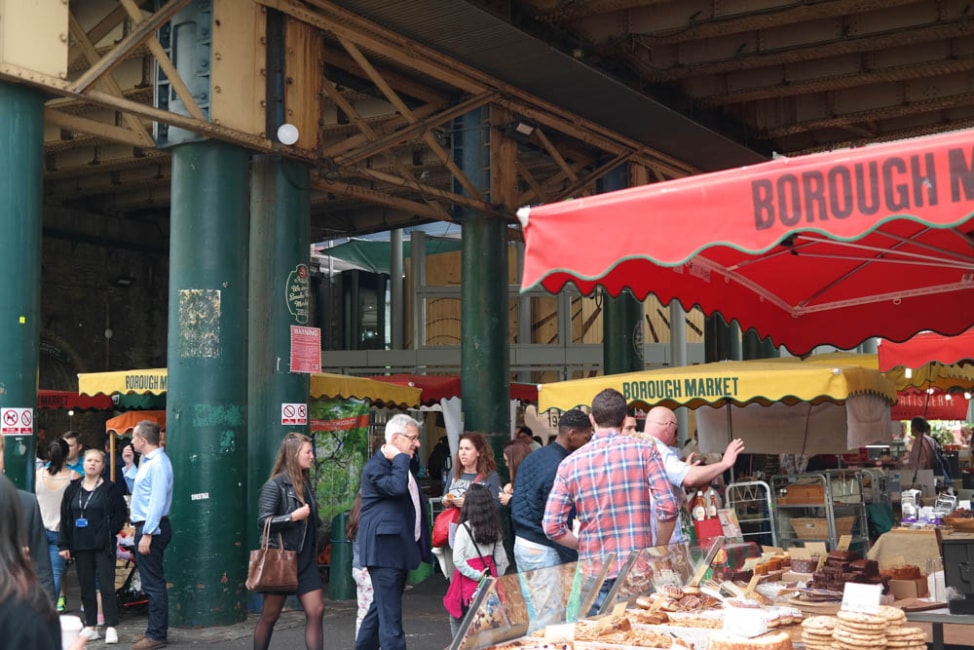 For any true food lover, Borough Market is a definite must-see while in London.
The sheer scale of the market and variety of vendors makes perusing a worthy venture. Avoid the craziness of Saturday if you can, and hit the market around 11am to mingle in relative peace, allowing you to take in the whole market before making a dining choice. Whether you want to have a full meal at a restaurant within the market, or just grab a handful of small dishes from the food stalls, you definitely will not leave Borough Market hungry!
Do you love Borough Market? Share your favorite bites in the comments below!
PS: Want to book a hotel for a visit to London and looking for a deal? Check out HotelsCombined.com, which searches popular sites like booking.com, hotels.com, and expedia to show you the best deal!
Dear reader, please note that some of these links are affiliates, which means we will make a small profit should you choose to use them. This in no way unfluences our recommendations though. We only share the things we have genuinely used and loved.