Occasionally in life, you have a chance to have a "once in a lifetime" experience. When I was invited to a Finnish bachelor party (or stag party if you're European) this past spring, I knew I couldn't pass up the opportunity to attend such an event with thirty Finnish guys in the small town of Himos, Finland. When would I ever get a chance like this again?
Well, as it turns out, a few months later.
Amazingly, I just returned from another Finnish bachelor party. How is that possible? Well, I got to know a few other Finnish guys through my friend here in London and after attending the festivities in Himos, I received an invitation to another blowout event. This time, not only was I the only American, I was the only non-Finn.
I have somehow developed a niche of being the token American at Finnish bachelor parties. It's not a bad gig.
The party began in Helsinki, as we picked up the bachelor boy, Valto, at his flat. As is tradition in Finland, the date and location of the party is kept secret from the bachelor, so he had no idea that his relaxing Friday at home was about to turn into a three day extravaganza. Hopefully he didn't have any plans.
We cracked some beers (or cider in my case, thanks to the celiac thing) and hit the road, driving an hour to the west to the small coastal town of Tammisaari. The town itself reminded me a lot of where I'm from in Maine, with a rocky coastline, pine tree lined roads and seaside restaurants, all centered around the active marina. We started the party right away on the veranda of our hotel. By Sunday night, things would go off the rails a bit. That's what three very, very long nights will do to you.
After more than a few drinks on the veranda, we gathered for a big Mexican dinner at a place called Sante Fe (the ridiculousness of this is not lost on me). After an early morning flight from London, a few too many plates of food and many hours of drinking already, I started to fade, so I ordered a coffee. I was handed a mug that has half coffee, half whiskey.
"I figured when you said coffee, you meant Irish coffee. Why would you want plain coffee at this point?" Ah, the Finns.
After our dinner at the almost-deserted restaurant, where our entertainment was interesting American rock covers by the local band, our group decided to check out the only other late night spot in the small village, the aptly named No. 1 Nightclub. Hard to be number two if you are the only game in town.
Shockingly, the nightclub was a blast. It had a huge outdoor patio overlooking the water, a great DJ and a big dance party going on inside, complete with glow sticks. They also provided glow in the dark body paint, and some party-goers covered their bodies at they pumped their fists to European house music in the black-light enhanced dance floor. It was quite the scene.
We lucked out with the temperamental Finnish weather, as this was the first truly summer day, I was told. We hung out on the patio, enjoying the 23C (73F) nighttime temperatures and basking in the midnight sun. As we wrapped up, I looked at my watch and was stunned when I discovered it was 3am. It really does mess with your perception of time when you leave a nightclub at 3am, it looks like dusk and you can still see the sun.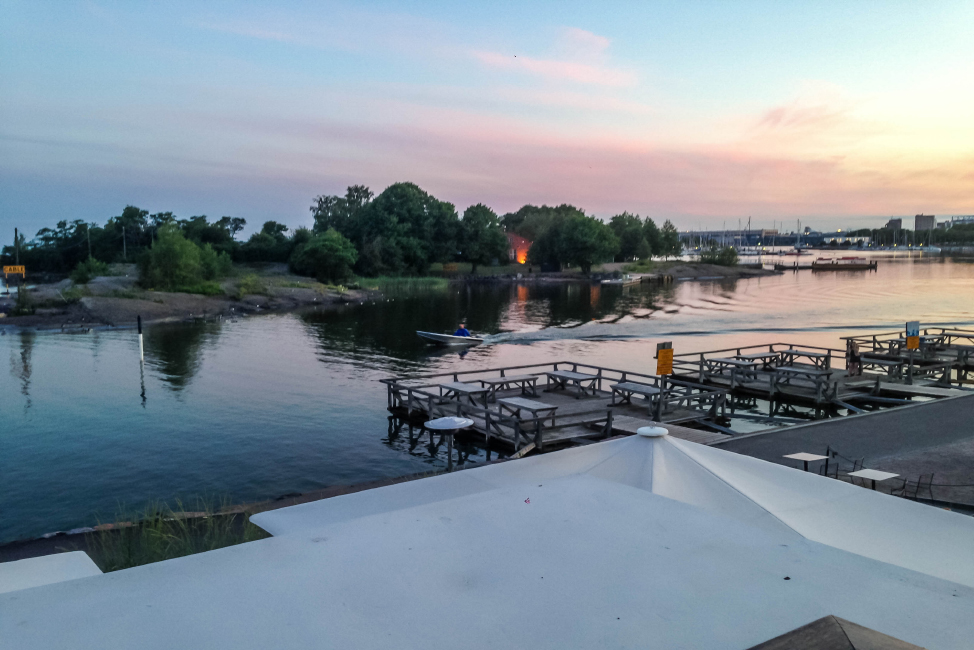 Before departing the club and after too many beverages, a few of the single guys decided to use me as their "wingman" to pick up any girls left in the club, since my Americanness was unique in a small town that rarely sees visitors from the States. I endured a couple of odd interactions which went something like this:
Finnish guy talks to group of girls, with me standing nearby and says:
1) a bunch of Finnish I didn't understand
2) pointing at me, then the word "American"
3) a short awkward silence, before I introduced myself
4) then a bunch of Finnish, the girls would shake their heads, then the guy would walk away
Not exactly a group of casanovas. Of course, the main issue was that our group of guys in their mid-30's to mid-40's were in a late night dance club where the average age was probably 20. I feel young, but I quickly realized I don't look as young as I feel. Aging is harsh.
While walking back to the hotel, I was told that after our "relaxing" Friday night, Saturday was the big day. Friday night had felt big enough for me.
The next morning, we took a bus out to a small farm in the middle of nowhere, about 30 minutes west of Tammisaari. We walked through a property and down a hill to a small valley surrounded by dense woods. There was a small wood cabin containing the traditional smoke sauna, a deck with a pool and a plunge pool built into the ground. It was time for sauna.
The next five hours were spent drinking, lounging in the pool and sweating in the sauna, all while completely naked. Finland can be strange.
We drank heavily all afternoon, in the seasonably warm weather and the heat of a 80C (176F) sauna. While I had previous gotten by with wearing a bathing suit at the previous bachelor party, attended by a handful of non-Finns, this event was all Finnish.
"Do I have to go naked?" I asked. "Yes," my new Finnish friends replied, "you don't have much of a choice here."
So, for the first time in my life, I got drunk while completely naked, surrounded by other naked men. It's bizarre as it sounds. For the Finns though, being naked in this situation is not weird or awkward. Being naked is not embarrassing, quite the opposite actually. It is very fully embraced.
There were a lot of photos of the afternoon that I cannot share for obvious reasons, and there was a lot of naked-posing-with-the-tentative-American which everyone enjoyed. There was also a wrestling match between two guys, officiated by a very enthusiastic and very naked judge. There were crude jokes, taunting, lots of drinking. Someone even sang me the American national anthem while we sat naked in a pool surrounded by about a dozen other naked men. Fitting, since it was the 4th of July. My strangest Independence Day ever.
To provide a barometer to the amount of partying I witnessed, one guy didn't even make it through the sauna experience, passing out in the woods. It took us 15 minutes or so to find him, only to discover him snoring loudly, nestled up against a pile of wood logs near the cabin. While that would be the end of day for most people, for a Finn, it was just a quick rest before starting the party all over again.
After a quick, late lunch in Tammisaari, I headed back to the hotel to hit the reset button. The Finns seemed confused why I needed a break, ordering me a drink despite my clear refusal. I sheepishly left the full drink on the table and made a break for our hotel. We only had 2 hours before we were going to the "real" party for the duration of the night.
The main event for the weekend was the Hanko Regatta, located in the small town on the southernmost tip of Finland. The Regatta is a big social event in Finland and this weekend dominates the summer calendar, with scores of people driving out from Helsinki to enjoy some boating and partying. We met up with a friend, knocking back a few cocktails on his boat in the harbor before beginning our night. That was the extent of our "boating" at the Regatta.
We camped out at Restaurant HSF, on a beautiful upper deck bar area, overlooking the massive Hanko marina, packed with yachts and impressive sailboats. Not to be redundant, but we spent the next 6 hours drinking on the patio, listening to house music, enjoying the perfect summer weather and a sun that just never went down.
The impressive thing about Hanko was how pretty everyone is. I am talking hoards of gorgeous Finnish men and women. It literally looked like an H&M catalog photo shoot. Everyone is tall and trim, with stylish clothing, almost whitish blonde hair, and piercing blue eyes.
And that was just the guys.
Our planned 1:30am return bus back to Tammisaari went about as well as planned. So, not that well. Only a handful of us were at the pre-determined meeting spot for the bus. We were missing Valto (the bachelor) among a few others in the group. After almost deciding to leave the guest of honor behind to fend for himself for the rest of the night, a few volunteered to go hunting for our party.
After some slight confusion, none of which I understood since it was in Finnish, we left the search party behind in Hanko while the rest of us bussed back to Tammisaari. A few of us stopped by the late night burger and french fry stand before walking back to the hotel, ordering the most fully loaded fries I have ever seen. Mayonnaise, ketchup, remoulade, onions and relish all in a truly gigantic portion. I think it saved me from a tough Sunday morning.
As I was enjoying the fries, one of the guys informed me that the search party had found Valto and they were on route to Tammisaari. Unfortunately, the bus didn't return for the search party + Valto, so they were forced to find a taxi in the small town that was willing to take them back to Tammisaari for €70. Such good friends!
Everyone was off to a slow start on Sunday, but by lunch, we had checked out of the hotel and were enjoying some drinks on one of waterfront restaurants in Tammisaari. This was technically the end of the bachelor party, and most of the group scattered back to their respective hometowns. My friend Tom, Valto and I though had other plans, as we had an extra day in Helsinki to continue the party.
"The last two nights have been fun, but today is really the main day," said my friend Tom. My poor liver.
We spent most of Sunday night on the waterfront in Helsinki, which is gorgeous. There are a bunch of tiny islands just a few meters off shore and a park running along the water. We hit 3 different bars and were joined by Valto's fiancée and other friends for a few drinks. By the time we settled into the final bar, it was just the three of us. We cracked bottles of champagne, drank multiple rounds of Aperol spritz's and topped off with a few shots of Jägermeister, which I think everyone would agree is never a good idea. Our table got rather full with glasses.
Once all of the alcohol hit us, we made a fatal mistake, which I believe was instigated by Tom. "Lets go to the karaoke bar!" Those are some of my least favorite words in the English language. In my happy state though, it seemed like a good idea.
There we were, sitting in a mostly empty bar in central Helsinki at 1am, about to sing. Funny enough, despite Julie's recent admission that she hates Oasis, I randomly sang "Wonderwall" accompanied by a few people we had met along the way. Judging by the crowd's reaction, the performance did not go over well. I distinctly remember screaming "America!" into the microphone before dropping the mic at the bar. The bartender was not pleased.
I was later forced into slow dancing with an older woman, while a guy standing next to me sang a Finnish folk song. As I mentioned earlier, Sunday night really unraveled.
After my rather poor karaoke performance, Tom was grabbed by the throat by a very large, very angry man in a biker jacket and threatened with significant violence. At the same time, on the other side of the bar, I watched as Valto, now shirtless, was being carried out of the bar by the two bouncers. It would appear that our time at this bar had come to a conclusion.
Despite my desperate attempts to coax my friends home, we took a taxi to yet another bar in central Helsinki. Luckily for us, the bouncers at this club denied us entrance, thanks to our unstable appearance. Once Valto feel over on the sidewalk outside the entrance to the bar, like a turtle flipped over on its shell, legs and arms in the vertical position, we knew. The bachelor party was over.
Thank god.