Today we're talking about my love affair with the written word.
When I was a kid, my mom would take me and my sisters most Saturdays to the local public library. We would spend the better part of an hour filling up our canvas bags with that week's haul. Once home, we would sit in the living room, describing, sales pitch style, the books we chose and why we made that particular selection. As we finished reading, there was a basket near the front door where the books went, for easy collection the following Saturday.
Such sweet memories.
As a teenager, I hated the forced togetherness of my family's annual summer vacation to Northern Michigan – it was my personal form of torture. Too old for Barbies, too sick of losing to my 8-years-younger sister at cards, I was a sullen mess.
But at least I had my books.
I would bring 8 books for an 8-day-vacation, blowing through John Grisham and Michael Crichton novels at a rate of one per day. It was 1995.
To this day, I choose my vacation books very carefully, calculating the time in airplanes and on beaches in pages per hour.
Knowing many people who don't identify as active readers, I'm so happy that it has remained for me one of the only ways I know to truly relax. I've moved a lot as an adult and I always know I'm truly settled in a new place when I head down to the local library to get myself a card. It's one of the first things I do – furniture and unpacking can wait.
I use my daily commute as a way to get engrossed in a new novel, and Drew knows when I've fallen asleep at night when my hardcover book hits the floor. I read when I'm bored and when I'm restless. I read to challenge myself intellectually and to escape into a new world. I read for inspiration and self-discovery. I read to get a historical perspective, and to learn about current events.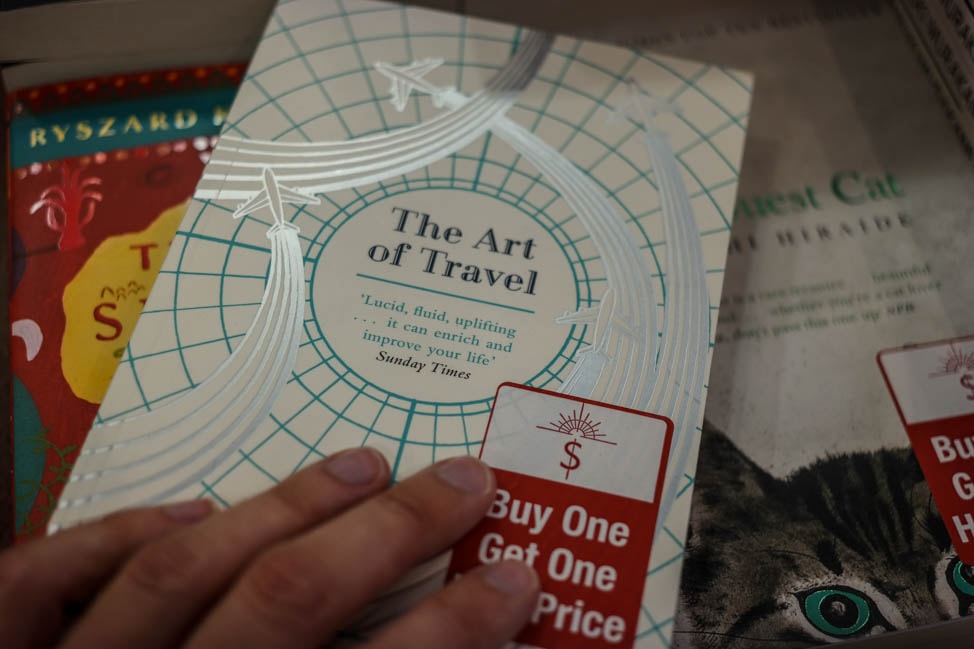 Second to libraries, I also have a soft spot for bookstores, particularly independent ones that have survived through the years of consolidation and Amazon-domination. It's unsurprising that London has a strong literary tradition, and probably hundreds of bookshops. There is even a street in SoHo that is lined with bookstores on both sides, the historical street where people shopped solely for books.
My favourite single bookstore in all of London is Stanfords, the biggest map and travel bookshop on Earth (says their website). Open for over 160 years, this is heaven to a literary wanderluster like me. If I'm not leaving London for a period of a month or more, a visit to Stanfords is in order to get lost in the guidebooks, and dream up my next adventure. It's also massive, spread over three floors of … just … travel. In Stanfords I feel like the ultimate kid in a candy store.
It's my jam.
Up the road from Stanfords is another one of London's stalwart bookshops, Foyle's. Don't be fooled by the corporate façade or the sprawling 7 stories of book heaven – this is one of the world's legendary independent bookstores, dating back to 1903. Here's my idea of a perfect rainy Sunday: browse Foyle's ridiculous selection for a new title, take my book up to the lovely upper storey café, and read away the afternoon, stopping only for a second slice of cake.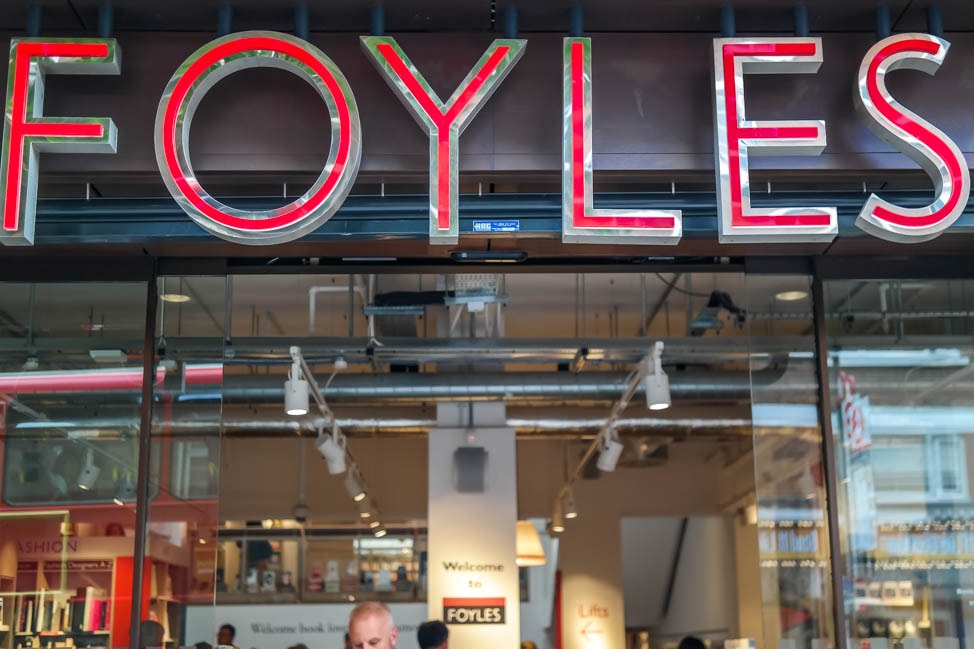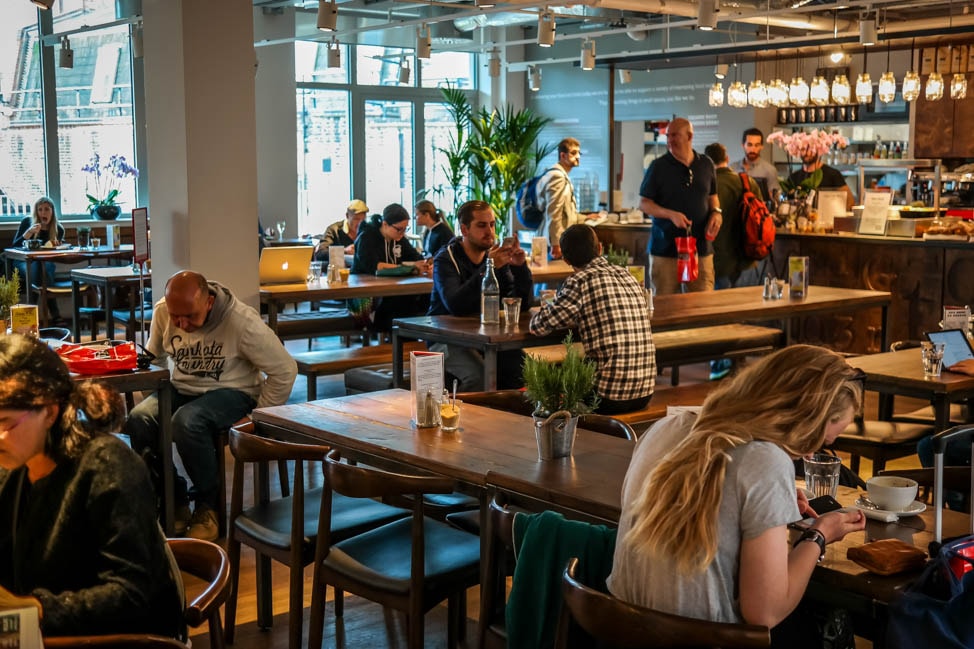 For a more upper brow collection, I like to duck into the London Review Bookshop, located over near the British Museum. The London Review of Books, is one of the great outlets for literary criticism, and the review opened this shop just twelve years ago (a baby store, in London terms). It's a small store, with a carefully curated collection which focuses heavily on politics, philosophy and classic literature. They also have a tea shop and garden, tucked in the back.
It's a little gem and a place where smart tourists go after braving the crowds to see the Rosetta Stone in the museum around the corner.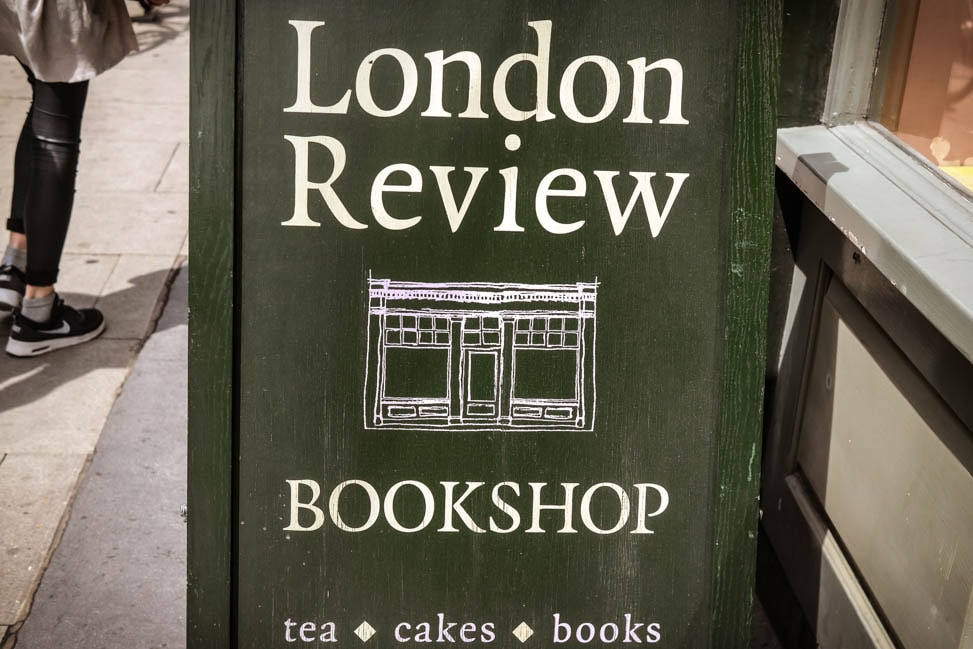 Books and London go together like jam and scones or tea and milk. A match made in British heaven. Every neighbourhood has their own popular shops, like Books for Cooks in Notting Hill and Camden Lock Books, in Old Street Station. You really can't go far without running into a shop that has stood the test of time, and offers its customers a warm book-y hug.
Do you have a favourite bookshop in London? Please share in the comments below!