I have spent years working in restaurants, helping to build beverage programs, dealing with wine wholesalers, reprinting wine lists on what seemed like a daily basis (an especially annoying process when the list has over twenty pages) and training staff members on new products.
After moving to London and making the conscious decision to excuse myself from restaurant management, I pursued other opportunities within the food and wine business, with little success. I came to discover that in the UK, certified training actually means something.
I looked into something as simple as hospitality HR, only to find that most companies required a special HR/Development certificate.  I discovered that the certificate was a year long class costing almost £4000.
That is a large investment to maybe get an entry level position in HR that would probably be an hourly wage position. Apparently the past decade of hiring, firing, interviewing and dealing with piles of tax paperwork for literally hundreds of employees was not as important as an official certificate.
So rather than waste a year studying for something that I was not sure I would enjoy and be disliked by the other people in the company (doesn't everyone hate the HR department at their companies?), I decided to obtain my Advance Level 3 Award in Wine and Spirits from WSET (Wine and Spirits Education Trust) in London. If I was going to take a class, might as well be one where wine was involved.
Entry to the WSET Level 3 Class
For more advanced wine enthusiasts who do not want to waste time and money going over the very basics of wine, the WSET offers Level 3 Entry Exam. The online test was simple and quick, and I aced it (of course!), allowing me to bypass both Level 1 and Level 2 and go straight to the Advanced course.
The WSET Level 3 offers a wide range of class schedules:
Evening (1 evening class per week for 16 weeks)
Day (1 full day per week for 6 weeks)
Saturdays (every Saturday for 9 Saturdays)
Consecutive (9-5pm for 6 consecutive days)
I opted for the Consecutive program, seemingly the most efficient process. The £695 fee is large, but covers all costs, including the study guide and all of the tastings. I received the large textbook and study guide in the mail about two weeks before the class.
Vineyard management, vine lifecycles, soil types, viticulture processes, maturation options and their impact, as well as detailed information on over one hundred wine regions, including fortified wines (Sherry, Port, Madeira) and the manner of distillation and maturation of whiskey (blended, grain, malt, bourbon), vodka, rum, tequila, Cognac, Armagnac and cordials.  So pretty much everything except beer.
Preparing for the WSET Level 3
I began hitting the books hard, doing 4-6 hours daily and doing tastings at our local wine shop, The Sampler (here is my blog entry about The Sampler), that has sixty wines on tap to try, because, oh yeah, I needed to pass a blind tasting as well.  One red, one white.
I had to memorize the WSET tasting procedure for the WSET Level 3 test, which included observations on colour (medium garnet, deep ruby), aroma intensity, aroma characteristics (fruit, minerality, etc…) and development of the wine in addition to levels of acidity, flavour intensity, body, alcohol, tannins and naming four flavour characteristics on the palate.
I needed to come to a conclusion, selecting which wine I was tasting out of a choice of three, along with the ageability, price and the quality. The tasting note page was blank as well, so you had to really memorize what categories you needed to address and use their preferred wording and rating system (low, medium -, medium, medium +, deep, pale, intense, pronounced, etc…).  Not so easy.  I was definitely nervous as I walked into the class on Monday.  There were about twenty people in the group, from a wide demographic and background.
Luckily, I learned quickly that some of my classmates were under the impression that they did not need to study prior to the start of the class and that the seminars would cover all of the material. I had read that the WSET recommended 56 hours of study prior to the course.  Even if I was not sure how I would handle the material, I basked in the knowledge that the people who chose not to prepare were completely screwed.
The WSET Level 3 Classroom Experience
The class was very well organized and we had a different teacher each day.  The first day focused on the WSET tasting technique, vineyard management, and human influence in the winery. The rest of the time was devoted to covering the basic information of various wine regions, with tasting of wines from the region afterwards.
We tasted about 18-24 wines per day, practising our blind tasting and developing our nose and palette (yes, I do think I detect hints of bitter chocolate), and took a mock exam.
The material covered in class was really a general overlook of each section of the textbook and skipped over the details, which was necessary due to time constraints. For those poor souls who failed to heed the advice in preparing for the course, the quick run through of major topics was discouraging.
For instance, we spent under two hours reviewing and doing tastings of Bordeaux.  That is like covering the work of Shakespeare in a few hours and assume you know everything. The final day was devoted completely to the WSET Level 3 test.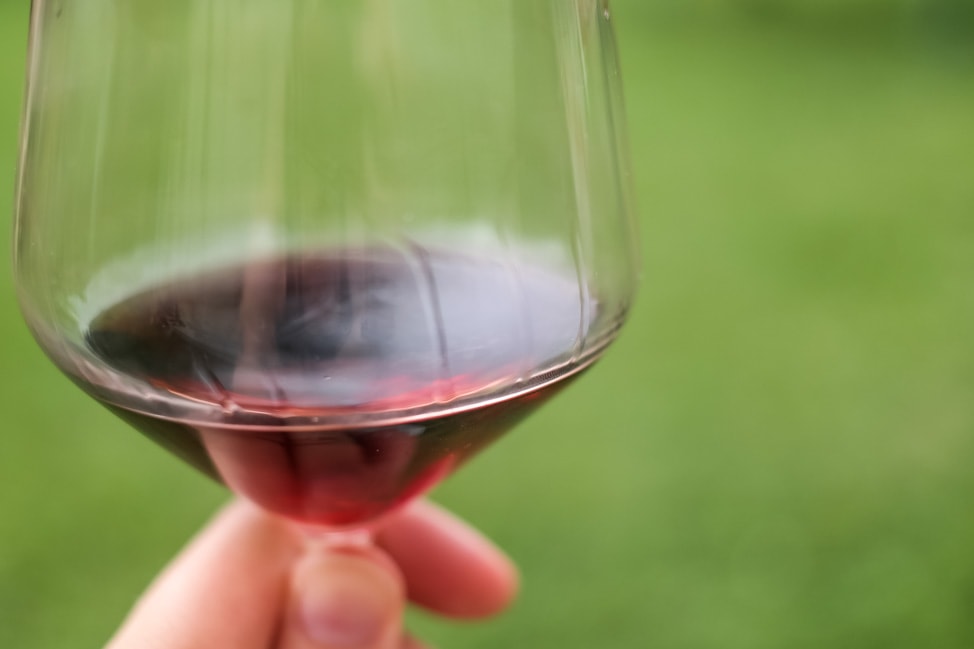 The WSET Level 3 Exam
The test started with two blind tastings, then fifty multiple choice questions and a four short answer theory questions, covering wine making, viticulture, regions and responsible drinking.  I felt prepared, having done additional studying at night and reviewing all of my notes. I only needed to get a mark of 55% or better on both sections to pass, so I felt confident.
I got lucky with the blind tasting, with the white being New Zealand Sauvignon Blanc, a particularly aromatic wine with distinct grassy, grapefruit aromas.
The second wine was a Coonawarra (Australia) Cabernet Sauvignon, again an easy choice over the other two options of Beaujolais Village and Chianti Classico, due to his dark, ripe fruit (blackberry, black cherry) and its minty aroma.
The multiple choice section went well and the four short answer questions were probably the hardest, because of the sheer amount of information you had to know and the detail that was needed. I finished quickly, the second one to hand in the exam.  That is either a sign that I knew my material or that I rushed through it.  Whatever. I was done.
So how did I do? In an age where Amazon may soon be delivering packages via drones, the WSET takes 8-10 weeks to return results, which they mail to you.  What, is this 1950?  In all seriousness though, the course was well worth it, as I feel I learned more in those few weeks than I learned in the past few years. Without the 65 hour work weeks, I gave it the proper attention it needed.
And the result? I passed with distinction, the highest level. I have a certificate and a lapel pin to prove it!
Want to Learn More and Continue Your Education?
Check out these two must-buy books, that make for great reference guides for continuing your wine education. I pull mine down from the bookshelf all the time!
The Wine Bible by Karen MacNeil
My most frequent go-to. Karen MacNeil is a genius, and does an amazing job covering numerous wine regions, varietals, and history of wine.
The World Atlas of Wine by Hugh Johnson and Jancis Robinson
This is a book definitely aimed at the wine-obsessed. The collection of intricate, detailed maps of various wine regions is simply stunning. Plus, Hugh Johnson and Jancis Robinson are two of the finest wine writers in the world.
Dear reader, please note that some of these links are affiliates, which means we will make a small profit should you choose to use them. This in no way unfluences our recommendations though. We only share the things we have genuinely used and loved.