Does anyone else out there like street art better than museum art? Just me? Bueller? Bueller?
Admitting such a thing certainly singles me out as some kind of cultural deviant, but I think there is an inherent difficulty factor in street art that we just don't get to appreciate in the sterile museum environment.
Maybe it's the covert nighttime painting. Maybe it's the code names and the anonymous identities. Maybe it's the fact that it's all spray paint, raising the difficulty level by a thousand percent. I can't even get spray paint to spray in one direction with a nozzle. Not to mention that it hurts my fingers after about a minute.
All this to say, I'm a huge fan of artists who take to the street in search of creative, and sometimes political, expression.
We actively seek out street art and street art tours during our travels and we were interested to see online that there is an active street art community in Belgrade, Serbia. Street art tends to be a byproduct of a few trends – a growing population of young people, encouragement or ambivalence of local government (who won't paint over the new art), and a strong voice with something to say.
Given the tumultuous past of Belgrade, and a generation that has come to adulthood in a very different atmosphere than previous generations, it is entirely unsurprising that the artists have taken to the street.
For our street art education in Belgrade, we turned to Belgrade Alternative Guide. This small collective of passionate Belgradians, has multiple areas of expertise. They offer free and paid tours across a variety of subjects.
But on a sunny October day, we (me and Drew, plus four of BAG's tour guides and one very game friend) saw all of the street art in Belgrade.
Ok, an exaggeration, but not by much. We covered a wide swath of the city to see Belgrade's finest, and also give our thoughts to the BAG about how they might prioritize neighborhoods and works of art for coming tourist seasons.
We were really blown away by the passion of this group, their deep knowledge of the local art community, and personal friendships with artists. We expect that their street art tours will continue to evolve, as the landscape of art in Belgrade does, but we'd highly recommend seeing out Belgrade Alternative Guide next time you're in town.
One story we found fascinating is the Serbian football rivalry playing out on the street. The two main football clubs of Belgrade, Partizan and Red Star, have been bitter rivals since their post-WWII formations. These clubs have divided the football fans of Belgrade, and their devotees have formed intense, dedicated fan clubs, often divided by neighborhood.
The bitter rivalry can sometimes escalate to violence, and the football hooligans take their passion for their respective clubs seriously. There are multiple fan clubs for each team, with names like Alcatraz, Belgrade Boys, Grobari 1970, and they are extremely well organized.
The fans have taken to street art themselves, spray painting their club symbols on buildings, designated their territory. Our tour guides noted that even when professional street artists are commissioned to do work in certain neighborhoods, ardent fans insist that a symbol of their football club be included. And the local clubs make sure the artist is left with no choice but to comply.
(The red and white symbol in the piece below is one such mark.)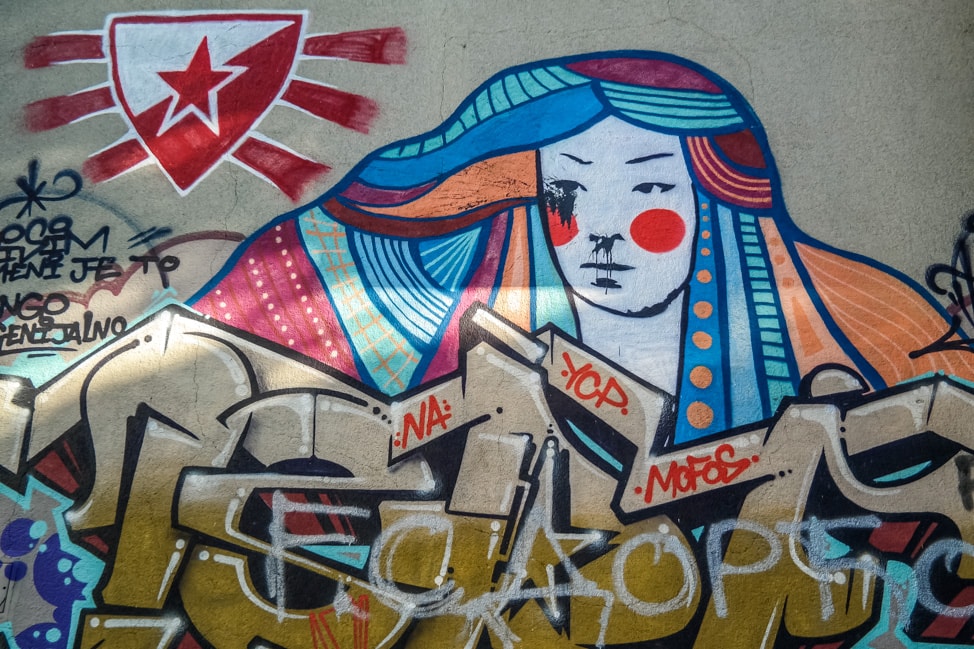 Another fascinating story from Belgrade was its participation in 'Meeting of Styles.' This global movement is meant to bring beauty to city centers by encouraging cities to organize large scale multi-artist pieces. Over the course of three annual weekends in Belgrade, various corners of the city were transformed by a group of participating artists.
Each weekend had a color theme, and each installation also contains several small nods to Belgrade's skyline and Victor monument. The last event in Belgrade was a few years ago. Since then, factions in the art world have prevented a similar project, but enthusiasts are hopeful that it will return.
Note: In addition to the orange and green installations below, the blue fish at the top of this post is the third.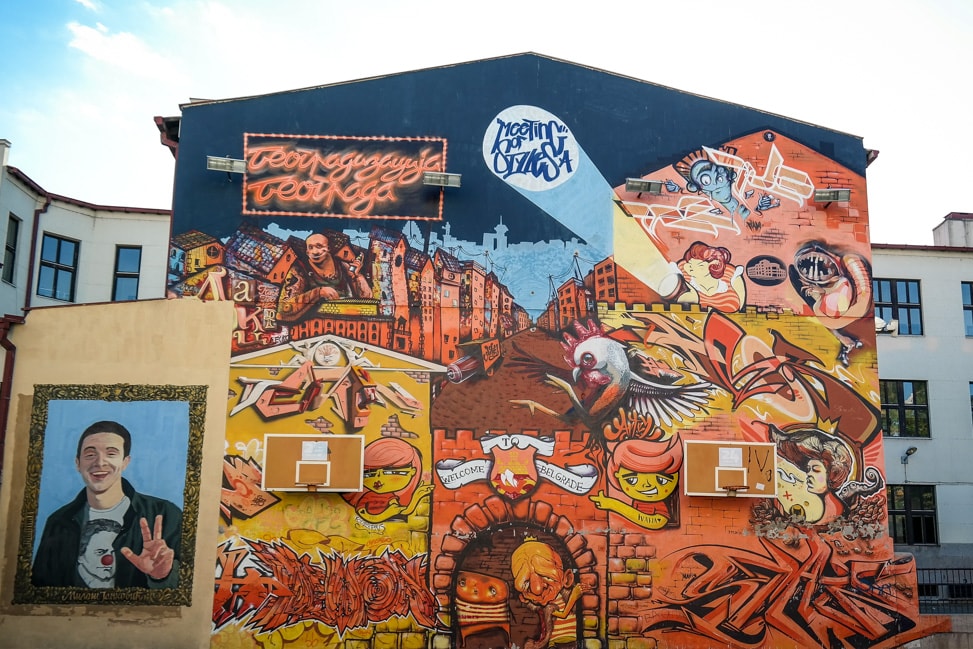 If you're thinking that it might be worth a trip to Belgrade to see the prolific artwork, don't delay. One neighborhood, Savamala, that has been one of the epicenters of street art for years, is the location for a massive development project (locals call it Mini Dubai).
This area of Belgrade will be unrecognizable in a few years, and many art installations will go the way of the proverbial dumpster as room is made for high rise condos and the largest shopping mall in Europe. At the time of our visit, a recent section of demolition left the tour guides of Belgrade Alternative Guide desperate to preserve the artistic feeling of Savamala before it's too late.
Street art is one of the true pleasures of city living and we are so excited to introduce you to the fantastic art of Belgrade. It is spectacular and not to be missed.
Even if it won't end up in a museum any time soon.
Thank you so much to Belgrade Alternative Guide for showing us your city and for spending the better part of a day with us. We had a fantastic time, and learned so much about Belgrade, past, present and future. To sign up for one of the tours from Belgrade Alternative Guide, or to learn more, check out their website here.