Over the course of our road trip travels, we've been asked about road tripping and all the logistics that go into a trip like this. We're also frequently asked why we didn't cover France (our car is from France, but we left the country within a few hours of picking her up). A road trip is all about choosing destinations wisely, and we do hope to cover France someday in an epic road trip all its own. But, in lieu of our experiences, we are bring in reinforcements. Allison and her husband Eric of Endless Adventure did a fantastic three week road trip across southern France last year and have all the dirty details! Take it away, Allison!
---
About a year ago, my husband, Eric, and I sold everything we owned and hit the road in search of adventure. Since then we've visited over 14 countries and 20 states, but one of our most epic adventures was our southern France road trip!
Our route started in Bordeaux and ended in Nice. It took us about 3 weeks (and almost an entire bottle of dramamine) but it allowed us to experience all that southern France has to offer.
During our drive, we hiked the tallest sand dune in Europe, scaled the calanques near Marseilles, took the most terrifying but beautiful drive through the "French Grand Canyon" and drank wine at every stop along the way.
We think it made for the ultimate road trip and hope it inspires you to hit the road 🙂
Here's our exact route:
Bordeaux
Our first stop in France was Bordeaux, which aside from Paris has the most preserved historical buildings in France. As you can imagine, that means it's absolutely beautiful and a UNESCO fan's dream come true!
We spent a week in Bordeaux, but could have easily stayed longer strolling along the Garonne river, admiring the architecture, shopping along the Rue Sainte-Catherine, indulging in seemingly endless glasses of wine and visiting church after church.
One of our favorite things about Bordeaux was how busy and alive it felt. It seemed that every winding rue eventually opened up into a buzzing square with perfectly French bistros, bars and shops. No matter what time of day (or night), we were always in good company!
Dune du Pilat
While staying in Bordeaux, we took a day trip to the tallest sand dune in Europe, the Dune du Pilat. The dune is quite an amazing site to walk up! It runs along (or more accurately, is swallowing) the bordering forest to the east with the Atlantic Ocean to the west. If you have the time, we highly recommend taking paragliding lessons on the southern edge of the dune! Unless, of course, you're a badass and already know how to do it.
Word of caution: Do not venture down the sand dune on the ocean-side unless you're in good physical condition and have plenty of time and water (and sunscreen)! Getting to the bottom is quick and deceptively easy since the sand allows you to almost glide down, however, that same soft, inviting sand makes walking back up a bitch, excessively difficult and time-consuming, trust us!
Instead, we recommend taking pictures from the top and then heading to the nearby beach town of Arcachon for fresh oysters and a wonderfully flat beach.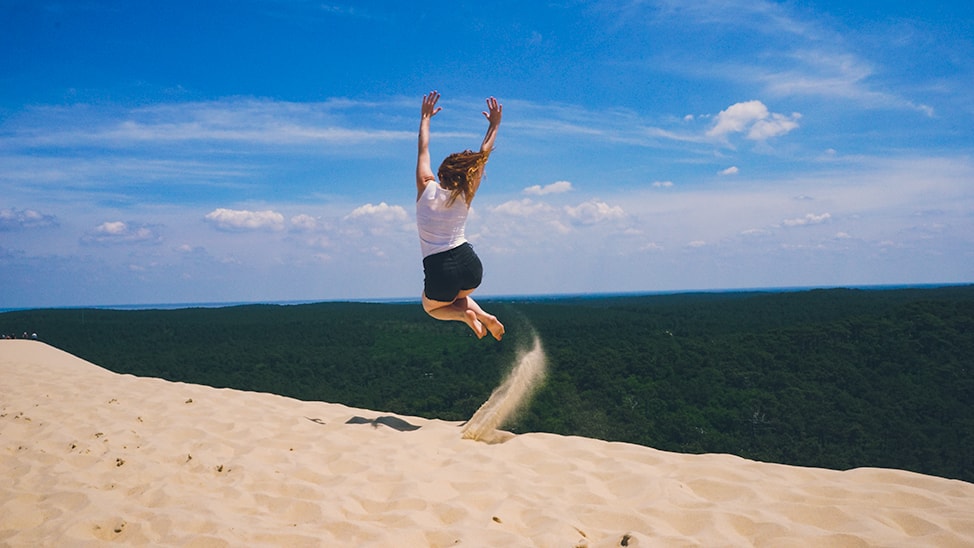 Marseille
After visiting the dune, we were craving more sand and sun, so we headed to France's second largest city, Marseille. The drive there (which is around 5-6 hours) was about as French as one could imagine. We passed endless vineyards, châteaux, stone churches, green rolling hills and winding clear rivers. Both being originally from Missouri where excessive billboards and fast food restaurants rule the roadways, we couldn't get over how authentic and pristine the landscape was along the way!
We found Marseille to be pretty different from Bordeaux. While it still had great architecture and old world charm, the majority of the city has a fairly modern spin to it. Like Bordeaux, however, we found it alive with people and tourists and filled with endless cafes, shops and views.
Our favorite day was spent strolling along the Old Port, exploring the historic Fort Saint-Jean and having drinks atop the neighboring Musée des Civilisations de l'Europe et de la Méditerranée (MuCEM for short).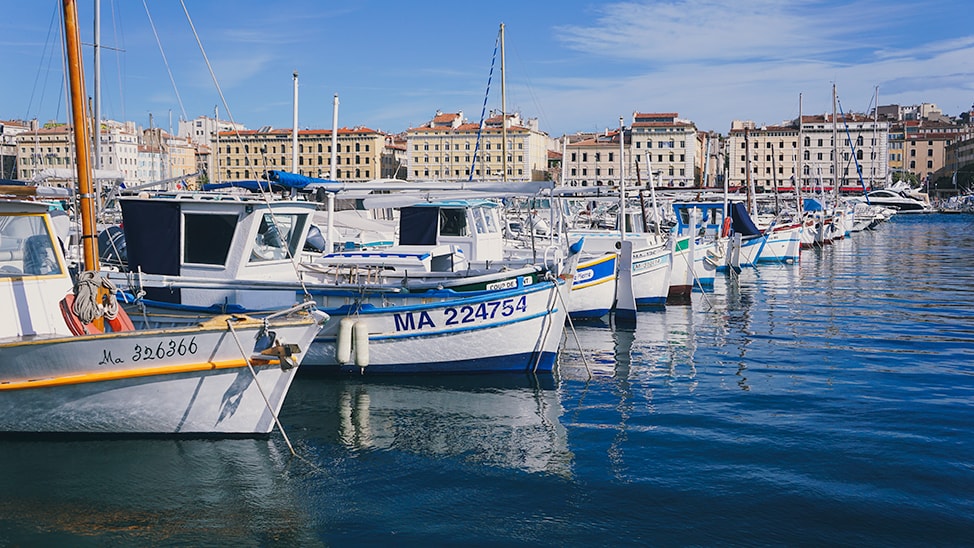 Saména Calanque
Just a short drive from Marseille are a series of calanques (think rocky cliffs) along the Mediterranean Sea. Like the Dune du Pilat, getting up and down them is a commitment, but this time it's a commitment that's well worth it!
There are quite a few calanques in the area to choose from, but we went with Saména because we heard it was beautiful and had some pretty epic cliff diving. Boy did it not disappoint!
After a mile or so walk through a pretty park, you come to a fork in the road. Heading right takes you to an awesome lookout and heading left takes you to the bottom of the calanque. Pro tip: wear sturdy shoes! The paths to get up and down are slippery and rugged and our flip flops were barely up for the challenge.
Also, something we didn't realize beforehand was that the water is freezing cold! We're talking take-your-breath-away cold. Unfortunately it kept us from doing any real swimming or jumping, but we still had a great time picnicking and watching other brave souls take the plunge.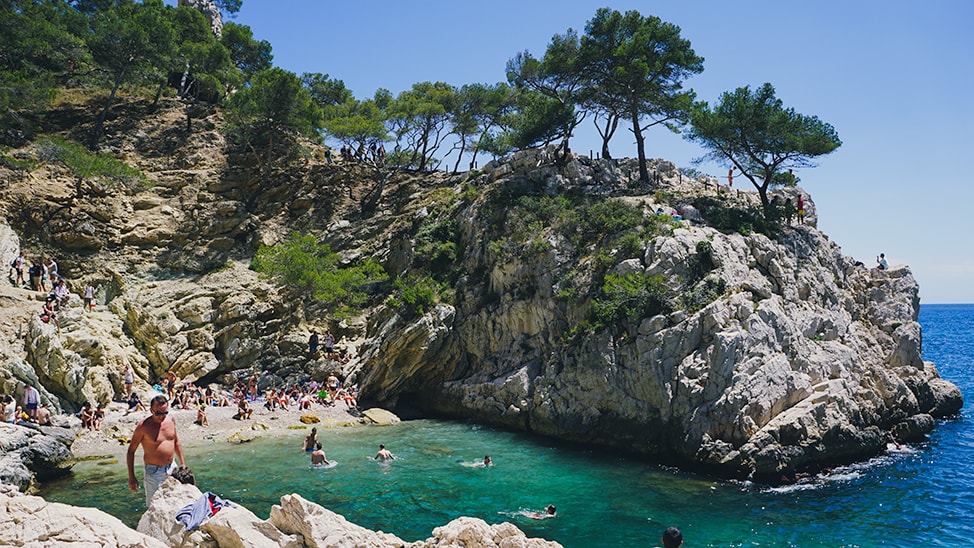 Aix-en-Provence
After Marseille, we hopped a 30 minute train into the countryside to stay in Aix-en-Provence. Have you ever visited a city and felt as if you'd somehow stumbled onto a movie set? That's exactly what it feels like when you walk down the picturesque Cours Mirabeau in Aix-en-Provence.
This quaint university town is about 30km north of Marseille and besides its adorable shopping areas, it also has the Sainte-Victoire mountain watching over it, which makes for a perfect day of hiking and great views.
You wouldn't need to spend more than a few days here, but it's definitely worth a visit on your way to Castellane.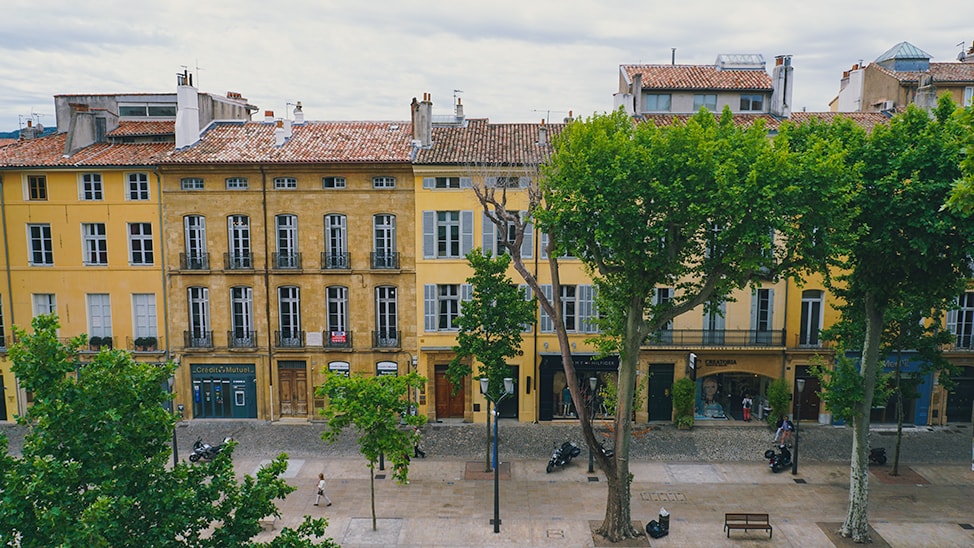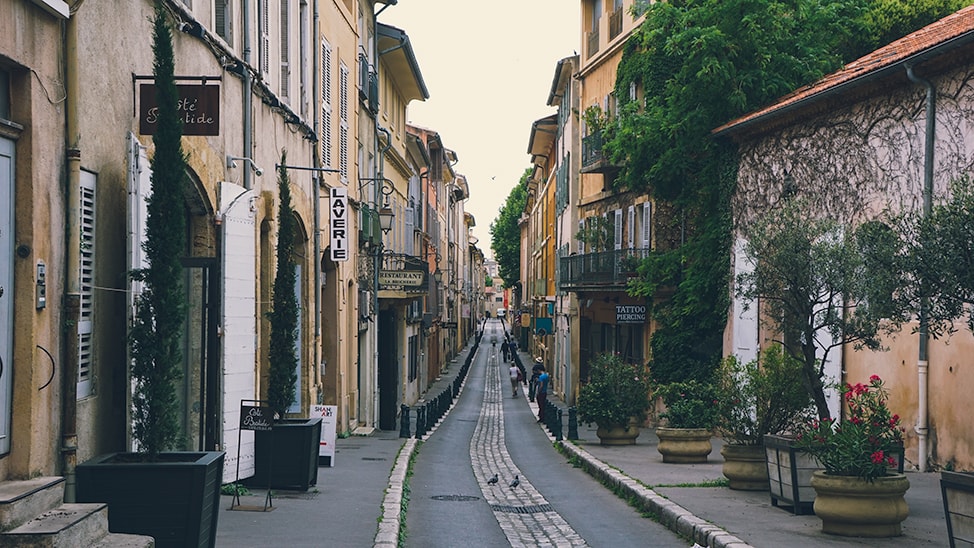 Castellane
If your perfect day starts with coffee and a croissant on the patio of a French bistro, followed by a hike to a medieval church on a cliff, then rafting down the bluest river you've ever seen, then Castellane is for you.
This tiny city sits on the Verdon River and to get there, you drive through the most epic and beautiful portion of the Gorge du Verdon. The gorge, also referred as the French Grand Canyon, was created by an impossibly blueish-green river which runs directly through it. The drive along it takes you on the curviest roads we've ever encountered with up to a ~3,000 foot drop down to the river below – which I still refuse to believe isn't just a huge melted pool of blue and green crayons.
If you're prone to car sickness like us, just make sure to stock up on Dramamine before you embark on this part of the journey! Otherwise, it'll be about two and half hours of seriously regretting not listening to us.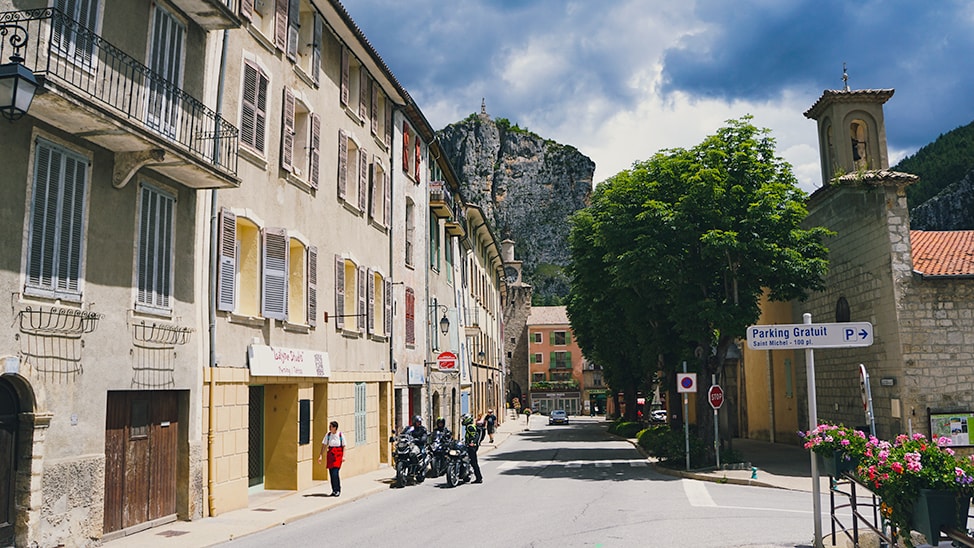 Nice
Our final stop on our great French road trip was Nice, which seemed pretty appropriate as it had a bit of everything we'd come across – big city vibes with classic French history and architecture and a warm inviting beach with amazingly blue waters.
The drive is a little less than 2 hours, but still pretty winding, so make sure you don't leave your dramamine in Castellane!
We were only able to spend a few days in the city, but that was enough for us to take several strolls along the Promenade des Anglais and play in the water. Be careful though, the pebbly beach is quite painful to walk on! (Editor's Note: We loved visiting Nice in 2015, and this year, Drew went back for the Eurocup. Plus, our road trip car is from Nice, so it's close to our hearts!)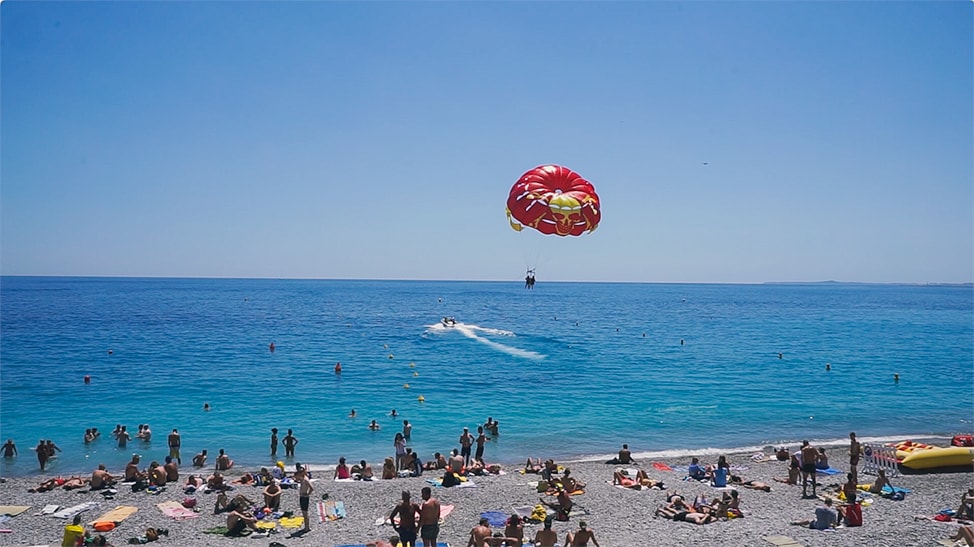 And just like that, we've taken you all through one of our favorite countries on one of our favorite trips! If road tripping is your thing, you can check out our 10,000 mile road trip around the US and our most recent drive around Iceland's Golden Circle!
We hope you enjoyed the ride and we'll see you on the road!
---
Thanks Allison. We are envious beyond repair and can't wait to make a French road trip a reality. If you'd like to connect with Allison and Eric, stop by their website, Facebook, Insta, and Twitter. We particularly enjoy stalking their YouTube channel where they post videos almost daily.