Returning from Euros 2016 in Nice, I was tired and hungover. Yet, I found myself promising to return in 2020. That's what the Euros does to you.
Six months ago, a group of friends from London and Finland decided to meet up in France for the Euros. While the tournament is held in venues around the country, the thought of basking in the French Riviera mid-June sounded too good to pass up. We rented an apartment, booked flights, and spent months trying to get our hands on coveted match tickets. We finally did so, through UEFA (the organization that runs the Euros), which were not cheap, but were officially sanctioned.
For those readers not keen on football (or soccer for our American friends), the Euros is tournament held every 4 years among 53 European nations. Through a series of intense qualifying rounds, twenty-four teams eventually get selected for the finals. The finals is its own tournament, held over a month. It is the second biggest football tournament after the World Cup and is televised live in over 230 territories around the world.
Each Euro tournament is held in a different country, and this year, France is the host nation. Matches are held 10 different stadiums around the country, so the 2.5 million ticket-holding fans are spread all around the country, ensuring that every region of France feels the football frenzy!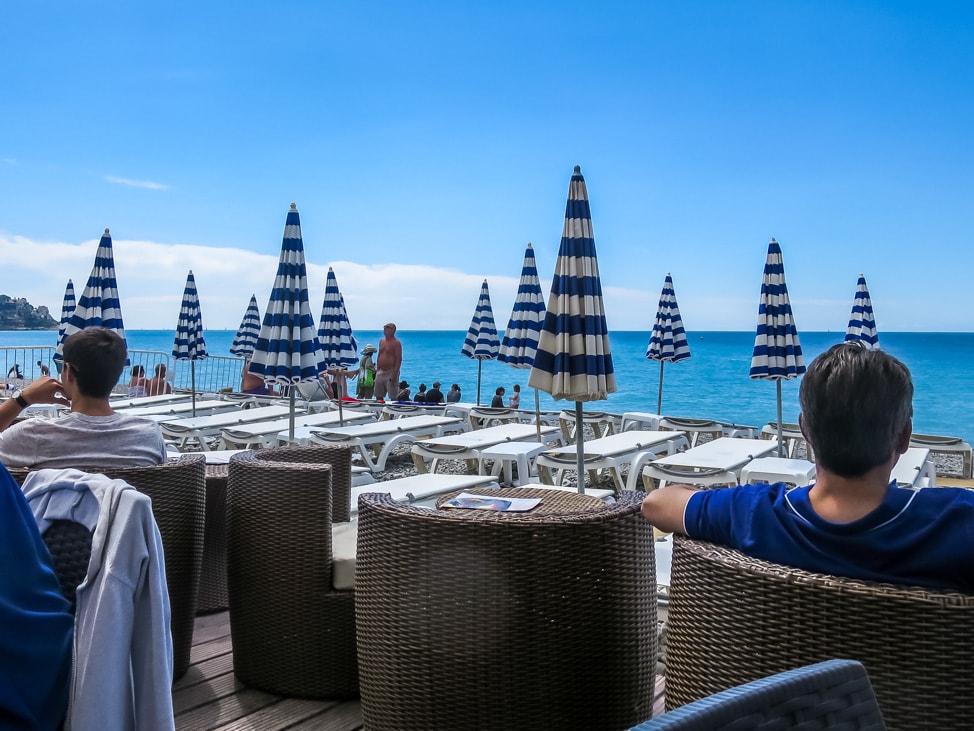 Arriving into beautiful Nice, we walked along the Promenade des Anglais, a welcome break from the so-cold-you-can't-believe-it's-actually-summer in London. The sun was shining, the ocean a glittering shade of teal, and we were surrounded by exuberant football fans, ready for our Euros 2016 experience to kick off.
I would like to say that our days were spent taking in the views from the Château de Nice, or enjoying the green space at the Albert I Garden, or maybe leisurely studying art at the Matisse Museum. I mean, Nice is one of the most beautiful cities in Europe!
Luckily, I have explored the culture of Nice before, because, well, this time around we did none of that.
I was shocked by the sheer number of football fans roaming the streets. During our visit, Nice was hosting a match between Turkey and Spain, so I expected to see a large contingent of their fans, parading around and packing the bars and cafes in the Old Town. Yet every European country seemed to be well-represented, on display in their nation's colors and flags.
During every match, hoards of fans roamed the streets, despite their teams playing matches in Marseilles, or Paris, or Bordeaux. We watched Northern Ireland play in an Irish pub crammed with Irish accents and Northern Ireland flags. We watched Ireland play in another Irish pub where fans sang, dance, and drank throughout the afternoon despite their team's poor performance.
You may remember that when I get together with Finnish people abroad, things get a little crazy (read all about the debauchery here and here). And of course, Nice was no exception. We did manage to plan a few activities ahead of time, which was critical for our sanity. We played tennis twice at the beautiful Nice Lawn Tennis Club, which is open to the public (from €15/hr), only a 15 minute drive from the Old Town. A few hours of exercise certainly did not offset the battering my body (and liver) took the rest of the weekend, but it at least made me feel briefly better about myself.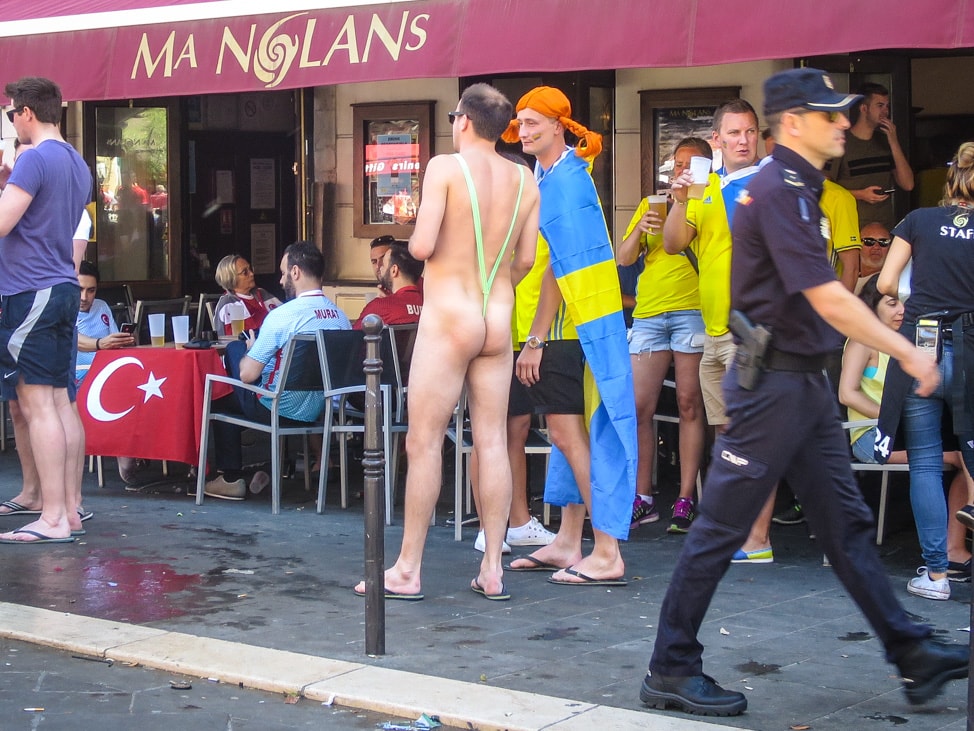 Now, the whole purpose of this trip was to go to watch an actual match at the actual Euros tournament. Which we managed. Barely.
After a full day of drinking and watching football, we found ourselves relaxing in our apartment, enjoying our balcony overlooking Place Rossetti. The plan was to leave the apartment at 7pm, take an Uber the 30 minutes to the stadium, pick up our tickets, and enjoy the match.
But, drinking with Finns is where good plans go to die.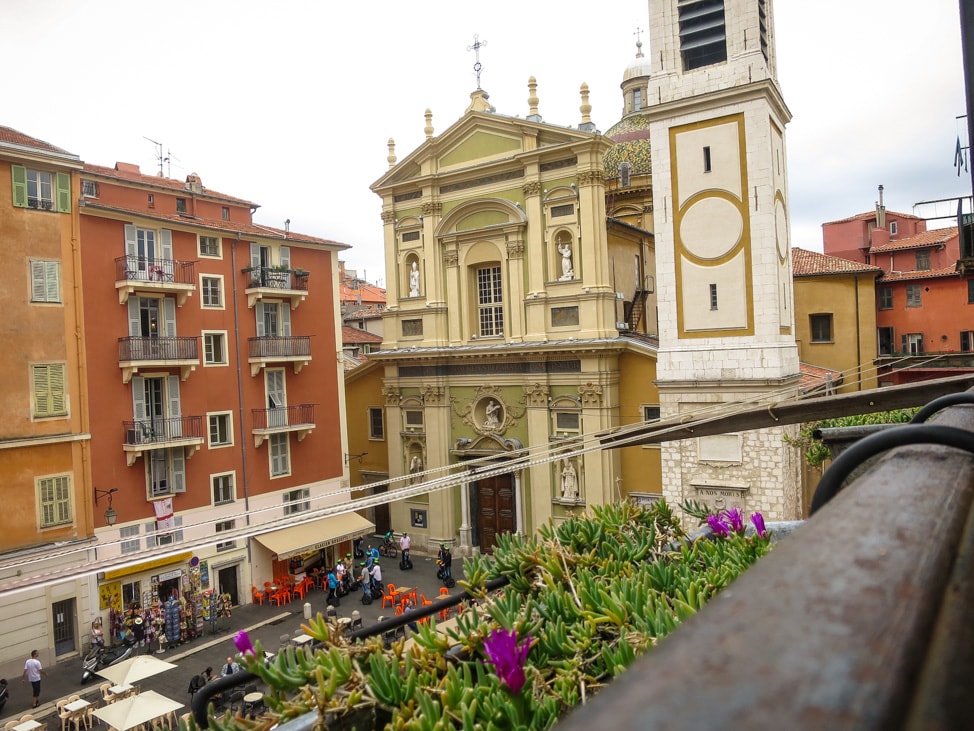 Instead, we kept delaying our departure. "We have time for one more, right?" became the motto. 7:00 became 7:30, which slid to 8:00. Finally, we decided a little after 8:00pm that we should leave and I opened my Uber app, only to discover a 2.9x surcharge and massive traffic jams. After ordering the car and walking 15 minutes to get to it, we promptly sat in traffic for 45 minutes. We arrived on the wrong side of the stadium from the ticket office, which meant a long walk around the entire complex. By the time we collected our tickets, we could hear the roar of the crowd and missed the first 25 minutes of the 90 minute match.
I quickly checked my email to see the cost of the Uber. The total? €115. Thanks to our delayed departure, it took 3 times as long, cost 3 times as much, and we missed the start of the match, the purpose of this whole Nice adventure.
Those good plans? Plus Finns? A slow and expensive death.
On the positive side, our seats were simply spectacular, just 14 rows off the field and almost at midfield. We took our seats, situated near the edge of the frenzied Turkish fans, and watched as the first goal was scored within minutes of our arrival. The Turkish fans quieted down, especially after the second goal by Spain, but the Spanish crowd, decked out in red and yellow, danced and sang for almost the entire match. We did the wave, saw a minor confrontation in the Turkish section, and witnessed 3 goals, all by Spain.
We left satisfied, sober (no drinking is allowed in the stands), and tired from the whole day. But, in the end, mission accomplished. Using better judgement, we left the stadium before the hoards of celebrating Spanish fans, and took the 25 minute (and FREE!) bus back to Old Town.
The next day was the day for our other planned activities, including a private wine tasting with Wine Tasting in Nice and a dinner afterwards at Le Bistro Du Formager, one of the best restaurants in town. After our epic match night, we decided over breakfast that we would have a relaxing afternoon, keeping the drinking to a minimum. Our wine tasting and dinner would be enjoyed by the group of classy, responsible gentlemen we are.
Drinking with Finns? An afternoon of lovely plans? You know where this is going.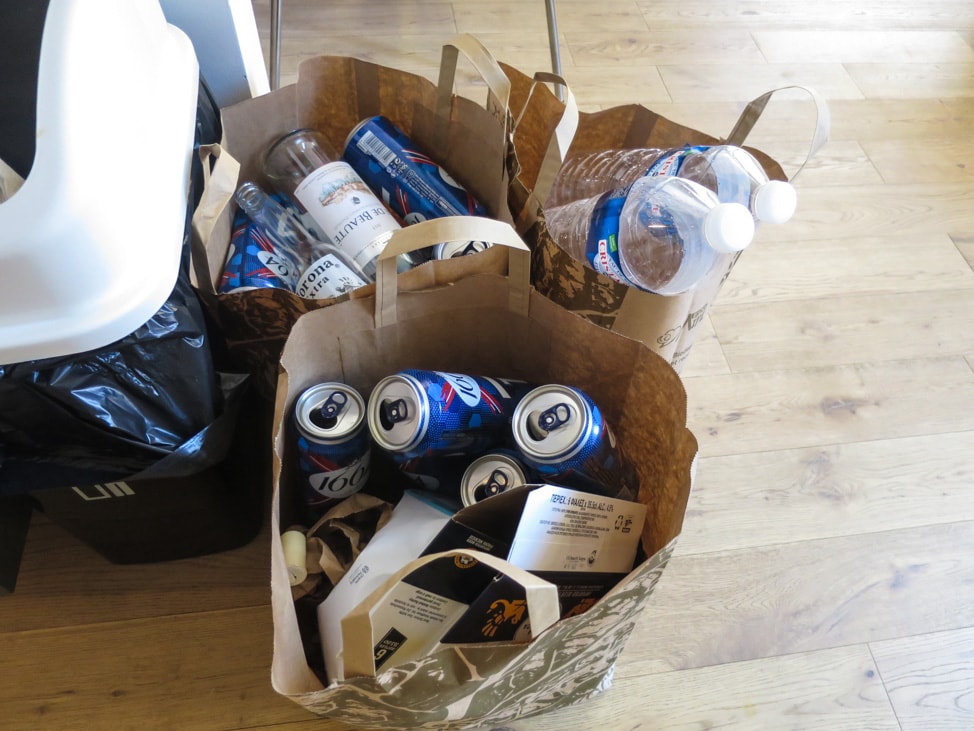 As you can see from our recycling bags above, we had a rough morning. Yes, morning. Within 20 minutes of deciding to have a relaxing day, I found myself at the corner store, cases of beer in hand. After drinking for almost 7 hours, our wine tasting did not go smoothly. Thankfully, our host for the tasting was an extremely patient Canadian, who was gracious dealing with our less than best behavior. Our wine tasting turned more into a wine guzzling event and the large French map on the wall was used mostly for questions like:
Where are we right now?

Can you point our Berlin?

Where's Bordeaux? I went there last year on holiday.
We promptly decided, based on our current state, to cancel our dinner plans. It was the best decision for both us and the restaurant. The five of us had no business being in public. Instead, we found ourselves eating takeaway kebabs on the street while drinking wine straight from the bottle as we staggered back to Old Town like the classy bunch we are.
I blame the Finns.
And thus, our time in Nice came to an end, in a haze of shame. It was a fitting end to a wild weekend, and I wouldn't change a thing (except maybe going to that wine tasting. That was a debacle). I got to hang out with good friends, some of whom I hadn't seen in a year.
And I must say, Nice did a fantastic job hosting this huge event. There were two huge, dedicated Fan Zones around Old Town, with jumbo screens for public viewings of all of the matches, and activities all day and night along the Promenade des Anglais, for both kids and adults. Security was tight, especially with the terror threats and the hooliganism from English and Russian fans at the start of the tournament. Thankfully, Nice had hundreds and hundreds of armed police around the city at all hours though, ensuring no one got too out of hand.
I emerged from the Euros 2016 in Nice unscathed (except for that Uber ride – so painful) and full of funny memories. It was hectic, and tiring, and potentially damaging to my long term health, but totally worth it. I'm already looking forward to 2020, when I'll be more prepared for the debauchery of the Finns.
No promises though.