I will admit, it never crossed my mind to visit Fort Worth, Texas.
But when good friends moved there recently, and sang its praises, we knew we'd soon be there to see for ourselves. Fort Worth is what I expected of a real Texas city, unlike its more polished neighbor of Dallas. It really is home to stockyards, cowboys, and rodeos. Beyond the chaps and spurs, is a thriving downtown, a stellar food scene, and even an array of top notch art museums. Who knew?
So if you have yet to visit Forth Worth, check out our tips on what to do, see and eat. Trust us, you will be pleasantly surprised.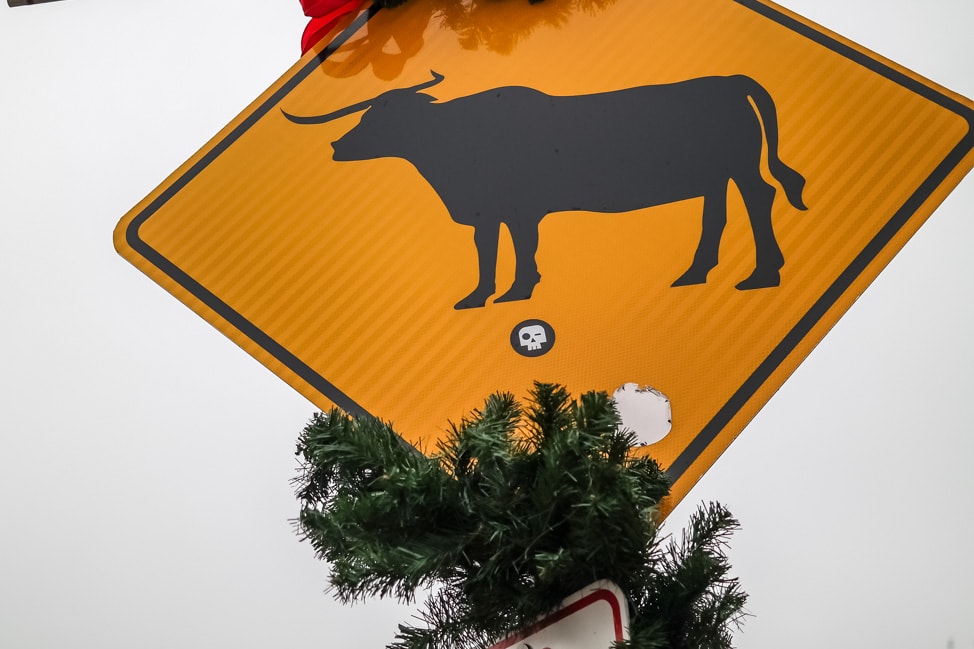 Orientation
Fort Worth is located in northeast Texas, very close to Dallas. If you are flying in, DFW (Dallas Forth Worth International) is conveniantly situated between the two cities, about a 30 minute drive from downtown Fort Worth, depending on traffic. Public transportation is not fantastic, so it would be best to have your own car to explore the city.
Most of the major hotels are in downtown, the heart of the city, making it the perfect place to base yourself when you visit Fort Worth.
If you want to avoid the busy downtown area, try the boutique Stockyards Hotel, right next to the Stockyards Museum and the daily cattle drive, a unique option north of downtown. There are also clusters of hotels in the southwest area of the city as well, near the Fort Worth Zoo and Texas Christian University.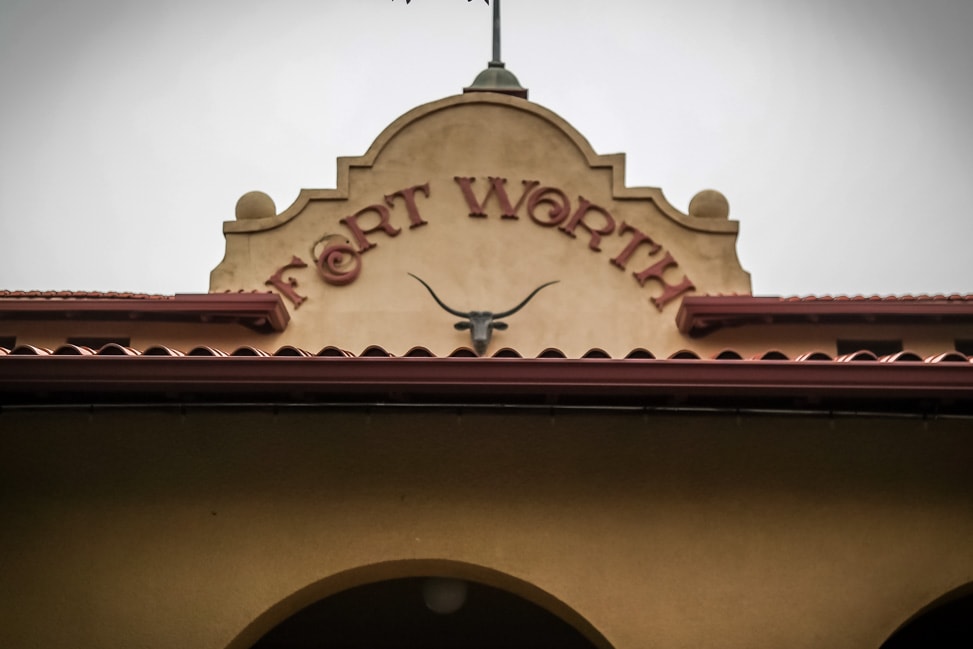 1) Wander The Stockyards
The most visited part of Fort Worth, the Stockyards National Historic District embodies the culture and history of 'The West'. The compact area looks like the scene from an old Western film, with wooden, two story buildings along the main intersection of Main Street and Exchange Avenue, featuring restaurants, bars, and retail stores selling Western apparel.
The Fort Worth Livestock Exchange, which also contains the Stockyards Museum, is where heads of cattle are still sold by ranchers (though mostly by video feed now, instead of parading them through the building). Just outside the Livestock Exchange, the daily Longhorn cattle drive takes place, one of the highlights of the Stockyards National Historic District. Twice daily (11:30am and 4pm), cowboys and cowgirls parade the impressive and intimidating herd of Longhorn along Exchange Street.
Seeing over a dozen of those beasts with their massive set of horns is worth the visit.
If you happen to miss the cattle drive, you can also visit the Longhorns in their stables behind the Fort Worth Stock Exchange!
The Stockyards also have plenty of nightlife and restaurants. The classic steakhouse Cattlemen's is perfect if you want a super traditional Texas steakhouse experience. If you want something a little different, famous Fort Worth chef and restauranteur Tim Love has two restaurants in the Stockyards District, the casual burger joint Love Shack, and the more refined Lonesome Dove Bistro, offering upmarket Western cuisine like house made rattlesnake sausages and wild boar ribs.
For live music and a few drinks, the White Elephant is a Wild West inspired dive bar and music venue, with cowboy hats of famous rodeo performers lining the ceiling and a display case of white elephant statues that loyal patrons have donated over the years. For something even more lively, Billy Bob's Texas is the world's largest honky tonk, featuring live music on most Thursday, Friday, and Saturday nights and a pretty boisterous crowd of locals and tourists.
A real Fort Worth experience, for sure.
2) Explore Downtown Forth Worth
Forth Worth's downtown has had a real resurgence in recent years and its main hub is Sundance Square, a 35-block development with restaurants, hotels, boutiques, and theaters. The area is completely walkable, so you can park your car and explore the area on foot.
The area also has dozens of restaurants, from casual to high end. And if you need a break from the action and want to relax, check out the Fort Worth Water Gardens, a 4.3 acre park of fountains, pools, and waterfalls, designed by Phillip Johnson.
Downtown Fort Worth also features the Bass Performance Hall, a truly elegant performance center, featuring a wide variety of musical performances throughout the year. Even if you can't make time to see a show, the theater is worth walking by just to take in the ornate exterior design.
A true gem in downtown Fort Worth.
3) Get Your Cultural Fix in The Museum District
To the west of downtown, the Museum District is packed with museums that highlight the cultural side of the city. The buildings are in relatively close proximity to each other, so you can park your car and explore the area on foot if desired. No need to drive from museum to museum!
The three art museums, Amon Carter Museum of American Art, the Kimbell Art Museum, and the Modern Art Museum of Forth Worth, are all exceptional, and a great source of pride for the city. While the Amon Carter focuses on American art, the Kimbell highlights Asian and European artists, and often has special exhibitions of legendary painters. The Modern Art Museum is a personal favorite, and features everything from Andy Warhol to modern street artists.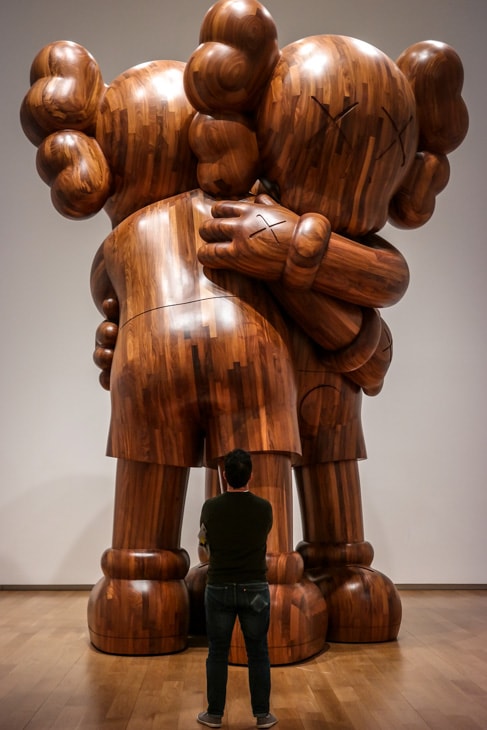 The main attraction is the 7.5-acre Japanese Garden, with cherry trees, Japanese maple trees, bamboo bridges, and koi ponds stocked with over a thousand coi. If you want something a little different in Fort Worth, this is the spot!
5) Eat Real Deal Tex Mex Cuisine
While I love authentic Mexican food, there is something especially delicious about Tex Mex. Who doesn't love fajitas, queso dip, and nachos?
The best spot in Fort Worth, hands down, is Joe T. Garcia's, found just south of the Stockyards. What started as a family run, 16-seat restaurant in 1935 has ballooned to a massive complex with over 1,000 seats that is perpetually packed. The margaritas are strong (and can be served by the pitcher) and the choices are easy. There is no printed menu. For dinner, you order fajitas (steak, chicken, or a combo) or enchiladas.
You can add on a nacho as well as an appetizer, smothered in melted cheese and diced jalapeños. And yes, I mean nacho.
Our Fort Worth friends explained that you can order simply "a nacho" at most Tex Mex restaurants, which is one small corn tortilla fried and covered in melted cheese. It felt strange ordering "a nacho" but it was delicious nevertheless.
And there you have it. Our picks for the best activities when you visit Fort Worth, where the horns are long, the food is covered in melted cheese and the cowboy boots are authentic. We'll certainly be back soon!
P.S. Our monthly newsletter comes out this Sunday! This month, we're talking about our worst travel experiences from 2016. From that car accident in Italy, to a seriously miserable day hiking in the Lake District, we're not holding anything back. Sign up for our newsletter just below this post (look for the 'Fancy a Drive with Us?" in the blue banner!) and look for our email on Sunday. Don't worry, we never spam – frankly, we're not even sure HOW to, so your email is safe with us!