One morning I looked around our stylishly renovated RV, snug in the privacy of a backyard, shopping bags from ironic-yet-expensive boutiques shoved in the corner, the remnants of our last food truck meal strewn haphazardly in the sink. I thought only one thing.
This exact scenario could only happen in one place. Austin, Texas.
Austin's profile as a tourist destination has been on the rise for years. I think it came on my radar seven or eight years ago, when I realized that the city was a magical oasis in Texas that had plenty of rain, lots of greenery, and hills. Austin City Limits (which used to be regularly featured on my local PBS station, and therefore decidedly uncool) had also a bit of a hipster moment. Add in the annual South by Southwest festival, and Austin has been regularly in the rotation when the discussion veers to 'where should we go next?' – which it often does.
Is it fair to say we built our pre-Christmas road trip around a visit to Austin? Probably.
Our agenda for four days in Austin was simple. Food trucks, Christmas shopping, rest. After over a week of nonstop action in Nashville, Memphis and Fort Worth, I was personally looking forward to going running each day and catching up on work. With an entire day forecast for rain, we figured that the weather might dictate substantial downtime.
After arriving to chilly drizzle, we opted to keep it simple the first night and warm up with pho, our perennial favorite winter food. A quick search of cheap eats in Austin (via our single favorite website for food recommendations), led us to Pho Please in East Austin's South Shore district. It was busy, efficient, and the pho broth was rich and hearty, with just the right amount of warming spices. It hit the spot.
The next day, we tackled our agenda. Lunch was at La Condesa, a self-described modern Mexican restaurant in downtown Austin. We enjoyed shrimp ceviche, an open-faced masa 'sandwich' featuring huitalocoche, and vegetarian tacos.
If you need to scratch the Mexican food itch, like we do every few months, Austin is one of the best places to be.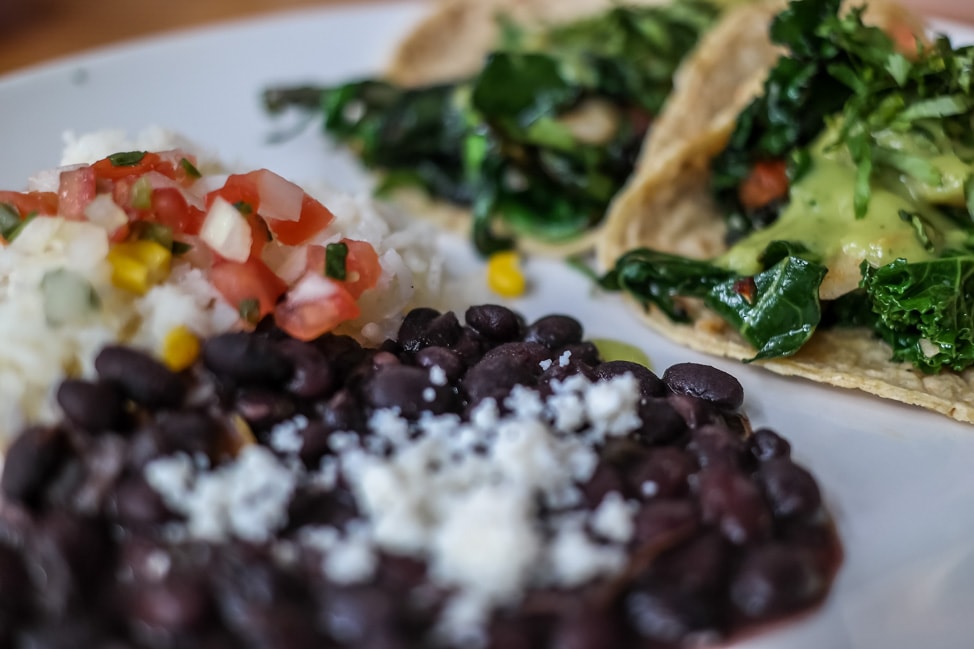 We spent an hour or two touring the University of Texas campus, shopping in the massive campus bookstore, and getting in a maze of quads and academic buildings. When you're lost on campus, it's easy to reorient yourself by looking up to the university's main building, aptly named 'Main Building.'
Launderette is one of Austin's hottest newer restaurants, opening late in 2015. It has graced many a 'best restaurant list' including the 2016 national list put out each year by Food & Wine. Thanks to its no reservation policy and our guess that it would break the budget, we had written off Launderette for this visit. Upon closer inspection, we realized that in fact, they do take reservations on weekdays, and their very popular small plates are quite reasonably priced. Before we could talk ourselves out of it, we booked in for a Thursday, and happily devoured burrata, chicken, and plenty of Nonna's meatballs in red sauce.
Special shout out to the burrata, one of the world's best ingredients.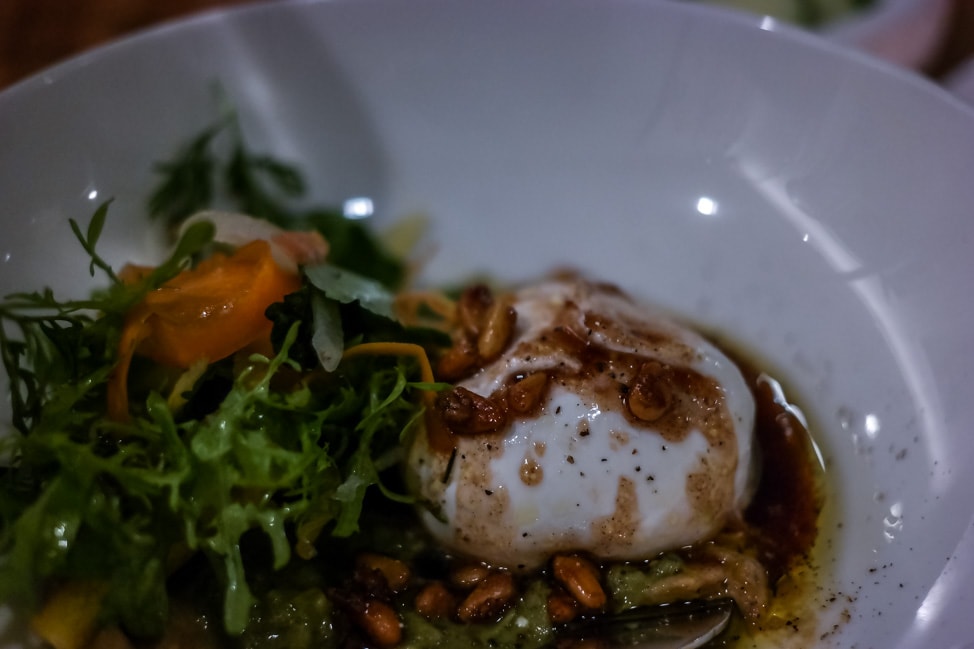 We continued our exploration of Austin the next day at one of the city's most popular food trucks: la Barbecue. In a city (and state!) known for all things meat, singling out a single place as the best or the ultimate is almost a moot point. It's hard to go wrong. That said, we did our part and dutifully spent nearly an hour in the queue at la Barbecue waiting to sample their famous brisket. I hate it when the crowds are right but in this case, I left with a newfound love for Texas' contribution to the world of meat, cooked low and slow.
Pro tip: In the same food truck park as la Barbecue are several other well-regarded (and decidedly less popular trucks). We got a papaya salad and Thai iced tea at Dee Dee, which was a nice addition of vegetables to an otherwise meat-centric meal. The iced tea was a little too sweet for our taste, but to each his own!
The afternoon was spent shopping on South Congress street where we picked up a few Christmas gifts, and sauntered through the numerous vintage and antique shops lining the street. Like much of Austin, the vibe of South Congress is laid back and a little hipster, with plenty of beards and plaid shirts. But unlike a lot of "hip and cool" neighborhoods in other cities, the people don't take themselves too seriously. That's a good thing!
The undisputed photographic highlight of the day was our visit to the Graffiti Park at Castle Hill.
An abandoned development project, the concrete shell has been completely overtaken by artists, both professional and amateur. In fact, people are constantly painting, and the powerful paint fumes are worth mentioning if you're sensitive to that kind of thing. On the day we were there, college students were spray painting their phone numbers and celebrating midterm graduations with hopeful quotes and doodles of square black hats. Maybe the real pros just come out at night, like well-regarded street artists the world over.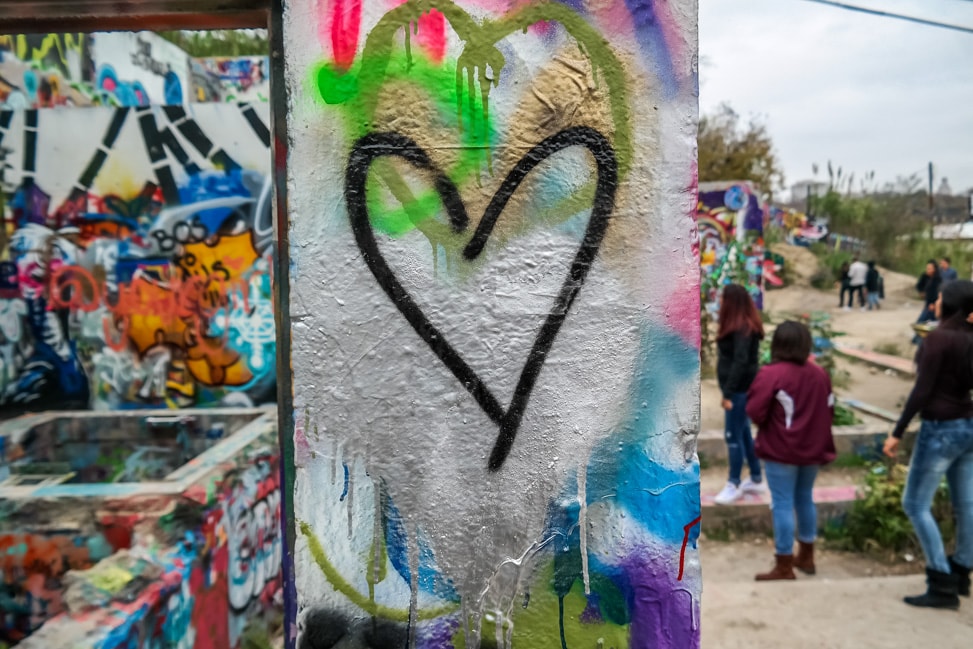 Pro Tip: Austin does not have the typical ride share programs, like Uber and Lyft. They have been banned, in favor of a locally run program, Ride Austin. You can download the app for free on your phone, and the interface looks suspiciously like Uber, but it's a local company through and through. I'm reminded to write this tip here because the main office is close to the park.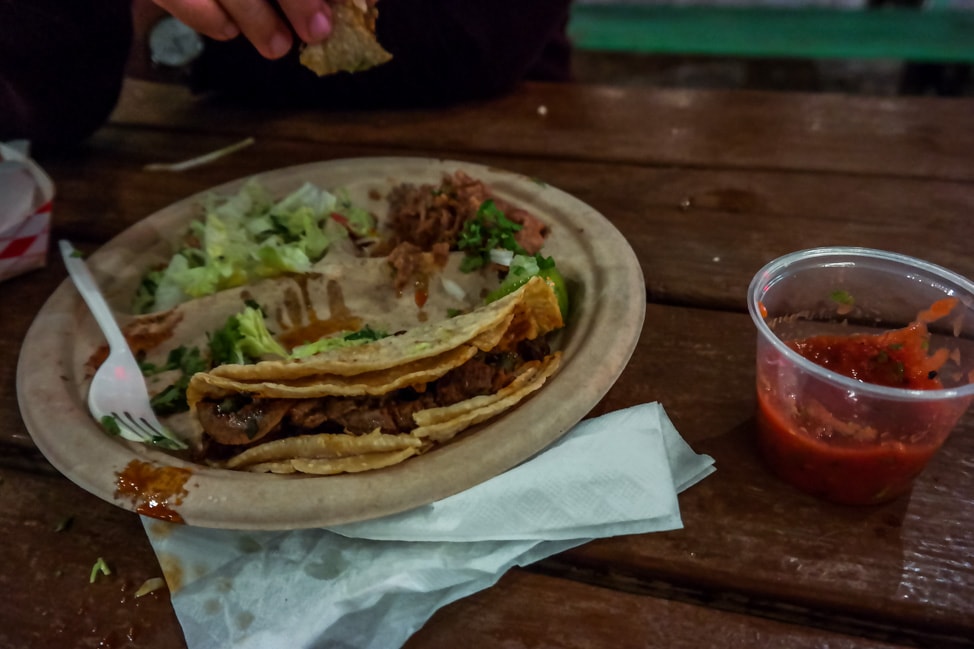 We ended our last evening in Austin at a fantastic cocktail bar, in East Austin. Whisler's has a speakeasy vibe with bartenders in tweed and roughed up furniture. The cocktails are elegant and seasonal, and the early evening happy hour is actually a great deal. We raised a glass to the Christmas season with a variety of punches and 'nogs' all with a hearty dose of Christmas spices.
On the way back to our RV to watch a rerun of Austin City Limits, we walked slowly in the warm Texas air marveling at the holiday season devoid of snow and ice. We stopped by yet another food truck to sample a couple tacos at a picnic table.
Because when you're in Austin, home of backyard RVs, speakeasy bars and countless tacos, well, that's just what you do.