That we have trouble leaving our accommodations before 11am, dawdling around for hours? That we limit ourselves to one, maybe two, attractions per day? That we require at least two hours late in the afternoon to relax? That I prefer to be in bed by 10?
For travel bloggers, we're low on the jam-it-all-in spectrum. We leave that kind of activity to the professionals.
On our pre-Christmas road trip through the southern United States, we were happy to begin our travels in Nashville, home of the Grand 'Ole Opry, and Nashville hot chicken. It would be nice if that was all to see in Nashville, but it is going through a massive growth spurt, boosted by a seriously fantastic restaurant culture, distilleries and breweries, music venues for days, funky neighborhoods, shopping, you name it, Nashville has got it.
While exciting, the sheer number of places to go and people to see in the city is easily overwhelming. Add in the fact that we had a single Nashville weekend, and our must-eat and must-visit list was way too long for comfort.
Luckily for all of us, we decided to get aggressive, jamming in way more activities in a single weekend than we typically would do in a week. Or a month.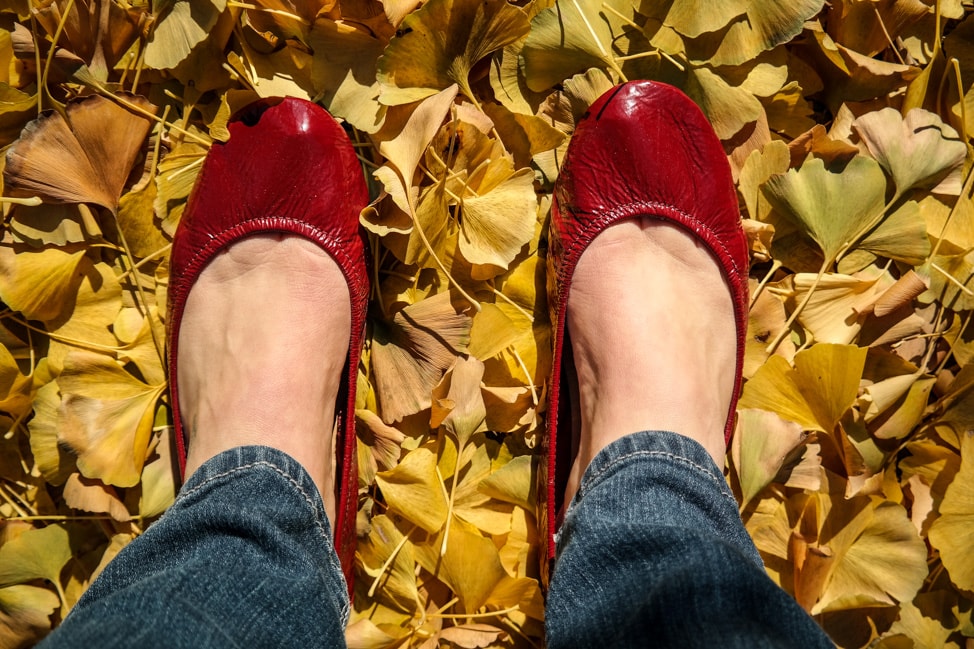 We arrived into town late afternoon, checking into our delightful AirBnB in the Five Points neighborhood. We had our own little guest house all to ourselves, complete with one of the most comfortable beds I've ever slept in, a cowhide rug, and Nintendo 64.
(I mention the gaming console just so you can appreciate how tempting it can be for us to burrow in, no matter how interesting the city.)
First stop, happy hour and a fantastic one at that. Old Glory is a newish bar in town, located in Edgehilll Village. It's a cavernous space, what appears to be the old boiler room of a small factory. Part of the charm is the inconspicuous entrance, behind the main row of shops. We actually had to Google where the door was, after walking around in circles unable to figure it out. (It's the door with the single light centered over it and a diamond shape outlining the door.)
We braved a walk through Vanderbilt University's campus, on our way to the famous Hattie B's Hot Chicken, which serves up, you guessed it, hot chicken. Hot chicken is a Nashville staple but entirely unknown outside the city limits. It's essentially fried chicken, which is basted post-fry in a spicy oil. The side dishes are southern, the spice level is just right and the pile of used paper towels after the meal is obscene. Hattie B's is very, very popular, with no reservations. We arrived around 5pm and were able to get a seat but by the time we left, the joint was packed.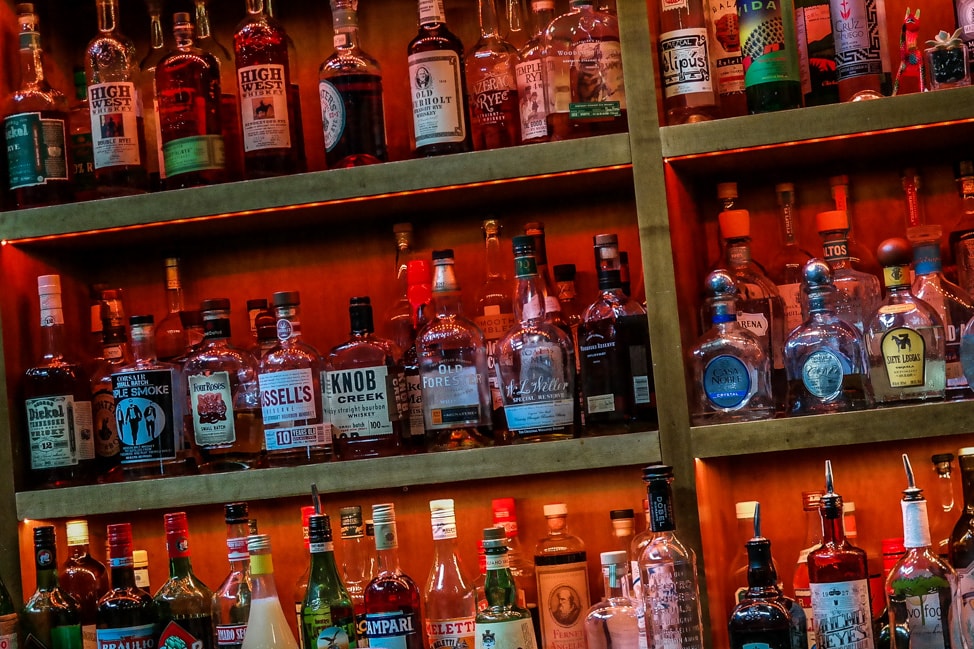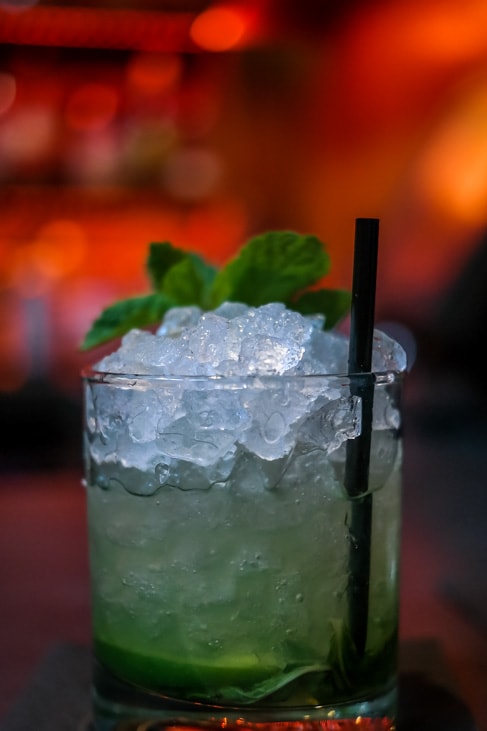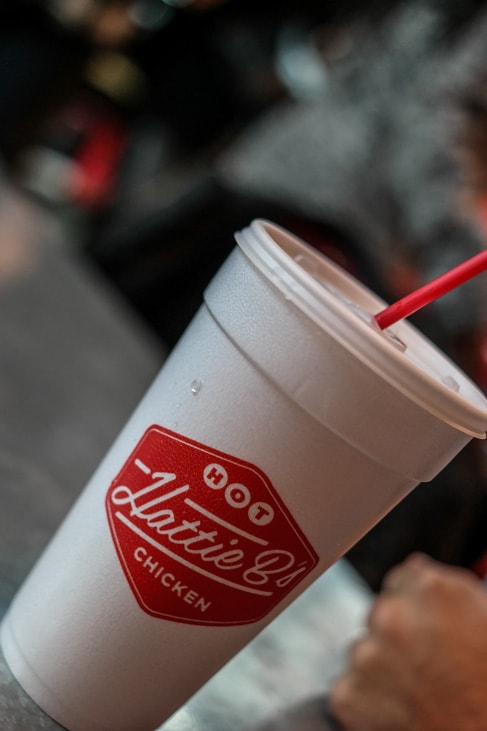 The next morning, our first food stop was Mas Tacos, one of Nashville's hotspots for tacos. It was a frigid morning, so we warmed ourselves with chicken tortilla soup, pozole (soup with hominy, pork, and tomatillos), tacos, and a side of Mexican corn. Again, like the previous night, we were careful to arrive on the early side around 11:45, and were rewarded with a seat.
Nashville eaters don't mess around, and Mas Tacos was packed the entire time we were there.
Desperately needing a break from all the eating, we took a drive down to Centennial Park to see the Parthenon, an exact replica of the Greek version. Built in 1897 as part of the Tennessee Centennial Exposition, the city used other ancient buildings as templates for other structures at the event, but the Parthenon was the only exact reproduction, which is why it's been so well preserved.
Next we swung by the Nashville Farmers' Market where we did some Christmas shopping and had an afternoon snack of Jeni's Ice Cream. Jeni started her operation years ago in Columbus, Ohio and we've been long-time fans (we both went to college there). There are now shops in eight cities and Nashville has embraced Jeni's whole heartedly, with four locations. The quality of Jeni's is sky high, and we love tasting the ever-changing range of seasonal flavors, like thai curry pumpkin and sweet potato eclair.
We're ice cream snobs, so you can trust me when I say that this surpasses our sky high bar for quality.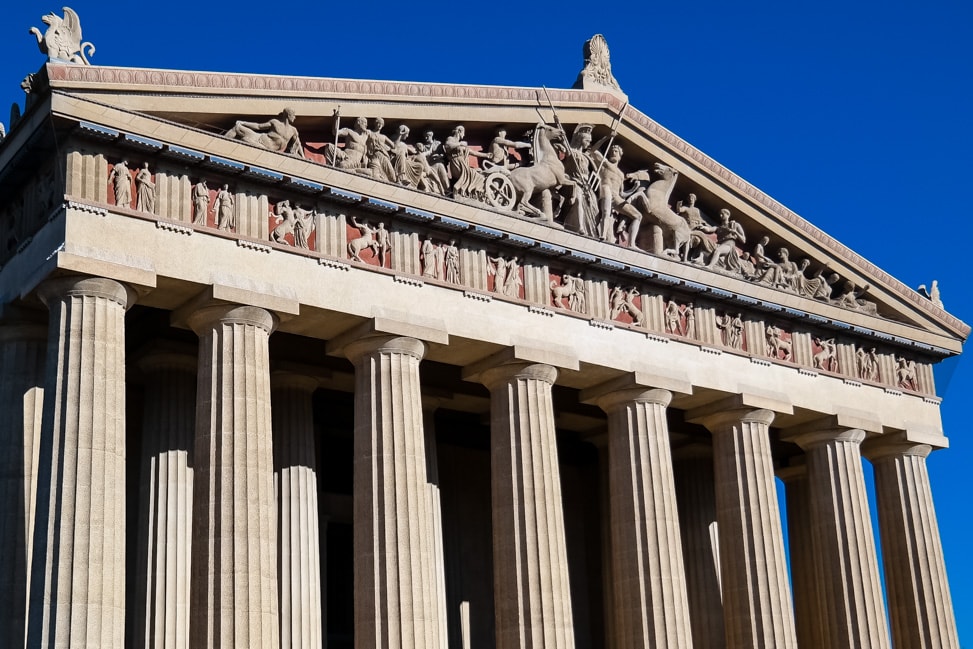 A Nashville weekend wouldn't be complete without watching live music in a bar on Broadway. Broadway is like a mini Las Vegas strip, and thanks to the ubiquitous neon, all-day drinking and general debauchery, you'll not be surprised that the area has earned the nickname 'NashVegas'. We ducked into one of the oldest establishments on the block, Robert's Western World, to watch a band and drink beer. We were tickled when the cover band sang a rendition of Dolly Parton's 'Jolene', one of my favorites.
Now, here in the story is where I would have called it a day. I was full and satisfied and freezing. But we were leaving Nashville the next morning, so put on our big girl boots and kept right on going.
I like to think that it's the Nashville way.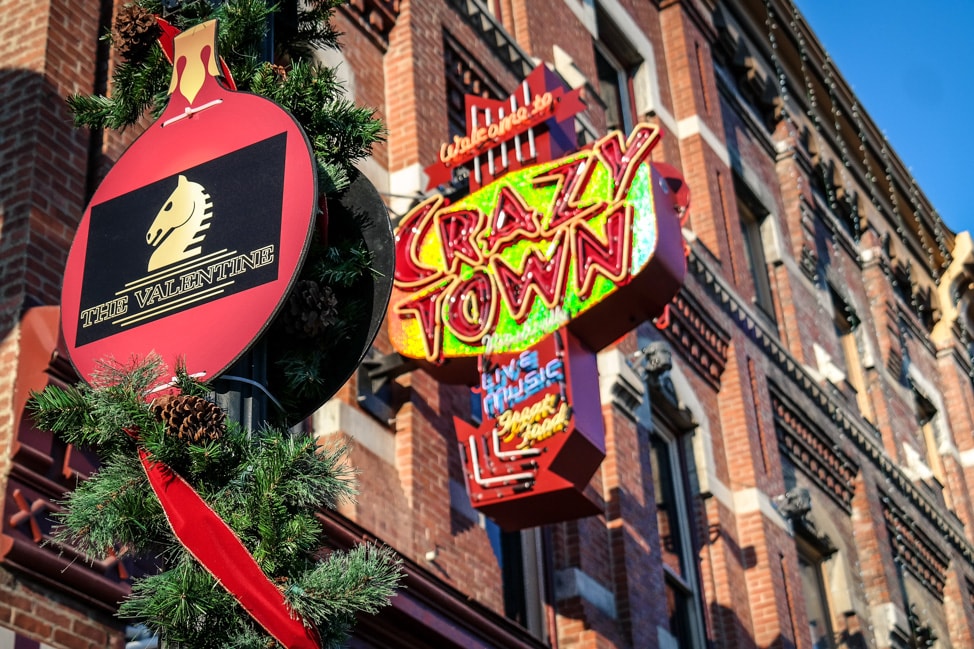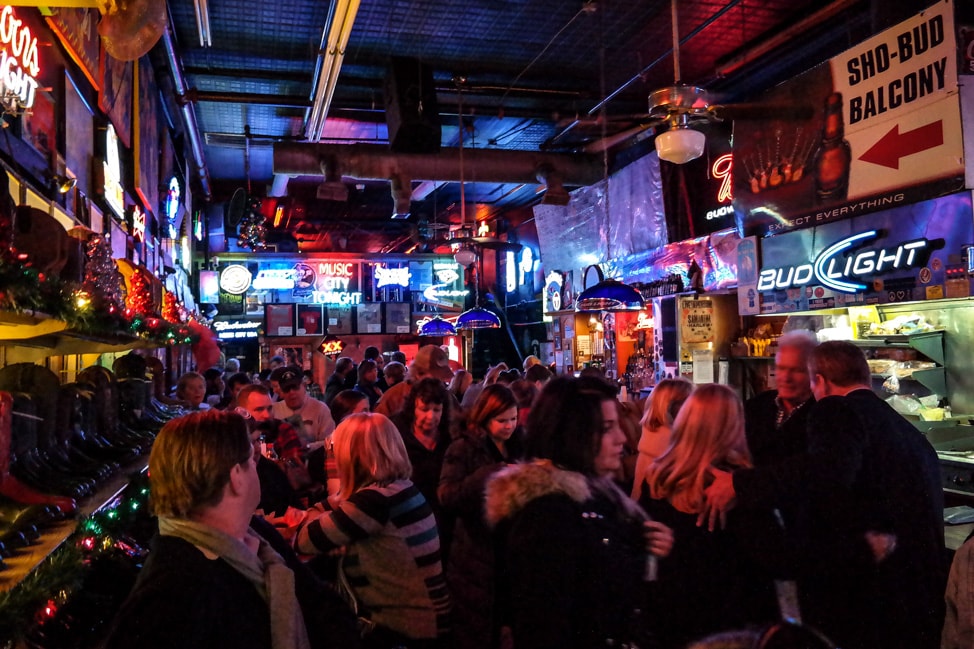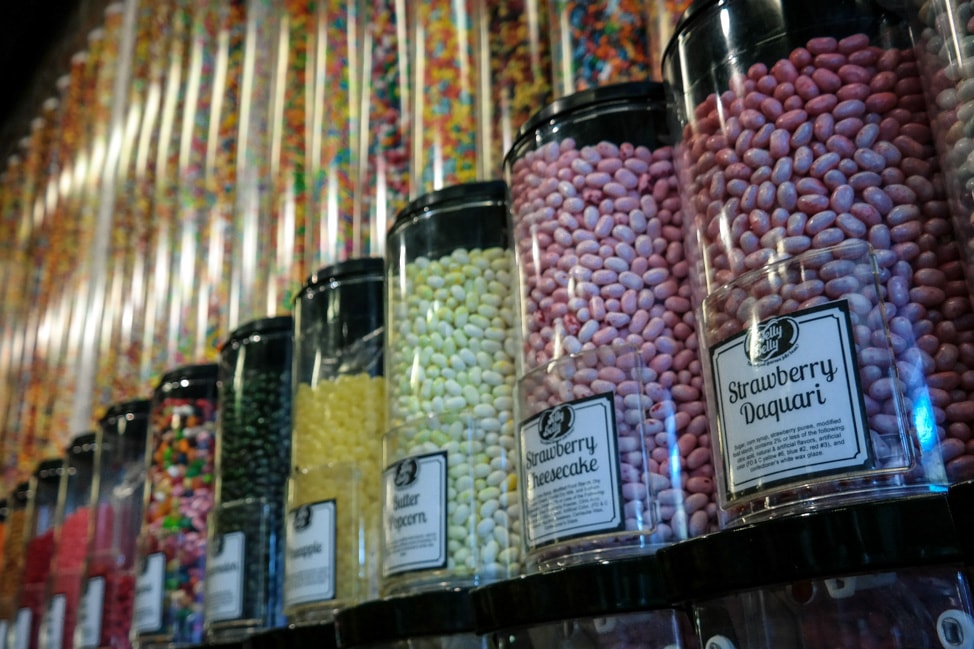 Next was a tour of Corsair Distillery, where we toured the facilities, and finished with a very generous tasting of eight or ten spirits. Corsair specializes in whisky, but have also dabbled in other spirits. Drew's favorite was a whisky called Triple Smoke, while I had a soft spot for a seasonal offering called Pumpkin Spice Moonshine.
The Pumpkin Spice Latte for the other half, I like to think.
Corsair is open to the public for tours and tastings (just $8 per person, we booked online the same day), and it also has a full bar if you want to enjoy a cocktail. Bottles are also available for purchase. We love the atmosphere at Corsair and were sorry to leave, but we had one last appointment on the books.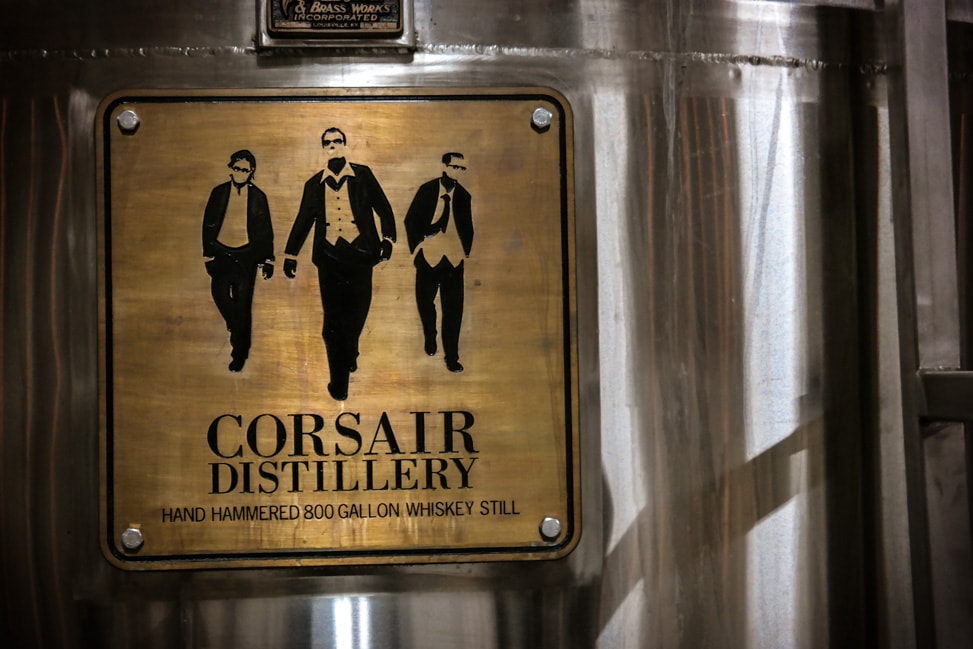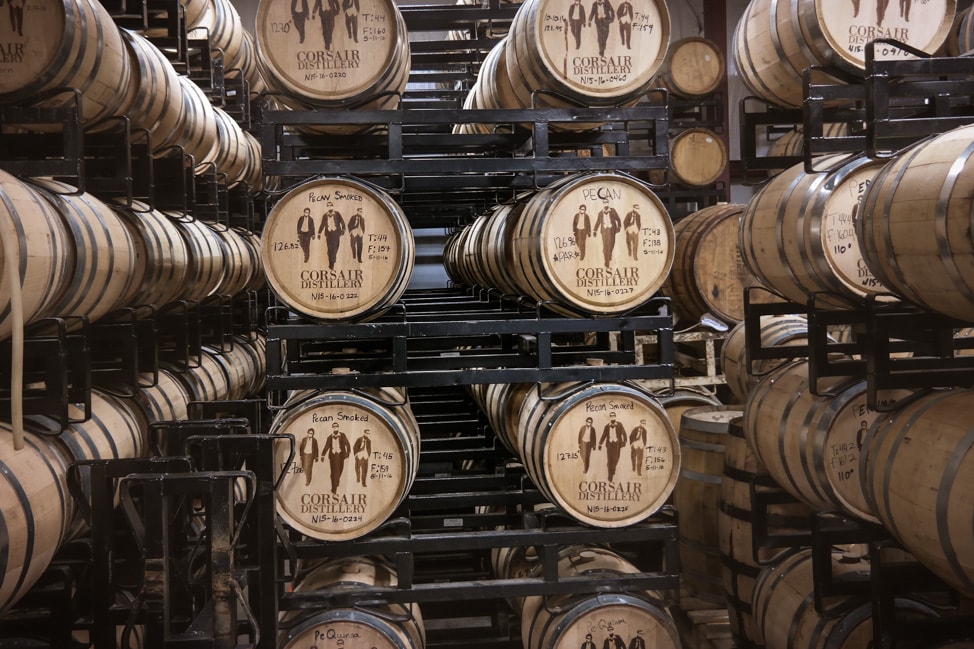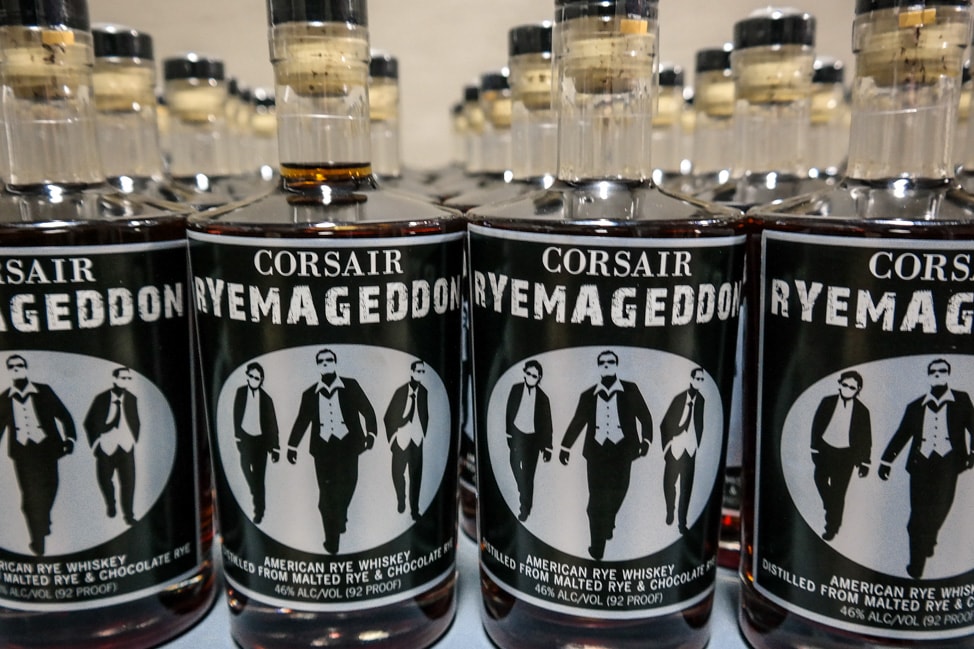 Our final stop was dinner at Le Sel, near Vanderbilt. We had an early Christmas gift certificate to cash in, and ended our very full day of eating with a few small plates, including steak tartare and a hearty french onion soup. Who doesn't love a soup that is essentially a vehicle for cheese. It's genius. We enjoyed Le Sel, a beautiful space with just the right about of hipster vibe to make me feel comfortable in my flannel shirt.
After a very long day, I was happily burrowed under a pile of blankets just after 10pm. Just the way I like it.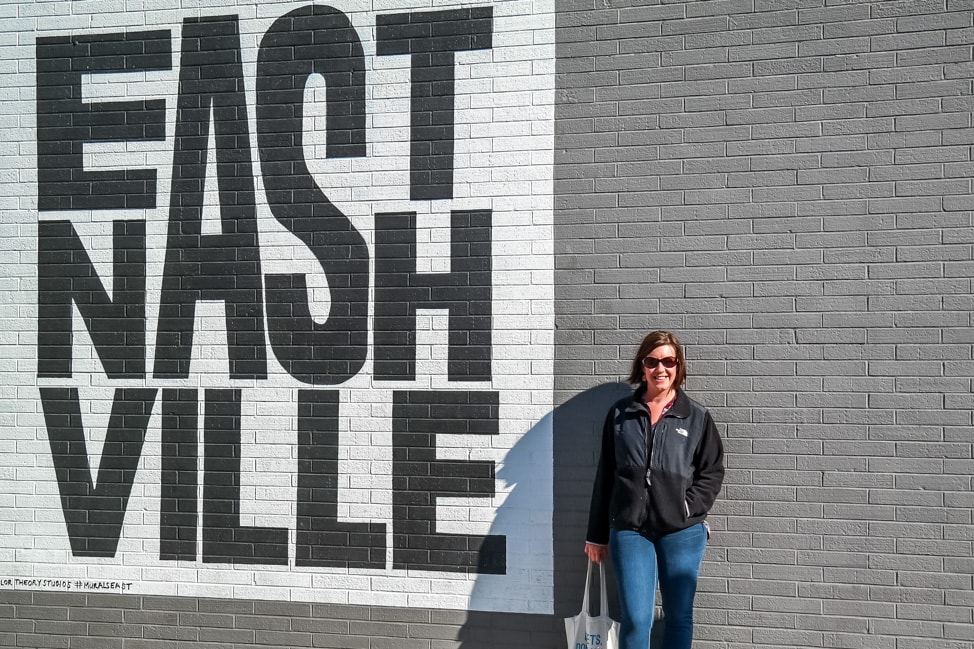 Nashville is a city I could imagine living in. I'd buy a beautiful restored bungalow in Five Points, and live out my days restoring furniture and eating my way around town. I'd listen to country music in an un-ironic way and finally get the hang of drinking whisky, in a beautiful locally-blown glass tumbler, with a single square ice cube.
It's all possible in Nashville. A place that is so much more than the Opry and hot chicken. And now the whole world knows.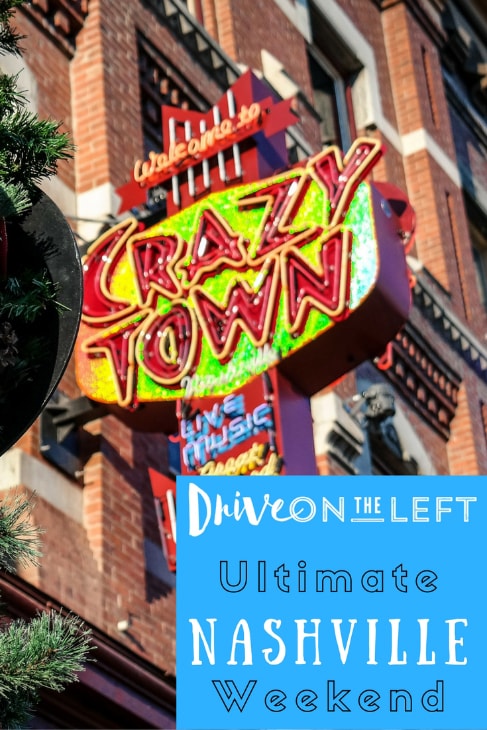 Pro tip: This lovely weekend wouldn't be possible if not for the exhaustive coverage of Nashville by Kristin at Camels & Chocolate. Seriously, I had several of her past articles open on my phone for three entire days. She is the best Nashville resource I know of, and you absolutely cannot visit this city without reading up on her recommendations first.