As we walked through the woods, journeying deeper and deeper, our dog caught a scent. She began vigorously scratching and clawing at the dirt, desperate to find whatever laid beneath the ground. The owner quickly pulled her away, and reached for her small shovel. She dug around the uprooted earth, removing clumps of mud and dirt. Then, she stopped. She reached down and picked up our hidden treasure.
A fresh, black truffle. One of the most expensive foods in the world.
When we began our trip to the Istria region of Croatia, we had no idea how ubiquitous truffles were to this region. We typically think of France and Italy when it comes to all things truffle, but this beautiful peninsula of Croatia has been pulling truffles out of the ground for years, including the prized white truffle in the autumn, which can fetch upwards of $1200/pound, and not found in many other places besides Istria and the Piedmont region of Italy.
After we unpacked our bags at our apartment in Motovun, we climbed the steep hill to the center of the small, hilltop village. Amongst the tiny, cobblestoned streets and rustic stone structures, we discovered not one, not two, but five truffle shops! There were almost as many truffles shops as restaurants or cafes. Each were packed with every conceivable truffle product, from fresh (and very expensive) whole truffles, to packaged sauces and condiments. After a little research on truffles in Istria, I stumbled upon a few companies that offered truffle hunting trips, where you could head out into the woods with a dog and find some of these mysterious fungi for yourself.
Truffle hunting in Croatia? Sign me up!
We booked the truffle hunting tour with Natura Tartufi, a company in Buzet, Croatia that specializes in everything truffle. We headed to their showroom and offices, just a few minutes outside of Buzet. There, we met Gabi, our guide for the afternoon. She rounded up Moitza, a two year old labrador/retriever mix, who was a big ball of energy, clearly anxious to head off into the woods for the elusive truffle.
As we walked from the parking lot back into the surrounding woods, Gabi explained the training of the dogs. The puppies are exposed to truffles early, putting drops of truffle essence on their mothers nipples, so that they get the taste and scent early. As they grow, they bury truffles around an enclosed area, and have the puppies work to sniff out them out.
Their reward? Pieces of truffled salami. That's right, expensive, truffle-studded, salami. No milk bones for these pups. Lucky dogs!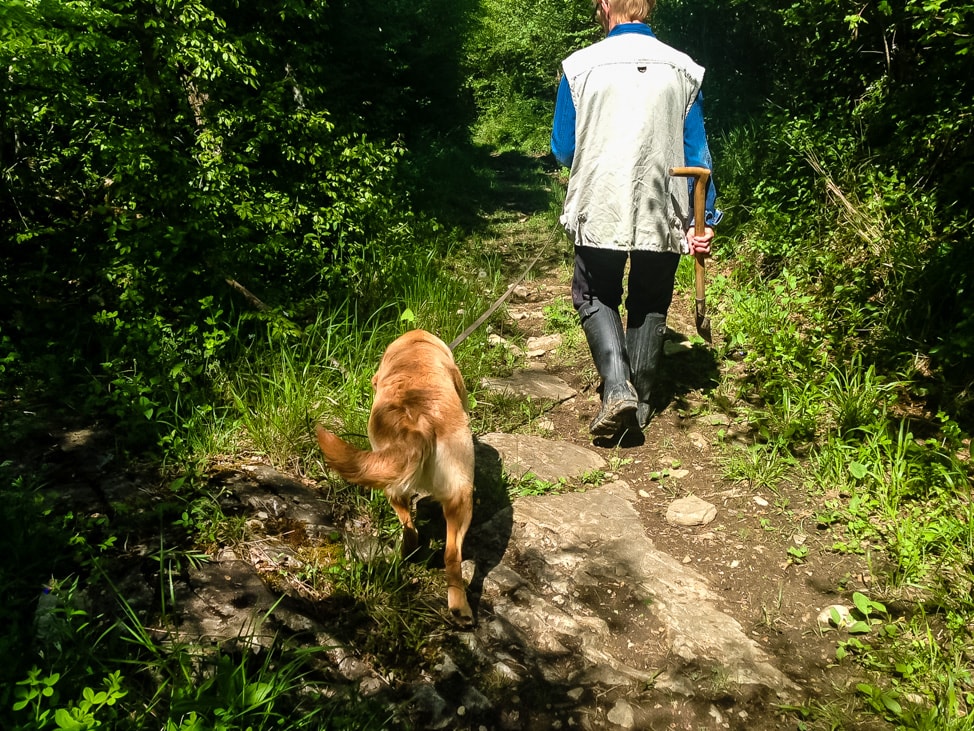 As we walked, the dog almost never lifted its nose, always hunting and searching. After only about ten minutes, she began digging and swiping at the ground. As she dug, she was berated with "bravo, bravo", as the dogs apparently require positive reinforcement constantly throughout the hunt. While Moitza was preoccupied with her truffled salmi treat, Gabi grabbed the black truffle, about 50g in weight, from the small hole in the ground. She wiped off the dirt, gave a quick inspection, and handed it off to us. Our first black truffle, fresh from the soil. Our truffle hunting was a success!
After a little over an hour of truffle hunting, we uncovered two additional truffles, all similar in size. Afterwards, we headed back to the Natura Tartufi showroom, where we sat at a table, surrounded by the numerous Natura Tartufi truffle products lining the walls. Our truffle experience was only getting started.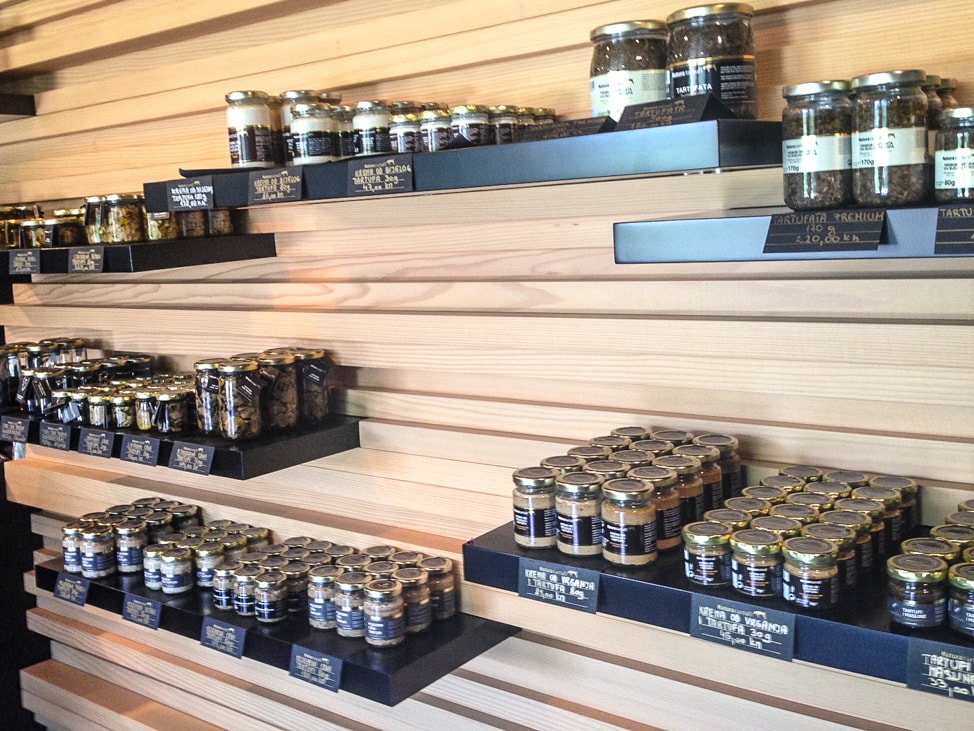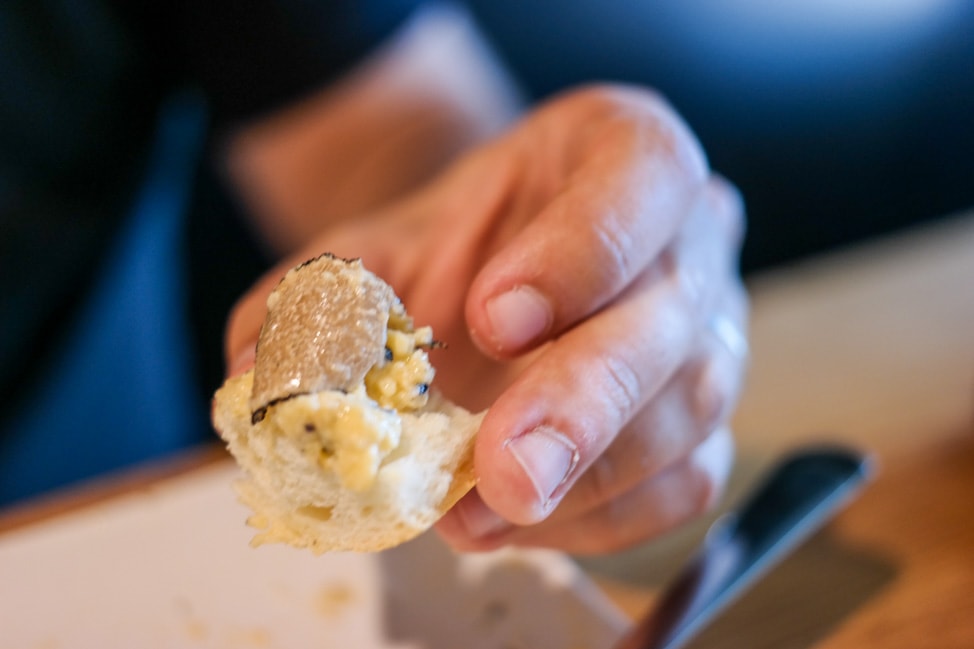 We started with some much need water and a beer from a local brewery that infused the beer with the essence of truffle from Natura Tartufi. Luckily, the aroma and flavor of the truffle was fairly mild in the beer, just adding a little earthiness and funk to the beer (in a good way of course!).
Gabi constructed a tasting board for us, featuring most of their products. We had white truffle oil with sliced bread, along with small tastes of truffled cow's milk cheese, truffled goat's milk cheese,  and truffled salumi. We then had a smattering of spreads and condiments, all heaped on a small round of bread. They included tomato sauce with truffles, olive tapenade with black truffles, mushrooms with black truffle, mushrooms with white truffle, black truffle mushroom cream, and a white truffle cream. It was a lot of truffle on one board.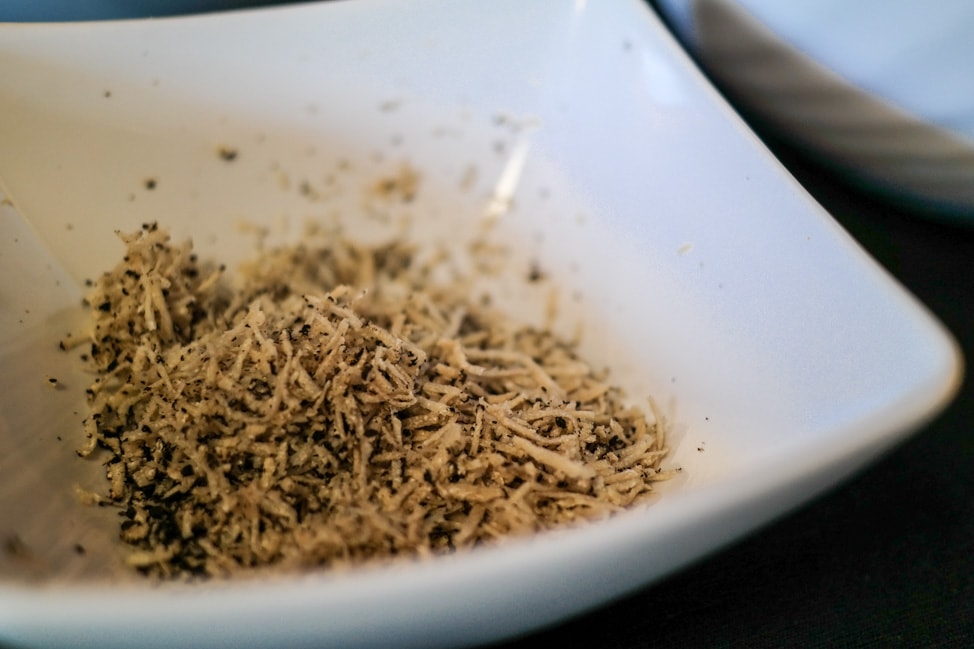 The main course was a decadent plate of soft scrambled eggs, featuring truffles on truffles. Gabi mixed truffled cow's milk cheese with shavings of fresh truffles. She fried the cheese softly in butter, then added six eggs, slowly heating them so they stayed soft and creamy. As if that was not enough truffle, Gabi let Julie shave almost an entire fresh black truffle on top of the eggs. To say they were indulgent would be an understatement.
It was truffle on truffle action, all washed down with a glass of local malvasia wine, a crisp, refreshing, white wine. And no, there were no truffles in the wine.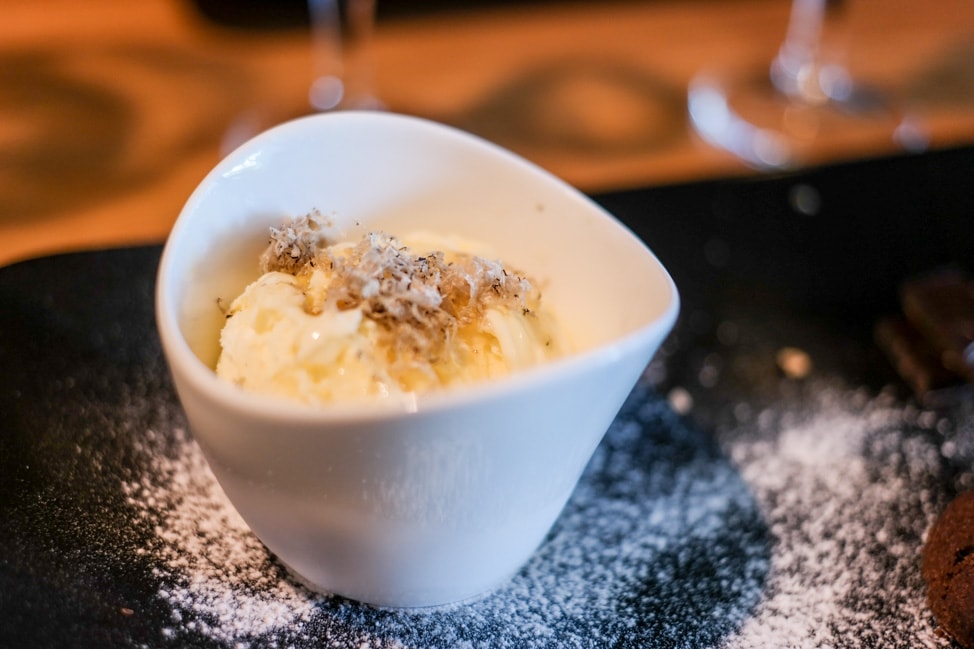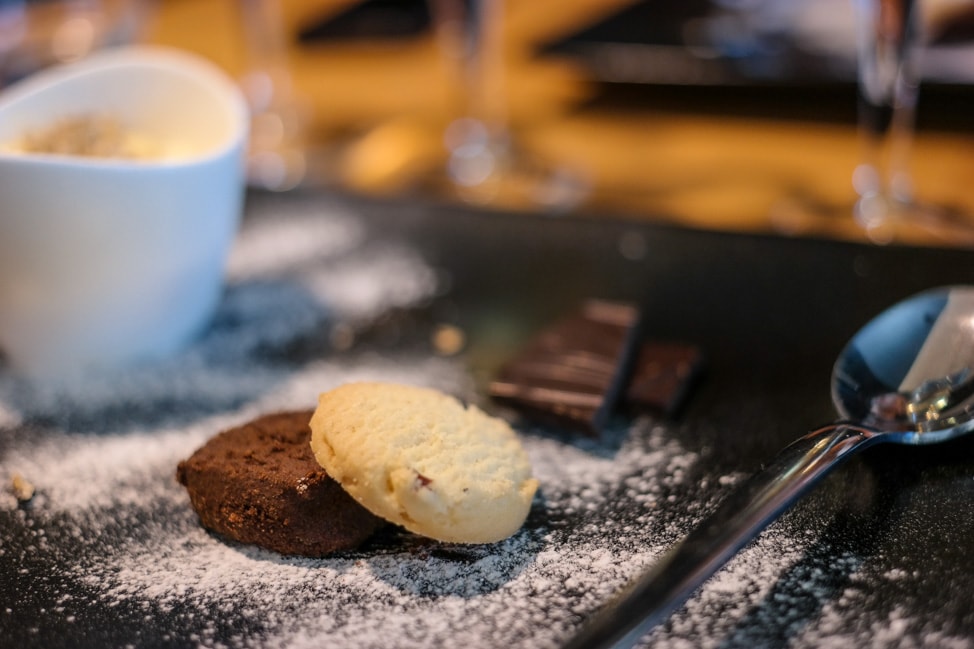 As if that wasn't enough already, we had a dessert course, which featured vanilla ice cream topped with white truffle honey and shaved fresh black truffles, a truffled shortbread cookie, a truffled chocolate cookies, and pieces of dark, bitter chocolate infused with truffle. They even provided small jars of the white truffle honey and black truffle salt, perfect accompaniments for the shortbread cookie and the dark chocolate.
As we wrapped up, we were handed two glasses of truffled grappa, a high-alchol spirit similar to brandy that is very popular in Istria. We sipped the grappa, and were immediately hit with super intense truffle flavor, along with the gentle burn of the strong grappa.
We were officially done. We had reached maximum truffle intake.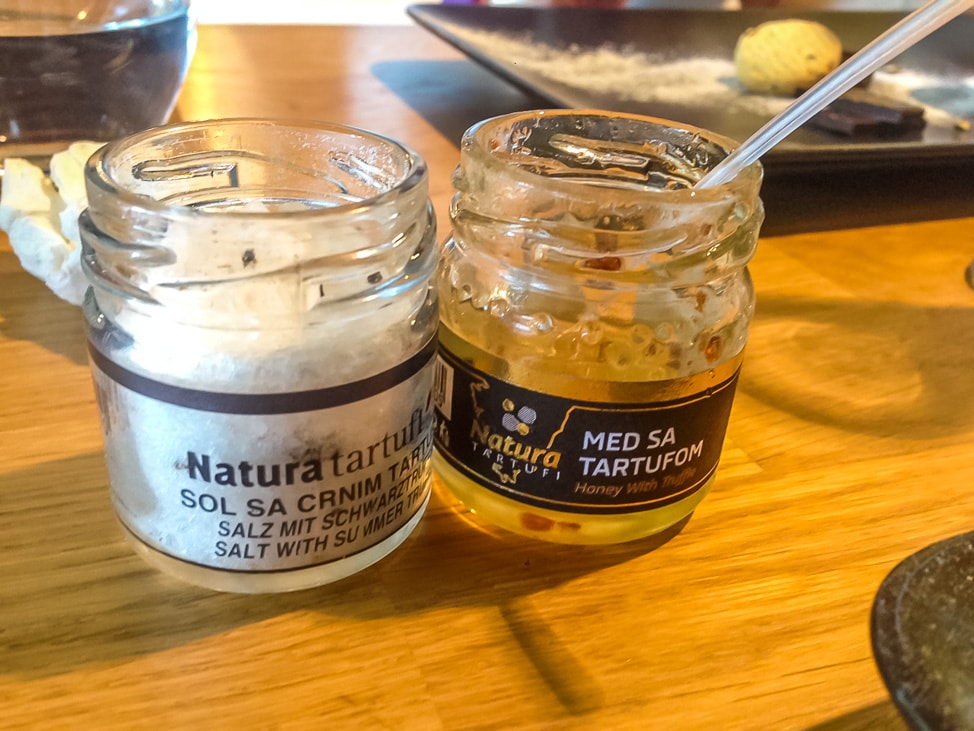 The truffle hunting and tasting experience at Natura Tartufi was simply amazing. We literally stumbled upon the idea the day before, and it ended being one of our major highlights of our time in Istria. The staff was incredibly accommodating and engaging, and seeing the excited, energetic Moitza anxiously hunt for truffles, buried beneath the surface in the woods, was a thrill.
I think she had just as much fun as we did!
Natura Tartufi is located just outside of Buzet, Croatia. Our truffle hunting tour cost £85 for the two of us, which included the truffle hunting, the tasting, and all of the drinks. And no, unfortunately, you do not get to keep the truffles you find!