Croatia has been at the top of the travel bucket list since it started getting the reputation of being the 'next Italy. ' As a total Italy buff, I was sold. Could two heavens exist on earth, both teeming with fresh pastas and vineyards and beautiful ancient villages?
Why yes, apparently so.
Now Croatia is a big place, and we only scratched the surface, but what a surface it was! Our exploration focused on the Istrian peninsula, that little chunk of Croatia that touches Italy, poking out into the Adriatic Sea, far removed from the more popular destinations of Dubrovnik or Split.
We drove over to Croatia from its gorgeous neighbor, Slovenia. Being well-trained car driving Americans, the quick two hour drive flew by and soon enough, we were climbing our first small mountain up to the village of Motovun, where we rented an apartment for a few days. We love having a home base from which to explore, so we settled into our lovely flat, met the resident dog, a young and rambunctious black poof named Max, and felt right at home.
That first afternoon was spent huffing and puffing our way up the rest of the hill (I really want to call it a mountain but appreciate that I tend to exaggerate these things) to the old village of Motovun, which these days is mostly pedestrian-only. We quickly explored the small town, gaping at the panoramic views and the slowly setting sun. There are villages like this all over the region – tiny hilltop towns connected by twisty roads and not much else. The first time you look over the vast space of Istria, hilltop villages in the distance, rolling countryside laced with vineyards, well, you start to believe that little bit about the next heaven on earth.
Over the course of a few days, we fell into a predictable routine, as we so quickly do when we're away from hotels and tourist sites. Leisurely mornings were spent picking two villages to visit for the day. Then, we would drive the 30-45 minutes in a given direction to village #1, explore, drive to village #2, have lunch, walk around, take photos, walk some more. Late afternoon, we would find our way back to Motovun, to our apartment on the hill, cook dinner, and hang out on the terrace watching the sunset with some cheap grocery store wine, listening to Spotify.
Repeat. Repeat again.
For those planning to visit the area, and if it's not clear we highly recommend it, a few thoughts about the villages we visited:
Poreč  – We knew immediately when we drove into Poreč that this place must be nuts in the summer. It has a summer resort feel, lots of large hotels hug the coast and with a little imagination, we could feel the summer heat and envision the families hopping on day long boat tours of the coast or getting an ice cream from one of the endless carts and stalls. On a quick duck into a local grocery store, we realized that Poreč  is also a place where you can buy wine by the liter from a barrel. We left a few minutes later with a huge plastic bottle filled with inexpensive but completely drinkable red wine, for just under €2. Score!
Rovinj – We read that the small city of Rovinj is the start attraction of the Istrian coast and we're not surprised. I mean, could a place be any more picture postcard perfect? On a Tuesday in April, it was lovely and mostly devoid of tourists, but it gets crowded with visitors in the summer. Its prime location means that lots of boutique hotels and fine dining restaurants have popped up, so if it's luxury you're after, look no further. Rovinj deserves its star status in Istria, and would be a great place to stay for a few days the next time around.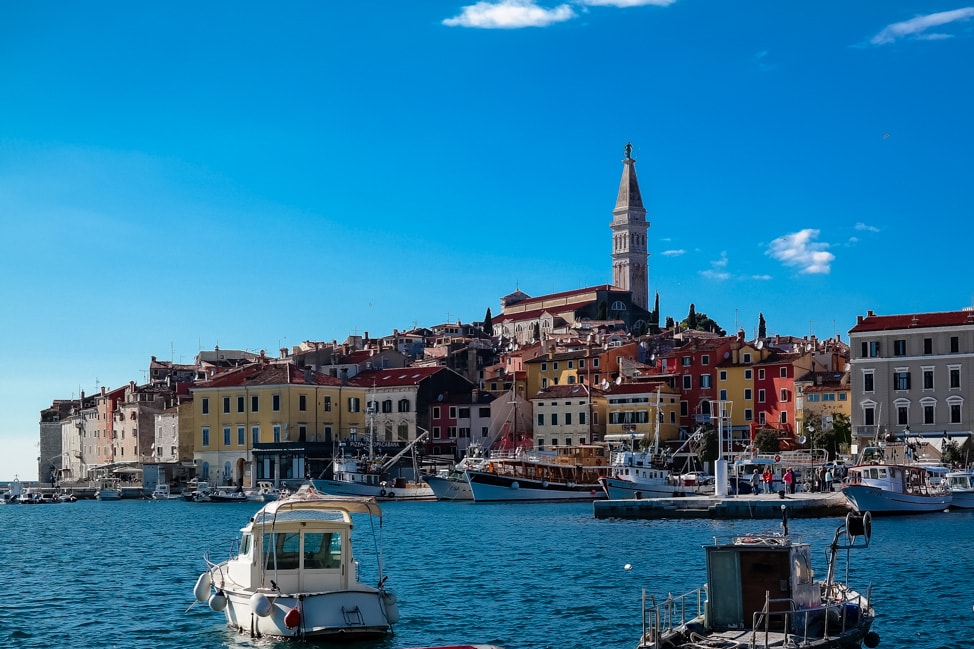 Buzet – We came to Buzet for a single reason – to visit Natura Tartufi and to eat a million truffles. We did a quick walk around the Old Town, but compared to others, this one is relatively dull for visitors – no welcoming cafes or vantage points. We did a quick look around a typical Croatian cemetery, which was interesting, but no need to make a special trip to see it.
Motovun – Our 'home' for the week is on many lists of must-visit villages in Istria. If the daily onslaught of German tourists is any indication, it isn't exactly a secret spot in the Istrian peninsula. Motovun is a charming town, with lots of nooks and crannies and a fantastic view of the valley, but you probably need less than an hour to explore it thoroughly. One thing we did notice here was the abundance of shops that sell truffle-related products, so it's a good place to stock up on edible souvenirs.
Grožnjan – Grožnjan has a similar look and feel to Motovun, narrow streets and uneven cobblestone paths. As we walked around we noticed art gallery after art gallery and speculated that they were all for tourists. Later, a local told us that in fact, Grožnjan is a village that has long attracted musicians and artists of all kinds. Every summer there is a well-known jazz festival here where an impressive selection of globally recognized jazz musicians play from sunset until midnight. Every single night. For over two weeks. This festival would be reason enough to plan a visit to Istria in July and it sounds magical.
Opatija – On the far east side of the Istrian peninsula lies Opatija, and what a difference the distance makes. Opatija reminds us of the French Riviera, with the glitz and glamour of Monaco. The temperatures bordered on hot and the palm trees lulled us into imagining another holiday, lounging in one of the gorgeous seaside hotels that dot the shore.
Can you sense a theme here about our much needed return to Istria?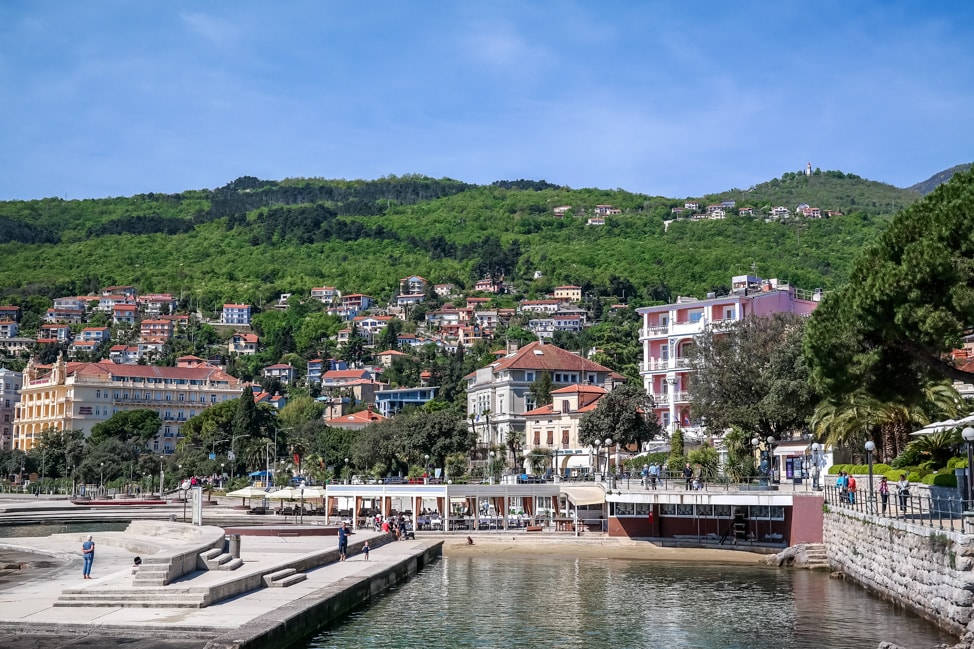 We always know we've really loved a place when we start searching online for real estate in the area. It's happened to us a few times around the world, but in Istria, Croatia, we spent many a morning looking at hilltop cottages and wondering how long it would take for a small vineyard to flourish under our care and attention.
We've got the Istria bug bad and can't wait to get back soon.
Have you been to this area of Croatia? Did we miss anything that we should visit next time? We'd love to hear from you in the comments below!