First was the cancelled flight. Then, we were rerouted on two different flights. A two hour journey stretched out, painfully, to eight. Ten. Twelve.
By the time we emerged from the metro, into the evening haze of a Shanghai summer, we were wiped. The drizzle from the afternoon that left us stranded in airports continued to fall, the clouds low and heavy.
Shanghai, nice to meet you, too.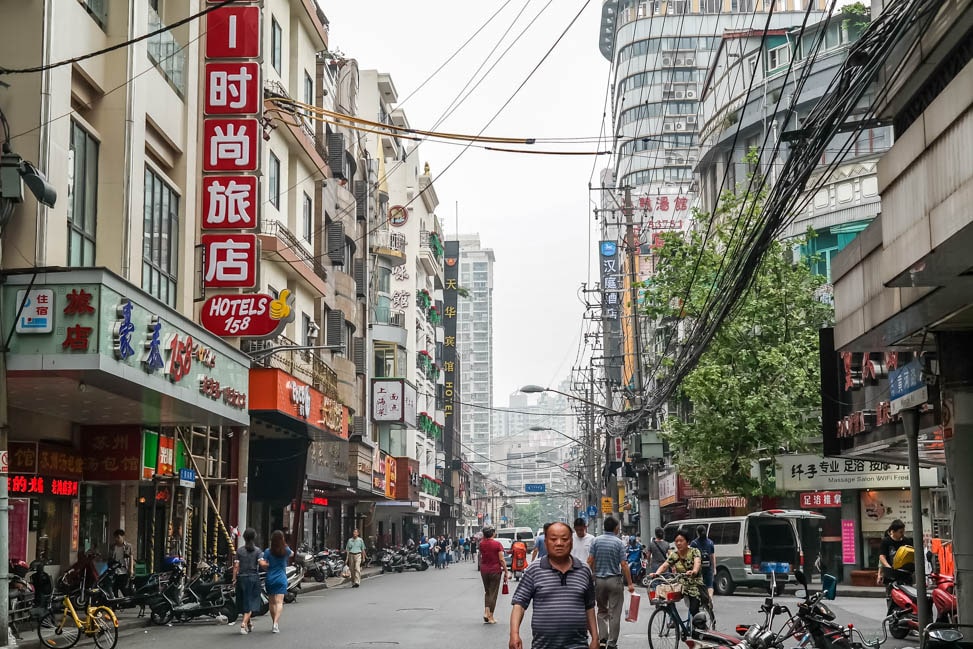 Three Days in Shanghai
Despite a not-so-amazing start to our three days in Shanghai, our outlook quickly improved as we set out on the town.
Sometimes we are lucky to see a new city through the eyes of locals. In this case, a colleague of mine is now firmly established in Shanghai and was eager to show two newbies a good time. There's something about seeing someone else's greatest hits in a place, all of their checklist essentials, that all but guarantees an unforgettable evening.
I'm pretty sure we were set-up for success.
Dinner was at Old Jesse (no website), an old-school Shanghai establishment. We tried probably half the menu, but the place is best known for sticky pork, roasted fish head, and a crab/tofu dish with jelly-like noodles that is much better tasting than it sounds. We also had our first taste of baijiu, aka 'white alcohol' which is pretty much grain alcohol, but made with rice. It's potent stuff, I tell you. I think it smells like Sharpie, but I've also heard it akin to rotting pineapple.
Which is a more pleasant description.
After dinner, we were off to a bar that wouldn't be out of place in Brooklyn, Logan's Punch. An international crowd mingled and we drank too many gin & tonics and goaded some Scandinavians about missing the mid-summer festival happening at that exact moment. When the clock hit 3am, we knew it was time to make for the exit before the night went downhill.
Our super-late night led to a rather lazy morning, but we were off our asses and out the door just in time to make it to brunch at Liquid Laundry. I'm not sure if you've heard but we are brunch fanatics, and those in the know about brunch will tell you that Shanghai has fully embraced the tradition.
Liquid Laundry is one of the best in town, as our copious research told us, and we made a reservation a week in advance. We arrived right when they opened, and within the course of our meal, the entire joint filled to capacity. No small feat for a cavernous multi-room restaurant.
To say planning this brunch was the best decision I've ever made in life wouldn't be too much of an overstatement.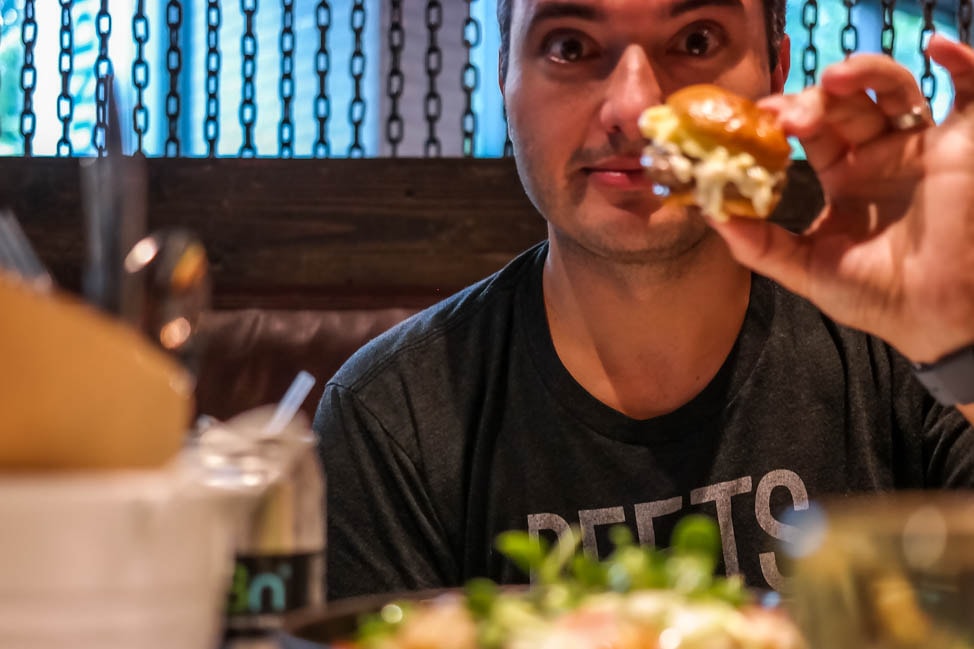 I want to fly back to Shanghai today just for another taste of that skillet of Ruben-themed potatoes and eggs. And the tiny breakfast sandwiches on pretzel buns with scrambled eggs, crispy pork sausage patty, and cheese sauce. Oh, AND the pancakes, which I didn't try but which hovered at every surrounding table staring at me in the face. Next time.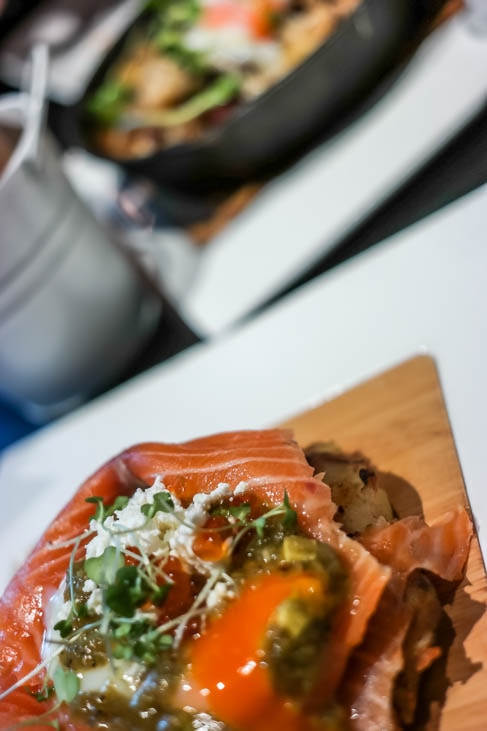 We walked off brunch on The Bund, the waterfront area in Central Shanghai right along the Huangpu River. This section of the city lies within what used to be called the Shanghai International Settlement. It is here that many international banks and trade companies were established, which is reflected in the European architectural style.
The Bund is also renowned as the go-to spot to view the ever-evolving skyline across the river in the Pudong area of Shanghai. That part of the city is home to the most modern and radical architecture, which is especially impressive at night. Unfortunately, early summer showers meant our view of this striking skyline was rather disappointing.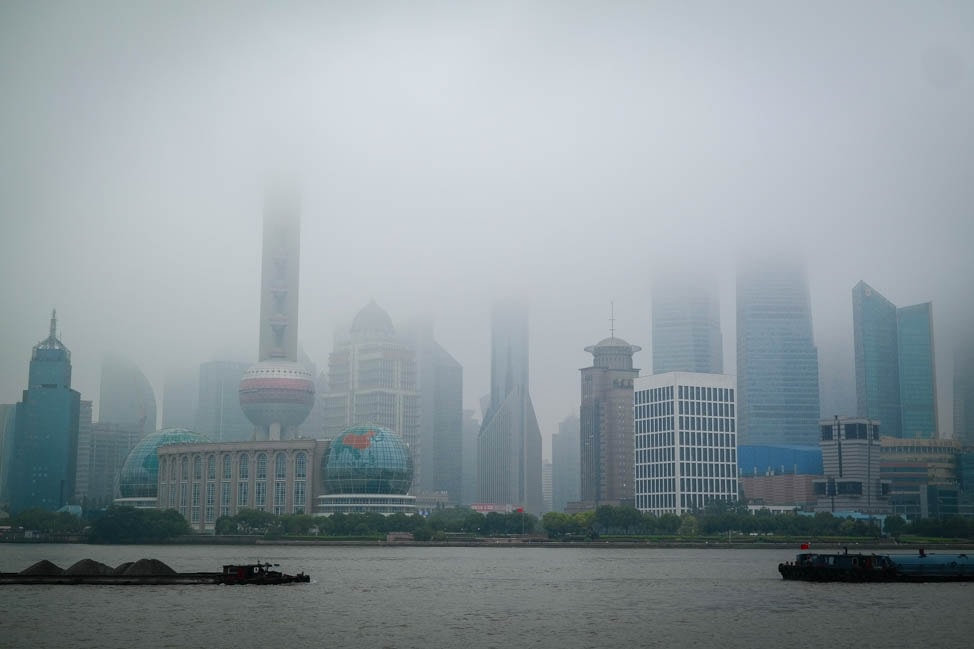 After an obligatory mid-afternoon nap to recover from brunch, we walked through People's Park (the largest park in Shanghai) to eat yet again. This time, it was the 'Night Eats' tour from Untour Food Tours (for the details of this amazing tour, check out our dedicated post about the experience). Three hours and over twenty dishes later, we climbed into bed in a true food coma, a truly decadent Sunday.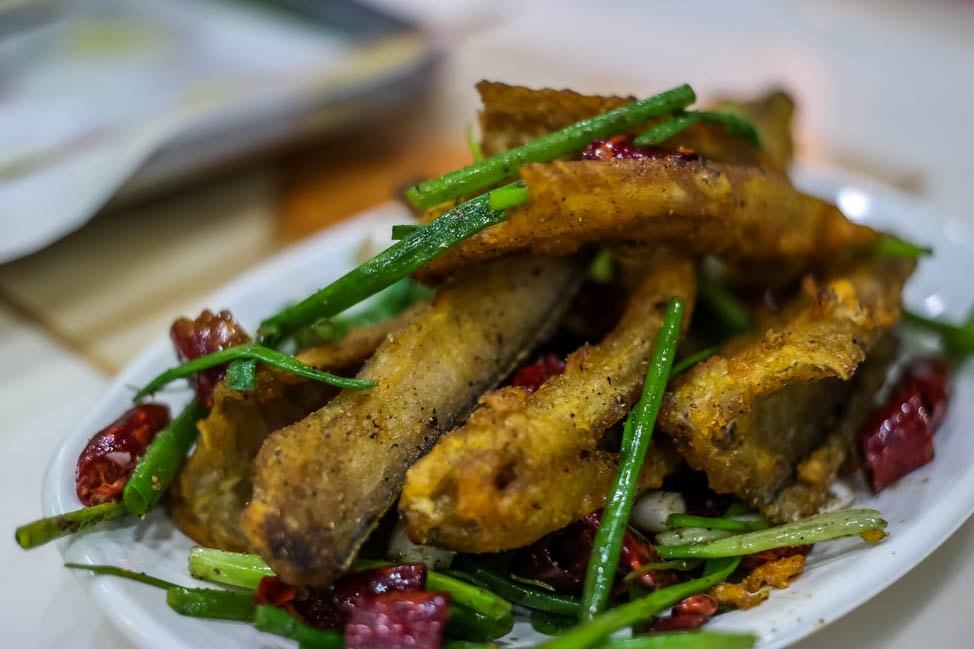 Feeling refreshed from a quality night's sleep, we parted ways on Monday as I headed to work, for a fun day of meetings at the office. Drew decided to head towards the French Concession, a popular expat neighborhood packed with designer clothing stores and hipster coffee shops.
The main goal of his outing was a visit to the Propaganda Poster Art Centre, located in the most unassuming location for a museum: the basement of a housing tower complex. The guards near the parking lot entrance gave him a business card with the directions to the correct building.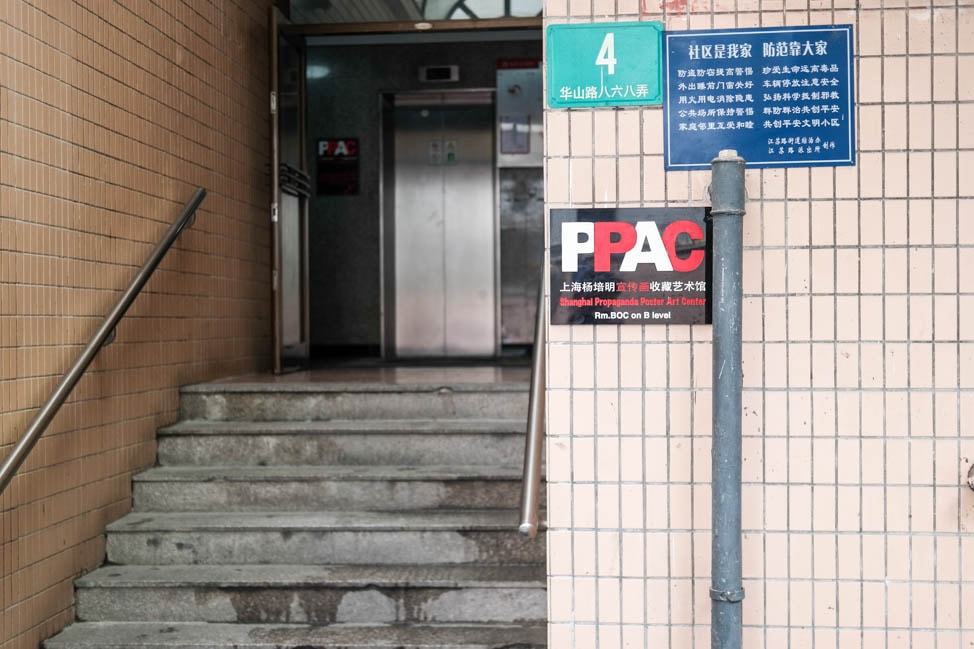 Into the building, down the stairs to the basement, past an old women washing her clothing in a bucket in the hallway, and finally, into the museum. These few tiny rooms contain hundreds of propaganda posters produced by the government between 1949 and 1979. It is the largest collection of these posters anywhere in China, as most of them were destroyed over the years as political regimes changed.
The exhibition is well organised, presented in chronological order with brief descriptions in Chinese, English, and French about what was occurring during the time and how it reflected in the poster art styles. The images range cartoonish to more realistic. Needless to say, the propaganda about Americans, especially during the Korean War is not flattering. But for ¥25 ($3.68) you can get a whole different perspective of recent Chinese history.
And since Drew is a stickler for rules, he respected the 'no photo' rule inside.
We met up after our days gallivanting around Shanghai (or more specifically Drew's day while I was stuck in an office tower) back at our hotel, the Radisson Blu Shanghai New World, to regroup and prepare for a dumpling feast.
Arguably the most famous Shanghaiese dish is soup dumplings, or xiaolongbao. Meaning "little basket buns," these little packets of goodness are part dumpling, part soup. The thin dumpling wrappers are filled with meat or seafood (pork with crab is the most common) and gelatinized cubes of pork stock, then steamed in wooden steamer baskets. The steam cooks the filling, but also melts the pork stock, resulting in a dumpling filled with piping hot, and intensely flavored soup.
Needless to say, we are pretty big xiaolongbao fans.
Over the course of our visit, we visited two different dumpling hot spots. The first, Jia Jia Tang Bao, is frequently rated as the best in the city. It's a total hole-in-the-wall, with about six tables and a tiny open kitchen with four or five staff members huddled around one prep table furiously filling dumplings.
When we got there around 6pm, they had already sold out of most of the dozen or so dishes on offer that day. Luckily, they still had the pork and crab soup dumplings available, exactly what we wanted.
The keys to soup dumplings are speed and precision, because they are best when they are fresh out of the steamer, but also dangerously hot. The best technique is to pick up a soup dumpling, place it on a soup spoon, and make a small hole in the top of the dumpling with your chopsticks. That releases the initial burst of steam from the dumpling's interior, and you can begin sucking the soup of the dumpling. Loud sucking is encouraged. Once the soup has been consumed, you dunk the dumpling in the vinegar dipping sauce, then enjoy and repeat.
We were quite pleased with our first of the city's famous soup dumplings. We paid our bill (with our phone of course, because it's China), a whooping ¥63 ($9.28) for two orders of dumplings and two drinks.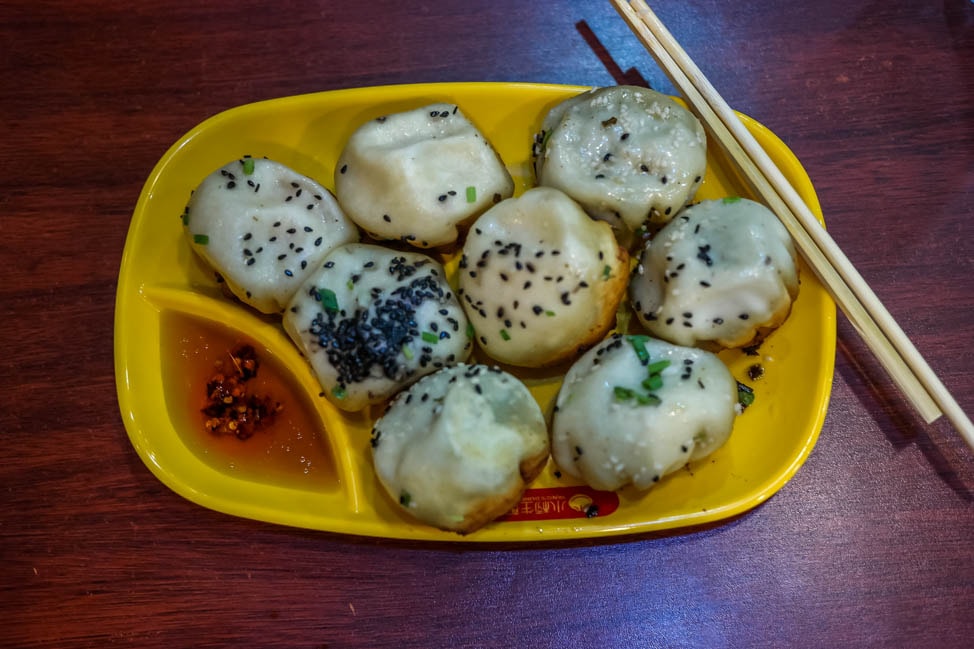 Next, we walked about twenty feet to Yang's Dumplings, a successful small chain with locations around Shanghai. They are famous for another variety of soup dumplings that many people actually prefer over xiaolongbao, called shengjianbao (pan-fried dumplings or buns). These use a yeast dough rather than the traditional thin dumpling skin. The cooking technique is the major difference though, as these buns are fried in large batches in cast-iron pans, before water is added to steam and fully cook the buns. The result is a soft, slightly doughy bun with a crispy, brown bottom.
Filling a little full already, we got two small orders of shengjiaobao, one with shrimp and one vegetable variety, filled with spinach. These might have been our favorite dumplings ever, as they have the benefit and fun of the traditional xiaolongbao, but have a crunchy, fried element as well. Basically, they are the best version of a pan-fried dumpling that exists. And a bargain too, costing just ¥24 ($3.54) for eight dumplings.
We retreated back to our hotel, filling full and ready for a nightcap. Luckily the Radisson Blu has a rooftop bar and restaurant, visible from anywhere in the neighborhood, the building that looks like a UFO had landed on top of the roof. The views of the city were fantastic, overlooking People's Park and the endless skyline beyond, and we reveled in a truly amazing three days in Shanghai.
We are already planning our return trip.