There are times in life when you think to yourself, "I never thought I'd see the day…" But there I was, standing in the middle of a night market in Shanghai, watching a man pull two rather long snakes out of a tank.
I guess it was time for dinner on our Shanghai food tour.
We flew to Shanghai a few weeks back to explore a city I've heard so much about, and a city, that not too long ago, we thought we might move to (spoiler alert: it didn't happen).
After researching the endless list of things to do in town, I thought a tour might be a good way to get an authentic look at a city where spending all your time in tourist traps is surprisingly easy. The options, of course, are endless, but one tour ticked all my favorite boxes: food, markets, unlimited beer, live butchering. You had me at hello.
UnTour Food Tours has a reputation as one of the best food tour companies in China, offering small group tours in Beijing, Shanghai, and Chengdu. We read the glowing reviews, and their 'Shanghai Night Eats' tour sounded fresh and exciting. We met up with our guides on a Sunday night at 7pm, hungry, and along with ten other hungry travelers, set off to eat whatever came our way.
Three hours, three stops, and some twenty dishes later, we decided that the Shanghai Night Eats Food Tour is indeed a must-do for anyone visiting Shanghai.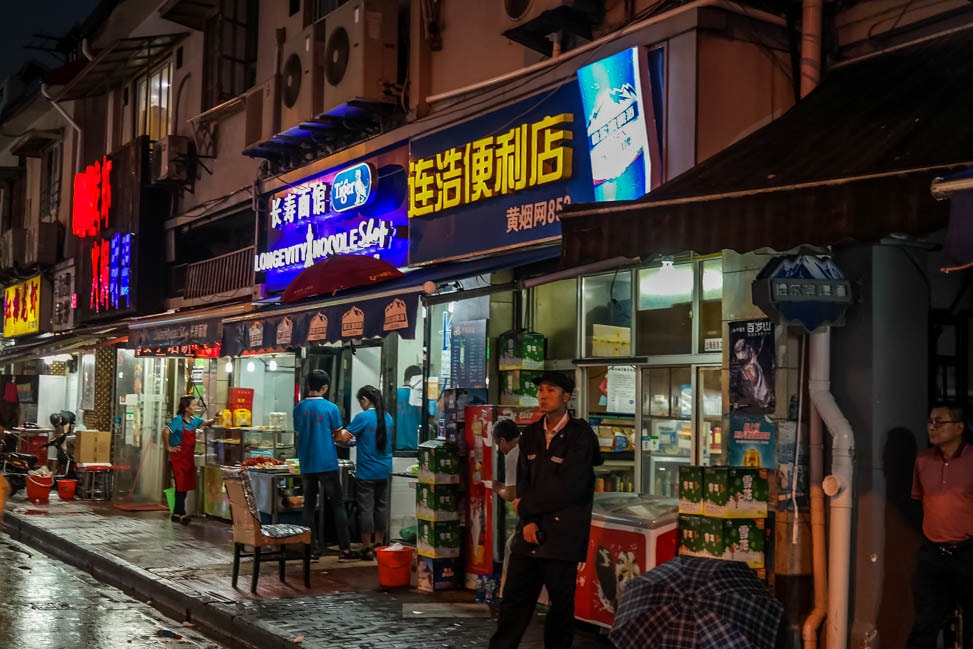 UnTour Shanghai Night Eats Food Tour
Shouning Lu Seafood Street
The first stop on the Shanghai food tour was the hectic Shouning Lu, lined on both sides with small, family-run seafood stalls and restaurants. Tanks full of live fish, bins of crayfish, and cases of fresh shellfish were on full display to entice passers-by, and many had grills set up on the sidewalks, ready to cook whatever you ordered.
We walked as our guide Thomas filled us in on our itinerary and the vast quantity of food (and drink) we were going to consume as we wandered through Old Shanghai. Our first stop was outside BBQ & Crawfish, a small restaurant with a local specialty: river snake.
Soon we were faced with a tank was full of surprisingly large and active snakes. One employee grabbed two snakes, displaying them for his stunned tour audience. The live snakes were quickly dispatched (Julie didn't watch this part but I did and it was quite matter-of-fact) and prepped for dinner. As they wrapped up snake cleaning duty, our group sauntered upstairs to the tiny dining room, ready to begin our feast.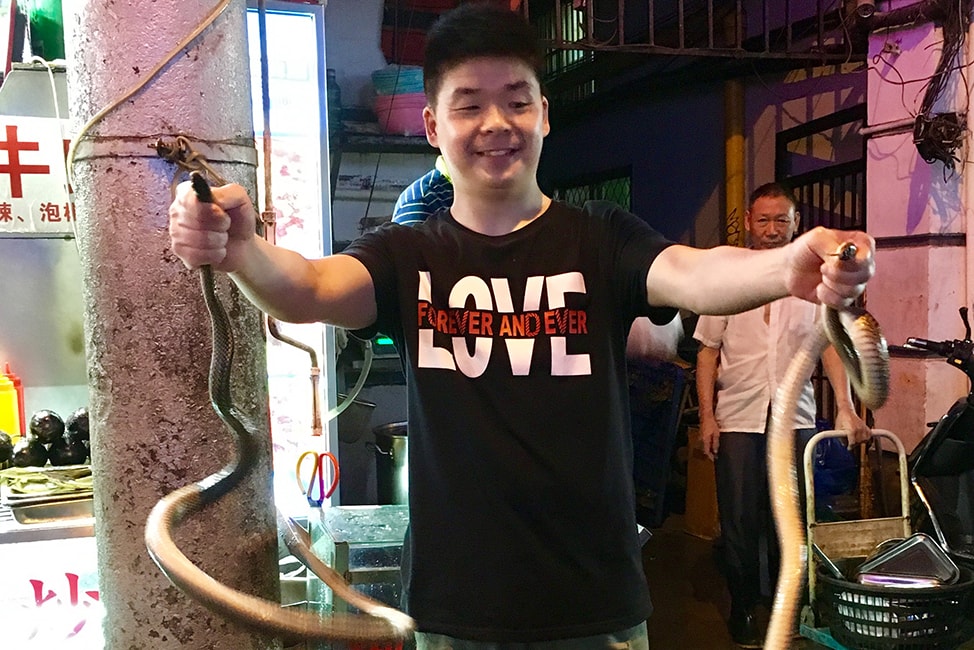 Large bottles of Tsingtao beer and water was provided, along with the dangerous Chinese spirit baijiu (白酒, pronounced 'bye-joe' more or less), which is essentially grain alcohol. It is actually the most consumed spirit in the world, beating out whiskey, vodka, or anything else. Of course, about 99% of it is consumed within the borders of China, and it is a beloved part of the drinking culture.
The first dish of the evening was a pile of crawfish, boiled and served with a vinegar dipping sauce. It is crawfish season here, so they are on menus all over the city (check out this ad for Pizza Hut! Crawfish pizza, anyone?). It's hard to extract their tail meat gracefully, but eating crawfish is all about getting down and dirty.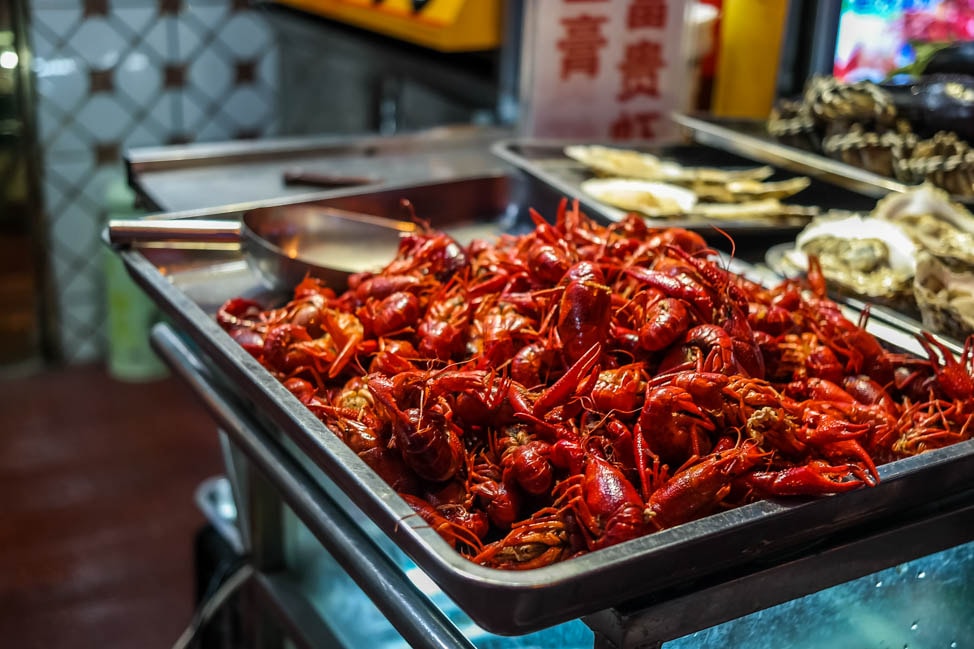 Next came the famous shengjiao bao (生煎), a variation on soup dumplings. These are encased in a slighter thicker, yeasted dough, and fried in oil in massive cast-iron pans, before being steamed. This treatment results in an exterior that is soft and chewy on top, and crunchy underneath, with a porky brothy filling. Basically the dumplings of your dreams.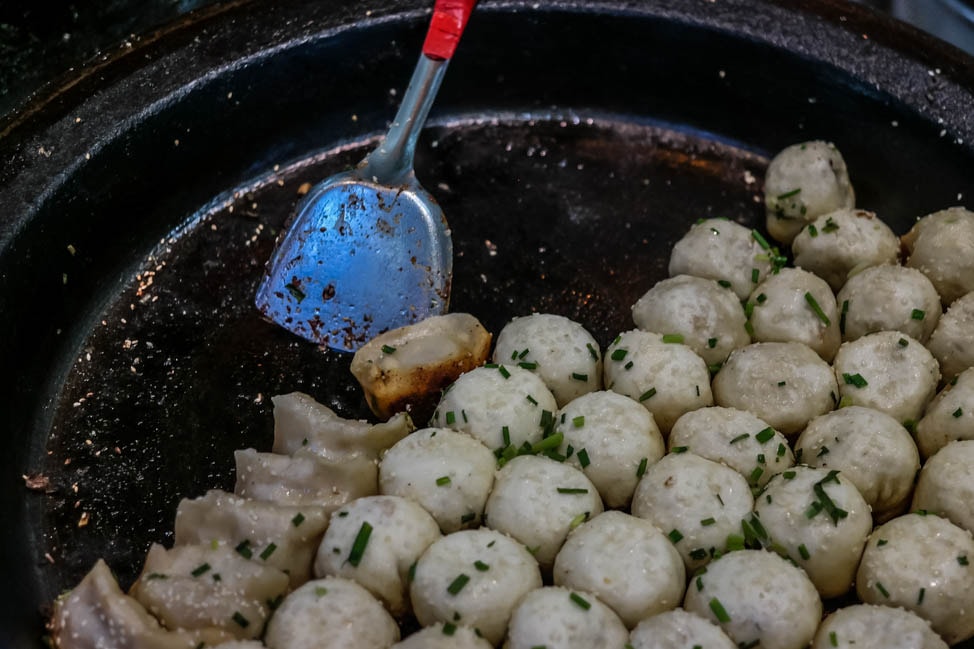 From there we were hit with a wave of grilled meat, seafood, and vegetable dishes, one after another. There were lamb kebabs, scallops with garlic, lotus root, garlic scapes, mushrooms, glutinous rice cakes, and of course, the snake.
The snake had been battered, fried, and dusted with a spice mixture, and served with leeks and chiles. The meat was pretty mild, but boy oh boy, were there a lot of bones. It is not often that I would describe a food as "bone heavy," but that was certainly the case here. Overall not a favorite, but I am always looking to get out of my comfort zone and try something new.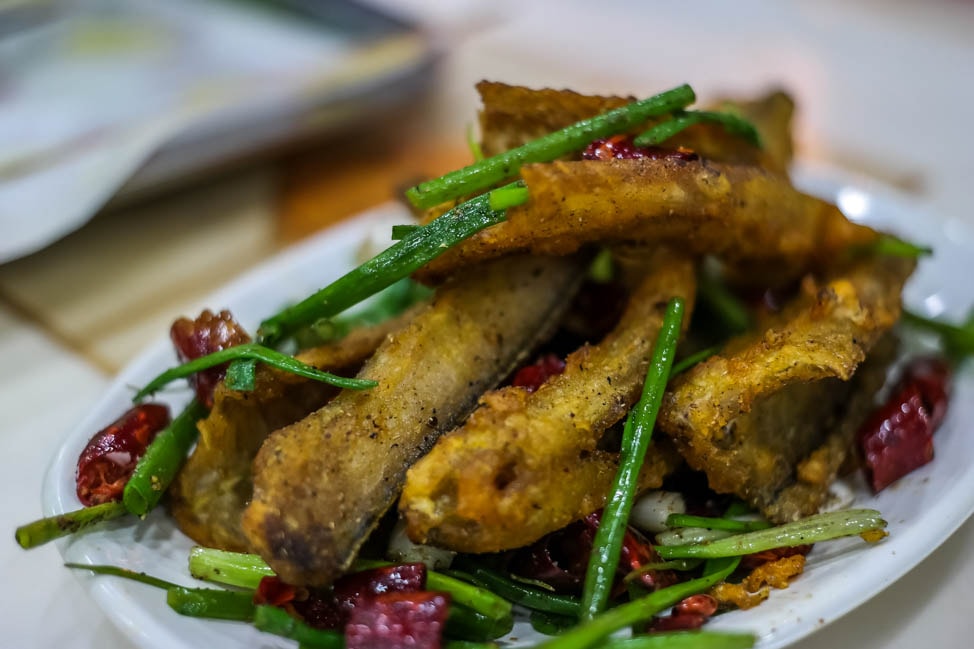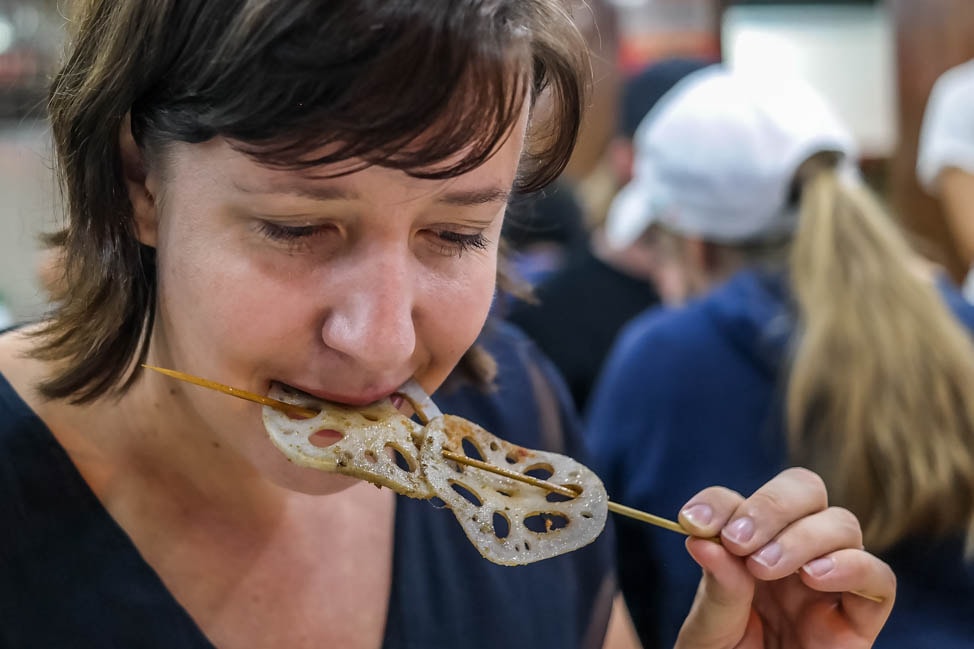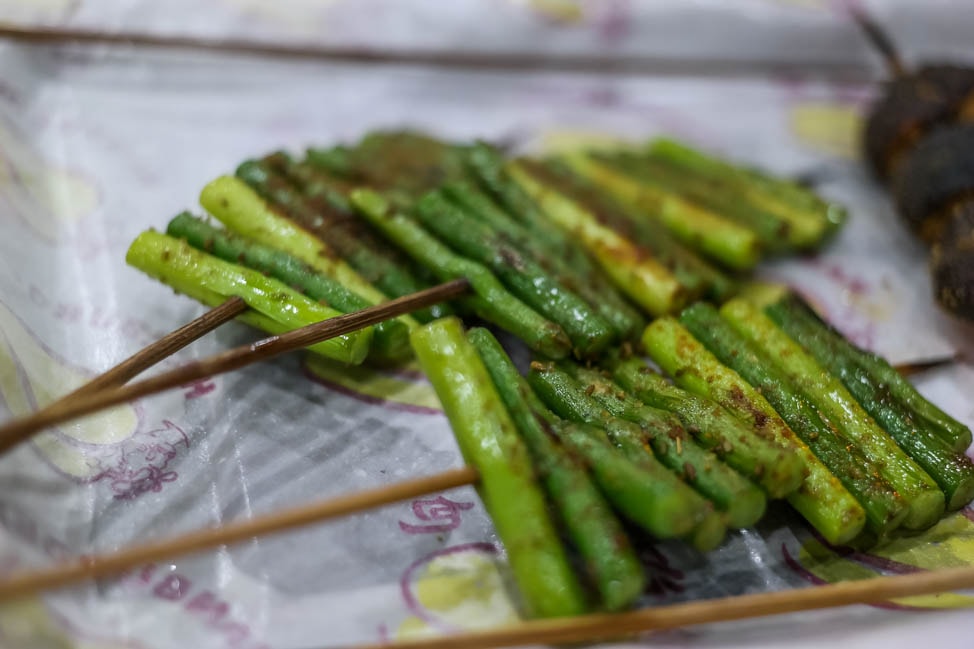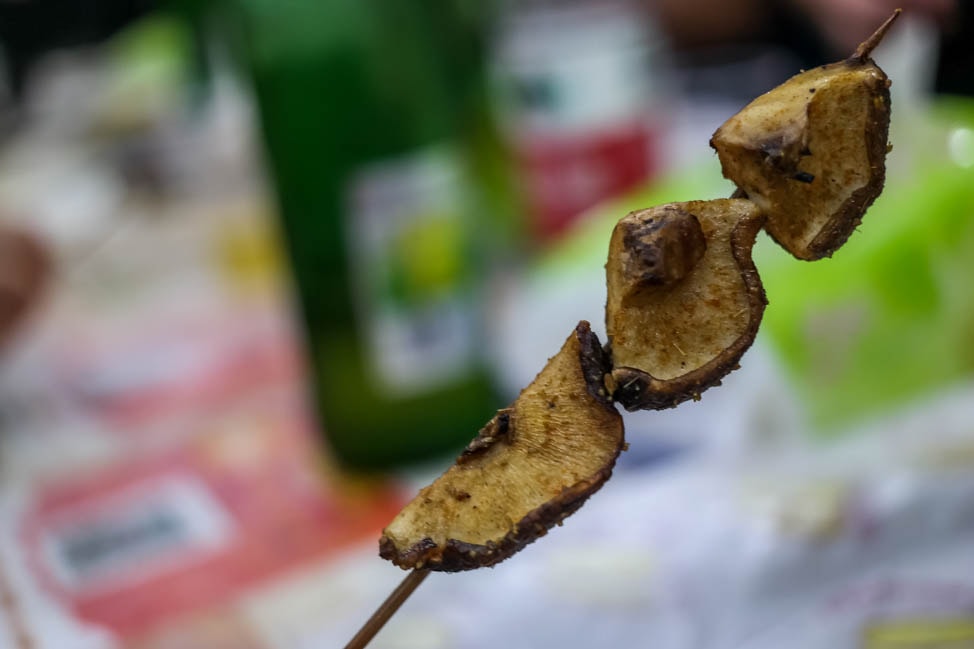 The best dish at BBQ & Crawfish was the slow roasted eggplant with garlic and steamed bread. A whole eggplant was placed directly on moderately warm coals, and left to roast for 30-45 minutes. It was then sliced open so it laid flat, and smothered with a whole head of minced garlic warmed in oil. We've never eaten so much garlic in one dish, but when smeared on the steamed bread, it tasted like the best version of garlic bread you've ever had. Simply amazing.
We wrapped up with some Hong Kong-style dessert puddings from a small shop across the street. They were not the most beautiful desserts, but were simple and delicious. We sampled mango with fruit and cream, a taro pudding, milk pudding with sticky rice, and a few others. The mango (pictured below) was everyone's favorite, though the taro was a close second.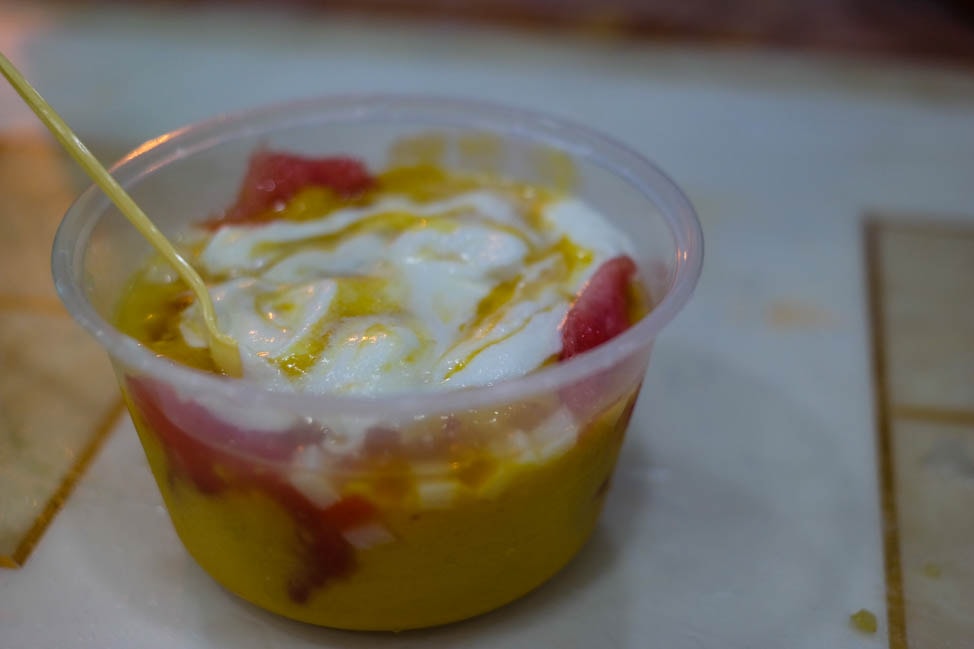 Lele Xinjiang Restaurant
After a pleasant 15 minute walk that allowed our stomachs to settle a little, we arrived at Lele Xinjiang Restaurant, a Muslim restaurant that highlights the cuisine of Western China. Run by a China Muslim minority, it features grilled halal meat, no pork, and a heavy emphasis on spices like cumin that most people would not typically associate with China.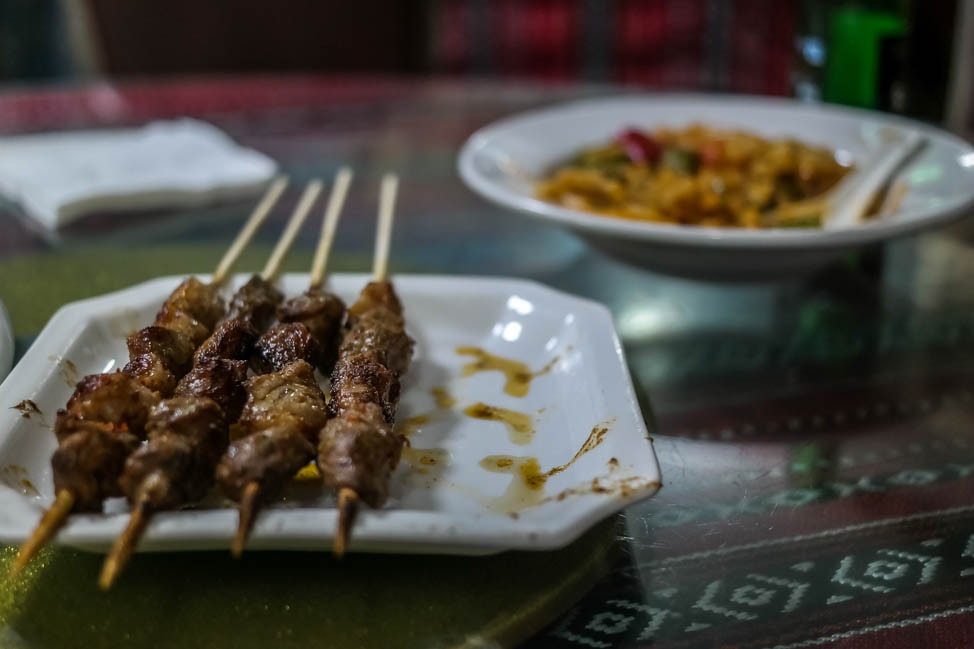 After the quantity of food at the first stop, we were concerned about overeating, but luckily, it was a lighter food stop. We sampled a dish of hand-pulled noodles with tomatoes and onions, delicious fatty grilled lamb kebabs dusted with cumin and paprika, and a cold cucumber salad dressed with sesame oil and vinegar. We washed it all down with Xinjiang black beer.
La Wei Xian
Our last stop was a fiery Sichuan restaurant, but we made two quick pit stops on our way there. We sampled some craft beer at Jackie's Beer Nest, the original craft beer bar in Shanghai, showcasing the emerging interest in beer culture in the city. We then moved onto a tiny restaurant with an open kitchen, where we could watch expert noodle craftsmen make a batch of hand-pulled noodles in a matter of seconds. I've seen it done dozens of times, and it still mystifies me. Thomas grabbed a few orders of ginger scallion hand-pulled noodles to go, to be consumed at our final restaurant.
We arrived at La Wei Xian, and three traditional Sichuan dishes were brought out: mapo tofu, 'fish fragrant' pork, and twice cooked pork. Oddly, the 'fish fragrant' pork contains no fish, but despite the odd name, was delicious. The first few bites of these trio of plates were pleasant, but the heat of the chiles and the numbing sensation of the Sichuan peppercorns began to build.
Julie dove into the mapo tofu and deemed it "not that spicy." I snagged a bite that must have contained a mouthful of Sichuan peppercorns and a few chiles because I promptly lost the feeling on one side of my tongue. Those a little less tolerant of spice at our table shed some sweat and tears, mopping up with paper napkin after paper napkin. Oh the wonders of Sichuan cuisine.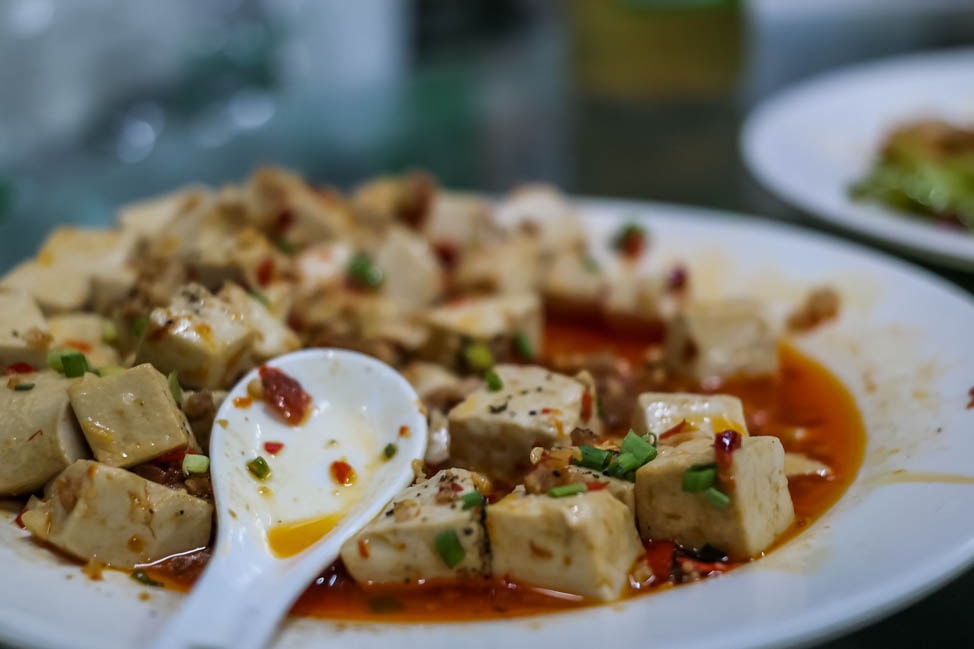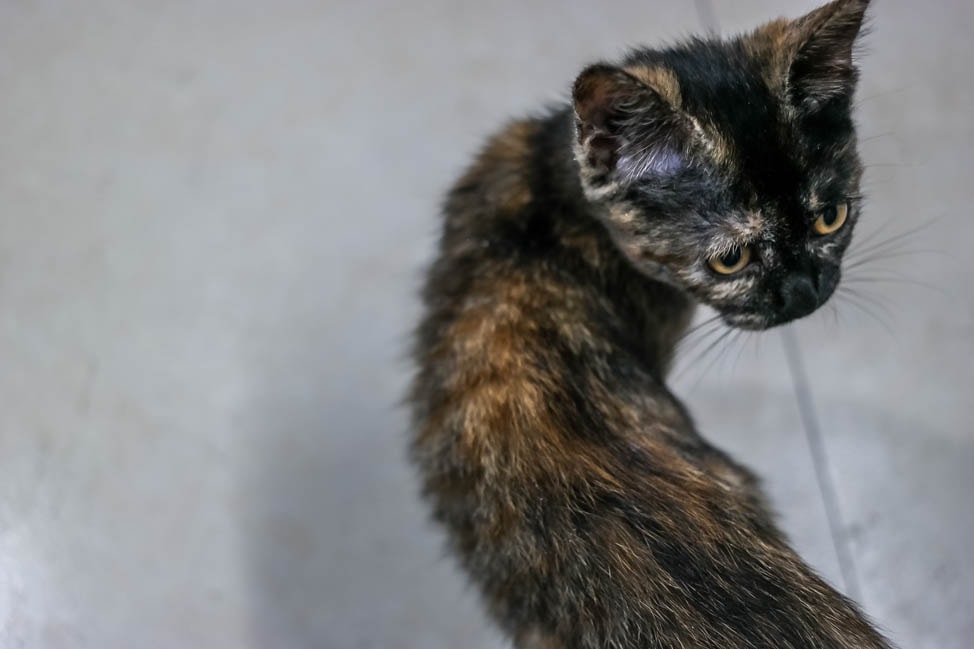 We lingered at the restaurant, distracted by playful kittens. The kitten distraction was a nice break from the chile heat of the dishes.
We wrapped up with a sweet bite of salt and pepper pastries from Aizu Pastries that Thomas had brought along. This legendary storefront is rumored to make 10,000 of these pastries a day, and we had seen a swarm of people making them when we walked by. In fact, they were voted best bing (refers to any round-shaped pastry or flatbread) in Shanghai a few years back. They are round and flaky with a filling that walks the line between savory and sweet. It was a nice end to our epic night of indulgence.
Conclusion
The UnTour Shanghai Night Eats Tour was expertly planned and run. It starts near the Southeast corner of People's Park, so it is conveniently located and easily reached via public transportation. Each restaurant was awaiting our arrival, with seats and drinks ready. Our lead guide Thomas, an expat from the UK, was extremely knowledgable, and touched upon subjects of Chinese culture and history outside of food. He was engaging, and clearly well versed in both food culture and the neighborhood.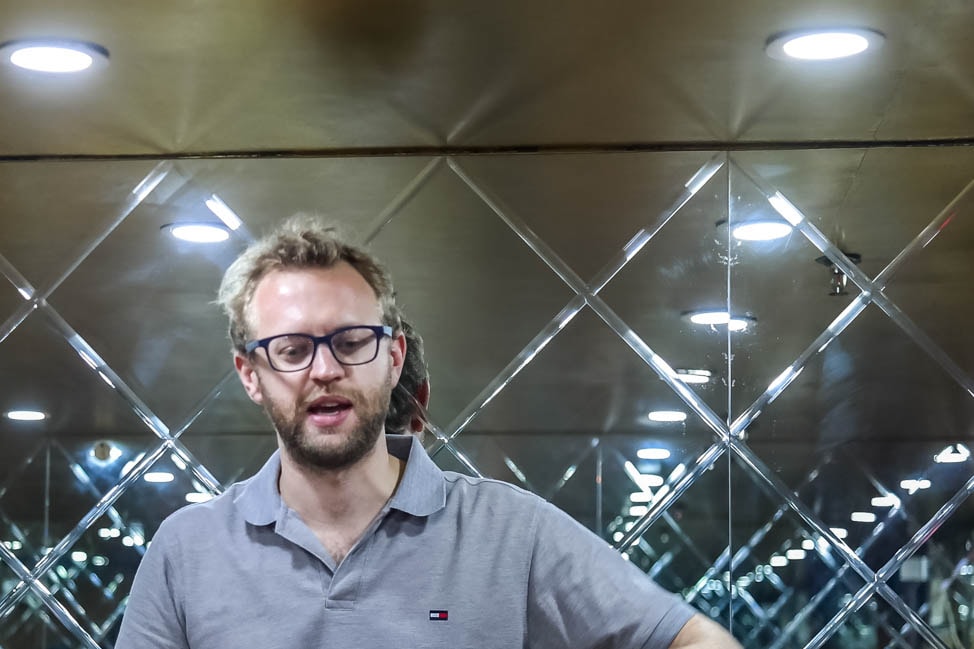 The 10-15 minute walks between destinations were well-timed, and a perfect opportunity to chat with the others in the our small group, who were from all over the world. The collection of dishes was eclectic, showcasing not only local Shanghai specialties, but food from other regions of the country. The drinks were included in the price, a nice touch. With all the food, even the most enthusiastic drinkers were pretty moderate, but it's always nice to walk through city streets nursing a beer when there are no open-container laws.
UnTour's Shanghai Night Eats Food Tour gave us exactly what we were hoping for. An authentic experience, a renewed appreciation for Chinese food culture and a belly full of snake meat. What more could we ask for?
Our tour with UnTour was complimentary, but as always, all opinions are our own. The Shanghai Night Eats Tour costs $75/person, including the drinks.