This week, we have a fantastic guest post from Agness and Cez of eTramping. They love to travel the world and seek out unique adventures. While we are well versed in road trips, we have only done so by car. Here, Agness and Cez share their ultimate guide on how to motorbike Southeast Asia.
There are a million stories about the incredible adventure travel you can have traveling across Southeast Asia by motorbiking. Not for the faint of heart, you will be able to see amazing places and have experiences you can never attain through traditional means of transport. After nearly 2,000 KM, this guide is here to tell you what others won't: how to actually do it.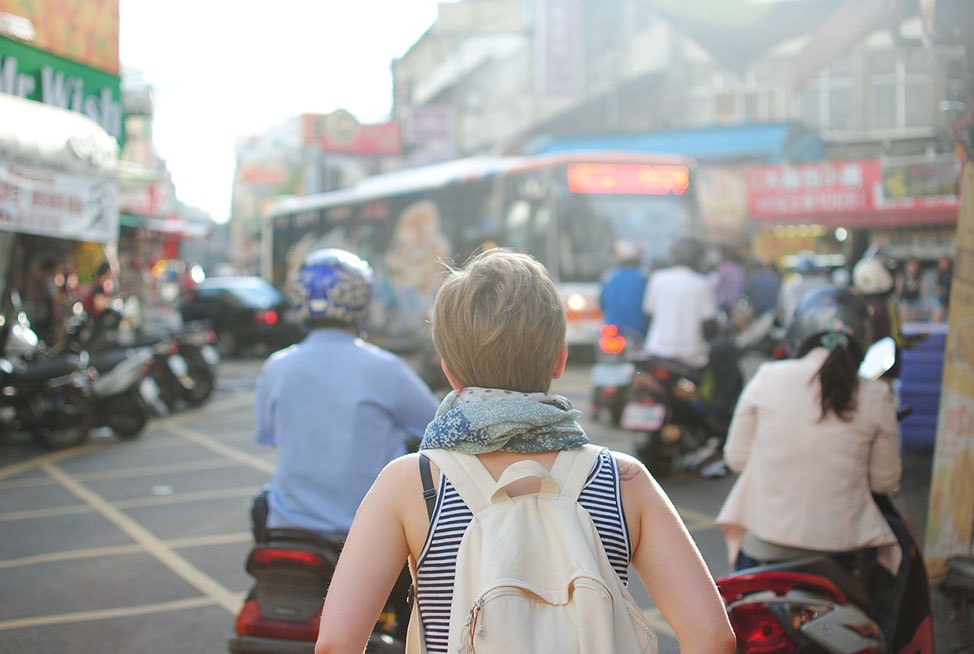 Geography
Southeast Asia is massive and you need to take that into account when selecting your route. If Google Maps says a drive will take four hours then assume at least an extra two. Many people make this mistake and underestimate that amount of they need to complete a drive.
Pad your schedule with additional time or just focus particular sections of a country. For example, you may have a goal of driving from Saigon to Hanoi and though this only around 1,000 km, giving yourself just ten days to do it will mean you end up skipping a lot of beautiful places along the way.
Don't be Afraid to Cheat
This isn't some competition where you get an asterisk next to your record if you don't personally drive every section of a country. Do you research and see what roads are good to drive on. Oftentimes major highways prohibit motorbikes or if they are allowed it is a dreadful experience of black exhaust, trying to pass trucks going up hairpin turns and motorists who drive significantly over their side of the road and into yours.
Certain sections of countries just aren't that pleasant to drive through. For example, the major road between Hoi An and Nha Trang is a rather dull mostly highway drive. Use these situations as an opportunity to take a night bus or train.
Most bus companies will allow you to store you bike under the bus or on the train for an extra charge and it will give you an opportunity to get some rest while covering a significant distance. This is particularly helpful if your schedule starts to get tight or if you have found a place you want to dedicate some more time to exploring.
What You Need
It's dry season in Thailand so you don't need a raincoat, right? Think again. A poncho (really two) is your best friend and not just for rain, but to cover your seat on those hot days when you can't find any shade to park in. Get a good size backpack as well, at least 55 liters with a rain cover for the same reason of either heat or rain.
Don't go cheap on the helmet as well. Most Southeast Asian countries have strict helmet laws and it is a legitimate excuse for the police to stop you. You will pretty much always be wearing it so ensure it is comfortable. A visor is also essential because debris flying up in your face is just a part of driving. Even though sunglasses help, you will at some point break the number one rule of safe motorbiking which is to not drive at night and you'll be happy when the bugs splatter against your visor instead of your face.
Also buy the fanny pack looking bag that wraps under your speedometer that allows you to view your phone (for MAPS not TEXTING!). It is beyond difficult to hold your phone and drive and annoying to have to stop every so often to ensure you are going the right way. Audio directions are you also your friend!
On that note, even if you are planning on going off the grid, get a SIM card. They are cheap and a basic plan only costs a few bucks and can rescue you if you get stranded in the middle of nowhere.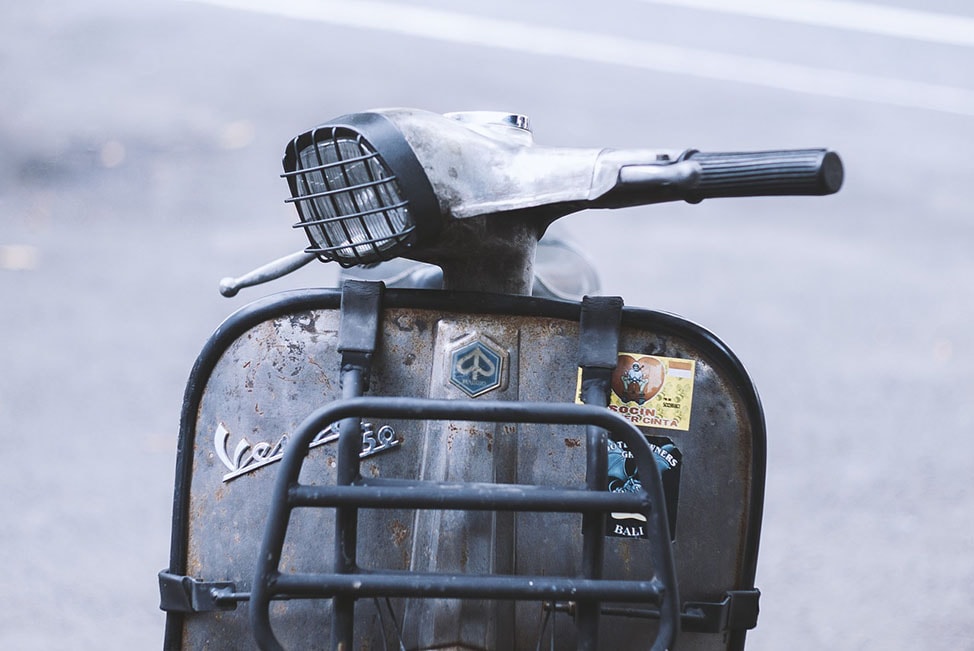 Bike Accessories 
Make sure your bike has at least three bungie cords as well as some rope. Your motorbike will have two kickstands the normal one like a bike and another that you use to stabilize the bike in an upright position.
When strapping your gear utilize the latter of the two so you have an even surface. Before you drive an inch practice with you bungie cords and make sure everything is super tight. Obviously, it's bad for things to fall off but even stuff bouncing around will drive you crazy after fifteen minutes.
The rope is for emergencies. If you are traveling with a friend and one of your bikes dies, then you can hitch them together and pull into the next town's mechanic. This is a little bit tricky, but with good communication it can save you potentially hours of waiting in the middle of nowhere.
Fuel and Bikes
Even in the most remote part of countries generally, you don't have to worry too much about supplies, but it is always a good idea to carry some water and snacks. Also, route planning is key. Most of the time, fuel stations or little stores where you can buy bottles of petrol are plentiful, but sometimes you may really be travelling for a long stretch of time without one.
A good rule of thumb is to never go into mountains without at least a half a tank of fuel and generally try to keep above the "E" fuel gauge indicator.
On that note, remember your safety has a lot to do with you as a driver but also the quality of your bike. If you planning on motorbiking or cycling across Vietnam, you should strongly consider Tigit Motorbikes. You can "buy" a bike from either Hanoi, Saigon, or Danang and then return it in one of these locations. What makes them special is that they guarantee buy back so no stress of a reselling.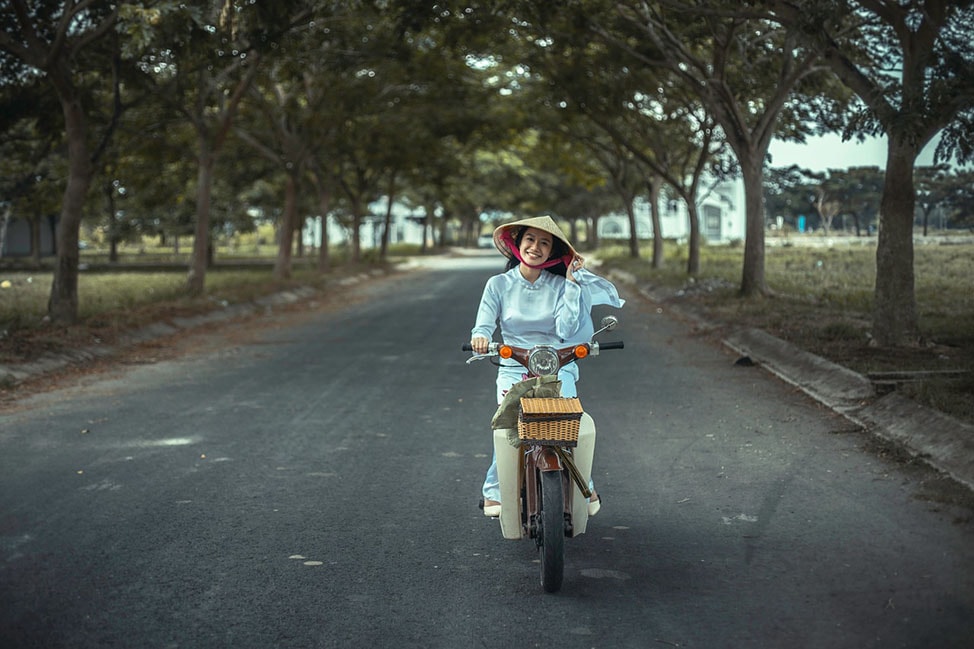 Also, all of their bikes are great quality and very well maintained so you don't have to worry about breaking down in the middle of nowhere for no reason. Thus in the end, a 30 day trip will cost you $200 USD. They are also very helpful and can assist with any problems you might run into along the way. And if you have the time, they can help you plan the greatest of all journeys—the four country trek across Vietnam, Cambodia, Laos and Thailand.
People and Police
One of the best things about motorbiking Southeast Asia is the people. Most are extremely friendly and willing to give you assistance if you happen to break down. In general, mechanics are very cheap and don't tend to overcharge you just because you are tourist. When you are outside of the big cities, be prepared for some stares, it is just curiosity.
Refueling can be annoying too as it is an invitation to have seven people or so stare at you as you awkwardly unstrap your luggage so you can open you fuel tank. Practice this maneuver. You don't have to remove everything and this will quicken that often uncomfortable experience.
Police can be problematic. It is possible to go through the country and not encounter a single issue, but often bribes can be an issue. Technically, in Vietnam, it is illegal for you to operate a motorbike without a motorcycle license and an international license, but this won't matter anyway, as they will make a reason out of anything
The general rule of thumb if stopped is to pretend that you don't speak English and wait them out. They don't really want to do any paperwork and will eventually just let you go. NEVER, NEVER GIVE THEM YOUR KEY or Registration, or passport. If the no English trick doesn't work, you might have to relent and pay a bribe. For this reason, try to only keep a moderate amount of money in your wallet because the more they see, the more they want.
All this said, most police are generally friendly and will assist you if you are in an accident or hurt, just be prepared for this scenario and having a little bribe fund padded in your budget so it doesn't hurt so bad when you feel like you're the only one being targeted for some minor non-offense.
Also, even If they are trying to get a bribe out of you, don't get angry. Be friendly. Police can put you in jail or impound your bike. Think about it, it's worth twenty bucks to just get out of there and be able to continue on your way.
A Real Journey
Although it may sound daunting, seeing Southeast Asia by motorbike is truly the best way to experience the region. It allows you to get off the well-worn tourist track and see something unique. It will push your body to its physical limits and you may at times even want to give up. Don't! This pain is part of the journey and it will help you discover your own potential as a person.
You are also joining a club and when you hear people complain about a long train or bus ride, you won't be able to help having a little smile thinking about how cute their little complaints are and how they don't even know the beginning of it as you remember having to pass through the middle of the road with traffic on both sides going 70km per hour.
It may sound cliché, but it is truly a life changing experience that you will never get travelling another way.
Big thanks to Agness and Cez for this guest post! To find out more about these two travel bloggers and all of their travel adventures, check out their site eTramping, or follow them on Facebook, Twitter, and Instagram.